The already crowded domain conference calendar (I have been to six shows in the past six months) is going to be packed even tighter in 2010. When the originators of the large scale domain conference concept, T.R.A.F.F.I.C.'s Rick Schwartz and Howard Neu, announced a new alliance with Rick Latona on Tuesday, the line up of T.R.A.F.F.I.C. shows alone doubled from three this year to six next year.
Add in at least one show each from DOMAINfest Global, Domainer Mardi Gras, Domain Roundtable and the GeoDomain Expo, regional events like Canada's DomainConvergence.com and Germany's Domain Pulse and Domainvermarkter Forum and company specific events like the highly appealing SedoPro Forum (they've just announced the 2009 edition will be held in Key West, Florida next fall) and the dedicated show goer could easily spend all of 2010 traveling from one conference to the next without ever going home.

T.R.A.F.F.I.C.'s expansion comes at a time when some people are already complaining about "conference fatigue" and attendance at nearly all of the shows (except DOMAINfest Global in Los Angeles and T.R.A.F.F.I.C. New York) has drifted down to around 200 (give or take a couple of dozen either way). You may have also noticed that the worst economic downturn since

Jimmy Durante was right,
when it comes to domain conferences,
"Everybody wants to get into the act!"


the Great Depression is currently underway. Given all of this, Latona, Schwartz and Neu think this is a good time to run more shows? Are they completely crazy? Yes, they are. Crazy like a fox. These three didn't get where they are by making a lot of bonehead moves.
Of the six locations they announced for next year, four are outside the United States - Amsterdam, Toronto, Hong Kong and Reykjavik, Iceland (this one could be switched to a different overseas location). Net change for the number of shows in America - zero. Guess
where the fastest growth in the Internet (and domain registrations) is occurring? That's right, outside the U.S. Latona, an inveterate world traveler, knows this because he has seen it first hand in his sojourns around the globe. That's why he confidently licensed the right to stage a T.R.A.F.F.I.C. show devoted entirely to ccTLDs earlier this month in Amsterdam, even though most people thought he was a couple of cans short of a six-pack. The show was a success and the majority of the domainers who made it fly were men and women from outside the U.S.
The Latona-Schwartz-Neu triumvirate makes sense on several levels. It allows Schwartz and Neu to firmly establish their baby as a global brand and it gives Rick Latona Auctions exclusive rights to sell to the well heeled T.R.A.F.F.I.C. audience, dislodging rival Moniker from the mix. The impending T.R.A.F.F.I.C. six-show blitzkrieg also puts Schwartz and Neu back on the offensive after four years of watching a steadily growing pack of competitors whittle away bits and pieces of their market share. You had to know they were not going to stand idly by and watch that go on forever.
Schwartz has been preaching for some time that the depths of the current recession was a perfect time for people to strengthen themselves through bold moves that would put them in a position to thrive when the downturn inevitably ends. With this merger, he put into practice what he has been preaching.
Whether the trio's strategy pays off or not remains to be seen and it is unlikely their competitors are going to sit on their hands and let T.R.A.F.F.I.C. steamroll them into oblivion. Though it may be too early to call the winners in the battle between promoters, at least one huge winner is going to come out of all of this and that is conference attendees, regardless of which shows they go to. Competition can really slice and dice profit margins for promoters but it is always a good thing for consumers. You probably noticed a few days ago that T.R.A.F.F.I.C. offered historically low early bird prices for the October 2009 show in New York. Just today, Latona announced that the show was also dropping its invitation-only policy in favor of an open door approach.
Attendance at the Domain Roundtable conference that ended in Washington, D.C. earlier this week was light (reportedly in the 175 range), limiting the revenue that Thought Convergence derived from staging the event, but do you think they cut any corners to offset that? To the contrary - ask anyone who was there - they dialed up the volume to 11! The venues were spectacular (both the hotel and club chosen for the closing night party), the food and drink was off the hook and the quality of attendees was top notch. That's how you have to treat people if you want to stay in the game and clearly TC has no intention of going away. As a result, you, the conference attendee, wins.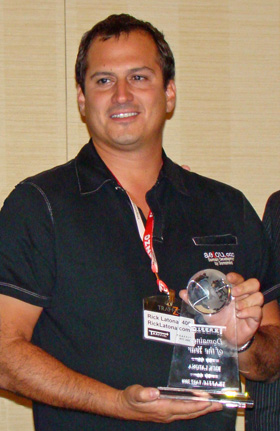 Rick Latona - collecting his 2008
Domainer of the Year Award at
T.R.A.F.F.I.C. New York last fall.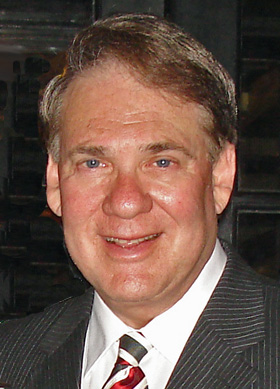 Howard Neu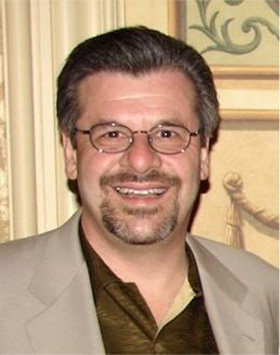 Rick Schwartz
I think that the industry at large could also win big from this. Getting the good news about domain names out in more places around the globe can only be good for business and it is a two way street. Investors in the host countries will have a chance to learn about the high value of quality domains and American investors who travel abroad will learn, just as Latona did, about new opportunities they would never have discovered otherwise (Amsterdam convinced me of that).
Speaking of Latona - here is someone else who looks like a major winner in all of this to me. He is building a very impressive domain industry conglomerate with a web development company (AEIOU.com), auctions, direct sales (through his popular newsletter), financing units (DigiLoan.com and DigiPawn.com), forums (ccTLDs.com) and now conferences through a multi-faceted long-term licensing deal with T.R.A.F.F.I.C. He and Schwartz are the two best marketers and negotiators in the industry and Neu is the perfect even keeled complement to his two Type A partners.

There is some speculation that Latona and Schwartz could end up butting heads because they are both strongly opinionated and have had success doing things their own way. What if they can't agree on the best way to get from point A to point B? Friction between personalities is always possible but these two

are consummate businessmen and I would be very surprised to see them take their eye off the ball. If they do, Neu will be there to mediate and keep things on track. It is a powerful combination and I expect great things to come out of it.
The biggest problem I see for all of the promoters is that there is a limited pool of sponsors, the unsung heroes who carry so much of the financial load involved in producing a conference. Even though we are in one of the best sectors you could possibly be in right now, most of the major sponsors have seen revenue dip and they are handling their expenditures accordingly. With the expansion of shows next year taking place exclusively outside the U.S., will they take on the higher cost of sending exhibit booths and teams of people to so many events in other countries? Their response (or T.R.A.F.F.I.C.'s ability to find new local sponsors in the territories they visit) will have a big impact on the financial success the shows have.
After Amsterdam, I don't think a shortage of attendees is going to be a big problem. If you read the comments from domainers outside the U.S. on the blogs operated by Schwartz, Latona and industry veteran Michael Berkens, you can see the widespread excitement among non U.S. domainers that they are going to have shows in their own backyard.
The part of the game that will be really interesting to watch now is the dates the various shows fall on. That is going to be very important. Despite offering a great show in an exciting new town for the show circuit - Washington, D.C. - Roundtable lost some attendees simply because they were sixth in a string of six shows (and followed T.R.A.F.F.I.C. Amsterdam by just one week). It is going to be hard to find breathing room on a 2010 calendar packed with (at least) ten major shows and several smaller ones.

As the year's first show, Oversee's DOMAINfest Global has blossomed in their late January slot. There is a good chance T.R.A.F.F.I.C. will try to erase that

advantage by moving their 2010 Las Vegas kickoff in front of DOMAINfest. That could trigger quite a chess match as the year plays out.

As Amsterdam showed, even when a conference is outside the U.S., it pulls away some of the sponsors and attendees that might otherwise have gone to an event in America. So all of the shows (except Domainer Mardi Gras whose event is tied to the dates of the annual Mardi Gras celebration in New Orleans) will likely be looking to see what the others are doing and what available dates will give them the best chance to succeed. It could result in finalized show dates being announced later than usual - but that could be counter productive. If you don't give people time to plan you could lose more attendees than you would by going toe to toe against a competing show in an adjacent time slot.

Watching it all play out should be quite a spectacle - 2010 is shaping up to be the domain industry's version of The Olympics. Let the games begin!