Here's the The Lowdown from DN Journal,
updated daily to fill you in on the latest buzz going around the domain name industry.

The Lowdown is compiled by DN Journal Editor & Publisher Ron Jackson.
As I write this the public memorial service for Michael Jackson that will be televised around the world is just getting underway at the Staples Center in Los Angeles. An amazing 1.6 million

people registered for a lottery in which just 8,750 winners were drawn to receive two tickets each to today's star-studded event.

I was wondering if anyone from the domain community would be among those in the live audience when I got word from David Castello of Castello Cities Internet Network that he and Natalie Lambert were there. They had each entered their email addresses in the lottery and Natalie's name was pulled. They arrived at the Staples Center around 7 o'clock this morning (Pacific coast time), six hours ahead of the start, to avoid the traffic snarl around the arena. David sent me the photo below taken shortly after they arrived (as you can see dozens of others were already on the scene with them.)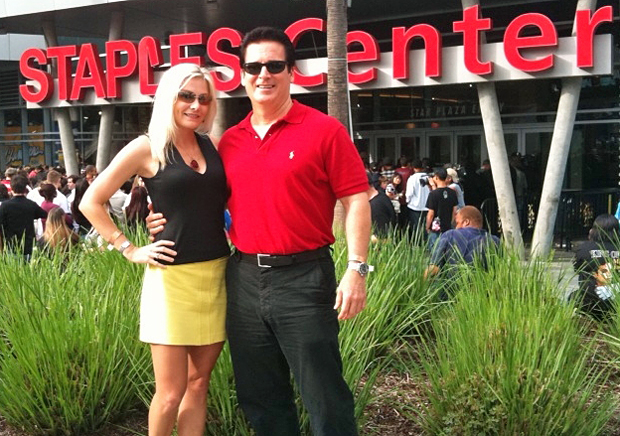 Natalie Lambert and David Castello at the Staples Center in Los Angeles this morning
waiting for doors to open for the Michael Jackson public memorial service.
If you read our December 2006 Cover Story about David and his brother Michael, you know that they are both accomplished musicians. I'm sure the opportunity to be at this event in memory of one of the most influential artists of all time has special meaning for David and Natalie as a result.
One other note today, The Rick Latona Auctions premium .cm domain name sale starts this event at 8pm (U.S. Eastern time). The final list of 46 domain names includes names with reserve prices as low as $1,000. These names are not included in the regular landrush or open registration and are only available at this auction. If you wish to bid you can register at www.proxibid.com/ricklatona. Bidding will continue for one week (ending July 14 at 8pm Eastern).

As soon as the auction ends, the Netcom.cm Sarl landrush starts. For more details, the official site for the launch is http://register.cm. The names in the premium auction include Cars.cm, Casino.cm and Poker.cm to name just a few.
(Posted July 7, 2009)
---
For all current Lowdown posts - Go Here
---
We need your help to keep giving domainers The Lowdown, so please email editor@dnjournal.com with any interesting information you might have. If possible, include the source of your information so we can check it out (for example a URL if you read it in a forum or on a site elsewhere).
---
---
Home Domain Sales YTD Sales Charts Latest News The Lowdown Articles
Legal Matters Dear Domey Letters to Editor Resources Classified Ads Archive About Us