DOMAINfest Global Hotel Sells Out, IDNTools.com Takes a Bow in Times Square & Free Webinar to Focus on Top Parking/Selling Strategies for 2010
It looks like the 2010 DOMAINfest Global conference coming up January 26-28 in Santa Monica, California is going to draw another big crowd. Show organizers announced this
morning that the host hotel, the oceanfront Fairmont Miramar, is almost sold out and I later heard from others who tried to book rooms that they are now all gone. Pretty impressive when you consider that DOMAINfest took over the entire five-star hotel for the conference.
If you are planning to go to DOMAINfest but didn't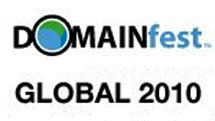 get a room reservation, no need to despair. DOMAINfest said they have secured additional accommodations across the street at the Huntley Hotel. You will have to phone the Huntley directly at 1-310-394-5454 and mention "DOMAINfest" to get the discounted $209 room rate (plus tax).
By the way, in case you missed it, our preview of the DOMAINfest Global conference, featuring an interview with Oversee President & CEO Jeff Kupietzky, has all of the details you will want to know about what is shaping up to be another outstanding show.
This IDNTools.com billboard is on display
in New York City's Times Square.

When I interviewed Aaron Krawitz and Gary Males of IDNTools.com for our monthly newsletter a couple of months ago, I was impressed by the professionalism and initiative demonstrated by these two young entrepreneurs. They showed it again this week when they made a big splash for their company and IDN domains in general by unveiling an electronic billboard ad in the heart of New York City's Times Square.

Krawitz is the Editor of IDNBlog.com where he announced the promotional gambit Monday in a post that noted "IDNs really deserve more publicity as they are a fantastic

opportunity all too often misunderstood and summarily dismissed...This will have a positive effect for domain investors and IDNers on the whole. Each large public ad makes our investments more mainstream and understood. I hope IDNTools will benefit greatly from this Times Square promotion, and I also hope that more people will become interested in domains and IDNs as a result."

IDNTools will be featured in rotation on Reuters' iconic Times Square electronic billboard for 72 hours. The caption below their logo on the billboard says "Investors profit from IDN domain names bought from sites like IDNTools.com."

One other note today, the AfternicDLS and SmartName has scheduled their first free webinar of the New Year for 2pm (U.S. Eastern time) on Thursday, February 4. The one-hour session

is titled Discover the Top Domain Parking and Selling Strategies for 2010. Topics to be discussed include:
• How to use simple, efficient, and free solutions to make you more money you're your domains.
• Why enhanced PPC should be part of your monetization strategy.
• When to use, ecommerce, and content solutions.
• Specific examples and techniques to help you achieve your goals for your domains.