Grueneberg said, "We're pleased to announce that industry leaders Moniker and SnapNames will provide the auction platform and management. They will bring international attention to the German domain market while providing an opportunity for global investors to acquire aftermarket .de domains — the strongest country-domain market in the world."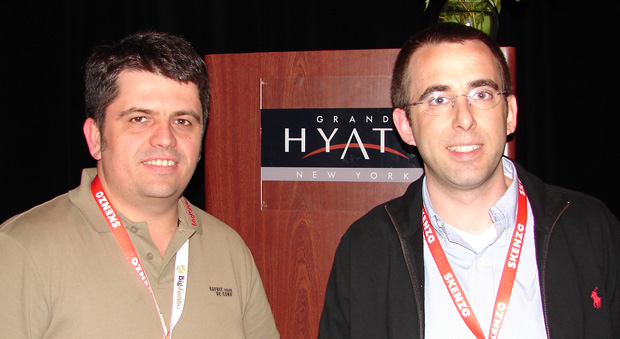 DomainvermarkterForum Founders Thomas Mueller and Christoph Grueneberg (right).
Craig Snyder
SnapNames/Moniker General Manager

Craig Snyder, the General Manager of SnapNames and Moniker, added, "This is a great opportunity for us to expand our business globally and expand relationships with investors in German speaking countries. The SnapNames.com platform has been enhanced to present the live auction in both German and English and will be conducted in Euros, with a currency converter for US dollars and British pounds. We will continue to pursue opportunities around the world to extend our brand in local languages and currencies."

The two day conference will be divided into presentations and networking, with the Moniker live auction as the grand finale. The event schedule and registration information can be found at both a German language site and an English language site. Bidder information is available here.
The DomainvermarkterForum will continue an incredibly busy string of August-September domain conferences. T.R.A.F.F.I.C. Dublin just ended today, closing with a live domain auction that yielded disappointing results - just 12 sales totaling €86,820 (about $110,000). Most of that total came from ShortFilms.com (€58,000) and Italian.net (€15,400). Of course, auctions are just one part of the conference experience and as those who have been to any major conference will tell you - networking is the primary and most valuable reason to be there.
The next show on the calendar will be tomorrow through Saturday (August 26-28) when a MeetDomainers event will be held in Manchester, England (the first time the show will be staged in the UK).
Zak Muscovitch

One other note today - one that is both important and very time sensitive. Elections for the Board of Directors of CIRA (the organization that administers Canada's .ca TLD) are underway. Top notch Canadian domain name lawyer and Internet law expert Zak Muscovitch has announced that he is seeking a seat on the Board in order to help boost Canada's Internet marketplace.

Muscovitch said, "I need a seat on CIRA's Board to push for less red tape in .CA registrations and to be a champion for increasing the value and visibility of .CA domain names. Canada lags terribly behind in online commerce and the .CA domain name has fallen way behind in terms of value and prominence. I want to change that. There is no reason that Internet entrepreneurship should be stifled in Canada. We are in danger of missing the digital revolution altogether. I hope that I can count on your support. "

Zak has been an advisor, lawyer, supporter and advocate for .CA domain name owners for over ten years. He has set numerous legal precedents in domain name disputes, acted in millions of dollars worth of domain name transactions and assisted numerous online Canadian businesses. I know him personally and think his presence on the CIRA board would be an extremely positive development for .CA.

Anyone who owns a .CA domain name can vote, but you must register online to vote immediately here: https://member.cira.ca/en/member.html. The deadline for registration is Monday, August 30, 2010. Voting will take place between September 22-29, 2010. If you are eligible to register and vote do it now to make sure you don't forget.