Most of that money is going to re-launch the company's beefed up domain development platform, Rapid Domain Builder, under a new name and address at DomainPower.com. With more horsepower under the hood, DomainPower provides a turnkey solution for domain owners, offering vertical-specific frameworks for quick SEO-ready website development, site enhancement plug-ins and multiple revenue opportunities, all managed in one location.

Domain Holdings CEO Jason Boshoff said, "We are excited to come out of stealth mode with a new look to our award-winning platform (Editor's note: Rapid Domain Builder won the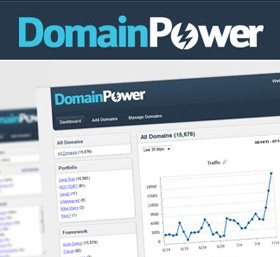 judge's award in the Pitchfest Contest at DOMAINfest Global in 2010). This gives users a powerful domain management and monetization solution that can help identify the overall status of a domain portfolio, recognize growth opportunities and, overall, offers easy management."
The redesign's primary focus was a new user interface, developing a larger selection of vertical-specific frameworks and adding domain portfolio management solutions. The newly launched UI features an upgraded dashboard, sortable by individual domain performance or a full portfolio performance overview, with real-time updates of site and portfolio statistics. Updates include revenue, traffic, traffic sources, keywords and other site vitals integral to the growth, health and maintenance of domains.
On a related note, last week I reviewed a new state of the art platform at Protrada.com that makes acquiring, managing & monetizing domains a breeze. At the time the company was offer a 7-day free trial so people could check it out for themselves. Today they informed me that they

have increased the free trial period to 14 days. I think that is an excellent idea. While I found the platform very intuitive and easy to use, there are so many features included that having the extra time to explore them will be a big plus for potential clients.
(Posted July 20, 2011)