Left of the Dot Media Inc., fresh off a nice geodomain deal with Oahu.com last month, is back in the news this week with word that they have added two domain industry veterans, Xavier Buck and Slavik Viner to their Board of Directors.
Buck is the Founder, Executive Director, and CEO of the DCL Group, which is the umbrella organization of EuroDNS, voipGATE and the Datacenter Luxembourg. His current Directorships also include AsiaDNS, DomainTools and eBrandServices. In 2008 Buck co-founded Domain Invest SA, a company which owns over 100,000 premium domains and has the support of several high profile investment firms.

Viner has been involved in many areas of the domain industry since the 1990's and is widely regarded as one of its most successful investor/developers.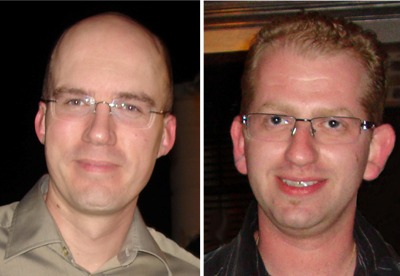 Xavier Buck (left) and Slavik Viner
New board members at Left of the Dot Media Inc.
Left of the Dot Co-Founder Chris Jensen said, "Left of the Dot has been incredibly well supported by the domainer community and we are thrilled that two such influential and well respected individuals have agreed to become part of our team. The experience and practical advice that Xavier and Slavik bring to the table makes us a better company and this is already helping to shape our strategic objectives for 2012."
Left of the Dot provides an alternative to domain parking by leasing sub-domains of premium domain names like Villa.com, Importers.com and HomeStaging.com. The company said sites built on these highly targeted marketing names substantially increase traffic, search engine relevance and inherent value to the overall site, resulting in sustainable income for its clients.