days, will make her first American TV appearance on NBC's Saturday Night Live January 14, 2012. The show will be hosted by Harry Potter himself - Actor Daniel Radcliffe - and I would bet that Lana produces more magic on the program than the world's most famous wizard.
Lana, who signed a major label deal with Interscope Records a few months ago, has become the most talked about new artist in the music industry and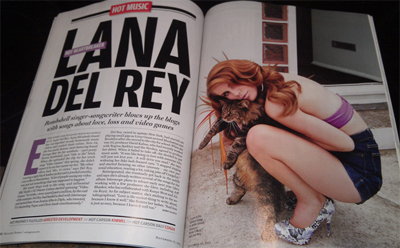 Lana Del Rey in November 2011 issue of Rolling Stone
Lana's latest video for "Born to Die" has gone ballistic with over 2.6 million views as of today. The video and her upcoming appearance on SNL is stoking major interest in her major label debut album that is due out January 31.
Lana del Rey, (the alluring stage name adopted by Lizzy Grant, the eldest daughter of our friends, Rob and Pat Grant) is a unique artist and I couldn't be happier to see the rest of the world now appreciating her talent. As I've written several times before, I always felt it was just a matter of time and now Lana's time has come.