If you follow this column regularly you know that Domain Hall of Fame member David Castello, of Castello Cities Internet Network, made a major return to his music industry roots in 2011 (see our December 2006 Cover Story on David and his brother Michael for more on their music career). Last summer David moved to Nashville (CCIN owns Nashville.com) to manage red hot up and coming singer/songwriter BREE (as well as to play drums in her band).
Near the end of the year David launched his own music publishing company - Werewolf Publishing - and today he officially signed his first staff writer in a deal announced at the Nashville office of music rights management giant BMI. It won't surprise you to hear that Werewolf's first signing was the writer David wanted most - BMI writer BREE!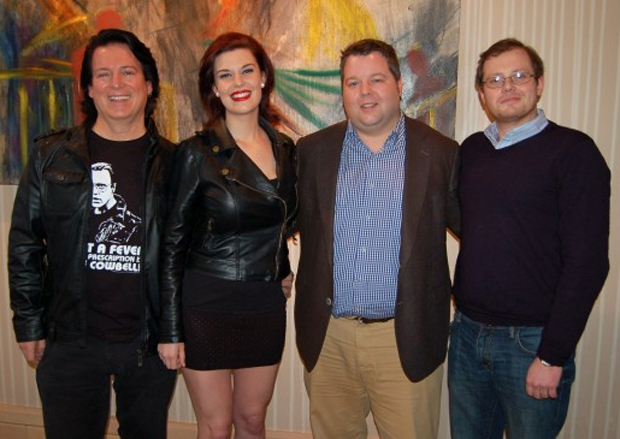 (Left to right): David Castello, BREE, BMI's Bradley Collins and Almon Law's Noah C. McPike
after the Werewolf Publishing announcement of BREE's signing at the BMI office in Nashville.
(Photo courtesy of Drew Maynard)
BREE and David were in the studio last month working with Bob Ezrin's crack engineer, Justin Cortelyou (Ezrin is one of the top producers in music industry history having produced albums by Pink Floyd, Kiss, Alice Cooper, Rod Stewart and dozens of other heavyweights). Justin is finishing up the mixes on a new album by The Darkness, then he will start mixing the tracks he did with BREE and her band. David is expecting those final mixes to be aural dynamite, so don't be surprised if you see BREE breaking big before this year is out.
A couple of other notes today - domain industry veterans Mike Robertson and Jen Sale at DomainGuardians.com have launched a new monthly domain brokerage newsletter. If you are interested in aftermarket domains, either as a buyer or seller, you will want to sign up to receive their list. Mike and Jen have an endless list of friends and contacts in the domain business, so they are very well positioned to facilitate domain sales - something they proved when they brokered the $150,000 sale of eSignature.com in 2011.

In case you missed it, I also want to call your attention to an important article by Internet Commerce Association Legal Counsel Phil Corwin that was posted on the ICA website Friday. Corwin called on ICANN to launch an immediate investigation into the UDRP arbitration practices of the National Arbitration Forum (NAF). This comes in the wake of two egregiously unfair NAF decisions that resulted in domain names being taken away from their rightful owners. Noted attorney Paul Keating has also blasted these incredibly unjustified decisions. Corwin's article includes the letter he sent to ICANN to bring this situation to light. Now we will see whether or not the oversight body is going to let this kind of malfeasance at NAF stand.