The City of Brotherly Love was rocked by a major media deal today when the Philadelphia Media Network, publishers of Philly.com, the Philadelphia Inquirer and The Daily News was sold to a group of powerful local business and political leaders for $55 million. This comes just two years after the company had been purchased for $138 million. A big ouch for the sellers.
The New York Times reports that the new ownership group includes Democratic power broker George E. Norcross III, parking lot magnate Lewis Katz, Joseph Buckelew, who owns a large South Jersey insurance brokerage firm, philanthropist H.F. Lenfest and William P. Hankowsky, a real estate investor and chief executive of Liberty Property Trust.
Philly.com will likely turn out to be the most valuable asset in the portfolio as the newspapers continue to be plagued by the decline that has affected print publications across thecountry in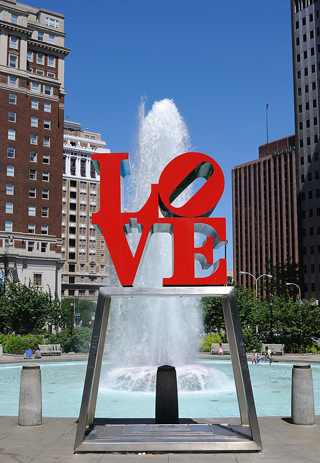 Philadelphia's Love Park
Love Park image from Bigstock
recent years. In its latest round of job cuts The inquirer just laid off another 45 employees last month and announced plans to drop 35 more over the next six months.
Still, the new investors think they can right the ship. Norcross told the New York Times "This is first and foremost a business decision. Our intention is to own the business and find new ways to make the business successful." The new owners will keep Greg Osberg on as the company's publisher and chief executive. Osberg reportedly helped assemble the new ownership group.