The global economy may be in the doldrums but you would never know it by the double digit growth in domain registrations around the world since this time last year. Verisign (who operates the .com and .net registries) has released their latest quarterly Domain Name Industry Brief (.pdf file) encompassing results from all TLDs at the conclusion of the 1st quarter of 2012. Verisign reported domain registrations jumped by 23 million to a total of more than 233 million since the end of 1Q-2011 - a very healthy 11% increase from a year ago.
The number of country code domains (ccTLDs) registered grew by an even bigger annual rate - 16.2% - soaring to 94.9 million total registrations at the end of 1Q-2012.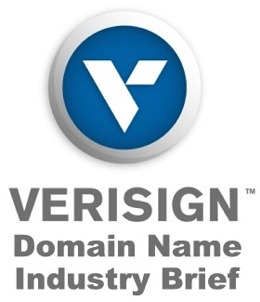 Growth numbers from the preceding quarter (4Q-2011) followed a similar pattern. For all TLDs, the number of registrations over the past 90 days increased by 7.5 million, a 3.3% quarter over quarter rise. The quarter over quarter growth rate for ccTLDs was 4.8% but some of the country code gains came from a 808,967 IDN ccTLDs (primarily Russian) that Verisign began tracking for the first time. Even so, the overall growth numbers leave no doubt that the demand for domain names continues to a grow at a much faster clip than most other products and services.
While we are on the subject of healthy TLD growth - a big Happy 25th Birthday to Canada's .CA ccTLD that is administered by the Canadian Internet Registration Authority

(CIRA). In 1987, responsibility for the .CA domain was assigned to John Demco at the University of British Columbia (UBC) by Jon Postel, operator of the Internet Assigned Numbers Authority (IANA). The first eight .CA domain names were registered on January 12, 1988, with the very first one claimed by the University of Prince Edward Island.

Twenty-five years later, there are nearly two million .CA domain names making .CA the world's 14th-largest country code domain registry. Even more impressive is the fact that .CA has had the fourth-highest growth rate among all domain registries over the past five years.
One other note today - DomainsBot, who is well-known for creating a business boosting domain name suggestion tool that has been incorporated by many top registrars, has just launched a new self-service API and a copy

and paste widget that will allow any developer and small to medium hosting or domain re-seller to go live with their domain suggestion feature in a matter of just minutes.
DomainsBot claims that more than 1.5 Million of their suggested names have been registered during the last 12 months. An executive from one their major registrar partners, Adam Eisner of OpenSRS said, "We have been using DomainsBot's domain suggestion since 2006 and we have always been very pleased with the quality of the service. About 10% of our domain registrations come from DomainsBot suggestions and we are happy to offer their value added service with no charge as part of our API."
Domainsbot CEO Emiliano Pasqualetti added, "Being the providers of domain suggestion services to 8 of the top 10 registrars and their resellers, we understand the importance of bringing the same benefits to small and medium hosting companies and domain resellers. With our new developers API, anyone can now increase domain registration in minutes with little implementation and affordable subscriptions." The DomainsBot name suggestion widget and API are available now at https://developers.domainsbot.com/.