Michael Castello of Castello Cities Internet Network (who, along with his brother David, was profiled in a December 2006 DN Journal Cover Story) was in our area on a family vacation over the weekend. I always try to see Michael and his family when they are in this part of Florida or we are in Southern California where they live. When we got together again Sunday for brunch in Sarasota (joined by T.R.A.F.F.I.C. Co-Founder Howard Neu and his wife Barbara who were also visiting from Fort Lauderdale), Michael, his wife Sheri and daughter Jessica were all there, but son Jonathan, whom I also always look forward to seeing, was missing.
(Clockwise from left) Sheri Castello, Barbara Neu, Diana Jackson, Ron Jackson, Howard
Neu, Michael Castello and Jessica Castello at Marina Jack in Sarasota, Florida Sunday.
Michael explained that Jonathan, a student at Cal State Northridge, had to stay home in California because he was being paid to work as a computer programmer during a summer internship and things were just a tad busy at his workplace - the Jet Propulsion Laboratory (JPL) in Pasadena. In fact while we were enjoying a leisurely Sunday brunch in Sarasota, a day that most people were off work, people at JPL were working their tails off on a little project you may have heard about - landing the $2.5 billion Curiosity rover on the surface of the planet Mars that night! Something they did successfully around 1:30am (U.S. Eastern time) this morning.
Above: Jubliant scene at the Jet Propulsion Laboratory (JPL) in Pasadena, California early this morning (U.S. Eastern time) when the Curiosity rover successfully landed on Mars. Michael Castello's son, Jonathan, is currently working in computer programming at JPL as a paid college intern. Image from: NASA/JPL-Caltech
I don't know about you, but during my school days when people asked me what I did on my summer vacation, I didn't have anything nearly that cool to talk about! The only rover I worked on was a used two-door AMC Rambler that I bought from one of my teachers. To hear what Jonathan was doing didn't surprise me a bit though - he is a brilliant kid who also has some very solid writing skills that I have seen first hand. I think his sister Jessica, a budding actress with a load of talent, is also destined for big things.
Michael and Sheri have done a great job parenting their children and I would love to see them follow their dad's footsteps into the domain world, but, given how busy they are with their own pursuits, that probably won't happen.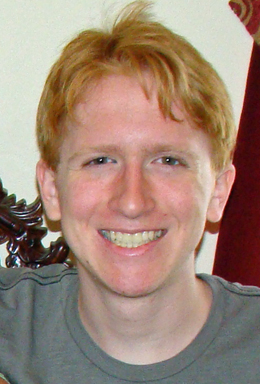 Jonathan Castello in a photo taken
during a Castello family visit to our home
in 2009, before Jonathan went off to
college.
Still, if ICANN ever gets around to launching a new pTLD program (Planetary TLDs) I know a young guy over at the Jet Propulsion Lab who would be perfect to run that project!