I've been covering T.R.A.F.F.I.C. conferences for almost a decade now (ever since the first one in October 2004) and from the start the only downside for me has been running out of time before seeing everyone I wanted to see during the fast paced event. So, it was a very welcome development to see co-founders Rick Schwartz and Howard Neu add a couple of

pre-show "Cabana Networking" days to the conference schedule in recent years. For the upcoming show at the Ritz Carlton on Fort Lauderdale Beach, those days will be Friday and Saturday, October 18 & 19, with the show officially opening Sunday evening, October 20 (and running through Wednesday morning, October 23).

A view of the T.R.A.F.F.I.C. cabanas just before last year's show got underway at the Ritz Carlton on Fort Lauderdale beach. The cabana row is just below the pool deck and guests can walk back and forth between the two levels via a short stairway on each side of the pool and cabana row.
The thing about T.R.A.F.F.I.C. is that a single conversation can lead to a business deal that pays for your entire trip to the show (and continue to pay dividends long after the show is over), so it obviously helps to have as many of those conversations as you can. In many cases, the more informal the setting, the better for chatting and that's where T.R.A.F.F.I.C.'s cabana networking days shine.
With just a few dozen early birds on hand there is a lot more face to face time with those people (in one of the world's most beautiful settings) than is possible once the show is in full swing with several hundred people on hand. More importantly, the few dozen that get into town early include some of the most interesting, successful and passionate people in the industry (if they weren't passionate they wouldn't be there early)!
Some of the 2012 T.R.A.F.F.I.C East early birds on the Ritz Carlton pool deck the Saturday before the show opened.
If you are going to T.R.A.F.F.I.C. anyhow, it makes sense on a lot of levels to join the growing flock of early birds. The only added cost is a couple of more nights in a hotel. Those who come in Friday (Oct. 18), as Diana and I will, can enjoy an added free bonus (beyond a day of networking in the cabanas and around the pool). The Ritz Carlton will be hosting one of their most popular public events that night - their All Hallow's Eve Party under a full moon on the pool deck overlooking the Atlantic Ocean. The T.R.A.F.F.I.C. crowd will stake out a prime piece of deck turf for that event so early birds can count on enjoying their first evening in town.
There will be another full day of networking in the sun Saturday (Oct. 19) followed by an evening when people can head out in their own dinner groups to the many restaurants within easy walking distance of the hotel (the Ritz is right in the middle of everything on Fort Lauderdale Beach).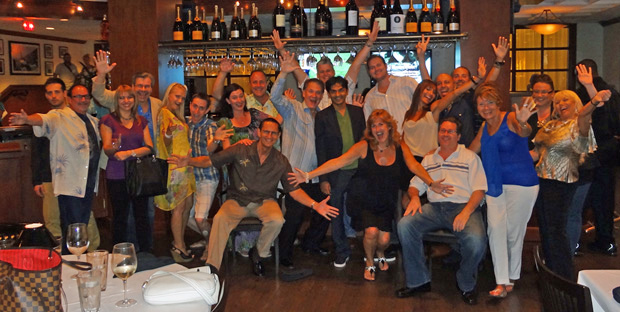 A large group of 2012 T.R.A.F.F.I.C. East early birds at a pre-show dinner hosted by DNForum.com owner Adam Dicker at Shula's on the Beach.
When the bulk of the T.R.A.F.F.I.C. crowd arrives Sunday you will be well ahead of the game (with two days of networking already under your belt and a pretty nice tan to boot)! What more could you ask for?
Whenever you will be getting into town we will look forward to seeing you there. October usually produces some of Florida's most beautiful weather (we are enjoying a gorgeous day as I write this) so pack your swimsuit and sunglasses alongside your business cards and come on down!