David added, "I always considered Ren an absolute genius, and was fortunate to have him part of my life, not only just growing up together but working together since 1997. We made a great team, creating and releasing many ground breaking software and web applications. It saddens me the most that Ren leaves behind his wife and two beautiful children, age 9 and 6."
While Ren is gone his fight continues. David said, "Ren's work is far from over and a Ren Warmuz Cancer Research Foundation will be established to help others beat their "little mutants", as Ren called his cancer. My best friend, my brother, you will be missed!"
Life is far too fragile. Just a couple of days ago I learned that a classmate from my high school class and her husband were both killed in a terrible car crash in Florida. When the news was posted on Facebook by a fellow classmate I didn't know what to say - nothing you can say in the face of such a tragedy is adequate. Instead I replied with a quote I had recently come across that I found comforting. It's not something I thought I would be sharing again so soon but in remembering Ren, I still can't think of anything that sums up my feelings as well: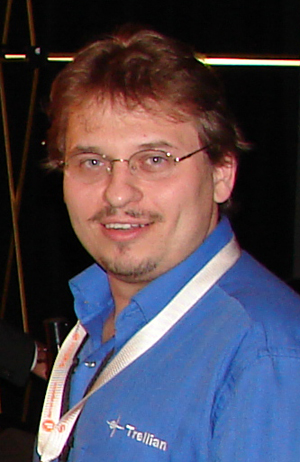 Ren Warmuz at the 2007 Domain
Roundtable conference in Seattle.