concluded Wednesday night (January 15) at the Tropicana Hotel. The personal side was to see our friends, Domain Hall of Famer David Castello and his beautiful bride and bandmate bree, get married this afternoon in what is sure to be a memorable rock & roll wedding at a well-known local chapel.
bree (all lower case letters) is also the name of the rapidly rising Nashville based rock band fronted by singer / songwriter / guitarist bree that David both manages and plays drums for. Bassist Mayrk McNeely rounds out the electrifying trio and he is among David & bree's closest friends and family members who flew in for the big event.
Of course, David's brother (and fellow Domain Hall of Famer) Michael Castello and his family are here too and Michael will serve as David's best man today (and you would have a hard time finding a better man than Michael).
David & bree hosted a great night before the wedding dinner last night at the Sage restaurant at the Aria Hotel. Everyone was having such a good time, the party continued long after dinner in the Aria's Lobby Bar, finally winding down around 3am this morning. I know that is calling it a night early for rockers like David & bree but they had a good excuse - they have a wedding to go to today!
The ceremony gets underway at 2pm Las Vegas time (5pm Eastern). I'll have some photos for you after bree becomes Mrs. David Castello, but, as you might expect with a rock & roll wedding, there's no telling exactly when the party will end.
Our wish for David & bree is a long and wonderful life together at a party that never ends!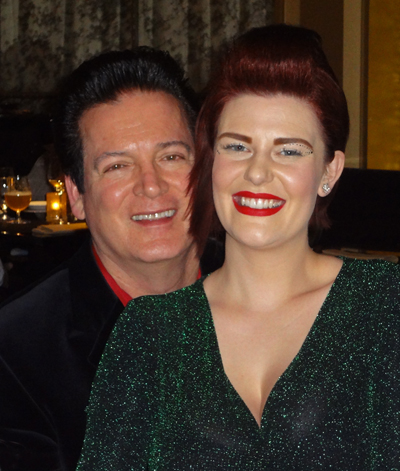 About to be weds David & bree last night at a pre wedding
dinner they hosted at the Aria's Sage Restaurant in Las Vegas.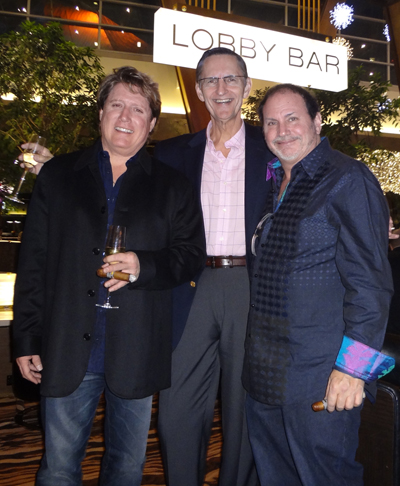 Best man Michael Castello, Ron Jackson and Michael Berkens at a post-dinner party that continued until 3am this morning at the Aria.