That's why city and registry officials chose to celebrate the debut at City Hall in front of a giant 3-D .VEGAS logo display, complete with showgirls.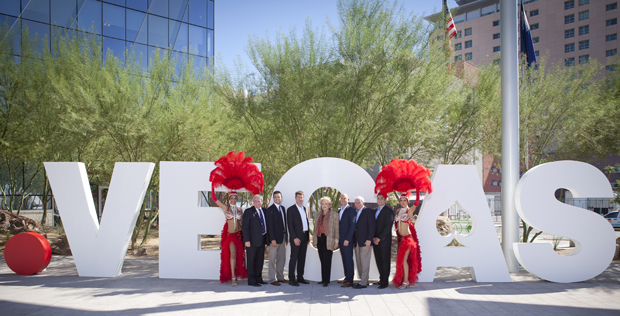 Dignitaries on hand for the start of .VEGAS General Availability earlier this week included (left to right): Bart Mackay (Principal, Dot Vegas, Inc.), Tyson Mackay (Vice President of Marketing, Dot Vegas, Inc.), Mike McLaughlin (Senior Vice President of Domains, GoDaddy), Las Vegas Mayor Carolyn G. Goodman, Dusty Trevino (Chief Financial Officer, Dot Vegas, Inc.), Jim Trevino (Chief Executive Officer, Dot Vegas, Inc.) and Sky Trevino (Chief Technology Officer, Dot Vegas, Inc.).
Jim Trevino
CEO, Dot Vegas, Inc.

Jim Trevino, president and chief executive officer of Dot Vegas, Inc., said the new TLD is also getting a great reception from the community. "We are extremely pleased with the local participation among small and large Las Vegas businesses," Trevino said. "Virtually all of the major operators on the Las Vegas Strip pre-registered .vegas domain names for the city's leading hotel/casinos, nightclubs, restaurants, attractions, events and retail destinations."

Trevino added, "A strong sampling of family owned small businesses, governmental agencies and non-profits took advantage of the pre-registration opportunity as well. Given the strong interest from Las Vegas concerns, we are excited about what general availability will bring, particularly since .vegas is an unrestricted top level domain. That means there is no nexus requirement to Las Vegas for individuals, companies and businesses to secure their own .vegas TLD."
Go Daddy Senior Vice President of Domains Mike McLaughlin, who was also on hand for the launch, said, "We've seen a great deal of interest for .vegas domain names driven by increased demand for new extensions, especially those that are location specific. Las Vegas is one of the most recognized brands on earth, so it has great global appeal for savvy marketers looking to distinguish their name online by associating with one of the most powerful and iconic brands in the world."
Those interested in registering a .vegas domain name can do so with GoDaddy or any of more than 50 other domain registrars with which Dot Vegas, Inc. is contracted. The registration fees are determined by the individual registrars with prices we are seeing tending to fall in the $50-$60 range.