After opening Thursday evening (Oct. 30) with their traditional Welcome Party at the Fountainebleau Hotel on Miami Beach, the 10th anniversary T.R.A.F.F.I.C. East conference got down to business Friday (Oct. 31). The day began with opening comments from show co-founders Rick Schwartz and Howard Neu.
The first full day of business at T.R.A.F.F.I.C. East began right after breakfast Friday
(Oct. 31) when show co-founders Rick Schwartz and Howard Neu welcomed their guests.
Immediately after, the first panel discussion, covering The Domain Aftermarket got underway. Those on the dais included (left to right in the photo below) Scott Pruitt (NameJet.com), Ron Jackson (DNJournal.com), moderator Braden Pollock (LegalBrandMarketing.com), Tessa Holcomb (Igloo.com) and Larry Fischer (GetYourDomain.com). Larry is also seen in the inset photo at left.

Panelists filled attendees in on the latest trends in the domain aftermarket which has enjoyed a powerful rebound from the recession over the past two

years. I provided the latest sales data that underscored that surge. You can review that data yourself as we recently published it in three newsletters (one for each quarter of the year to date - 1Q-2014, 2Q-2014 and 3Q-2014).
In the next session, DNForum.com owner Adam Dicker flew solo, telling one of the conference's biggest breakout audiences How to Turn a Domain Name Into a Business in Less Than 90 Minutes. Something he was able to do within the session's 90-minute time frame.
Above: Adam Dicker conducting his one-man seminar Friday on how to
turn a domain name into a full fledged business in 90 minutes.
Below: A view of part of the crowd at Adam's session.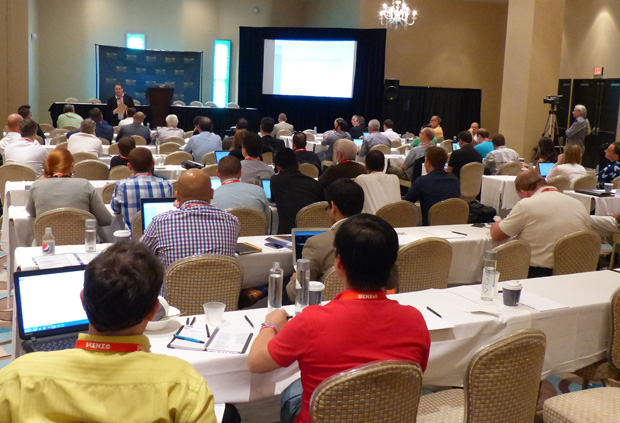 This year's T.R.A.F.F.I.C. East conference will be remembered for being more than just the show's 10th anniversary event. Co-Founder Rick Schwartz also announced that it will be he last time producing the show. He plans to transition into a quiet retirement with his partner, Howard Neu, expected to carry the T.R.A.F.F.I.C. flag from this point forward. To honor Schwartz in his last lap around the track a Rick Schwartz Roast was held during the Friday lunch break. Ten of his well-known industry colleagues (and an additional masked "mystery roaster") poked (mostly) good natured fun at the industry icon.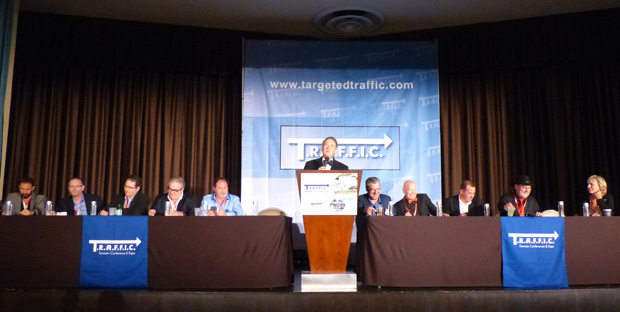 Those on the dais for the start of the Rick Schwartz Roast included (left to right): Braden Pollock, Victor Pitts, Adam Dicker, Pinky Brand, Michael Berkens, Howard Neu, the guest of honor (Rick Schwartz), Gregg McNair, Ari Goldberger, John Berryhill and Ilze Kaulins-Plaskacz. A mystery roaster entered later and remain masked throughout the event.
With lines like Adam Dicker's "Rick sometimes gets carried away...but not far enough!", Ari Goldberger's "Rick Schwartz is retiring from what!? (insinuating he hasn't worked for years), John Berryhill's "I only make fun of the ones I love, so I won't have much to say today" to Braden Pollock's "We all love you - just not as much as you love you!", Schwartz at times was near tears from laughing (at least we think it was from laughing)!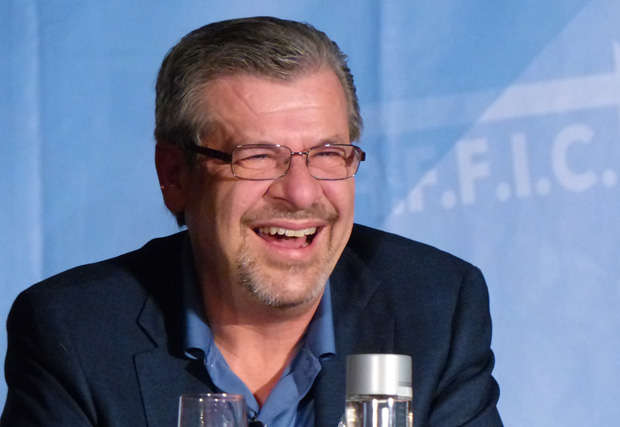 Roastee Rick Schwartz cracks up during the Rick Schwartz Roast Friday.
After the comic relief provided by the Rick Schwartz Roast, it was time to buckle back down in three afternoon business sessions, starting with a solo lesson from Chris Derose on Crypto Currency and Commerce.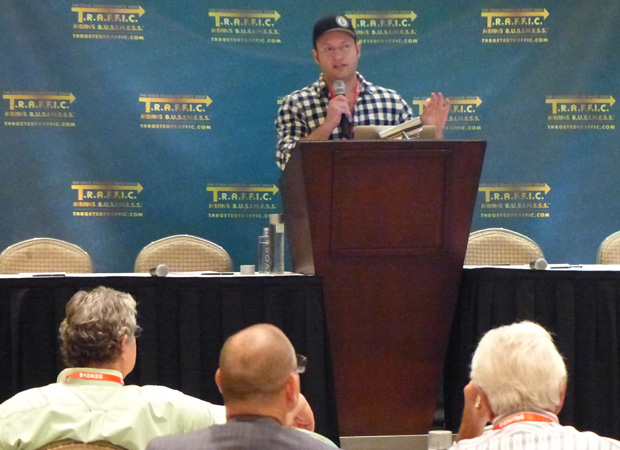 Chris Derose explains crypto currencies like bitcoin to T.R.A.F.F.I.C. attendees
who share an interest in the topic with many others in the domain business.
Next up, Rick Schwartz, apparently fully recovered from the wounds suffered during his "roasting" earlier in the day, joined Michael Berkens (TheDomains.com) and Adam Dicker (at right in the photo below) for a cautionary session telling attendees about various internet abuse, schemes and scams they needed to beware of.
In the final business session of the day, and one I personally found to be one of the most interesting of the show, three key figures in the new gTLD space - (left to right in the photo below) Daniel Schindler (Donuts.co), Jeff Sass (.CLUB) and Simon Cousins (TLD Registry) - detailed why they are bullish on the sector (and their specific TLDs) and what they are doing to try to increase public recognition.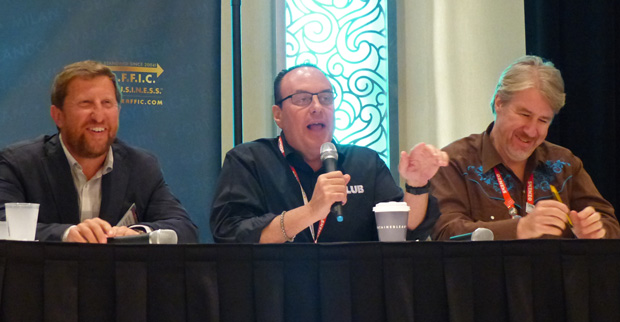 One criticism of many new TLD operators has been that they have invested little in marketing. .CLUB and TLD Registry have been among the few exceptions to the rule, and Schindler said Donuts, the biggest new gTLD operator, plans to spend millions on marketing in the year ahead. That will be good news for new gTLD investors and operators alike as they all try to clear the high hurdle of widespread public recognition.
With the day's business now out of the way, it was time for fun once again and there was more than enough of that to go around at the first ever T.R.A.F.F.I.C. Halloween Masquerade and Ball, held at the Fountainebleau Friday night. Attendees, being the creative types that they are, went all out with their costumes in a wildly entertaining event.
Cruella de Ville (Judi Berkens) with her canines in tow at the Masquerade Ball, including two Yorkies and an unusually large Dalmatian (Michael Berkens!). .Club's Jeff Sass (at right) might want to keep his distance unless he wants to wind up at the end one of Cruella's leashes too!
To give guests an added incentive to get dressed up, T.R.A.F.F.I.C. offered a $1,000 cash prize for Best Costume, as selected by fellow party guests. Not surprisingly, Judi & Michael costumes scored high, taking the runner up spot. The winner was Isis & Pharaoh (Diana and Ron Jackson), thanks entirely to Diana's sewing and art design ability. Ron's role was akin to that of a mannequin as Diana made his costume (as well as hers) from scratch - then showed him how to (for the first time) pull on a skirt and sit still for the application of makeup and eye liner!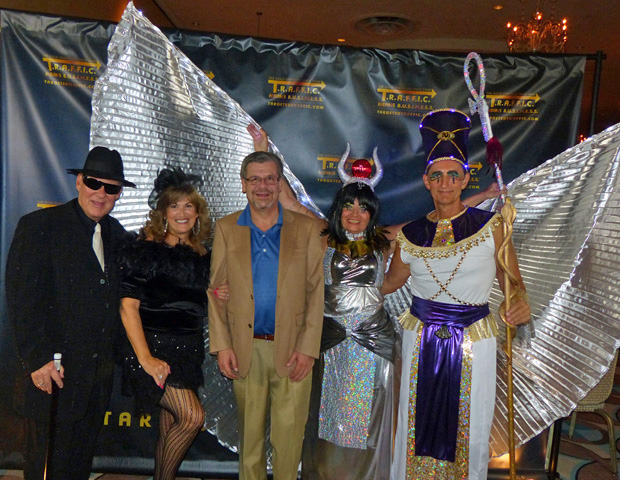 (L to R): T.R.A.F.F.I.C. Co-Founder Howard Neu, his lovely wife Barbara and T.R.A.F.F.I.C. Co-Founder Rick Schwartz with costume contest winners Diana Jackson (Isis) and Ron Jackson (Pharaoh- or maybe that should be spelled Fauxroah).
As you would expect, the masquerade ball produced a ton of great photos. We will share many more of those with you in our upcoming complete T.R.A.F.F.I.C. East 2014 review article. Day two of the conference is continuing as I write this. There will be a Dessert Party tonight, then the show will close with the traditional Farewell Breakfast Sunday morning. I'll have photos and highlights from Saturday and Sunday for you in my next post, which you can expect to see around mid-day Monday (have lots of photos to go through!)