As a result buyers in the U.S. and other countries around the world are becoming more interested in tapping into the booming Chinese market. It was a hot topic at the recently concluded T.R.A.F.F.I.C. East conference in Miami Beach where three experts on the Chinese market conducted one of the show's most popular sessions - Demystifying the Chinese Domain Market - on November 1st.
(Left to Right) Simon Cousins (TLD Registry), Jeremy Marx (Beyond the Dot) and domain broker George Hong (Guta.com) helped demystify the Chinese domain market for T.R.A.F.F.I.C. East attendees earlier this month in Miami Beach.
New gTLD registry operator TLD Registry (whom Simon Cousins serves as Chief Marketing Officer) also had a prominent corporate presence with a booth at T.R.A.F.F.I.C. where they filled guests in on another area the company believes presents an opportunity - registrations in two Chinese language new TLDs that they administer - .在线 (.online in Chinese) and .中文网 (.website in Chinese). Though the TLDs are new they have already enjoyed some early success, particularly with the Chinese .online extension that, as of this writing, ranks among the top 15 new gTLDs in total registrations. (You can hear more about the Chinese market from Simon in a new podcast at DomainNameWire.com).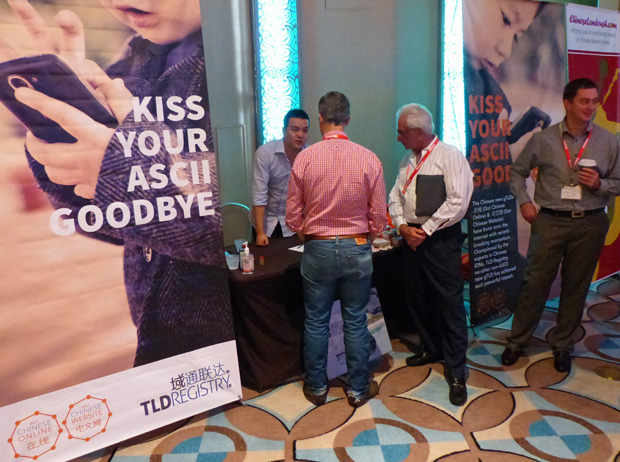 TLD Registry booth at T.R.A.F.F.I.C. East 2014 in Miami Beach
TLD Registry fully understands that if they want to attract buyers who do not speak Chinese they have to hurdle the language barrier. They have addressed that problem with a dedicated website at ChineseLandrush.com (the latest version 3.1 has just been released). The site has an ingenious tool that lets you type in any keyword in English - that is then converted to simplified Chinese - including a list of available domains in the Chinese .online or .website extensions.
Though still in short supply, bilingual brokers like George Hong at Guta.com are also making it much easier for non Chinese speakers to buy and sell in the burgeoning Chinese market. With a lot of the obstacles now getting cleared away it is starting to look like a no-brainer to look more toward the Far East. You've probably heard the apocryphal story that Willie Sutton, when asked why he robbed banks, said, "because that's where the money is!". These days a lot of the money is obviously in China. The good news is, if you are a buyer who has a knack for recognizing good domains or are a seller with the kind of names that Chinese buyers are looking for (short numeric domains, for example), you could end up with a big payday that - unlike Willie Sutton's - will be perfectly legal!