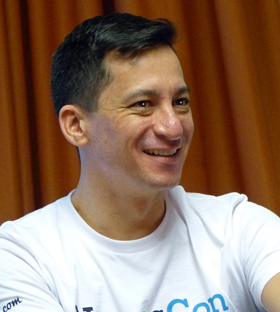 NamesCon Co-Founder Richard Lau
is celebrating his 45th birthday today.
NamesCon Co-Founder Richard Lau is celebrating his 45th birthday today and to mark the occasion he released a discount code for the 2016 NamesCon conference in Las Vegas that will knock $45 off the current $399 early bird registration fee. Just click the "enter promotional code" link on the registration page, type in "happybirthday", and your cost to attend the Jan. 10-13 event at the Tropicana Hotel will drop to $354. It is a good idea to lock those savings in early as the price at the door will be $999.
This latest bit of news followed several other major developments on the NamesCon front that DomainGang.com reported earlier today. The key one was NamesCon's decision to open a new office in Lau's hometown - Vancouver, Canada - that will be staffed year round. With that office picking up the show's logistical duties, Jodi Chamberlain, who did a great job in handling those tasks for the show's first two years, will exit and return her full attention to her event planning company, 32Events.com.
Jodi, who has also helped stage T.R.A.F.F.I.C. and Domaining Europe conferences in the past, already has a full plate for the year ahead including planning for events both in and outside of the domain industry.
NamesCon also had more to say about the Domainfest brand it acquired from Oversee.net last year. The plan is for Domainfest events to be smaller networking opportunities in local markets. The first standalone Domainfest meetup under the NamesCon umbrella will be held June 3, 2016 in Sofia during Bulgarian Internet Week with NamesCon Co-Founder Jothan Frakes helping put that event together. Lau mentioned Los

Angeles, Toronto, Vancouver, London, and possibly Dubai and Florida as locations for future Domainfest meetups.