Organisation CEO Edmon Chung and Allegravita CEO Simon Cousins. Mr. Cousins was kind enough to share some photos with us that were snapped during the course of the event by Allegravita and .ASIA photographers. There is nothing like being at a conference is person but these shots will give you a peak at what proved to be a very productive four-day weekend in Macau.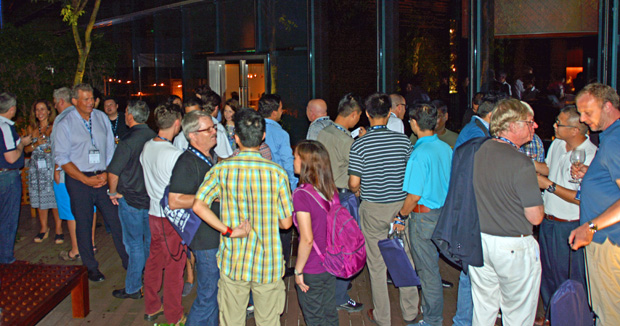 Above: DOMAINfest Asia got underway Friday evening (Sept. 4, 2015) with a welcoming Cocktail Reception at the Grand Hyatt Macau.
Below (left to right): Ray King (Top Level Design, LLC), Edmon Chung (DotAsia CEO and DOMAINfest Asia Co-Host) with fellow attendees Yannis Li and James Wolf at the opening night reception.
Above: At left, Crystal Peterson (.CO/Neustar Head of Global Sales and Channel Marketing, Registry Services) with Leona Chen-Birkner (DotAsia Vice President of Registrar Relations and DOMAINFest Asia Co-Host).
Below (left to right): Angie Graves (WEB Group, Inc. Founder and one of the the show's featured speakers), Anshul Goyal (Email.biz Founder) and Jothan Frakes (DOMAINfest/NamesCon Co-Founder and Producer).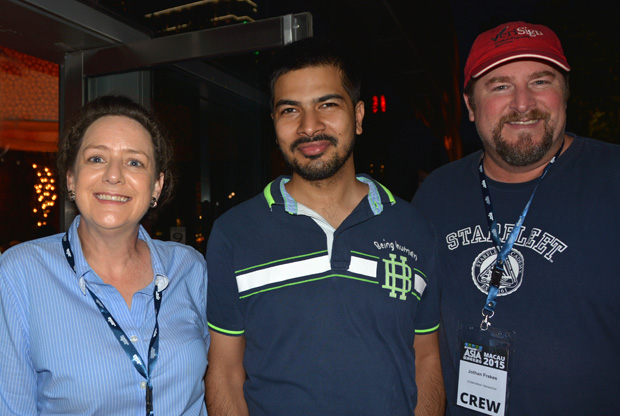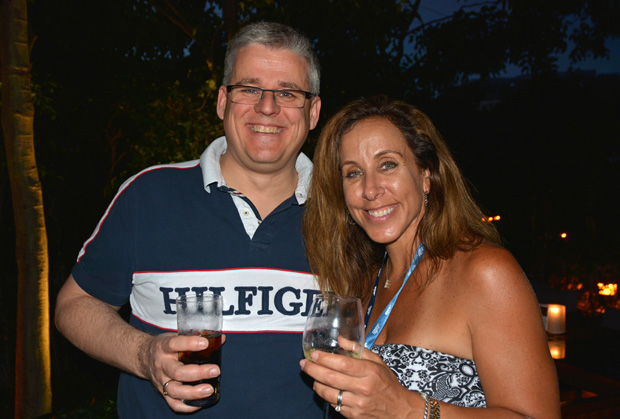 Above: Also among those on hand for the opening night reception were conference speakers Michael Gilmour (ParkLogic.com Founder) and Tessa Holcomb (Igloo.com Co-Founder & CEO).
Below (left to right) Raymond Li (Allegravita CTO), Colin Campbell (.CLUB Founder, Chairman & CEO) and Manmeet Pal Singh (DomainX Conference Founder).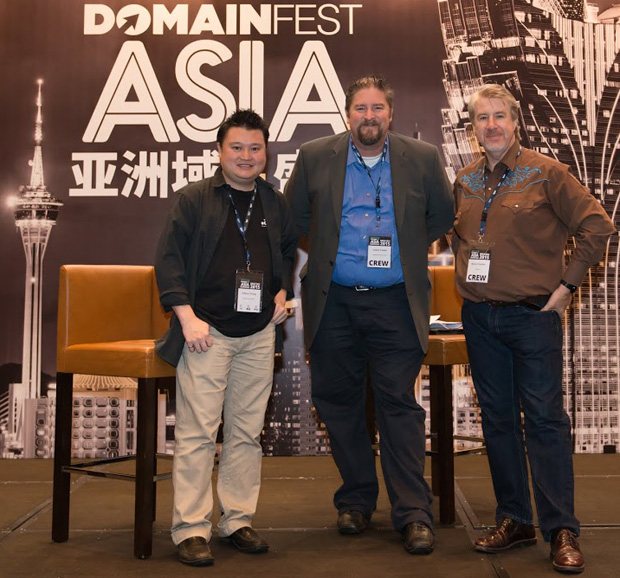 Above: At 9:45am Saturday morning (Sept. 5, 2015) it was time to get down to business with DOMAINfest Asia Co-Hosts (left to right) Edmon Chung, Jothan Frakes and Simon Cousins welcoming their guests to the big event.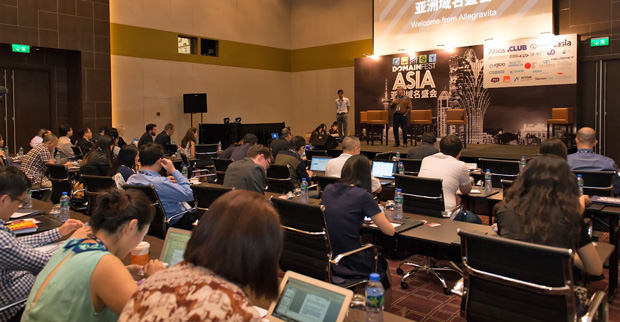 Above & Below: Views from the audience at DOMAINfest Asia Saturday.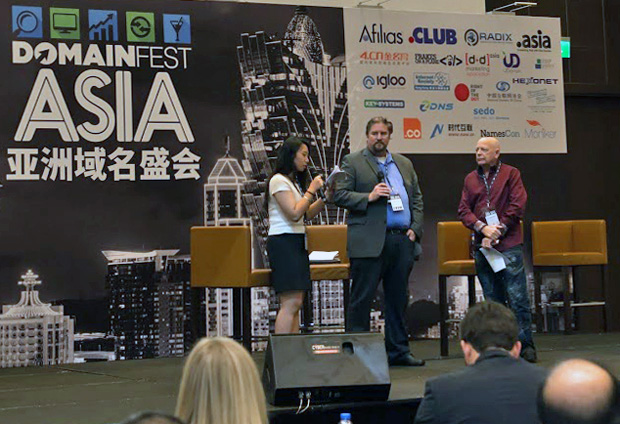 Above: The first business session of DOMAINfest Asia 2015 was a keynote talk with Dr. Gregg McNair (at far right) conducted by Jothan Frakes (center). Dr. McNair is Chairman of the Hong Kong based PPX International Group and is also Chairman and Co-Founder of Igloo.com. Gregg is also well known for his charitable work on behalf of The Water School.
Below: In a later session Saturday morning, Lie Yue (Internet Researcher and Vice Area Chair, Chinese Academy of Information and Communications Technology) talked about Bridging East and West.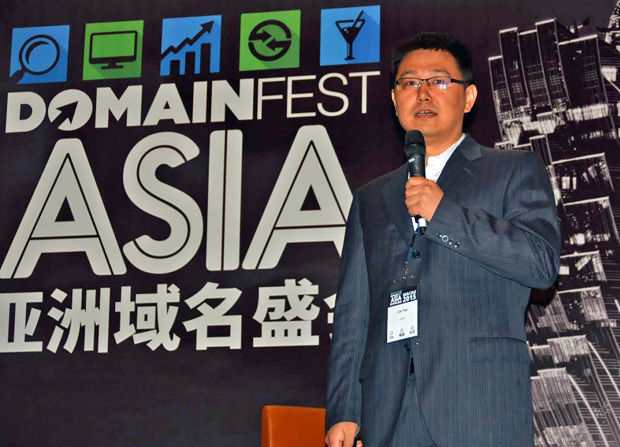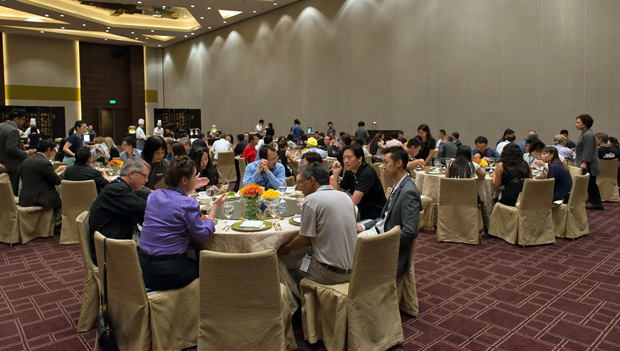 Above & below: DOMAINfest Asia attendees getting to know each other better during the lunch break Saturday afternoon.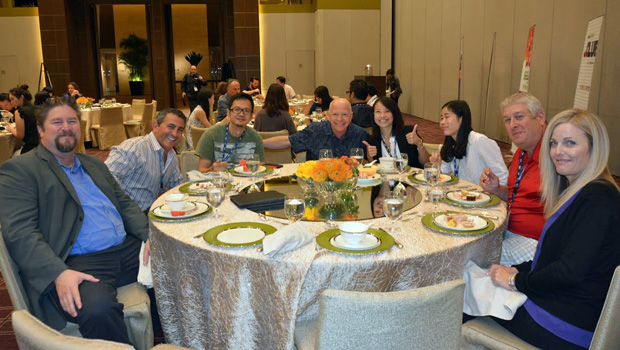 After lunch the China experts from Allegravita, Simon Cousins and Raymond Li, drew an appreciative crowd to their China Boot Camp for Registrars. The rich agenda brought many more top speakers to the stage throughout the weekend to cover topics including The Value Promise of New gTLDs, Appraisal of Domain Names, Trading & Negotiation of Domain Names Around the World and The Future of Domains (IDN and Universal Acceptance), to name just a few.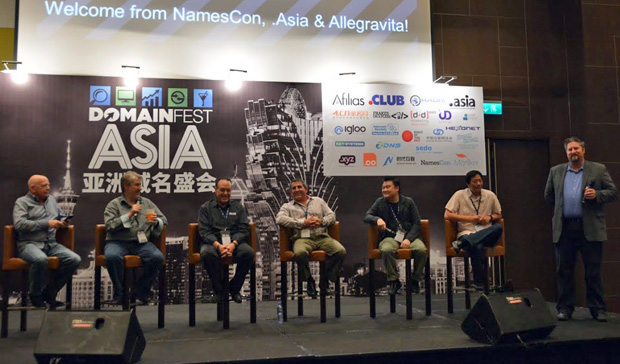 Above: The main event on the final day of DOMAINfest Asia in Macau Monday (September 7, 2015) was an Executive Roundtable discussion moderated by Jothan Frakes (standing at far right). Seated (left to right) are Dr. Gregg McNair, Simon Cousins, Jeff Sass (.CLUB CMO), Monte Cahn (RightOfTheDot, LLC President), Edmon Chung and Ray King.
Below: .CLUB's Jeff Sass, who also delivered a keynote talk Sunday morning, answers a question during Monday's Executive Roundtable discussion while Simon Cousins (left) and Monte Cahn (right) listen in.
With another edition of the decade-long DOMAINfest series - and its first foray to Asia - now in the books, you might think Producer Jothan Frakes could now kick back and relax for a few months - but no chance. In addition to just having been named the new CEO at registrar Moniker.com (news that came out at DOMAINfest Asia) Jothan will be bringing a one-day DOMAINfest event to South Florida less than three weeks from now as a lead in to the first edition of THE Domain Conference at the Hyatt Regency Pier 66 Hotel in Fort Lauderdale. DOMAINfest will run there with a full day of business sessions on Sunday, September 27, 2015 (admission to DOMAINfest is included in THE Domain Conference registration fee).
If you want to look further out, DOMAINfest Asia has already announced a return engagement for 2016. That show is to be held September 19-22, 2016 in Hong Kong with the venue still to be named.