attending some key events for that country's domain industry. One of largest of those was registrar eName's 10th Anniversary Event held this past weekend (on Saturday, December 5, 2015) in Xiamen. With the help of eName's event staff, George was kind enough to have some photos and highlights from the party put together for us to share with you. That report - in their own words and photos (with some minor grammatical changes to better fit the English translation) - is below:
Over One Hundred Famous Chinese Domain Investors Get Together at eName's 10th Anniversary Thanks Meeting
China has become a big domain country. Chinese investors have gradually become the backbone of the global domain industry. eName Technology Co., Ltd. (eName) is a nationally famous domain registrar located in beautiful Xiamen, a city well known as the capital of domains in China where the domain investment market has become much hotter this year. On December, 5, 2015, eName hosted their 10th anniversary thanks meeting - "A Domain, A Dream" - in Xiamen. Over one hundred famous Chinese domain investors gathered together for the first premier event of China's domain industry over the past decade.
Well known as China's" Domain King", Cai Wensheng attended this meeting. Cai Wensheng is a famous angel investor and the president of Meitu. As the fourth largest mobile Internet company in China the number of Meitu users follows only Baidu, Alibaba and Tencent Meitu also releases a self-portrait smartphone Meitu Kiss that has great sales in Asia is great and is especially popular with female users.
58.com Inc. is China's first information classification website and is known as "China's Craigs List". Their President and CEO, Yao Jinbo, also attended this meeting. 58.com Inc went public on the New York Stock Exchange in 2013 and completed a merger with Ganji.com in April 2015. When eName was founded Cai Wensheng and Yao Jinbo both invested in eName. Yao Jinbo once said, "The return on investing in eName has been the biggest."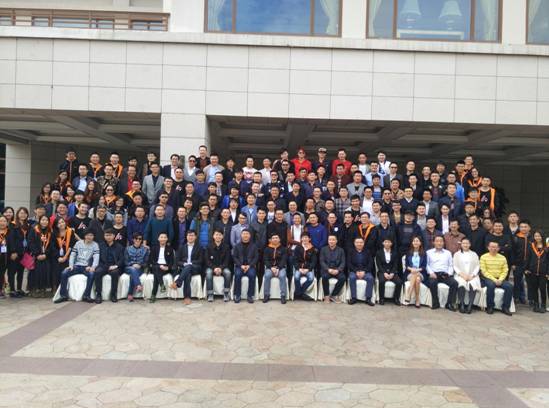 Above: All meeting attendees in Xiamen, China (December, 5, 2015).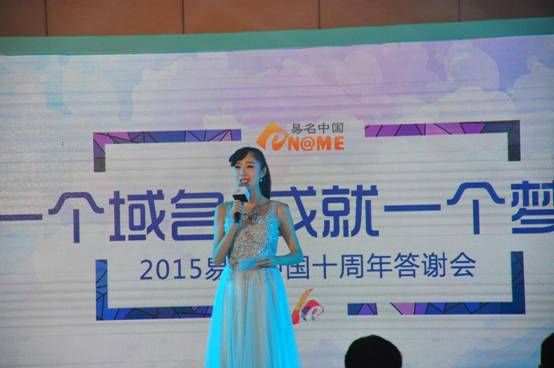 Above: The beautiful hostess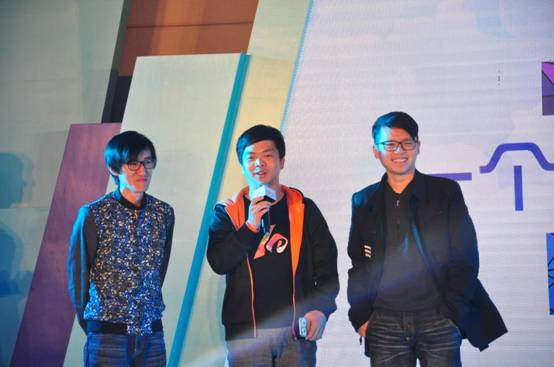 Above: Yao Jianjun (Feiyu.com), Kong Dejing (eName) and Wu Xinhong (Meitu)
giving the opening speech.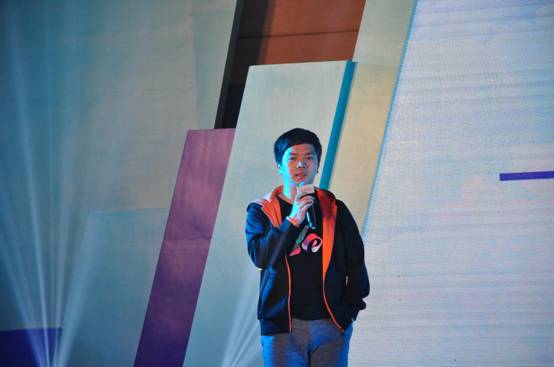 Above: eName President Kong Dejing speaking at the meeting. He told attendees, "I
hope everyone will take domains as an honorable and great cause to do in the next decade."
Above: In a very interesting comment, Yao Jinbo of 58.com Inc. told guests, "The domain industry has great development space. Comparing to the investment in vehicles, housing,
domain investment circulates faster, it also cashes out faster."
Above: Cai Wensheng of Meitu speaking at the meeting said, " If there is a way we can
have the domain name deep processed by turning it into a website or matching it with the trademark to become an IP, then the value is infinite."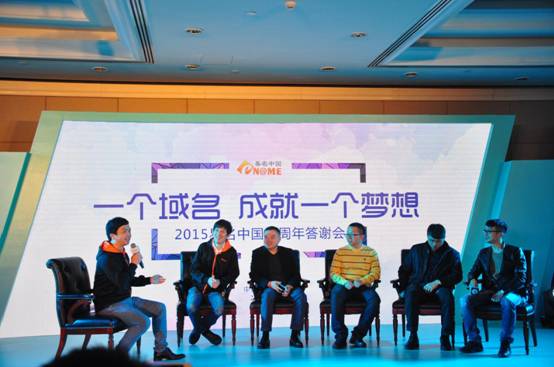 Above: Kong Dejing, John Xu (4.cn Founder), Shen Xiaohang (famous domain investor),
George Hong (Guta.com), Song Yang (famous Pinyin domain investor)and Wang Weilin (Tou.com) discussing domain investment.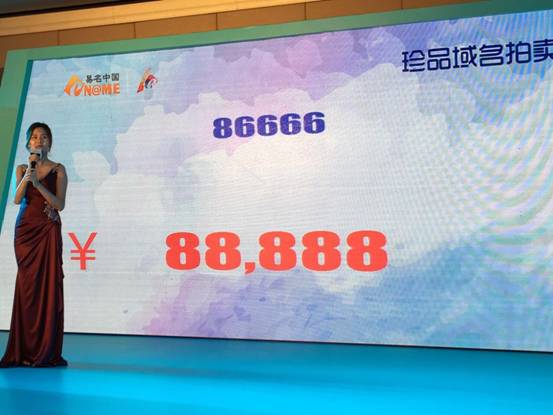 Above: A scene from the Live Domain/IP Auction showing the
Ename account ID number 86666 sold for the equivalent of $13,830.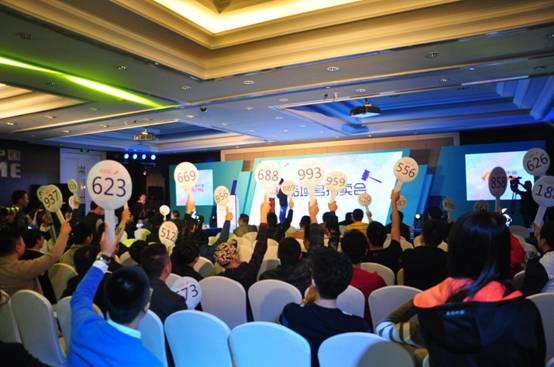 Above: A wider view of the Live Domain Auction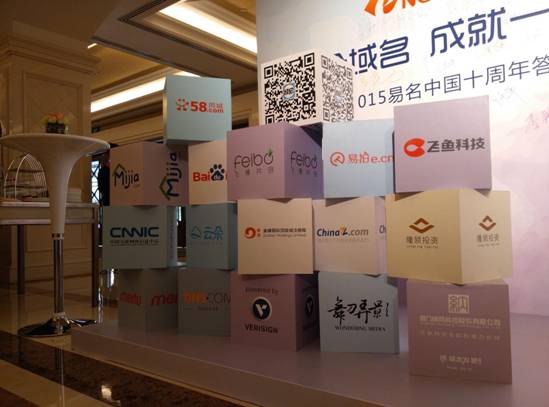 Above: Logos of attending companies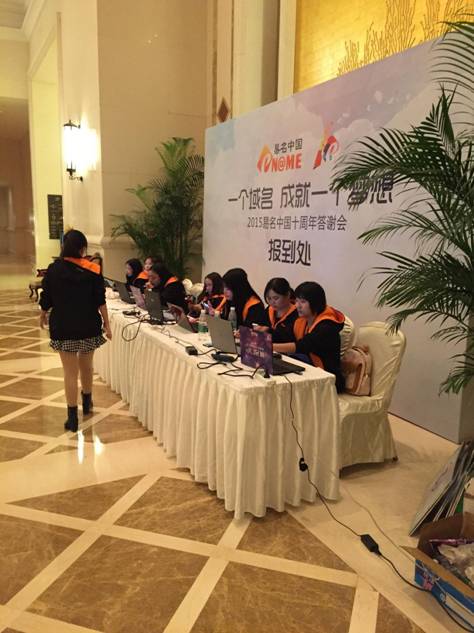 Above: Editors busy recording and organizing the meeting.
Below: Four photos of attendees taking a break for some sightseeing
aboard a yacht cruising in the beautiful sea off Xiamen.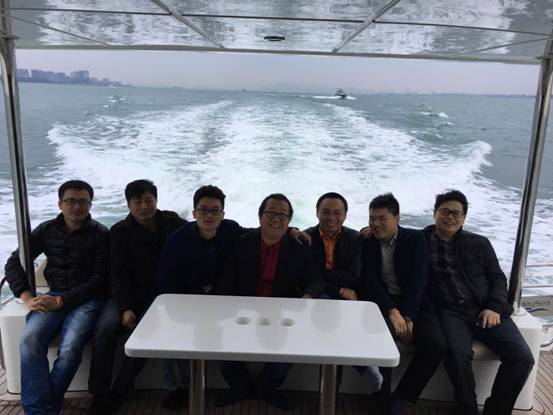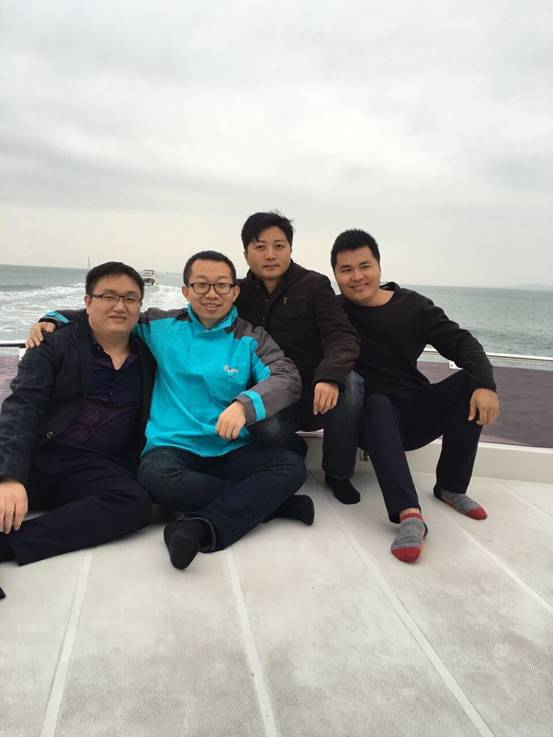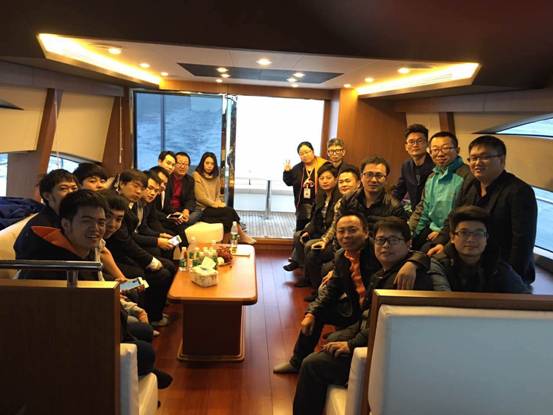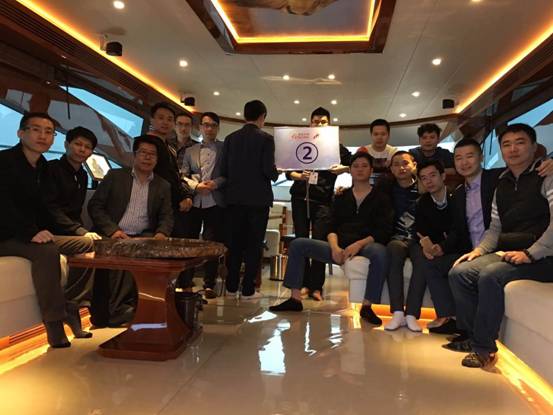 Below: A Laser Show highlighted meeting After Party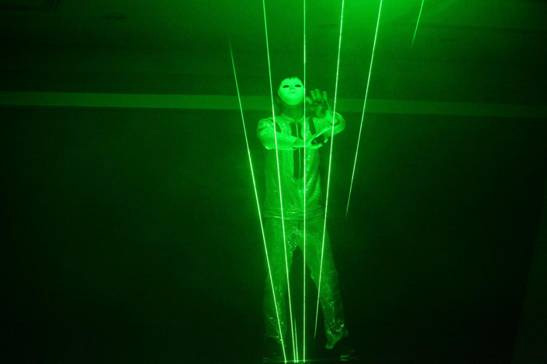 Thanks to the support of all parties, eName was able to host this premier event with so many top domain investors. As a dedicated domain registrar for ten years, eName 's domain registrations are over 5 million, domain annual turnover has been long over 1.5 billion RMB and eName has become the leader of China's domain industry development.
Our thanks to George Hong and eName staff for providing us with this look at some of the key faces of the Chinese domain industry. We expect to be seeing and hearing a lot more about them in the future.