arrange for us to get photos and highlights from the event to share with you. Those are presented below as sent to us with the only changes being some of a grammatical nature that made the translation from Chinese to English easier to understand.
The Mixue report affirmed what I wrote at the beginning of this article, noting "At the same time China began experiencing rapid economic development, domain name investment got started quietly and gradually gained momentum over the past few years. However, lots of new domain name investors have stepped into the industry since September 2015, with an enormous amount of money pouring into it. That has lead to an overheated domain name investment market and various domain names bought by new, and sometimes irrational, investors in China, resulting in soaring prices of domain names. To provide the basic knowledge of domain name investment, keep overheated investment behavior more reasonable, and promote the sound development of domain name investment market, the Mixue Digital Investment Institute was founded with the inaugural class meeting in Xiamen December 6-9, 2015."
Above: Photo of the inaugural class at China's Mixue Digital Investment Institute (MDII).
Below: The MDII launch was big news in Xiamen (a booming metropolis of more than
3.5 million people) where major media outlets turned out in force to cover the event. They are seen here interviewing Booksir Zhuang.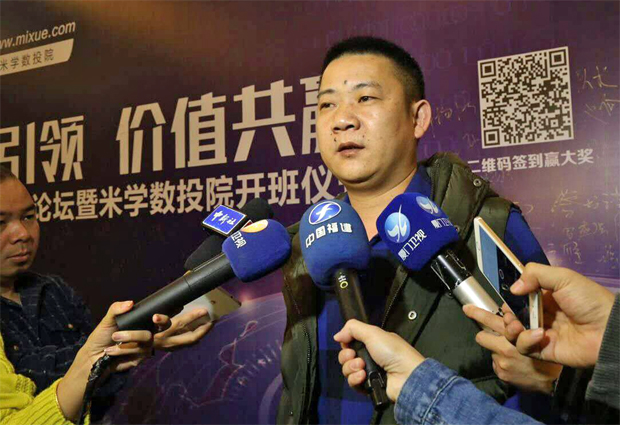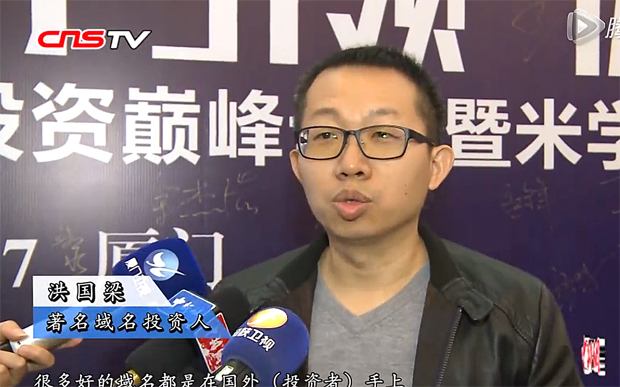 Above: Guta.com's George Hong doing TV interviews at the MDII launch.
Below: MDII founders and industry leaders on stage to officially launch
the Mixue Digital Investment Institute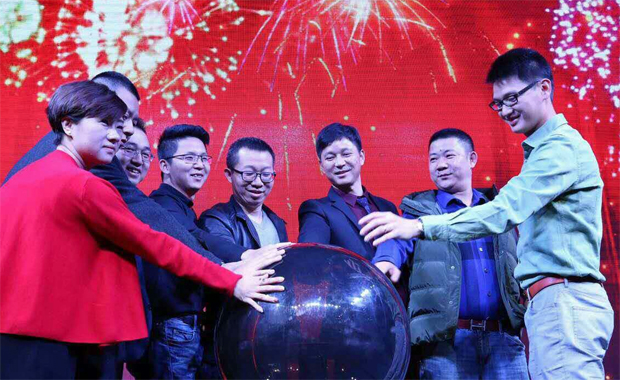 Above: Domain Investment Panel Discussion. From left to right are Zhu Yaoguang, the President of jinyuming.com, Zhang Zhengjun, the President of A5 (A5.net), Zhou Xiaopeng (Miller), a well known domain name investor, Xie Yongdong, the President of yumi.com, George Hong, the founder of guta.com, Booksir Zhuang, the founder of 258 Group(258.com) and Wang Weilin, the president of RZ.com.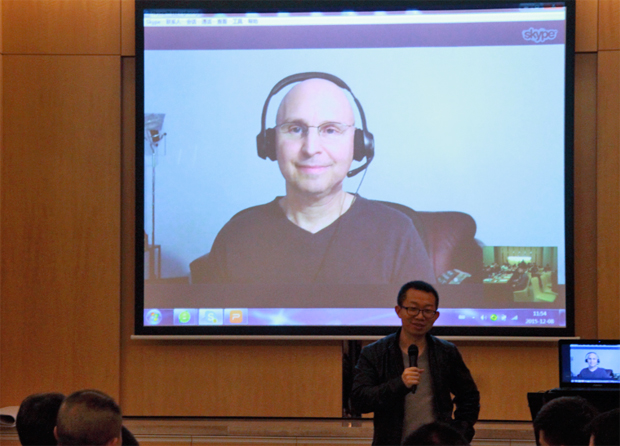 Above: During a session on "Purchasing domain names from overseas - Challenges and Opportunities" that was presented by George Hong (in foreground), America's Alan Hack (seen on screen), the President of Names Plus Marketing, joined George via Skype for a Q & A.
Above: Domain auction tips were provide by Zhu Yaoguang (jinyuming.com).
Below: Yu Jiehao, founder of 10.cn, doing a presentation
on "Risk control in domain name investment"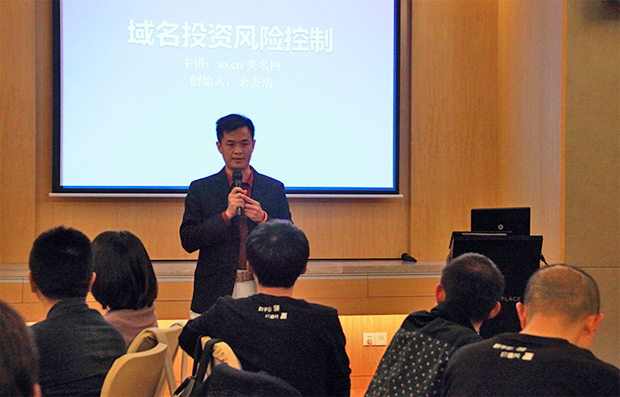 Above: MDII trainees listen intently during one of the Institute's business sessions.
Below: The Domain Name Fund presentation from Wang Weilin (RZ.com).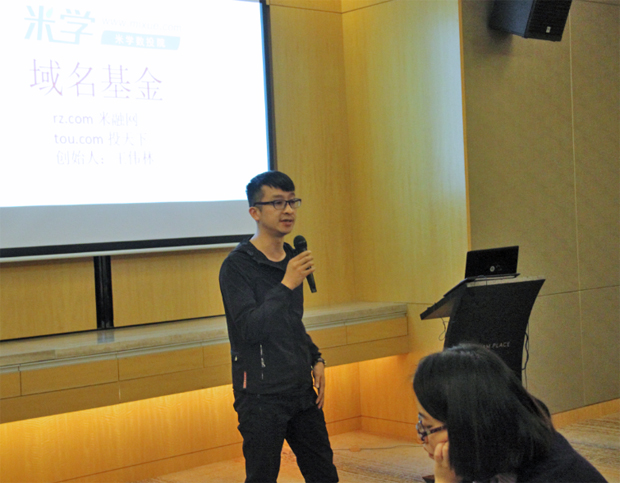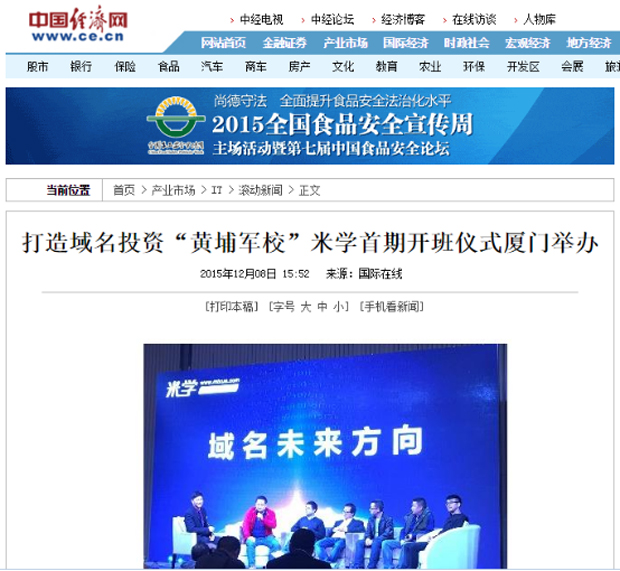 Above: News about the domain business was spread far and wide by the large number of Chinese major media outlets at the MDII launch. They included ifeng.com, Xiamen TV, Fujian Dail and China Economic Net (CEN). The screenshot above captured some of CEN's coverage. CEN, a key central news website and a national economic web portal sponsored by Economic Daily, releases about 10,000 pieces of news every day with approximately 1 million daily visitors.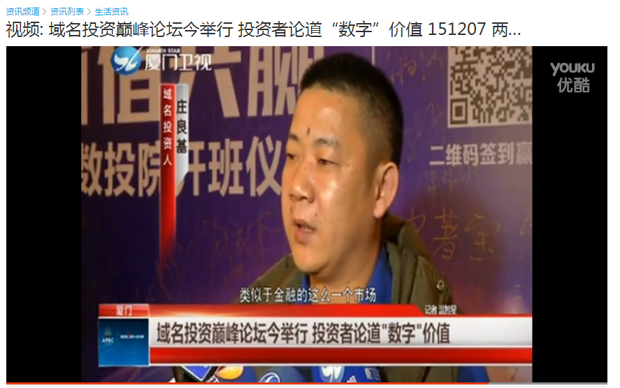 Above: Xiamen TV is one of the top television outlets
in Fujian province with access to as many 30 million viewers.
Below: Fujian Daily is the area's most widely read mainstream newspaper.
Its daily circulation has exceeded 200,000 copies.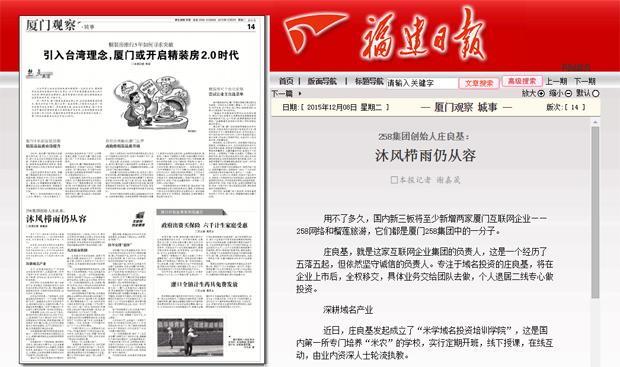 As China's first institute specializing in domain name investment, Mixue leaders said, "Mixue aims to serve domain name investors, expand high-quality networks in the industry, speed up integration of Chinese traditional enterprises with the Internet, improve their domain knowledge and spread to the general public the concept of the domain name as brand equity and and Internet resource.
"
"The satisfaction of all trainees at MIXUE is guaranteed. If for any reason a trainee is not satisfied with the training he or she can get a full refund within 7 days after the training class concludes. No trainee in the first class asked for a refund."
Thanks again to George Hong and Mixue for giving us this insight into what is happening in China. Though Chinese buyers have already become a huge market force it is clear that the industry there still has plenty of room left to grow, especially with so many new investors entering the field and mainstream media there covering domains at a level that already seems to exceed what we see here in the U.S.