If you were paying attention to the Super Bowl ads in Sunday's 50th edition of the big game, you saw a new gTLD featured in one of the spots seen by the 3rd largest audience in TV history. The URL in one of the world's brightest spotlights was GodsOfEgypt.movie, home of
the official website for a major film that hits theaters February 26. The .movie extension, operated by the world's largest operator of new gTLD registries, Donuts, seems to be gaining excellent traction with Hollywood studios. It has been used for other major movies including the latest film in The Hunger Games series, Dirty Grandpa and Freeheld.
Given that rapidly developing relationship it wasn't surprising to see Donuts and the Motion Picture Association of America (MPAA) today jointly announce an agreement to help ensure that websites using domains registered with Donuts are not engaged in large-scale piracy.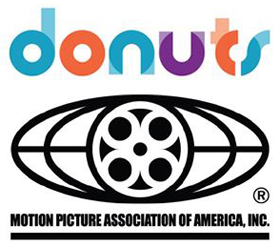 Under the terms of the agreement, the MPAA will be treated as a "Trusted Notifier" for the purpose of reporting large-scale pirate websites that are registered in a domain extension operated by Donuts. The agreement imposes strict standards for such referrals, including that they be accompanied by clear evidence of pervasive copyright infringement and a representation that the MPAA has first attempted to contact the registrar and hosting provider for resolution.
The agreement specifies that Donuts will work with registrar partners to contact the website operator and seek additional evidence. If Donuts or its registrar partner determines that the website is engaged in illegal activity and thereby violates Donuts' Acceptable Use and Anti-Abuse Policy, then they, in their discretion, may act within their already established authority to put the infringing domain on hold or suspend it. Overall, the new program is a voluntary best practice designed to help promote a healthier Internet by mitigating blatantly illegal online activity.
Jon Nevett
Donuts Co-Founder & Executive VP

Donuts Co-Founder and Executive Vice President Jon Nevett said, "This is a groundbreaking partnership and one we're proud to undertake," said . "Donuts, as the operator of .MOVIE, .THEATER, .COMPANY and almost 200 other domain extensions, is committed to a healthy domain name environment and this is another step toward a safe and secure namespace."

Nevett added, "While this agreement is geared specifically to film and television piracy, it can also be adapted to address other illegal activity online. Hopefully, it will become a model for similar agreements that can be reached with operators in the domain name ecosystem and other Internet intermediaries."

Former U.S. Senator Chris Dodd, who now serves as Chairman and CEO of the MPAA, said "I want to thank Donuts for their leadership. This agreement demonstrates that the tech community and content creators can work together on voluntary initiatives to help

ensure vibrant, legal digital marketplaces that benefit all members of the online ecosystem. Filmmakers and distributors are already using the Internet to offer more options than ever before for accessing online legal content, including over 115 such sites in the U.S. alone. But sites engaged in large-scale piracy threaten this continued growth and creativity, as well as the livelihoods of the 1.9 million Americans whose jobs depend on our industry."
The announcement immediately precedes the first Healthy Domains Initiative summit tomorrow in Seattle, an event organized by The Domain Name Association, that will bring domain name industry leaders who are focused on issues such as this, including the safe and healthy evolution of the namespace.