When the massive 2016 South by Southwest (SXSW) Music, Film & Interactive Festival gets underway two weeks from now in Austin, Texas, Sedo is going to be there putting domains in front of close to 200,000 influential attendees from around the world. In fact, from March 12-17 the company will set up an entire Sedo Domain Village - complete with bars, food trucks, a photo studio and a tattoo parlor (visitors can even apply for a free tattoo at GetYourFree.Tattoo) plus special events designed to bridge the digital and analog worlds.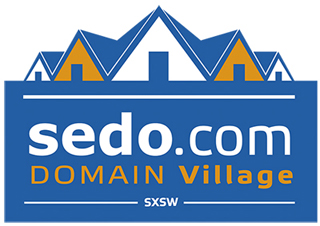 Sedo CMO Christian Voss

Sedo CMO Christian Voss told us, "In this creative-digital environment, our live domain experiences show perfectly how premium internet addresses can connect genuine, palpable and tangible daily life with the Internet, automatically and quite naturally. Visitors can get their morning coffee (and TLD branded donuts) on the way to the Convention Center in the Domain Village shop www.Coffee.Club and in the evening there will be live events at www.Sedo.live (where music.rocks!) as well as "German beer" at www.SedoBeer.bar."

Voss noted, "Every business needs a good, easy-to-remember name – online as well as offline – and with the 18 million internet addresses we have for sale, everyone can find the right domain name."
The Sedo.com Domain Village will be perfectly situated between Austin's daytime and nighttime attractions - directly behind the Convention Center and Rainey Street (the SXSW party epicenter).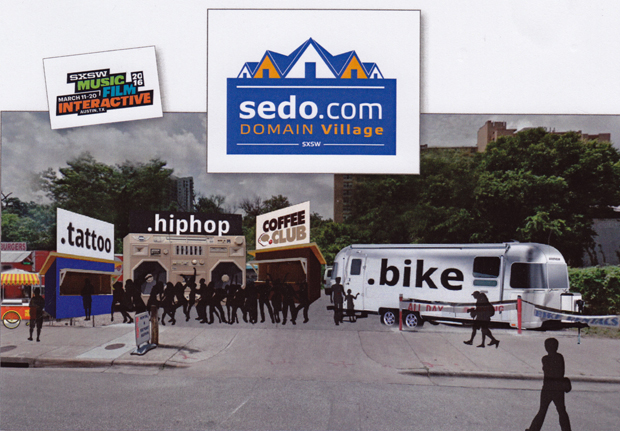 An artist's rendering of part of the Sedo Domain Village at SXSW
Sedo's free frozen yogurt truck, that was a big hit at last year's SXSW will also be back - along with another surefire crowd pleaser, TLD branded hot dogs. Voss said, "We were happy with 8,000 visitors to our frozen yogurt truck in 2015. However, this year we are counting on up to 20,000 visitors between March 12th and 17th."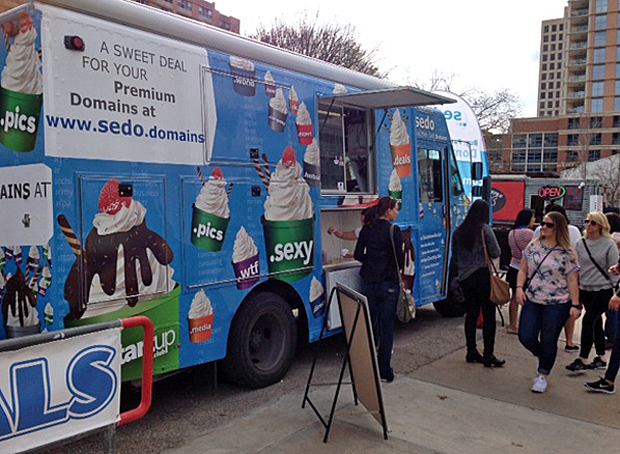 The Sedo yogurt truck at the 2015 SXSW Festival
The Sedo effort to put domains in front of the huge SXSW crowd is being supported by many other industry companies including Uniregistry, Radix, Rightside, .club, .me, .top, .asia, .rest and .bar.