Popular domain brokerage house DomainHoldings has announced their final results for 2015 - a year in which they booked over $21.7 million in sales. The best news is that they closed the year with a bang, seeing 4th quarter sales surge 40% from 3Q-2015 - reaching over $6.3 million - a $1.82 million jump from the previous quarter. The company's average sales price also soared from $57,500 in 3Q-2015 to $105,982 in 4Q-2015.
In the closing quarter the United States and China continued to be DH's two largest markets, accounting for 86% of total sales. Sales to the Chinese market increased due to their intense interest in short domain names, especially those up to 3 numbers or 4 letters in length.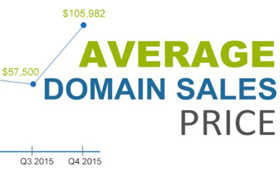 In 4Q-2015 .com continued to be their most popular extension (by several miles). .Coms made up 87.6% of sales. The other legacy TLDs - .net and .org - had 5% combined. Other gTLDs (including the hundreds of new extensions) combined for 6.7% of their market share.
The DH report also noted, "Flippa's acquisition of Domain Holdings has allowed us to build a solid foundation for future growth. We have increased our sales through our continued dedication to our existing clients (buy requests), secured more inventory, generated new relationships, matured pipelines and launched new outbound marketing campaigns. In addition, Domain Holdings has expanded our team in size, function and experience in 2015. Our increased head count has allowed us to expand our service offerings, helping us to fulfill the needs of our existing clients, as well as the demands of a constantly growing client base."
Senior Domain Broker Mark Daniel
DomainHoldings.com

In a related note, industry veteran Michelle Miller, Flippa/DomainHoldings VP of Sales and Marketing, just published a very interesting profile of DH's Senior Domain Broker Mark Daniel who has been a star producer with the company ever since it was founded by John Ferber and Chad Folkening in 2010. Michelle's profile of Mark is of Cover Story quality (something she is very familiar with - over a decade ago, when Michelle was one of just a handful of woman in the domain business, she was featured in a DNJournal Cover Story herself).

It was great to see her give Daniel the attention he deserves. In her piece Michelle wrote, "Having worked with Mark for the last 8 months, I can attest that one of his best attributes is a tireless and selfless focus on his clients. He is always ensuring that the sellers and buyers he works with are happy, getting a fair deal and that the transaction and domain always remains the hero. It's this approach that has made him one of the most successful and

respected brokers in the space. It's also what has kept his success so low profile. I was instantly impressed with his unique approach and attitude. This is why I thought we'd turn the table for a moment and shine the spotlight on Mark."