The 2017 NamesCon conference continued at the Tropicana Hotel in Las Vegas Monday (January 23) with a jam packed schedule that kept attendees hopping until the wee hours of Tuesday morning. If you missed our previous reports from the show you will find them here:
First Photos & Highlights from the 2017 NamesCon Conference That Opened Sunday in Las Vegas
Opening Day & Night Photos & Highlights from the 2017 NamesCon Conference in Las Vegas
The Monday schedule began with a pair of 9am business sessions. The one seen above, titled How Can I Monetize My Geo-Targeted Domain Names featured two of the most experienced people in the geodomain field, Patrick Carleton (City Advertising Partnerships), standing, and Fred Mercaldo (City Brand Media), seated at top right.
At the same time in an adjacent room, (left to right below) Zak Muscovitch (DNAttorney.com), Eugene Rome (Rome & Associates) and Andrew Rosener (MediaOptions.com) provided advice on Leasing Domain Names.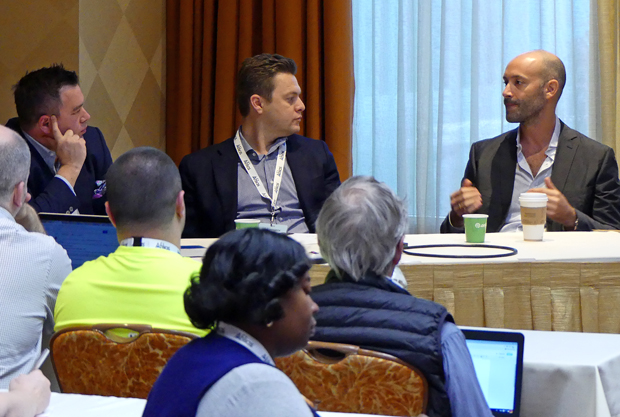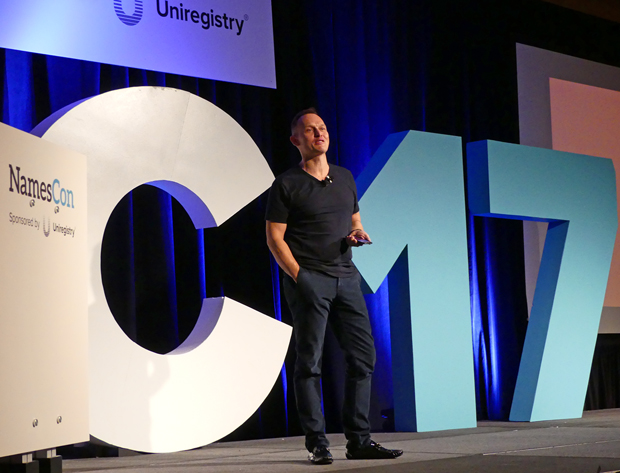 Above & Below: In Monday's main event Uniregistry Founder and legendary domain investor Frank Schilling took the stage in front of a capacity crowd to talk about The Evolution of Domaining. Frank also demonstrated some new features in Uniregistry's innovative mobile phone app (I have been using it for some time now and it is a terrific domain registration and management tool).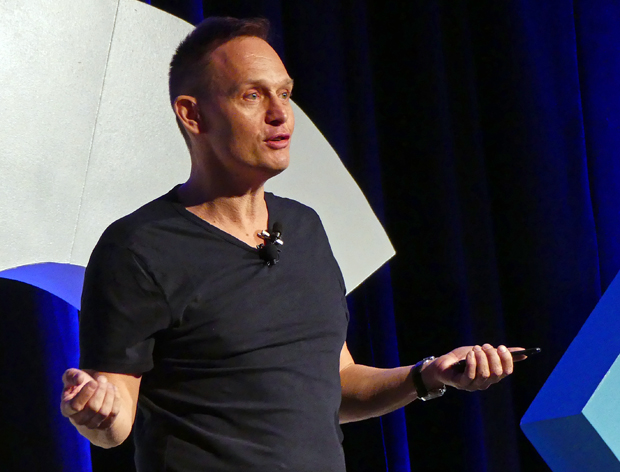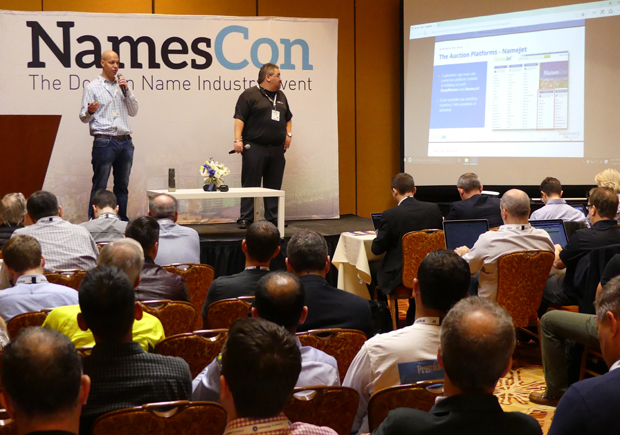 Above: Monday morning continued with five different sessions that ran concurrently starting at 11am. In the one above NameJet General Manager Jonathan Tenenbaum and SnapNames VP of Operations Michael White (at right) gave advice on How to Dominate the Drop: Best Practices for Successfully Acquiring Deleting Domains.
Below: At the same time Uniregistry Senior Director of Sales Sevan Derderian was on the Uniregistry Breakout Stage showing attendees how to Manage a High Volume of Domains with Ease.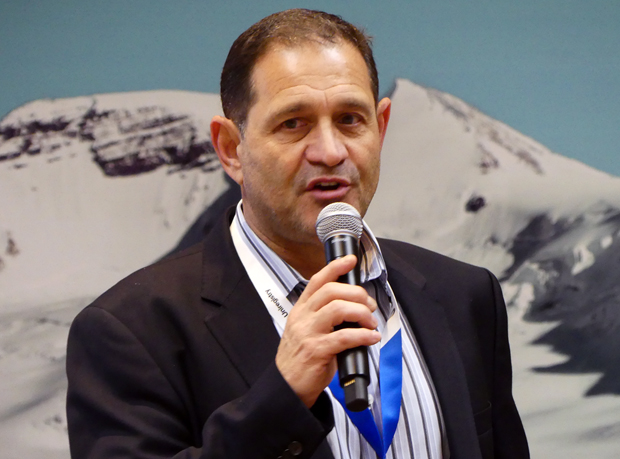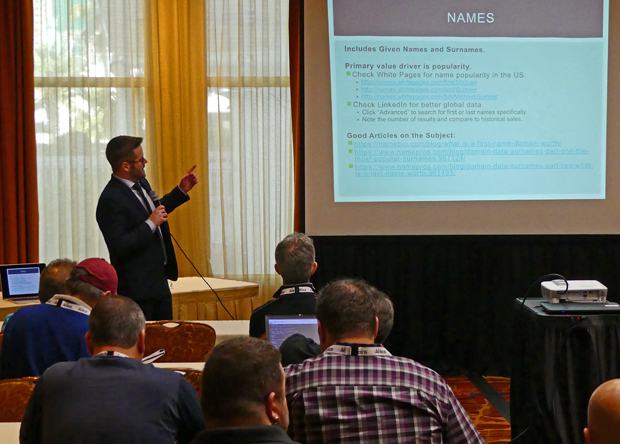 Above: Also at 11am, Michael Sumner (NameBio.com) answered a question just about every domain owner asks at one time or another, What's My Domain Worth? - a session that gave tips on how to determine valuations of various kinds of domains.
At the same time Michael Gilmour (ParkLogic.com) conducted a session on Domain Monetization for Registries and Registrars while a panel discussion was held in another room on Best Practices for Selling Domains Through Hosting.
Above: At Noon Monday a lot of tears were shed as the industry remembered and honored the late beloved domain investor Lonnie Borck who passed away unexpectedly in October. To honor Lonnie the Internet Commerce Association created the Lonnie Borck Memorial Award to be presented "in recognition of extraordinary efforts in championing the rights of domain name owners." The first winner was attorney David Weslow for his selfless pro bono work on behalf of Heidi Powell. David was ill and unable to attend NamesCon so ICA Executive Director Daniel Law (center) accepted the award on his behalf and was honored to have it handed to him by Lonnie's wife Ronit and his brother-in-law Jonathan. Along with Ronit, Lonnie's friends Nat Cohen and Elliot Silver spoke about the kind of person Lonnie was and why he was so highly regarded by everyone who had the pleasure of meeting him.
Below: The Lonnie Borck Memorial Award was presented just before the session below on The Most Shocking UDRP Decisions of 2016 was held. (Left to right) Moderator Bill Sweetman (NameNinja) welcomed Nat Cohen, Zak Musocvitch (DNAttorney.com) and Jason Schaeffer (ESQwire.com) to the stage to detail some miscarriages of justice that left audience members shaking their heads.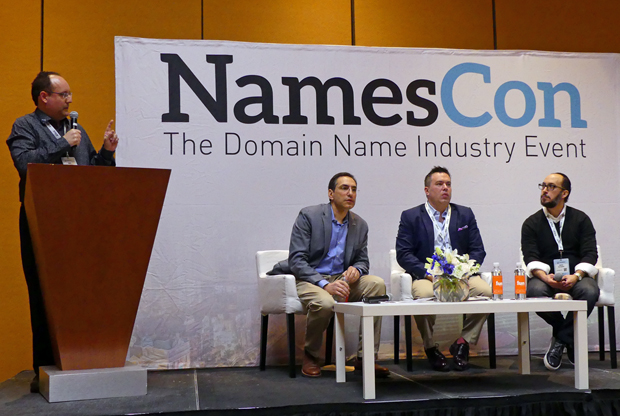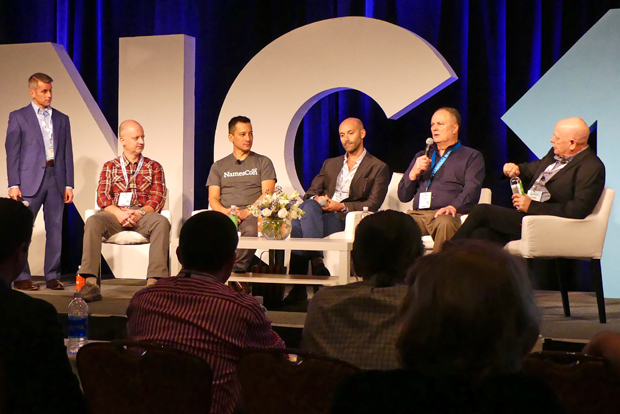 Above: Also at noon Monday, a panel discussion titled Always Be Closing: Case Studies of Recent Domain Sale Negotiations brought five experts on the subject to the stage. Left to right are moderator Derek Newman, Theo Develegas (Acroplex LLC), Richard Lau (NamesCon Co-Founder), Andrew Rosener (MediaOptions), Dave Evanson (Sedo) and Dr. Gregg McNair (Premium Traffic Limited).
Below: In another popular noon session on the Uniregistry Breakout Stage the company's VP of Sales (and record breaking broker), Jeff Gabriel, explained Sales Using the 90/10 Rule.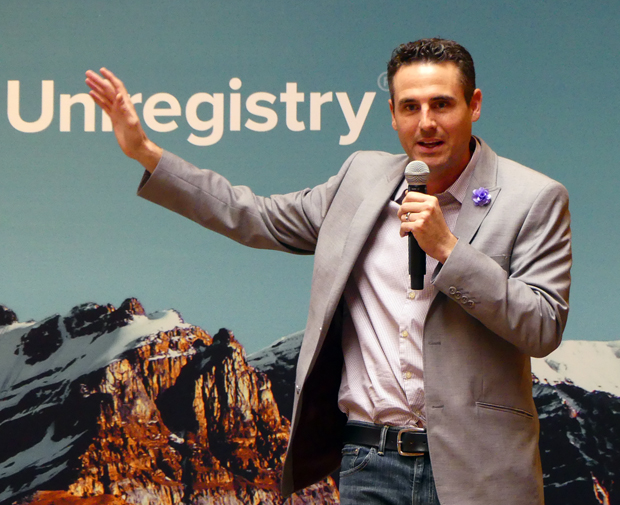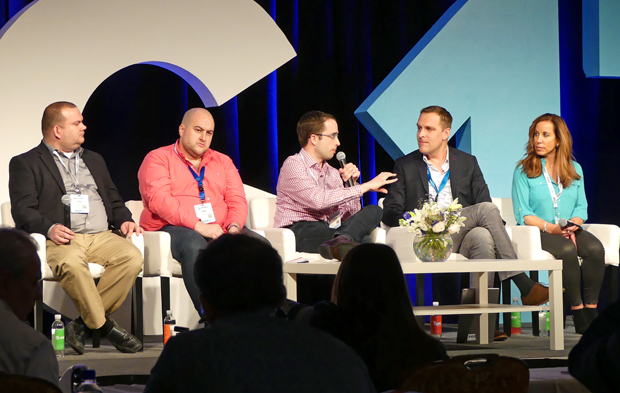 Above: The next round of sessions (five in all) began at 1pm Monday. The one above dissected Aftermarket Sales by the Numbers. The panelists were (left to right): Alan Shiflett (GoDaddy), Dan Adamson (Uniregistry), Andy Simpson (Verisign), Dima Bietzke (Sedo) and Tessa Holcomb (Igloo.com).
Below: Also at 1pm a major new player in the domain escrow space (and established powerhouse in the payments field), Payoneer Escrow, sent three of their top representatives to talk about Accepting Payments the Safe Way. They included (left to right) Senior Advisor Brandon Abbey (former President of Escrow.com), Jonathan Kremer and Scott Reynolds (Vice President of B2B Services).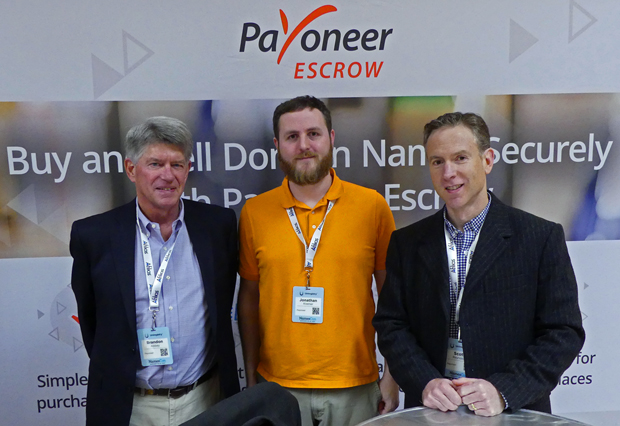 Above: Another interesting 1pm session covered 10 Ways to Creatively Use Domain Names in Your Marketing and Branding Campaigns. It featured (left to right) moderator Jeff Sass (.CLUB), Statton Hammock (Rightside Group), Neha Naik (Radix), Jackson Elsegood (Escrow.com) and Richard Merdinger (GoDaddy).
In additional 1pm sessions, those who dropped by the Uniregistry Breakout Stage were given a Behind the Scenes look at the popular registrar/registry operator and Why Content Marketing Matters for Your Growing Business was discussed by Sean Tyson and Sam Wempe from Quietly in another room.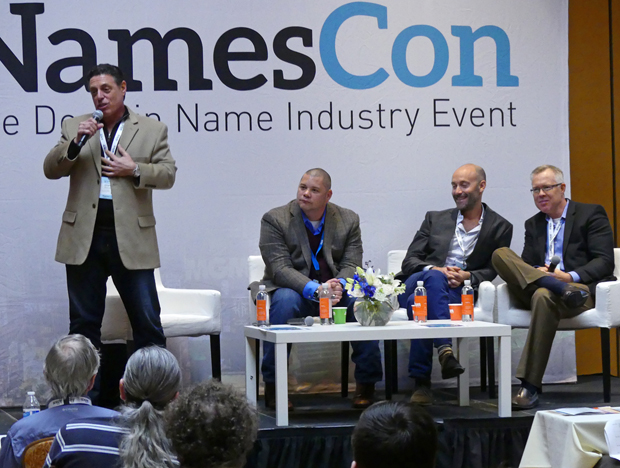 Above: At 2pm the topic turned to Investing in New TLDs - Making Money in the Short and Long Term in a panel discussion featuring (left to right) Charles Gucciardo (The Gucciardo Law Firm), Jebediah Burnett (Rightside), Andrew Rosener (MediaOptions) and Rob Monster (Epik.com and DigitalTown).
Also at 2pm Uniregistry's Darren Cornwell and Marco Pompei told those who dropped by the Uniregistry Breakout Stage how to Sell on the Go with the company's slick mobile app.
Below: At 3pm, just before Namescon's SnapNames/RightOfTheDot Live Domain Auction got underway, Escrow.com presented a new series of Masters of Domains Awards they introduced to recognize the top selling domain brokers on the Escrow.com platform. Awards were given to each of the top 10 finalists, with the #1 award going to George Hong of Guta.com (Andrew Rosener of MediaOptions was #2 in the highly competitive field). George received his award from Escrow.com General Manager Jackson Elsegood.
Above: Next it was time for the highly anticipated SnapNames/RightOfTheDot Live Domain Auction conducted by World Champion Auctioneer and Author Wayne Wheat (below). With a standing room only crowd on hand nearly $1.3 million in sales were booked. The top sale was Single.com at $290,00. NameBio has a nice rundown of all of the sales results.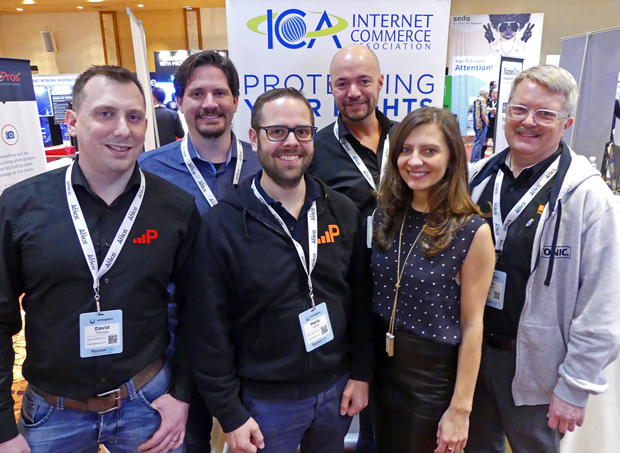 Above: With the business day over attendees were ready to move on to their evening activities. One of the biggest was a dinner for ICA members in the Foundation Room at the House of Blues. The ICA has doubled its membership over the past year with company's like new Gold Level Member ParkingCrew throwing their support behind the organization that protects domain owner rights. Left to right, just before leaving for the dinner, are David Thorpe (ParkingCrew), ICA Executive Director Daniel Law, Mario Witte (ParkingCrew), Axel Kaltz (ParkingCrew), ICA Operations Manager Kamila Sekiewicz and Jim Grace (ParkingCrew).
Below: ICA Executive Director Daniel Law (standing at right) thanking attendees at the ICA's Monday night dinner as well as the dinner sponsor, Innovation RPM.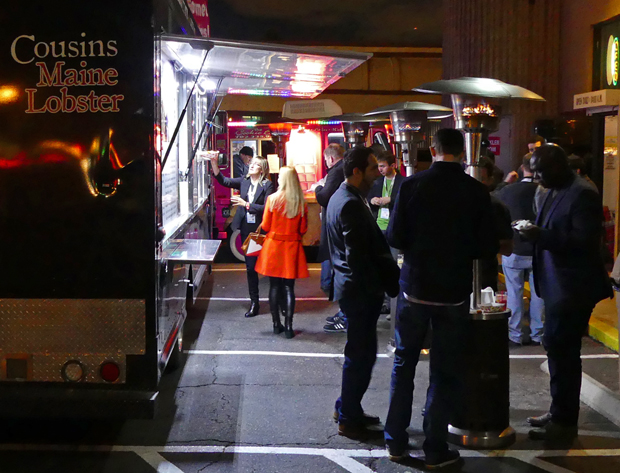 Above: & Below: Elsewhere Monday night the .ORG Registry treated their guests to a night at the Pinball Hall of Fame in Las Vegas with great food provided by Cousins Maine Lobster (one of the most successful companies to come out of an investment won on ABC-TV's hit show Shark Tank).
Below: After being taken to the venue in a 33-foot stretch limo .ORG guests were given all the quarters they needed to play an astounding variety of pinball machines throughout the evening. Were it not for the well stocked open bar the scores rung up probably would have been a lot higher than they were!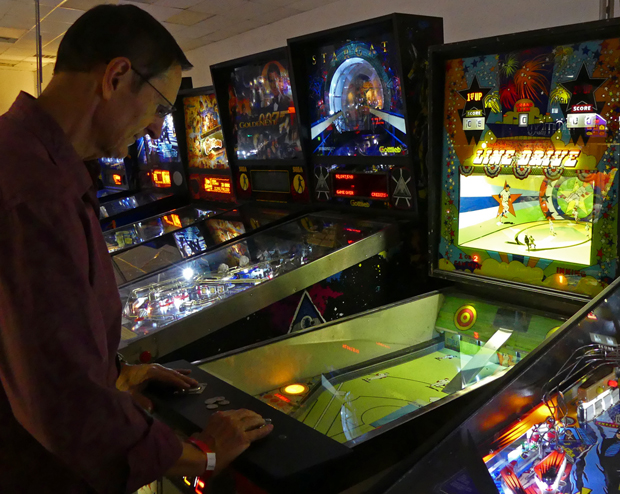 Above: After spotting a baseball themed pinball machine that I had actually played as a teenager, I was eager to see if I could shake off the rust and beat my wife Diana (overly confident that I would). Instead, she trounced me taking two games out of three! Looks like it is back to the minor leagues for me!
Below: I am calling a foul on this one! My friend Ray Dillman Neu (Co-Founder of THE Domain Conference) had an unfair advantage at the Police Trainer game. Ray recently became a Broward County Florida Sheriff's Deputy! At least I had the good sense not to challenge him on this one, saving myself further embarrassment after my experience on the pinball baseball field.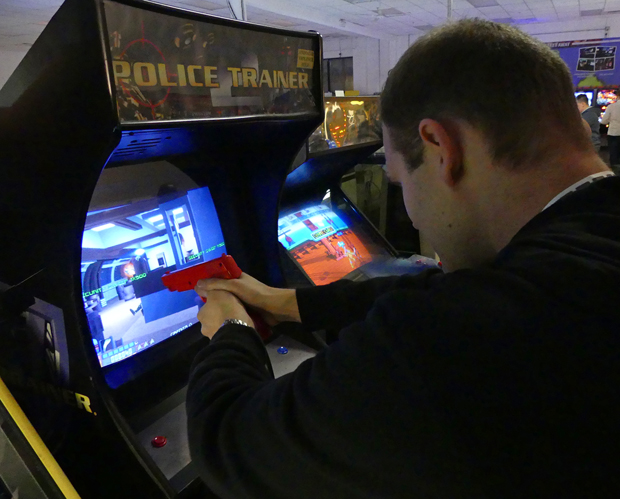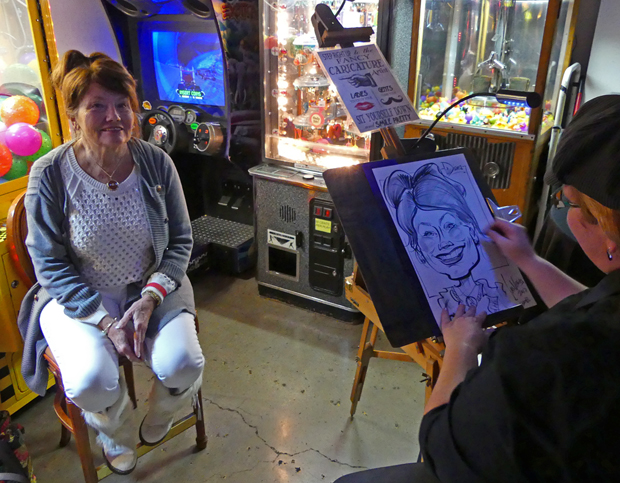 Above: In addition to the vintage pinball games and amazing lobster rolls, guests could have their portraits sketched by a very talented artist. Diana's is just being finished up here.
Below: After the ICA and .ORG dinners and various other functions around town, most moved on to Uniregistry's huge late night party open to all NamesCon attendees at the famous Hakkasan Night Club inside the MGM Grand (right across the street from the Tropicana Hotel). This shot there features lovely ladies Angela St. Julien (Brand.bar) and NamesCon Event Producer Terri Potratz.
As I write this day 3 of NamesCon 2017 is winding down with the big Water Night Fundraiding Party still ahead. It won't be ending until around 2am Wednesday (local time in Las Vegas - 5am Wednesday in the eastern U.S.). In my next post from NamesCon (planned for tomorrow night) I'll have all of the Tuesday (January 24) photos & highlights (day and night) for you.