Domain Broker Sharjil Saleem, who has put together a string of top tier sales in recent years, told us his latest has just been signed - a $1 million deal for Meet.com. The buyer (whose name was not disclosed) will pay for the domain in installments and Saleem told us a substantial first payment has been made via Escrow.com.
We don't chart sales until a domain has been fully paid for and transferred to the new owner but Saleem's track record shows a high rate of success in finding buyers who follow through on sales agreements. He had three of the 15 highest publicly reported sales in 2017 - #2 (tie) ETH.com at $2 million, #9 SW.com (made with RightOfTheDot.com) at $660,000 and #13 Asset.com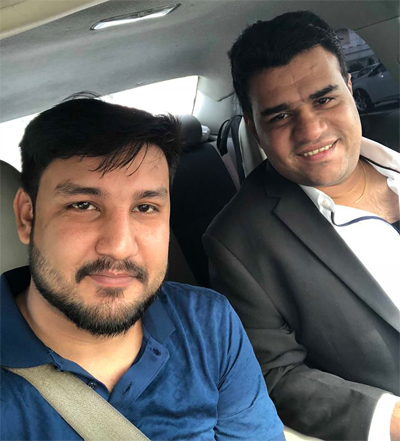 Sharjil Saleem (at right) with Ali Rajpoot
at $406,000. This year he already has three sales on our 2018 YTD Top 100 Chart - #30 DXB.com at $220,000 (made with Ali Rajpoot), #38 Deposit.com at $171,100 and one of the year's biggest non .com sales #73 08.net at $87,000. 08.net is ranked #6 on our YTD Non .Com gTLD Top 100 Sales Chart.