This panel included SEO experts Bill Hartzer, John Andrews, Joe Laratro (Tandem Interactive) and Matt Robson (Carat.com). This group provided enough helpful tips to fill a book. Hartzer suggested that expired domains (aside from the obvious ones that have great keywords and high traffic) could be the industry's best kept value secret, noting that includes some with what would traditionally be regarded as poor quality terms. If they have been previously developed they can be a source of traffic and have SEO value that can easily be monetized. Just having them to redirect to another domain can add value to the name you send traffic to.
This session was followed by the show's final seminar that asked the question How Much Is Your Traffic Really Worth? That topic was tackled by Owen Frager (Frager Factor), Michael Gilmour (WhizzbangsBlog.com), Jonathan Boswell (LeaseThis.com), Leland Hardy (NewYork.com), Dr. Christopher Hartnett and Sahar Sarid (Recall Media Group).

What your traffic is really worth is a tough question to answer because it is a moving number. Rick Schwartz has often talked about how traffic income can be multiplied many times over simply be finding the right sponsor for that traffic. Sarid pointed out that the value of traffic can also go up (or down) even if you don't move it to a different sponsor. Due to changes in the perceived value of the keyword in one his domains he said it soared to a point where it was making over $1 million a year undeveloped. Looking to the future Sarid predicted lead generation will become a huge factor in producing top dollar for your traffic.

One of the most interesting new people I met at this edition of T.R.A.F.F.I.C. was NewYork.com owner Leland Hardy who served on this panel. Hardy has such an interesting personal story (Wharton graduate, a former boxer and foreign language translator for Muhammad Ali to name just a few things) that we decided to do a separate story on him next month.

Leland Hardy
NewYork.com
During lunch Friday I was asked to give a short talk on trends in the domain aftermarket. In running numbers from our sales database for that talk I found that domain sales were continuing to experience powerful upward momentum. The dollar volume of sales reported to DN Journal in the 3rd quarter of this year (just over $35 million) was up 296% from the dollar volume reported in the same quarter last year. I realized that sales powerhouse BuyDomains did not start reporting their sales figures to us until the 4th quarter of last year, but even when I subtracted their sales from 3Q - 2007 so I could compare results from the same vendors year over year, it was still a 235% increase since 2006. That is a healthy market by anyone's standards.
Pinky Brand, the Director of New Markets for .mobi took the podium next and gave everyone an update on the extension for mobile devices. Brand, who was already cheerful about .mobi's prospects would have reason to be even happier later in the day when some premium .mobi domains in Moniker's live auction would sell for eye-popping six-figure prices.
Alexander Schubert took out a LousyInsurance.com policy to help the ICA

The auction has become analogous to boxing's main event at T.R.A.F.F.I.C. and this one was no different. It got underway at a little after 2:30pm with an odd entry first up on the block. That was LousyInsurance.com, a domain that was unregistered the day before. I know that because the name came up in the Taken or Available game played at lunch Thursday. It turned out to be available so while the game was still underway audience member Alexander Schubert of CyberInvest registered it, then donated it to the auction with all proceeds going to the Internet Commerce Association. Schubert threw in a dinner for two on South Beach to sweeten the deal. The domain wound up going for $1,000 that certainly helped the ICA cause.

In another example of that kind of generosity and support, Bob Connor (who writes our

Dear Domey column) sold Hospitals.us during the auction for $8,000 and donated 10% of the proceeds ($800) to the ICA. That is the kind of grassroots support the ICA needs to continue its mission and I have heard of several other examples of this kind of backing in recent days. It is a very encouraging development to see.
Back at the auction, as you have probably heard by now (we posted the auction results in our Lowdown section last week), Monte Cahn's crew at Moniker ran a live event that piled up $8.1 million when the dust had cleared four hours later. A silent auction continued until Oct. 18 and when those proceeds were added in the total auction take was $9.8 milllion, second only to the record $12 million generated at the New York City T.R.A.F.F.I.C. auction in June.
View from the Moniker Live Auction Oct. 12, 2007
The top sellers in the live auction were Computer.com ($2.2 million), Investment.com ($900,000), SportingGoods.com ($450,000), Table.com ($260,000) and CrosswordPuzzles.com ($210,000). You can see the complete list of results here.
In a widely publicized hiccup at this auction, the Dallas Cowboys bid $275,000 for Cowboys.com, then asked to withdraw their bid the next day because they thought they were bidding $275! Moniker then moved the domain into the ongoing silent auction where it was promptly snapped up by an investment group for $370,000. It was a huge goof for the NFL team and one day they will realize just how big a mistake they made.
Auctioneer Joel Langbaum (left) called the action as Moniker CEO Monte Cahn looks on
It has been fascinating to watch the live auction blossom from an interesting conference side attraction into one of the most important aftermarket platforms in the industry. Moniker has created a whole new avenue for selling high end domain names.
The auction ran right up to the start of the annual T.R.A.F.F.I.C. Auction Celebration and Awards Dinner at 7. Award winners were chosen in balloting among T.R.A.F.F.I.C. registrants who also chose the list of nominees. This year's winners were:
Sponsor of the Year: Traffic Z.com
(Award accepted by COO Ammar Kubba)

Domainer of the Year: Kevin Ham

Best Overall Domain Solution: Moniker.com
(accepted by CEO Monte Cahn)

Best New Click Program: Skenzo
(accepted by President Divyank Turakhia)

We Get It Award: Steve Forbes (Forbes Magazine) and Russian Standard Vodka
Steve Forbes accepts for Forbes Magazine

Domain Hall of Fame: Frank Schilling and Sahar Sarid
In photo at left above Schilling is seen with T.R.A.F.F.I.C.'s Ray Neu (Frank at right)
In photo at right above, Sahar Sarid accepts Hall of Fame plaque

(Hall of Fame balloting began last year when Rick Schwartz and Ron Jackson were inducted. Two new members are elected by T.R.A.F.F.I.C. attendees each year)
After the awards were handed out, Schwartz and Neu delivered their farewell comments to an enthusiastic thumbs up from the T.R.A.F.F.I.C. East 2007 audience.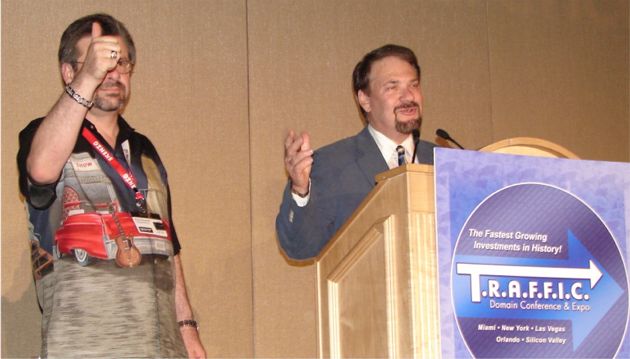 Officially the conference closed the following morning with a breakfast for those still in town and a T.R.A.F.F.I.C. Board of Advisors meeting. The big news from the Board meeting was Schwartz and Neu's announcement that they had licensed Fabulous.com to stage the first T.R.A.F.F.I.C. conference outside the U.S. That event is scheduled for November 2008 near the Fabulous headquarters in Brisbane, Australia. Prior to that event, T.R.A.F.F.I.C. West 2008 is scheduled for Las Vegas Feb. 18-21, 2008 and a relocated Florida show will go to Orlando for the first time May 20-24, 2008. A return to New York City is also planned for the fall of 2008. Information on upcoming shows is available at the T.R.A.F.F.I.C. website. Hope to see you at one of those events in the months ahead!
*****
Several times during show week we took a stroll through the Exhibit area to see what kind of wares the leading companies in the domain industry were showing off to their customers. Below are some photos from that active wing of the conference hall.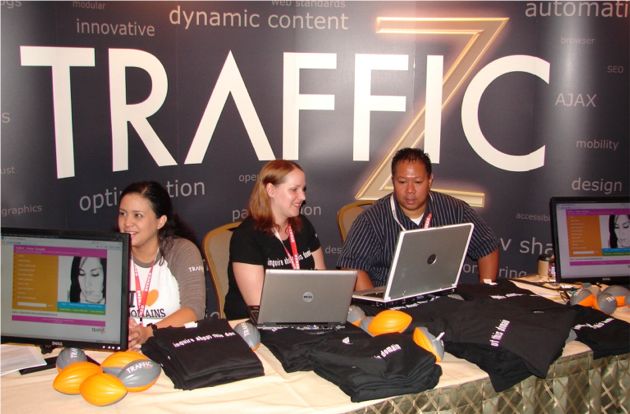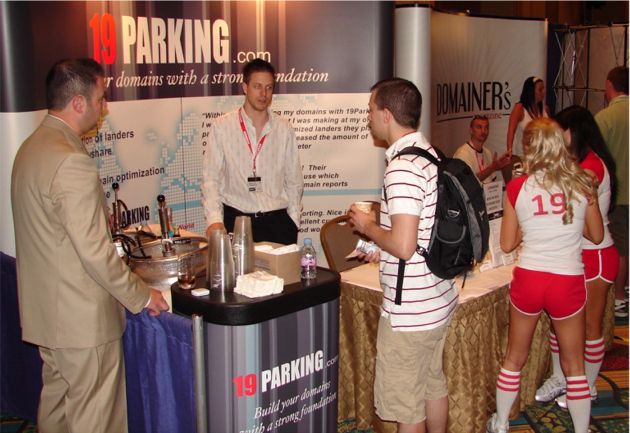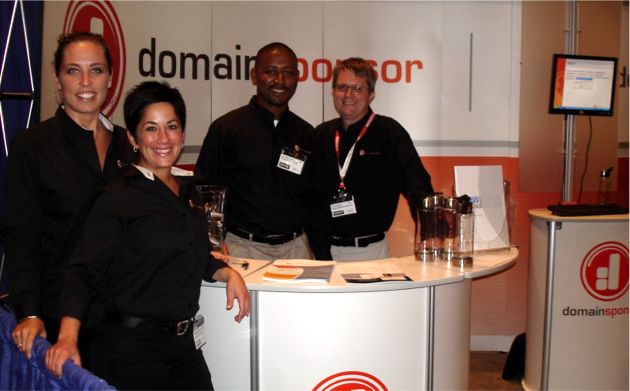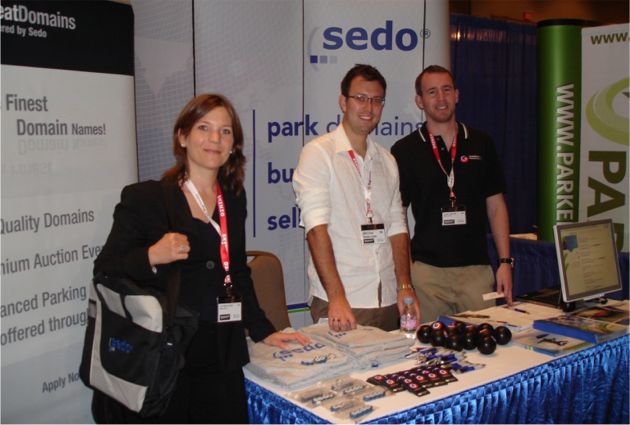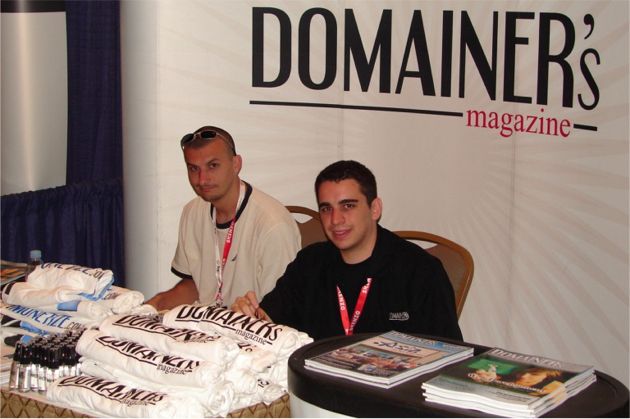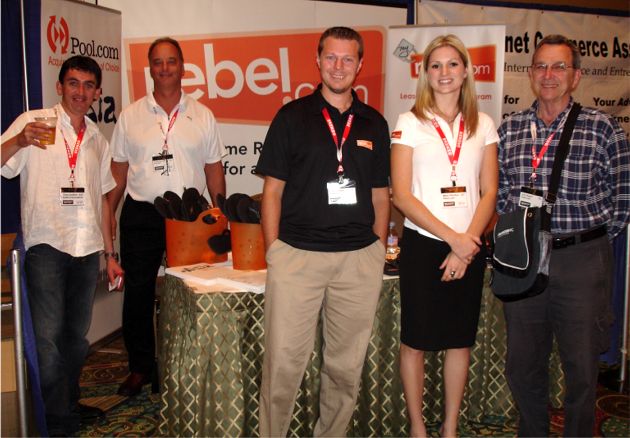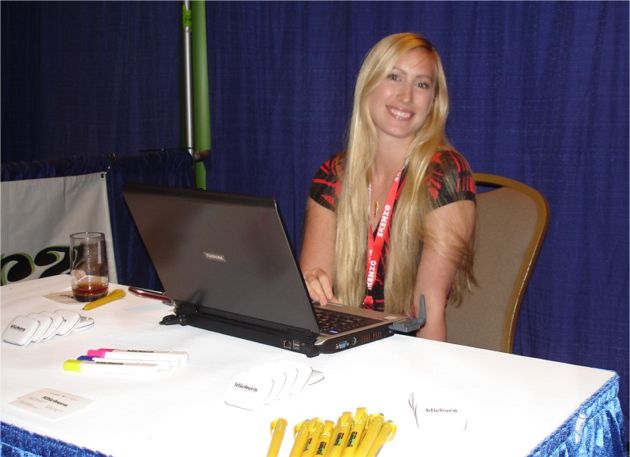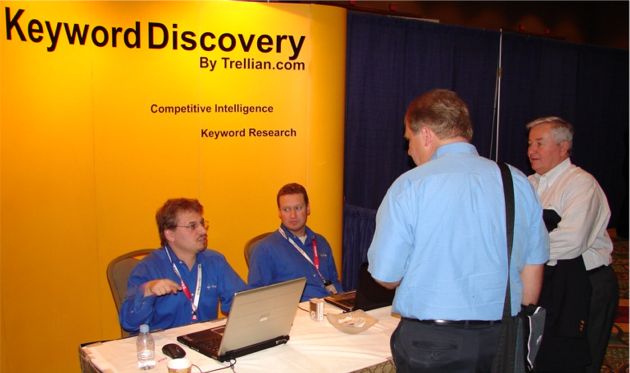 (Photos of Klickerz.com, Rebel.com, Sedo.com, DomainSponsor.com and
Washington VC booths courtesy of Barbara Neu)
*****
Like Photos? Good! Because the
T.R.A.F.F.I.C. East 2007 Photo Gallery is Available Here.
Check it Out!
---
Return to Page 1 of This Story
Back to Page 2 of This Story
Return to Domain Name Journal Home Page