Peter Hutto
VP, Local.com

Hutto said Local.com is continually adding content including local ratings and reviews. He noted that the company sees a special opportunity because giant search engines Google and Yahoo! don't quite have local search down yet.

Hutto said 80% of people's income is spent within 50 miles of their homes and less than 5% of the potential market has been reached to date, leaving room for spectacular growth in the years ahead. Local paid search is expected to hit $2.44 Billion by 2008 and his company plans to take a large slice of that pie.

After breakfast it was back to the seminar room where Dan Warner was back to deliver a talk on domain analytics. Fabulous.com has done exhaustive research on millions of domain names over the past four years (including the more than 500,000 in their own portfolio) giving Warner a wealth of knowledge that makes him one of the industry's most valuable resources.
Warner is able to deliver hard statistics on how various domain categories perform by any metric you might care to measure them. His presentation needs to be seen to be fully appreciated and it may be available online soon. We'll add a link here when it is posted.
Next up was one of the most interesting financial seminars of the week featuring Doug Burke, Managing Director of Software and Services for PageMill Partners LLC (an M&A specialist based in Palo Alto, California) and Jordan Rohan, Managing Director of RBC Capital Markets.
Jordan Rohan (L) comments as Doug Burke of PageMill Partners looks on.
Rohan proved to be an especially timely guest. A noted stock analyst who covers Google, Rohan was quoted on the front page of USA Today Wednesday morning (on the plunge in Google stock when earnings had come out the day before), the same day he took the podium at T.R.A.F.F.I.C. Rohan probably knows more about the domain channel than any other stock analyst working today. He was a vocal supporter of Marchex when it was $14 a share and predicted the run up to $24 that followed. He predicts the company will be worth $1 Billion by the end of next year and is looking for the stock to hits $30. Rohan also believes Marchex got an exceptionally good buy with their $164 million purchase of the Name Development portfolio last year.
| | |
| --- | --- |
| | Rohan sees domains as a very attractive industry but he also expressed the belief that current owners should consider taking some money off the table. There are always unforeseen risks and Rohan said that in this space the most likely disruption would come from an unforeseen technological change of some kind. Diversifying is the only way to protect yourself against that. Rohan also believes in developing content for your domains. He predicted that within the next few years all sites and individual pages would be ranked according to their content and you will have no chance for a good ranking unless you have competitive content on your domains. |
Rohan added that people who use sites are the most valuable asset and domains that come with those users will be the ones sought out by buyers.

Burke also recommends diversification of your assets by selling some and increasing the value of those you hold by building businesses on them to prove their viability. He noted that history shows that many got better deals in the early stages of consolidation (where we are now with domains) than those who sold later in the cycle.

With the increasing value of domains drawing more and more interest from entities who would like to take them away from you in any way they can, seminars featuring top domain attorneys are always a highlight at T.R.A.F.F.I.C. and Silicon Valley was no exception.

Doug Burke
PageMill Partners LLC
The final morning session Wednesday brought three of the best together for a lively panel discussion. Paul Keating of RenovaLtd.com, Steve Sturgeon of DomainNameLawyers.com and Ari Goldberger of ESQWire.com fielded questions from the capacity crowd.
Left to Right: Paul Keating, Steve Sturgeon, Ari Goldberger
Some of the many interesting points they made included these:
UDRP panels have ruled that owning thousands of domains is a legitimate business.

UDRP proceedings are a good thing because they keep domain owners out of far more expensive federal court proceedings which can cost $200,000-$300,000 to defend.

Never default on a UDRP filing or lawsuit as this can permanently label you as a cybersquatter.

Don't let your guard down if you win a UDRP decision. Either side can still file suit in a federal court and a second UDRP action could even be filed if you infringe on a TM after your victory.

Be careful about the links that appear on your parked pages. Even what seem to be generic domains can be lost to obscure TM's if offending links appear.

Be leery of signing settlement agreements that say you agree not to register other infringing domains. The company may have trademarks on dozens of other words you are not aware of. Have your attorney review any such agreements before sigining.

If you get a C&D letter respond promptly (within 7-10 days at most). Make a quick decision on whether the domain is worth enough to offset attorney fees or should just be given up.

Business insurance can be purchased to cover potential trademark infringement legal costs. Be sure to look at policy exclusions to make sure you have the coverage you want included.
After the attorneys session, I had the honor of speaking at lunch where I gave the audience some information on the role DN Journal plays in covering the industry, the kinds of stories we are looking for and the value of using our weekly domain sales reports to provide comparable prices when negotiating sales or purchases. It has been gratifying to see our reports cited in many major mainstream media publications because that attention has helped bring new participants into the business, an essential ingredient for any industry's continued growth.
| | |
| --- | --- |
| On another topic, I noted that I am frequently asked if it is "too late" to get into the domain business. My answer in unequivocally "no, it is not too late." Your path to success may not be the same one the industry pioneers took to get where they are. It takes a lot of money to play at their table today. But there are endless niches and new opportunities in this field where you can find a profitable home. It might be in new extensions, country codes or IDN's. It might be with .coms in a niche area where you have special knowledge others lack. It could be in domain development which almost everyone seems to be pointing to as the new land of opportunity. We're still just in first inning of the Internet game and a tremendous wave of growth is headed our way, so grab a board and enjoy the ride! | |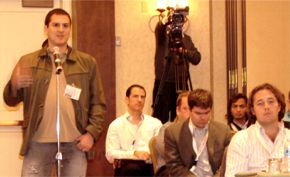 Rick Latona (standing) asks a question from the floor during a seminar at T.R.A.F.F.I.C. Silicon Valley
Before heading back to the seminar room for the afternoon sessions, I chatted with Rick Latona of DigiPawn.com who has enjoyed a tremendous amount of success in a variety of Internet endeavors. Latona just bought Brown.com for $300,000 and told me he expects to announce at least $5 million in new purchases in 2006.
Latona is always thinking outside the box so I always find it interesting to hear what he is working on. He has a popular offshore staff leasing service at iWebmasters.com that will be renamed to Offshoring.com soon. In conjunction with the rebranding, Latona will be at future conferences to show domain owners how they can get their names developed inexpensively by outsourcing the work.
The first afternoon seminar Wednesday featured "Success Stories" and provided further proof that opportunities continue to abound in the domain business. The panelists included Andrew Miller and Mike "Zappy" Zapolin, partners in the wildly successful Internet Real Estate Group LLC (and keynote speakers at the October 2005 T.R.A.F.F.I.C. conference in Delray Beach), Jeff Bhavnanie from Ashanti PLC and Russ Goodwin of the Tidewinds Group.
Mike Zapolin
Internet Real Estate Group

Andrew Miller
Internet Real Estate Group
Miller and Zapolin have been involved in a number of multi-million dollar domain acquisitions and sales. They are in the process of rolling out their newest baby, Software.com. They plan full development of the domain as Zapolin said software represents the perfect product, with no physical inventory or shipping costs to deal with. Miller and Zapolin also love the versatility domains provide as opposed to conventional real estate to which they are often compared. They noted that with domains, the value is in the "raw land". Zapolin said "if you put up a condo and later find you should have put up a hotel, it's easy to change."
Jeff Bhavanie (L) of Ashanti PLC with
Russ Goodwin of the Tidewinds Group

Bhavanie noted the incredible value of leads that can be generated from a good generic domain. His brother is involved in manufacturing in Asia so Bhavanie gave him a related lead that came through his CellphoneAccessories.com site. His brother told him that one lead resulted in more than $2 million worth of business in the last 8 months. On a PPC page, the click might have generated 10 cents!

Fireworks were assured during the next session on "Domain and Portfolio Valuation" because the panel included Rick Schwartz, who can always be counted on to speak his mind and let the chips fall where they may.
Schwartz was joined by Afternic's Roger Collins, Moniker's Monte Cahn and Sedo.com CEO Matt Bentley.

Schwartz quickly attacked the notion the financial analysts had advanced that "risk" limited how far domain values could rise. Schwartz told domain owners in the audience, "You guys have already taken the risk. Now these guys show up 10 years late and want what you have!" That drew a round of applause and Schwartz was just getting warmed up.

"There are 6 billion people on this planet and only about 300 have figured it out. Do the math on that!" Schwartz said. "The only way to acquire many great domains today is to buy the entire company that owns them. Bank of America paid $3 million for Loans.com. Domains like that will never be on the market again in our lifetime. You would have to buy Bank of America to get it!"

Schwartz added, "The #1 factor in value is the idea behind a domain. These people tell you to sell for 5X or 7X PPC earnings. If you do, it's a bad deal for you. You have to look at what that domain could be worth 5, 10 or 20 years down the line. If you had sold your domains for 20X earnings five years ago you would be very regretful today."

Rick Schwartz
T.R.A.F.F.I.C. Co-Founder
Matt Bentley- Sedo.com CEO

Matt Bentley just completed some extensive research on a database of more than 25,000 actual domain sales (combining data from DN Journal with Sedo's own sales records). He released his findings in a fascinating presentation that showed sales results from many different viewpoints, including values based on extension, domain length, the number of keywords in a domain name, by Overture score, etc.

One surprising finding was that there is only a weak correlation between the amounts paid for domains and high Overture scores (which have always been viewed as a predictor of traffic and thus domain value).

Bentley is planning a press release soon that will summarize his findings. We can't do justice to his research in this general show overview, so we will save that information for a separate story when Sedo releases his sales analysis.
For the next seminar, Bentley stayed on the dais where he was joined by Peter Lamson, the VP and General Manager of BuyDomains.com, for a session on Domain Sales.

Lamson, who just joined BuyDomains three months ago (and also serves as GM of the company's parent entity, YesDirect) said the company's sales volume has jumped 58% this year. Lamson said "The next wave in demand will come from small business." That belief stems from these observations from recent research:

79% of small business owners expect business to improve in 2006

61% believe the Internet has opened new markets for their businesses

57% believe the Internet has reduced their cost of doing business.

56% of U.S. small businesses do not have company websites yet.

38% plan on building and launching websites in the next 6 months.

Peter Lamson
VP & GM, BuyDomains.com
Robert Alfano
DomainCapital.com

Among those asking Lamson and Bentley questions from the audience was Robert Alfano of DomainCapital.com. He and partner Gregg Freeman, who was also at the conference, are running the first company in the space that is financing domain purchases. In fact, they were involved in providing financing for Escom LLC's recent multi-million dollar purchase of Sex.com. You'll be hearing much more about them in the future as they are opening up a new range of options for domain owners and investors.

With the curtain falling on the final seminar of the Silicon Valley show, attendees headed for a cocktail party to enjoy more good food and drink and each other's company before heading their separate ways the next morning. I took the opportunity to chat with as many people as I could and in what seemed to be the blink of an eye (but was actually 3 hours later), I looked up to find only about 10 of us still in the room while hotel staff was busy breaking down tables and chairs around us.

The scene reminded me of a great song by Southside Johnny & the Asbury Jukes called "I Don't Want To Go Home". It also reminded me of the last thing I had said to the audience when I spoke earlier in the day. "Whatever degree of success you eventually reach, I don't think you will find any business that is as exciting and rife with opportunity as this one, and more importantly, you will never find a business with so many bright, engaging and simply good people to be around day in and day out."