T.R.A.F.F.I.C. New York 2008 Photo Gallery
We shot a lot extra pictures at the T.R.A.F.F.I.C. New York conference (held Sept. 23-26 at the Brooklyn Bridge Marriott) that we didn't have room for in our conference review article so we set up this Photo Gallery to share them with everyone. Barbara Neu also contributed many photos to this section which we greatly appreciate. We do not have identification for everyone shown in these photos, so if you spot yourself or a friend who is not currently identified, drop us a note at editor @ dnjournal.com with the person's name and company affiliation (if any) and we will add that information to the caption. Now, on with the show!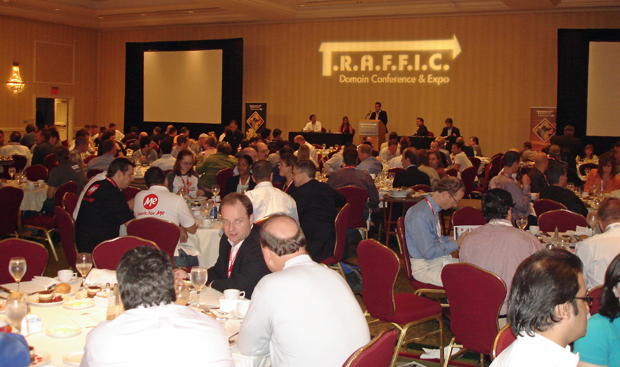 Panaromic shot of the crowd at one of the daily T.R.A.F.F.I.C. New York luncheons.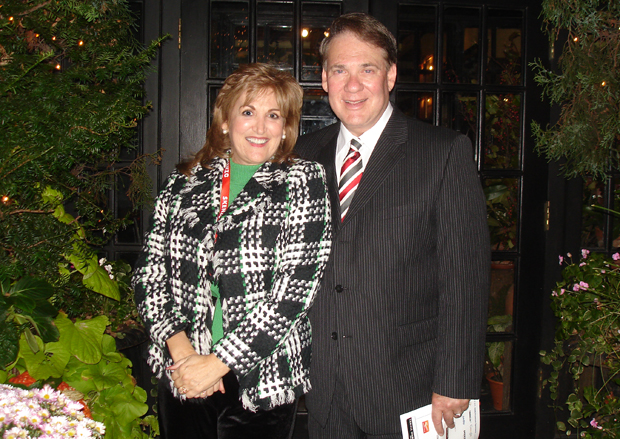 T.R.A.F.F.I.C. Co-Founder Howard Neu and wife Barbara arrive at the River Cafe for a
private cocktail party hosted by NameMedia after the opening day of the conference.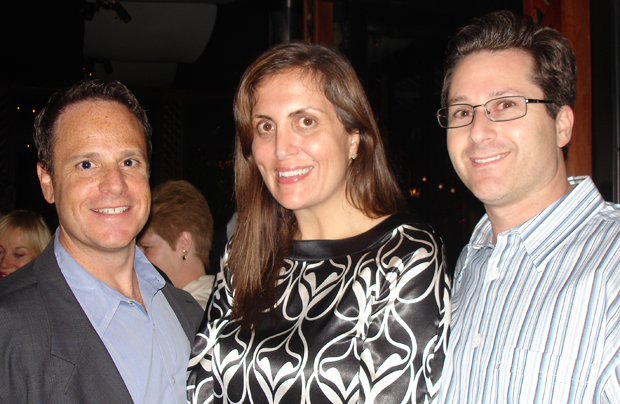 NameMedia VP Brian Taff, Lori Anne Wardi and DNForum owner Adam Dicker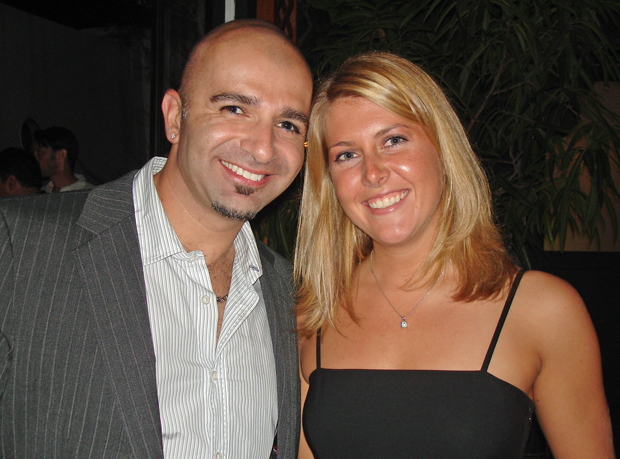 Ammar Kubba, COO of the show's lead sponsor, TrafficZ,
with NameMedia's Kirsten Frederick.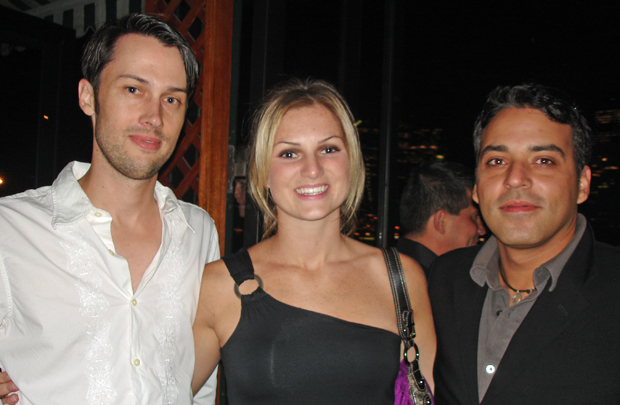 Adam Strong, Marie Prentice (Rebel.com) and Mike Fiol
Jen Sale and Mike Roberston manned
the Fabulous.com booth and talked up
next month's T.R.A.F.F.I.C Down Under
conference that Fab will host in Australia.

Sahar Sarid samples the tasty fare
at one of the lavish buffets.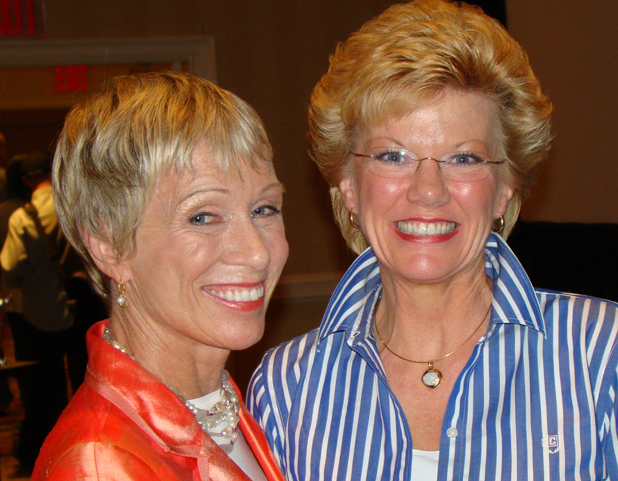 Keynote speaker Barbara Corcoran (left) with attendee Brenda Jones.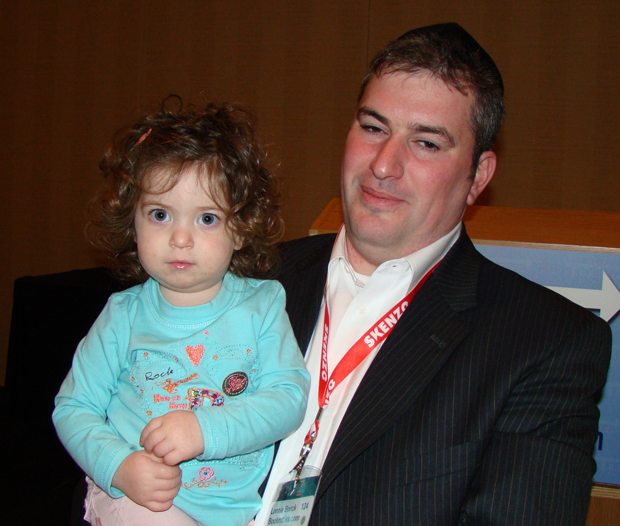 Proud papa Lonnie Borck shows off his lovely daughter.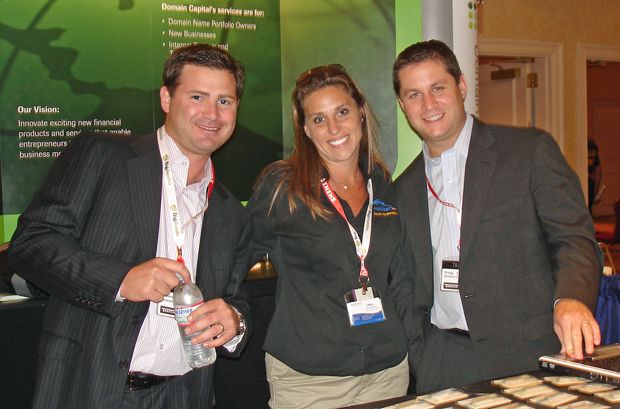 Moniker's Bari Meyerson is flanked by DomainCapital.com execs Robert Alfano (left)
and Gregg Freeman during a visit to the DomainCapital booth.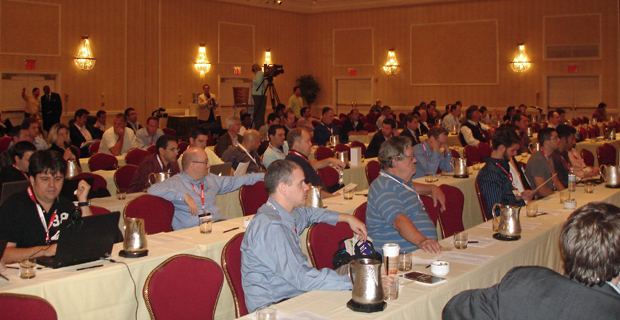 Shot of the crowd at one of the four live domain auctions held during conference week.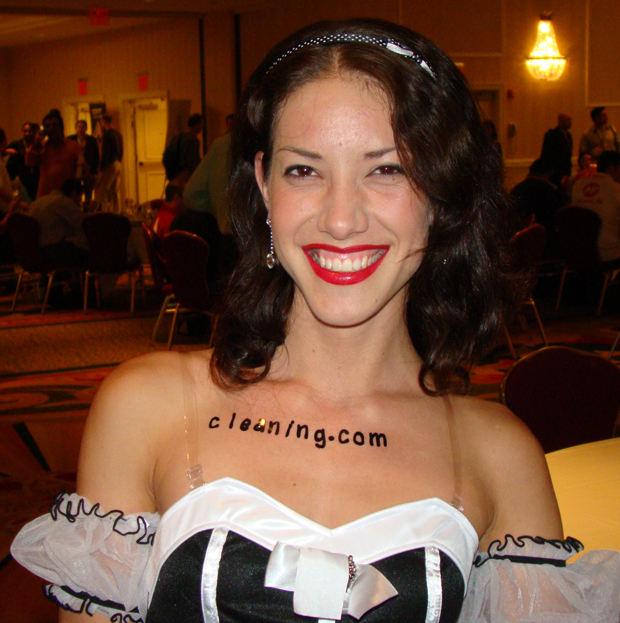 Photos above and at right: The "maid" model hired by Cleaning.com owner Mike Ambrose to draw attention to the sale of his domain in Moniker's live auction. It worked as the domain went for a cool $100,000.

Below: Ray Neu obviously made a big impressions on keynote speaker Barbara Corcoran who is frequently seen on NBC's Today Show.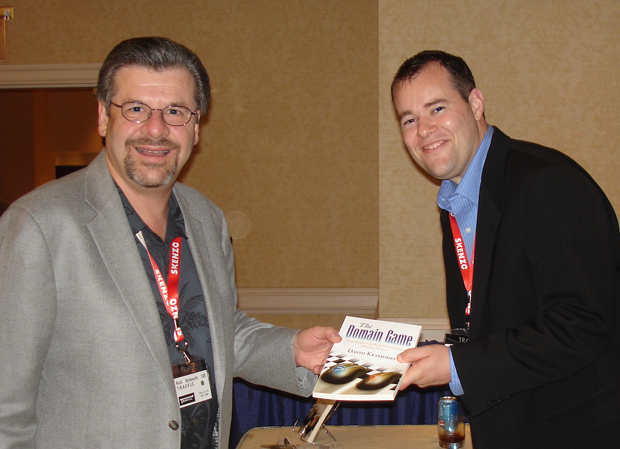 T.R.A.F.F.I.C. Co-Founder Rick Schwartz picks up a copy of The Domain Game from
David Kesmodel who was on hand in the exhibit area to sign copies of his popular book.
| | |
| --- | --- |
| Above: Elliot Silver (EliotsBlog.com) speaking in a seminar. Another speaker, T.J. Demas (E8.com) is in the photo at right. | |
| | |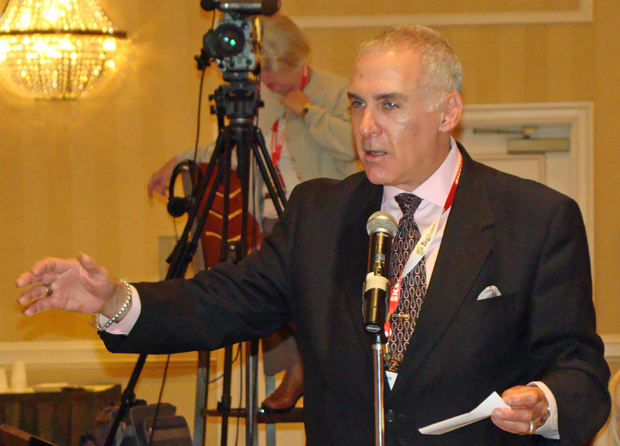 Internet Commerce Association Legal Counsel Phil Corwin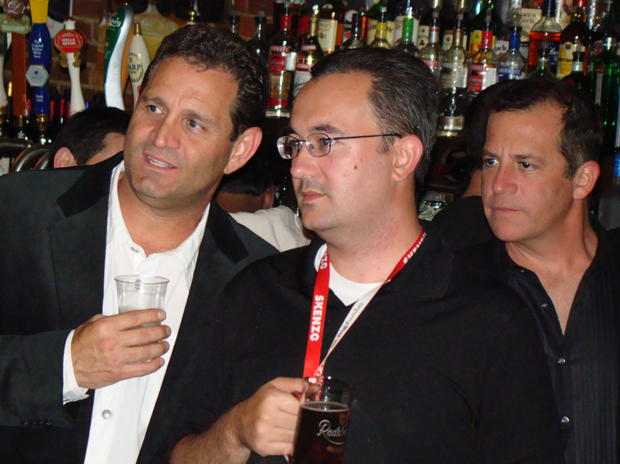 Sevan Derderian and Philip Reynolds of TrafficZ with attorney Ari Golberger (right)
at TrafficZ's official show party at Brooklyn's Water Street Lounge.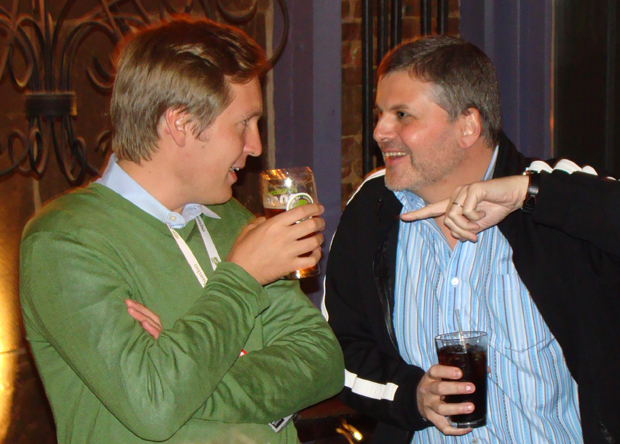 Sedo CEO Tim Schumacher (left) chats with a friend at the TrafficZ party.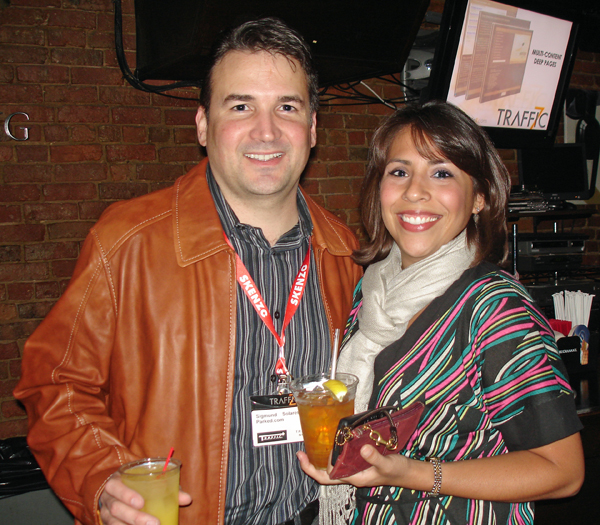 Parked.com CEO Sig Solares with another party goer.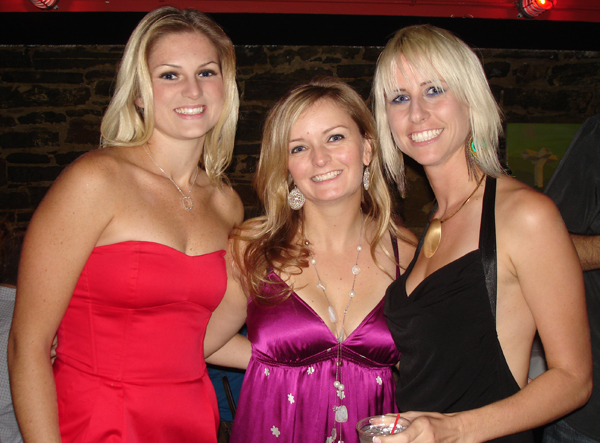 Marie Prentice (left) and Kindha Gorman (center) with a friend.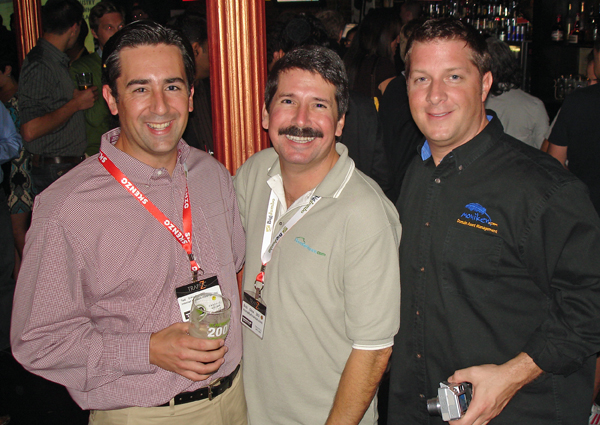 (Left to Right): Ted O'Keefe, Bob Olea and Moniker's Chris Leggett.
TrafficZ's Sam Aidu with Lori Anne Wardi

Elizabeth Grant and Skenzo
CEO Divyank Turakhia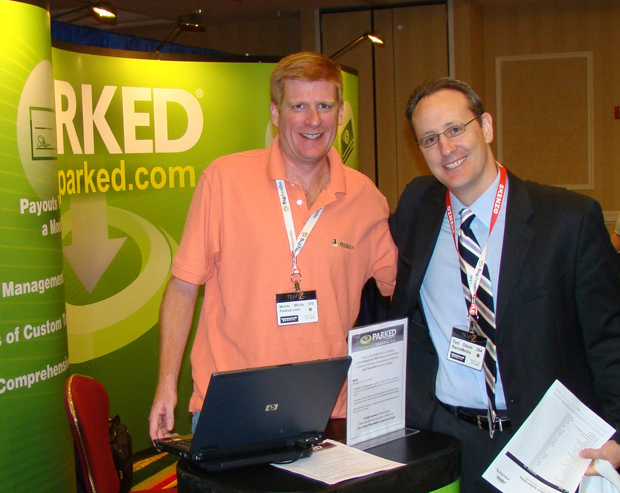 Parked.com's Monte White (left) welcomes NameMedia's Ted Olsen at the Parked booth.
Michael Berkens is surprised with
a cake for his birthday.

Left to right: (Marty Kaulins, Ilze Kaulins
and Jay Westerdal (Thought Convergence)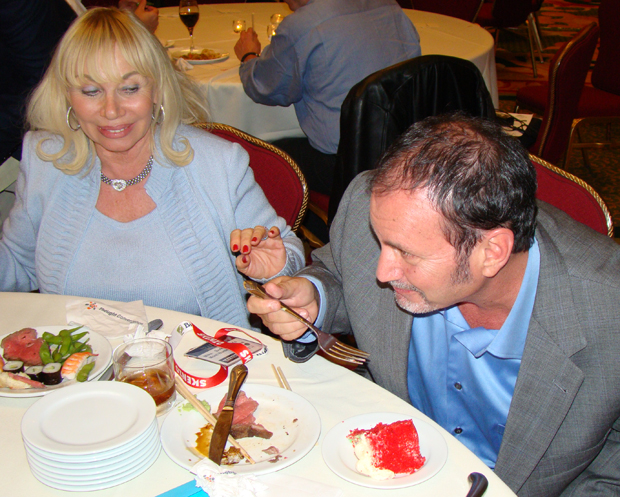 Wife Judi looks on as Michael, who writes TheDomains.com blog, digs in.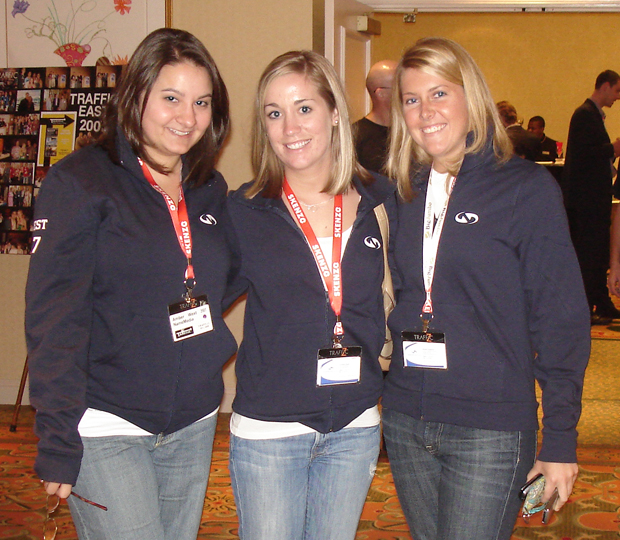 (L to R): Amber West, Cortnee Gunn and Kirsten Frederick represented NameMedia
Moniker's Don Lyons chats with Norina Fuller (EducationBusinessNews.com)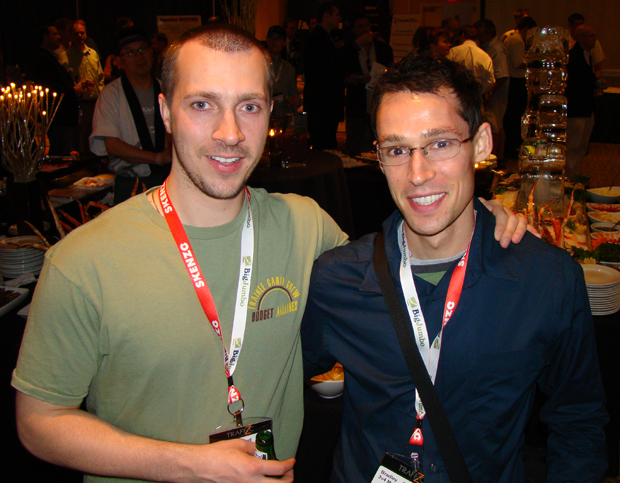 Sean Stafford (left) and Bradley ready to attack the seafood buffet.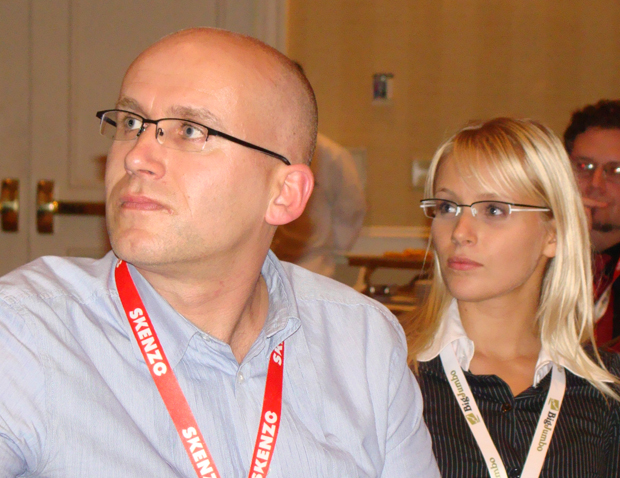 Alexander Shubert and Liva Cakule listening to a speaker.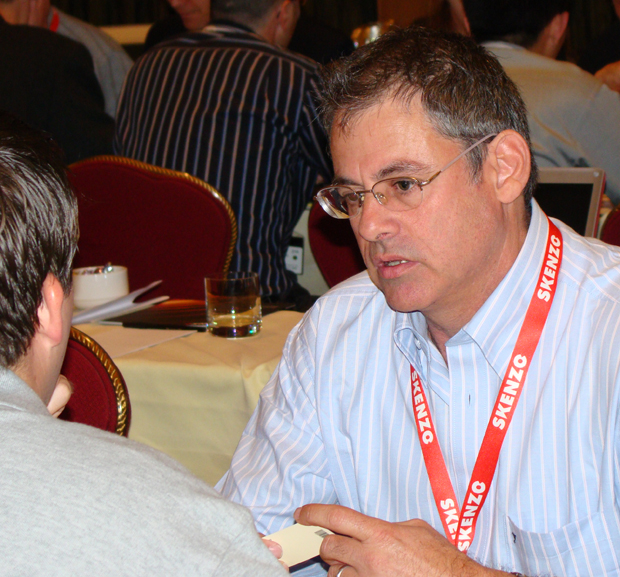 Moshe Fogel (Galcomm.com) came all the way from Israel for the show.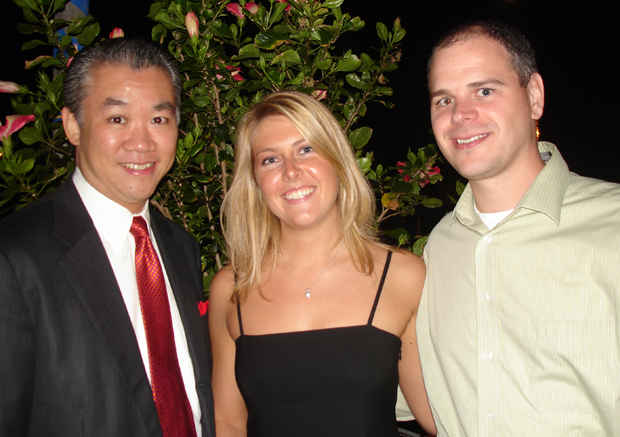 NameMedia's Kirsten Frederick (center), Russ Goodwin (right)
and another friend at an evening social event.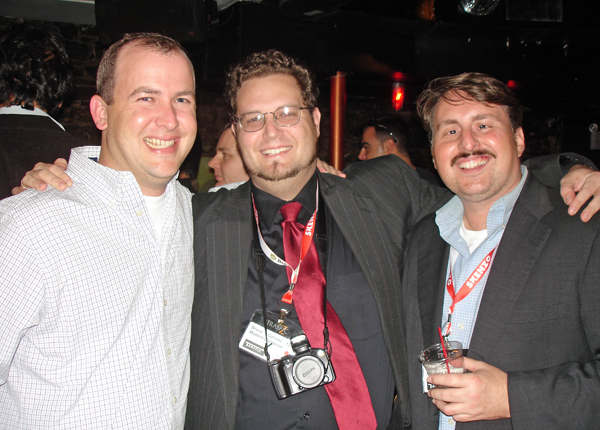 Michael Ward (Parked.com) at left with Bruce Cervini and
Seth Coman (Modern Domainer Magazine).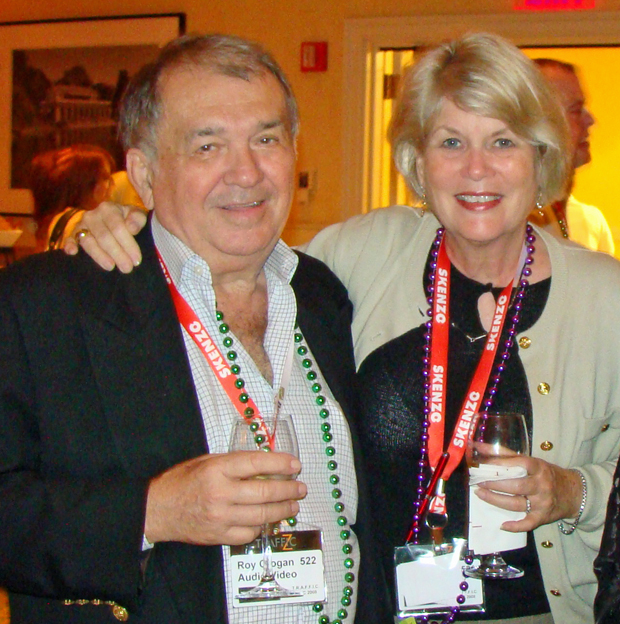 Videographers Roy Crogan and Kay Johnson at closing
night farewell party hosted by Parked.com.