By Ron Jackson
The final day of business at the T.R.A.F.F.I.C. ccTLDs conference in Amsterdam Thursday (June 4) got underway with a session featuring three companies that offer ccTLD registration or aftermarket sales services; Sedo.com, Name.com and InterNetX.com.
Mathias Meyer-Schoenherr (Sedo.com)

Sedo dominates the ccTLD aftermarket and Mathias Meyer-Schoenherr noted that some of that success can be attributed to the fact that Sedo operates sites in four languages; English, German, French and Spanish. They also have 200 employees spread across 25 countries. Their main office is in Cologne, Germany with other key offices in Boston and London.

Mathias provided some interesting stats noting the market shares for various ccTLDs extension on the Sedo sales platform. .de dominates, accounting for 60% of sales. co.uk comes next with a 13% share at Sedo, followed by .in at 9%. He said the company is also seeing solid growth in .es and .fr.

Kellie Peterson of Name.com cited the importance of picking the right registrar to handle your ccTLD domains. "Pick one you trust who knows the conditions and requirements for each of the individual markets," she said, adding that multiple language support is also critical to avoid miscommunications that could have very adverse consequences.
Also representing registrars, Jochen Kieler of InterNetX said that Mexico, with 110 million people, is one of many big opportunities in the ccTLD space. Despite the large population only 270,000 .mx domains have been registered, leaving room for a lot of growth there. He also noted that another key Spanish language country, Spain, had seen phenomenal growth for their extension (.es). It recently passed 1 million, a number Kieler said he would never have dreamed of a year ago. He added that he is seeing a big surge in new registrars starting to offer ccTLDs as the category gets more important every day.
During the extended lunch break that followed, attendees were given some extra time to visit the sponsor booths in the exhibit hall to get specific questions answered about the many products and services in display.
Above: Jodi Chamberlain welcomes a visitor to the Offshoring.com booth in the exhibit hall.
Below: Stephanie & Toby Clements hold down the fort at the Rick Latona Auctions booth.
(these two photos courtesy of Barbara Neu)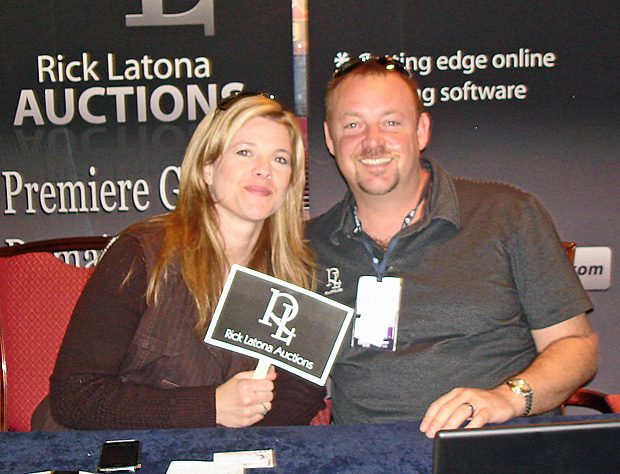 I led off the afternoon schedule with a talk about ccTLD and general market sales trends. In breaking down the composition of the 50 biggest ccTLD sales so far this year I noted that 14

Ron Jackson (DNJournal.com)

of those have been .de domains, followed by 10 co.uk and 7 .fr. .nl, the ccTLD for our host nation, the Netherlands, had 4 of the 50 biggest sales as did .pl. Three extensions had two apiece; .es, .it and .eu while four others each placed one; .us, .at, .ru, .br.

Germany's .de swept 6 of the 10 biggest reported sales led by FlateRate.de at $200,000. Motor.es (representing Spain) also cracked the 6-figure mark at over $113,000. Of course, these are just the publicly reported sales - I heard about many even larger ccTLD deals while I was at the show, but those were not revealed due to non disclosure agreements that are commonplace, especially at the high end of the market.

By the way, if you are not familiar with which countries all of these extensions belong to there is a handy reference here that gives you the complete list of the world's ccTLDs and the countries they represent.

I had some extra time during the hour allotted to me so I invited Rick Latona and Ray Neu (who administers Latona's ccTLDs.com forum) to join me on stage for a special interview. I

wanted Neu to fill everyone in on the growth they are experiencing at ccTLDs.com, a great resource for people from all over the world to discuss their local ccTLDs (and do so in their own languages if they wish). With those local experts on board it is a great place to learn the ins and outs of each country code market so you can take advantage of some of the hottest growth areas on the Internet.
Latona had been on stage Tuesday as part of a large panel. That limited his comments to a few minutes that day, so I wanted to bring him back so the audience could hear more details about his conversion from .com diehard to ccTLD evangelist. He explained how his travels around the world had convinced him that it was worth pouring hundreds of thousands of dollars into the acquisition and marketing of selected ccTLDS - even though many of his .com only colleagues thought he had taken a wrong turn. It is becoming clear now that the turn Latona took was actually a short cut that has once again put him ahead of the pack.
Next up was the final seminar session of the show, one focusing on what the future holds for domain investors. This panel featured Tim Schumacher (CEO, Sedo.com), Alexander Wagner (European Business Development Director, NameDrive), Donny Simonton (President, Parked.com) and Markus Schnermann (the subject of our May Cover Story who filled in at the last minute when a scheduled panelist had to leave Amsterdam early).

In a speech a couple of years ago Schumacher had predicted the domain boom would not last forever - that revenues from different sectors of the industry would rise and fall in the same way the stocks go up and down. Time has proven him right. He drew several parallels to the stock market in his talk and also presented his personal recommendation for extensions to buy, sell or hold. His current Buy list includes .info, .us, major ccTLDS like Germany's .de and Italy's .it plus IDNs (which he predicted will be big). Schumacher rates .com, .net, .eu and .mobi as Hold and he recommends selling .biz, .cc, .ws and .tv.

Sedo CEO Tim Schumacher
Like Schumacher, Wagner, who helped found NameDrive in 2005, recommended diversification in your portfolio and noted that you can still buy attractive domains in the ccTLD space at very good prices. He also recommended diversifying the methods of monetization you use by making parking, sales and development all part of the mix. He is less optimistic about mass development, believing that any gains will be short lived before Google and Yahoo crack down on minisites built solely to attract search engine placement to drive visitors to glorified parking pages.
Simonton talked about how automated systems were helping his company acquire domain assets that think will grow in value in the future. He has a program that will scan each day's drop list, or an auction catalog and automatically spit out a list of names the company should buy (and the maximum price to buy at) based on criteria they built into the program.
Markus Schnermann

Schnermann, who has always been a strong proponent of ccTLDs said he particularly likes the prospects for China (.cn), India (.in) and Russia (.ru) as they all have the potential to be financial super powers. Schnermann said if you have to focus on just a few extensions stick with those that use your native language. For English speakers he said .us was a natural and is currently a very underestimated ccTLD. Simonton, an American, agreed, adding that he already owns a lot of .us domains.

The final order of business was RickLatona.com's big live domain auction featuring a large selection of ccTLD domains. Like every other aspect of this show, the auction exceeded expectations by booking over $600,000 in sales in less that three hours. The highest prices went to DiamondRings.com (€162,000 = $230,179), Houses.co.uk (€43,200 = $72,429) and Job.us (€25,200 = $35,179).
Scene from the RickLatona.com Live Domain Auction Thursday (June 4)
After the auction, luxury buses delivered attendees to the show's grand finale, a closing night party hosted by Parked.com at a local two-story townhouse that had recently been purchased by Parked.com CEO Sig Solares.
The building was in the middle of a renovation project so there was plenty of open space for people to circulate on the ground floor where a huge buffet was spread out along one wall with a large open bar on the other. Servers were also constantly emerging from a rear kitchen with platters full of food, cheese and dessert. Others enjoyed a separate lounge area upstairs where a pair of local artists stayed busy sketching attendees.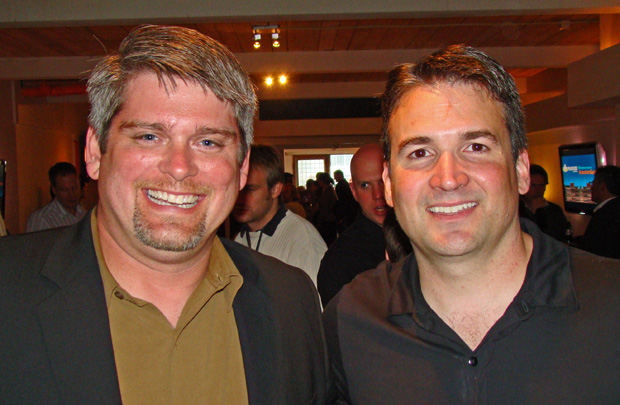 President Donny Simonton (left) and CEO Sig Solares welcome
guests to Parked.com's closing night party in Amsterdam.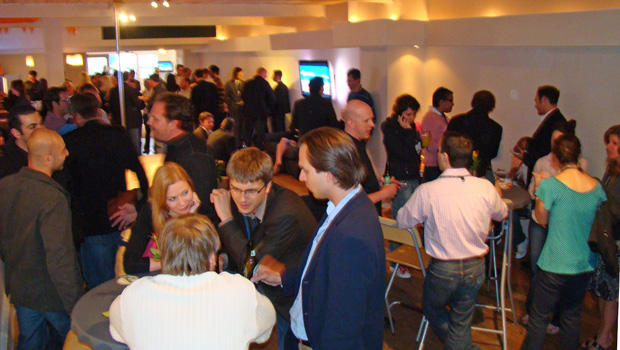 The party gets underway on the ground floor.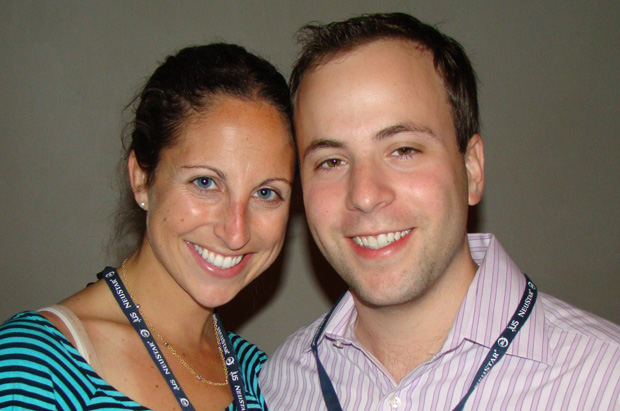 Karen & Elliot Silver (ElliotsBlog.com) were among the guests.
The party was a fitting conclusion to a week that gave ccTLDs (and their investors) the kind of attention they deserve. If you missed this one, you missed something special, but given how well it went, I would wager this will not be the last ccTLD centric show.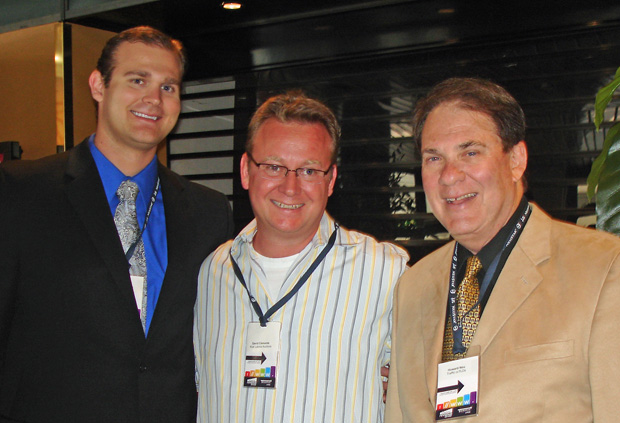 Some of the people who helped Rick Latona make T.R.A.F.F.I.C. ccTLDs happen. Above (left to right): Ray Neu (ccTLDs.com), David Clements (President, RickLatona.com) and T.R.A.F.F.I.C. co-founder Howard Neu.

At right: behind the registration desk, Barbara Neu (the glue that holds everything together!)

Diana and I stayed over an extra day to visit the world class local museums, then finally headed back home over the weekend, exceptionally happy that we had the opportunity to visit this great city and meet so many other domainers from around the world for the first time.

You can't put a price on that or on gaining a whole new understanding of ccTLDs and their special place on an Internet that continues to expand and offer boundless opportunities to those ready to seize them.