The Lowdown


October 2011 Archive

Subscribe to our RSS Feed

Here's the The Lowdown from DN Journal,
updated daily to fill you in on the latest buzz going around the domain name industry.

The Lowdown is compiled by DN Journal Editor & Publisher Ron Jackson.
Monday & Tuesday Photos and Highlights from T.R.A.F.F.I.C. Fort Lauderdale Beach
In my last post from the T.R.A.F.F.I.C. Fort Lauderdale Beach conference yesterday (Monday, Oct. 17) I signed off with three afternoon sessions left to attend in the business day. The first of those was Test Track, a session that gives entrepreneurs an opportunity to persuade one or more members from a panel of investors to put a specified amount of money into their venture in exchange for a percentage of the business. Marco Marcovici presented a pitch for his NGrams.com project while Kevin Wood sought a development partner for Companion.com.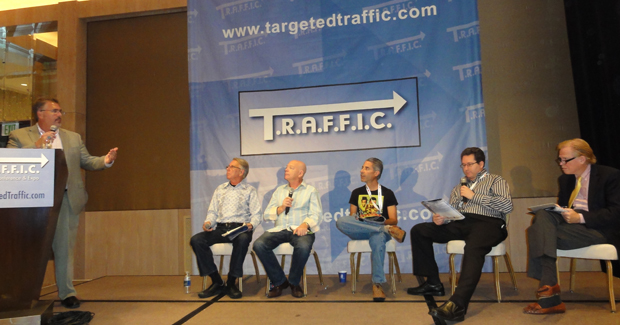 Kevin Wood (standing at left) tells a panel of investors why they should back
his plans for Companion.com. The panel included (left to right): Roy Messer,
Gregg McNair, Michael Mann, Adam Dicker and Dr. Chris Hartnett.
Marcovici and Wood both got some tips on their ventures but neither secured an investment at this stage of their projects.
In the next session, Stuart Lawley, Chairman and CEO of ICM Registry (operator of the new .xxx extension) discussed the TLD with the biggest early investor in .xxx domains, Frank Schilling. Among other things, they revealed that Frank paid $1.65 million for a prime portfolio of .xxx domains.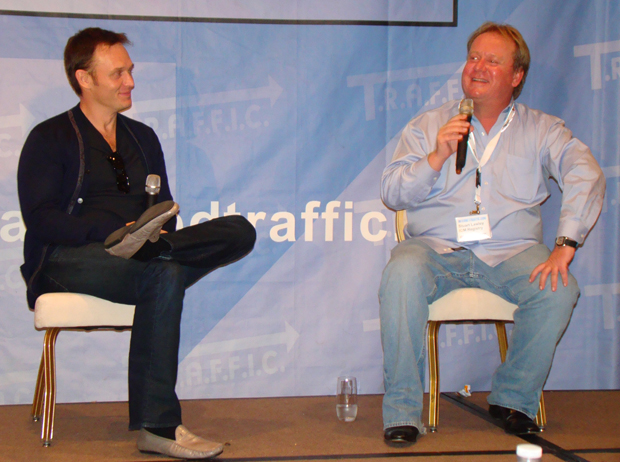 Frank Schilling (left) and Stuart Lawley fill attendees in on the new .xxx extension.
The business day Monday closed with the most well attended Speed Networking session I've seen in years. Those who took part were able to spend 10 minutes each with a half dozen different people from fields the attendees specified in advance that they want to make contacts in.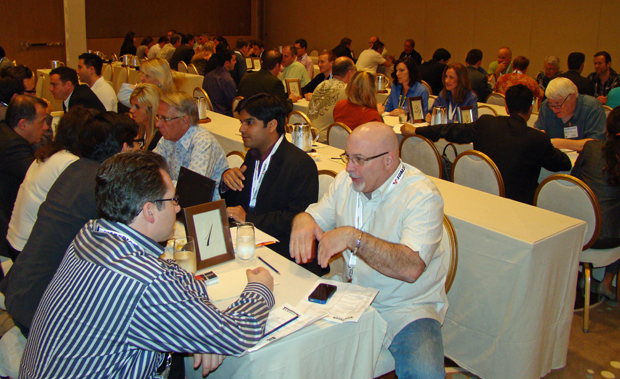 The T.R.A.F.F.I.C. Speed Networking Session Monday (Oct. 17) drew a packed house.
Once they were done with business for the day, guests got dressed up for the official T.R.A.F.F.I.C Party sponsored by the ICM Registry. They were bussed to the W Hotel for an event that started at 8pm and was still going strong when we left shortly before midnight.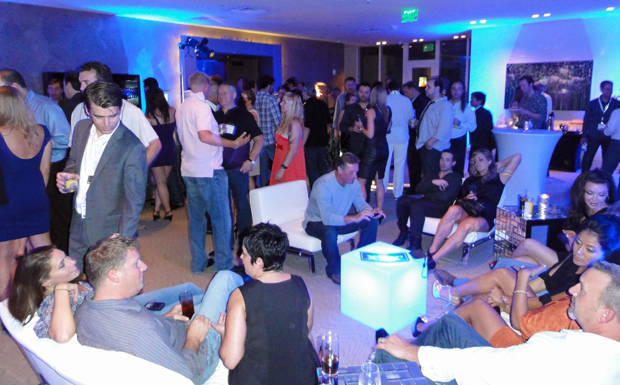 Guests in one of the two club rooms set up for the ICM Registry's Official T.R.A.F.F.I.C. Party
I liked the way the ICM Registry set up the party areas. There was a front room with a buffet, bar and dance floor that gave the space a nice modern night club vibe. Then for those who like a quieter environment to talk (and domainers love to talk) they set up a second room adjacent to the first with comfortable tables, lounge chairs and sofas, its own bar and a coffee station.

It made for a great place to hang out and chat while also being able to easily go back and forth between the two rooms whenever you felt like a change of atmosphere. It was very well done and I didn't see anyone who wasn't having a great time.

Though many had a late night out there was a larger than usual crowd on hand back at the Ritz ballroom Tuesday morning for the start of the final business day at T.R.A.F.F.I.C. 2011.

I kicked things off with an update on third quarter domain sales which showed a nice

As the club filled up, seating became scarce, so Scott
Richter (TheParkingPlace.com), gallantly offered to
share his chair. Who said chivalry was dead!?

improvement over the same quarter a year ago (the stats I shared will all be published in our next newsletter that will be out in a week or so. A series of two-minute elevator pitches followed, giving attendees a chance to promote their own companies or events (one big project being worked on by Gregg McNair and Bob Olea was especially interesting - I'll tell you more about that in our full conference review article that will be out in a few days.

| | |
| --- | --- |
| Then it was time to hand out the annual T.R.A.F.F.I.C. Awards. The winners, in the order they were presented were: Best New Monetizing Solution - InternetTraffic.com, Best Overall Domain Solution - Sedo.com, The "We Get It" Award - Citrix, Developer of the Year - Rob Grant, Best Domain Blog - Mike Berkens for TheDomains.com, Sponsor of the Year - InternetTraffic.com, Domainer of the Year - Frank Schilling, and this year's two new inductees in the T.R.A.F.F.I.C. Domain Hall of Fame were Adam Dicker (DNForum.com) and Howard Neu (Co-Founder, T.R.A.F.F.I.C.) The winners were all selected in voting by the peers. Our congratulations to each one. | Adam Dicker (left) and Howard Neu were voted into the T.R.A.F.F.I.C. Domain Hall of Fame Tuesday (Oct. 18). |

The mornng closed with one of the show's best sessions titled The Hard Work of Developing a Business Out of a Domain Name. It featured a half dozen guys who have done exactly that and generously provided the details on how they did it.

The Tuesday panel on how to develop a domain into a business featured (left to right):
Warren Royal (Bobbleheads.com), Ari Goldberger (EsqWIRE.com), Sean Sullivan
(Tier 1 Development), Richard Swerdlow (Condos.com and Houses.com),
plus Joe Melville and Greg Balestrieri (both from Candy.com).

Next up ICM Registry Chairman and CEO Stuart Lawley returned for a solo session in which he talked about why he invested more than $20 million and many years of his life to get the .xxx extension approved by ICANN.

After a short break, The T.R.A.F.F.I.C. live domain auction got underway at 2pm and was still going on at the time I wrote this. It will be followed by a final business session: Meeting of the Chiefs, that will feature eight company leaders who will comment on a variety of industry issues.

Another party is coming up tonight then the show will officially close with a Farewell Breakfast tomorrow morning (Wednesday, Oct. 19). I'll have highlights from the auction as well as the final business and social sessions in tomorrow's post (we will be making the return trip to our home base in Tampa after breakfast, so I will most likely be doing that post Wednesday evening when we are back there after a very rewarding week on Fort Lauderdale Beach).
(Posted Oct. 18, 2011) To refer others to the post above only you can use this URL:
http://www.dnjournal.com/archive/lowdown/2011/dailyposts/20111018.htm
Opening Day Photos & Highlights From T.R.A.F.F.I.C. Fort Lauderdale Beach
When I posted from Fort Lauderdale Beach early Sunday morning I said the outdoor cabanas were expected to be a beehive of networking activity that day as people arrived at the oceanfront Ritz Carlton Hotel for the start of the 2011 T.R.A.F.F.I.C conference Sunday evening (Oct. 16). That possibility was short-circuited when rain started cascading down by mid-morning and continued non-stop well into the night. Show organizers quickly adapted and moved everyone inside where Alina Schwartz and Barbara Neu began registering the more than 300 guests in town for the big event.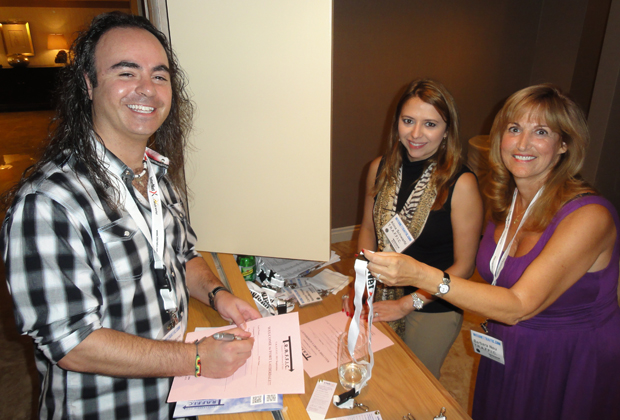 Paul Goldstone (iGoldrush.com) gets his T.R.A.F.F.I.C. 2011 credentials from
Alina Schwartz and Barbara Neu (right) at the show's regstration desk.
After several hours of informal networking in a broad hall overlooking the Atlantic Ocean and a special orientation session for show newcomers, the conference officially got underway at 6pm with a big crowd on hand for Sedo's Welcoming Cocktail Reception.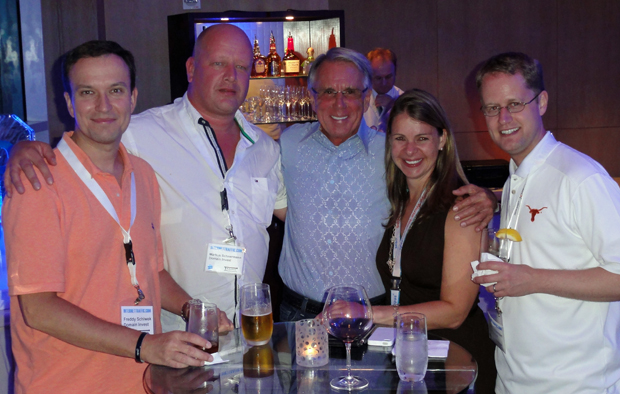 Faces in the crowd at Sedo's opening night cocktail reception included (L to R): Freddy Schiwek, Markus Schnermann, Roy Messer, Sedo's Kathy Nielsen & Andrew Allemann.
After the two-hour cocktail reception attendees had free time to explore the area or go off to private dinners or parties. Diana and I had the pleasure of joining Frank Schilling (InternetTraffic.com) for a dinner party that he threw for several dozen friends and business partners at popular Fort Launderdale Beach restaurant Steak 954. It was truly a memorable night that started with guests being ferried from the Ritz to the restaurant in the biggest limo I've ever seen (the limo appeared to be to be longer than the four block distance to the restaurant!)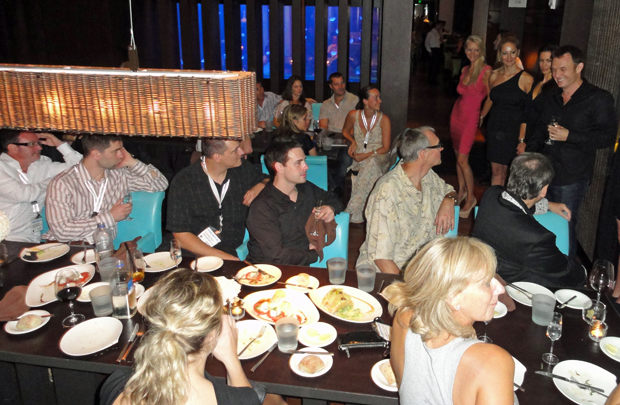 Standing at far right in the black shirt, Frank Schilling welcomes his guests at Steak 954.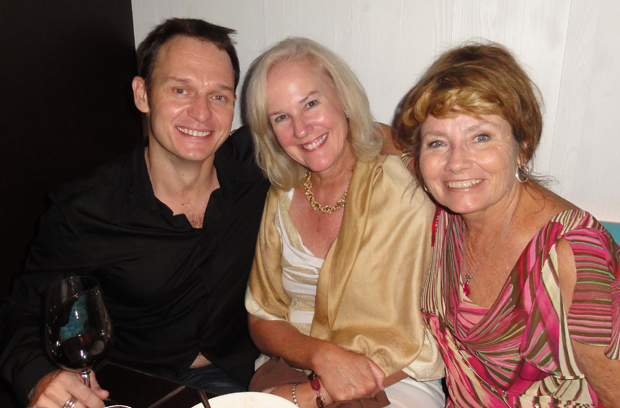 Frank Schilling with two of his guests, Pat Grant and Diana Jackson
This morning (Monday, Oct. 17) it was time to get down to business when T.R.A.F.F.I.C. Co-Founders Rick Schwartz and Howard Neu welcomed their guests and gave them a preview of what was ahead. They also gave every attendee a free Apple credit card reading device for iPhones and iPads that allows attendees to carry a portable cash register around them (you can bet plenty of the smart entrepreneurs on hand will find a way to make good use of that gift).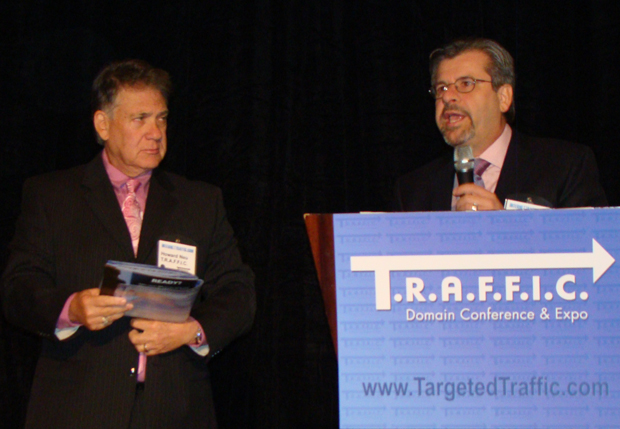 T.R.A.F.F.I.C. Co-Founders Howard Neu (left) and Rick Schwartz kicking off the
2011 conference with their opening remarks Monday morning (Oct. 17).
There was also another bonus, a new T.R.A.F.F.I.C. iPhone app that allows attendees to easily connect with each other. The app was developed by a company that Chicago.com owner Josh Metnick helps lead and Josh was on hand to unveil it (more details on that and other show happenings will be in a big comprehensive conference review article we will be publishing a few days after the show).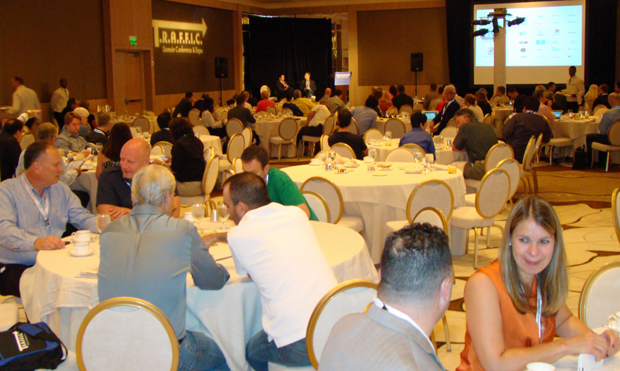 Part of the crowd on hand when T.R.A.F.F.I.C. 2011 got underway today.
At 10am Keynote Speaker Bill Karamouzis (HallPass Media) delivered his highly anticipated talk in a format that I really enjoyed - a kind of "fireside chat" with DomainSherpa's Michael Cyger inteviewing Bill. Karamouzis gave a detailed account on how he built and sold several companies in the games space for millions of dollars by using category defining domain names as the foundation for his wildly successful sites (see our 2010 Cover Story on Bill for details on his career).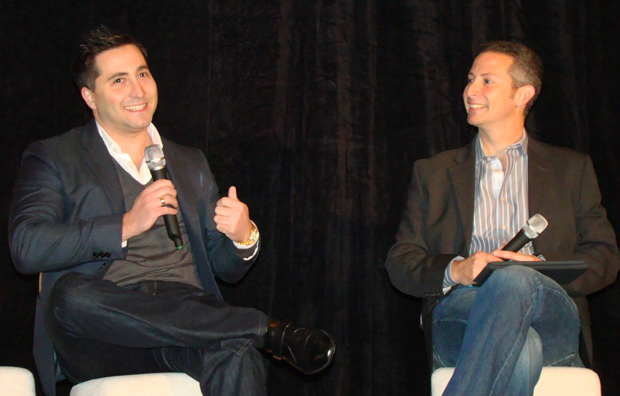 Bill Karamouzis (left) being interviewed by Michael Cyger in today's keynote.
Next up was a very interesting session on the new gTLDs that ICANN will begin rolling out next year. The history of the expansion program and its pros and cons were discussed by a panel of experts that included Sedo CEO Tim Schumacher, Peter Dengate Thrush (the former ICANN Chairman who now works with Minds+Machines), Michael Berkens (RightOfTheDot.com), Jothan Frakes (Sedari.com) and Monte Cahn (RightOfTheDot.com).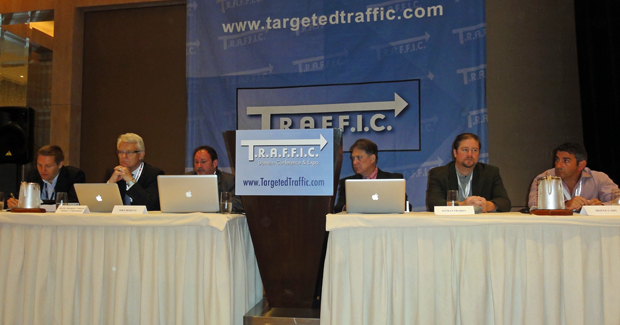 The Impact of New TLDs panel this morning featured (left to right): Sedo CEO
Tim Schmacher, Peter Dengate Thrush (the former ICANN Chairman who now works
with Minds+Machines), Michael Berkens (RightOfTheDot.com), moderator
Howard Neu, Jothan Frakes (Sedari.com) and Monte Cahn (RightOfTheDot.com).
The afternoon began with Google critic Scott Cleland detailing what he sees as the sins of the search giant that he covered in depth in his book, Search & Destroy: Why You Can't Trust Google Inc. With PPC earnings down so drastically in recent years, and a complete lack of transparency at Google and Yahoo, Cleland found a lot of supporters for his position in the audience.

He also sat in on the next session, a panel discussion that delved further into issues with Google and Yahoo. He was joined on the dais for that hour by Frank Schilling, Adam Dicker (DNForum.com), Michael Gilmour (ParkLogic.com), Tim Schumacher (Sedo) and T.R.A.F.F.I.C.'s Rick Schwartz, who, as most of you know, is also a vocal critic of Google.

Google critic Scott Cleland, author of Search &
Destroy: Why You Can't Trust Google Inc. speaking
this afternoon (Monday, Oct. 17) at T.R.A.F.F.I.C. 2011.
As I write this three afternoon sessions remained in the opening day of business. This evening the official T.R.A.F.F.I.C. Party (sponsored by the .xxx registry) will be held at the W Hotel, four blocks north of the Ritz. I'll have more on all of those sessions and events, as well as the first Tuesday sessions in the next post from Fort Lauderdale Beach tomorrow. The show is off to a great start and the buzz in the halls has been highly favorable from the attendees I've talked to.
(Posted Oct. 17, 2011) To refer others to the post above only you can use this URL:
http://www.dnjournal.com/archive/lowdown/2011/dailyposts/20111017.htm
More T.R.A.F.F.I.C. Pre-Show Photos & Highlights from Fort Lauderdale Beach: Conference Opens Tonight
In my first post from Fort Lauderdale Beach Friday I gave you some T.R.A.F.F.I.C. pre-show photos highlights from our first 24 hours in town. Today I'll continue with more from Friday and Saturday that will serve as the final stage setter for the conference that gets underway this evening (Sunday, Oct. 16) with Sedo's 6pm cocktail reception at the Ritz Carlton Hotel.
On Friday night Diana and I joined some friends for dinner at H2O, a popular sidewalk cafe just south of the Ritz.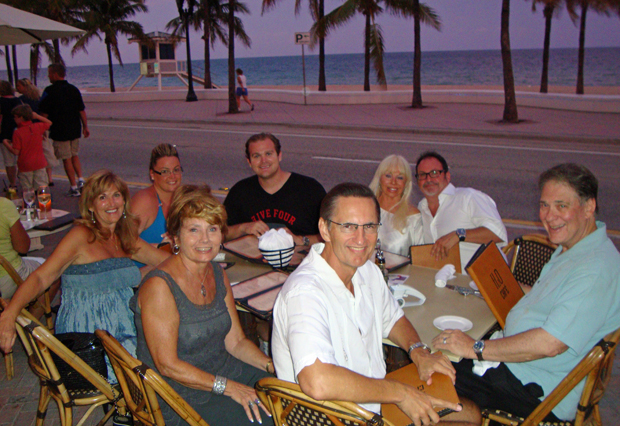 Dinner at H2O on Fort Lauderdale Beach Friday night (Oct. 14, 2011) with
(clockwise from left to right): Barbara Neu, Kimberly Ann, Ray Neu,
Judi Berkens, Michael Berkens, Howard Neu, Ron Jackson and Diana Jackson.
Shortly after the photo above was taken, we were delighted to have Dr. Chris Hartnett and his wife, Dr. Linda Hartnett, who had just arrived at the hotel, walk over to join us for dinner. Chris is a T.R.A.F.F.I.C. veteran but this will be Linda's first time at the event and we are looking forward to sharing the experience with her.

After dinner Judi and Michael Berkens invited everyone up to their penthouse suite at the Ritz for a champagne toast. Rick and Alina Schwartz and the ParkLogic.com team headed by Michael Gilmour also joined us there to help cap off a perfect evening.

Drs. Chris and Linda Hartnett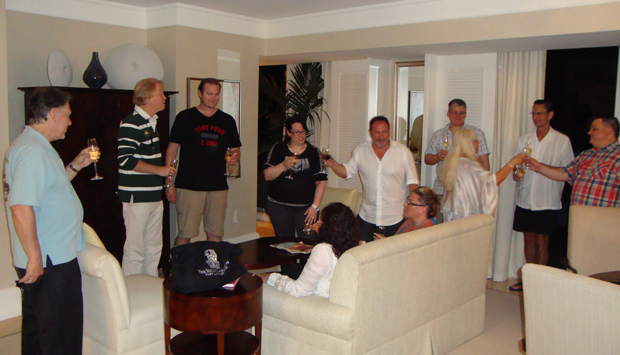 Michael and Judi Berkens welcome their guests after dinner Friday night (Oct. 14, 2011)
More early arrivals reached the Ritz on Saturday (Oct. 15) when networking on cabana row got into full swing. Various companies rented the oceanfront cabanas to provide a comfortable meeting place for their guests.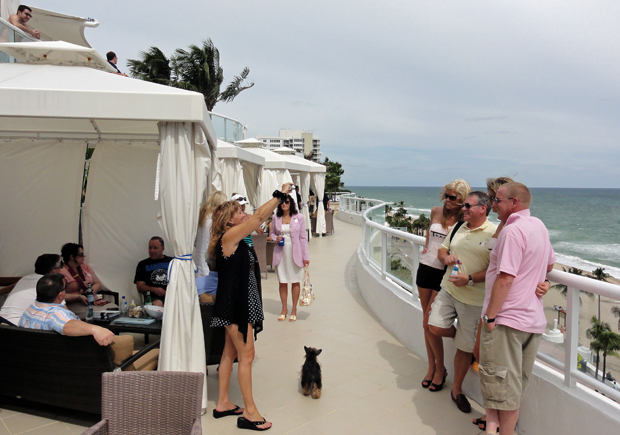 Our favorite photographer, Barbara Neu, snaps a picture on cabana row
at the Ritz Carlton Saturday, October 15, 2011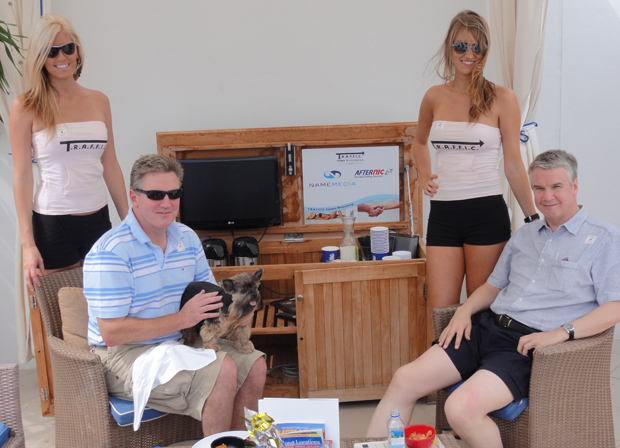 At the NameMedia.com cabana Bob Mountain (seated at left) with two special
visitors; Michael and Judi Berkens's Yorkie Bandit (on Bob's lap) and Ian Andrew
of DotComAgency.com. Standing with them are two of the many beautiful
T.R.A.F.F.I.C. models serving as hostesses this week.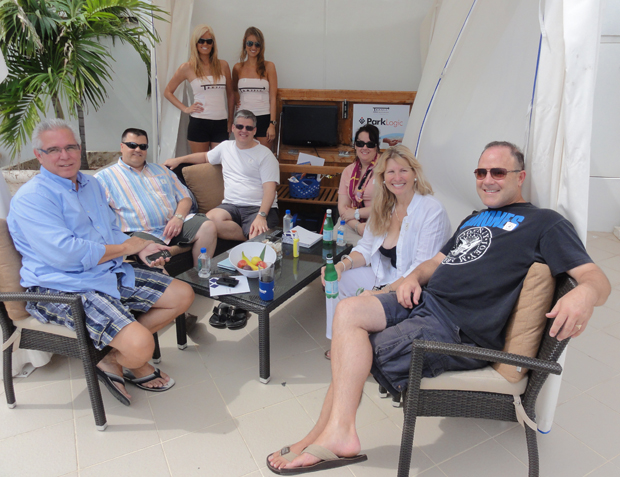 At the ParkLogic.com cabana Saturday we found (seated left to right): Scott Smith, Laci
Nagy, Michadl Gilmour, Catherine Harry, Peggy Ploss and Brian Wick enjoying the day.
From their vantage point on cabana row, guests also got a perfect view of world champion speedboat racer Mike Seebold and his team making some test runs in the Atlantic Saturday afternoon aboard the Miss .XXX boat that is sponsored by the ICM Registry (operators of the new .xxx TLD and also the lead sponsor of this week's T.R.A.F.F.I.C. conference). The team will be competing in next month's World Championships in Key West.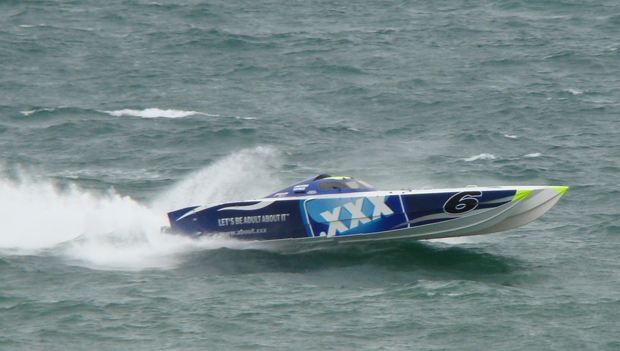 The Miss .XXX speedboat making a pass in front of the Ritz Carlton Saturday afternoon (Oct. 15).
The cabanas stayed busy until well past 6pm Saturday and with the vast majority of T.R.A.F.F.I.C. attendees arriving today (Sunday, Oct. 16), they will be a beehive of activity throughout the day. The show's first big event, Sedo's Welcoming Cocktal Reception, gets underway at 6pm. They have been planning to hold the reception on the Ritz's pool deck but with windy weather and some rain in the forecast today, there is a very strong chance the event will be moved indoors. Guests will still will be still be able to enjoy the gorgeous ocean view while protected from the elements if the party moves to one of the Ritz's glass-walled halls overlooking the Atlantic.
The first full day of business gets underway tomorrow morning (Monday, Oct. 17) and I'll have a post midway through the day then to fill you on the what has transpired beween now and then. A sell out crowd will be here by the end of the day for 2011's only T.R.A.F.F.I.C. conference.
(Posted Oct. 16, 2011) To refer others to the post above only you can use this URL:
http://www.dnjournal.com/archive/lowdown/2011/dailyposts/20111016.htm
T.R.A.F.F.I.C. Pre-Show Photos and Highlights: The First Post From Fort Lauderdale Beach
Diana and I arrived at the Ritz Carlton on Fort Lauderdale Beach Thursday afternoon to start getting ready for 2011's only T.R.A.F.F.I.C. conference. The big show officially gets underway at the luxurious Florida oceanfront hotel Sunday evening (October 16) but guests have already begun arriving for the big event that will continue through Wednesday morning (Oct 19).

Those of us who got into town early gathered on the pool deck at the Ritz last night to take part in one of the hotel's monthly Full Moon Parties that raise funds for worthy local charities (Conde Nast Traveler name this the "Party of the Month" in Fort Lauderdale).

The money collected last night will benefit the Miami Dolphins Foundation's annual Dolphins Cycling Challenge, an event that generates money for the University of Miami's Sylvester Comprehensive Cancer Center.

The Ritz Carlton on Ft. Lauderdale Beach where
T.R.A.F.F.I.C. 2011 will run Sunday through Wednesday,
October 16-19 (photo taken this morning).

The group in the foregound in the photo above from last night's Full Moon Party at the
Ritz Carlton on Fort Lauderdale Beach included some of the T.R.A.F.F.I.C. attendees
who arrived in town a few days early to enjoy the beach before the show begins.

T.R.A.F.F.I.C. Co-Founder Howard Neu (left) say early arriver
Michael Gilmour (ParkLogic.com) is THE Man. Michael routinely
comes all the way from Australia for T.R.A.F.F.I.C. events.

T.R.A.F.F.I.C. Co-Founder Rick Schwartz and his wife Alina
joined the conference early birds at last night's Full Moon Party.

When I woke up to a beautiful morning today on Fort Lauderdale Beach I found T.R.A.F.F.I.C.'s cabanas were just about ready to turn over to the companies that will use them to meet with clients and friends (the shot at right was taken just as the sun began to rise today).

The cabanas have been outfitted with refrigerators, flat screen TVs, constant food and beverage service and a variety of other amenities that will make them one of the most popular places to meet from now right on through the conclusion of the conference.

Tthe cabanas will be especially busy Saturday and Sunday as more and more attendees arrive at the Ritz to take advantage of the networking opportunities on Cabana Row before the show begins with Sedo's welcoming cocktail reception Sunday evening.

T.R.A.F.F.I.C.'s "Cabana Row" at the Ritz Carlton

An inside view of one of the T.R.A.F.F.I.C. cabanas. The companies
that rented them will add some of their own personal decorating touches
as they get ready for their guests to join them Saturday and Sunday.

By lunch time today, T.R.A.F.F.I.C.'s Barbara Neu, Ray Neu and Kimberly Ann had set up the poolside registration desk where they will be signing attendees in this weekend. Some of the early arrivers joined them for the photo below.

Behind the outdoor T.R.A.F.F.I.C. registration desk today (left to right) are
Ray Neu, Steve Cheatham, Barbara Neu, Diana Jackson, Kimberly Ann and Eric Rice.

I'll have another post from Fort Lauderdale Beach for you on Sunday before the show starts to give you a look at some of the preshow networking that will fill most of the next 48 hours. I will also have posts from the Ritz Monday through Wednesday to provide you with daily photos and highlights from the show. For those who are coming in I look forward to seeing you. For those who can't make it, I wish you were here but since you can't be, I'll try to make this column the next best thing to being there as the show unfolds.

(Posted Oct. 14, 2011) To refer others to the post above only you can use this URL:
http://www.dnjournal.com/archive/lowdown/2011/dailyposts/20111014.htm
Off to Ft. Lauderdale Beach for T.R.A.F.F.I.C. and a Reunion with Lana Del Rey's Dad
I'm heading out for Ft. Lauderdale Beach this morning so I can get settled in at the Ritz Carlton a few days before the crowd arrives for big T.R.A.F.F.I.C. conference that starts there on Sunday (Oct. 16). This will be the only T.R.A.F.F.I.C. show in 2011 and show promoters Rick Schwartz and Howard Neu have spent the past 12 months putting together an event that promises to be one of their best ever. Take a look at the jam-packed agenda and you will see what I mean.

Yesterday Schwartz released the final catalog for the live domain auction that will be a highlight of Tuesday's schedule (the sale is scheduled to run from 2:00pm to 4:45pm U.S. Eastern time that day - October 18). T.R.A.F.F.I.C. adopted a completely new domain selection process this year and a lot of people will be eagerly watching to see if the changes they made can breathe new life into live auctions - events that have been producing lackluster results at all of the various conferences in recent years.

I'll make my first post from Ft. Lauderdale Beach tomorrow (Friday, Oct. 14) when other early birds will start arriving, just in time for opening of the first cabanas - luxurious secluded getaways where a number of companies will welcome guests throughout the week. Informal cabana networking will be going on for three days before the show officially opens with Sedo hosting the opening night cocktail party on the pool deck Sunday evening at 6.

Lana Del Rey

In addition to meeting new people, I'm looking forward to seeing many old friends at T.R.A.F.F.I.C. again. One of the first things I'll do is congratulate Rob Grant on the latest major development in his daughter Lizzy's blossoming career as a recording artist.

Lizzy, whose stage name is Lana Del Rey, sang her new hit "Video Games" live on British national TV Wednesday night when she was a guest on Jool's Holland's show Later Live. Music aficionados know Jools is one of the founders of Squeeze who has also worked with Eric Clapton, George Harrison, Sting, Bono and countless others - a man who knows talent when he sees it. You can see Lizzy's performance on the show at YouTube.

Rob told me that Lana's management informed him that "Video Games" is now #1 on iTunes in five countries: France, Holland, Ireland, Norway and Australia and is in the top ten in three others; Sweden, Spain and Italy.

Lana has spent the past several years working with top musicians in England and Europe and it is now paying off in a big way. America won't be far behind. Lana has accompanied Rob to several domain conferences and she is a real sweetheart. Aside from being a friend, as a former radio DJ and record store owner, I've followed Lana's career from the beginning and am just delighted to see the success that I knew was coming for her is becoming a reality.

(Posted Oct. 13, 2011) To refer others to the post above only you can use this URL:
http://www.dnjournal.com/archive/lowdown/2011/dailyposts/20111013.htm
Left of the Dot Launches First GeoDomain to Use Their Innovative Domain Monetization Platform & Darren Cleveland's CityAdvertising.com Makes Inc. 500
We first told you about Left of the Dot Media back in June 2010, right after the company had stepped into the spotlight for the first time with a presentation made during the Test Track session at at the T.R.A.F.F.I.C. Vancouver conference. Left of the Dot allows multiple businesses to lease sub-domains off a premium domain name like, for example, Importers.com, a major success for them that we told you about in August.

The company's latest launch involves their first geodomain project - Oahu.com. Oahu.com lists more than 35,000 businesses from across the popular Hawaiian island and caters to both locals and tourists who are seeking information and deals from Oahu-based businesses. Oahu is the most populated of the Hawaiian Islands with 953,000 residents (75% of the state's population) and in 2010 Oahu welcomed 4.3 million tourists.

Chris Jensen
CEO, Left of the Dot Media

Chris Jensen, CEO of Left of the Dot Media, said, "For the first time, businesses can use our brand and lease sub-domains direct from the website, examples of which include Hotels.Oahu.com, Golf.Oahu.com or Tours.Oahu.com."

Jensen noted, "When a business uses one of our marketing names, they get an instantly memorable website address that can define an entire category. Marketing names can boost click-through rates for online advertising, contribute to search engine rankings, be used as a landing or splash page for any marketing campaign, and even used to brand an entire web presence for a small business struggling to find the right domain name to use with their business."

Jensen believes the Oahu.com foundation will helps those businesses connect with the more

than 10 million web users who search for Oahu-related information every year. That will give them an opportunity to claim a larger share of the vast amount of money tourists spend on the island each year ($5.5 billion in 2010 alone). For more information, you can visit Oahu.com or call 1.808.638.4085.

Congratulations are also in order today to City Advertising CEO Darren Cleveland, whose Delray Beach, Florida based Internet advertising agency has been named one of the fastest growing companies in America by Inc. Magazine. In their annual Inc. 500 rankings, City Advertising came in at #189 and they were ranked #7 among the fastest growing companies in the South Florida area.

Inc. calculates the growth rate of tens of thousands of companies to determine who makes their elite list each year. After bringing in just over $129,000 the year the company was founded (2007), City Advertising's revenue soared 1,595% over the next three years coming in at $2.2 million in 2010.

Cleveland, whose company operates several directories based on generic domain names, including FuneralHomes.com, PaintingContractor.com and PropertyAppraisers.com, said, "Our team has

Darren Cleveland
CEO, City Advertising

worked hard to get our company to this level in a short period of time...as more small businesses shift their advertising budgets online from traditional media and the yellow pages, our organization is very well positioned to take advantage of this shift and grow for years to come."

(Posted Oct. 11, 2011) To refer others to the post above only you can use this URL:
http://www.dnjournal.com/archive/lowdown/2011/dailyposts/20111011.htm
Paul Goldstone & Morgan Linton Partner to Provide Free Educational Videos on Turning Domains into Brands at iGoldRush.com
Two friends and well-known figures in the domain industry, Paul Goldstone and Morgan Linton, have teamed up to make a monthly series of free educational videos available exclusively at Paul's iGoldRush.com site. Morgan will produce the videos about turning domain names into brands to increase profitability, with the first video going up today (Monday, Oct. 10, 2011).

Goldstone, iGoldRush.com's CEO said, "Our goal has always been to help visitors succeed in domaining, from buying to developing to selling. Morgan's hands-on approach to domaining fits right in with our

PaulGoldstone (left) & Morgan Linton

philosophy, giving iGoldrush visitors expert insight and advice to help move their top domains from parked pages to profitable online businesses."

In the new video series, Linton will share the knowledge that he has gained in developing more than 150 online brands since 2007. "Having a great domain name is one of the key elements but a successful online brand requires more than just a parked page of paid links." Linton said.

Linton and Goldstone said they finalized the partnership while on DNCruise last month, in between swimming with stingrays and jet skiing with legendary domain investor

Frank Schilling. Linton said, "Paul and I share a passion for education in the domain industry, so I couldn't think of a better person to partner with."

Morgan Linton (left) and Paul Goldstone
after sealing their deal on Grand Cayman (September 2011)

iGoldrush.com has been online since 1996 (originally under the ownership of Edwin Hayward) when the site began offering resources that helped many domainers get their businesses off the ground or improve those that were already flying. The new video series is the latest in a string of upgrades announced by iGoldrush over the last few months, including the addition of new domain brokers and the re-launch of their news distribution service featuring more news and authors and an auto-scrolling feed.

(Posted Oct. 10, 2011) To refer others to the post above only you can use this URL:
http://www.dnjournal.com/archive/lowdown/2011/dailyposts/20111010.htm
Inside Domainerwiesn (Domainer Oktoberfest) in Munich: When it Comes to Combining Business and Pleasure, Germany Shows Us How It's Done!
September and October have been accompanied by quite a run of cool domain conferences this year. For me it started with DNCruise 2 in early September, then last week's inaugural GeoPublishers.com Expo in Chicago, with the granddaddy of them all, T.R.A.F.F.I.C. still to come at the Ritz Carlton in Ft. Lauderdale Beach Oct. 16-19, 2011.
If I could have been in two places at once there was yet another conference I would have loved to have been at - this one on the other side of the ocean. While I was on my way to Chicago for the GeoPublishers.com event, the 3rd annual Domainerwiesn ("Domainer Oktoberfest") was winding down in Munich, Germany. That event, held right in the middle of the world famous Oktoberfest beer festival, was staged by the upcoming new domain monetization service - ParkingCrew.com. The three-day event ran Sept. 27-29, 2011 at the Sofitel Hotel with a crowd-pleasing agenda filled with one-on-one workshops, networking and - of course - lots of beer!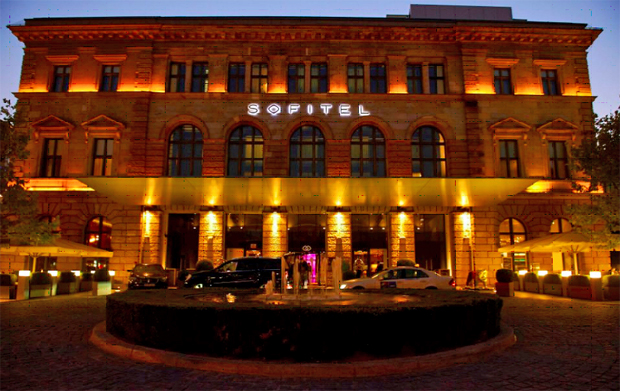 Munich's Hotel Sofitel Munich Bayerpost hosted Domainerwiesn September 27-29, 2011
Michael Berkens of TheDomains.com was among those who were in Munich. While he was there Michael mentioned to lead organizer Stefan Wiegard that I would love to get some photos and highlights from the event. Stefan came through in a big way allowing me to share the Domainerwiesn experience with you.
When attendees began arriving Tuesday morning, Sept. 27, they were outfitted in traditional Bavarian clothing (dirndl for the girls and lederhosen for the boys) and gathered at the hotel for an opening round of networking and catching up on industry gossip. In the afternoon, the entire group departed for their first visit to Theresienwiese where Crown Prince Ludwig I married Princess Therese of Saxe-Hidlburghausen in 1810 – a wedding that is commemorated every year with Oktoberfest.
The party then got started at Schützenfesthalle, a tent located directly underneath the Bavaria statue that seats more than 5,300 people, where guests enjoyed traditional Bavarian dishes and world-famous Löwenbräu beer. The tent even features its own private shooting range! With all of the beer being consumed I'm not sure how good an idea that is but no one seemed to mind.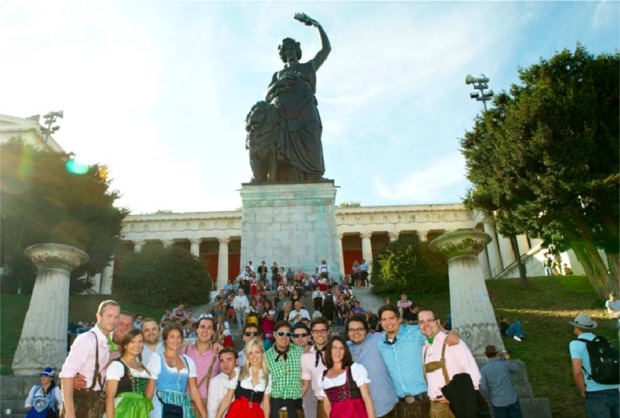 Above: Domainerwiesn attendees under the Bavaria statue.
Below: View of the Oktoberfest grounds with the Schützenfesthalle on the left.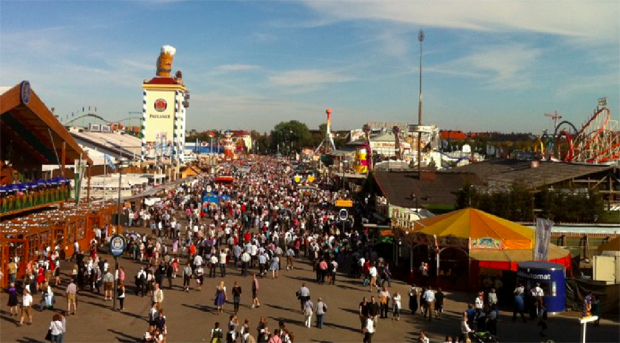 After seven hours at Schützenfesthalle the action moved to Munich's famous P1 Club where the group was greeted by a 9-liter bottle of Salmanazar Champagne to end the first day in style!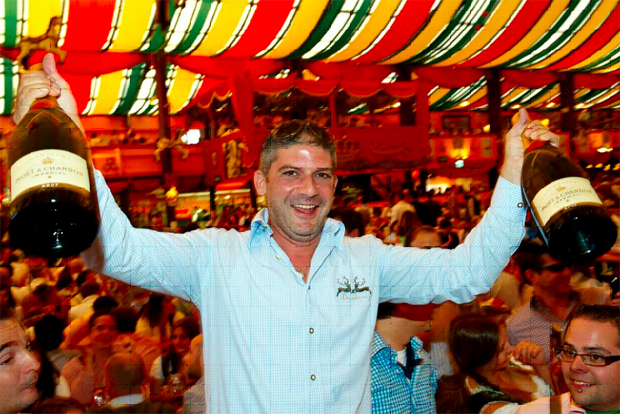 Hakan Ali from InternetX.com decided the best way to wash down beer is with champagne!
On Wednesday morning (Sept. 28) it was back to business with attendees gathering at Hotel Bayrischer Hof's Blue Spa to network one-on-one in a relaxed setting that also provided an opportunity to recover from the night before. In between meetings attendees could get various spa treatments, take a swim, enjoy sunny Munich from one of the best rooftops in town and eat some healthier food than the heavy Bavarian dishes that went so well with beer the day before.
Wednesday evening at 7:30 attendees met at the highly rated Restaurant 181 where they were were joined by industry veterans Michael and Judi Berkens and Michael's partner in RightOfTheDot.com, Monte Cahn, who were in town for a New gTLD Conference. The restaurant, which sits atop Munich's Olympic Tower, provided a birds eye view of the Oktoberfest grounds that illuminated the night sky.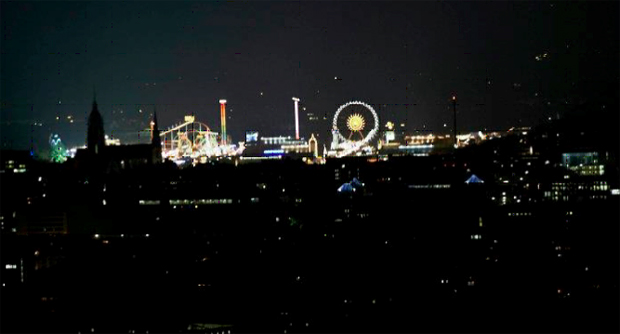 View of Oktoberfest from Restuarant 181 on top of Munich's Olympic tower.
Another highlight of the night at Restaurant 181 was an appearance by Melissa Payne who gave attendees an update on the great work being done by the Water School to provide clean drinking water in those parts of the world where it is needed most.

After hearing Melissa's inspiring account of Water School projects and enjoying a great dinner, along with the best possible view of Munich, Domainwerwiesn guests headed back to the Sofitel Munich Bayerpost Hotel to help Michael Berkens celebrate his birthday as soon as it arrived shortly after midnight.

Melissa Payne from The Water School
The final day of Domainerwiesn, Thursday (Sept. 29), got started with guests boarding a double decker bus for a sightseeing tour that would give them a much closer look at Munich. The trip was made even more enjoyable by generous servings of Bavarian beer and pork knuckles (I'm going to have to take their word for it on the pork knuckles)! This also turned out to be a good environment for discussing business deals.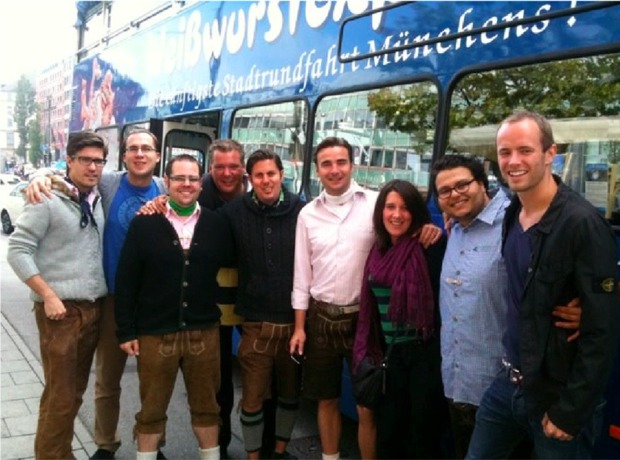 Some of the Domainerwiesn guests who got Thursday
off to a great start with a morning of sightseeing and networking.
After the tour it was time for a farewell visit to Oktoberfest. This time the fancy Hippodrom tent was the setting for an unforgettable afternoon. In this case it is probably best to let the pictures do the talking: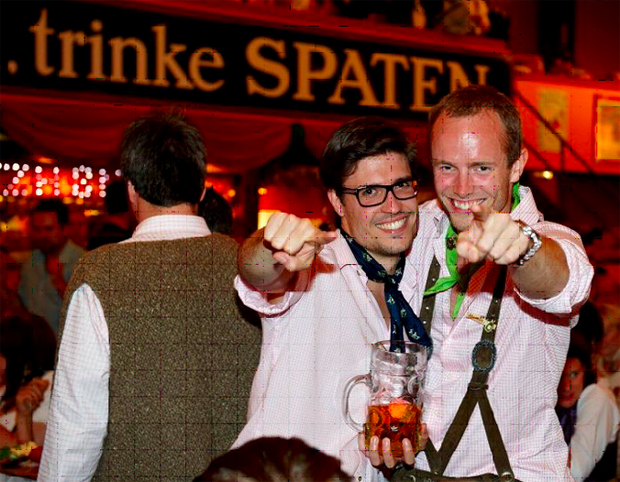 Stefan Wiegard from ParkingCrew.com and Martin Andersson from RookMedia.net
show the world that true friendship can exist between parking competitors.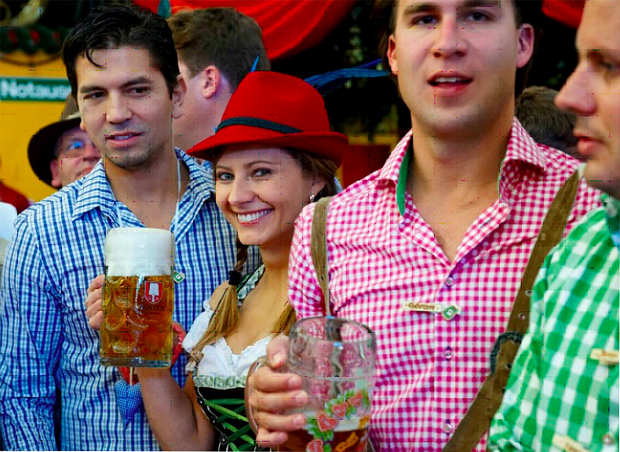 Kamila Sekiewicz from NameDrive.com (looking lovely in her red hat) says Prost! (Toast!)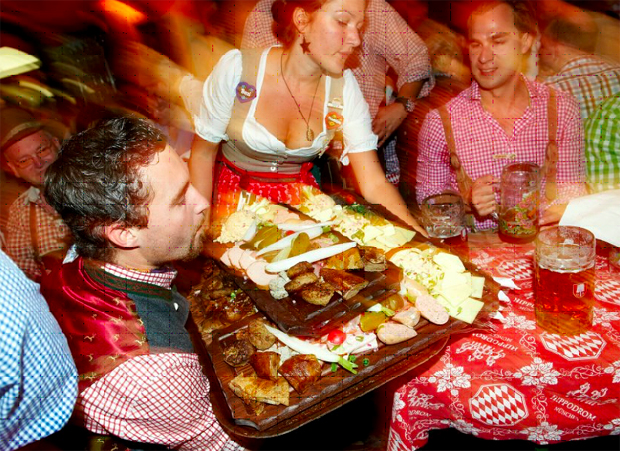 Another tray of tasty Bavarian food arrives for appreciative Domainerwiesn guests!
Stefan said, "The final day at Domainerwiesn 2011 concluded with one of those legendary champagne nights at 089 Bar that only domainers can throw (enough said)." He added that ParkingCrew.com is already looking forward to hosting another Domainerwiesn next year. After seeing these photos I bet a lot of you are already counting the days to September 2012!
(Posted Oct. 8, 2011) To refer others to the post above only you can use this URL:
http://www.dnjournal.com/archive/lowdown/2011/dailyposts/20111008.htm
Final Countdown to T.R.A.F.F.I.C. Ft. Lauderdale Beach Underway - Here Is What's In Store at the Shore
Just 10 days from now on Sunday evening, October 16, 2011, one of the most highly anticipated T.R.A.F.F.I.C. conferences to date will convene at the fabulous Ritz Carlton Hotel overlooking the Atlantic Ocean at Ft. Lauderdale Beach, Florida. The Ritz will remain the center of the domain universe through the show's closing day, Wednesday, Oct. 19.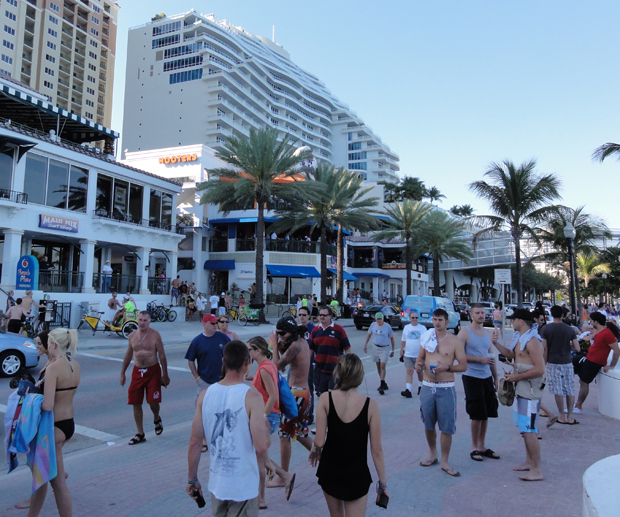 The design of the Ritz Carlton Hotel in Ft. Lauderdale Beach (at top center in photo above) was inspired by cruise ships. From every level you can see the ocean stretching to the horizon.
I paid a preview visit to the show's new venue - the Ritz Carlton - earlier this year and I think it is T.R.A.F.F.I.C.'s best venue to date (and that is saying something because the event has played in some great locations since debuting in Delray Beach back in 2004 as the first large scale domain conference ever held). I was so impressed by the site that Diana and I will be checking in three days early so we can enjoy the surroundings and hanging out with other early birds before the show gets started in one of the world's most beautiful locations.
The Ritz is in the middle of everything at the beach including bars, restaurants, shops and two spectacular waterways - the Atlantic Ocean on the east and the Intracoastal Waterway just a block to the west. Here is a tip - walk over to the Intracoastal water taxi stop a block west of the Ritz, get one of the cheap all day tickets (that allow you to get on and off any time you want along the way) and cruise the the Intracoastal to see some of the most spectacular homes and yachts in America (photos and highlights from when we did that in April are here).
Even T.R.A.F.F.I.C. Co-Founder Rick Schwartz's penthouse apartment is only steps away in a luxury tower just south of the Ritz.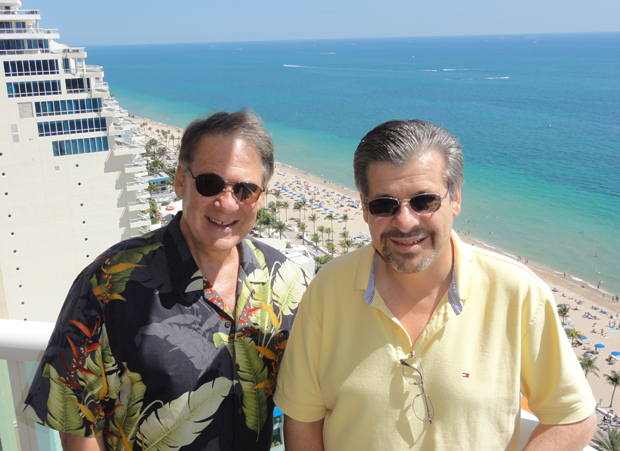 T.R.A.F.F.I.C. Co-Founders Howard Neu & Rick Schwartz (right) on Schwartz's penthouse
balcony on Ft. Lauderdale Beach. You can see the Ritz Carlton over Howard's shoulder.
You will be able to enjoy the ocean view from just about every show vantage point, including the halls outside the conference rooms as well as the pool and cabana decks that will be at the center of the T.R.A.F.F.I.C. networking and social swirl.
The private cabana row (seen in the photo below) will be especially busy. Various companies and individuals have rented the cabanas so they will have a special place to host clients and guests (many will be open a day or two before the show to welcome guests who arrive in town early). The cabanas sit just below the pool deck and can be accessed by short outdoor staircases located on each side of the pool area.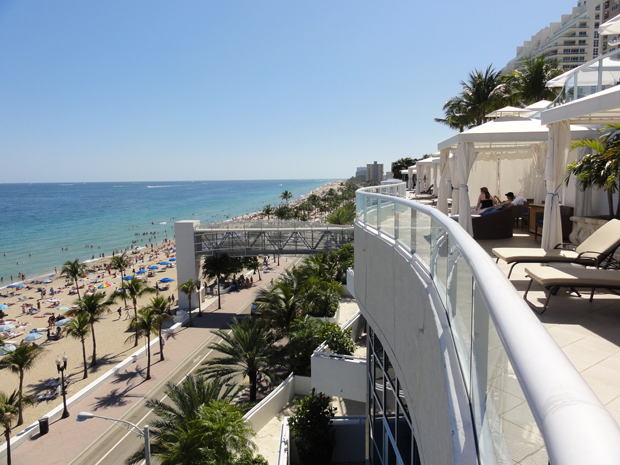 Above: The private cabana deck at the Ritz Carlton will be a special refuge at T.R.A.F.F.I.C.
Below: The pool deck at the Ritz Carlton will host networking events
in the most beautiful environment you can imagine.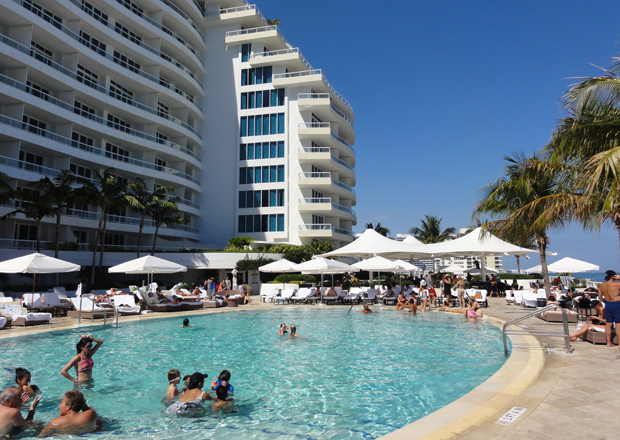 The pool is actually located on the 7th floor of the Ritz Carlton, far above the hustle and bustle on the street below. Looking east (as in the photo below) the hotel's unique cruise ship design lets you see the vast expanse of ocean behind the pool with nothing to obstruct the spectacular view.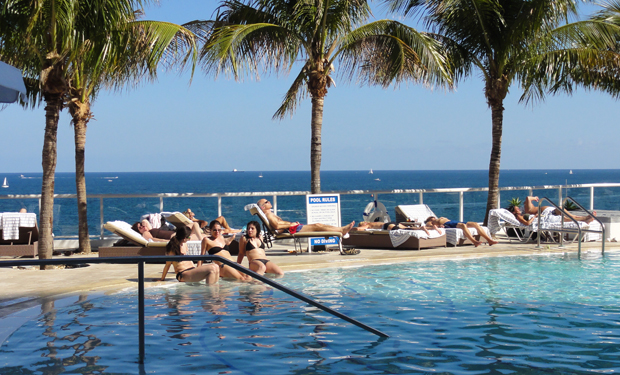 The Ritz Carlton's spacious rooms are sure to delight you too (if you booked one before they sold out). As of this writing, the hotel was full but you can always check with the organizers to see if there have been any cancellations or for advice on other hotels nearby.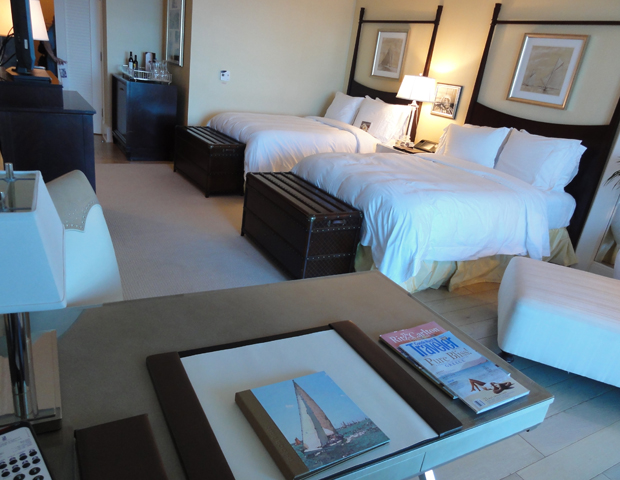 Above: View of one of the Ritz rooms from the work desk
that sits in front of the balcony windows.
Below: View from the opposite side of the room, looking across to the balcony windows.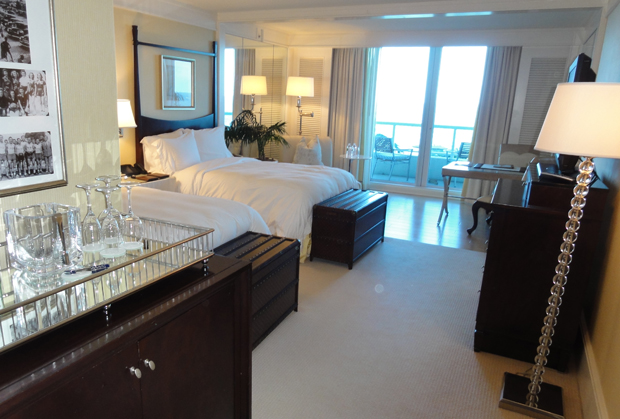 Below: The beach and ocean view from the balcony of the room above.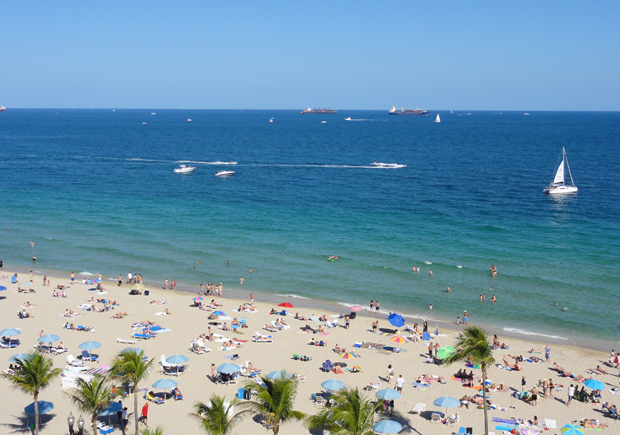 The venue is so nice I haven't left much space for the show agenda, but if you review it at the preceding link, you can see it is packed with timely sessions that will help you advance your business. One thing that has always set T.R.A.F.F.I.C. apart is that it is a conference staged by domain investors for domain investors. You are at the top of the food chain at T.R.A.F.F.I.C. with the program tailored to your needs and information delivered in the no holds barred manner that the organizers are known for.
A lot of eyes will also be on this show's innovative new format for its live domain auction. Schwartz and Neu have turned the old model upside down with hopes of bringing back the glory days for these sales events. Over time the traditional format has grown stale and sales results lackluster across almost all of the industry's shows. If T.R.A.F.F.I.C.'s grand experiment works it will be a major coup for them.
One other thing - while you are at the beach you can help Ft. Lauderdale celebrate the city's 100th birthday! Look for the huge oceanfront centennial sign a few blocks south of the Ritz that commemorates the special occasion that is being observed throughout 2011.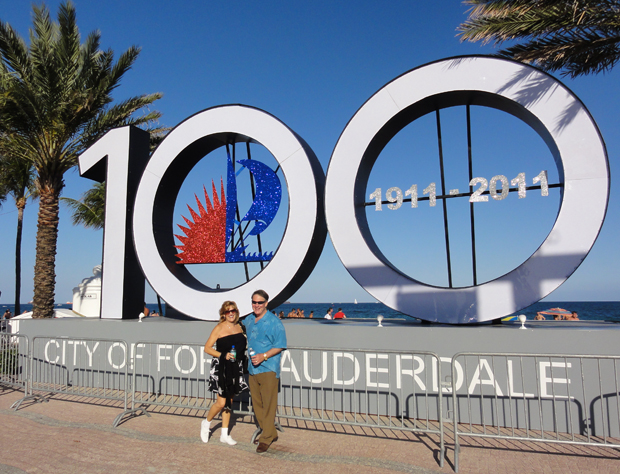 T.R.A.F.F.I.C. Co-Founder Howard Neu and his wife Barbara in front of the
oceanfront sign commemorating Fort Lauderdale's 100th birthday this year.
I'm looking forward to seeing you at the beach next week. If you can't make it, I will of course be posting daily photos and highlights in this column in an effort to bring the beach and the best of T.R.A.F.F.I.C. to you.
(Posted Oct. 6, 2011) To refer others to the post above only you can use this URL:
http://www.dnjournal.com/archive/lowdown/2011/dailyposts/20111006.htm
Sedo Adds Domain Industry Veteran Frank Michlick to the SedoMLS Team
Sedo has added a prominent new member to their SedoMLS team. Frank Michlick, who has been involved with Internet technology since 1993 and registered his first domain name in 1995,

Frank Michlick has taken a position
with the Sedo MLS Network

has come on board to help the company expand a domain sales promotional network that currently has close to 60 partners, including many leading registrars. Those partners offer their customers direct access to any domain name listed for sale at Sedo, and the ability to purchase a domain from its current owner directly at that partner's site.

Michlick's resume includes over five years with major registrar Tucows. He went on to found DomainCocoon, where he continues to provide domain development and management services, as well as custom registrar creation, ICANN and ccTLD accreditation consulting. He is also a co-founder of DomainNameNews.com.

"I am thrilled to be joining Sedo, and to having the chance to work closely on the SedoMLS Promotion Network," Michlick said. "Given my experience working with some of the world's leading registrars, and with domain management and consultation, it seemed a natural fit to join

Sedo's team. I look forward to the exciting opportunity to help the largest global domain distribution network grow."

Sedo President Ulrich Essmann added, "It is wonderful news that we have Frank on board and working with our SedoMLS team. His years of experience in the domain name industry are perfectly suited to his new role, and we look forward to seeing the SedoMLS Network continue to expand."

(Posted Oct. 4, 2011) To refer others to the post above only you can use this URL:
http://www.dnjournal.com/archive/lowdown/2011/dailyposts/20111004.htm
First GeoPublishers.com Expo Provides a Wealth of Information During Weekend Run in Chicago
I'm back from the first ever GeoPublishers.com Expo that was held at the Fairmont Hotel in downtown Chicago over the weekend. The event got underway with a reception hosted by GeoPublishers.com President Fred Mercaldo Friday night (Sept. 30, 2011) and continued with a jam-packed business day Saturday that featured 10 separate sessions. Two more Sunday morning before the show closed at noon sent attendees home with some great tips and invaluable information that will help them strengthen their geodomain based businesses.

A scene from one of the Saturday (Oct. 1, 2011) business sessions
at the first GeoPublishers.com Expo at the Fairmont Hotel in Chicago.

I sat in on every session (and stood for one - the keynote talk that I gave Saturday morning) and am working on a wire to wire conference recap with photos and highlights that will be up before the week is out. In the meantime, two friends and fellow conference attendees have already commented on their experiences at the show; Nat Cohen wrote about on his DomainArts.com blog and Michael Cyger (who, like Nat, is a geodomain owner) posted at DomainSherpa.com.

GeoPublishers.com is guided by a board that includes many former members of Associated Cities, the pioneering geodomain trade association that was supplanted by the new group after some widely publicized internal political issues unfortunately caused the AC effort to stall. With many taking a wait and see attitude following the past turmoil and subsequent transition to GeoPublishers.com, attendance at their first Expo was light. However, those who went enjoyed a heavyweight program at a superb venue - a promising first step that should help the geodomain industry move forward and realize its massive potential. GeoPublishers.com has assembled a powerhouse Board of Directors who are all dedicated to making that happen.

The GeoPublishers.com Board of Directors (left to right): Michael Castello (CCIN.com), Peter Niederman (DenverRealEstate.com), Don Jones (NewOrleans.com), Jessica Bookstaff Doppelt (PigeonForge.com), Bill Hammack (NewOrleans.com), GeoPublishers.com Executive Director Andrew Martin, President Fred Mercaldo (Scottsdale.com), David Castello (CCIN.com) and Gordon Borrell (BorrellAssociates.com). There is one more board member who was unfortunately unable to attend - Scotland's Tommy Butler (Glasgow.com).

(Posted Oct. 3, 2011) To refer others to the post above only you can use this URL:
http://www.dnjournal.com/archive/lowdown/2011/dailyposts/20111003.htm
---
If you've been out of the loop lately, catch up in the Lowdown Archive!
---
We need your help to keep giving domainers The Lowdown, so please email

[email protected]

with any interesting information you might have. If possible, include the source of your information so we can check it out (for example a URL if you read it in a forum or on a site elsewhere).
---

---
Home Domain Sales YTD Sales Charts Latest News The Lowdown Articles
Legal Matters Dear Domey Letters to Editor Resources Classified Ads Archive About Us