The Lowdown
January 2012 Archive
Subscribe to our RSS Feed

Here's the The Lowdown from DN Journal,
updated daily to fill you in on the latest buzz going around the domain name industry.

The Lowdown is compiled by DN Journal Editor & Publisher Ron Jackson.
Pre-Show and Opening Day Photos & Highlights from DOMAINfest Global in Santa Monica, California
The 2012 DOMAINFest Global Conference is underway. While the official show opening was this morning (Tuesday, Jan. 31), a sizeable crowd was already busy networking in the lobby of the conference hotel - the Fairmont Miramar in Santa Monica, California - when we arrived a little before 6pm yesterday evening. In addition, there were a couple of major pre-show private events Monday night, one being a meeting of the Southern California Domainers Group at the nearby Shore Hotel that was open to visitors in town for DOMAINfest.
The other was a thank you dinner that Frank Schilling's rapidly growing new domain monetization company, InternetTraffic.com, hosted for clients and friends at the fabulous Mastro's Steakhouse in Bevely Hills.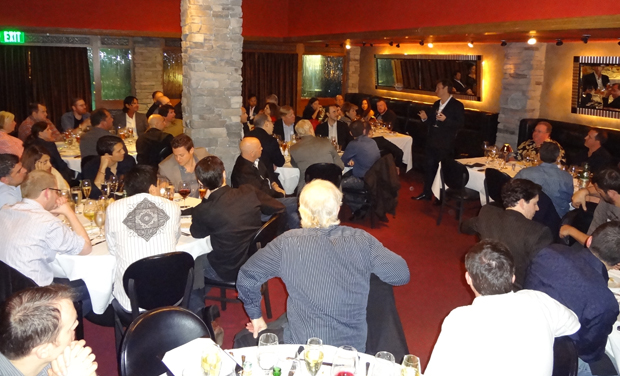 Scene from Monday's night InternetTraffic.com dinner at Mastro's Steakhouse in Beverly Hills
(host Frank Schilling, standing at upper right, is seen welcoming his guests)
Above and below: Frank Schilling proposes a
toast to the success of his InternetTraffic.com
guests at Mastro's Steakhouse in Beverly Hills

InternetTraffic.com had motor coaches ferry their guests across town from the Fairmont to one of Frank's favorite restaurants in Mastro's. As a number of commentators mentioned in our current Cover Story about the biggest events of 2011 (and predictions for 2012), InternetTraffic.com changed the monetization game overnight by offering higher PPC payouts to owners of high quality domain names (the company is very selective about the portfolios it accepts).

While the company began operations fairly quietly, it is starting to take a higher profile. At DOMAINfest Global, the hotel room keys are emblazoned with the InternetTraffic.com logo and I'm sure you will hear a lot more about them in 2012.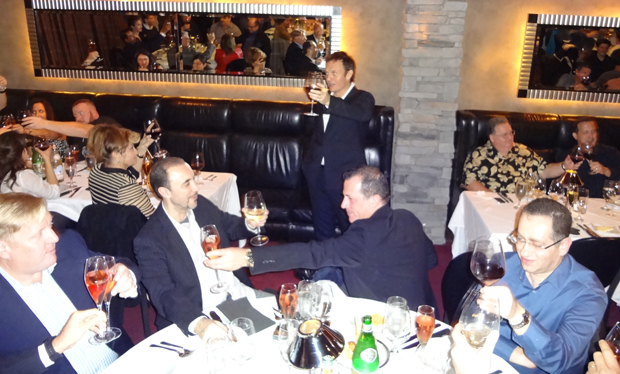 This morning at 9:30 it was time to get down to business and DOMAINfest Global wasted no time in doing that, kicking things off with a workshop on ICANN's new gTLD program that is finally underway after six years of debate.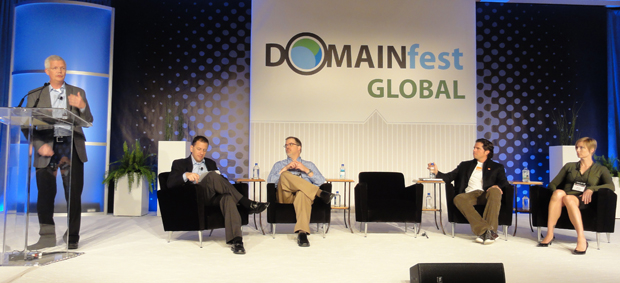 The New gTLD workshop this morning featured Neustar's Ken Hansen (standing at podium)
and (seated left to right) moderator Todd Greene (Oversee.net), Mason Cole (5x5
Communications), Juan Diego Calle (CEO, .CO Internet S.A.S.) and Michele Jourdan (ICANN).
I'll have details on some of the points made during this session in a comprehensive conference review article that we will be publishing a few days after the show concludes. Considering how late many were out Monday night, there was a good crowd on hand for the opening session and it swelled to near capacity by 11am when Oversee.net Co-President and Co-CEO Debra Domeyer (who shares both roles with Scott Morrow) took the stage to officially welcome guests to the event staged by Oversee's DomainSponsor unit.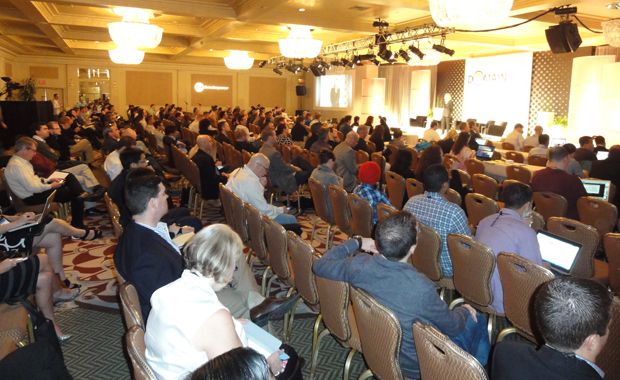 Above: A crowd estimated to include approximately 600 people was on hand
for the opening of DOMAINfest Global this morning in Santa Monica.
Debra Domeyer, Oversee.net Co-President
and Co-CEO welcoming guests to DOMAINfest

Ms. Domeyer, already Oversee's Co-President, was just named Co-CEO on Monday, as was her fellow Co-President, Scott Morrow, who will be on stage later this week.

Domeyer spoke for 30 minutes and gave attendees an overview of what the conference planners have in store for attendees this week (in addition to the glorious weather that was throughly enjoyed today and is forecast to stay with us throughout the conference at the oceanfront show hotel).

She also, gave her predictions on what she expects to see in our industry in 2012. You can read her thoughts on that point (along with Scott Morrow's) in our annual State of the Industry Cover Story that just came out last week. We were pleased to have Debra and Scott, both first time contributors to that report, kick off this year's article that features 13 additional domain industry experts.

Ms. Domeyer noted that DOMAINfest Global has expanded beyond being just a show about domains and is now featuring "Internet entrepreneurs of all stripes."
Eli Goodman comscore) speaking
about social networking this morning

Domeyer's point was illustrated in the next session when Eli Goodman, Search Evangelist at comscore, returned from last year's well received speech to deliver an update on Internet Vital Signs. Rather than domains, Goodman's talk, titled "Its a Social World," covered the top 10 things you need to know about social networking.

Many domain owners are expanding beyond simple monetization techniques like parking in an attempt to unlock the full potential of their domains. Knowing what is happening on the Internet at large is certainly useful to those who are developing their properties and want to attract the largest possible audience by incorporating the latest trends and technology in their projects. DOMAINFest Global is positioning itself as the conference that supplies that cutting edge information.
After Goodman's session, DOMAINfest Global took full advantage of the spectacular Southern California weather by serving an outdoor lunch underneath the majestic fig tree that graces the Fairmont Miramar's front drive.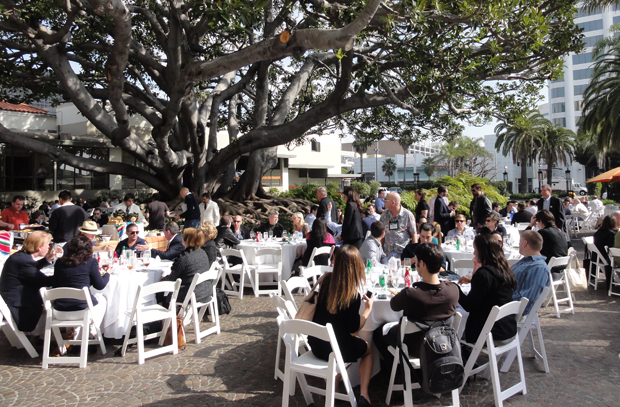 Tuesday's luncheon under the fig tree at the Fairmont Miramar
The afternoon session began with a panel discussion about Mobile and Local Opportunities for Publishers and Advertisers that featured (left to right in the photo below) Greg Sterling (Contributing Editor, Search Engine Land), Eli Portnoy (CEO, ThinkNear) and Bryson Meunier (Director of Content Solutions, Resolution Media).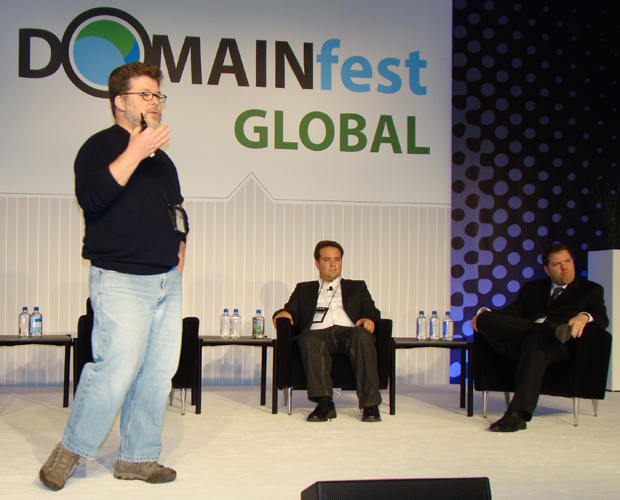 As I write this another session is underway on Affliate Lead Generation Best Practices. The business day will conclude with a one-hour Sponsor Showcase in which representatives from the top DOMAINfest Global sponsors will each have five minutes to talk about their services. I'll have more on the the day's closing sessions, as well as tonight's social events, in tomorrow's post, along with photos and highlights from the first sessions of Wednesday's day two.
Tonight's main event will be Sedo's Opening Night Dinner Networking Reception, hosted by CEO Tim Schumacher in his final night in that position, at a popular local restaurant, Monsoon. After the Sedo party, DomainAdvisors.com is hosting a late night party on the 6th floor of the Shangri-La Hotel (on Ocean Boulevard, one block south of the Fairmont Miramar). Rumor has it that InternetTraffic.com's Vern Jurovich (and possibly others) may have their heads shaved during this event to raise funds for The Water School. The outcome will likely hinge on how much money generous guests are willing to pledge to see a bald version of one (or more) of their friends! If it happens I plan to be there to get the photographic evidence for you.
(Posted Jan. 31, 2012) To refer others to the post above only you can use this URL:
http://www.dnjournal.com/archive/lowdown/2012/dailyposts/20120131.htm
Go Daddy Joins SedoMLS Network, Doors Open at DOMAINfest Global Today & DomainAdvisors Racking Up Big Sales Off the Radar

The SedoMLS Network announced a major expansion this morning - a new partnership with the world's leading registrar, Go Daddy. Domains that are listed at Sedo with Buy Now prices are now available to Go Daddy customers, many of them end users who can now purchase

premium names directly from within their Go Daddy account. With no need to leave GoDaddy, or even create a Sedo account before buying, the rate of sales conversions is expected to take a significant jump.

Paul Nicks, Go Daddy's Director of Product Development for the Aftermarket, said "Go Daddy wants to help small businesses grow

larger, and finding the right domain name is the place to start. Giving customers access to many premium domain names, including Sedo's Buy Now domain names, ensures our customers get the best domain name for their website or business."

With the addition of Go Daddy to the SedoMLS Network, domain investors now benefit from the huge number of additional end users who search for names at the dominant registrar. Conversely, as Tim Schumacher, CEO of Sedo, said "The SedoMLS Network provides registrar partners like Go Daddy with access to premium domains that are listed at Sedo, which in turn provides their customers with more purchase choices than ever. For any domain seller, we provide the reach that connects their domain listings to the greatest number of potential buyers across the globe."

The DOMAINfest Global conference at the Fairmont Miramar Hotel in Santa Monica, California officially opens tomorrow morning (Tuesday, January 31), but the doors will actually open for registration this afternoon at 2pm local time and remain open until 9pm. Also today, from 4-8pm exhibitors will be able to get their booths set up in the Exhibit Hall. There will also be several private affairs around town tonight, as well as a 7:30pm meeting of the Southern California Domainers Group at the Shore Hotel.

Tomorrow morning the registration desk re-opens at 7 o'clock and the Exhibit Hall opens at 8. The show's first session will be a 9:30am workshop on a very timely topic - new gTLDs. The week's highlights will include Moniker's Live Domain Auction Thursday afternoon from 4:30-6:00pm (PST). You can see the full auction catalog here. You can also check out the agenda for the entire week here.

I'll be arriving in Santa Monica this evening and will have daily DOMAINfest Photos and Highlights for you in this column starting tomorrow.

One other note today. Our January newsletter went out to opt-in subscribers Sunday. In it we break down our 2011 domain sales data and show you how 2011 stacked up against the previous year (we also compare 4Q-2011 results vs. the previous quarter and the same quarter a year ago). In addition to overall market numbers, we looks at how well the individual categories, .coms, ccTLDs and non .com gTLDs, performed in 2011. You can read the full report here.

The total dollar volume for publicly reported sales slipped in 2011 but that is just the tip of the aftermarket iceberg. We don't track sales sales below four figures and there are hundreds of sales in that category every week. In fact, aftermarket giants Sedo and the AfternicDLS commonly report total sales of $1 million to $2 million a week. The vast majority of sales, including many at the highest end of the market, are never reported due to non disclosure agreements.

Anecdotally, officials from a number of sales venues, brokers and private sellers have told us that 2011 was a very good year for them. Those include DomainAdvisors.com, the newest division of PPX International. In the last 30 days of 2011 this new business, headed by President Jeff Gabriel (well-known as the broker behind the all-time record sale of Sex.com for $13 million) settled more than $7 million in sales, including super premiums and diverse portfolios.

Almost all DomainAdvisors sales are kept private, a requirement most of their buyers and sellers prefer or insist upon and for which DA does not charge a premium.

The sales business does seem to be booming there as Gabriel and CEO Tessa Holcomb (both former senior brokers with Sedo), have assembled a team of eight Advisors to handle the demand for professional brokerage services. They have

DomainAdvisors.com President Jeff Gabriel
(right) and I at at the T.R.A.F.F.I.C. Fort
Lauderdale Beach conference in October 2011.

brokers manning an 800 number 8am-8pm EST seven days a week, taking and making calls to relevant buyers and sellers.

So while reported sales are a very useful tool to learn more about what kinds of domains are selling and how much specific names are bringing, we will never really know exactly how much of the domain sales iceberg lies below the surface and out of view.

By the way - while we are on the subject of domain sales, congratulations to industry pioneer Gary Chernoff who dropped me a note Sunday evening to let me know he just sold BowlingBalls.com for $225,000 in a deal brokered by Andrew Hunovice. The buyer was former pro bowler Nick Melnikoff who know sells bowling balls and other gear through his ecommerce site at BowlersParadise.com.

(Posted Jan. 30, 2012) To refer others to the post above only you can use this URL:
http://www.dnjournal.com/archive/lowdown/2012/dailyposts/20120130.htm
.Com Registrations Pass the 100 Million Mark - Final Agenda Set for DOMAINfest Global + Announcements from the AfternicDLS and Sedo

Domain registrations have passed another milestone - with the biggest TLD of them all - .com - doing the honors this time. DomainsTools.com announced today that their research into the zone file found .com registrations had hit 100.2 million. Later in the day, the operator or the .com and .net registries, Verisign, said in the their latest quarterly earnings report that they ended 2011 with approximately 113.8 million registrations in those two extensions (they did not break out the separate numbers for .com and .net but that total appears to substantiate the DomainTools report). That represented an 8% jump in the number of .com/,net registrations from the previous year.

Image: digitalart / FreeDigitalPhotos.net

The final agenda for the 2012 DOMAINfest Global conference has been released. The 6th annual event gets underway Tuesday (Jan. 31) at the Fairmont Miramar Hotel in Santa Monica, California and continues through Thursday (Feb. 2).

Over 30 expert speakers are set to provide internet entrepreneurs, domain investors and online publishers with the latest tips on how to maximize traffic, conversions and monetization. As always, the educational benefits will be complemented with a full slate of networking activities and evening parties that will keep guests DOMAINfest busy from sunup to midnight each day.

The AfternicDLS continues to expand its domain listing service that puts premium domain names in front of thousands of potential buyers searching for domains through partnering registrar's sites.

The latest addition to the network is a big one - Tucows - a pioneering registration giant that has over 11 million domains under management. Registrants are able to have their domains for sale seen on more than 50 partner sites that are part of Afternic's worldwide network. The Afternic platform also features Instant Transfer technology that allows buyers to pay for and receive names in one easy transaction.

Another aftermarket giant, Sedo, also had an announcement today - the release of a detailed fact sheet that spells out the features, reach, and pricing of each of Sedo's sales channels: Sedo's website, the SedoMLS Basic Network, and the SedoMLS Premium Network.

Sedo noted that the rapid expansion of the

SedoMLS Promotion Network and the addition of new functionality to Sedo's Domain Marketplace required an update to their pricing structure a few months ago, so the fact sheet will make it easy for sellers to see what the commission rate is for each level of service.

(Posted Jan. 26, 2012) To refer others to the post above only you can use this URL:
http://www.dnjournal.com/archive/lowdown/2012/dailyposts/20120126.htm
Europe's Domaining 2012 Conference Announces Additions to the Show Speakers Line Up

The 2012 domain conference season gets underway next week with the DOMAINfest Global in Santa Monica, California. The conference staff has spent the past year laying the groundwork for DOMAINfest and successful show organizers know that's what it takes to pull off a successful event.

The lesson certainly hasn't been lost on Jodi Chamberlain, who is working with Dietmar Stefitz to produce Europe's Domaining 2012 conference coming up in Valencia, Spain April 26-28. Though the show is still three months away Jodi has already gotten a great head start on putting together an all-star line up of speakers.

In addition to the previously announced Braden Pollock (the lead gen whiz who is the subject of our December 2011 Cover Story), we heard from Jodi today that Troy Rushton, the CEO of Protrada will travel from Australia to be part of

Dietmar Stefitz and Jodi Chamberlain
are producing the Domaining 2012 conference
coming up in Valencia, Spain April 26-28

the development/parking panel. Incidentally, Troy will also be in Santa Monica for DOMAINfest next week and he is reportedly planning to makesome announcements there that will add some fuel to the parking vs. domain development debate.

Two top domain brokers, Toby Clements and Jeff Gabriel (President of DomainAdvisors.com), will also be in Spain to take seats on the domain brokerage panel where they will discuss what it takes to successfully sell domain names (both have racked up sales totaling well into seven figures so this is a topic they are well qualified to provide tips on).

| | |
| --- | --- |
| | Other newly announced speakers include Annalisa Roger, President of dotgreen, who will talk about new gTLDs, and ccTLD expert Sergey Gorbunov from Russia's rapidly growing .ru extension. Yet another attraction will be Morgan Linton will is going to head over from the U.S. to serve as the moderator for the English portion of the event. |

There are a lot fewer conferences on the show schedule these days but it appears that the lower quantity is going to be more than offset by a focus on quality productions. Time is money so it is good to see show organizers working hard to make sure their guests will find their time well spent.

(Posted Jan. 24, 2012) To refer others to the post above only you can use this URL:
http://www.dnjournal.com/archive/lowdown/2012/dailyposts/20120124.htm
Three New Party Venues Ready to Welcome Guests at Next Week's DOMAINfest Global Conference in California

A week from today we'll be heading west for the big DOMAINfest Global 2012 conference that runs Jan. 31 through Feb. 2 at the Fairmont Miramar Hotel in Santa Monica, California. Over the past couple of weeks I've posted about some of the business highlights on the show agenda, but one of the biggest changes will involve the evening social events. After a three year run, the Playboy Mansion is out and three new venues are in.

Monsoon, a Santa Monica restaurant that features gourmet, Pan-Asian cuisine and Balinese décor will be the site of the Opening Night Networking Reception and Dinner (Tuesday, Jan. 31) sponsored by Sedo. There will be traditional Balinese live musical performances throughout the evening as well as special remarks from Sedo's Tim Schumacher, a long time industry leader who will be serving his final day as the company's CEO that day.

The next night (Wednesday, Feb. 1), DOMAINfest has reserved the entire Petersen Automotive Museum for a Super Cars Dinner Networking Party sponsored by the .CO Registry. The museum has one of the world's largest collections of race cars, classic cars, hot rods, motorcycles, and celebrity cars. Attendees will have special access to an exclusive "Super Cars" exhibit featuring Bugatti Veyron, Lamborghini, Ferrari, Porsche and other exotic cars. Though there will not be a visit to the Playboy Mansion this year, several Playboy Playmates will be joining guests at the Petersen Museum for photo opportunities.

The closing night (Thursday, February 2) will feature a Barbarella Chamber of Dreams themed farewell party, sponsored by DomainSponsor, at the House of Blues on Hollywood's Sunset Strip. Edgy, interactive entertainment will be provided by the performance artist group, Lucent Dossier, and guests will have exclusive access to the entire club, including the VIP Foundation Room that features art and artifacts from around the world. A silent auction fundraiser with rock and roll and sports memorabilia will also be held during this event to support Jenny McCarthy's Generation Rescue Foundation. It will clearly be a very busy week and we look forward to bringing you daily photos and highlights in this column.

One other note today - we have just published a new home page feature article: Industry Heavyweights Find New Domain Monetization Gold in Old Vein: Why @Identity's Founders See Big Bucks in Email Addresses - that I think will be a real eye opener. Industry veterans Josh Metnick and Ammar Kubba have launched a new company (with a great deal of help from

NYC.com's Sean Miller) that is taking advantage of a new domain monetization opportunity that Metnick accidentally discovered.

It is based on selling email addresses tied to premier .com domain names. As most of you know, selling email addresses has been tried, without much success, by many other companies in the past, but the @Identity founders say massive changes in technology are creating new value (in some cases remarkably high value) for email addresses associated with great geo and generic domain names. Check it out and see if you are as surprised as I was to hear what kind of money some people have been paying for a prestigious email address.

(Posted Jan. 2 3, 2012) To refer others to the post above only you can use this URL:
http://www.dnjournal.com/archive/lowdown/2012/dailyposts/20120123.htm
SOPA Sinks, Water School Founders Retire & David Castello Rocks

Wednesday's widespread protests led by key Internet websites in an attempt to derail the dangerous SOPA/PIPA bills in the U.S. Congress have paid off. Representative Lamar Smith (R-Texas), the chief sponsor of the "Stop Online Piracy Act" (SOPA), announced he will delay further consideration of the contentious anti-piracy bill in the House "until there is wider agreement on a solution." Meanwhile, Senate Majority Leader Harry Reid (D-Nevada) also announced he was canceling a vote on the closely related PROTECT IP Act (PIPA).

Those actions have essentially killed the two bills, though we will likely see trademark interests make some changes and eventually

come back with amended proposals. Perhaps the next iterations won't include the kind of over-reaching provisions that set off a firestorm in the Internet community as they threatened to censor or even execute websites, without due process, if someone accused them of infringement. It is good that, whatever comes next, the Internet community has shown that it will by paying close attention.

The Water School's founders:
Bob Dell (left) and Fraser Edwards.

After 10 years, Fraser Edwards and Bob Dell, the founders of one of the domain industry's favorite charities, The Water School, have decided it is time to retire from their day-to-day activities with the organization and step down from their respective roles as CEO (Fraser) and President (Bob).

Edwards told me a couple of years ago that this day wasn't far off but he was confident that he and Dell had very talented young people on board that would be ready to carry on their good work - bringing clean and safe drinking water to children in developing countries.

Edwards said, "Both Bob and I are as strongly committed to the Water School today as we have ever been. It is time for fresh ideas and energized leadership to take Water School to even greater heights and for us to spend more time with our families and friends. We will remain active in the organization through advisory roles, providing insight and encouragement as needed."

To lead the Water School going forward, Tony Woodruff, a current board member, was named to take on the role of African Program Coordinator, and Richard Lau , a long-time board member (and domain industry pioneer), will direct the organization's administrative and global fundraising efforts.

| | |
| --- | --- |
| Tony Woodruff | Richard Lau |

Edwards said, "Both of these men are committed supporters and strong leaders with a clear vision for the future of Water School. It is an honor to hand the reins to them."

Edwards added, "Along with vibrant leadership we are proud to see the Water School with a growing group of enthusiastic supporters. It is because of their commitment to this cause that over 400,000 lives have been changed and children in desperate need of clean water are alive and healthy today. We are deeply proud of what we've accomplished and humbly thank everyone who has supported the Water School for being such a tremendous part of this growing organization."

One other note today - one thing I've always loved about this business is how many creative people are in it. Many have become personal friends including Michael and David Castello of Castello Cities Internet Network. As you may know from our popular December 2006 Cover Story about the brothers, they started out as musicians. Now, after a great deal of success with domains, David, an exceptionally talented drummer, has recently circled back around to his first love. He has teamed up with hot new Nashville singer/songwriter Bree and bassist Mayrk McNeely to form a trio that is starting to make big waves in Music City.

Bree

David Castello

Recording at the House of Blues Nashville's Studio D Wednesday (Jan. 18, 2012)

One of the top producers in music industry history, Bob Ezrin (who has produced Pink Floyd, Kiss, Alice Cooper, Rod Stewart and dozens of other heavyweights) has taken notice of the three extraordinary musicians. On Wednesday (Jan. 18, 2012), Ezrin had his engineer, Justin Cortelyou, bring Bree, David and Maryrk in to record at the House of Blues Nashville's legendary Studio D that was just trucked 200 miles from Memphis to its new location. David told me even he was floored by how great the tracks that came out of the session sounded. So, it looks like we will all soon be able to hear what Nashville insiders are so excited about!

(Posted Jan. 20, 2012) To refer others to the post above only you can use this URL:
http://www.dnjournal.com/archive/lowdown/2012/dailyposts/20120120.htm
New Speakers Added to DOMAINfest Global Lineup - Escrow.com Hits the $1 BIllion Mark - Screenshots.com Gallery Shows Sites That Led Strike Against SOPA

Mason Cole has been added
to the list of expert speakers
for DOMAINfest Global

DOMAINfest Global is 12 days away but conference organizers are still beefing up an already strong agenda. Three new high profile speakers were announced today. Mason Cole, Principal at 5x5 Communications, a communications and policy consultancy in Portland, Oregon, has been added to the Everything You Need to Know about New TLDs panel that will open the show Tuesday morning, January 31. Mason is very well-known in the domain industry after serving as Senior VP in charge of communications at Oversee.net for many years, as well as on the board of the Internet Commerce Association.

Also added to the agenda were Eli R. Gooding, Media Evangelist for comScore, Inc., who will present Global Online User and Advertising Trends January 31st and Ken Taylor, Chairman, President and CEO at Marksmen, Inc., who will speak at the Domain Valuation Techniques for Buying and Selling workshop February 2.

DOMAINfest Global runs January 31 - February 2, 2012 at the Fairmont Miramar Hotel in Santa Monica, California. We will, or course, be there to cover the event for you.

Escrow.com, the popular escrow service that just about anyone who buys or sells domains has used at one time or another, has announced a major milestone. In 2011 the company surpassed $1 billion in secured sales that have been handled on its platform to date.

The privately held company, founded in 1999 by Fidelity National Financial, has pioneered the process of online escrow services and today it is the recommended transaction settlement service for many of the top names in eCommerce, including GoDaddy, Cars.com, Flippa.com, AutoTrader and eBay Motors.

In another note, Wednesday (January 18) was a landmark day for Internet unity. Several of the key sites on the web joined forces to go on strike (manifested in everything from home page protests to complete site blackouts) to protest two terribly ill advised and dangerous pieces of legislation (SOPA and PIPA) being considered by the U.S. Congress. The proposed acts could result in innocent websites being censored or even shut down without due process. Fortunately, the strike had its desired effect with many Congressmen and Senators dropping their support for the legislation. The battle is not over but the tide appears to have been turned.

Screenshots.com has put together an excellent Visual Galley that will show you (and preserve for posterity) what key locations on the web looked like during Wednesday's protests.

For more on the gallery and other key links related to the SOPA/PIPA battle, check out this blog post at DomainTools.com (the parent company of Screenshots.com).

(Posted Jan. 19, 2012) To refer others to the post above only you can use this URL:
http://www.dnjournal.com/archive/lowdown/2012/dailyposts/20120119.htm
Muhammad Ali Turned 70 Today Bringing Back Memories of the Day I Went Toe to Toe With the World Champion

Legendary boxing champion Muhammad Ali is celebrating his 70th birthday today. The special occasion is actually being marked in a multi-day series of celebrations across the country, including one that was held in Ali's hometown of Louisville this past Saturday and another that will be held tomorrow night (Jan. 18) in Las Vegas.

Seeing all of the news items about Ali's birthday left me wondering how MuhammadAli.com was currently being used. I was happy to see that the domain (owned by Muhammad Ali Enterprises and registered at Network Solutions) was being utilized in just the way one would hope. The initial landing page has the most currently relevant information about Ali - details about events surrounding the champ's 70th birthday. That special lander concludes with a link to the regular home page of a great biographical site chronicling Ali's remarkable career.

Muhammad Ali
(Photo from MuhammadAli.com)

During my days as a TV sportscaster in Florida, I had an opportunity to interview Ali when he visited Tampa in the mid 80s. Muhammad was around 45 years old at the time and was already battling Parkinson's disease, an illness he has been going toe to toe with for 40 years now. I was impressed by how well he was handling that fight. His attitude was very upbeat and though his speech had been affected, he still had every bit of the wit and wonderful sense of humor that, coupled with his incredible boxing skills, made him one of the most recognizable and popular celebrities in the world - a status he continues to enjoy to this day.

During my 20-year broadcasting career I had the opportunity to meet and chat with almost every major athlete of the era. The two that I was most excited to meet were my boyhood idol, New York Yankees slugger Mickey Mantle, and "The Greatest of All Time," Muhammad Ali. Below are a few photos from that interview session with Ali.

Ron Jackson interviewing Muhammad Ali for WTVT-TV, Channel 13, in Tampa (mid 1980s).
After the interview Ali invited me to stand toe to toe with him. I gave him my most menacing glare while keeping one foot pointed toward the exit in case his playful mood changed!

Thanks for the memories and Happy Birthday, Champ!

(Posted Jan. 17, 2012) To refer others to the post above only you can use this URL:
http://www.dnjournal.com/archive/lowdown/2012/dailyposts/20120117.htm
DOMAINfest Global Extends Deadline for PITCHfest Applications - 1, 2 & 3 Letter .PRO Auction Ends Tomorrow Night
The DOMAINfest Global conference is just two weeks away. Today was the original deadline to apply for a spot on the annual show's popular PITCHfest Contest but I just got word from conference organizers that they have extended the deadline to January 24. PITCHfest gives web entrepreneurs a rare opportunity to pitch their online business plan to a panel of angel investor judges, as well as a conference audience expected to once again include over 700 Internet professionals from nearly 30 countries around the world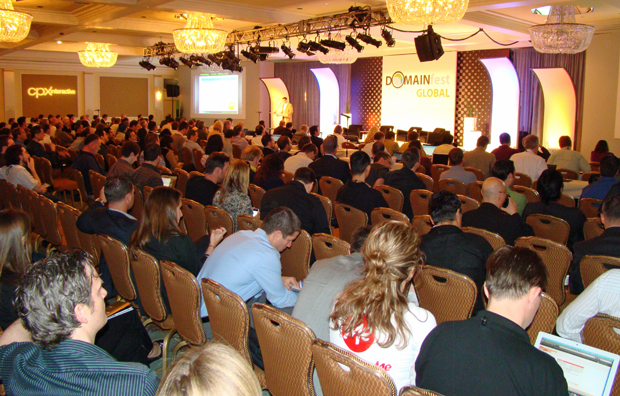 Part of the wall-to-wall crowd on hand at DOMAINfest Global 2011 a year ago.
PITCHfest will be staged on February 1, 2012 (the second day of DOMAINfest Global) at the Fairmont Miramar Hotel in Santa, Monica, California where the conference will run January 31 through February 2. Each contestant will have three minutes to make their presentation, then two winner's trophies will be handed out. One will be the judges's choice and the other will be selected by members of the audience who will pick their favorite through a real time text message voting system. More details about the contest can be found in this Lowdown post from last month.
While PITCHfest applicants now have been some extra time to work with, domain buyers interested in acquiring any of the previously unreleased one, two and three-letter .PRO domains the registry is currently auctioning off will have to act fast. That 7-day auction, being conducted on the GoDaddy auctions platform, ends tomorrow night (Tuesday, Jan. 17) at 9PM U.S. Pacific Time (that is Midnight U.S.

Eastern time). The more than 150 domains upfor bid include 1.pro, X.pro and Go.pro to name just a few. As of today about two thirds of the domains in the catalog have received at least one bid.
(Posted Jan. 16, 2012) To refer others to the post above only you can use this URL:
http://www.dnjournal.com/archive/lowdown/2012/dailyposts/20120116.htm
The Latest News From Four Domain Conferences Plus Lana Del Rey Readies for Her National TV Debut

Just over two weeks from now the center of the domain universe shifts to Santa Monica, California for the 6th annual DOMAINfest Global conference. While the event that will run at the oceanfront Fairmont Miramar Hotel Jan. 31-Feb. 2, 2012 is still 18 days away, there is one thing you might want to do right now if you are planning to attend. That is reserve your spot for an up close and personal breakfast or lunch with one of the industry experts featured on the show's agenda.

Only 9 seats will be available at each expert's table for the six breakfast or lunch opportunities that will be available during the show. Those seats are available on a first come first served basis and judging from response to this Dine-With-An-Expert feature last year, seats with many experts will fill up quickly.

Speaking of filling up quickly, rooms at the Fairmont Miramar are already sold out, however DOMAINfest Global has negotiated a discounted room rate at the Huntley Hotel that is right across the street from the Fairmont. Check

Fairmont Miramar Hotel - Santa Monica

www.domainfest.com/hotel for a special reservation phone number or call (310) 394-5454 or send at email to [email protected] and mention the $239 DOMAINfest discounted room rate.

Though DOMAINfest Global doesn't get underway until Tuesday morning, January 31, a lot of attendees will be arriving in Santa Monica on Monday (Jan. 30) so they well be rested and ready to go when the big show opens bright and early the next morning. If you will be among those arriving Monday you will be interested to know that the Southern California Domainers Group has conveniently scheduled their first meet up of the New Year that night (Monday, Jan. 30) at 7:30pm and you are welcome to attend.

The event will be held at the Shore Hotel at 1515 Ocean Avenue in Santa Monica, close to the Fairmont, which will make it easy for DOMAINfest Global attendees to come over to network and mingle with local domainers. This is a very active group that includes a number of well-known domain investor/developers so I'm sure it is going to be a very enjoyable evening.

A couple of other domain conference notes - the last chance to get half-off early bird tickets to the Domaining Europe conference coming up April 26-28, 2012 in Valencia, Spain is due to expire Sunday (Jan. 15), so if you want to get in for just €300 instead of the €600 regular conference rate, you will want to register by the end of the day tomorrow (Saturday, Jan. 14).

Also, starting today, you can save big bucks on tickets to the 2012 T.R.A.F.F.I.C. conference if you register early. Conference Co-Founder Rick Schwartz sent out an email today offering $995 tickets to the first 35 people who register for the event that will run October 7-10, 2012 at the Ritz Carlton on Fort Lauderdale Beach (the same spectacular venue that hosted the 2011 show). That is $800 off the conference's $1,795 regular rate, so even though the show is still a long way off, it makes sense to lock in that kind of savings now if you plan to go.

While I'm making reminders, here is another one for Saturday (Jan. 14, 2012) - one that I am especially excited about. A woman who is the hottest new singing sensation in the world, Lana Del Rey (the daughter of our friends Rob Grant and his lovely wife Pat) will be making her American national TV debut on NBC's Saturday Night Live Saturday night at 11:30pm (U.S. Eastern Time). Check your local TV listings for the NBC affiliate in your area.

Lana is popping up everywhere these days (the Wall Street Journal is even writing about her) and many music experts have already picked her to be the breakout star of 2012. She has already been featured in Rolling Stone Magazine and Billboard Magazine, the music industry bible, just put her on the cover this week. Her major label debut album on Interscope Records is scheduled to be released on January 31, 2012 and from the huge buzz she has already generated it looks like it is going to be a big hit.

Lana Del Rey on the cover of the
latest issue of Billboard Magazine

(Posted Jan. 1 3, 2012) To refer others to the post above only you can use this URL:
http://www.dnjournal.com/archive/lowdown/2012/dailyposts/20120113.htm
Multi-Million Dollar Marijuana.com Sale Made Possible By Escrow.com's Domain Name Holding Services
You probably heard about the sale of Marijuana.com (including both the domain name and the popular forum built on it) last November in a deal reportedly worth $4.2 million. That

would be a lot of cash for anyone to lay out at one time, including the profitable company that bought Marijuana.com, WeedMaps Media, Inc. (a firm that serves the medical cannabis community). We've learned that, thanks to a service provided by Escrow.com that a lot of people are unaware of, WeedMaps was able to acquire the site without laying out that massive bundle of cash all at once.

WeedMaps used Escrow.com's Domain Name Holding Services (available for transactions valued at $75,000 or more) that allows buyers to stretch out payments over a

period ranging from a few months to five years (the exact time frame is determined in negotiations between the buyer and seller). During the payoff period, Escrow.com holds the domain but the buyer has full use of the asset while completing the payment schedule that, once done, results in the domain being transferred to the new owner.
Just as mortgages make it possible for people to buy houses that they could not buy if the full price had to be paid up front, Escrow.com's Domain Name Holding Services is making it

much easier to complete sales agreements for high end domain names. Justin Hartfield, the Chief Web Officer of WeedMaps, told me flat out, "We would not have done the deal if these services didn't exist. Since the purchase price was so big, we were able to work directly with Escrow.com which helped with making sure both parties were on the same page in terms of contracts."
Well-known domain broker Andrew Rosener of MediaOptions.com said he has also used the service to make a lot of high end deals happen. "Since Escrow.com launched their Domain Holding Services, MediaOptions.com has completed many deals which otherwise would not have happened," Rosener said. "I've done transactions using the holding service ranging from $7,500 which will be paid over 24 months to one transaction for over $3 million which will be paid over a period of only two months. In both cases, the domain holding service gave us the financial flexibility that the buyer needed in order to complete a deal. It removes all the risk from structured payment deals and Escrow.com has been able to tailor their service to fit my client's needs and follow the terms of my contract."

Of course a buyer still has to believe a domain is worth the money they are paying for it, even if they have the luxury of paying for it over time.

Andrew Rosener
MediaOptions.com

Hartfield has no doubt that the payments his company is making for Marijuana.com will provide an attractive return on its investment. "Through acquisitions like Marijuana.com and our own in-house initiatives like GrowShops.com, WeedMaps Media has evolved into a full-fledged advertising platform with the capability to deliver enough targeted traffic to attract national and even international brands to advertise on our network of sites," Hartfield said.

It's another testament to the value of category defining domain names, unique assets that Escrow.com's holding services have put within the reach of more buyers. That, of course, is good news for sellers too.
(Posted Jan. 12, 2012) To refer others to the post above only you can use this URL:
http://www.dnjournal.com/archive/lowdown/2012/dailyposts/20120112.htm
People & Companies in the News: Braden Pollock, Patrick Ruddell, ICANN, Sedo & the .CO Registry

In our current Cover Story, lead gen whiz Braden Pollock mentioned that he had partnered with Patrick Ruddell (AKA Chef Patrick) on several projects. I had been told off the record several weeks ago that one of those projects involved Pollock and Ruddell buying out Ruddell's previous partners in ScienceFiction.com, leaving the two of them as 50/50 partners in the rapidly growing site.

Ruddell and Pollock have have now made the new partnership public and both are excited about the prospects for the site, especially with a category defining domain name as their foundation to build on.

In addition to running his primary business, Legal Brand Marketing, Pollock invests in a lot of other areas. He told me, "When I see a good opportunity, it's hard for me to say no. Patrick and his wife Ze are doing a phenomenal job on ScienceFiction.com with unique monthly traffic averaging over 425,000 visitors. This is obviously a strong name in a great niche. Soon we'll start selling ad space to movies and media companies with large ad budgets - nice combination!"

Ruddell said he now has over a dozen writers creating daily content for the site and it is not uncommon for a dozen new stories to go up on any given day. He added that all of that content and a strong social media presence (for both himself and the individual writers) has helped increase traffic tenfold over the past year.

Patrick Ruddell (standing left) and Braden Pollock (right) are now partners in several projects.
(Photo from DNCruise 2 in September 2011).

You might think that Ruddell, who also stages the DNCruise conference, had to be a science fiction nut to pour so much time and money into ScienceFiction.com (the original partners acquired the domain for $175,000 in December 2010), but that is not the case - well, not the case until recently. "Before we got ScienceFiction.com I was not a "sci-fi geek" but that has all changed now," Ruddell admitted. "I own hundreds of comic books and watch every science fiction movie and TV show I can - I am a BIG fan now!"

Elsewhere, as you have no doubt heard (ad infinitum), ICANN's new gTLD program opens Thursday (January 12, 2012), when the organization will begin accepting applications to operate an unlimited number of new extensions. Tomorrow (Thursday, Jan. 11) ICANN President and CEO Rod Beckstrom and ICANN Board Chairman Dr. Stephen Crocker will hold a news conference in Washington, D.C. to answer journalists' questions about what will be one the biggest changes in Internet history (and perhaps the most ill-advised one according to the program's many critics).

The news conference at the National Press Club is scheduled to run from 2:00-3:00pm (U.S. Eastern time) and it is to be broadcast in a live webcast at http://www.icann.org/. ICANN has put together a 6-minute video overview of the program that can be seen here and a new gTLD FAQ is also available here.

One other note today, Sedo announced they have signed a two-year exclusive partnership with the .CO Registry (.CO Internet S.A.S.) to provide brokerage of a select set of previously unreleased .CO domain names, including:

· clothes.co

· software.co

· hardware.co

· body.co

· france.co

· profit.co

· onlinemusic.co

· internetmarketing.co

· onlinedating.co

· jobsonline.co

To see the complete portfolio of .CO domains available via Sedo, you can visit http://sedo.co.

Lori Anne Wardi, Vice President of .CO Internet S.A.S. said, "Sedo has done a fabulous job helping to establish and develop the secondary market for premium .CO domain names. Given their expertise and global reach, we are confident that Sedo is the perfect partner to help us bring these valuable digital assets to end-users worldwide."

In a related note, last week .CO was recognized in the World Finance 100 List of the 100 finest businesses of 2011, alongside companies like Facebook, Google, Microsoft and other innovative companies who have outperformed the competition, and helped to redefine the business landscape.

(Posted Jan. 10, 2012) To refer others to the post above only you can use this URL:
http://www.dnjournal.com/archive/lowdown/2012/dailyposts/20120110.htm
Domain Industry Pioneer, Author & Evangelist Marc Ostrofsky Goes Global With New Book Deal

If you have been in the domain business for longer than, say, the past 24 hours or so, you already know who Marc Ostrofsky is. The domain industry pioneer first gained widespread fame in 1999 by selling Business.com in a deal valued at $7.5 million then made another

huge splash in 2011 by releasing Get Rich Click!, a book that went on to make the New York Times bestseller list.

The book, about how to make money on the Internet using domain names, affiliate marketing, lead gen and other techniques, was originally issued by the Razor Media Group (Ostrofsky's own imprint). However, it has done so well that this week legendary publisher Simon & Schuster bought the rights to the book with plans to distribute it globally.

As soon as the deal was inked in New York Ostrofsky, who was featured on ABC-TV's The View last summer, immediately went out on a new promotional tour. His first stops were in the Big Apple for interviews with the Fox Business Channel and New York TV station WPIX (both interviews can bee seen by clicking the links to those outlets).

Marc Ostrofsky
Author, Get Rich Click!

Marc will likely be talking about domains a lot more often and in a lot more places in 2012. The new Simon & Schuster edition of Get Rich Click! is to be released in Australia, New Zealand, India, Mexico and several other countries, including China where it will be released in Chinese. I bet it will be a hit there too because there are a lot of very active domain investors in China (in fact one of them just sold Dudu.com for $1 million this week).

In the history of our business no spokesman for the industry has ever had the number of high visibility media opportunities to talk about the value of domain names that Ostrofsky has had since his book came out. He is getting those opportunities because, in addition to having a very popular book on the market, he does a great job on camera, explaining what can be a confusing topic for the general public in straight forward terms that everyone can understand and appreciate. That is the kind of publicity that money can't buy and we will all reap benefits from how skillfully Marc is making the most of those opportunities.

(Posted Jan. 6, 2012) To refer others to the post above only you can use this URL:
http://www.dnjournal.com/archive/lowdown/2012/dailyposts/20120106.htm
Dark Cloud Over ICANN's New gTLD Program as Department of Commerce Steps In
It looks like ICANN will begin accepting applications for an unlimited number of new gTLDs on schedule next week (Thursday, January 12, 2012 to be exact). However, a last minute wave of vehement opposition to the program, especially from powerful trademark interests, has brought the U.S. Government into the fray and cast doubts on when or if many proposed new extensions will actually see the light of day.

On Tuesday U.S. Department of Commerce (DOC) official Larry Strickland, whose agency

oversees ICANN, set a letter (PDF file) to ICANN's Chairman of the Board, Dr. Stephen Crocker, telling him that when ICANN closes the application window and releases the list of extensions applied for, the DOC's National Telecommunications and Information Administration (NTIA) will examine the applications to determine "whether additional protections are warranted".
Strickland wrote, "We have learned that there is tremendous concern about the specifics of the program that may lead to a number of unintended and unforeseen consequences that might jeopardize its success," adding "the ability to evaluate the actual situations or conflicts presented by the applied for strings, rather than merely theoretical ones, will certainly assist and focus everyone's efforts to respond to problems should they arise."
One possible response Strickland hinted at was a slow "phase in" of new TLDs, perhaps a few at a time, rather than opening the floodgates to hundreds or even thousands of new extensions as ICANN plans. Strickland wrote, "After the application window closes, and ICANN publishes details about the pool, fact will be available to determine the potential scope of this gTLD expansion. At that time it would be useful for ICANN to assess whether there is a need to phase in the introduction of new gTLD's"
Strickland also wants ICANN to consider implementing measures that will minimize the need for anyone to make "defensive registrations" of names they do not want but may feel they are being forced to pay for in order to protect their brands. He wrote, "I suggest that ICANN consider taking some measures well before the application window closes to mitigate against this possibility."
With potential new gTLD registry applicants (who are being asked to pay $185,000 per TLD) left to wonder when or if the extensions they want will clear the review process, or how they will be affected by any new "measures" ICANN may come up with to satisfy DOC concerns, there is a lot of uncertainty in the air for a program opening its doors just eight days from now.
(Posted Jan. 4, 2012) To refer others to the post above only you can use this URL:
http://www.dnjournal.com/archive/lowdown/2012/dailyposts/20120104.htm

Newspaper Giant Gannett Buying Thousands of iPhones & iPads to Help Reporters Record Video and Retool for the Web

I love my iPhone as much as anyone but even I never envisioned the do everything device might become a key piece of news gathering equipment for professional journalists. A story at TVNewsCheck.com says the Gannett Company, the newspaper giant that publishes USA

Image: Andy Newson / FreeDigitalPhotos.net

Today, as well as a number of local papers, is buying thousands of iPhones and iPads to distribute to their staff members. The story cites a leaked memo from Gannett's U.S. newspaper division president, Bob Dickey, saying the move is being made to "meet the demands of the new news cycle, one that requires agility in real-time reporting, social media and greater emphasis on video storytelling, further increasing our competitive advantage."

With newspapers continuing to lose readers to the Internet, it is not surprising that Gannett would pull out

all of the stops to retool for a web audience. Dickey said, "Readers' speedy adoption of new technology for news consumption creates new opportunities for us to uniquely serve them. To do so, we must ensure our journalists are equipped and trained on the tools to work in new ways."

Still, I can't get over the idea of the ubiquitous $200 iPhone and its big brother, the iPad, becoming a primary tool in electronic new gathering (ENG). Not because it's a bad idea, but because it is such a phenomenally cheap alternative to what preceded it. In the 17 years I spent as a TV reporter I worked with a cameraman who was equipped with an ENG camera that cost around $60,000 and weighed enough to buckle a man's back. Obviously iPhone video quality is still no match for professional video cameras, but the change in the way news is now being consumed (often on small mobile screens) has made cell phone video quality good enough for even media giants like Gannett (they ditch the cost of a dedicated cameraman too).

The iPhones and iPads are to be delivered to Gannett newsrooms this month with "training" on the tools to follow soon after. Not sure how much training this requires. If you know how to hit the on button you are pretty much good to go!

One other note today - in case you missed it during your New Year's revelry, our latest Cover Story came out this past weekend. It is a profile of 40-year-old lead gen whiiz Braden Pollock, a serial entrepreneur from Los Angeles who may be about to change the domain monetization business in a big way.

Pollock has built a lead gen platform for his thousands of legal domains that is allowing him to rake in far bigger payouts than PPC offers. He is now working on applying that technology to many other verticals. If he is successful, domain owners may finally see the parking alternative they have craved - a solution that that could end their dependence on Google, the search engine giant that currently has a stranglehold on monetization - a monopoly that has saddled frustrated domain owners with extremely meager payouts in recent years.

You can get a detailed introduction to Braden and details on what he is doing here: Braden Pollock: Could the Lead Gen Whiz Be the Domain Monetization Messiah People Have Been Looking For?

Braden Pollock
Founder, Legal Brand Marketing, LLC

(Posted Jan. 3, 2012) To refer others to the post above only you can use this URL:
http://www.dnjournal.com/archive/lowdown/2012/dailyposts/20120103.htm
2012 is Here Bringing a New Opportunity to Have Your Best Year Ever!

I love new years (and not just because it is a good excuse to drink champagne, though I do give New Year's Eve bonus points on that count)! I like New Year's Day even more. Regardless of whether the previous year was good, bad or indifferent, there is always something exciting about starting a new year with a fresh slate (at least as far as the calendar is concerned).

In a business like ours that is constantly changing, every new year - in fact every new day - is an adventure. It may bring a big domain sale or a better monetization opportunity. I might meet a like minded individual for the first time who will become a friend for life. I may see the launch of a company that changes the face of the industry forever. All of

Happy New Year! Diana and I are hopeful that
2012 will be YOUR best year ever!

those things have happened on previous days in this business and they continue to happen with the arrival of every new year. How can you not love that?!

As the web continues to transform every aspect of communications and commerce, I believe our industry is ideally positioned for the future. While different facets of the domain business have had their ups and downs during the recession our industry has fared far better than the vast majority of other sectors of the economy.

So, welcome 2012 - I can't wait to see what you have in store. I also can't tell you how much I appreciate your support and having had the opportunity to share this journey with our readers for close to a decade now (New Year's Day was the 9th anniversary of DNJournal.com). For both my wife, Diana, and I, our wish for the New Year is that 2012 is going to be YOUR best year ever!

(Posted Jan. 2, 2012) To refer others to the post above only you can use this URL:
http://www.dnjournal.com/archive/lowdown/2011/dailyposts/20120102.htm
---
If you've been out of the loop lately, catch up in the Lowdown Archive!
---
We need your help to keep giving domainers The Lowdown, so please email

[email protected]

with any interesting information you might have. If possible, include the source of your information so we can check it out (for example a URL if you read it in a forum or on a site elsewhere).
---
Home Domain Sales YTD Sales Charts Latest News The Lowdown Articles
Legal Matters Dear Domey Letters to Editor Resources Classified Ads Archive About Us