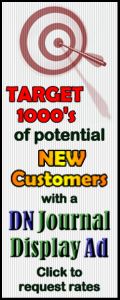 The Lowdown
March 2012 Archive
Subscribe to our RSS Feed

Here's the The Lowdown from DN Journal,
updated daily to fill you in on the latest buzz going around the domain name industry.

The Lowdown is compiled by DN Journal Editor & Publisher Ron Jackson.
Congratulations to Domain Investor/Developer/Blogger Elliot Silver and His Wife Karen on Their Lovely New Arrival

Our friend Elliot Silver has enjoyed multiple successes in the domain business but none of them have made him anywhere near as happy as the life changing personal event that the popular blogger/domain investor-developer and his wife Karen are currently celebrating. Their first child, the lovely Hailey Sloane Silver, arrived Thursday morning (March 29, 2012) at a little after 6am. Karen and Hailey are both doing very well and are expected to be home for the weekend.

In addition to congratulations and the traditional cigar, Elliot deserves a special pat on the back from everyone who loves domains. Despite his excitement over the impending arrival of his new daughter, Elliott had the foresight to register HaileySilver.com last week. We would rank that right up there with giving your child a loving home and a college education! :-)

Hailey Sloane Silver

Having a special one of our own, Diana and I can tell Elliot and Karen that daughters are a wonderful gift from God and we couldn't be happier for them. I remember an old quote of unknown origin that said "A daughter may outgrow your lap, but she will never outgrow your heart." I'm sure Hailey will make their life richer than they could have ever imagined and we're looking forward to hearing about the expanded Silver family's exploits in the years ahead.

(Posted March 30, 2012) To refer others to the post above only you can use this URL:
http://www.dnjournal.com/archive/lowdown/2012/dailyposts/20120330.htm
Google Partners With Florida to Offer Businesses Free Websites For One Year, Low Monthly Fee After That
Google and several Florida business development agencies have entered an interesting partnership aimed at getting more of the Sunshine State's businesses online. In their promotion of the plan I was surprised to learn that 68% of small businesses in Florida do not have a

website! That is insane, especially when statistics show that 97% of consumers look online for local products and services (with this kind of disconnect, it's no wonder the mortality rate for small business start ups is so high)! On the other hand it shows how much potential growth remains in the SMB segment (small to medium sized businesses) for online service providers, including registrars, domain sellers, hosting companies, web designers, etc.
Google and its Florida partners have even scheduled live seminars around the state to show business owners, in person, how to get their enterprises online. They will be held in Miami April 3rd and 4th, 2012 and in Tampa on April 5th (details are here).
It looks like a sweet deal, at least for the first year - after that it's no longer free, but it's still cheap, especially when you consider how indispensable an online presence is today. The deal includes a free domain, free hosting for a year, use of an idiot proof automatic domain builder from Intuit for generating the website plus free online tools and training.

After the first year if the business wants to continue using the domain, site, hosting service and resources it is $6.99 a month ($4.99 a

"Online Shopping image" from Bigstock

month for hosting and $2 a month for the domain name. If the business already owns a domain name they want to use, they can do that and pay only for the hosting).
There's not a lot of profit there for Google, but it is probably a safe bet that their primary goal is, once they have these businesses online, getting them to buy advertising for their sites on Google. As for you, as a domain seller, it's hard to compete with free - but once these SMBs finally get online and become better educated about how much a good domain can boost their business, some are bound to look for better names on the aftermarket. (Thanks to John Picchietti for the tip on this program.)
(Posted March 29, 2012) To refer others to the post above only you can use this URL:
http://www.dnjournal.com/archive/lowdown/2012/dailyposts/20120329.htm
Domain Attorney Paul Keating Makes An Offer You Can't Refuse + IDNTools Retools & Escrow.com Reveals a New Look

If you were looking for another good reason to attend the 2012 Domaining Europe conference in Valencia, Spain next month (the show runs April 26-28 at the Sorolla Palace Hotel) show organizers just announced one today. Noted domain industry attorney Paul Keating of Law.es is supporting the 4th annual event by offering free consultations during the conference. Paul has offices in Barcelona and London but handles domain matters worldwide for a clientele that includes some of the industry's top portfolio owners, developers, registrars and popular service providers like DomainTools.com. If you would like to meet with Paul in Valencia just send an email to his office ([email protected]) to set up an appointment.

Show founder Dietmar Stefitz also announced a free consulting offer for Domaining Europe attendees from Alvaro Añon of Soho.cl who will provide a Usability, UX and Persuasion analysis of your website.

Registration for Domaining Europe 2012 is currently open. The cost is €600. In addition to many of Europe's top domain investors and company representatives, several leading domainers and brokers from the U.S. will be there. I'll also be going to Spain to cover the show for you.

Attorney Paul Keating, Law.es

Elsewhere today, IDNTools.com has undergone a complete makeover. The redesigned, re-purposed site has just been re-launched as a fixed price marketplace for Internationalized Domain Names (IDNs).

IDNTools co-founders Gary Males and Aaron Krawitz said many believe that foreign domain names represent a major emerging domain investment opportunity but one obstacle has stood in the way - the fact that most U.S.

domain investors don't understand foreign domains. IDNTools has been working to change that by providing a resource for both veteran and new IDN investors with its punycode converter and sales data.

They said the new IDNTools marketplace represents another big step forward by providing trusted translations and reasonable fixed prices (starting in the low three figures) so that buyers can invest in IDNs with confidence.

Those with larger budgets who are interested in category defining terms in leading languages, like "Doctors", "Phone", "Hotels" and Games" will also find those listed at fixed prices. Languages including Chinese, Arabic, Russian, Japanese, and Hebrew are all represented in the wide variety of domains for sale.

To broaden the site's reach, Males and Krawitz intend to target native speakers abroad in addition to the traditional U.S. domaining community. Toward that end, they are currently having the site translated into multiple languages.

The domain industry's most popular escrow service, Escrow.com, will also be getting a new look soon. The site's vaunted escrow services will not change but the look and feel of the widely used side will be modernized with a

very pleasing new look. An exact launch date has not been set but you can see what it is going to look like on this preview page. Escrow.com would be happy to get you feedback on the new look, something you can offer at their official Facebook page.

(Posted March 27, 2012) To refer others to the post above only you can use this URL:
http://www.dnjournal.com/archive/lowdown/2012/dailyposts/20120327.htm
New Free Resource from Francois Carrillo Puts Extensive Domain Information at Your Fingertips

A few weeks ago Francois Carrillo launched a new website at Dofo.com (short for "domain information") and he has been adding features to this very useful new free resource ever

since (with still more coming in the weeks ahead).

Over the weekend I took a close look at the current iteration of Dofo.com and came away very impressed with what Francois has done with the latest addition to his diverse portfolio of domain industry sites that includes the popular news headline aggregation site Domaining.com.

Dofo.com makes a broad array of information about any domain in one convenient location. Entering a domain name in the Dofo search box brings up a screen with two frames. The one on the left offers a menu of various kinds of information that can be called up in the main frame on the right. The first thing you see in the main frame is a page from DomainTools.com that provides the WhoIs information for the domain - usually the first thing you want to know when you start researching a name (if you prefer, you can change the WhoIs information source to iWhois.com or Whois.net in from the Config link on Dofo's home page).

Screenshot from Dofo.com after entering "Domaining.com" in the search box

In the search box two icons appear next to the name you enter that allow you to toggle back and forth between the WhoIs information and a live view of the domain's current home page. The menu below the search box lets you dig deeper. The first tab - Metrics - lets you call up in the main frame an appraisal price from Valuate.com or Estibot.com (you can select your preferred valuation tool from the home page Config link), or traffic estimates from Alexa.com or Compete.com.

The next tab - History - presents six sub-tabs starting with historical screenshots from Screenshots.com and Archive.org that show you what has appeared on the domain over a long period of time. Those sub-tabs are followed by four more for historical WhoIs, Registrars, Name Servers and Hosting information from DomainTools.

The next tab - Info - gives you three options. You can check for information on the domain/website at Wikipedia, translate the name into English, using Google Translate, if it is a foreign word or term, or do a trademark check through Trademarkia.com.

The Similar tab follows, offering three tools for finding domain names that are similar to the one you entered; one from ZFBot.com, and two from DomainTools - a typo search or a domain suggestions page.

Next up - the Search Engine tab lets you find Backlinks, Indexed results and Cached pages, as well as Trend information (gauging interest in the site over time) - all from Google. An Email tab follows letting you call up MX server information from ReverseMX.com or do a check to see if mail accounts from the domain's IP address have been blacklisted (done through a search at Network-Tools.com whose results are displayed in the main frame).

The last tab (at least as of this writing) - Network - again lets you query Network-Tools.com for Network, DNS, Ping and Trace information, and DomainTools for a Reverse IP lookup.

Essentially Dofo does for domain information what Domaining.com does for news headlines - aggregates information from many sources in one place. Domaining.com lets readers scan the headlines in one place then sends them on to the original news sites if they want to read the full story. In a slightly different twist, Dofo brings the original source page into a frame visible from the Dofo.com search page - but the site still increases exposure for the original source sites featured in Dofo visitor searches. That makes Dofo.com, like Domaining.com, a win-win for all.

(Posted March 26, 2012) To refer others to the post above only you can use this URL:
http://www.dnjournal.com/archive/lowdown/2012/dailyposts/20120326.htm
People in the News: NameMedia's Jason Miner, ICA's Phil Corwin, Marc Ostrofsky & Lana Del Rey

I want to wrap up another busy week in the domain business with some news and information from or about some well-known figures in our always fascinating field. Let's start with well

Jason Miner
Chief Operating Officer, NameMedia

deserved congratulations to NameMedia's Jason Miner who was promoted to Chief Operating Officer Thursday.

Jason joined the company in 2005 as the Director of Sales for the company's domain marketplace (best known for its AfternicDLS), and went on to assume responsibilities for business development, marketing, customer service and portfolio management.

NameMedia Chairman and CEO Kelly Conlin noted, "Jason has been a key leader in developing the strategy and executing the business plan for NameMedia. In addition, he has been an excellent mentor to many people across the company who join me in congratulating Jason on this well- deserved recognition."

Kelly makes a great point there. I have had people who report to Jason at NameMedia tell me what an inspirational leader he is and how much they enjoy working for him. To hear that

kind of unsolicited praise about someone's boss in casual conversation is not something I hear every day and it speaks volumes about Miner - one of the industry's true good guys in addition to being one of its most outstanding executives.

Another guy the industry is fortunate to have in its corner, Internet Commerce Association Legal Counsel Phil Corwin, went to bat for domain owners again this week. There has been a move afoot among trademark interests to turn ICANN's proposed Universal Rapid Suspension (URS) system into a cut-rate ($300) UDRP - a move, that if successful, would make it dramatically cheaper and easier for over-reaching TM holders to try to take domains they are not entitled to. They would also like to apply this form of the URS on .com this year via contract negotiations.

Corwin responded with a detailed article shining a spotlight on the scheme as well as a letter to ICANN (that follows the article linked to above) vehemently opposing changes that would tilt an already lopsided system even further against the interests of domain registrants.

ICA Legal Counsel Phil Corwin

Industry pioneer Marc Ostrofksy made a huge splash this past year with the publication of his book, Get Rick Click!, which quickly became a New York Times bestseller. As the book shot up the charts Marc got the opportunity to spread the "domain gospel" through a number of mainstream media outlets - including two national TV appearances on ABC-TV's The View.

This week MarcOmania entered an even more hallowed corner of pop culture when the book title showed up as a question on the legendary game show Jeopardy! You can check it out on this YouTube video clip. While the question stumped the panelists, there's no doubt the unsolicited plug will help sell even more copies of Ostrofsky's guide on how to make money on the Internet.

Last but certainly not least, we want to congratulate new music superstar Lana Del Rey (daughter of Rob Grant) on her outstanding live performance (seen by an audience of around 30 million people) as a guest on American Idol last night (Thursday, March 22, 2012). Lana, a friend and longtime favorite of ours, sang her big hit "Video Games" and her stage presence continues to blossom every time she steps into the spotlight.

Earlier this week Lana performed live with Katy Perry at Germany's prestigious Echo Awards in Berlin. OK Magazine has some great photos of two of the hottest female singers in the world together that you will want to check out. Have a great weekend and we'll see you back here Monday!

(Posted March 23, 2012) To refer others to the post above only you can use this URL:
http://www.dnjournal.com/archive/lowdown/2012/dailyposts/20120323.htm
Ron Jackson Going Bald? If Gregg McNair Has His Way It Will Happen Next Month at a Water School Fundraiser in Spain
Help! Gregg "The Mad Barber" McNair has his hair clippers out again and I am the one he has in his sites this time!
I should have know better than to under estimate McNair and Lau, who just turned the heat up to the boiling point with a news release I just received. I learned that another heavy hitter has joined their cause and I am starting to worry that my "luxurious locks" could be in serious jeopardy now. Their release is below:
Ron has set a minimum price on his hair of $50,000 and Jan and Frank have answered the call with $10,000 each so we are well on the way to raising a good amount for the Water School's life saving work in Africa. After Frank quickly responded with a pledge to match Jan's we have begun earnestly looking for others to support the WaterShave Jackson event in Spain.
You may recall Vern Jurovich, Jeff Gabriel and Bill Lozada were shaved by Gregg for the Water School after receiving pledges in excess of $30,000 during the DOMAINfest Global conference in February. At that meeting, Ron, who is also a fervent Water School supporter, was challenged by Jan to go under Gregg's blade and we fully expect that "friendly persuasion" from the domain community will convince him to "support" our new initiative. Perhaps the best known and liked person in our industry, Ron commands respect from all who know him and we invite everyone to support Ron in this endeavor to help save the lives of kids in Africa.
Richard Lau said, "The Water School program is 100% tax deductible, 100% sustainable and 100% of any donation goes to the field in Africa. I urge all my colleagues to rally behind Ron and help change the course of thousands of kids' lives. Any amount, even $50 will make a difference and you can donate online at WaterShave.org."
Sincerely,
Gregg McNair and Richard Lau on behalf of The Water School.
(Posted March 22, 2012) To refer others to the post above only you can use this URL:
http://www.dnjournal.com/archive/lowdown/2012/dailyposts/20120322.htm
New Escrow.com-DomainTools Partnership Speeds Up Sales Transactions + Keynote Speaker Named for Next Month's Domaining Europe Conference in Spain

Two pillars of the domain industry, Escrow.com and DomainTools announced a new partnership today that will speed up domain sales transactions handled through Escrow.com.

By integrating the DomainTools API suite throughout the escrow process, Escrow.com can automatically verify that domain ownership has been transferred before they release funds to the seller. That assures that valuable domain name transactions cannot be gamed by buyers or sellers with ill intent.

Escrow.com's Chief Technology Officer, Jason Whitlow, noted, "Prior to partnering with DomainTools and leveraging their API suite, the process of verifying DNS, registrar and Whois record information was manual and time consuming. By automating that process with comprehensive, accurate data from DomainTools, Escrow.com is now able to verify data more quickly while providing a quicker, more seamless experience for customers."

DomainTools first announced their API services in July 2011. Nearly every piece of data available on DomainTools.com is available for use by integrating DomainTools' standards-compliant interface via the DomainTools API page.

Xavier Buck
Keynote Speaker for Domaining Europe 2012

In a related note today, EuroDNS.com Founder and Chairman Xavier Buck, who also serves on the DomainTools Board of Directors, has been chosen to deliver the keynote speech at the Domaining Europe 2012 conference coming up next month in Valencia, Spain. The event will run April 26-28 at the Sorolla Palace Hotel (we will be there to cover the conference for you).

Xavier, who has been an Internet entrepreneur since 1996, has founded many successful ventures including the DCL Group and several of its subsidiaries, including popular registrar EuroDNS, DomainInvest, Datacenter Luxembourg and eBrandServices.

As the DCL Group's Executive Chairman and CEO, Xavier oversees the group's international activities with a special focus on the domain name industry, internet traffic and traffic monetization. He also finds time to serve as a director for several companies including DomainTools, OpenRegistry and LeftoftheDot.

If you would like to hear Xavier's keynote speech in person, you can register for Domaining Europe here. The registration fee is €600 and hotel rooms are available at the host Sorolla Palace Hotel for just €75 a night.

(Posted March 20, 2012) To refer others to the post above only you can use this URL:
http://www.dnjournal.com/archive/lowdown/2012/dailyposts/20120320.htm
Clements Brothers Launch New Domain Name Auction House and Brokerage Service

Two domain industry veterans who also happen to be brothers, David Clements and Toby Clements, have joined forces to launch a new domain name auction house and brokerage

service called Brannans.com. The name pays tribute to Sam Brannan, a 19th century San Francisco publicist, merchant and publisher whom historians credit with helping to trigger the California Gold Rush that started in 1848.

The name seems appropriate since the Clements brothers have long been part of a modern day gold rush in which domain prospectors pan for valuable pieces of Internet real estate.

David Clements (left) and Toby Clements

One thing that they say sets them apart from the crowd is a focus on selling domain names as brand building tools for business end users. Founder and CEO David Clements said, "End-user marketing and sales is about building relationships with business owners and their key decision makers. According to the Bureau of Labor Statistics, businesses with less than 500 employees account for 99% of the independent enterprises in the US. When domainers refer to the term end-users, they really mean these businesses and to sell to them you've got to build rapport first. Only then can you educate them on the value of using a relatively new asset class for branding and marketing."

Toby Clements said, "I'm very excited to be partnering with my brother David on this new venture. Brannan's offers additional value and opportunity to domainers and especially to my current newsletter

subscribers at TobyClements.com. It gives me another tool to market domains without getting things too overcomplicated or watered down."

David added that he and Toby will also work with all of the other auction houses and brokers in the industry to give sellers the maximum possible exposure for their domains. David noted, "Our first priority is to speak to domain investors. If you own or manage a large portfolio and we haven't met or spoken or emailed in the past two months, please reach out to me at your earliest convenience. I'd love to help you sell some domains at our upcoming first auction and I can also talk to you further about our targeted business brokerage division."

That first auction David referred to is a week-long online event scheduled for April 2, 2012. The deadline for auction submissions is March 28, 2012. You can find submission guidelines as well as a form for submitting your domains here.

(Posted March 19, 2012) To refer others to the post above only you can use this URL:
http://www.dnjournal.com/archive/lowdown/2012/dailyposts/20120319.htm
Brazilian Company Using UDRP as a Burglary Tool in an Attempted Generic Domain Name Theft?
OK, this reverse domain hijacking trend is getting out of hand. Not that it comes as a surprise. I've said for years that, with the high value of generic .com domain names, more and more people, including over-reaching corporations with no right to generic names, would attempt to steal them through the UDRP process rather than pay for assets that belong to someone else.
The situation continues to get worse because bad actors are seeing others being handed domains they had no right to through indefensible decisions made by "arbitrators" who overwhelming side with complainants (often whether or not there is any merit to their complaints). It has been an especially hot topic in recent weeks after noted domain attorney Paul Keating and the Internet Commerce Association's Legal Counsel Phil Corwin pointed out some especially egregious examples of this.
The deck is stacked against domain owners and the corporate hijackers know it, so they figure "why not take a shot at it, we've got nothing to lose and everything to gain." Indeed, you almost can't blame them because there is no penalty for attempting a reverse domain hijacking, even if you lose the UDRP. I say "almost" because any time someone is engaged in attempted theft, whatever the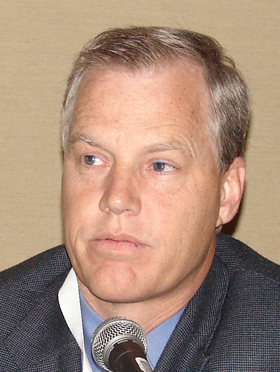 Attorney Paul Keating
means may be, blame is warranted (and it seems to me a stiff penalty would also be in order as it is in conventional cases of attempted robbery).
The latest to attempt this flimflam is a Brazilian company that operates SaveMe.com.br. Though the company was only established in 2010, it decided it should own the generic SaveMe.com domain, even though it was registered in 1996, 14 years before this unknown company even existed! SaveMe.com.br obviously knew they had no right to the name because they repeatedly tried to buy it from the owner. When he would not sell his property to them for the price they wanted to pay, they decided to try this backdoor attempt to make off with the name through an unwarranted UDRP.
Rick Schwartz
SaveMe.com owner

SaveMe.com.br made one miscalculation though. The domain they hope to pilfer with the help of friendly arbitrators (one report said the WIPO panel is comprised of three panelists who are all from Brazil) is owned by Rick Schwartz, AKA the Domain King. Rick knows more than a little about hijacking attempts and unlike many other victims he has both the means and the will to fight back. With the help of his attorney, Howard Neu, Schwartz has already launched a full frontal assault on SaveMe.com.br and their representative, Márcio Mello Chaves (who tried to buy the domain from Schwartz).

Though this would seem to be an open and shut UDRP case in favor of Schwartz, recent arbitration cases have shown that nothing is a sure thing. Even so, I would bet the SaveMe.com.br people are not going to be happy even if they were to somehow win what looks like an unwinnable UDRP case. As other wealthy domain owners who refused to be bullied have successfully done in the past, Schwartz would then likely file a federal

lawsuit against SaveMe.com.br and walk way with a good bit more than just the domain name he started with. It couldn't happen to a "nicer" company.
(Posted March 15, 2012) To refer others to the post above only you can use this URL:
http://www.dnjournal.com/archive/lowdown/2012/dailyposts/20120315.htm
New Domain Monetization Options Continue to Grow with Latest Advance at DomainPower.com

Promising new ways to monetize domain names continues to be a major trend in 2012. Our current Cover Story examines how TrafficMedia is doing it by reducing much of the time and expense involved in domain development, a path Protrada.com is also on with their launch of DevName.com last week. In our Cover Story, I noted that DomainPower.com was also about to announce a major upgrade to their platform and they have just done so.

DomainPower's new initiative is a proprietary Monetization Decision Engine (MDE) that they say is capable of increasing revenues by up to 70%. The MDE routes domain traffic among 31 different monetization partners in an effort to maximize revenue opportunities for platform users.

DomainPower General Manager Paolo DiVincenzo said, "When we spoke with our users in late 2011, it became abundantly clear that the main thing they were concerned with was maximum revenue on their domains. We've integrated some of the biggest parking platforms and advertising networks in the space, which combined with the MDE, are producing some of the highest payouts in the industry."

Paolo Divincenzo
GM, DomainPower.com

DiVincenzo said the MDE differs from traditional rotational testing in that it uses a predictive analytics, optimizing earnings for a domain the minute it is uploaded to the platform. "The MDE uses historical data from similar domain names to send its traffic where we predict – and have proven through testing – it will monetize the best" DiVincenzo said, adding "This is important for domains with little traffic, as it takes time – months, years to get a large enough traffic sample to optimize revenue."

DomainPower is a service of DomainHoldings, a company co-founded in 2010 by two former DN Journal Cover Story

subjects, Chad Folkening and John Ferber. In July 2011, Domain Holdings completed a $2.9 million round of Series A funding which was used in large part to facilitate the growth and development of the DomainPower. The company said the platform has averaged over 150% month over month growth since last September.

(Posted March 14, 2012) To refer others to the post above only you can use this URL:
http://www.dnjournal.com/archive/lowdown/2012/dailyposts/20120314.htm
Domain Pioneer Zappy Zapolin Filming New Documentary - Project With Deepak Chopra Due Out This Summer

Mike "Zappy" Zapolin (who, along with his partners at Internet Real Estate Group, was featured in our September 2005 Cover Story) has been involved in the development and sale of some of the best generic domain names on the Internet, including Music.com, Beer.com, Computer.com, CreditCards.com, Diamond.com, Silver.com and many more. The serial entrepreneur and creator of the Harvard Business School elective "eBusiness" is now expanding into yet another field - documentary filmmaking.

Zappy and famous doctor/author/speaker Deepak Chopra have joined forces with producer Kurt Engfehr (who co-produced Bowling for Columbine and Fahrenheit 911) to put together what they promise will be a highly controversial film - The Reality of Truth - a documentary examining perception and reality that is due for release this summer.

Zapolin and Chopra (who both have key on-screen

Mike "Zappy" Zapolin (left) & Deepak Chopra

roles in the film) maintain that "there is an expanding shift in consciousness taking place right now, and people are looking for a new understanding of life. The "film not only identifies the perception problem plaguing society today, but also analyzes specific techniques to break though to a new reality—one that is more peaceful, tolerant and, when looked at properly, amusing."

Zapolin said, "Transcendence is the key to taking off the filters that separate and blind us, so that we can see things as they actually exist. There are many techniques people use to transcend—meditation, prayer, dance, music, even psychedelics—and for this film we set out to explore the effectiveness of these different techniques."

| | |
| --- | --- |
| | The film features top religious gurus, thought leaders and scientists, who discuss the prevailing understanding of reality and the methods they invoke to transcend into an "alternate reality." The documentary crew has already filmed interviews in many locations including Maui where they spoke with legendary spiritual leader Ram Dass, who was with Timothy Leary during his infamous Harvard experiments. |

They also filmed a panel discussion with Dr. John Hagelin, PhD and Fred Travis, faculty members of the Maharishi University of Management, and Dr. Norman Rosenthal, author of New York Times Bestseller Transcendence. The panel was held in Fairfield, Iowa, where thousands of people in the transcendental meditation community meditate together each day. You can watch a trailer for The Reality of Truth on the official documentary website and also follow the project's progress on the film's Facebook page.

(Posted March 13, 2012) To refer others to the post above only you can use this URL:
http://www.dnjournal.com/archive/lowdown/2012/dailyposts/20120313.htm
ICANN's 43rd Public Meeting Opens In Costa Rica With a Warning from Outgoing CEO Rod Beckstrom
The 43rd ICANN public meeting got underway today in San Jose, Costa Rica where it will continue through Friday (March 16, 2012). The meeting opened with outgoing President and CEO Rod Beckstrom (who will leave the post July 1) warning the Board of Directors that they needed to make some major changes if the organization wants to maintain its role as administrator of the domain name system.
Beckstrom said, "A significant threat lies within ICANN's existing structure. I believe it is time to further tighten up the rules that have allowed perceived conflicts to exist within our board. This is necessary not just to be responsive to the growing chorus of criticism about ICANN's ethics environment, but to ensure that absolute dedication to the public good supersedes all other priorities."

"ICANN must place commercial and financial interests in their appropriate context," Beckstrom continued. How can it do this if all

top leadership is from the very domain name industry it is supposed to coordinate independently? A more subtle but related risk is the tangle of conflicting agendas within the board that would make it more difficult for any CEO to meet the requirements of this deeply rewarding and sometimes frustrating job."
"It is also important that new and occasionally dissenting voices from outside this world and this industry be given a shot at a seat in our boardroom. As the Internet's global users become more diverse in their backgrounds, so too must our board."
Rod Beckstrom
ICANN President & CEO

Shortly before the meeting began, the U.S. Department of Commerce's National Telecommunications and Information Administration (NTIA) had dropped a bomb on ICANN by canceling the Request for Proposal (RFP) to administer the contract to operate the authoritative DNS root server per the Internet Assigned Numbers Authority (IANA) - the contract that givens ICANN its authority over the DNS.

The ICANN Board issues that Beckstrom addressed were also referenced in the NTIA announcement that said, "Based on the input received from stakeholders around the world, NTIA added new requirements to the IANA functions' statement of work, including the need for structural separation of policymaking from implementation, a robust company-wide conflict of interest policy, provisions reflecting heightened respect for local country laws, and a series of consultation and reporting requirements to increase transparency and accountability to the international community."
"The government may cancel any solicitation that does not meet the requirements. Accordingly, we are canceling this RFP because we received no proposals that met the requirements requested by the global community," the statement said, leaving ICANN's proposal in the unacceptable pile.
NTIA did extend ICANN's current IANA contract until September 30, 2012 but that leaves the organization just six months to gets its house in order before NTIA issues a new RFP (on a date that NTIA has not yet specified). The Internet Commerce Association's Legal Counsel, Phil Corwin, has more details on this exceptionally important IANA contract issue in an article he posted at InternetCommerce.org today.
Prior to Rod Beckstrom's address, Costa Rica President Laura Chinchilla told the meeting, "the Internet should not be viewed a threat, but as hope, a world of hope. Costa Rica is committed to bridging the digital gap to provide broadband access to 100% of our educational institutions and make it available to all people."
President Chinchilla said her country fully supports ICANN programs including the controversial new gTLD program and IPv6 adoption.
(Posted March 12, 2012) To refer others to the post above only you can use this URL:
http://www.dnjournal.com/archive/lowdown/2012/dailyposts/20120312.htm
Total Number of Domains Registered Soars 10% in Past Year + Mountain Rises at NameMedia

Domain registrations continue to rocket. The latest quarterly Verisign Domain Name Industry Brief covering the fourth quarter of 2011 reports that the number of domains registered worldwide across all TLDs totaled more than 225 million at the end of 2011. More than 20.4 million domains were added since the end of 2010, an impressive 10% year over year jump.

So much for those who say domains aren't as important as they used to be! Social media is all well and good but apparently plenty of people realize that you are much better off owning your own identity and presence on the web than handing those invaluable assets over to a third party like Facebook or Google. Those are certainly great marketing tools, but I wouldn't advise turning the keys to the ranch over to them or anyone else.

Nearly 6 million domains were added in the final quarter of 2011 alone. The vast majority of people who register domains also keep them. Verisign, who administers the .com and .net extensions, said 73.5% of .com/.net domains were up for renewal were renewed in 4Q-2011.

Bob Mountain
Senior VP of Business Development
NameMedia

Elsewhere, domain industry giant NameMedia announced the the promotion of Bob Mountain to Senior Vice President of Business Development Thursday (March 8). This will come as no surprise to anyone who knows Bob, one of the most highly regarded people in the domain industry.

Mountain, who joined NameMedia in 2009, has been the key architect of NameMedia's Afternic Domain Listing Service (DLS) - a domain name version of the real estate world's Multiple Listing Service. The Afternic DLS aggregates millions of domain names being offered for sale and syndicates those listings to dozens of reseller sites, including many popular registrars.

NameMedia CEO Kelly Conlin noted, "Bob has worked tirelessly to knit together the most powerful reseller network for premium aftermarket domains. This promotion is a recognition of the contributions Bob has made not only to our company, but to the entire domain industry."

Mountain said, "As much as we have accomplished, I believe that some of the programs

and initiatives we have on our roadmap will make the future even more exciting. look forward to continuing to grow the industry through collaboration and partnership the world over."

(Posted March 9, 2012) To refer others to the post above only you can use this URL:
http://www.dnjournal.com/archive/lowdown/2012/dailyposts/20120309.htm
New Solutions Make Domain Development Much Easier - DevName Launches Latest Option
One of the more encouraging trends I've seen in recent months is how quickly automated domain development platforms are improving, make it possible to build real websites in a

fraction of the time it used to take. I'm not talking about the mini-site craze of a couple of years ago that wound up with most of the sites generated getting de-listed by the search engines, effectively killing their revenue production. I'm talking about new solutions for people who want to build useful websites and even full-blown businesses on some of their domains, but don't want to spend months building the framework for each project. Websites whose value will be recognized by search engines who see mass development as spam and penalize it accordingly. These solutions are for a select sub-set of most portfolios not a flood of thousands of names of dubious quality.

Image: Paul / FreeDigitalPhotos.net
Even though these platforms quickly produce professional looking sites (and even some cool starting content including video clips), if you want them to really shine long term, you need to add some elbow grease (like frequently updated unique and relevant content) - an effort that

can generate much bigger dividends than today's meager parking payouts. They give you all of the drag and drop tools and resources needed to get your site off to a blazingly fast start on just about any topic. The newest entrants in this field include Domain Holdings's DomainPower.com, TrafficMedia's Vortalizer MediaSiteBuilder and, just announced Wednesday, Winged Media's DevName.
In their launch announcement DevName said, "Devname does all the hard work behind the scenes to produce quality, socially activated, content rich and revenue generating websites. Recent announcements by Google about underdeveloped names no longer being indexed have delivered a timely warning to domain developers. DevName websites deliver increased traffic and are search engine friendly to ensure continual ranking and a higher valuation when a domain name owner wants to sell the asset."
Troy Rushton
Winged Media Founder and CEO

Winged Media Founder and CEO Troy Rushton said, "Using a revolutionary semantic engine developed in house, the DevName platform looks beyond the simple keyword of a domain to the intrinsic meaning of the domain name. This degree of analysis means domains are developed with more relevant content and revenue streams.

The DevName platform, which has also been integrated into the Winged Media's highly regarded Protrada.com domain trading platform, allows domain owners to keep 100% from their own revenue feeds and an opportunity to earn additional revenue from advertising, lead gen and and other sources. There are two cost options for developing on the platform. One domain, including hosting, is $20 per year, or, if you want to add two unique 400-word, 4-star articles for better indexing and traffic, the cost is $50 per domain annually. You can see examples of domain developed on the platform here: http://www.devname.com/examples/
(Posted March 8, 2012) To refer others to the post above only you can use this URL:
http://www.dnjournal.com/archive/lowdown/2012/dailyposts/20120308.htm
South Florida Domainers Set to Reconvene March 22 + The Davy Jones Connection to the Domain Industry

One of the biggest and most active local domain groups in the U.S., the South Florida Domainers, just announced their first meeting of the new year. It will be held Thursday

evening, March 22 in Deerfield Beach at JB's On the Beach, starting at 7pm. Mike Ward, who is hosting the event along with Rick Waters and Stu Maloff, said highlights will included speakers and a live domain auction. Moniker/SnapNames and domain attorney Karen Bernstein are providing sponsor support to help insure a special evening for attendees. As most of you know, Key Systems just acquired Moniker and SnapNames from Oversee.net, so guests will have an opportunity to learn more about what the ownership change means for customers of those two well-known companies.

There will be a cash bar and snacks. There is no attendance charge and you can bring a guest, but please indicate if you will be doing so when you send the required RSVP via the meeting page.

Victor Pitts will serve as auctioneer for the live domain sale that is slated to get underway at 8pm. Each attendee that has submitted a Yes RSVP will be allowed to submit three names for auction consideration along with the lowest price you will accept. The submissions will then be pared down to a final catalog, so don't expect all of your domains to be accepted. To take part, RSVP, read the auction guidelines, then email your domain list to auction2012 @ sofladomainers.com. The deadline for domain submissions is Monday, March 12th.

Ari Goldberger (anove) has fond memories of Monkees lead singer
Davy Jones who passed away
last Wednesday (Feb. 29, 2012).

One other note today - I'm sure you all heard about the death of Monkees lead singer Davy Jones last Wednesday (Feb. 29, 2012). The 1960s teen idol passed away at 66 after suffering a heart attack at his home in Indiantown, Florida.

As it turns out, there is a domain business connection to this story. Back in December 2006, one of the industry's top attorneys, Ari Goldberger, put together a surprise birthday party for his wife Sharon. He wanted to do something special for her and he knew she loved monkeys (the animal variety). So guess what Ari did? He actually hired a Monkee that could sing - that being Davy - to come to the birthday party, shocking Sharon and their guests when Davy stuck around for hours to do a private concert and spend the evening celebrating with guests.

What's really cool is Ari had the event videotaped and you can see the highlights, including Sharon's reaction when Davy walked in unannounced, in the 12-minute

video on YouTube. It's a lot of fun and includes Davy performing some of his famous tunes for the guests - making the video a Monkees collectors item! Several other domain investors were on hand for the festivities including Mike and Judy Berkens, Larry and Mary Fischer, Brian Taff, and Scott Ross. Ari said Davy was a wonderful man and he and Sharon were so glad they had the chance to spend that memorable evening with him.

(Posted March 6, 2012) To refer others to the post above only you can use this URL:
http://www.dnjournal.com/archive/lowdown/2012/dailyposts/20120306.htm
Morgan Linton Launches Innovative Website Appraisal Platform at Appraiso.com - Expects New Valuation Tool to Make Sites Easier to Buy and Sell

Morgan Linton, his fiancée and business partner Daina Burnes and a private developer they have been working with are in a celebratory mood today. After countless hours of work and a significant financial investment, the trio has launched Appraiso.com, a platform Linton says is "the first Intelligent Website Appraisal system."

Linton, who owns Los Angeles-based domain name investment firm Linton Investments LLC, observed that unlike the physical real estate market, the virtual real estate world of websites

has not has a standard for determining how much a website is worth. He and his partners set out to change that with Appraiso.com, a software platform that Linton said will finally allow domain investors to accurately assess the value of a developed domain based on real business metrics.

Users simply enter the domain name, monthly revenue, profit, and traffic. The dynamic algorithm then takes the data and outputs a combination of the domain value plus the added value attributed to the website characteristics.

"The algorithm is dynamic, reflecting current market value of web-property and it continues to learn over-time" Linton said. "Along with estimating value, Appraiso can recognize whether the metrics reported in a website sale are deceptive. This feature addresses growing concerns amongst website buyers

Morgan Linton & Daina Burnes
Appraiso.com

using platforms like Flippa and eBay who have been hesitant to buy due to rampant scams that can be difficult to identify. "We surveyed website buyers around the world and the #1 request they made after a reliable appraisal system was a way to detect scams, so we built it!"

"We are very confident this is going to really change the way people buy and sell websites and clearly establish the incredible value that development can provide to digital real estate," Linton added. Apparently Morgan isn't the only one sold on his new creation. "We already have two API deals in the works that will add Appraiso to two of the top platforms in the domaining world. Also, while in beta, the system helped a user close a major deal on a portfolio of web properties he had been trying to sell for year," Linton added.

Linton believes the timing for Appraiso couldn't be better. "Last year, the leading website marketplace on the Internet, Flippa, sold over $31 million in developed domain names compared to $21 million in 2010. Now in 2012 it's clear the virtual real estate boom isn't declining, it's just getting started." An inexpensive valuation tool like Appraiso.com (they offer one free appraisal per day and, for heavier users, a variety of packages starting at $10 a month) is likely to add more fuel to that fire.

(Posted March 5, 2012) To refer others to the post above only you can use this URL:
http://www.dnjournal.com/archive/lowdown/2012/dailyposts/20120305.htm
Oversee.net Makes Another Change at the Top - One Co-CEO is Elevated While the Other Exits

Just before the 2012 DOMAINfest Global conference got underway in late January, the show organizers, Oversee.net, announced that Debra Domeyer and Scott Morrow, who had been

serving as the company's Co-Presidents since June 2011, had been appointed Co-CEOs, filling a role that had been held by Jeff Kupietzky before he left the company. Today Oversee announced that Morrow has decided to leave the company to pursue other interests and that Ms. Domeyer has been promoted to sole CEO.

Historically having Co-CEOs hasn't worked well for most companies that have tried the unusual arrangement. Morrow and Ms. Domeyer were asked about that at a press breakfast during DOMAINfest Global and both said they worked well together and had complementary skills that made them an effective tandem. Even so, less than five weeks after they were appointed Co-CEOs, the experiment has ended and Oversee once again has a single captain in charge of the ship.

Oversee.net CEO Debra Domeyer
and former Co-CEO Scott Morrow

I think that Debra, who, along with Scott, was featured in our annual State of the Industry Cover Story in January, is an excellent choice to lead Oversee through a period of rapid change that has also included the divestment of their Moniker and SnapNames divisions a few weeks ago (they retained their widely-used DomainSponsor.com monetization unit). She is bright, extremely personable and one of the best listeners you will find in any executive suite (that is a valuable skill that should never be under-estimated).

Oversee.net CEO Debra Domeyer
speaking at DOMAINfest Global 2012

With over 25 years of experience in technology, Ms. Domeyer, who had served as Oversee's Chief Technical Officer since 2008 (and continued in that role after being named Co-CEO), will now turn that job over to an executive still to be hired. Prior to joining Oversee, she was the Chief Technology Officer at Internet Brands (INET). She has served as Vice President and Chief Information Officer at Pacific Gas & Electric Energy Services and was Vice President of Information Systems for the Times Mirror Company. Debra was named one of the top 25 CTOs by InfoWorld Magazine and listed in the ComputerWorld Premier 100 IT leaders.

Lawrence Ng, Chairman of the Board and Co-Founder of Oversee.net, said "Debra's appointment as CEO reaffirms the company's commitment to technology and innovation. Technology has been a key competitive advantage in helping Oversee become a leader in traffic monetization and online consumer lead generation. And it will continue to be an essential part of Oversee's plans to expand its traffic network and grow its lead generation businesses in the travel, consumer finance and online shopping verticals."

Our congratulations to Debra and we wish her all the best in her new role.

(Posted March 2, 2012) To refer others to the post above only you can use this URL:
http://www.dnjournal.com/archive/lowdown/2012/dailyposts/20120302.htm
Do You Run a Popular Advertiser Supported Website? A Flood of Money May be Coming Your Way
It is no secret that more and more advertisers are chasing eyeballs that have moved to the web by spending a bigger percentage of their ad budgets online, but you may not be aware of just how large the tsunami coming our way is likely to be. Gavin O'Malley shed some light on that subject with some interesting stats he shared in an article at Online Media Daily this week.
O'Malley's piece cited the latest research from local media experts BIA/Kelsey into the ad spending plans of SMBs (small to medium sized businesses), a segment that makes up 70% of the U.S. economy. In 2010 SMBs spent 52% of their advertising money with traditional offline media outlets. Near the end of 2011, BIA/Kelsey forecast that number will shrink to just 30% by 2015 (a scant three years from now).

O'Malley noted, "That would leave 70% of those dollars for digital and online media, including mobile, social, online directories, online display and digital outdoor; performance-based commerce, including pay-per-click, deals, and couponing; and customer retention business solutions, including email, reputation and presence management."

Image: jannoon028 / FreeDigitalPhotos.net
What does that translate to in cash? BA/Kelsey predicts total SMB ad spending in the U.S. will reach $40.2 billion by 2015, a huge increase from the $22.4 billion logged in 2010. That works out to a double digit compound annual growth rate of 12% - a figure few sectors of the economy could hope to measure up to.
While those eye-popping figures are a forecast for three years out, the race has already begun. BIA/Kelsey said respondents to their SMB surveys indicated that 26% of all SMB ad spending will go to digital and online media this year. If you haven't developed one of your favorite domains, how much more incentive do you need?
Image: photostock / FreeDigitalPhotos.net

Certainly development is not easy and, like anything else, there is no guarantee of success. But one thing is a certainty, you can't win if you don't get on the field. Pick a topic you are passionate about - one that you would love to share with others who have similar interests. If they start coming to your website for news, information and advice, you will have a community that the advertisers who offer relevant products and services will want to reach.

If you can achieve some success in web publishing as thousands of others have, you'll no longer have to live and die with what direction parking is headed, or whether or not someone shows up to buy one of your domains this week. If you try it and it doesn't work, you are no worse off than you are now so what are you waiting for?
(Posted March 1, 2012) To refer others to the post above only you can use this URL:
http://www.dnjournal.com/archive/lowdown/2012/dailyposts/20120301.htm
---
If you've been out of the loop lately, catch up in the Lowdown Archive!
---
We need your help to keep giving domainers The Lowdown, so please email

[email protected]

with any interesting information you might have. If possible, include the source of your information so we can check it out (for example a URL if you read it in a forum or on a site elsewhere).
---
Home Domain Sales YTD Sales Charts Latest News The Lowdown Articles
Legal Matters Dear Domey Letters to Editor Resources Classified Ads Archive About Us