The Lowdown
October 2012 Archive
Subscribe to our RSS Feed

Here's the The Lowdown from DN Journal,
updated daily to fill you in on the latest buzz going around the domain name industry.

The Lowdown is compiled by DN Journal Editor & Publisher Ron Jackson.
DNForum Owner Adam Dicker Stars in New Video Blog, Edwin Hayward Launches Offensive Against .UK Proposal & Sedo's Dave Evanson Announces Big .CO.UK Sale

One of the most popular sessions at the 2012 T.R.A.F.F.I.C. conference, held at Fort Lauderdale Beach, Florida earlier this month, featured DNForum.com owner Adam Dicker dispensing advice on how to turn domains into money making businesses. It's something Dicker has been doing successfully for years and at T.R.A.F.F.I.C. he detailed exactly how he does it. Attendees busily scribbled down notes on everything he said and the session generated a tremendous amount of buzz when Dicker left the stage.

If you were not at T.R.A.F.F.I.C. (or if you were and want to hear a lot more of what Dicker has to say) you will be delighted to know that he has just launched a new video blog at TheArtOfTheName.com. Dicker promised that the 10-minute introductory video used to launch

Adam Dicker
TheArtOfTheName.com

the free site today would be followed by many more and he immediately began making good on that promise with a second video on finding desirable content for your sites.

Adam has been very successful in this business and it is great to see someone with his level of expertise give back to the community (especially new domain investors and developers who are always seeking reliable guidance) in such a generous way. A video blog requires a big time commitment, but if Adam can juggle the task along with his many other endeavors, his new site will rapidly become one of the industry's most valuable resources.

Edwin Hayward

Adam wasn't the only one launching an important new site this week. Another industry veteran, England's Edwin Hayward, raised the curtain on a well-written and researched site at MyDomainNames.co.uk opposing Nominet's controversial plan to allow second level registrations (at a far higher cost) on the .UK ccTLD ( for instance example.uk). Such a move would instantly devalue corresponding third level domains in the long established and globally recogniized .CO.UK extension (such as example.co.uk).

In a 26-page paper that can be downloaded here (.pdf file), Hayward made several key points, just a few of which are noted below:

The internet is big business and hugely important to the UK economy (8.3% of GDP) with all of that based on third level British domain names (like example.co.uk).

Most businesses use .co.uk, and 93% of UK names are .co.uk.

Proposed .uk names will not be offered to the owners of .co.uk (e.g. the BBC would not automatically get BBC.uk).

Existing domain owners will have to prove that they are entitled to the matching .uk domain name, or buy it at auction (if it hasn't already been taken by a trademark holder).

The direct cost to UK businesses will be at least £50,000,000 per year, and associated adjustment costs could run to £billions.

Other countries went about the same process quite differently. In every previous case, existing domain owners were given priority ahead of other interests.

Visit Edwin's site for more critical information - the most important being what you can do to protest the current deeply flawed proposal.

Speaking of .co.uk (and a perfect example how valuable that extension can be), Sedo's Dave Evanson (who won T.R.A.F.F.I.C.'s Broker of the Year Award this year) announced on his Facebook page today that he has just sold WebHosting.co.uk for $500,000 (once verified that will rank as the second biggest sale of 2012 year to date in any extension).

Congrats to Dave on the latest of several blockbuster sales he has handled this year. When you're hot, you're hot!

Sedo's Dave Evanson (center) receiving the 2012 Broker
of the Year Award from T.R.A.F.F.I.C. Co-Founders Rick
Schwartz & Howard Neu. (Photo courtesy of Barbara Neu)

(Posted October 30, 2012) To refer others to the post above only you can use this URL:
http://www.dnjournal.com/archive/lowdown/2012/dailyposts/20121030.htm
Domain Name Market in Doldrums? The Back Story on Today's Article in the San Francisco Chronicle
A new article about the domain name aftermarket titled "Internet Domain Name Market in the Doldrums" was published by the San Francisco Chronicle today. I was quoted extensively in the article by author Carrie Kirby who called for an interview in the course of researching the subject. Domain sales piqued Carrie's interest because the ultimate geodomain representing the Chronicle's state, California.com, has just been put on the market with DomainHoldings.com representing the seller.

More often than not, mainstream business press articles about domains get a lot of the facts

For sale sign on California.com piques the San
Francisco Chronicle's interest in the domain market.
Image from Bigstock

wrong and end up with a portrayal of of the topic that is far removed from reality. When I saw the headline on the Chronicle piece, my first thought was "here we go again." However, I also knew that headlines - meant to grab attention - are usually written by an editor, not the author of the piece, so I wasn't ready to write it off for that reason alone.
That was particularly true in this case because I knew Ms. Kirby had been very thorough in asking questions and follow-ups to make sure she understood the complicated topic as well as anyone could in the course of a half-hour interview. I told her that with the Great Recession high end sales have fallen off in recent years - but the ultra high end is not the market. Mid-range sales have been booming and in fact we saw a double-digit increase in median sale prices in the latest quarter compared to a year ago (a fact I reported at T.R.A.F.F.I.C. 2012 and will be detailing in our latest monthly newsletter that will be out later this week). Ms. Kirby accurately reported both of those points in her article but the headline writer missed it.
I didn't see any factual errors or misquotes of anything I said in Ms. Kirby's piece, a pleasant surprise that is unfortunately a rarity in most mainstream reporting on domains. It is not an easy subject to understand and a lot of reporters, under deadline pressure, won't make the effort required to get a handle on it before they write an article. I appreciate that she took the time to get it right.
Image from Bigstock

Aside from the headline, the only other thing from the article that really jumped out at me was the wildly comical quote from a Forrester Research analyst named Jeff Ernst. Commenting on the impending arrival of hundreds of new TLDs Ernst was quoted as saying, "initially only large companies will take advantage of the new top-level domains, but eventually even midsize companies will all have their own domain endings, leaving .com to smaller and less Internet-savvy firms."

All I can say to that is Really?! How could any company be less internet savvy than to abandon .com - the extension that is synonymous with the Internet? That status was reached after hundreds of thousands of businesses spent billions of dollars in advertising making it so - a scenario that no new TLD will ever duplicate. If this silly comment is indicative of the "research" work done at Forrester, something is seriously wrong there.
(Posted October 29, 2012) To refer others to the post above only you can use this URL:
http://www.dnjournal.com/archive/lowdown/2012/dailyposts/20121029.htm
Sweet Dreams Are Made of This: BREE & David Castello Meet Eurhythmics Star Dave Stewart

In my last post I told you about the rapidly rising rock trio fronted by BREE (and featuring Domain Hall of Famer David Castello in his dual role of drummer and BREE's manager) being nominated for Nashville Musician of the Year in the prestigious 2012 Rawards Indie Arts Award competition. I wasn't expecting to re-visit the topic so soon, but before moving on

wanted to pass along yet another example of how exciting things are getting for the Castello Citiies Internet Network exec and his talented leading lady - guitarist/ singer/songwriter BREE.

Last night Eurhythmics co-founder Dave Stewart hit Nashville for a tour stop with his current band (as music fans know, Dave and partner Annie Lennox had a massive string of major hits). David and BREE caught the show at The Mercy Lounge where Stewart played on the same stage BREE will play on in the RAWards semi-finals on the night of November 15, 2012.

David said it was a fantastic show and a night that got even more interesting after the curtain fell. Stewart met BREE and David after the show and wound up spending over an

BREE with Eurythmics Co-Founder Dave Stewart
last night (Thursday, Oct. 25) in Nashviile.

hour chatting with BREE about her music and various artistic endeavors. Stewart, who has worked with a long line of music superstars including Bruce Springsteen, Tom Petty and Mick Jagger, seemed to be as captivated by the talented newcomer as those who have seen her play live have been.

Though his new musical adventures have kept David from spending as much time as he used to with his many domain industry friends, he still stays in touch and he and BREE are obviously in very good company these days as they continue a journey that seems destined to end in stardom.

BREE, drummer David Castello and bassist Maryk McNeely tearing it up in Nashville.

(Posted Oct. 26, 2012) To refer others to the post above only you can use this URL:
http://www.dnjournal.com/archive/lowdown/2012/dailyposts/20121026.htm
You've Gotta BREElieve! Hot New Artist Managed by David Castello is Breaking Out
I've been keeping you up to date on Domain Hall of Fame member David Castello's return to the music business ever since the Castello Cities Internet Network (CCIN) co-founder moved to Nashville (CCIN owns Nashville.com) in the summer of 2011 to manage the career of upcoming singer/guitarist/songwriter BREE and play drums in her raucous rock trio (all while David remains active in CCIN affairs).

BREE with Maryk McNeely (left) and David Castello (right)
on the set for their "Whisky" video filme at The Standard
in Nashville last spring (You can see the video here).

BREE and her band have made tremendous progress since then (their video for "Whisky" has passed 386,000 page views on YouTube) and they appear to be on the verge of a major breakout. The latest milestone was reached Tuesday when BREE was nominated for the 2012 RAW Nashville Musician of the Year Award.

The national RAWards Indie Arts program is a massive undertaking that recognizes outstanding new artists in multiple disciplines across the U.S. Three to five semi-final nominees are selected in each craft (music, film, fashion and many others) with the nominees then taking part in a November 15th showcase in their city (54 shows across the nation on the same night!). The Nashville showcase will be held from 7pm-midnight

November 15th at the Mercy Lounge at One Cannery Row. The local community will cast a live vote as will three local judges, invited by RAW. Those combined votes will determine who will represent their town in the RAWards Finals that will be held in Hollywood, California in January.
If you visit BREE's artist page on the RAW website you can listen to two songs she just recorded with legendary producer Bob Ezrin's engineer Justin Cortelyou: "I'm The Boss" and "Nothin' But Trouble." You can also view BREE's new Electronic Press Kit (EPK), directed by Marcel and filmed at the Mercy Lounge, The Tracking Room and other well known locations in downtown Nashville - or if you just can't wait to see it - click play on the screen below.
(Posted October 24, 2012) To refer others to the post above only you can use this URL:
http://www.dnjournal.com/archive/lowdown/2012/dailyposts/20121024.htm
Jacob Fedosky's Fast Track From Teenage Domainer to Corporate Director of Domain Development

One thing I've always loved about the domain business is that it offers great opportunities to everyone. You hear about age discrimination in mainstream business but I've never seen it here. What I have seen is people ranging from 17 to well over 70 that have done well in in this industry. Take 19-year-old Jacob Fedosky for instance. Jacob started buying and developing domains in high school and continued to do so after heading to Texas Tech for college.

Some of you may remember Jacob as the original owner of the Teen Domainer blog that he later sold to Brian Diener. Jacob started another blog at DotJake.com before moving to his current home at JacobFedosky.com. Now, he has taken yet another step in his domain career, having accepted a corporate position as Director of Domain Development for Houston, Texas based web development company Vessio, LLC.

Since being founded in 2006 Vessio has deployed hundreds of websites and dynamic components for a global list of companies and organizations of all sizes. Just a couple of weeks ago the company released a new domain development service aimed at domain owners who want to move beyond parking.

Jacob Fedosky
Director of Domain Development
Vessio.com

Fedosky said that after researching the current solutions being provided in the market, Vessio has identified the positive and negative aspects and tailored a unique service that is accessible and manageable for domain name owners to execute. "Other providers tend to have a single template and each minisite they churn out has a different color scheme and header but the general feel of the site is the same," Fedosky said. "We're completely customizing each site. Other providers also fill their minisites with sub-par content. Vessio has partnered with a high quality content provider so our developed websites give visitors the information they came to find. With customized designs and quality content, we're turning domain names into authoritative websites."

Image from Bigstock

Fedosky added, "As parking revenues continue to fall, domain portfolio owners need a viable solution to earn money from their domain names. Other providers have tried to solve this problem but they have done so in a way that isn't scalable. Vessio isn't developing "minisites" – we're developing actual websites that provide real value to both domain owners and consumers that access the websites. While we still utilize AdSense for our clients, we don't depend on it. We also integrate a number of affiliate links and ads. By incorporating several revenue streams into each site, Vessio keeps developed domain names from appearing spammy and in turn produces results."

Vessio can add "for sale" banners on websites they develop and Fedosky promised competitive pricing and special incentives on bulk orders, so if this is a direction you are interested in exploring Vessio may be worth a close look.

(Posted October 22, 2012) To refer others to the post above only you can use this URL:
http://www.dnjournal.com/archive/lowdown/2012/dailyposts/20121022.htm
Rook Media and The Water School Bring Crowd Sourced Philanthropy to Domain Parking
Our regular readers know that I have been a long time supporter of The Water School, a life saving charitable organization that, largely due to the tireless efforts of domain veterans Gregg McNair and Richard Lau, has come to be regarded by many as the unofficial

industry charity. Both serve on The Water School board and Richard devotes additional time to the organization as its Executive Director.

Individual and corporate donors in our space have raised funds totaling well into six figures for the organization that provides an inexpensive, easy and effective clean water solution that helps eradicate disease in developing nations. The Water School's simple 3-step process to purify water can guarantee an individual clean water for life at a cost of just $10. The fast growing program has already helped over 400,000 people across Kenya, Uganda and South Sudan.
Rook Media Co-Founder Simon Pupo with two children he
visited with while touring Water School operations in Kenya.
(Photo by Richard Lau)

Today I'm happy to be able to tell you about a new program called Clicks for Clean Water that has been launched by Rook Media in association with The Water School. The program, for the first time, makes it possible for domain owners to donate a designated portion of their PPC earnings directly to the Water School.

As many of you know, Rook Media is an up and coming new domain monetization company based in Zurich, Switzerland that was founded in 2010 by four well-known industry veterans; Daniel Law, Joe Higgins, Martin Andersson and Simon Pupo. They've thrown their company's weight behind The Water School by making it possible for anyone who parks at Rook Media to set up an automatic donation to The Water School from their monthly earnings.
Martin Andersson, who serves as Rook Media's Chief Strategy Officer, said, "It literally takes only a handful of clicks to guarantee someone access to clean water for life. The $10 that we'd spend on a drink could change someone's life dramatically. Domainers, our partners, are already some of the most generous people that we know, and we're proud to work together with them and Water School to make clean water a reality for more and more families."

Water School Executive Director and veteran domain investor Richard Lau added "Rook Media is a valued partner of The Water School and, being in the domain industry first-hand, I would recommend their services to anyone. Also, being involved with The Water School, I want to say how excited we are to welcome the crowd-sourced philanthropy that Rook is integrating directly into their parking platform."

Rook Media CSO Martin Andersson
For more details on the Clicks for Clean Water program you can visit this page: http://rookmedia.net/cleanwater/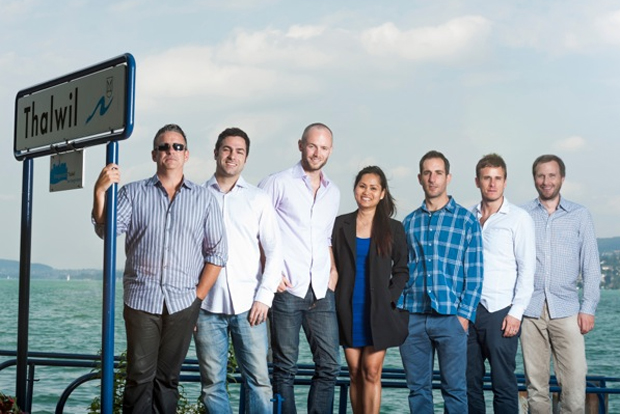 Just some of the Rook Media team members who have gotten behind the company's
Clicks for Clean Water campaign to raise funds for The Water School: (L to R) Joe Higgins,
Ash Rahimi, Martin Andersson, Dona Dorn, Simon Pupo, Ed Russell and Matthias Müler.
(Posted October 19, 2012) To refer others to the post above only you can use this URL:
http://www.dnjournal.com/archive/lowdown/2012/dailyposts/20121019.htm
DOMAINfest Global Gets a New Name and Joins T.R.A.F.F.I.C. Las Vegas in Opening Registration for 2013 Shows That Will Run on a Revamped Playing Field

In recent years Oversee.net has been steadily broadening the focus of their DOMAINfest Global conference to include a wide variety of website development, marketing, monetization and SEO topics - a makeover that has transformed it from a pure domain conference into a one stop Internet business summit. As I've said before, I think that is a smart move that positions the already popular show for even greater growth in the years ahead, especially with its home base being Los Angeles, a city that is a hotbed for Internet business and start up activity.

The show fully embraced its expanded mission today by announcing the event has been renamed Webfest Global with the upcoming February 2013 event, the 7th in the series, the first to carry the new banner. In tandem with the name change, Oversee has opened show registration (with a $1095 early bird rate that is good through December 31) and posted the preliminary agenda

for the event hat will run February 5-7 at the Fairmount Miramar Hotel in Santa Monica, California - a lovely oceanfront venue that hosted the last three DOMAINfest Global conferences.

Domains will still have a prominent place at Webfest Global with the first day of the conference devoted to domain related topics, but the re-positioning of the show leaves the T.R.A.F.F.I.C. conference, the originator of large scale domain conferences back in 2004, as the last globally focused pure domain show still standing. That's a far cry from just there years ago when we covered six different domain conferences on both sides of the Atlantic in one six-month span. An inevitable shakeout followed with the survivors now commanding clearly staked out ground that should serve them well for many years to come.

T.R.A.F.F.I.C., who just closed their lone 2012 show last week on Florida's Fort Lauderdale Beach, will run twice in 2013. They will be returning to Las Vegas for the first time in three years for a show that will run May 29-June 1 at the Bellagio Hotel. Registration for that highly anticipated event opened Wednesday with a $995 early bird price in place on the first 50 tickets.

T.R.A.F.F.I.C. will also hold their traditional South Florida show in October 2013 when it will return to the Ritz Carlton on Fort Lauderdale Beach.

Domain investors and developers employ a wide variety of money making strategies. Some prefer more passive approaches like PPC, affiliate marketing and sales, while others are all about developing their domains into full blown businesses. With the way the conference scene has shaken out it is now much easier to identify a conference that best suits your individual needs.

Those who try to cover all of the bases will still turn up at both Webfest Global and T.R.A.F.F.I.C., as well as at some of the many excellent regional conferences around the world. There is only so much money to go around though, so those with a specific strategy and/or a limited budget can zero in on the one that is most closely aligned with their own objectives.

One thing has not changed though. That is the incomparable value you get from meeting others in the space face to face. I've been watching conference events unfold for close to a decade now and I firmly believe there

Scene from the speed networking session at
T.R.A.F.F.I.C. 2012 last week in Florida.

is no one thing you can do to more quickly accelerate your business than get out there and make the kind of personal connections that can only be made by getting to know your peers by speaking with them eye to eye. There is no better place to do that than in the unique networking environment that today's top conferences provide.

(Posted October 18, 2012) To refer others to the post above only you can use this URL:
http://www.dnjournal.com/archive/lowdown/2012/dailyposts/20121018.htm
New Protrada Partnership Promotes Domain Investing + Larry Fischer & Bill McClure Brew Up New Business

While I was away covering the T.R.A.F.F.I.C. 2012 conference at Fort Lauderdale Beach, Florida I didn't have a chance to pass along several news items that crossed our desk during the show's run. I'll round those up for you in my two or three Lowdown posts, beginning with this one.

For starters, Protrada.com, who was represented at T.R.A.F.F.I.C. by Founder & CEO Troy Rushton and Business Development Manager Louis Munck, announced a new partnership with internet marketing thought leader, coach and teacher, Alex Mandossian. The partnership is part of Protrada's ongoing effort to get word about the value of domain names out to the mainstream business world.

Mandossian is a recognized internet marketing expert in hosting online training and coaching sessions. He speaks at seminar stages around the world, reaching thousands of people monthly. Rushton noted, "Partnering with

Protrada.com's Troy Rushton and Louise Munck
at T.R.A.F.F.I.C. 2012 last week in Florida.

Alex enables us to reach new global audiences and advocate domain trading to people who are looking for new investment opportunities beyond traditional asset classes."

Screenshot from an Alex Mandossian
video on his MarketingOnline.com blog.

Mandossian said, "Internet marketing can be hard work and domain trading is new and very exciting to people outside the domaining industry. The feedback I've received from my coaching team and our students is overwhelmingly positive, as our current audience of internet marketers are hungry to get involved with "low risk, high ROI" marketing opportunities. Domain trading is the perfect fit and an ideal new way to expand sales and profits for internet marketers."

In addition to live seminars, Mandossian and Rushton are organizing a series of virtual seminars and training events for Protrada's current members as well as new audiences.

One of the people we missed most at T.R.A.F.F.I.C. was industry veteran and leading investor Larry Fischer who had to cancel at the last minute after back pain prevented him from flying (been there, done that and it is no fun). On the same day we left for Fort Lauderdale Beach, Larry and Bill McClure (who was at T.R.A.F.F.I.C. with his lovely wife Jammie) announced the launch of a new joint venture at HerbalTea.com.

The site was developed to sell and serve the most widely consumed beverage in the world to at home and office consumers. Fischer and McClure believe that due to an increasing consumption of tea in the United States, the "tea time" was right for a premier online store. According to the Tea Association, in 2011, Americans consumed well over 65 billion servings or 3 billion gallons of tea.

Larry owns the domain name while Bill owns a national online

Larry Fischer (left) and Bill McClure
HerbalTea.com partners

coffee distribution company based at www.Coffee.org. McClure's team sourced the more than 100 varieties of tea, grown around the world, that are featured at HerbalTea.com. With these two putting their heads together, this business has a great chance to score big in the beverage market.

(Posted October 16, 2012) To refer others to the post above only you can use this URL:
http://www.dnjournal.com/archive/lowdown/2012/dailyposts/20121016.htm
Closing Day Photos & Highlights from the 2012 T.R.A.F.F.I.C. Conference on Fort Lauderdale Beach
The 2012 T.R.A.F.F.I.C. conference closed Wednesday morning (October 10) with a Farewell Breakfast at the Ritz Carlton Hotel on Florida's Fort Lauderdale Beach. In my last post from

the Ritz I left off with the names of those who won the 2012 T.R.A.F.F.I.C Awards that were handed out Tuesday morning (I'll have more on the Awards including photos of all of the winners in a comprehensive show review article that will be out by the end of next week).

Today let's resume with what happened over the final 24 hours of this year's big show. During the Awards Brunch I presented a report on current sales trends in the aftermarket based on data we use to compile our weekly domain sales reports. I'll be detailing those numbers for you in our October newsletter that will be out later this month.

The bottom line from the sneak peak I gave the T.R.A.F.F.I.C. audience is that the total $ value of reported domain sales rose slightly from the previous quarter while the number of transactions and the median sale price both rose dramatically. While we are seeing very few six-figure and up sales, tons of mid-range (four and five figure) sales are being made.

DN Journal's Ron Jackson updating the
T.R.A.F.F.I.C. audience on current
aftermarket sales trends Tuesday morning.
Also during the brunch, Frank Schilling (who won his third Domainer of the Year Award that morning) gave a well received presentation detailing the revolutionary new iPhone based domain sales platform that his company, DomainNameSales.com has just rolled out. You will be happy to know that you do not have to park your domains with Frank's InternetTraffic.com (a program that has been limited to higher quality portfolios) to use the DNS sales platform. Anyone can download the app from Apple's App Store and start using it now (there is no version for Android phones and none is planned at this time). You can see a video with more details on how it works here.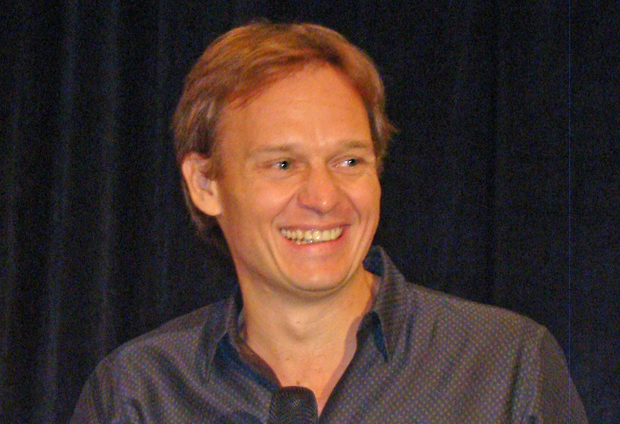 Frank Schilling of DomainNameSales.com telling the T.R.A.F.F.I.C. audience about
the company's new turbo-charged mobile domain name sales platform.
The business day continued with a noon session on Monetizing Your Domains in Different Ways that featured four experts on topics including PPC, lead generation and development.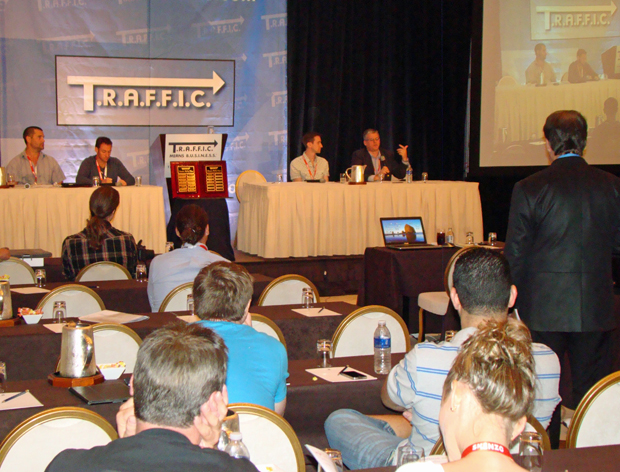 The Monetizing Your Domains in Different Ways panel included (left to right
on the dais in the photo above): Chad Folkening (DomainPower.com),
Braden Pollock (LegalBrandMarketing.com), Morgan Linton
(MorganLinton.com) and Michael Gilmour (ParkLogic.com).
In between sessions, attendees visited the various company booths set up in the exhibition hall located immediately outside the conference rooms. That gave guests a opportunity to meet account representatives face to face, see demos of the company's latest products and get any questions they had about a service answered on the spot.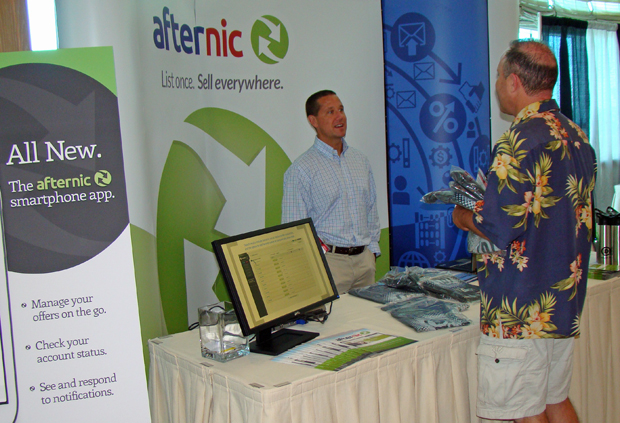 Afternic's Neil Kavanaugh answers Brian Wick's questions at the company's exhibit hall booth.
Back inside the conference room, another session got underway at 1:30 Tuesday afternoon on How to Turn a Category Leading Domain Name Into a Category Leading Business. This session featured experts from BankRate.com and BankAds.com who run successful financial websites. BankRate.com's stable of sites includes CreditCards.com and several others built on category defining domain names. They also offer popular affiliate programs.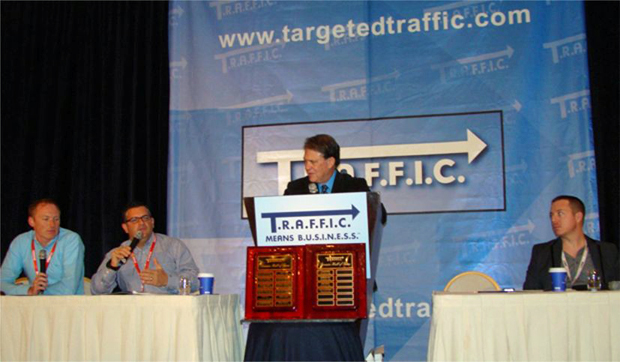 (Left to right) BankRate.com VPs Hanno Damm and Michael Ricciardelli, moderator
Howard Neu and Sean Sullivan of BankAds.com, at their Tuesday afternoon session.
The final business session of T.R.A.F.F.I.C. 2012 was the always popular Meeting of the Chiefs (Session 2, following an initial session on the opening day of the conference with a slightly different line up). This session, featuring eight well-known industry leaders drew a large crowd, continuing a trend we saw throughout the week - sessions that were some of the most well attended we've seen in years.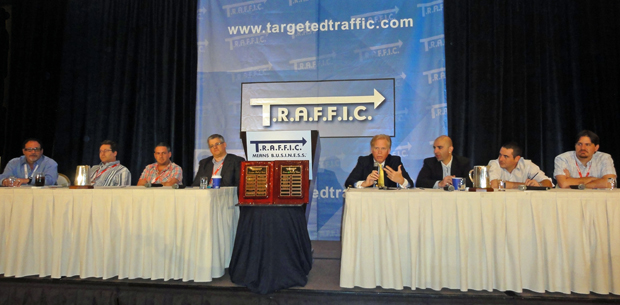 Tuesday afternoon's Meeting of the Chiefs featured (left to right): Michael Berkens (TheDomains.com), Adam Dicker (DNForum.com), John Ferber (DomainHoldings.com),
Michael Gilmour (ParkLogic.com), Dr. Chris Hartnett, Ammar Kubba (Thought
Convergence), Jeff Gabriel (DomainAdvisors.com) and Daniel Law (RookMedia.net)
While that was the final business session, a lot of networking (the most valuable aspect of any domain conference) was still to be done. The closing dessert and coffee party Tuesday night was a perfect spot for that.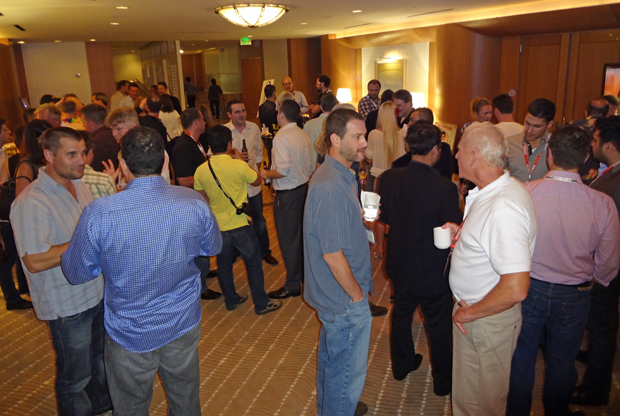 T.R.A.F.F.I.C. 2012 attendees got in another round of networking, along with some
great coffee, desserts, beer and wine at the show's Closing Party Tuesday night (Oct. 9).
As soon as the official Closing Party wound down another one got started in a 16th floor suite at the Ritz. That was the DomainAdvisors.com late night party hosted by PPX International Chairman Gregg McNair. These events, held on most conference nights, are always fun and you never know what you will see next.

The photo at right is a prime example. Who would have expected a disco party to break out led by veteran domain industry attorneys Brett Lewis (at far left) and Ari Goldberger (in the black T shirt at right), showing off their best John Travolta Saturday Night Fever era inspired moves.

The Domainadvisors event ran until about 4am Wednesday morning but Diana and I threw in the towel around 1:30.

Brett Lewis and Ari Goldberger really do
have Moves Like Jagger!
I wanted to catch at least a little rest before the final event of T.R.A.F.F.I.C. 2012 - Wednesday morning's Farewell Breakfast. This is more than a breakfast, it is a chance to spend a final couple of hours with people who have become close friends, reflect on the great week that was coming to an end and make plans to meet again.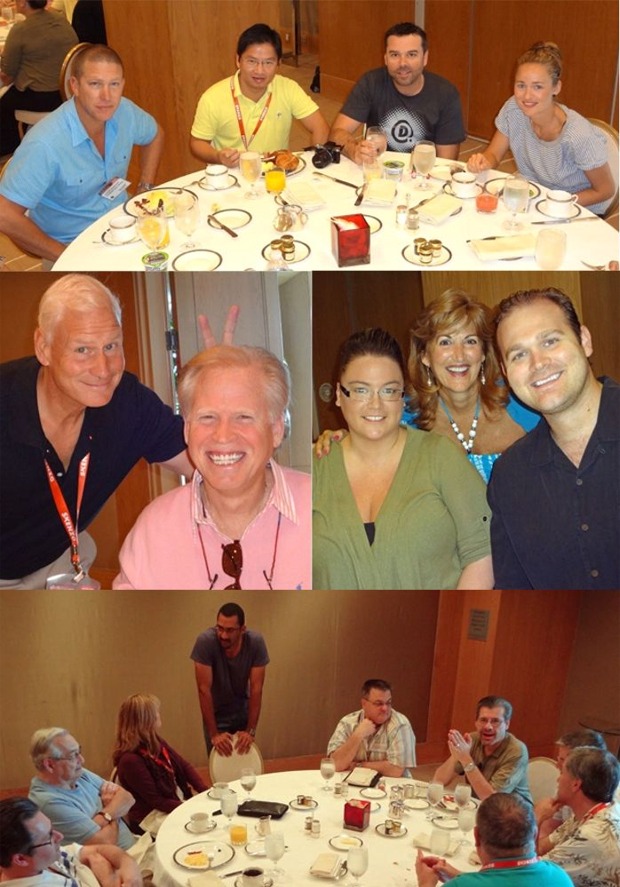 The composite photo above from T.R.A.F.F.I.C. 2012's Farewell Breakfast Wednesday morning (Oct. 10) features - In the top row, left to right - DomainHoldings CEO Jason Boshoff, Norway's Truc Tran, Protrada.com Founder Troy Rushton and Protrada's brilliant Business Development Manager Louise Munck. In the midde row at left: Two former DNJournal.com Cover Story subjects - Rob Grant and Dr. Chris Hartnett. In the middle row at right: three of the people who make T.R.A.F.F.I.C. happen - Kimberly Howard, Barbara Neu and Ray Dillman Neu. In the bottom row: T.R.A.F.F.I.C. Co-Founder - Domain King Rick Schwartz (facing the camera at far right), holding court at a corner table.
For myself and most I talked too, this was an exceptionally productive T.R.A.F.F.I.C. conference, one that certainly whetted the appetite for the late May 2013 show that will have the conference returning to Las Vegas for a highly anticipated event at the Bellagio Hotel.
T.R.A.F.F.I.C. Co-Founders Rick Schwartz and Howard Neu, their wives Alina and Barbara, Ray Dillman Neu, Kimberly Howard and Danny Pryor are all to be commended for the enormous amount of work they put into making T.R.A.F.F.I.C. 2012 such an enjoyable and rewarding experience for their guests. The current challenging economy makes it harder than ever to stage a profitable show but their approach has always been to do it first class or don't do it all, regardless of the cost. That's has allowed T.R.A.F.F.I.C. to maintain the support needed to run 23 consecutive shows with planning for #24 already underway.
(Posted Oct. 11, 2012) To refer others to the post above only you can use this URL:
http://www.dnjournal.com/archive/lowdown/2012/dailyposts/20121011.htm
Photos and Highlights from the First Full Day of Business at T.R.A.F.F.I.C. 2012 Monday October 8
After opening Sunday evening with a series of social events, the T.R.A.F.F.I.C. 2012 conference being held at the Ritz Carlton on Florida's Fort Lauderdale Beach got down to business Monday (Oct. 9) with a full slate of business sessions during the day and the show's official party at Pier 66 Monday night. The first panel discussion featured eight company executives who offered their opinions on the current Health of the Industry and the prospects for the future.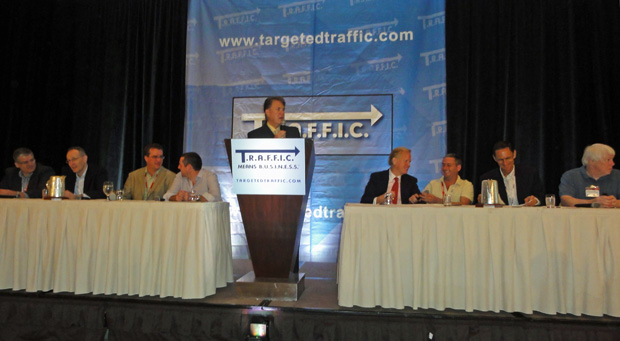 Monday morning's Health of the Industry panel featured (left to right): Michael Gilmour
(ParkLogic.com), Ted Olson (Afternic), Brad Lemire (Sedo), Jeff Gabriel (DomainAdvisors),
moderator Howard Neu, investor Chris Hartnett, John Ferber (Domain Holdings), Ron
Jackson (DNJournal.com) and Steve Cheatham (JuiceCow.com).
The next session focused on the new gTLDs that ICANN expects to begin approving in the next year or so. As you would expect there were varying degrees of enthusiam for the new gTLD program and how they might impact the current supremacy of .coms. Panelists included .com proponent Michael Mann (DomainMarket.com) and three executives with financial interests in the new gTLD space, Monte Cahn (RightOfTheDot.com), Michael Berkens (RightOfTheDot.com) and Daniel Schindler (Donuts.co).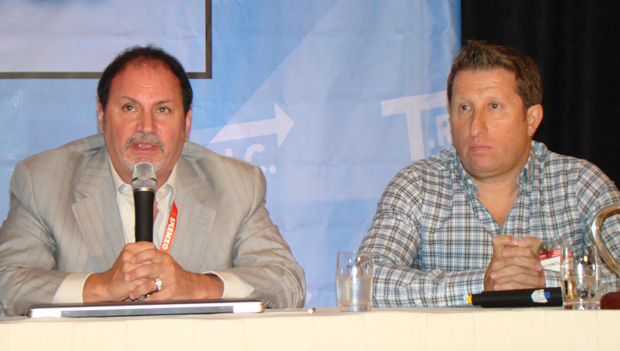 Michael Berkens (RightOfTheDot.com), at left, and Daniel Schindler (Donuts.co)
were among the four panelists who offered their vews on new gTLDs Monday morning.
Next, in what proved to be one of the most popular T.R.A.F.F.I.C. sessions in years, DNForum.com owner Adam Dicker, in a solo interview conducted by DomainSherpa.com's Michael Cyger, provided invaluable advice on how to properly select domains and build profitable niche and authority websites using WordPress. Adam gave out detailed tips that attendees could take home and immediately put to revenue producing work.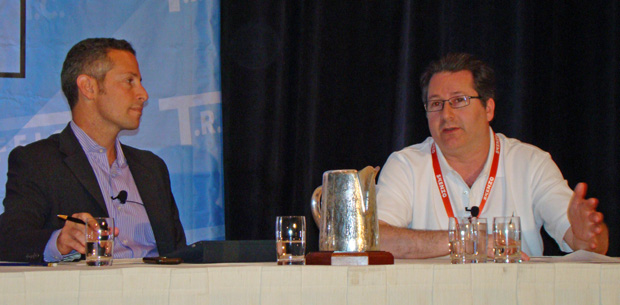 Adam Dicker (right) giving his advice in a well received interview
conducted by Michael Cyger (left) at T.R.A.F.F.I.C. Monday.
The business day continued with Declan Dunn's highly anticipated Keynote Address. Dunn, the author of Net Profits: How to Win the Internet Game, is one of the world's leading experts on afiliate marketing and he opened a lot of eyes to new ways domainers can increase traffic and make more money.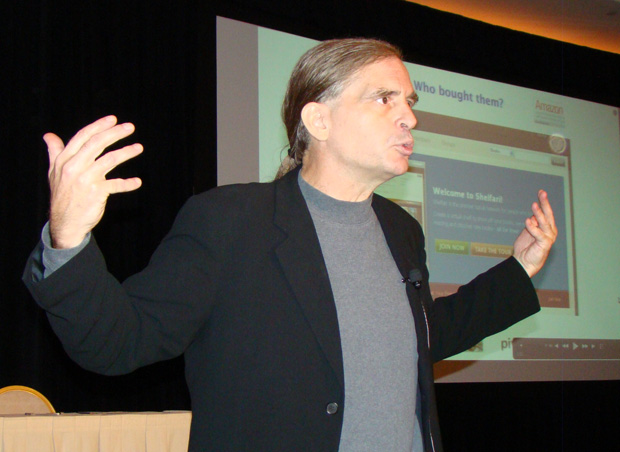 Animated keynote speaker Declan Dunn gave domain owners a new perspective
on the best current ways to increase site traffic and monetize visitors.
At 3pm it was time for T.R.A.F.F.I.C.'s live domain auction. In recent years, results from live auctions have been underwhelming at all conferences. Unfortunately, sales at this one (approximately $100,000) did not reach the level T.R.A.F.F.I.C. co-founder Rick Schwartz had hoped for after revamping the name selection process in an effort to reverse the downward trend in live auction sales.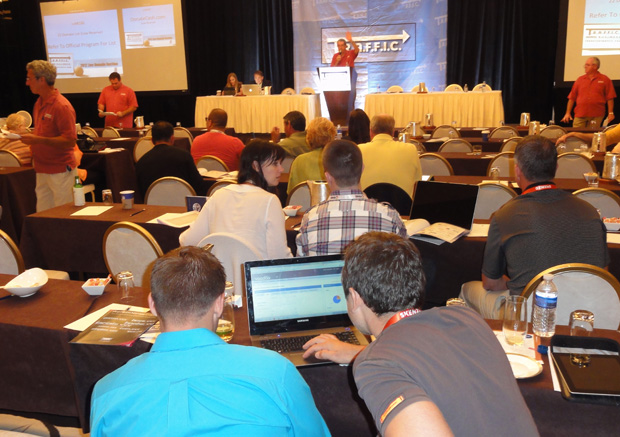 A scene from T.R.A.F.F.I.C.'s live domain auction Monday afternoon (Oct. 8).
The first day of business closed with T.R.A.F.F.I.C.'s always popular Speed Networking session. The oportunity to meet one on one with dozens of other industry professionals at a single event has paid huge dividends to many participants over the years, making it one of the show's most consistently popular sessions.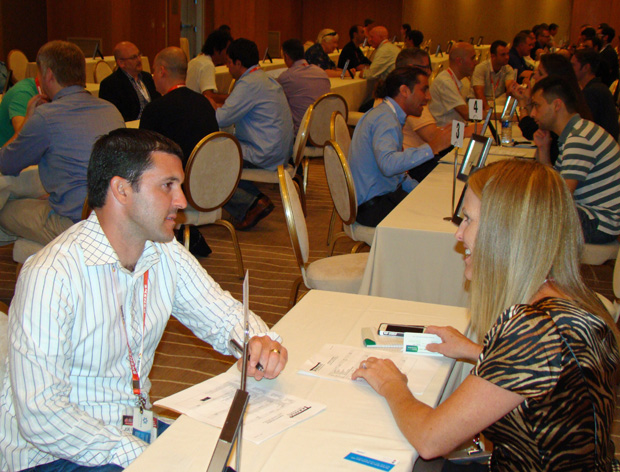 A scene from T.R.A.F.F.I.C. 2012's Speed Networking session Monday.
With the day's work done, it was time to party and the official T.R.A.F.F.I.C. Party is always top notch. This year's party in the revolving rooftop restaurant at Fort Lauderdale Beach's Pier 66, sponsored by Michael Mann's DomainMarket.com, was no exception. DomainMarket executives Chad Bennett and Sonia Martinez Doubet joined Michael and his fiancée, Tiffany, in welcoming guests to the big event.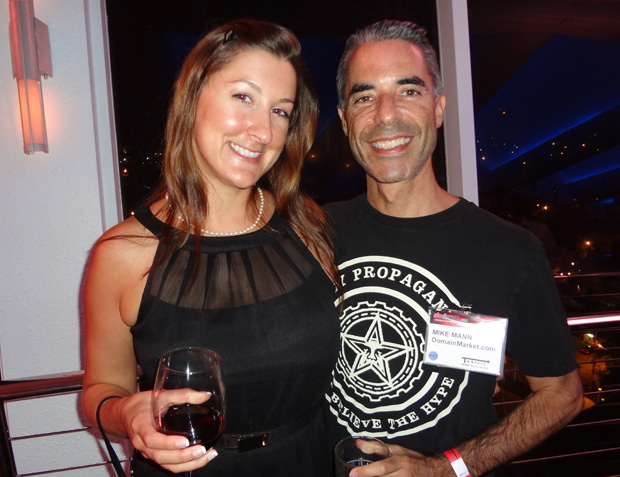 Michael Mann and his fiancée, Tiffany Reynolds, welcomed guests
to the official T.R.A.F.F.I.C. Party at Pier 66 Monday night.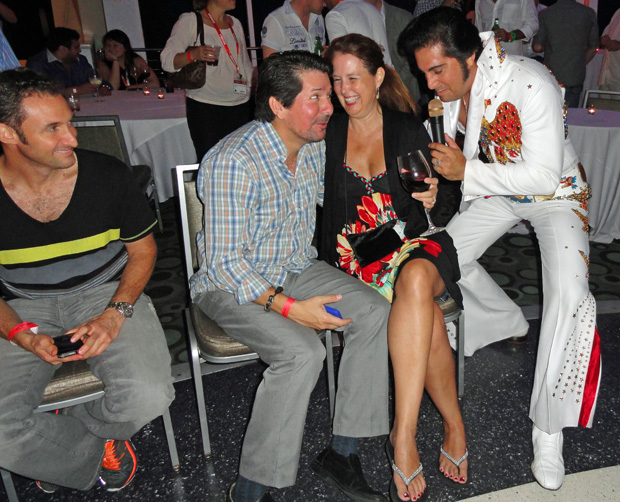 Elvis was in the building! In a major party highlight, a world class Elvis Presley
impersonator appeared just before midnght and wowed the crowd. Bob & Trudie
Olea (center) were obviously thrilled to get an up close and personal view of their idol.
Elvis inspired others to swivel their hips including a domain industry duo that looked good enough to compete on Dancing With the Stars. Two of our favorite CEOs (and genuinely nice people) NameMedia's Kelly Conlin and Oversee.net's Debra Domeyer, joined forces to bring the house down. I just wonder if it is really fair for two people to be able to do so many things well. If you are going to be exceptionally smart and an inspirational leader that is fine, but do you have to be a great dancer too? That's just rubbing it in!

The Party was a great way to cap a highly productive and entertaining opening day at T.R.A.F.F.I.C. As I write this Tuesday sessions are still underway. I'll have photos and highlights of those for you in tomorrow's post. I do want to pass along results from the T.R.A.F.F.I.C. Awards brunch that was held this morning (with more photos of that to come Tuesday). The winners were:

NameMedia CEO Kelly Conlin and Oversee.net CEO Debra
Domeyer delighted the crowd by hitting the dance floor at
the official T.R.A.F.F.I.C. Party Monday night. (Photo courtesy
of Barbara Neu, as is the Elvis photo above and the Frank
Schilling shot below)

Best New Monetizing Solution - Domain Power.com

Best Overall Domain Solution - Sedo

Best Domain Blog: DomainSherpa.com

We Get It Award: Sales Force

Broker of the Year: Dave Evanson (Sedo)

Developer of the Year: Alan Dunn (DomainHoldings)

Sponsor of the Year: Escrow.com

1st Annual Bandit Berkens Goodwill Ambassador Award - Judi and Michael Berkens
(Judi gave an emotional acceptance speech that had everyone tearing up)

Domain Hall of Fame (TWO new members are added each year): Michael Mann and Chad Folkening

Domainer of the Year: Frank Schilling (his third win in this category)

Frank Schilling (center) receiving his third Domainer of the Year Award from
T.R.A.F.F.I.C. Co-Founders Rick Schwartz and Howard Neu Tuesday morning (Oct. 9)

In addition to receiving his thrd Domainer of the Year Award Tuesday morning, Frank Schilling unveiled a truly remarkable new mobile sales platform (now available for iPhone only through Apple's App Store). You do not have to park your domains with Schilling's InternetTraffic.com to use the company's revolutonary new DomainNameSales.com platform. It is open to everyone. You can see a video with more details here.
(Posted October 9, 2012) To refer others to the post above only you can use this URL:
http://www.dnjournal.com/archive/lowdown/2012/dailyposts/20121009.htm
Opening Day Photos & Highlights from T.R.A.F.F.I.C. 2012 Sunday in Fort Lauderdale Beach, Florida
After two days of pre-show networking, the 2012 T.R.A.F.F.I.C. conference officially got underway Sunday (Oct. 7) at the Ritz Carlton Hotel on Florida's Fort Lauderdale Beach. The registration desk opened at 12 noon and by mid-afternoon cabana row and the pool deck was taken over by domain investors.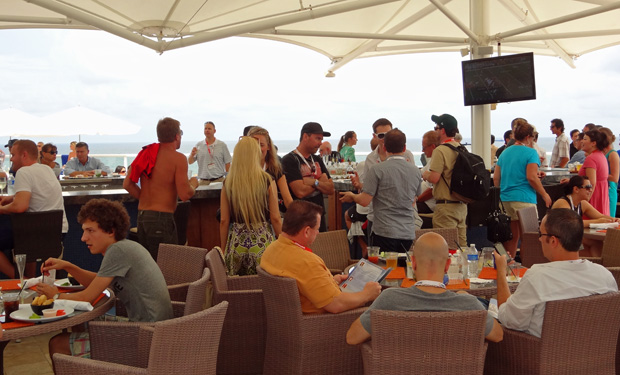 Many of the more than 300 domain investors from around the world in Fort Lauderdale for
T.R.A.F.F.I.C. 2012 converged on the pool deck at the Ritz Carlton Sunday afternoon (Oct. 7).
At 6pm the show's first official event, the welcoming cocktail party got underway in the Ritz's 4th floor concourse overlooking the Atlantic Ocean.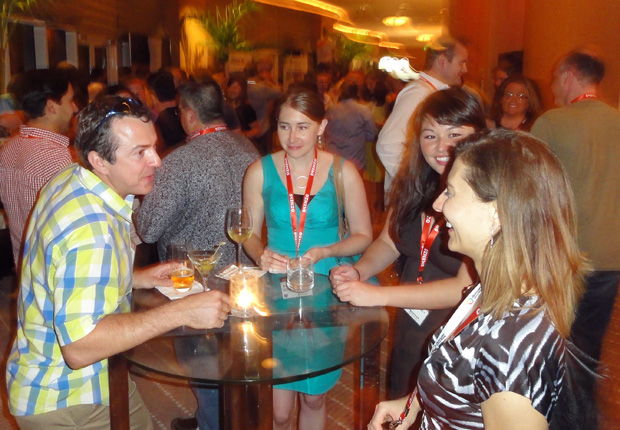 T.R.A.F.F.I.C. 2012 attendees enjoying the opening night cocktail party Sunday evening.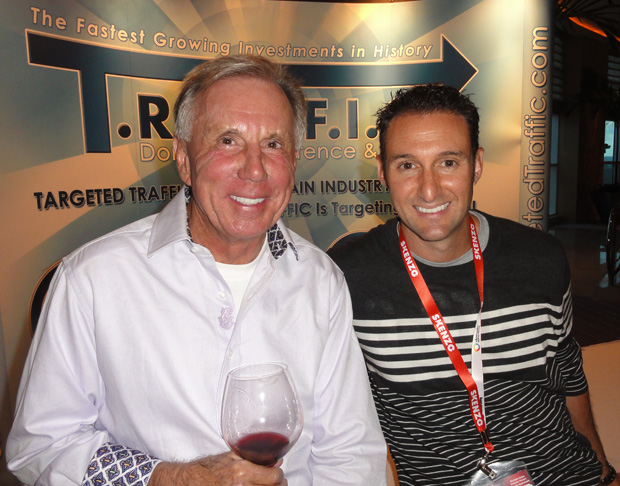 Veteran domain investor Roy Messer (left) and investor/developer
Braden Pollock at the opening night party.
The T.R.A.F.F.I.C. party ran until 8pm but the evening was just getting started as several invitational corporate events at nearby beachfront locations got underway soon after the T.R.A.F.F.I.C. party wound down. DomainSponsor had a private dinner for some of their clients, NameJet welcomed guests to a party at the Casablanca Cafe and Afternic had a well attended soiree at the Exit 66 night club.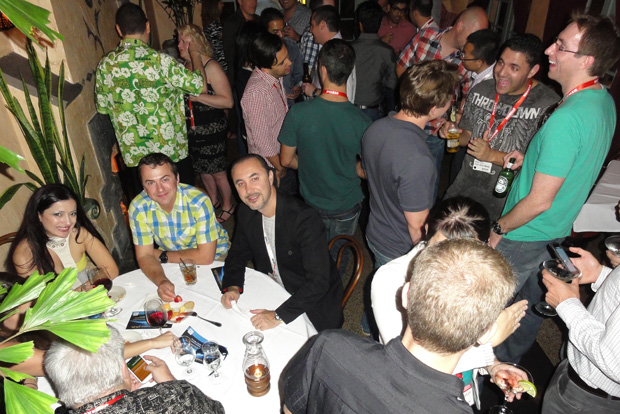 A scene from NameJet's Sunday night party at the Casablanca Cafe.
Afternic's party helped the company publicize a series of new developments at the popular aftermarket service, including a partnership with Domain.com, a completely revamped Afternic website and hints of other major initiatives to be announced before the end of the year.

The Domain.com deal was part of an exclusive partnership with Endurance International Group, a top ICANN-accredited registrar and provider of web hosting and online services to small and medium-sized business, that was officially announced today. Endurance will join the Afternic reseller network, incorporating Afternic's massive inventory of fast transfer-enabled domains on several Endurance brands including Domain.com.

Afternic COO Jason Miner, who was on hand to welcome guests Sunday night, said "Endurance International Group is one of the top three largest registrars in the world and we're thrilled to have them join Afternic. Our mission is to connect sellers of premium domains with buyers anywhere in the world."

Frank Schilling of DomainNameSales (center) and
T.R.A.F.F.I.C. Co-Founder Rick Schwartz (right) were
welcomed by NameMedia VP Bob Mountain when they arrived
at Afternic's party at the Exit 66 night club Sunday night.

A scene from the Afternic party at the Exit 66 night club
Sunday night on Fort Launderdale Beach.
The top executives from Afternic and parent company, NameMedia, including one of the best CEOs in any business, Kelly Conlin, were on hand to chat with their guests. Kelly told me that the company's recent upgrades are also being accompanied by streamlined branding as Afternic across their sales and monetization offerings (the AfternicDLS name will be retired).

Once the Afternic party wound down well past midnight, the hardiest night owls made their way to PPX International Charman Gregg McNair's suite at the Ritz where things were still going strong when we left at 1:30 Monday morning. Gregg's traditional late night gatherings insure that sleep is the one thing that is in short supply at T.R.A.F.F.I.C.

NameMedia CEO with T.R.A.F.F.I.C. Co-Founder Howard
Neu at the Afternic party Sunday night at Exit 66.
Rick Schwartz (right) and Howard Neu welcoming
attendees to T.R.A.F.F.I.C. 2012 Monday morning (Oct. 8).

As I write this, the first full day of business is underway after show co-founders Rick Schwartz and Howard Neu officially kicked things off with their welcoming comments this morning (Oct. 8) at 9:30. Today's agenda includes four business sessions (one a 10am Meeting of the Chiefs: Health of the Industry panel discussion that I will be part of).

The day will close with T.R.A.F.F.I.C.'s live domain auction followed by a speed networking session. The official T.R.A.F.F.I.C. party, sponsored by Michael Mann's DomainMarket.com, will be held tonight. I'll have photos and highlights from all of the Monday activity for you in tomorrow's Lowdown post.
(Posted October 8, 2012) To refer others to the post above only you can use this URL:
http://www.dnjournal.com/archive/lowdown/2012/dailyposts/20121008.htm
T.R.A.F.F.I.C. Pre-Show Photos & Highlights from Fort Lauderdale Beach Saturday - Show Opens This Evening

The 2012 T.R.A.F.F.I.C. conference opens this evening (Sunday, Oct. 7) with a 6pm welcoming cocktail party at the oceanfront Ritz Carlton Hotel on Florida's Fort Lauderdale Beach. Many people arrived early for two days of pre-show cabana networking and social activities Friday and Saturday (see the Friday highlights here). The fun continued Saturday under gorgeous blue skies.

The Ritz Carlton Hotel - Fort Lauderdale Beach - Site of T.R.A.F.F.I.C. 2012

I snapped the photo of the show venue above early Saturday morning from the beach in front of the hotel. You can see it was a postcard perfect day. Saturday's activities were centered around the 7th floor pool deck and cabana row that sit atop the lower section of the hotel.

The view from cabana row at the Ritz - taken Saturday mornng
shortly before show sponsors arrived at their cabanas to welcome guests.

Later Saturday morning Diana Jackson stopped by the Above.com cabana
to chat with Above.com's Director of Domain Services Victor Pitts.

On the pool deck, Ray Neu (left) and two beautiful "T.R.A.F.F.I.C. cops" were on hand
to welcome guests with a glass of champagne or a mimosa and fresh fruit.
Skenzo's Vishal Manjalani (at right) was one of the first to arrive.

Diana and I spent the day on the beach, by the Ritz pool and visiting friends on the deck and in the cabanas with the pre-show crowd steadily growing each hour as guests arrived from around the world. By the time the show officially opens this evening, more than 300 attendees will be on hand. Most will stay until the conference ends its run with a farewell breakfast Wednesday morning (Oct. 10).

The Ritz is ideally located with dozens of shops, bars and restaurants just steps away on Fort Lauderdale Beach Boulevard. Saturday is college football day in America, so several Florida Gators fans spent a few late afternoon hours in local sports bars watching the Gators beat Louisiana State 14-6 in a battle of two teams ranked in the nation's to 10.

Some of the more adventurous guests spent the afternoon on a deep sea fishing trip - the first ever for several visitors.

DomainInvest.lu's Freddy Schiwek relaxes with a
mimosa after his long flight from Europe to South Florida.

Saturday was a perfect day for deep sea fishing and these T.R.A.F.F.I.C. attendees
took full advantage of the friendly weather to spend a great day at sea.
(Photo courtesy of Steven Kaziyev).

CityMediaGuide.com's Steven Kaziyez (right) with one
of the fishing guides on Saturday's deep sea expedition

After their trip the fishermen and women returned to the Ritz with tales of the one that got away (as well as several bags of those that didn't)! With limited storage options at the hotel, much of the catch, after being cleaned and fileted by crew members, went to T.R.A.F.F.I.C. Co-Founder Howard Neu's freezer, so locals might want an eye out for an invitation to a big fish fry after the show.

Saturday evening was open to explore Fort Lauderdale and many did just that, with small groups heading off in every direction to sample the area's waterfront restaurants and clubs. With most within easy walking distance, it was a breeze to hit multiple locations. Stops included Whiskey Blue and Lulu's among others.

A group of early T.R.A.F.F.I.C. 2012 arrivers that made at stop at Lulu's Saturday night
included Bob Olea (at center hugging hiw wife Trudie). Bob, who is a commercial airline
pilot, was profiled in our July 2012 Cover Story. (Photo courtesy of Steven Kaziyev).

The crowd at the Ritz will be growing throughout the day today when most attendees will be getting into town. The cabanas and pool deck will be open all day with the show regstration desk opening at noon. The first full day of business gets underway Monday morning at 9:30 with opening comments from conference founders Rick Schwartz and Howard Neu. I'll have photos and highlights from Sunday activities including tonight's welcoming cocktail party for you in my next post tomorrow from Fort Lauderdale Beach tomorrow.

(Posted October 7, 2012) To refer others to the post above only you can use this URL:
http://www.dnjournal.com/archive/lowdown/2012/dailyposts/20121007.htm
First Photos and Highlights from the T.R.A.F.F.I.C. 2012 Conference in Fort Lauderdale Beach, Florida

The 2012 T.R.A.F.F.I.C. conference doesn't officially open until tomorrow evening (Sunday, Oct. 7) when the kickoff cocktail party will welcome over 300 domain investors from around the world to Fort Lauderdale, Beach, Florida where the show is being staged at the oceanfront Ritz Carlton Hotel. However, several dozen early birds were already at the show venue Friday for the first of two days of pre-show cabana networking.

Two of the first people Diana and I saw when we arrived a little after 4pm were newlyweds Daina and Morgan Linton. They have a lot of exciting things going on including a groundbreaking new startup at

Daina and MorganLinton with Diana Jackson at the Ritz
Carlton on Fort Lauderdale Beach for T.R.A.F.F.I.C. 2012

FashionMetric.com that is drawing investment attention from some very heavy hitters (you will hear more about that in the near future).

If you were at last year's T.R.A.F.F.I.C. Conference at Fort Lauderdale Beach, you will recall that a freak once in a lifetime rainstorm pounded the show venue through its run. The weaher Friday was beautiful and this time around the forecast calls for more of the same throughout the week. The welcome return to Florida's normal weather pattern at this time of year will give show goers a chance to really appreciate the spectacular oceanfront setting.

Friday's ocean view from the 7th foor pool deck at the Ritz Carlton Hotel on Fort Lauderdale
Beach where the 2012 T.R.A.F.F.I.C. conference will run through next Wednesday (Oct. 10).

Another early arriver was DNForum.com owner Adam Dicker (who was inducted into the T.R.A.F.F.I.C Domain Hall of Fame last year). In a very gracious gesture Adam invited about two dozen people who got into town Friday to dinner at Shula's On the Beach last night a spot that is part of the highly regarded chain of steakhouses started by legendary Miami Dolphins head coach Don Shula). It's a good thing Don wasn't there to see the surprise gift Barbara Neu had for Adam - a necktie representing the rival Dallas Cowboys, who happen to be Adam's favorite team.

It made for a especially memorable first night in Fort Lauderdale surrounded by domain industry friends, great food and even better people.

DNForum.com owner & Dallas Cowboys fan Adam Dicker
gets a surprise gift from Barbara Neu - a Cowboys necktie!

Above: Adam Dicker (at front left) chatting with Rick & Alina Schwartz at Shulas On the
Beach Friday night. Adam took two tables full of domain investors to the popular restaurant.

Below: At our table (left to right) Howard Neu, Judi Berkens,
Michael Berkens and Barbara Neu, as always, made things interesting!

After dinner, as people were starting to head out, Barbara said "Wait a minute, let's get a group picture in front of the bar." I told here that trying to get domain investors to all go in the same direction at one is like herding cats - but she can be very persuasive and sure enough, within seconds, everyone was in place for the photo below snapped by a member of Shula's fine staff.

Can you tell these people are happy to be on Fort Lauderdale Beach for T.R.A.F.F.I.C. 2012?

Many more people will be arriving at the Ritz today, a day that will be filled with more casual networking around the cabanas and spacious pool deck. There will also be an afternoon deep sea fishing trip and those who signed up for that are eagerly anticipating their ocean adventure. I didn't see anywhere in our room to put a fish if we caught one so we are going to hang out at the pool, cabanas and on the beach in what is shaping up to be another beautiful day in paradise. I'll have photos and highliights from today's activity in a post for you Sunday morning.

(Posted October 6, 2012) To refer others to the post above only you can use this URL:
http://www.dnjournal.com/archive/lowdown/2012/dailyposts/20121006.htm
People, Companies & Events in the News: T.R.A.F.F.I.C. 2012, Phil Corwin, Verisign, David Castello & BREE

Several bases to touch today. In 48 hours we will be on our way to Florida's Fort Lauderdale Beach for the 2012 T.R.A.F.F.I.C. Conference that will be held at the oceanfront Ritz Carlton Hotel. There will be two days of pre-show cabana networking at the Ritz Friday & Saturday (October 5 & 6), followed by the conference that runs Sunday evening (October 7) through Wednesday morning (October 10).

The final show schedule has been posted at the T.R.A.F.F.I.C. website. If you keep up with industry news, you have already heard about a lot of the show's highlights like the live domain auction, keynote speaker, T.R.A.F.F.I.C. Awards, etc. There is one conference event that

People from all over the world will be at the 2012
T.R.A.F.F.I.C. conference. Above Norway's Truc
Tran and Braden Pollock of Los Angeles enjoy the
Farewell Breakfast at last year's show in Florida.

hasn't gotten the attention it deserves - one that happens to be one of my favorites. It is the only thing on the closing day schedule, Wednesday, Oct. 10 - the Farewell Breakfast. Business has all been done and people are usually ebullient over a productive week spent with so many like-minded people in a world class location.

That makes for a very upbeat and enjoyable atmosphere where you can go from table to table and say your final goodbyes to friends new and old. The only downside is you will hate having to say goodbye to so many people who have become more than business associates - people who have become true friends. It's one of the great things about our business. Very few people in the world really understand it, so those who do feel a special kinship with each other.

I'll have daily updates from T.R.A.F.F.I.C. 2012 in this column starting this weekend. I hope to see many of you there and for those who will be making the trip to Florida I look forward to seeing you at the beach.

Two days after T.R.A.F.F.I.C. ends Phil Corwin, the Legal Counsel for the Internet Commerce Association, will be in Toronto to speaking about intellectual property rights in new gTLDs at a Policy Conference for ICANN's Non-Commercial Users Constituency (NCUC). Phil will be part of a panel discussion scheduled to get underway at 11:30am Friday, Oct. 12 with new ICANN CEO Fadi Chehadé set to address the audience immediately after lunch.

Phil's panel will also include Bertrand de la Chapelle representing ICANN's Board of Directors, NCSG Representative to GNSO Council Rafik Dammak and dotGay's Avri Doria.

Phil Corwin

Verisign has released their latest quarterly Domain Name Industry Brief covering the 2nd quarter of 2012. The period ended with with more than 240 million domain names registered across all Top Level Domains (TLDs). That represents a 3.1% increase from the previous quarter. This is also the 6th consecutive quarter that has seen registrations rise by at least 2%. Registrations have grown by 25.5 million, an 11.9% jump, year over year.

The .com and .net TLDs administered by Verisign reached 118.5 million names combined at the end of 2Q-2012 which marks a 7.8% increase over the same quarter in 2011.

The number of Country Code Top-Level Domains (ccTLDs) registered at the end of 2Q-2012 was 100.3 million, rising 5.7% from the previous quarter and soaring 18.5% from the same quarter a year ago.

Ever since David Castello moved to Nashville a little over a year ago to manage the career of upcoming rock star BREE and play drums in her three-piece band, we haven't seen as much of the Castello Cities Internet Network co-founder as we would like. However, the musician/domain honcho is still successfully juggling CCIN business (along with brother Michael), providing the backbeat for Bree and staying in touch.

As busy as he is, it looks like David's work with BREE is about to add a lot more to his plate. Now that BREE has written a treasure trove of irresistible tunes and the trio has several great recordings in the can, a big promotional push for BREE is getting underway. It started Monday with the release of an attention-grabbing Electronic Press Kit video by veteran director Marcel that you can see on YouTube (Marcel also did BREE's butt-kicking video for "Whisky" that, as of this writing, has over 372,000 views).

BREE and David Castello

When the inevitable tour takes place David and BREE may be coming to your city. In the meantime, David's friends in the domain business can look at David's detour to Nashville (where CCIN owns Nashville.com) the way we do - we haven't lost a friend, we've gained a rock star. There is a lot of upside there too. You just know that when BREE and her band are on the cover of The Rolling Stone, David will sneak in a plug for domain names!

(Posted October 3, 2012) To refer others to the post above only you can use this URL:
http://www.dnjournal.com/archive/lowdown/2012/dailyposts/20121003.htm
More Advice on Choosing a Domain Broker (or Becoming One) From the Guy Who Brokered the Biggest Sale Ever Reported
Over the weekend we published our latest Cover Story: Domain Brokers: How to Choose One and What it Takes to Be a Successful One. We invited all 13 of the brokers that were nominated for the 2012 T.R.A.F.F.I.C. Broker of the Year Award (that will be handed out at the conference coming up next week in Fort Lauderdale Beach, Florida) to comment for the story. With the busy schedules and high priority obligations that people have, I never expect a 100% response rate to any interview request and don't give it a second thought when I don't hear back from everyone.

After our story was published I learned that DomainAdvisors.com President Jeff Gabriel, whom I had invited to comment, never received the email I sent

Image from Bigstock

(an increasingly common problem with today's spam epidemic resulting in both email clients and ISPs mistakenly flagging too many legitimate messages as spam). As the guy who brokered the most expensive domain sale ever reported (Sex.com at $13 million) I knew our readers would love to hear what Jeff had to say and was happy to have him send along his comments so I can share them with you.
Jeff Gabriel
President, DomainAdvisors.com

The first question I asked all of the brokers was what attributes they think a domain seller should look for in a broker to have the best chance for success? On that point Gabriel said, "Looking for a broker who is trustworthy, tenacious and receptive goes without saying. What a seller might not think to consider, is the brokerage behind the individual and how they will work together to maximize the seller's success. When a client hires DomainAdvisors to sell a name they are getting a brokerage as in a team rather than an individual broker. We work together frequently discussing active opportunities, negotiation strategies, brainstorming to generate lists of potential buyers and collaborating to formulate a plan for success."

"Teamwork is a powerful thing. Our team does not end at DomainAdvisors. We include our client as part of that team as well," Gabriel added. "We do our best to understand what the expectations are of our clients then do our best

to meet and exceed their expectations. We understand that the seller has stayed up at night dreaming of the limitless possibilities their asset could deliver to the rightful owner, and we want to hear about it. Those ideas can lead to additional possibilities, and potential new buyer pools."
"DomainAdvisors brokerage has had much success working hand in hand with others in the brokerage community. I can proudly say that in just the last few months we have worked directly with DomainNameSales, BuyDomains, Moniker/SnapNames, Media Options, Domain Holdings, Alan Hack and Toby Clements to bring several mutually beneficial opportunities to fruition."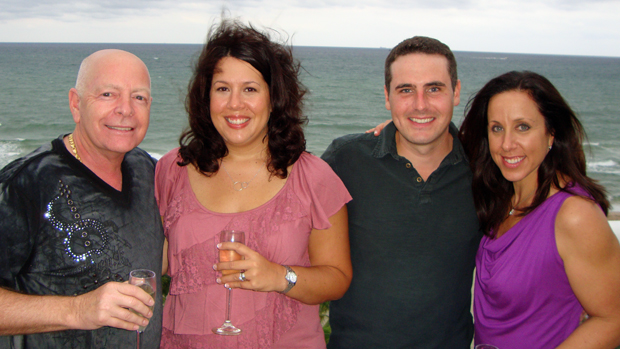 Jeff Gabriel with some of his DomainAdvisors.com teammates at the 2011
T.R.A.F.F.I.C. conference on Florida's Ft. Lauderdale Beach. (Left to right) Gregg McNair,
Amanda Waltz, Jeff Gabriel and Tessa Holcomb. (Photo courtesy of Barbara Neu)
Domain sellers often think all they need to do is list their names with a broker, but Gabriel said you can greatly improve your chances of making a sale by going a step or two further. "The more information a seller can provide for us the better," Gabriel said. "Any information about the name, the industries it falls into increases our chances of selling their domain and meeting their expectations. The seller also needs to set their expectations ahead of time. What are their expectations of a broker? How involved do they want to be in the process? How often do they want updates?"
As illustrated in our Cover Story, there are a lot of good brokers out there, so I asked each what attributes they thought set them apart in a very completive field. Gabriel said, "Anyone can make cold calls, send email blasts, and write postings on social media. The question is, "How effective are they?" What kind of message will that broker provide to a potential buyer? Do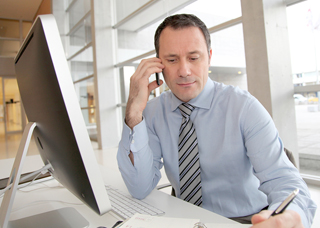 Image from Bigstock
they have the know how to navigate past gatekeepers, all the way up to the board room? Most importantly, can they create value? Do they follow up? Are they afraid of hearing no 99 times in order to get that yes on the 100th call? I can confidently say our brokerage team consistently demonstrates these attributes in a positive fashion and is eager to take on any new challenge. It's these qualities that have earned DomainAdvisors the opportunity to work on some of the world's most premium domain names including Music.com, Quote.com, Pay.com, Stocks.com, Yoga.com, Dragon.com and more."
We had one last question. With strong demand for brokerage services, more people are interested in becoming brokers themselves. What skills and/or qualifications do you think a person needs to succeed in the brokerage business today? Gabriel replied, "I think one of the greatest things about our business is that domain brokerage isn't hindered by the regulations surrounding similar careers including commercial real estate brokerage or lending. This allows us, as domain brokers, to practice anywhere in world, and contact buyers in any jurisdiction. On the flip side, the lack of regulation can result in, short cuts, questionable business practices and unfavorable results meaning my guard always has to be up and we have to take extra steps to ensure that every "T" is crossed an "I" is dotted. Someone who isn't afraid to admit when they've made a mistake, is open to learning new strategies, can take rejection and criticism, and most importantly, upholds the highest of ethics, has the recipe for success in domain brokerage as a career."
Gabriel closed with a relevant quote from Mark Twain - "If you tell the truth you don't have to remember anything."
If you missed our Cover Story, you can hear how nine other leading brokers answered these questions here.
(Posted October 2, 2012) To refer others to the post above only you can use this URL:
http://www.dnjournal.com/archive/lowdown/2012/dailyposts/20121002.htm
Nominet May Offer .UK Domains That Cost 800% More Than .CO.UK - Says It's Not About the Money
When you think of British domain names you think of .co.uk, a widely used, globally recognized extension that enjoys high registration rates (more than 10 million have been registered) and commands very respectable prices on the domain aftermarket. Nominet,

the governing body for the .UK ccTLD, has used .UK efficiently and effectively in the past by sub-dividing it into second level domains .co.uk, .net.uk, .org.uk and several others (with consumers then registering third level names like internet.co.uk). Apparently not a believer in the old axiom, "if it's not broke, don't fix it," Nominet is now considering opening up second level registrations (such as internet.uk) under a program they are calling direct.uk.

Image from Bigstock
Naturally, such a development would immediately devalue the millions of .co.uk domains held by British businesses and individuals who would need to try to acquire the .uk version to protect their online identities. Unfortunately the Nominet proposal (.pdf file) provides no grandfather clause to protect those registrants - and, oh yes, even if they were successful in getting the .uk version of their .co.uk domain, they would have to pay 800% more annually for the UK version (about £20 for the .uk compared to around £2.50 for the tried and true .co.uk).
Image from Bigstock

Nominet's Director of Operations, Eleanor Bradley, told the BBC the idea was "not a money making exercise" (perhaps the 800% rate hike just makes it look that way). Bradley said, "any additional earnings derived would be passed onto an independent trust to invest in improving internet access and security."

Despite the high cost and necessity for so many to buy the .uk version of their names, the word "any" would seem to incredulously infer that there may not be any additional earnings from what the BBC described as "The scheme" in the first two words of their article about the proposal.
Now the word "Scheme" may not have the pejorative connotation in the Queen's English that it is does in America's admittedly adulterated version but it's not a compliment on this side of the pond where the dictionary defines scheme as "a plan for achieving something, especially something illegal or dishonest." I am certainly not saying it is either of those but I do question the wisdom and fairness of the idea.
If you are so disposed, you can question it too as Nominet has opened a public comment ("consultation") period on the proposal that is open until January 7, 2013. You can respond to the consultation either by completing an online form, by downloading the consultation and emailing your comments to [email protected] or by requesting a hard copy of the consultation from [email protected].
You can also view a video of Ms. Bradley explaining more about the proposal here. It is Nominet's position that offering .UK would come with several security benefits including verification to check a registrant has a UK address, daily monitoring for malicious software

and viruses, and a digital signature which minimizes the risks of a domain name being hijacked. These measures would be supported by a trustmark to give consumers a clear sign that it was a verified domain name. Nominet said the features would be expected to "help guard against cybercrime...and play an important part in creating a trusted space for businesses and consumers."
I'm sure they will get an earful on the proposal over the next three months. I just hope their consultation doesn't follow the model we have seen so often in ICANN public commentary exercises where the public comes out overwhelmingly opposed to something, only to have ICANN go ahead and implement it anyhow. That will quickly earn you an F in Credibility 101.
(Posted Oct. 1, 2012) To refer others to the post above only you can use this URL:
http://www.dnjournal.com/archive/lowdown/2012/dailyposts/20121001.htm
---
If you've been out of the loop lately, catch up in the Lowdown Archive!
---
We need your help to keep giving domainers The Lowdown, so please email

[email protected]

with any interesting information you might have. If possible, include the source of your information so we can check it out (for example a URL if you read it in a forum or on a site elsewhere).
---
Home Domain Sales YTD Sales Charts Latest News The Lowdown Articles
Legal Matters Dear Domey Letters to Editor Resources Classified Ads Archive About Us