The Lowdown
May 2013 Archive
Subscribe to our RSS Feed

Here's the The Lowdown from DN Journal,
updated daily to fill you in on the latest buzz going around the domain name industry.

The Lowdown is compiled by DN Journal Editor & Publisher Ron Jackson.
Photos & Highlights From the Busy 2nd Day (and Neon Night) at T.R.A.F.F.I.C. Las Vegas 2013
Day 2 of the 2013 T.R.A.F.F.I.C. Las Vegas conference got underway Thursday morning (May 30) at the Bellagio Hotel with welcoming comments from show co-founders Rick Schwartz (at left in the photo below) and Howard Neu. This is the 25th time attendees have been welcomed to a T.R.A.F.F.I.C. conference since the pioneering domain industry showcase began in October 2004.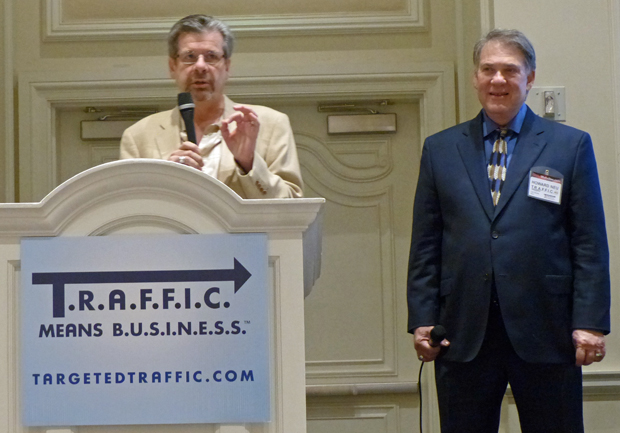 Immediately after Rick and Howard kicked off the first full day of business, the show's first panel discussion began - a session called Selling to Startups: New Niche or Old Habits. With Howard Neu (standing in the audience in the photo below) moderating, successful domain brokers Dave Evanson (Sedo.com), Morgan Linton (LintonInvestments.com), Braden Pollock (LegalBrandMarketing.com) and Joe Uddeme (DomainHoldings.com) offered advice of how to market and sell domains to new companies.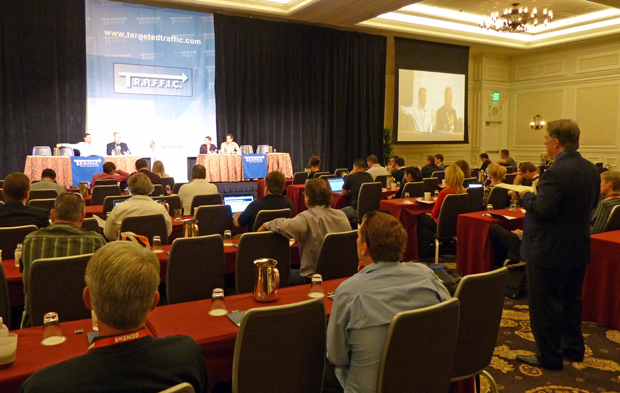 In the next session the pros and cons of the current UDRP arbitration process were debated in a session featuring (left to right in the photo below) Bill Sweetman (NameNinja.com), Nat Cohen (Telepathy.com) who thinks the current UDRP system in unfair to domain owners and needs to be changed, attorney Ari Goldberger (ESQwire.com), who thinks the current UDRP system should be left alone as changing it could end up being even more detrimental to domain owner's rights, and attorney Karen Bernstein.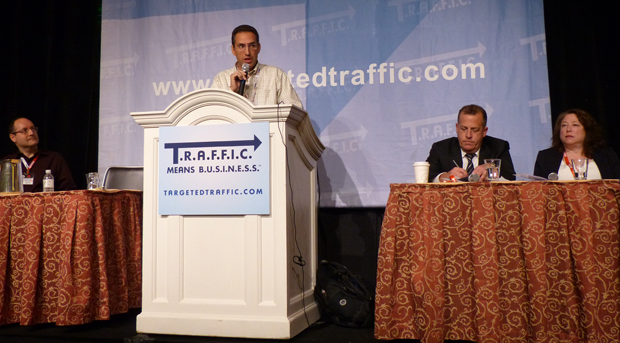 I joined seven fellow domain industry bloggers and reporters on stage for the next session moderated by Howard Neu who asked each of us for our opinions on a wide range of current industry issues. The panel included Shane Cultra (DomainShane.com), seen making a point in the photo at right while Morgan Linton (MorganLinton.com) listens in.

Also on the dais contributing to the discussion were Elliot Silver (ElliotsBlog.com), Andrew Allemann (DomainNameWire.com), Michael Cyger (DomainSherpa.com), Michael Gilmour (WhizbangsBlog.com) and Adam Dicker (ArtOfTheName.com).
At 2pm it was time for T.R.A.F.F.I.C.'s Live Domain Auction. T.R.A.F.F.I.C. staffers Kimberly Howard and Ray Neu (in the photo below) were on hand to help register bidders for the fast moving sale.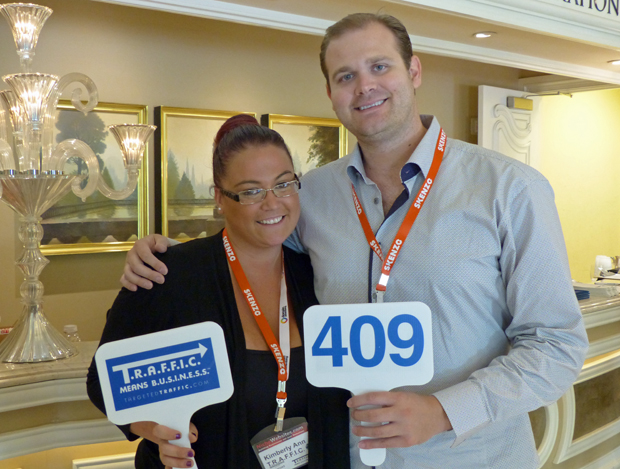 With veteran auctioneer Wayne Wheat (who I think is the best in the business) directing the action while show co-founder Rick Schwartz looked on (both seen in the photo below), at the auction ended with just under $112,000 worth of winning bids booked. The highest of those was Bouquet.com bought by Bill McClure for the $30,000 reserve price.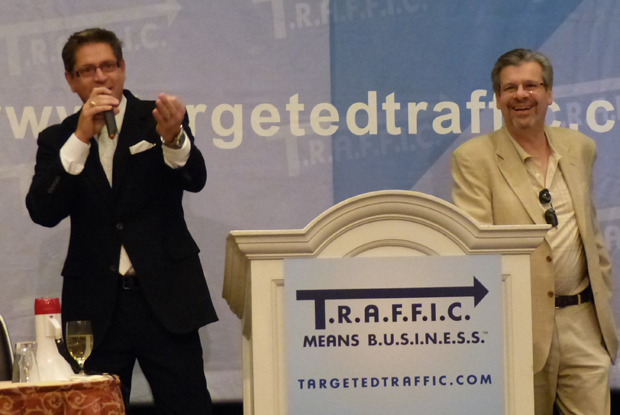 The business day closed with The Rick and Danny Show in which Rick Schwartz introduced his new partner in JointVentures.com, Danny Welsh (seen addressing the audience in the photo below. The duo is building a new domain leasing/joint venture platform that they believe has the potential to be a game changer in domain monetization.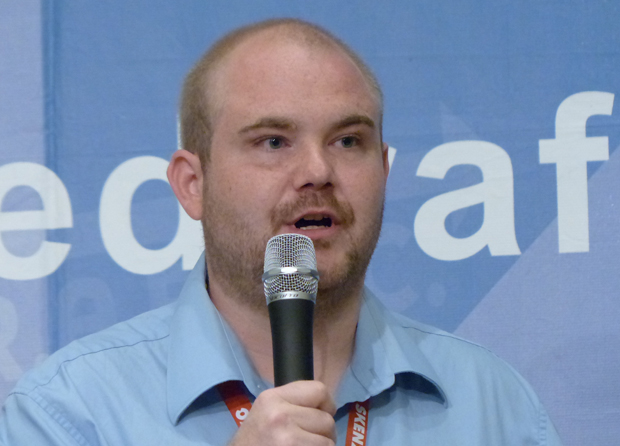 With business out of the way, attendees went back to their rooms to freshen up for the week's big social event - Thursday night's T.R.A.F.F.I.C. Water Night Charity Party sponsored by NameCheap.com. 180 guests signed up to attend the fund raising event for The Water School with T.R.A.F.F.I.C. donating $50 for every show registrant that attended the affair held at Planet Hollywood's PBR Rock Bar.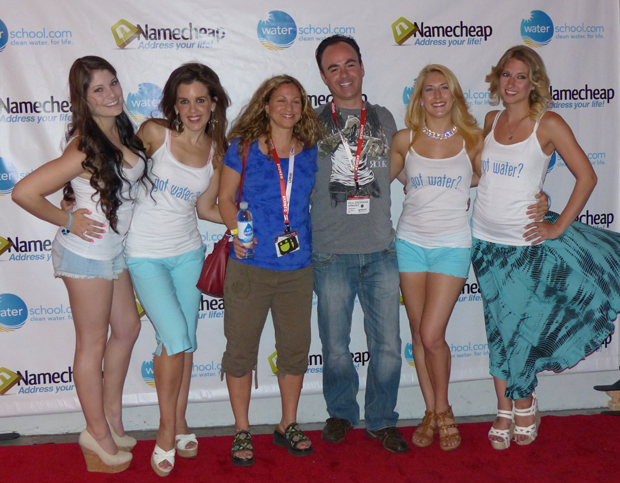 Guests received the red carpet treatment when they arrived. In the photo above, Paul Goldstone (DomainIt.com) and his wife Barbie were greeted by the Got Water? girls representing The Water School effort.

The attendees packed the PBR Rock Bar's outdoor patio on a pleasant Las Vegas night to enjoy good food, drink and great company - all benefitting a very worthy cause. Many added personal donations to the money T.R.A.F.F.I.C. donated on their behalf.

Today's closing day of business at T.R.A.F.F.I.C. will be another very busy one for attendees. After breakfast I'll be kicking things off with a talk about current sales trends in the domain aftermarket. Four business sessions will follow concluding with the Meeting

of the Chiefs (featuring leaders from seven of the industry's best known companies) at 4pm.

Tonight at 8:30 T.R.A.F.F.I.C. will host its Closing Party and Celebration to bring down the curtain on another very productive event. I'll have photos and highlights from all of today's (and tonight's) highlights in my final post from Las Vegas in this column tomorrow.
(Posted May 31, 2013) To refer others to the post above only you can use this URL: Day 2 Photos & Highlights from T.R.A.F.F.I.C. Las Vegas
Opening Day Photos & Highlights from the 2013 T.R.A.F.F.I.C. Las Vegas Conference: Cabanas, Cocktails & Canadians!
The 2013 T.R.A.F.F.I.C. Las Vegas conference officially got underway Wednesday (May 29) at the dazzling Bellagio Hotel. The day began at mid-morning with multiple events at the show's poolside cabanas. Elliot Sllver (at left in the photo below) and Lonnie Borck were among the first on the scene on a day blessed once again with perfect weather. Elliot and I will be among seven industry reporters featured in a Blog Roll panel discussion this afternoon at 12:45 (Las Vegas time).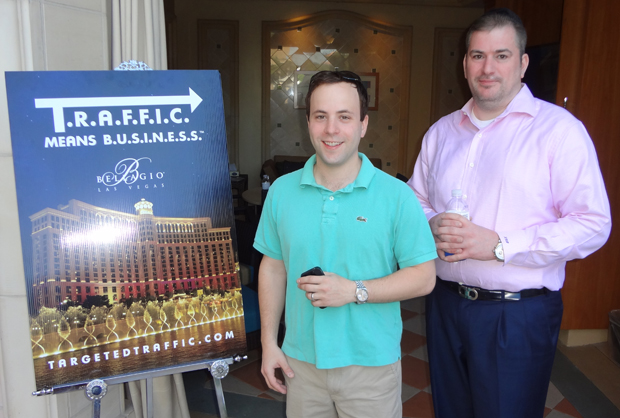 At the same time T.R.A.F.F.I.C. staffers were welcoming guests at a couple of cabanas, Tessa Holcomb and her teammates from newly christened Igloo.com (formerly DomainAdvisors.com) were in an adjacent cabana hosting a coming out party to celebrate the company's cool new name (a scene from that event is in the photo below).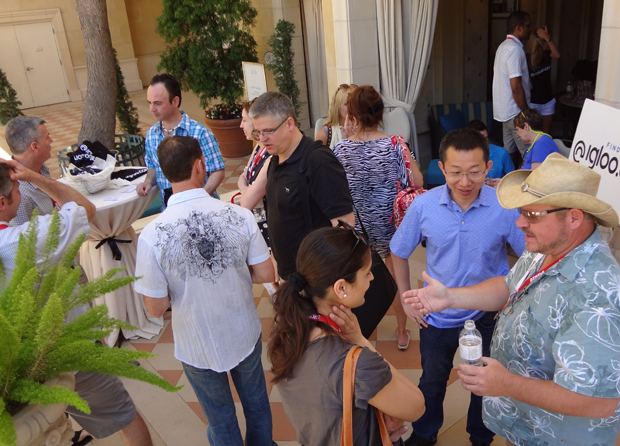 Throughout the day guests drifted from cabana to cabana, thoroughly enjoying the chance to catch up with old friends and make new ones. Four of those on hand (left to right in the photo below) were Ron Wells, Diana Jackson, Oscar Correa and his wife Crystal (who, by the way, Oscar first met at a domain conference)!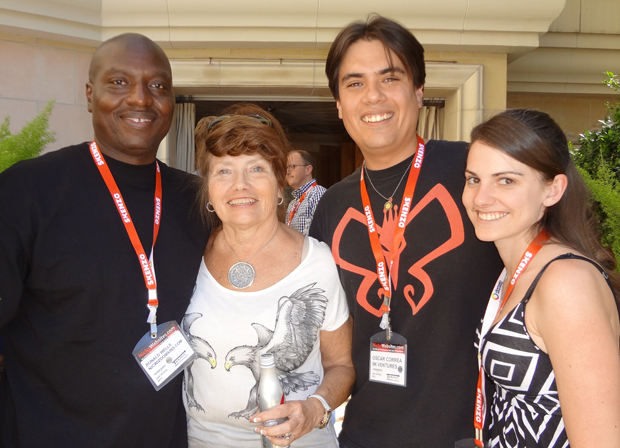 I mentioned that T.R.A.F.F.I.C. is a great place to make new industry friends and with many first time T.R.A.F.F.I.C. attendees at this week's show there were ample opportunities to do that. T.R.A.F.F.I.C. makes newcomers feel at home with a special orientation session that is offered before the show's Opening Night Cocktail Party. In the photo below conference co-founder Howard Neu is at the podium providing advice on how new attendees can get the most out of their week at the big show.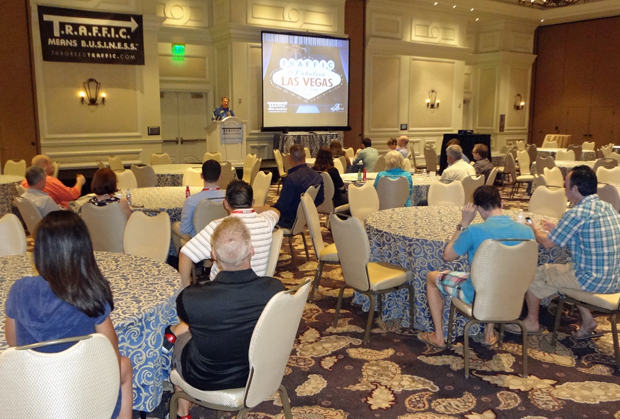 At 5:30pm it was time for the traditional T.R.A.F.F.I.C. Opening Night Cocktail Party, held in one of the Bellagio's spectacular ballrooms. This is always an electrifying event in a room filled with tremendous energy, great food and drink and some of the brightest and most creative people you will ever come across. They filled every corner of the ballroom as you can see in the photo below.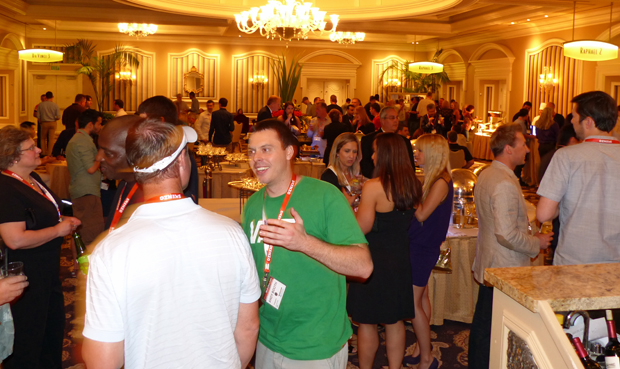 The cocktail party was scheduled to run for two hours (which seemed to go by in two minutes) but people hung around for more than half an hour after the slated closing time because they didn't want the conversations to end. Attendees came from every corner of the globe. In the photo below Domain Hall of Fame member Dr. Chris Hartnett (at right) enjoyed meeting India's Anshul Goyal (from Email.biz) who was attending his first T.R.A.F.F.I.C. conference.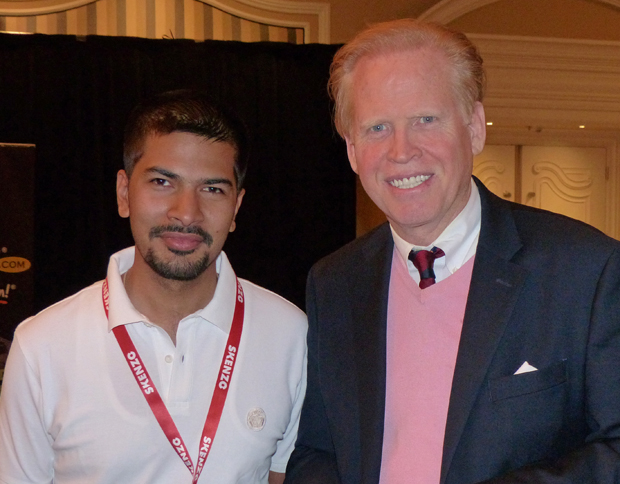 One thing you can always count on seeing at T.R.A.F.F.I.C. is Barbara Neu (below) taking photos - LOTS of photos - that have helped preserve the history of a conference that will be 9 years (and 25 shows) old in October when the next event will be held at the Ritz Carlton on Florida's Fort Lauderdale Beach.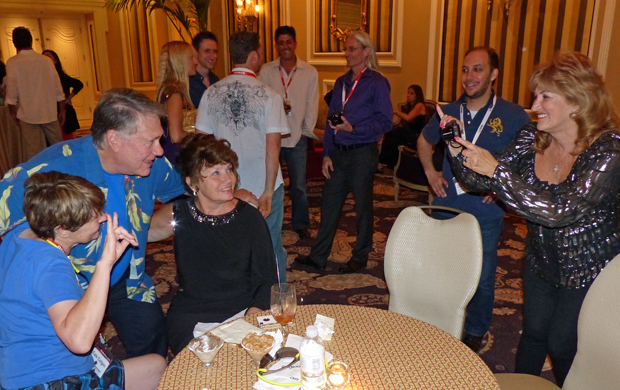 Among those contributing to the invigorating global flavor of T.R.A.F.F.I.C.'s opening event were Mr. and Mrs. Truc Tran (below) who came from Norway. Truc (who, as a child, was a Vietnamese refugee that wound up in Norway after his family was picked up at sea by a freighter from that country) has become a conference regular and one of the most popular attendees. His positive energy and zest for life is contagious, making him someone that is always a joy to be around.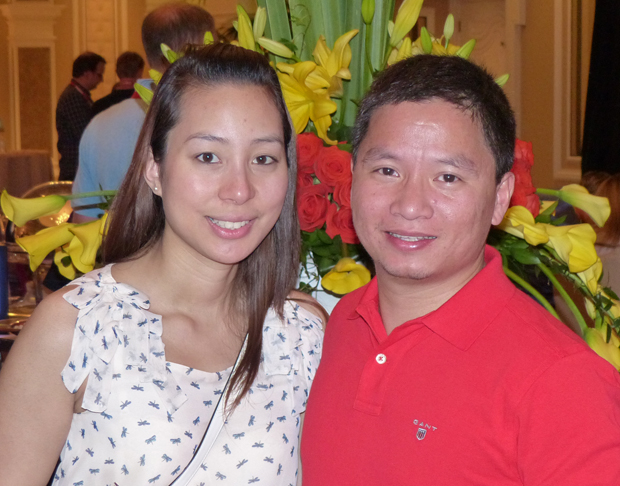 In the headline I mentioned Cabanas, Cocktails and Canadians. So, where are the Canadians? Well, I saved four of my favorites for last (left to right in the photo below are industry veterans Marty Kaulins, his sister Ilze Kaulins, Nancy Haroutunian and her husband Wayne Haroutunian.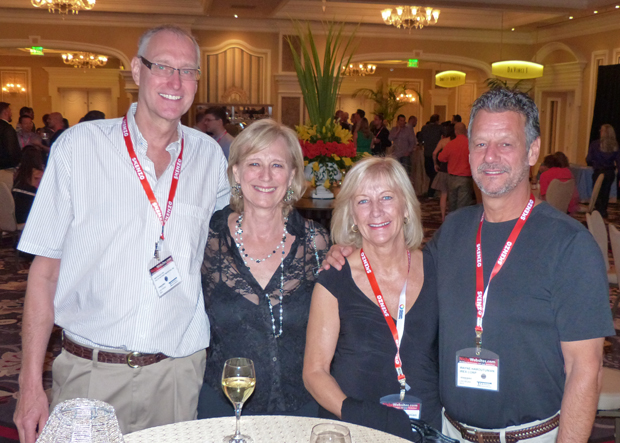 After a great opening day of social activity, T.R.A.F.F.I.C. gets down to business today with four panel sessions and the live domain auction that starts at 2pm (local time). Coming up tonight at 9 is the T.R.A.F.F.I.C. Water Night Vegas Charity Party sponsored by NameCheap. That event, benefiting the Water School, will be held just across the street from the Bellagio at the PBR Rock Bar. I'll have the photos and highlights from today (and tonight's) activity for you in my next post from Las Vegas tomorrow morning.
(Posted May 30, 2013) To refer others to the post above only you can use this URL:
http://www.dnjournal.com/archive/lowdown/2013/dailyposts/20130530.htm
Fun, Fountains & Friends: Pre-Show Photos & Highlights from T.R.A.F.F.I.C. Las Vegas
The 2013 T.R.A.F.F.I.C Las Vegas conference gets underway today under blue skies at the beautiful Bellagio Hotel. Diana and I were among many who got into town a day early to get settled in and enjoy the many pre-show networking opportunities. I also wanted to get some advance photos so I could set the stage for you before the curtain goes up on the highly anticipated event that will run through Saturday morning.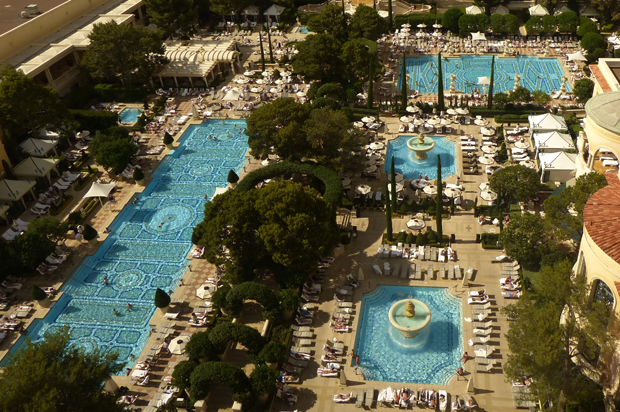 Tuesday's pre-show activity at the Bellagio was centered around the hotel's four fabulous swimming pools, seen in this view from our room on the 14th floor. At ground level, directly below us, T.R.A.F.F.I.C. welcomed early arrivers at their cool and comfortable cabanas (seen below) that look out on the spectacular pools and fountains.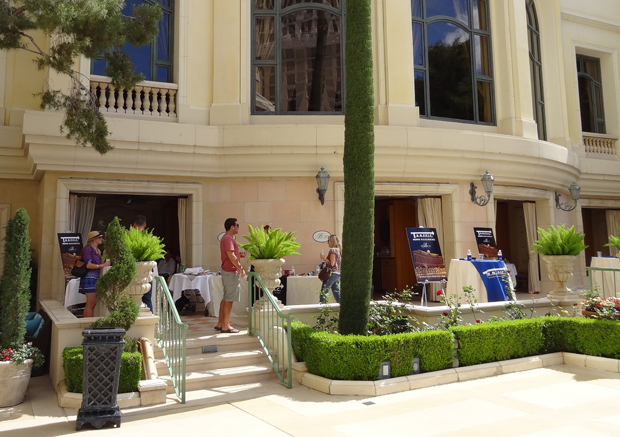 The bulk of the the T.R.A.F.F.I.C. crowd will arrive this afternoon and will spend their day visiting old friends and making new ones in and around the cabanas. The conference twill then get into full swing with the Opening Night Cocktail Party this evening (running from 5:30-7:30pm).
In the shot below show hostess with mostest Barbara Neu (lower left) was, as always, on hand to extend a warm welcome to guests who dropped by the cabanas Tuesday to get a jump start on the big week ahead.
In the photo below - inside one of the T.R.A.F.F.I.C. cabanas, show co-founders Rick Schwartz (at left) and Howard Neu (at right) visited with Australia's Michael Gilmour from ParkLogic.com (2nd from left) and DNForum.com owner Adam Dicker (2nd from right). Michael and Adam will both be among the speakers featured this week (you can see the full show schedule here).
The Bellagio Hotel is actually an eye popping city within a city with its own great restaurants, shops and attractions at every turn. As the sun began to set Tuesday evening Diana and I joined Rick, Howard and their wives for dinner at the Bellagio's Olives Restaurant.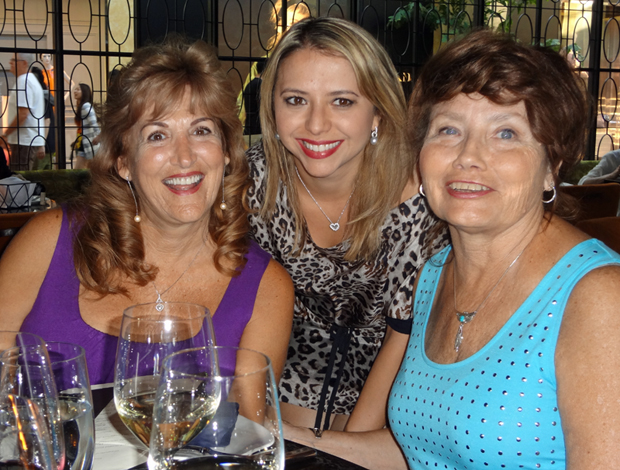 Lovely ladies Barbara Neu, Alina Schwartz and Diana Jackson at dinner Tuesday night.
After dinner we, we walked over to the new Hyde nightclub (also located inside the Bellagio) that offered a perfect place to view the best free show in Las Vegas - the Bellagio's world famous dancing fountains. Every 15 minutes, the fountains erupt in a joyous choreographed dance perfectly timed to a classic song. Every song and dance is different and the water often flies as high as the Bellagio's towering rooftop!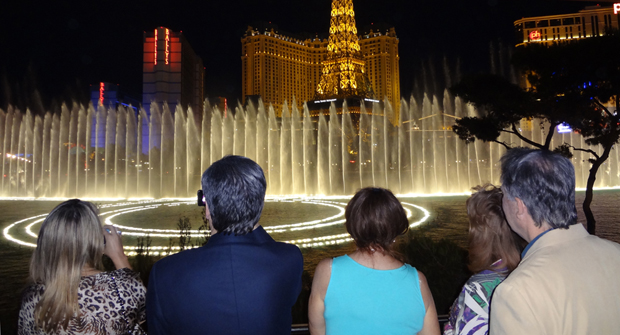 Our group watching and photographing the dancing founatins at the Bellagio Tuesday night.
The T.R.A.F.F.I.C. Las Vegas registration desk will open today at 12 noon local time. You will find it under the Registration 4 sign in the Spa Tower at the Bellagio.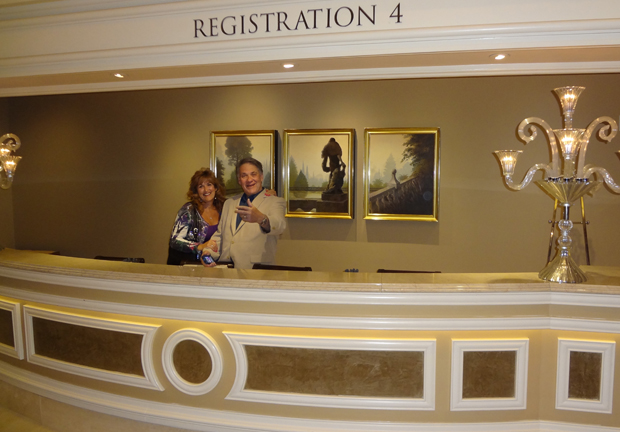 T.R.A.F.F.I.C. Co-Founder Howard Neu and hs wife Barbara at the registration desk
where they will start handing out T.R.A.F.F.I.C. badges this afternoon.
The Bellagio provides a stunningly beautiful conference backdrop and everything is in very close proximity to the registrant's rooms. After dinner last night I walked through the facilities tat show goers will be enjoying this week.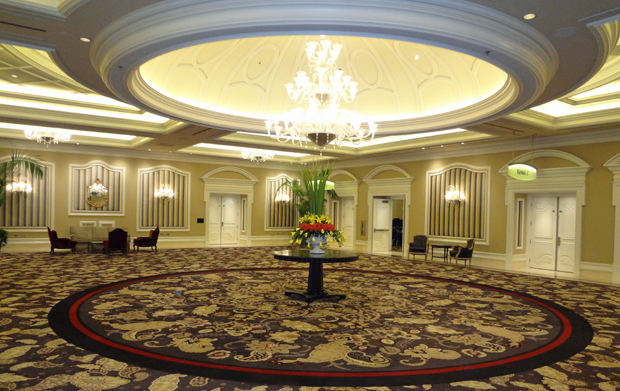 The gorgeous room above is where tonight's T.R.A.F.F.I.C. Opening Night Cocktail Party will be held. Below you see the main meeting room where registrants will sit in on talks and panel sessions featuring many domain industry leaders. The show's expansive dining room is located right next to this conference hall.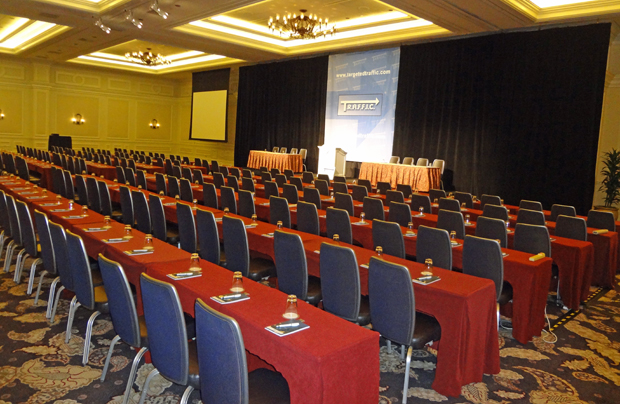 The forecast is calling for perfect weather in Las Vegas this week and with the industry's best and brightest gathered in one phenomenally attractive place, T.R.A.F.F.I.C. Las Vegas 2013 in poised to give its guests a perfect conference experience. Tomorrow morning I'll have all of the opening day (and night) photos and highlights for you in this column.
(Posted May 29, 2013) To refer others to the post above only you can use this URL:
http://www.dnjournal.com/archive/lowdown/2013/dailyposts/20130529.htm
U.S. Domainers Join Millions of Americans Observing Memorial Day Today - When Business Resumes Tomorrow Las Vegas Will Be in the Spotlight

For those who live outside the U.S. and may be wondering why this seems to be a slow business day for a Monday it's likely because few Americans are on the job today. This is a special holiday here - Memorial Day - the day we set aside to honor the men and women who gave their lives in military service for the United States.

We are thankful for all (and the families of all) who have served in the Armed Forces over the years but owe a special debt of gratitude that can never be fully repaid to those who made the ultimate sacrifice for their country.

My father was one of the fortunate ones who fought and came back after serving in the U.S. Navy during World War II. He was about 23 years old when the photo at right was taken. For those who have served (and those who continue to serve) assuring the freedom we enjoy today, there is no way we can thank you enough!

My father (at age 23) during his service
in the U.S. Navy during World War II.

A lot of people in the domain industry (including me) are spending part of the holiday packing for a trip to Las Vegas for this week's T.R.A.F.F.I.C. conference that gets underway Wednesday evening at the Bellagio Hotel where the show will continue through Saturday morning.

A few early birds are already in Las Vegas for some pre-show networking that will continue at the poolside cabanas tomorrow and Wednesday before the show conference officially begins with the Opening Night Cocktail Party (you can see the full show schedule here). You can also read our conference preview (an interview with show co-founders Rick Schwartz and Howard Neu) here.

I'll keep you up to date on what is happening in Las Vegas with daily show photos and highlights in this column, starting Wednesday morning.

(Posted May 27, 2013) To refer others to the post above only you can use this URL:
http://www.dnjournal.com/archive/lowdown/2013/dailyposts/20130527.htm
People & Companies in the News: Bill Sweetman, David Castello & Bree, T.R.A.F.F.I.C. Las Vegas, Hilco IP Auctions, Afternic & Directi

As we head into the 3-day Memorial Day holiday weekend in the U.S. I wanted to pass along some news and information from several fronts that came in over the past couple of days.

Let's start with congratulations to former Tucows VP Bill Sweetman who is venturing out on his own with the founding of Name Ninja, a boutique domain name consulting firm. Sweetman thinks the timing is right, noting "With the massive expansion of the Internet namespace due to the upcoming rollout of hundreds of new generic Top-Level Domains (gTLDs), the global demand for expert domain name advice and strategy is going to explode."

Sweetman said the new firm will help companies acquire, manage, protect, and profit from their domain names. Name Ninja is offering a suite of

Bill Sweetman
NameNinja.com Founder

consulting services to three types of clients: startups, entrepreneurs and marketers; individual and corporate domain name owners; and new gTLD registries and operators.

The Toronto-based firm will focus on domain name acquisition (buyer broker), domain name rescue, domain name protection, corporate domain name strategy, and domain name portfolio management. Name Ninja will also assist new gTLD registries and operators with distribution, marketing, and secondary market services.

Earlier this week I told you about upcoming the Nashville-based rock trio fronted by bree (that also features Domain Hall of Famer David Castello on drums) making their national TV debut on the AXS-TV channel. On June 18th, the band's debut CD - All American Girl - will be released. If you want to be first in line, you will be happy to know that the 11-track disc is now available for pre-order on iTunes.

The band played two tracks from the new album live in the studio on AXS-TV - the title track, "All American Girl" and "You Can't Take the Heart Out of Me" (you can see their performance of that song on YouTube at this link).

The final countdown to next week's T.R.A.F.F.I.C. Las Vegas conference at the Bellagio Hotel is now underway. The final agenda for the show that runs Wednesday, May 29 through Saturday, June 1 has now been released.

In addition to being there to cover the show for you (with daily highlights in this column), I'll make a couple of trips to the stage to speak. On Thursday afternoon (May 30) at 12:45 I'll join Adam Dicker,
Shane Cultra, Morgan Linton, Andrew Allemann, Elliot Silver and Michael Cyger for a Meet the Bloggers panel discussion moderated by Howard Neu.

Then on Friday morning (May 31) at 10:45 I'll return to give the audience an update on the latest domain sales trends, based on the weekly data that flows into us from sellers around the world.

In a related note, for the first time in two months, no six-figure sales were reported in our latest weekly domain sales report, but it looks like the streak may resume in our next report. A Hilco Streambank IP auction ended Wednesday with Bargain.com selling for $150,000. As soon as that name is paid for and the name is transferred to the new owner it will become eligible for our charts.

The Hilco Streambank auction also produced a five-figure three-letter .com sale - ETM.com at $16,659. The company said there are parties interested in some of the names that did not sell - at numbers less than the original reserves - and they think it is likely one or more additional post-acution sales will be made.

Elsewhere, Afternic expanded their aftermarket reseller network yet again, announcing a partnership with Directi, the largest domain registrar in Asia and 7th largest registrar in the world. Directi will join the Afternic reseller network as a Premium Partner, incorporating Afternic's vast inventory of premium domains for sale through their BigRock brand.

(Posted May 24, 2013) To refer others to the post above only you can use this URL:
http://www.dnjournal.com/archive/lowdown/2013/dailyposts/20130524.htm
Domainers Rally Around Relief Efforts for Oklahoma Tornado Victims With Charity Domain Auction

I've always been proud to be part of the domain community and never more so than when I see domainers step up to help others in need - something I've seen over and over through the years. Today is such a day. DomainBoardroom.com Founder Donna Mahony has organized an effort supported by her forum members, Escrow.com and our friend Elliot Silver at ElliotsBlog.com to run a three-day charity domain auction with 100% of the proceeds going to the American Red Cross' s Oklahoma City chapter that is helping victims of this week's disastrous tornado there.

The auction, being conducted on ElliotsBlog.com, is already underway and will continue until 5pm (U.S. Eastern Daylight Time) on Friday, May 24. In addition to domain names, Domain Boardroom members have donated gift certificates and services that are also being auctioned off in this fund raising effort. Escrow.com is handling the escrow procedure for these transactions at no cost to either party.

For details on how the auction works, what is in each of the 18 lots being offered and to place bids - visit this page at ElliotsBlog.com before the auction ends Friday afternoon. You can come away with a great domain name, gift certificate or service AND the knowledge that you are coming to the aid of a lot of people who are in desperate need of a helping hand right now.

(Posted May 22, 2013) To refer others to the post above only you can use this URL:
http://www.dnjournal.com/archive/lowdown/2013/dailyposts/20130522-2.htm
DomainAdvisors.com Rebrands Under a Cool New Name - Introducing Igloo.com!

We all love domains but the industry veterans behind DomainAdvisors.com decided that when it comes to standing out in a crowd, having "domain" in the company name (as dozens of others do) may have finally gotten to the point of being too much of a good thing. That's why they have taken the bold move of rebranding the business as Igloo.com, effective immediately.

The Igloo.com management team, (left to right): Amanda Waltz, Gregg McNair and Tessa Holcomb.

Co-founder & CEO Tessa Holcomb told us, "It was a logical step for us. While we love the DomainAdvisors name, and will continue to ensure we approach each opportunity as an advisor, the number of companies in our industry with the word "domain" in their name has unintentionally led to serious brand confusion. Given we have been advising for years on branding, extolling the value of a short, memorable, easy to spell domain name, we finally decided to practice what we preach!"

"We are a team of insanely passionate people who are committed to success by doing what we love: engaging clients, listening to their goals, and

working hard to achieve them," Ms. Holcomb said. "We have grown in size and reputation and tally more than 200 years of sales, marketing & professional experience with combined domain sales exceeding $100 million. Our reputation for integrity and professionalism is unchallenged. With no in-house acquisitions and/or personal domain flipping, Igloo domain advisors have only our clients' interests at heart."

Now the $64,000 question - why Igloo? Ms. Holcomb answered, "We wanted a distinct brand to represent our unique and growing company. Working personally with the world's most exclusive portfolios provided several

strong possibilities. After an extensive search for a unique, catchy and generic name, we chose Igloo because it's fresh, creates interest and provides a lasting, memorable image with our clients and within the industry. We found our cool and are more ready than ever to help our clients find theirs!"

The Igloo.com domain was part of the CCIN (Castello Cities Internet Network) portfolio founded by the Castello Brothers (Michael and David) who own and develop some of the most recognized intuitive Geo and Generic domain brand names in the world. Michael Castello said, "DomainAdvisors explained their vision for Igloo.com to us and we were impressed. To find a home for such a great name was an easy decision for us. We wish them much success with Igloo.com."

Ms. Holcomb added, "The name change to Igloo.com is being supported by a new logo and website that will offer additional features over time. This is an exciting time for our company. We look forward to building on the Igloo brand and to continued growth and client successes."

(Posted May 22, 2013) To refer others to the post above only you can use this URL:
http://www.dnjournal.com/archive/lowdown/2013/dailyposts/20130522.htm
T.R.A.F.F.I.C. Las Vegas Through the Years - A Look Back at the 5 Previous Shows That Set the Stage for Next Week's Return to the Entertainment Capital of the World

When the T.R.A.F.F.I.C. conference returns to Las Vegas next week for a show that will run May 29 - June 1 at the Bellagio Hotel, it will be the sixth time the pioneering domain conference has been held in the city acclaimed as The Entertainment Capital of the World. However, it will also be the first time T.R.A.F.F.I.C. co-founders Rick Schwartz and Howard Neu has staged a show in Las Vegas in five years (and over three years since Rick Latona produced the last T.R.A.F.F.I.C. show there under a special licensing agreement).

T.R.A.F.F.I.C.'s long relationship with Las Vegas started in May 2005 when the just the second event in the long running series was held at the Venetian Hotel, seven months after the very first T.R.A.F.F.I.C. show in Delray Beach, Florida.

That initial Las Vegas show, which saw a 75% jump in attendance over the 2004 debut show in Florida, was also the only T.R.A.F.F.I.C. conference in the U.S. that I have ever missed. It happened to fall on the same week my daughter was graduating from high school (since then she has graduated from both college and medical school, so a lot of water has gone under the bridge since then)!

(L to R): T.R.A.F.F.I.C. Co-Founder Howard Neu, "Elvis", Darren Cleveland and "Marilyn Monroe" at the 1st T.R.A.F.F.I.C. Las Vegas conference in May 2005.

T.R.A.F.F.I.C. would return to Las Vegas for the next three years in a row, continuing to use the beautiful Venetian Hotel as its base. The primary benefit of going to T.R.A.F.F.I.C. is the opportunity to network face to face with the top people in the domain industry. Schwartz and Neu understood that and speed networking was a centerpiece of their May 2006 conference in Las Vegas.

Attendees at the T.R.A.F.F.I.C. Las Vegas conference in 2006 took advantage of every networking opportunity. This speed networking event was a big hit and remains a conference fixture today.

T.R.A.F.F.I.C.'s live domain auction continued to grow at the May 2006 Las Vegas show with $2.1 million in sales (a record at the time - but a mark that would be surpassed many times in later years as the industry entered a boom period - largely stoked by T.R.A.F.F.I.C. itself). That year's auction also produced was was the highest .net sale ever reported up to that time - Sex.net at $450,000.

When T.R.A.F.F.I.C. returned to Las Vegas in March 2007 for its next show there, I was stunned when I walked into the Venetian ballroom on opening day and saw the biggest crowd ever at a domain conference up to that time - over 600 attendees. That's when I knew this industry had "arrived". That was also reflected in a new auction sales record of $4.3 million, doubling what had been rung up the previous year.

Part of the then record-breaking crowd at the 2007 T.R.A.F.F.I.C. Las Vegas conference.

T.R.A.F.F.I.C's four-year run in Las Vegas (all at the Venetian Hotel) concluded with the February 2008 show - the last one produced there by co-founders Rick Schwartz and Howard Neu. It was another successful show, but Schwartz and Neu decided it was time to send the show to new locations around the world (that fall the first international T.R.A.F.F.I.C. conference was held in Australia).

T.R.A.F.F.I.C. Co-Founders Rick Schwartz (seated) and Howard Neu at the
2008 T.R.A.F.F.I.C. Las Vegas conference - the last one they personally produced.

As all T.R.A.F.F.I.C. shows do, the 2008 Las Vegas conference attracted all of the industry's leading figures. In the photo below, my wife Diana visits with legendary domainer and long time friend Frank Schilling of InternetTraffic.com.

While the 2008 show was the last one Rick and Howard ran in Las Vegas, they still attended the January 2010 show that Rick Latona staged at the Hard Rock Hotel there (under a licensing agreement). If gave Schwartz and Neu a rare opportunity to enjoy a T.R.A.F.F.I.C. show with their families as spectators - a welcome respite after years of hard work.

That week I spent a night out in Las Vegas with Howard Neu, his wife Barbara and son Ray. One of our stops happened to be at the Paris Hotel Cafe directly across the street from the Bellagio Hotel. While having dinner on the outdoor patio there I snapped the photo below of Howard and Barbara with the Bellagio in the background. At the time none of us new that over three years later, when they decided to run a show in Las Vegas again, it would be at the Bellagio where we had gone to see the world famous dancing fountains (the best free show in Vegas).

For more on why Schwartz and Neu decided to take T.R.A.F.F.I.C. back to Las Vegas after a long absence, see our show preview interview with the conference co-founders in our May Newsletter. I will, of course, be at next week's conference to cover it for you and I hope to see many of you there in person. It's not too late to register if you want to make it to the big event.

(Posted May 21, 2013) To refer others to the post above only you can use this URL:
http://www.dnjournal.com/archive/lowdown/2013/dailyposts/20130521.htm
Email.biz Booming After Star-Studded Launch Party in India - Founder Coming to T.R.A.F.F.I.C. Las Vegas + Directi Launches .IN.NET & SEOBlog.com Makes Debut

Lots of ground to cover today! Back in December I told you about .BIZ baron Anshul Goyal and the new email service he was developing at Email.biz. This is a big time effort and Goyal made that clear at the official Email.biz launch party last month in New Delhi, India where he was accompanied by the service's new brand ambassador, Bollywood film star and supermodel Yaana Gupta. You can see the full press release about the Email.biz launch here (.pdf file).

Registered users of Email.biz can choose from over 20,000 premium domains (including one and two letter domains) to create an email address incorporating their name, company's name or their nickname. Users can also

Bollywood film star & Email.biz brand ambassador Yaana Gupta and Email.biz founder Anshul Goyal at the company's April 28 launch party in New Delhi, India.

check mail from all of their accounts at other services from within their Email.biz account, making it a one stop solution.

If you are going to next week's T.R.A.F.F.I.C conference in Las Vegas, you can get more details about the rapidly growing service directly from Anshul who will be flying in from India for the conference.

Speaking of T.R.A.F.F.I.C. Las Vegas, show founder Rick Schwartz announced this morning that the show is responding to requests for a one-day pass to specific days at the event that runs May 29-June 1 at the Bellagio Hotel.

To meet those requests, Schwartz created two additional pass options:

Pass #1 includes the Wednesday Night Opening Cocktail party PLUS all Thursday events, including Breakfast, Lunch, Seminars,

Auction, Party and the Best Networking in the Industry. The cost for that is $1395.

Pass #2 includes the Thursday Night Water School Party plus all Friday events, including Breakfast, Networking Lunch, Seminars and After Party. Cost for that is $895 including the $50 donation to the Water School on your behalf.

Schwartz noted, "Personally I don't encourage one day passes because you are truly not getting the total benefit of what we do, but I do understand some schedules these days are very tight so we are making this accommodation for the show.

"

Elsewhere, the Directi Group, India's largest supplier of domain names, has launched a new internet addressing domain, .IN.NET. The new privately operated, Indian focused address will offer shorter, more memorable names that are otherwise hard to find in .com, .net or .in.

Directi Group Founder and CEO Bhavin Turakhia said, "Our aim is to make name scarcity a non-issue and offer all Indians a short, memorable name at a very affordable price."

.IN.NET will launch with a 42-day Landrush & TM Claims service starting June 18, 2013, where customers can pre-register for generic, premium names and brand names can block their domain names to prevent cybersquatting. Open registrations on a first-come, first-served basis will start August 1, 2013.

In other launch news, Michael Cyger, who runs the popular DomainSherpa.com video blog, is branching out with a new information service for the search engine optimization industry that debuted today at SEOBlog.com (a news aggregation service similar to what Domaining.com offers in the domain industry).

Cyger said, "The purpose of SEOBlog.com is to aggregate the best thought leadership from search engine optimization professionals. Yes, people can create a Twitter feed of their favorite blogs or receive emails from them all, but getting the best blogs in one place is how we're adding value. SEOBlog.com saves members time, our most precious resource."

"All blogs are curated, reviewed and approved by an SEOBlog.com editor," Cyger added. "We also provide access to the best blogs in a variety of ways:

* Summary format on the website SEOBlog.com

* The most popular stories, as determined by readers, emailed daily.

* All headlines via twitter.com/seoblog and facebook.com/seoblogcom

With Michael you can be sure you will find a professional and informative service at SEOBlog.com.

Michael Cyger
SEOBlog.com Founder

(Posted May 20, 2013) To refer others to the post above only you can use this URL:
http://www.dnjournal.com/archive/lowdown/2013/dailyposts/20130520-2.htm
Bree and Domain Giant/Drummer David Castello Will Make Their National TV Debut Tonight With a Live Performance on the AXS Network

Just last week I was telling you about the upcoming June 18 release of the debut CD from bree, the rising rock star managed by domain industry giant David Castello, a lifelong musician who also plays drums in bree's trio. The band is causing a lot of other people to sit up and take notice too. David just informed me that bree will be leading the group's live national TV debut tonight (Monday night, May 20) on billionaire Mark Cuban's cable music channel AXS-TV.

They will be performing the title track from the upcoming CD "All American Girl" and another cut from the debut album, "You Can't Take The Heart Out Of Me." For people outside of Nashville, where the group is based, this will their first chance to see bree perform. They will be doing the songs live from Studio D at Soundcheck Nashville. The show is slated to start at 10pm U.S. Eastern time (9pm in Nashville, 8pm in the Mountain time zone and 7pm on the west coast).

If you don't know already know the AXS-TV channel number for your local cable

provider you can find it by going to www.axs.tv/subscribe and entering your zip code and cable service provider to find the station in your area (in Tampa, I'll be watching on Verizon FIOS HD Channel 569). For those with DISH Network it's channel 167 and on Direct TV it's channel 340. Don't miss it - you'll want to be able to tell your grandkids you saw bree's national TV debut! :-)

(Posted May 20, 2013) To refer others to the post above only you can use this URL:
http://www.dnjournal.com/archive/lowdown/2013/dailyposts/20130520.htm
Two Reasons Nashville.com's David Castello is Doing a Happy Dance

Domain industry veterans are all familiar with the Castello Brothers (David and Michael) and the portfolio of premier properties held by their company Castello Cities Internet Network. Those include generic gems like Whisky.com and Bullion.com and geodomain powerhouses like PalmSprings.com, Acapulco.com and Nashville.com.

Most of you also know that David (a life long musician) moved to Nashville a couple of years ago to manage the career of upcoming rock star bree and play drums in her trio. While there David has also been spending a lot of his time working with DevDigital.com to take the Nashville.com website to another level.

It looks like that effort is paying off in a big way. Today Nashville.com announced record breaking traffic gains at the site. In addition to passing well established local rivals NashvilleScene.com and VisitMusicCity.com in Alexa's rankings, Nashville.com is now ranking higher than major city sites like NewYork.com, SanFrancisco.com and Chicago.com.

The DevDigital team that built and manages Nashville.com includes strategists, project managers, programmers, marketing pros, agency veterans, and designers who have 500 projects under their belts. They took on Nashville.com last November and had the revamped new site up in December with a steady string of traffic gains since then with no end to the upward trend in site.

The other thing David is excited about is tomorrow night's launch party for bree's debut CD titled All American Girl - an event that will be held at the Mercy Lounge in Nashville. The CD (cover shown at left) will be released to the public on June 18th.

The highly anticipated disc is already creating a lot of buzz. In fact Microsoft's MSN network has decided to feature the bree CD on its Inside Music: Listening Booth page the week it is released.

David sent me an advance copy of the 11-track CD and it rocks from start to finish. Music fans are in for a treat when this one hits the street.

(Posted May 16, 2013) To refer others to the post above only you can use this URL:
http://www.dnjournal.com/archive/lowdown/2013/dailyposts/20130516.htm
Companies in the News: NameMedia's BuyDomains.com, Sedo & Hilco IP Auctions

NameMedia's popular domain aftermarket platform, BuyDomains.com, has been given a stylish new makeover that debuted today. A company spokesman told us the new site was designed to provide a clean, simplified, and improved user experience for domain buyers.

Dan Vescuso said, "We've enhanced our search capabilities, and our new filtering interface makes refining your search results quick and easy. The new site design is optimized for mobile and tablet users as well, so you can find and buy domains easily on-the-go. Additionally, the shopping cart process has been simplified, getting buyers their domains faster."

With an eye on end users, the new site also does a good job of explaining the value of a good domain to any enterprise - an emphasis that can only help sellers who list on the BuyDomains platform.

Elsewhere, Sedo issued their latest quarterly report (.pdf file) Tuesday covering business in the opening quarter of 2013 at the domain services giant. The Sedo Holding Group reported that its revenue grew by 7.3% during Q1-2013 to €36.9 million (compared to €34.4 million in the same quarter a year ago). The growth was driven by the Affiliate Marketing segment that jumped 14.7% year over year.

The Domain Marketing segment (domain sales and parking) didn't fare as with revenue falling 14.1% from the same quarter a year ago. Sedo said that division was challenged by a falling market and growing competition fueled by " new and price-aggressive providers." Even so, the number of domains on the Sedo platform rose from 14.9 million a year ago to 16.6 million in Q1-2013.

One other note today - Hilco Streambank announced the addition of several new domain names and trademarks to the upcoming online auction we told you about a couple of weeks ago (the sale will take place on May 20 through May 22, 2013).

Tweeter.com and TWTR.com are among the domains that have been added to a catalog that already included Bargain.com, ETM.com, VirtualMall.com and many others.

(Posted May 15, 2013) To refer others to the post above only you can use this URL:
http://www.dnjournal.com/archive/lowdown/2013/dailyposts/20130515.htm
Live Domain Auction Pioneer T.R.A.F.F.I.C. Keeps the Tradition Alive With Upcoming May 30 Sale in Las Vegas - Current Catalog Was Released Today

Live domain auctions have been a fixture at T.R.A.F.F.I.C. conferences ever since the pioneering event staged the first one ever at its second Florida show back in October 2005. That inaugural auction yielded impressive results for a debut event too with Consulting.com going for $180,000 and a three-name package that included Bachelor.com, Bachelor.net and Bachelor.org selling for $125,000.

Another live auction will be an integral part of the 24th conference in the popular T.R.A.F.F.I.C. series that will run May 29 to June 1, 2013 at the Bellagio Hotel in Las Vegas. Auction day will be Thursday, May 30 with the sale scheduled from 2pm-4pm (local time).

Today, conference show co-founder Rick Schwartz released the current list of domains that are scheduled to go on the block (there will likely be several additions between now auction day - you can see the most current full list by checking the auction section of the Schedule page at the T.R.A.F.F.I.C. website).

A scene from the last T.R.A.F.F.I.C.
Live Domain Auction (October 2012 in
Ft. Lauderdale Beach, Florida).

The current auction list includes 3DMovie.com, AFQ.com, Bouquet.com, LawnMowing.com and Thriller.com to name just a few. To spice things up, the mix also includes several non .com domains including JAX.net, ConsolidateDebt.org, 777.me, Artist.us (with Artists.us), Silly.tv and Time.travel.

Schwartz said that more than 50% of the list has NO RESERVE and will sell to the highest bidder. He added that you can bid in person, by text, by email or by phone.

(Posted May 14, 2013) To refer others to the post above only you can use this URL:
http://www.dnjournal.com/archive/lowdown/2013/dailyposts/20130514.htm
Stop the Presses! Change of Plans for the Big Water Night Party at T.R.A.F.F.I.C. Las Vegas
On Monday I told you about Water Night - a special fundraising party benefiting The Water School that was going to get underway at 9pm on the opening night (May 29) of the 2013 T.R.A.F.F.I.C. Las Vegas conference that runs May 29 - June 1 at the Bellagio Hotel. A minimum $50 donation was required for the event that was going to follow T.R.A.F.F.I.C.'s official opening night Cocktail Party.
There has now been a change in plans. Water Night has joined forces with T.R.A.F.F.I.C to make it an official show event and T.R.A.F.F.I.C. is going to pay the $50 charge for every T.R.A.F.F.I.C. registrant who wants to go to the Water Night event (and that should be ALL of them)! As part of that change, the party - now dubbed the T.R.A.F.F.I.C. WaterNight Vegas Charity Party sponsored by NameCheap - is being shifted to Thursday night, May 30 with the same running time (9pm to 1am) and the same location - the PBR Rock Bar - just across the street from the Bellagio.

It is important to note that all T.R.A.F.F.I.C. attendees still MUST sign up for WaterNight at www.WaterNight.org as everyone has to be on the separate guest list to attend. In addition to covering the minimum admission cost (you can donate more to this worthy cause to help them reach their $20,000 goal), T.R.A.F.F.I.C. will

pay for the food and NameCheap will cover the cost of the open bar and entertainment to make sure every dollar goes to The Water School.
Non-domain industry guests are also welcome with a minimum donation amount, while all domain industry guests must be paid T.R.A.F.F.I.C. attendees and wear their badges to the event.
By the way, in case you missed our May newsletter that was sent out to opt-in subscribers yesterday, it features a special T.R.A.F.F.I.C. Las Vegas preview interview with show co-founders Rick Schwartz (who celebrated a birthday yesterday) and Howard Neu.

They talk about why it has been 5 years since they last ran a show in Las Vegas, what is in store this time around and, in something that will be of special interest to many, why new gTLDs won't have a high profile at this show. Check that out here.

In another related noted, you may recall from my post a couple of weeks ago the details of Domaining Spain conference co-producer Jodi Chamberlain's successful fundraising effort for The Water School. Jodi allowed her long brown hair to be shaved off in exchange for donations to the charity and wound up attracting $35,000 in pledges.

The Water School's blog has just published Jodi's own account of her entire hair-raising (I mean hair-lowering) and heart warming experience in Spain. Jodi's journey is not over either. As she explains in the story, she will be heading to Africa this summer to see the Water School's life saving work in person. Check out her full story here.

Jodi Chamberlain sacrificing her hair at last month's Domaining Spain conference in an effort that raised $35,000 for The Water School.
(Posted May 10, 2013) To refer others to the post above only you can use this URL:
http://www.dnjournal.com/archive/lowdown/2013/dailyposts/20130510.htm
How the 2nd Annual Domain Boardroom Funfest Wound Up Getting Bobbled - And Why That's a Good Thing!
| | |
| --- | --- |
| DomainBoardroom's 2nd annual DBR Funfest wrapped up a four-day run in Dana Point, California Monday (May 6) that had guests raving about another great get together with fellow members from the popular private forum. | |
Today I got a Funfest picture I have been waiting a long time to see. Shortly after last year's inaugural "un-conference" ended, DBR Founder Donna Mahony (one of the most thoughtful people you will meet in this or any other business) told me she wanted to do something special at the 2013 Funfest to honor one of the forum's most helpful and beloved members - Bob Olea (Bob, a commercial airline pilot, was the subject of our July 2012 Cover Story).
Donna came up with the idea of secretly having Bobbleheads.com founder Warren Royal (who was also featured in a DN Journal Cover Story in December 2008) create a custom Bob Olea bobblehead doll. Warren came through with flying colors and Donna was able to present the surprised and delighted domain investor with Warren's creation over the weekend at Dana Point.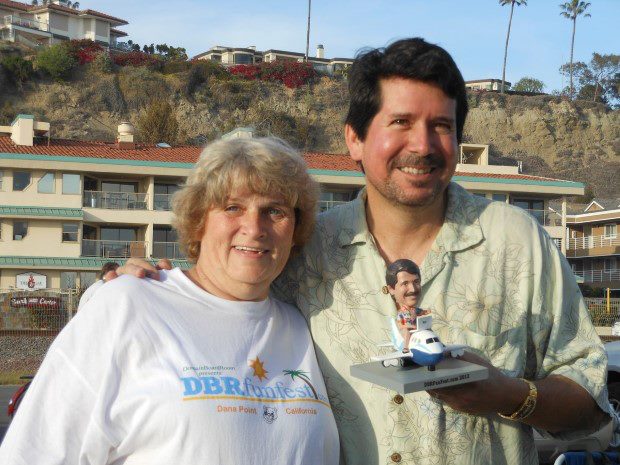 DomainBoardroom Founder Donna Mahony with DBR member Bob Olea and his
new bobblehead doll at the DBR Funfest this past weekend in Dana Point, California.
As you can see in the close up photo on the right, Warren Royal, the Michelangelo of the bobblehead world, didn't miss a trick in designing the Bob Olea bobblehad. It's all there (including the airplane!) with every hair in place, not only on Bob's head but on his trademark mustache as well! The piece required a special runway-sized base to accommodate the mini 747 and that's there too, along with the ever present broad smile Bob is most known for (you can see some fascinating photos from the entire design process here).

I've always said that the domain industry has some of the most creative people I've ever met in any business. Another example was provided on behalf of a DBR member who wasn't able to make it to Funfest but whose always welcome presence was made known none the less.

Bob Olea and Kevin Allen honored Canada's Shaun Pilfold by producing and presenting Funfest guests with a stash of custom labeled Pilfold's P.O.S. Pilsner beer - a brew that immediately became the official beverage of the 2013 DBR Funfest.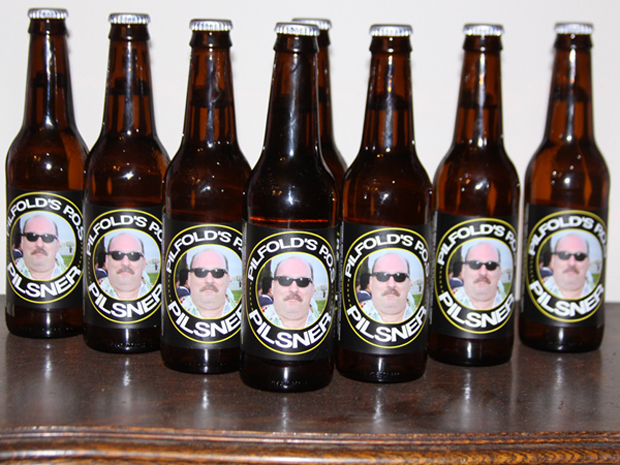 I mentioned to Donna that a lot of people from our industry could have made it BIG on Madison Avenue, but I'm glad they wound up in this business instead. She summed up the overall vibe from this year's Funfest by noting, "it's just a rare group of competitors who end the gathering with hugs instead of handshakes." When someone asks you what is so special about this business - that's as good an answer as you could ever give.
(Posted May 8, 2013) To refer others to the post above only you can use this URL:
http://www.dnjournal.com/archive/lowdown/2013/dailyposts/20130508.htm
Transactions at Escrow.com Pass the $1.5 BILLION Mark - More Than Half From Domains and Websites
Escrow.com released some pretty startling sales numbers today when the company reported the total value of Escrow.com's historical sales has passed the $1.5 BILLION mark. While it took almost 11 years to reach $1 Billion, Escrow.com needed less than a year and half to reach the latest landmark and President/General Manager Brandon Abbey said they expect to hit $2 BILLION by the end of this year.

Sales of domains and websites have played a starring role in Escrow.com's remarkable growth story. Director or Business Development Andee Hill told me more than 50% of the company's sales have been produced by

Increasing sales image from Bigstock

domains and websites. Pretty remarkable when you consider that The company is the recommended transaction settlement service for companies like Cars.com, AutoTrader and Ebay Motors that produces tons of high ticket sales.
Even so, with their supporters including Go Daddy, Flippa.com and dozens of top domain brokers, our industry has more than held its own as a driving force in Escrow.com's ascent to ever increasing heights.
With CyberSource's 2013 Online Fraud Report estimating that consumers lost $3.5 billion due to online fraud in 2012 (up $800 million from from just two years earlier) it's little wonder that so many people have turned to the pioneering escrow services provider to ensure their transactions are safe.
(Posted May 7, 2013) To refer others to the post above only you can use this URL:
http://www.dnjournal.com/archive/lowdown/2013/dailyposts/20130507.htm
T.R.A.F.F.I.C. Las Vegas Update: Last Week for Current Registration and Hotel Rates + Water Night Fundraiser to Follow Opening Night Party
The T.R.A.F.F.I.C. Las Vegas conference is just three weeks way and if you are thinking about going to the highly anticipated event, you can save yourself some money by acting this week. The event that runs May 29 - June 1 at the Bellagio Hotel will be the first Las Vegas show staged by T.R.A.F.F.I.C. Co-Founders Rick Schwartz and Howard Neu since 2008 (in a licensing agreement, Rick Latona staged a January 2010 show under the T.R.A.F.F.I.C. banner at the city's Hard Rock Hotel). Their Las Vegas shows have always been big crowd pleasers and

with the world famous Bellagio hosting for the first time, this one is bound to be something special.
In a letter to the T.R.A.F.F.I.C. mailing list today Schwartz announced the show's rights to a block of discounted rooms at the Belllagio ends this week and the hotel is already 90% booked for conference week. You may (or may not) be still be able to get a room at the Bellagio next week but it will cost you more. So will show registration. Schwartz said this is the final week before the rate rises by $200 to the $1,995 rate that will also be charged at the door.
A scene from the February 2013
Water Night event in Los Angeles.

I will, of course, be in Las Vegas to cover the show and hope to see you there as well.

In a related note, representatives from The Water School have scheduled a special Water Night Fundraising Party that will get underway shortly after T.R.A.F.F.I.C.'s big Opening Night Cocktail Party concludes Wednesday night, May 29. The T.R.A.F.F.I.C. event will wrap up at the Bellagio around 8:30pm, then attendees can move over to the PBR Rock Bar (located on the same block inside the Planet Hollywood

Hotel) for a party that is scheduled to run from 9pm - 1am. A minimum $50 donation is required for admittance to that event (and many go beyond that).

With sponsor NameCheap.com picking up the massive bar tab - 100% of the proceeds make it to The Water School. You can get your tickets here and it is a good idea to get them in advance. The first Water Night party held during Webfest Global in Los Angeles in February drew a wall to wall crowd for an event that raised $40,000 for the The Water School.
(Posted May 6, 2013) To refer others to the post above only you can use this URL:
http://www.dnjournal.com/archive/lowdown/2013/dailyposts/20130506.htm
Companies in the News: .ME Registry, Hilco IP Auctions, Afternic & NameJet
| | |
| --- | --- |
| In a refreshing change from the usual registry model - where you have no chance to get one of the best domains unless you have deep enough pockets to win an auction - The .ME Registry is going to release five previously reserved generic names to applicants who come up with the best development plan for those domains. The registry will start accepting applications to develop Around.ME, Hire.ME, Fund.ME, Find.ME and For.ME on May 10, 2013 and will leave the window open until June 15, 2013. | |
All businesses, large or small, existing or start-up, are eligible to apply. .ME Registry CEO Predrag Lesic said, "The goal of the Premium Domain Program is to assign the very best premium domains to the best content. We are not interested in just selling the domain; we think the quality of service provided has a far better value for our company and for the end users. That's the main criteria we'll be looking for in our Premium Domain Program applicants."
.ME, who started the Premium Domain Program in 2008, believes (and I think correctly so) - that the long term success of the extension depends on people being able to find useful sites on .ME domains - thereby increasing recognition, trust and registrations in the TLD. While they could get more cash in the short term by selling those premium names off, the payoff will be infinitely larger if people start seeing and using more .ME domains in their daily life.
If you are someone whose preference (and resources) lean toward just buying high quality domains outright you may be more interested in an upcoming IP auction that will run May 20-22, 2013 with domains (and related IP assets) including Bargain.com, BrandEquity.com, ETM.com, VirtualMall.com and others going on the block.

The auction is being run by Hilco Streambank, an advisory firm specializing in the valuation and marketing of brands, trademarks and other intangible assets. They were hired by several well-known corporations to sell off these domain assets.
The domain names and related intellectual property including trademarks, customer lists and vanity phone numbers will be sold in separate lots in an auction on Hilco's internet auction platform. Interested parties can visit the HilcoIPAuctions.com website for more details.
Elsewhere, two of the domain industry's most popular auction platforms, Afternic.com and NameJet.com, have announced a new partnership under which Afternic's portfolio of premium domains with Buy it Now prices will be offered to NameJet customers. Eligible Afternic domains can be immediately transferred to NameJet customers.

NameJet's General Manager Matt Overman said, "We are committed to providing our expanding customer base with more choices and the best user experience for acquiring premium domains, and Afternic was a natural choice."

+
(Posted May 2, 2013) To refer others to the post above only you can use this URL:
http://www.dnjournal.com/archive/lowdown/2013/dailyposts/20130502.htm
---
If you've been out of the loop lately, catch up in the Lowdown Archive!
---
We need your help to keep giving domainers The Lowdown, so please email

[email protected]

with any interesting information you might have. If possible, include the source of your information so we can check it out (for example a URL if you read it in a forum or on a site elsewhere).
---
Home Domain Sales YTD Sales Charts Latest News The Lowdown Articles
Legal Matters Dear Domey Letters to Editor Resources Classified Ads Archive About Us