The Lowdown
Sept. 2013 Archive
Subscribe to our RSS Feed

Here's the The Lowdown from DN Journal,
updated daily to fill you in on the latest buzz going around the domain name industry.

The Lowdown is compiled by DN Journal Editor & Publisher Ron Jackson.
Verisign Research Says Small Businesses Still Prefer Websites to Social Media - Meanwhile Sedo Study Sheds Light on Prospects for New gTLDs
A couple of new studies are out with findings that should be of interest to all domain investors. In one, released today, Verisign engaged Merrill Research to canvas more than 1,000 businesses scattered around the globe to see how they view the importance of having their own website vs. other popular marketing platforms like social media.

The study (.PDF file) found that 72% percent of participants reported having a website to represent their businesses as their primary online presence. Social media, which some predicted might one day make domains irrelevant, was a distant second at 13%.
65% of small businesses with an online presence said they elected to create a company website because it makes their company look more credible, and 60% said that a website is critical for a small company's success. Overall, 82% of small businesses with an online presence would recommend investment in a website to other small companies in their industry.
A few more interesting tidbits from the research:
• The preferred domain extension for small business is .com: In the U.S., nine out of 10 (89%) of small businesses with an online presence prefer a .com domain name for their company website. Globally, that number is 61% (ccTLDs are commonly used in many other countries).
• Small businesses have not caught up with the mobile trend: Globally, only 21% of small businesses with a website have a mobile version of their website.•
• Small businesses are missing out on inexpensive opportunities to claim their brand online: Overall, two-thirds of respondents said their small businesses are using a branded email address. Nine out of ten (92%) of these small businesses say they feel that branded email makes their business look more credible, yet the 63% without branded email (i.e., [email protected]) didn't know it was an option for their company even if they do not have a website.
The latter point indicates there is still a lot of room for growth in domain registrations, whether it be for email addresses only, or for fully developed websites. Clearly, domains are not about to diminish in importance any time soon. The report was accompanied by an infographic that you can see here (also in .PDF format).
| | |
| --- | --- |
| | In another study issued today, Sedo unveiled some new research they did into the prospects for new gTLDs. The report, Advertising and Marketing Industry gTLD Awareness Report (.PDF file), found overall awareness of ICANN's new gTLD program is lacking in the advertising and marketing industry, but, conversely, the study indicated new web addresses will ultimately be successful. |
More than 360 individuals responsible for the advertising or marketing programs at their companies, or who work at advertising or marketing firms, were surveyed in August 2013, revealing that:
54% were unaware that new gTLDs will be introduced this year.

62% felt that the introduction of these new web addresses would make the internet more confusing to navigate.

Even so, 64% believed that the use and adoption of new gTLDs would be ultimately successful, despite the initial confusion they may cause.

35% said that the main advantage of new gTLDs would be an increased ability to secure a memorable website address, while 28% said that they would be persuaded to purchase one of these new web addresses for this reason.
There is much more information in the report including how the respondent ranked the individual new gTLDs chances for success. They deemed .app the most likely to be successful, followed by .inc and .shop. You can read the full report here.
(Posted September 30, 2013) To refer others to the post above only you can use this URL: http://www.dnjournal.com/archive/lowdown/2013/dailyposts/20130930.htm
Registrar InterNetX Lures New Resellers With Free Professional Domain Management Software
One of the first issues people run into when they get into the domain business is keeping track of and managing the growing number of domains in their portfolios. Many start out, as I did, using a spreadsheet like Excel, but when the number of names you have starts running into the hundreds or thousands, you are likely to find that you need dedicated domain management software with a lot more horsepower under the hood.

InterNetX's AutoDNS 3.0 program is one of the most robust ones out there and it is now possible to get it at no charge if you are also ready to do what many other domain investors have done - become a reseller of domain registration services.
Many of the biggest registrars, including Go Daddy, eNom and InterNetX offer turnkey reseller programs that can instantly put you in the registration business. That can help you create a new revenue stream in addition to the commission you make on new domain registrations. When someone buys a domain from you can ask them to create a new account at your registration site so you can immediately push the domain to them. If they keep the name with your service, as many will do, you will then make recurring revenue from their renewals year in and year out.
Internet image from Bigstock

InterNetX, who already has over 25,000 resellers (and 3.6 million domain under management) knows that people interested in becoming resellers are also very likely to need professional domain management software, so they are using the free AutoDNS 3.0 Standard offer as a powerful incentive to give their reseller program a try.

In addition to the software new resellers get the InterNetX redirector, WhoisProxy, and Whois Privacy Service. The company thinks the redirector is an especially useful solution to several problems. For example,

if a website changes domains or is being restructured, a 301 redirect to the new pages can be implemented to avoid website visitors reaching a 404 error page (this solution is also recommended by leading search engines). Domains, subdomains and email addresses can all be easily redirected with just a few clicks.
Many AutoDNS 3.0 features are also available on the go thanks to a mobile app that allows InterNetX customers to manage their domain portfolio 24/7 wherever they are. If you are thinking about becoming a reseller, this is one of the platforms worth checking out.
(Posted September 27, 2013) To refer others to the post above only you can use this URL: http://www.dnjournal.com/archive/lowdown/2013/dailyposts/20130927.htm

Never Ending Parade of Scammers & Domain Name Hijackers Prompts Rick Schwartz to Expand HallOfShame.com
A couple of weeks ago I told you about Rick Schwartz's new HallOfShame.com website that is shining a light on would be domain thieves who have been found guilty of reverse domain hijacking attempts.

The rogue's gallery at the site is growing on an almost daily basis with Jet Go Australia Holdings the latest to join the line up. They earned their black eye with a failed attempt to steal the domain JetGo.com from industry legend Frank Schilling.

With Frank's accomplished

domain attorney John Berryhill repeatedly beating back attempted hijackings it's a wonder that so many foolish people keep trying. Clearly they are not doing their homework (or are being poorly served by their own attorneys who should know better) when they try to use the UDRP process to steal domains they are not entitled to from people who have a record of always defending their assets.
In an attempt to get attorneys for complainants who file baseless claims to think twice, Schwartz, the co-founder of the T.R.A.F.F.I.C. conference, announced today that he would be adding an Attorney's section to HallOfShame.com, naming the attorneys and firms who have filed cases that UDRP panelists have determined to be reverse domain name hijacking attempts.
The expansion comes of the heels of Schwartz's introduction of a new Scammers section to the site earlier this week. In introducing that expansion Schwartz said, "There are some bad players in our space. Some are fake bidders. Some are domain name hijackers. Some just don't complete their transactions. Some are spammers that lie and fake you out. So we are going to EXPOSE the low-lifes of our industry as well as Reverse Domain Name hijackers with a new special section on HallOfShame.com."
Rick Schwartz

The first company Schwartz placed in the HallOfShame.com Scammers section is a Canadian outfit that operates at WebNameSolution.com. They were quickly followed by Domain Registry of America, a slimy operation many of your are already familiar with. They have been around for years and gained infamy with their stock in trade - sending out what appear to be domain renewal notices to people who do not have domains registered with them. They hope recipients will overlook the easy to miss disclaimers in their letters and think they are coming from their own registrar. If the recipient falls for it they will be sending back authorization to have their domains transferred to Domain Registry of America while paying an exorbitant renewal price in the process - talk about adding insult to injury.
There are so many ways to make money legitimately in this industry it is a shame that so many feel the only way they can do it is to cut corners and rely deception, misrepresentation and, in some cases, outright fraud. By shining a light on those kinds of operators, Schwartz hopes HallOfShame.com will help others avoid being victimized.
(Posted September 26, 2013) To refer others to the post above only you can use this URL: http://www.dnjournal.com/archive/lowdown/2013/dailyposts/20130926.htm
Companies & Organizations in the News: Marchex, Archeo, DomainTools & Southern California Domainers
Last November we told you about Marchex's decision to spin their massive domain portfolio off into a different company called Archeo. Marchex is a public company and the plan was for Archeo to go public on its own as well. On Thursday Marchex announced it has decided not to try taking Archeo public at this time after all. Instead Archeo will remain an independent division of Marchex.

Marchex CEO and Chairman Russell Horowitz said, "Archeo has tremendous asset value and we will continue to consider various strategic options. In the meantime, this decision frees

up valuable resources and allows us to direct Archeo's positive cash flow to both build Marchex's balance sheet and fund Archeo's growth initiatives."

As we told you earlier this month, Archeo recently launched the Archeo Domains Marketplace where businesses, brokers and individuals can make purchase offers on the more than 200,000 domains in the comany's vast portfolio (a collection built on Marchex's $164 million purchase of legendary investor Yun Ye's portfolio in 2005).

Elsewhere, domain-name research and monitoring pioneer DomainTools announced the addition of two key members to their executive team Thursday. Bruce Roberts comes on board as Vice President of Technology and Jeff Day takes over as Vice President of Marketing and Product. The DomainTools announcement said, "Both Executives bring deep enterprise software experience in growth-company environments, and add critical leadership acumen as DomainTools invests heavily to meet increasing demand from clients in the Cyber Security and Brand Protection markets."

Roberts is a 20-year veteran in engineering and systems development, with a Ph.D. in Applied and Engineering Physics from Cornell University. Before DomainTools, he was Chief Technology Officer at Rouxbe Global Food Group. Roberts has held lead architect and management roles at HP and Opsware and played a key role in developing the early sites for ESPN.com and NBA.com

Day was the founder and CEO for Enodo Software, a cloud-based big data analytics technology for Marketing Performance Management. Over the last 15 years he has lead marketing organizations and product management at companies such as Apptio, HP, PolyServe, Sun Microsystems and Intel.

One other note today - one of the largest local domainer's groups in the U.S. - Southern California Domainers - has annonced their next meetup. The event will take place next Thursday evening, Sept. 26, 2013 at the Settebello Pizzeria Napoletana restaurant at 13455 Maxella Avenue in Marina Del Rey, California (the seaside city that is also home to ICANN).

Organizer Jason Thompson said "We've had a number of formal gatherings in the past and it has been very educational. This time around I want to take the formal out of it and gather the group together to network among each other. Some of us are great networkers and some of us need a little help. September's meetup will be purely about sharing a few drinks, stories and really connecting with one another on a business and personal scale. We haven't had a meetup in a year, so this will be the perfect way for everyone to catch up."
(Posted September 20, 2013) To refer others to the post above only you can use this URL: http://www.dnjournal.com/archive/lowdown/2013/dailyposts/20130920.htm
Blockbuster Acquisition: GoDaddy Buys Afternic and SmartName From NameMedia - NameMedia Keeps BuyDomains
In one of the most significant acquisitions in domain industry history GoDaddy has purchased two major business units from NameMedia - domain aftermarket sales platform Afternic and domain monetization company SmartName, as well as NameFind, a new service NameMedia recently rolled out for helping entrepreneurs brainstorm a brand name for their business. The price paid for the three services was not disclosed.

GoDaddy will continue to operate the acquired brands under their current names. Meanwhile, NameMedia will keep its well-known sales platform, BuyDomains, as well as a huge portfolio of domain names, a number of which they have developed into active businesses.

The news first came this morning in letters to Afternic and SmartName customers from NameMedia CEO Kelly Conlin. Less than an half hour later we received the official release from Godaddy that, in reference to the key Afternic acquisition, said, "The move creates an unprecedented level of domain name

aftermarket inventory from one source and a frictionless marketplace – enabling buyers to purchase registered domain names offered for sale quickly and easily."
GoDaddy also said the impending arrival of hundreds of new gTLDs also played a major role in the acquisition noting, "The move bolsters ICANN's upcoming Top Level Domains (TLD) program by fueling a more diverse aftermarket. Afternic's Domain Listing Service (DLS) displays domain names at more than 100 different registrars – including 18 of the top 20. This gives new TLDs registries and resellers the best chance and easiest way to showcase their aftermarket domain names. As an example, instead of choosing a single registrar to sell an already registered name like Pizza.NYC – the name can be offered across the entire DLS network – giving the seller the most exposure and customers the best experience."
Blake Irving
GoDaddy CEO

GoDaddy CEO Blake Irving said, "Having the right domain name is vital, no matter your venture. GoDaddy is working to bring the 'domain aftermarket' together with new registrations and make both super-simple to access. Our customers need an easy way to buy the name they want, regardless of whether it's new or has been registered previously. This acquisition forms a registrar-led process that creates faster and more trusted transactions across the board."

GoDaddy plans to incorporate the DLS into its domain search results and add its aftermarket domain name inventory to the DLS in the coming months. GoDaddy Vice President and General Manager Mike McLaughlin added, "The success of the new TLDs and the aftermarket relies on a tight-knit group of diverse registrars and Afternic has done tremendous work to bring everyone together."
Godaddy also noted "Afternic's Fast Transfer network completes the transaction instantly, and will leverage the full security of GoDaddy's world-class architecture, without requiring days for a domain name to transfer or having to negotiate confusing industry regulations."

Afternic SVP of Business Development Bob Mountain, who will remain Afternic's Chief Revenue Officer, said, "GoDaddy's adoption and endorsement of Afternic as the standard for Fast Transfer will accelerate the growth of the domain aftermarket across the entire industry. Registrars around the world are realizing that the aftermarket presents a significant opportunity for revenue growth. GoDaddy's acquisition and investment in Afternic is a win for registrars, domain owners, and customers, and will provide the necessary scale to grow the aftermarket for years to come."

Several of GoDaddy's industry partners reacted favorably to the news. Tucows CEO Elliot Noss said, "This is a terrific move by GoDaddy and a real milestone for the domain industry. Making it easier for customers to find, buy and manage aftermarket domain names is important. That is why GoDaddy, Tucows and other large registrars are working together for the industry and for customers."

NameMedia CEO Kelly Conlin added, "Afternic and GoDaddy share a vision for creating a unified domain aftermarket. By operating Afternic with the interests of the registrars and their customers first and foremost, this transaction not only fulfills this vision, but reinforces that registrars are the very best place to find all available domain names." Conlin, in addition to continuing in his currrent role, will become a strategic advisor to the Afternic management team following the acquisition. GoDaddy plans to keep the Afternic staff in the Boston area.

Bob Mountain
Afternic SVP of Business Development

NameMedia CEO Kelly Conlin

(Posted September 19, 2013) To refer others to the post above only you can use this URL: http://www.dnjournal.com/archive/lowdown/2013/dailyposts/20130919.htm
DomainNameSales Rolls Out New Services Designed to Turbocharge Sales - Beefed Up Brokerage Team and Buy It Now Option Among Improvements
DomainNameSales.com (DNS), the aftermarket domain sales platform founded by Frank Schilling, is continuing to add new services to a site that has been a disruptive force ever since it opened to the public last year (DomainNameSales itself has actually been in operation since 2001 but it was previously limited to servicing Frank's own portfolio).

The biggest change has been an expansion of the DNS brokerage team that now allows the company to have brokers personally follow up on otherwise dormant purchase inquiries. In a letter to client, Schilling wrote, "We have grown our brokerage team to 14 people, (who speak 10 languages) and are available 7am – 7pm Central time. We are very proud to announce an enhancement, which has been the secret to our success, and now can become the secret to yours too: follow up."

Schilling noted, "You now have the ability to select our brokerage team to revive interest in your inquiries that have not been active for 30 days. By opting in you can still keep self-brokering your new leads or choose us to take care of it all."

Of course, as the old saying goes, there's no such

Frank Schilling

thing as a free lunch, something Schilling also addressed, writing, "We are also testing new exciting features, which we will be releasing in the coming weeks. As we endeavor to keep standards high and provide you with these innovative features we will be raising our commission rate for full-service to 12.5% across the board." As most of you know this rate is still well below what many other platforms charge (a 20% rate is not uncommon, especially on multiple listing service platforms). You can learn more about the DNS brokerage offerings here: http://domainnamesales.com/brokerage.

Buy Now image from Bigstock

Another addition the DNS platform is the option to offer a Buy It Now price. This allows you to set prices for your names without the need to negotiate and display landing pages geared strictly toward the sale of your names.

DNS Director of Sales Dan Adamson said, "To ensure that these transactions go smoothly we are providing the expertise of our in-house transfer specialists. Transactions will be cleared through Escrow.com and we are adding other sales channels, partners and registrars imminently. Any sale completed with 'buy it now' will be subject to a 10% commission through DomainNameSales.com."

Adamson added, "To learn more about this new functionality please refer to our new developers blog. There you can ask

questions and receive guidance on all the new functionality within the improved DNS platform. DNS clients can start using Buy It Now for their names by clicking here."

In another domain brokerage news note, well-known brokerage firm MediaOptions has added a new broker to their team with Neal Resnick coming on board there. Resnick has a long track record that includes consulting and developing B2B and advertising relationships with CareerBuilder.com and domain investor relationships at GoDaddy.com.

MediaOptions CEO Andrew Rosener said, "Neal's talent and background will particularly strengthen our relationships with businesses and startups who seek us out during their domain name search. Given Neal's extensive knowledge and tenacious work ethic, we feel we have a tremendous new resource that will help us to support our continued growth."

Neal Resnick
(Posted September 17, 2013) To refer others to the post above only you can use this URL: http://www.dnjournal.com/archive/lowdown/2013/dailyposts/20130917.htm
German Domain Investor/Developers Christoph Grueneberg & Thomas Mueller Acquire Sale.co.uk Domain to Expand the Business They Created at Sale.de
Many of our readers (on both sides of the Atlantic) are familiar with German domain investor/developer/entrepreneurs Christoph Grueneberg and Thomas Mueller. Among other things, the dynamic duo (who are frequent visitors to U.S. domain conferences and will be at the next T.R.A.F.F.I.C. conference on Fort Lauderdale Beach next month) have staged the most popular German language domain conference - Domainvermarkter-Forum - with 8 shows in the past 7 years.

What you may not know about Christoph and Thomas is that they also own one of the biggest and best portfolios of generic .de domains. totaling over 50,000 in all (.de is Germany's ccTLD and is the most popular country code extension in the world). They have also developed some of their best properties into ecommerce sites, including their flagship, Sale.de, a business based on a domain they paid €47,600 for in 2007 ($63,308 at today's exchange rate).

Now that their German shopping portal, a search engine that finds the latest bargains, coupons and discounts, has proven successful they are ready to expand the concept into new markets. Toward that end Grueneberg and Mueller have just acquired Sale.co.uk for £37,500 ($59,526 at today's exchange rate), giving them the perfect platform to introduce their brand to Great Britain. Grueneberg told me, "we want to thank Sedo Brokers Marc Stepken and Brian Michitti for arranging this purchase."

Thomas Mueller (left) & Christoph Grueneberg
at the 2012 Domainvermarkter-Forum they
staged in Dusselfdorf, Germany last year.
Grueneberg and Mueller are already looking beyond Great Britain for further growth. Grueneberg noted, "We worked hard on the software for Sale.de in the past few years. Finally we achieved a stable and market-ready version, so now we will expand in new markets step by step."
Christoph and Thomas have expanded their range of events for domain investors as well. On October 9, 2013 they will host Domainvermarkter Stammtisch, a networking tour of Berlin in a luxury bus complete with gourmet food and drinks!
| | |
| --- | --- |
| | By the way, Grueneberg and Mueller's purchase of Sale.co.uk won't be the only big Sedo sale in our weekly domain sales report this week (that will be out Wednesday evening as usual). On his Facebook page this morning, Sedo Senior Broker Dave Evanson reported that he has closed the $160,000 sale of Intranet.com. |
(Posted September 16, 2013) To refer others to the post above only you can use this URL: http://www.dnjournal.com/archive/lowdown/2013/dailyposts/20130916.htm
Oversee.net Throws Party to Celebrate DomainSponsor Director of Sales Sam Tseng's 10th Anniversary With the Company
There are very few people in the domain industry that have spent ten years with the same company and, now that I think about it, there are not even many companies that have been around long enough to celebrate a 10th anniversary! It takes a very special kind of person to not only survive but thrive in the constantly changing environment that domain industry managers have to navigate.

Oversee.net's Sam Tseng, the Director of Sales for the company's domain monetization unit, DomainSponsor, is one of those special people and when he passed the 10-year mark with the Los Angeles based firm this week the company made sure Sam got the recognition he deserved by throwing a big special anniversary party for him last night (September 12).

Sam Tseng, DomainSponsor Director of Sales,
at Oversee's 2006 Domainfest conference in Barcelona.
Oversee Consultant Corinne Forti filled me in on the big event noting, "It was a great reunion as present and former Overseers attended the party to congratulate Sam. Those who could not attend sent video messages, sharing their experiences with him."
"Lawrence Ng, co-founder of Oversee.net, hired Sam in 2003 as a Media Buyer and Sam was one of the company's first ten employees. At that time only a handful of businesses understood and operated to monetize domains. People were just discovering the power of the Internet. It seems hard to believe now!"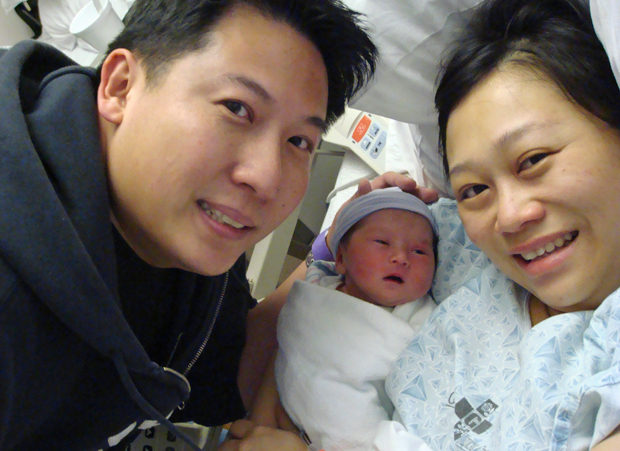 Sam Tseng with the loves of his life.
Those of you who have been in this business for the past ten years know that by 2004 domain monetization (parking) was really blossoming with DomainSponsor helping to pioneer the field with improved optimization techniques, top notch customer service provided by representatives that many of us got to know face to face, plus fast payouts, all of which made them a major force in the industry. Even so, at that time the growth curve was just beginning - Corinne reminded me of a DNJournal report from that year noting that Google had 180,000 advertisers worldwide. Five years later they had 262,000 in California alone.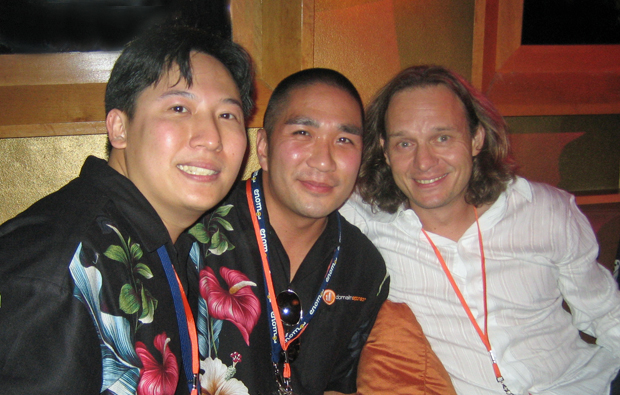 Sam Tseng, Oversee's Michael Song and legendary domain investor Frank Schilling circa 2005.
Ms. Forti recalled, "Sam's career at the company took off and he was promoted to Account Manager at DomainSponsor. He worked with clients around the world and the team in Los

Angeles. His travels took him to all parts of the globe-- from Hong Kong to Hawaii and from Singapore to Spain. He took on responsibilities as Senior Account Manager, Team Lead and Manager of Publisher Sales."

Dwayne Walker, the Senior Vice President of Advertising and Domain Services, Oversee.net, said, "Sam is one of those rare individuals who understands all aspects of the domain business. He's always been completely dedicated to the success of his clients. Thank you, Sam, for your outstanding contributions to DomainSponsor and our overall Oversee.net business!"

Today alternate forms of monetization are being developed and new technologies are being implemented for publishers. Competition has never been tougher. Yet Sam stays on top of every industry twist and turn to lead the sales team at DomainSponsor with quiet resolve and determination.

Sam Tseng has been flying the
DomainSponsor banner for 10 years!
Corinne said it best when she told me, "If you are in the domain business, you know Sam for his deep knowledge, straight talk and commitment to his customers. In this case, some things should just stay the same!" Amen to that.
(Posted September 13, 2013) To refer others to the post above only you can use this URL: http://www.dnjournal.com/archive/lowdown/2013/dailyposts/20130913.htm
.ME & Marlers Team Up in Non-Profit Effort To Teach Kids Programming & Create Tech Jobs in Rural America
| | |
| --- | --- |
| The .ME Registry has teamed up with domain investor/developer Bruce Marler and his wife Tiffany in a non-profit partnership designed to boost the technological capacity of rural communities and spur the creation of new tech jobs. The Marlers got the ambitious project rolling by setting up Parkland Meetup and Parkland Programmers, two community-based special interest groups in Farmington, Missouri, designed to create a knowledge worker community there. When .ME heard about the effort they got onboard to provide free .ME domains to program participants. | Bruce & Tiffany Marler |
.ME Marketing Director Natasa Djukanovic said, "We are all very proud to be involved with this project. The .ME team is heavily invested in online business growth and childhood tech education. We are pleased to have the opportunity to work with a group that values and promotes both of these areas."

The Marlers noted that while Farmington, Missouri, may be an an unexpected place for a tech hub with its population of less than 20,000, the culture is ripe for advancement. Bruce Marler said, ""We knew that there

were talented people here doing amazing work, but that their work wasn't being maximized for profitability because there was little collaboration between professionals. The Parkland Meetup, a social networking and professional development group, was designed to address that challenge, creating a venue to connect business owners, entrepreneurs, and workers with tech skills."
Once the professionals came together for the first few events, it became clear that there was also a need to create a stronger knowledge base and venue for young people to explore technology and learn critical thinking.

Tiffany Marley said, "Professionals told us

that one of the hardest challenges they faced was finding skilled and engaged workers. While we knew we could make inroads with the current workforce, we decided that the greatest long-term impact would come from current students – our workforce of the future."

From that idea Parkland Programmers was born.
The first cohort of student programmers surpassed all enrollment expectations with more than 40 student participants. The first course is teaching programming skills to children between ages 8-12. The students are meeting on Saturday mornings and working with Scratch, a programming tool created by Massachusetts Institute of Technology.
Natasa Djukanovic, .ME Registry

"Our goal is to allow any child, rich or poor, to have the same opportunity to learn what programming is and to see what is possible, we want them to create things," Bruce Marler said. "I really see this giving opportunities to kids that otherwise would have never known they existed."

Ms. Djukanovic noted, "The .ME Registry is proud to support this kind of enthusiastic energy in America, just as we're doing in Montenegro." (Montenegro is the nation that administers the .ME TLD). Both programs are operating in conjunction with the Farmington Regional Community Foundation, a 501(c)3 foundation which will serve as the nonprofit partner to accept donations of money and equipment on behalf of the programs.

The next Parkland Meetup is scheduled for September 19, 2013. For more information on Parkland Meetup or Parkland Programmers, you can visit http://parkland.me.
(Posted September 12, 2013) To refer others to the post above only you can use this URL: http://www.dnjournal.com/archive/lowdown/2013/dailyposts/20130912.htm
$100 Million Deal to Buy Directi in the Works - Marc Ostrofsky's New Book Hits Store Shelves & Domainer's Choice Awards to Resurface in 2014
Several items to touch on today. For starters, rapidly growing domain and hosting services company Endurance International has reached a tentative deal to buy India's largest registrar, Directi, for between $100 million and $110 million according to a report at

DomainIncite.com today. Endurance is already known for such brands as Domain.com and HostGator.com, so Directi would fit nicely in their increasingly impressive portfolio. Endurance hopes to raise up to $400 million in a NASDAQ IPO with a about a quarter of those funds going to a Directi buy. Since the funding isn't in place yet, the deal has not yet been finalized.

As part of the deal Endurance would help bankroll Directi division Radix Registry's attempt to win up to 26 auctions for contested new gTLD strings to the tune of $62 million. That would give them entree to the new gTLD

registration business if the deal goes through. Directi was founded in 1998 by Bhavin Turakhia and his brother Divyank who was profiled in a 2008 DNJournal Cover Story. At that time some thought the private company could be worth up to $300 million, so Endurance may be getting a bargain if all goes as planned.
Elsewhere, domain industry pioneer Marc Ostrofsky's second book, Word of Mouse, hit store shelves today. As I told you in a preview last month, Ostrofsky's publisher, Simon & Schuster, wanted a sequel after Marc's first book (released in 2011) - Get Rich Click! - became a New York Times Best Seller.

Sub-titled 101+ Trends in How we Buy, Sell, Live, Learn, Work and Play!, Word of Mouse provides the successful serial entrepreneur's advice to consumers and marketers who want to better understand how to leverage technology. Ostrofsky, well-known for selling Business.com in a $7.5 million transaction, has a knack for demystifying and simplifying all things tech.

In the course of promoting his two books, Marc has taken the opportunity to explain the value of a good domain name to Main Street businesses, making his success the industry's success as well.
One other note - while I was away on vacation last week, Donna Mahony of DomainBoardroom.com announced that the private forum is bringing back the Domainer's Choice Awards as an independent event in 2014.

Donna was involved in organizing the original Domainer's Choice Awards dinner that was held in 2008 in conjunction with the DOMAINfest Global conference that was staged in Hollywood, California that year. After a six-year absence the event will return at a time and location still to be announced (most likely in Southern California).

The Castello Brothers (Michael and David) with Donna Mahony at the 2008 Domainer's Choice Awards ceremony in Hollywood, California where Michael and David won the Domain Ambassador Award.
(Posted September 10, 2013) To refer others to the post above only you can use this URL:
http://www.dnjournal.com/archive/lowdown/2013/dailyposts/20130910-2.htm
200,000 Domains in Massive Marchex Portfolio Now Available on New Sales Platform at ArcheoDomains.com
One of the most storied domain portfolios in industry history is now up for sale at ArcheoDomains.com where buyers can choose from more than 200,000 names - most of them high quality generic .coms. The portfolio was originally assembled by legendary domain investor Yun Ye who sold it to Marchex in 2005 for $164 million. Last year the public company spun the portfolio off into a separate division,

Archeo Inc. Until now, those interested in buying a Marchex domain had no easy way to do so as the company was not focused on aftermarket sales and had no publicly accessible platform where buyers could make offers.
With the launch of the Archeo Domains Marketplace businesses, brokers and individuals now have direct access to 200,000+ domains that are presented in 21 categories, ranging from Business & Finance to Technology and Travel in a responsive, mobile-friendly design. Examples of some of the names for sales include Jerseys.com, CaliforniaWines.com, HollywoodMovies.com, Destination.com, Futbol.com, Refinancing.com, PetShop.com, Debts.com, uTicket.com, and LiveWell.com. There are no fixed prices, but potential buyers can make inquiries and offers through the system.
Rod Diefendorf
Archeo COO

Archeo's Chief Operating Officer, Rod Diefendorf, said, "The launch of the Archeo Domains Marketplace is an exciting step toward unlocking the true value of our portfolio. We have thousands of top names and are excited to finally showcase these online while providing visitors with useful information through a simple and intuitive search interface." While the platform will offer only Marchex/Archeo domains for the time being, Diefendorf told me in a phone call Monday that the Archeo Marketplace will eventually be opened to other sellers. Diefendorf also noted that the development of tools and technology enabling businesses to further promote and grow their brand will also be a key part of the platform.
Diefendorf added, "Archeo's dedicated sales team, averaging 10 years experience each in the domain industry, will directly administer and manage the Marketplace. Archeo will also be working directly with some of the industry's leading brokers to help their customers find and purchase specific names from Archeo's portfolio. Some of Archeo's current broker partners include Igloo, Names Plus Marketing and Domain Holdings.
Igloo.com CEO & Co-Founder Tessa Holcomb said, ""The Archeo domain portfolio has been well-known, over the years, for its quality as well as its comparative inaccessibility. I think I can speak on behalf of most of the industry when I say how excited Igloo.com is to see Archeo launch its marketplace to finally unveil one of the top portfolios in the space. We are delighted to partner with Archeo in making these premium names available to our clients."

In addition to selling domains from its own portfolio, Archeo plans to expand its services, ranging from data intelligence to third-party sales and other related domain support services. Complementing the Archeo Domains Marketplace, Archeo's team manages select fully developed websites and plans to continue the development of designated domains into digital brand properties, such as Saving.com and 50States.com. Archeo also operates an advertising marketplace, featuring an online and mobile advertising

Tessa Holcomb
CEO & Co-Founder, Igloo.com

network that the company can further leverage in promoting its own developed websites, as well as those of customer sites.
(Posted September 10, 2013) To refer others to the post above only you can use this URL:
http://www.dnjournal.com/archive/lowdown/2013/dailyposts/20130910.htm
Rick Schwartz's Hall of Shame - The New York Times Does Domains & Jim Grace Joins Team Internet
Over the next couple of days I want to bring you up to date on some significant news and information that came out while I was away on vacation last week. A good place to start is with Rick Schwartz's new website at HallOfShame.com, devoted to exposing companies and individuals that have been found guilty of reverse domain name hijacking in UDRP proceedings.
Shining a light on those who have attempted to steal domains in this way has been a personal crusade for the pioneering domain investor who is also co-founder of the T.R.A.F.F.I.C. Domain Conference. Schwartz has consistently chronicled reverse domain name hijacking cases on his popular blog, naming names and insuring that their misdeeds will remain in public view via a simple Google search. With his aptly named new Hall of Shame website that has already been shown much indexing love by Google, he has turned up the heat considerably on those who resort to common thievery when they want to take intellectual property assets that rightfully belong to someone else without paying for them.

Some of the best known names in global commerce, including Proctor & Gamble, Jaguar and Land Rover are among those who have been

Rick Schwartz

found guilty of reverse domain name hijacking attempts. Kudos to Schwartz for giving them the attention they deserve. You can help spread the word and protect your own livelihood by sharing links to his site on Facebook, Twitter, your own blogs and other social media outlets.
Schwartz's move is a timely one. With the advent of new gTLDs, domain names are going to be getting more and more exposure in mainstream media. The latest example was a story in the New York Times last week called "Planting Your Flag on a Patch of the Web." The piece by Thomas J. Fitzgerald is an informative primer for business owners who are looking to establish or improve their online presence. Fitzgerald details why a good domain name has to be part of that strategy. Veteran industry executive Bill Sweetman of NameNinja.com is among those whom Fitzgerald called on in researching his article. (Thanks to Scott Ross for the link to this piece).
Elsewhere, Team Internet made an excellent addition to their management team by bringing popular industry veteran Jim Grace on board as Director of Business Development. CEO Nico Zeifang told us, "Jim will add tremendous value not just to our domain parking product ParkingCrew.com but also to our advertising platform DNTX.com. COO Stefan Wiegard and I have known Jim for close to ten years so when we heard news about his availability it was our number one priority to get him on board with us. He is not just a domain industry veteran but also very well understands the advertiser side of the business."
Grace was at the company's Munich, Germany headquarters last week getting to know the rest of the team members and joining them for a day of hiking in the Alps (quite a change from Jim's usual environment near sea level in his home town - Los Angeles).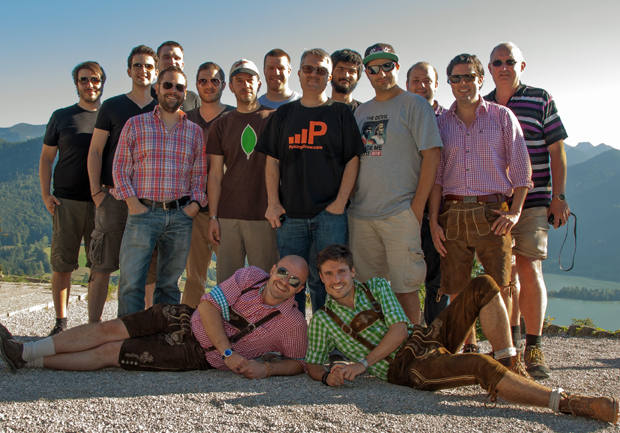 Jim Grace, standing at center (in the black Parking Crew T-Shirt)
during a Team Internet hiking trip in the Alps last week.
Grace said, "I am very excited to join Team Internet and be able to work on both the Parking Crew and DNTX platforms. They have seen tremendous growth and have a great team, which I am happy to be a part of. I am looking forward to working more closely with Nico, Stefan, Mario, Axel and Timon. Between the six of us, we have over 60 years of experience in monetization."
Tomorrow I'll have some more catch up stories for you in additional to our usual breaking news.
(Posted September 9, 2013) To refer others to the post above only you can use this URL:
http://www.dnjournal.com/archive/lowdown/2013/dailyposts/20130909-2.htm
Two-Letter .Com Domain Sold for $4.7 Million in the Year's Largest Domain Sale to Date - Deal Handled by Veteran Brokers Tessa Holcomb and Marcus Kocak
I just returned from vacation and this is the kind of news I like to come back to. Veteran domain brokers Tessa Holcomb and Marcus Kocak teamed up to negotiate the year's biggest domain sale to date, acquiring IG.com on behalf of the London, England based IG Group for $4.7 million. The multi-million dollar exchange of funds was handled by Escrow.com.

We will officially chart the sale in our next weekly domain sales report that will be out Wednesday evening (Sept. 11). At $4.7 million, the IG.com sale is more than double the price paid for the previous leader - 114.com, a domain that was sold for $2.1 million in July.

Mr. Kocak, a Danish businessman and former Director of Domain Acquisitions at NetNames, and Ms. Holcomb, CEO & Co-Founder of Igloo.com (domain name sales and acquisitions experts), told me they worked together complete the acquisition of IG.com last March but due to a non disclosure agreement the price could not be revealed until the IG Group published it in the company's annual report.

Foam finger image from Bigstock
Tessa Holcomb
CEO & Co-Founder, Igloo.com

The previous owner of IG.com was iG, who operates Brazil's third-largest search portal. They are now using IG.com.br (Brazil's ccTLD) as the company's primary domain. André Chaves, iG CEO and Executive Board Member of BRZtech said, "Although we initially had alternate plans for the IG.com domain name, we were extremely satisfied with the final sales price that Mr. Kocak and Ms. Holcomb were able to broker while ensuring we felt comfortable with the process throughout the negotiation."

Ms. Holcomb added, "In line with our sales efforts, Igloo.com understands the range of unique elements required to achieve the results our clients are looking for when looking to secure a third-party-owned property. We are happy to help set a higher standard of what is possible when connecting a premium domain with the right end user."
(Posted September 9, 2013) To refer others to the post above only you can use this URL:
http://www.dnjournal.com/archive/lowdown/2013/dailyposts/20130909.htm
3C.com Sold for $140,000 in Deal Co-Brokered by SuccessClick and DomainGuardians
I'm on vacation this week so we there won't be a domain sales report Wednesday (instead I will bring you completely up to date on all sales reported since our last column August 28 with a double length report on Wednesday, Sept. 11). I am keeping up with email while I am away though, so I wanted to jump on here today and let you know about a significant two-character .com sale that has just been completed (and will be charted in next week's report).
SuccessClick™ teamed up with DomainGuardians™ to sell 3C.com for $140,000 - the biggest 2-character domain sale of the year to date. As most of you know, both brokerage firms are led by well-known industry veterans, SuccessClick's Stephen Douglas and DomainGuardians co-founder Mike Robertson.
Most Americans consider our Labor Day holiday (which was Monday, Sept. 2) to be the unofficial end of summer and sales like this are a great way to get people in a back to work to frame of mind. We've seen domain sales steadily picking up steam in 2013 and all indications are the rally will continue in these closing months of the year.
(Posted September 3, 2013) To refer others to the post above only you can use this URL: http://www.dnjournal.com/archive/lowdown/2013/dailyposts/20130903.htm
---
If you've been out of the loop lately, catch up in the Lowdown Archive!
---
We need your help to keep giving domainers The Lowdown, so please email

[email protected]

with any interesting information you might have. If possible, include the source of your information so we can check it out (for example a URL if you read it in a forum or on a site elsewhere).
---
Home Domain Sales YTD Sales Charts Latest News The Lowdown Articles
Legal Matters Dear Domey Letters to Editor Resources Classified Ads Archive About Us