The Lowdown
May 2014 Archive
Subscribe to our RSS Feed

Here's the The Lowdown from DN Journal,
updated daily to fill you in on the latest buzz going around the domain name industry.

The Lowdown is compiled by DN Journal Editor & Publisher Ron Jackson.
.CLUB Welcomes Another Star to the Club - Demi Lovato Comes Onboard With New Fan Club Site
As we are getting packed up to head home from the T.R.A.F.F.I.C. West conference in Las Vegas I just got word that .CLUB has scored another celebrity coup. .CLUB Founder and CTO Dirk Bhagat wrote "Another superstar - Demi Lovato

(@ddlovato) launched her fan club on Twitter a few hours ago - www.lovato.club which was retweeted several thousand times among her fan base etc. including my sixteen year old niece who alerted me to it :-) Demi's released a promo video for lovato.club. Pretty exciting! Things are heating up! Also GoDaddy folks, thanks for your continued support and help making .CLUB the best selling new GTLD! I should mention, lovato.club was registered at ... wait for it ... GoDaddy."

.CLUB CEO Colin Campbell added, "It was a complete surprise to us. We had no knowledge of the launch. This is probably the best use case of a new gTLD actually being used and will be seen by millions."

Screenshot from Demi Lovato's new fan club website at Lovato.club

As most of your know, .CLUB already has rap superstar 50 Cent onboard. 50 lauched a new site at 50inda.club earlier this month.
(Posted May 31, 2014) To refer others to the post above only you can use this URL: http://www.dnjournal.com/archive/lowdown/2014/dailyposts/20140531.htm

Day 2 Photos & Highlights from the 2014 T.R.A.F.F.I.C. West Conference in Las Vegas
The 2014 T.R.A.F.F.I.C. West conference continued Thursday (May 29) with the first full day of business at the Bellagio Hotel in Las Vegas. Show co-founders Rick Schwartz and Howard Neu kicked thing off with welcoming comments to attendees at breakfast.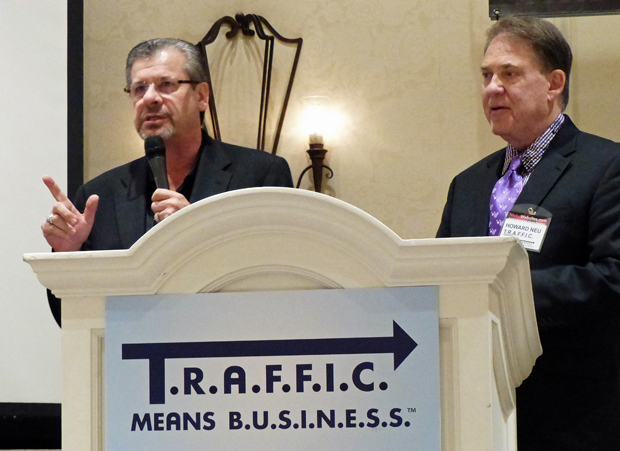 T.R.A.F.F.I.C. Co-Founders Rick Schwartz and Howard Neu welcome attendees
to the 2014 T.R.A.F.F.I.C. West conference Thursday morning in Las Vegas.
The breakfast session also included a talk from legendary Las Vegas Mayor and "mob lawyer" Oscar Goodman, who stayed over to sign copies of his book Being Oscar (provided by the .VEGAS regsistry at no charge) to all attendees. A line that stretched to the end of the hall quickly formed to meet Goodman and get a copy of his colorful biography.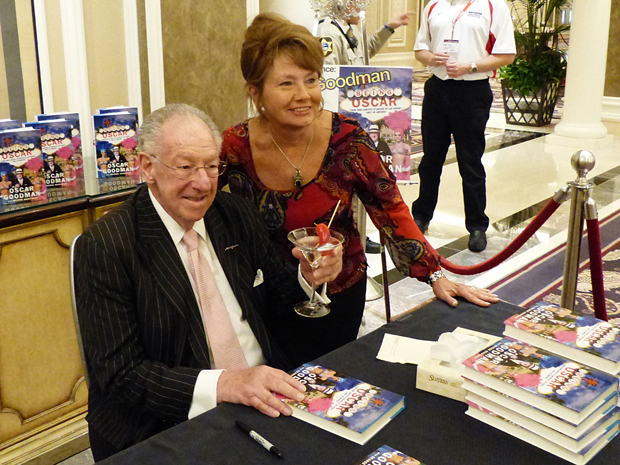 Author and former Las Vegas Mayor Oscar Goodman with T.R.A.F.F.I.C. attendee Diana
Jackson who was among those picking up a personally signed copy of his book Being Oscar.
In the show's first business sesion Bing.com's Senior Product Manager Duane Forrester delivered a well received keynote that gave attendees information on what they needed to do and especially not do to get the highest possible search engine ranking for the their websites.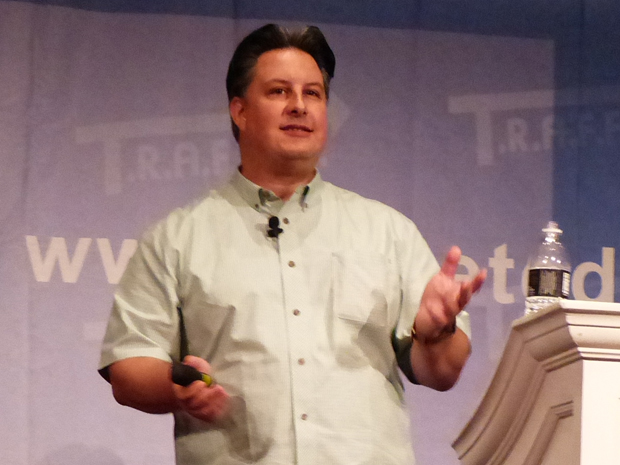 Above: Bing.com's Duane Forrester delivering his keynote talk Thursday morning.
Below: T.R.A.F.F.I.C. West attendees take in SEO tips during Forrester's talk.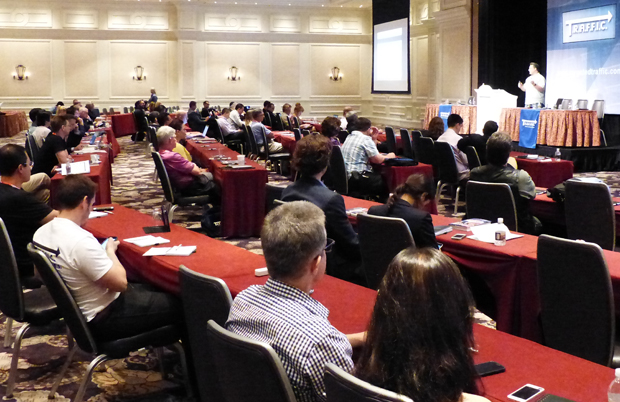 T.R.A.F.F.I.C.'s new led sponsor, Neil Sackmary from GetIt Fido.com followed with a special presentation detailing the domain monetization platform he developed for his own company but is now opening to other domain investors. Sackmary's tools incorporate PPC, directing ad sales, sub-domain sales, automated storefronts, eBay tools, traffic splitting and other featuures.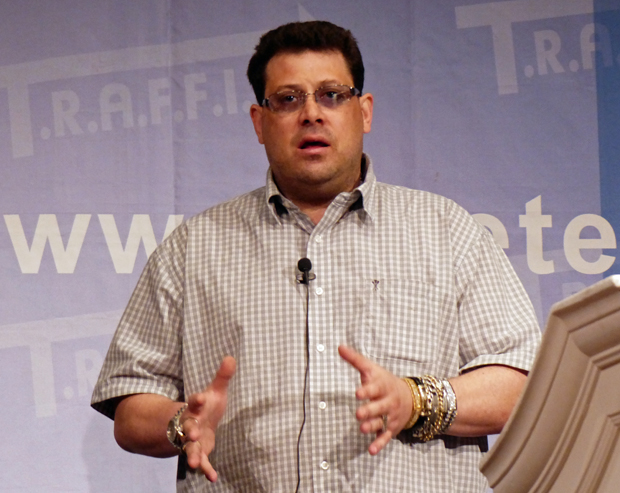 Neil Sackmary of GetItFido.com introduces his new domain monetization platform to
T.R.A.F.F.I.C. West attendees Thursday in his las Vegas hometown.
The afternoon began with the show's first panel discussion - a gTLD Shootout that gave operators of new gTLD registries an opportunity to make their case why domain investors and developers should put money into their extensions.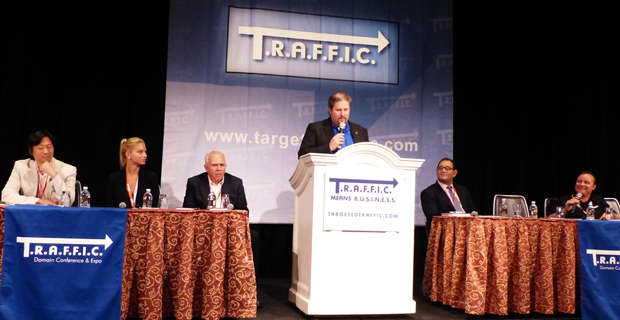 Above: Participants in the gTLD Shootout session included (L to R) Ray King (.wiki), Jeanette Sause (.global), Jim Trevino (.VEGAS), moderator Jothan Frakes, Sevan Derderian (Uniregistry.com) and Colin Campbell (.CLUB)>
Below: Jeanette Sause of the new .global registry details why she thinks the gTLD will be a worthwhile investment.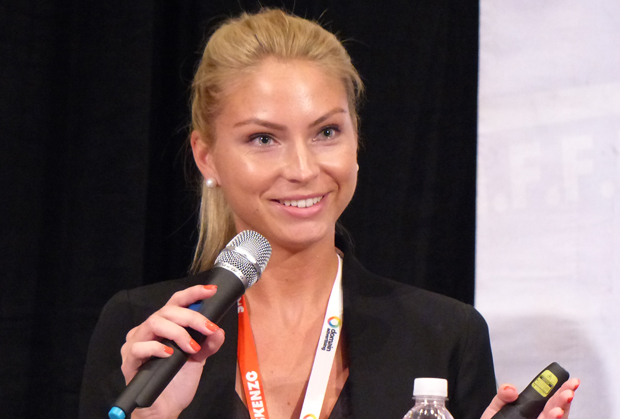 After a nice sitdown luncheon sponsored by Frank Schilling's Uniregistry.com Neil Sackmary returned to the stage for a brief 15-minute session that covered how his dual purpose Buy it Now/Make an offer shopping cart (used at his Spobo.com) produces more sales.
Next up at 2:45pm was a panel discussion moderated by Michael Cyger titled From Hype to Handicapping New gTLDs that provided panelist opinions on which new extensions they felt had the best chance to succeed and the hurdles they all need to clear to survive.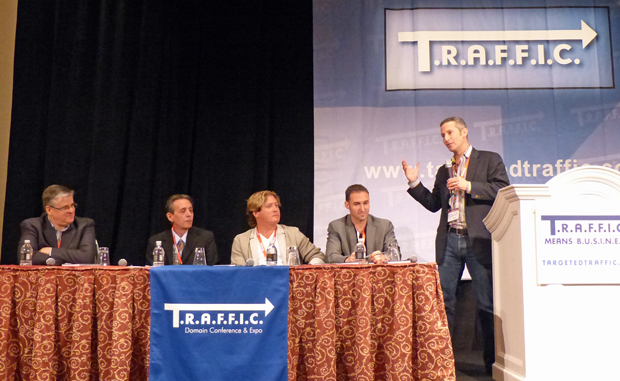 The Handicapping New gTLDs panel featured (L to R): Michael Gilmour (ParkLogic.com),
Mark Hershiser (DomainPicks.com), Michael Castello (CCIN.com), Braden Pollock (LegalBrandMarketing.com) and moderator Michael Cyger (DominaSherpa.com).
Cyger then welcomed four new experts to the stage for a DomainSherpa Live! show, a weekly web program in which his panelists cover the week's key industry news and issues.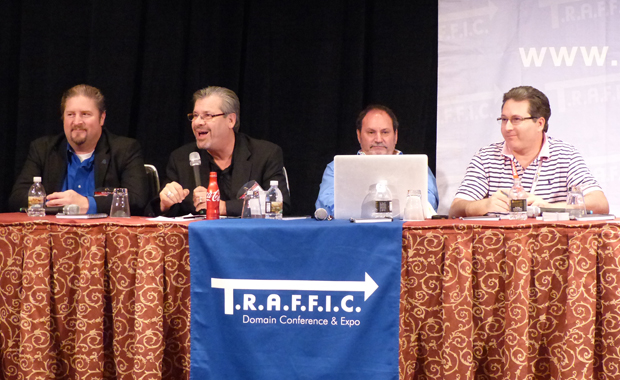 Michael Cyger's Domain Sherpa Live! show from T.R.A.F.F.I.C. West featured (L to R):
Jothan Frakes, Rick Schwartz, Michael Berkens and Adam Dicker.
Cyger wrapped up the day and a busy afternoon for him by interviewing DNorum.com owner Adam Dicker who showed the audience how to turn a domain name into a business in just 60 minutes.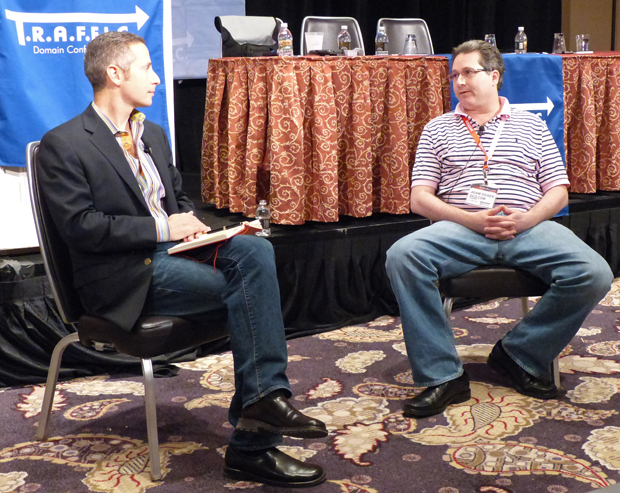 Michael Cyger interviewing Adam Dicker in the final business session of the day Thursday.
With the business day now done attendees took a dinner break before heading to the Bellagio Ballroom for the Official T.R.A.F.F.I.C. Party hosted by GetItFido.com. The evening featured both acoustic and live performances from the rapidy rising Las Vegas based rock band (and Century Media recording artists Otherwise) that were arranged by GetItFido's Neil Sackmary who is a close friend of the band.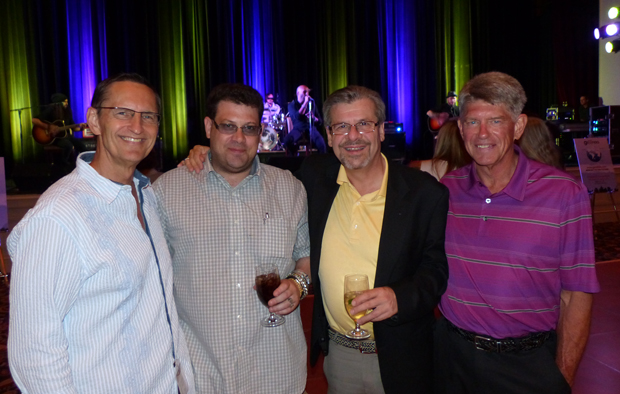 Those on hand at the Official T.R.A.F.F.I.C. Party Thursday night at the Bellagio Hotel in Las Vegas included (left to right): Ron Jackson (DNournal.com), Neil Sackmary (GetItFido.com), Rick Schwartz (T.R.A.F.F.I.C.) and Brandon Abbey (Escrow.com).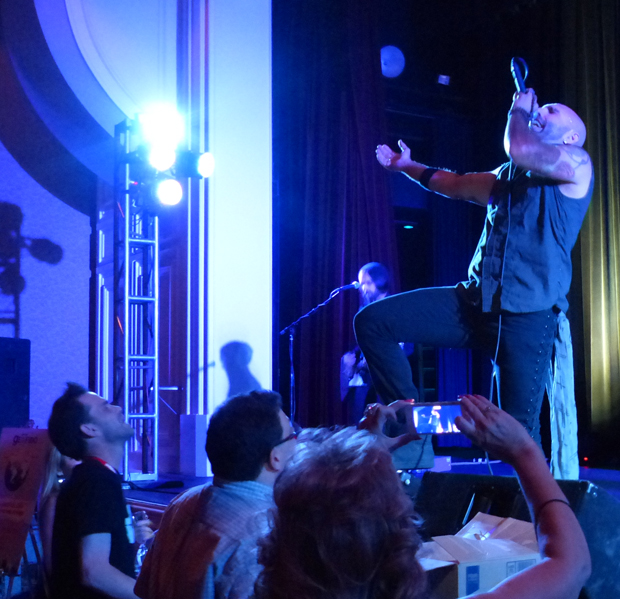 Above: Attendees could get within inches of Otherwise lead singer Adrian Patrick
during the two Otherwise sets that highlighted the T.R.A.F.F.I.C. Party
Otherwise lead guitarist Ryan Patrick (Adrian's brother) playing during the band's acoustic set. The Otherwise line up also includes guitarist Andrew Pugh, drummer Corky Gainsfordand bassist Vassilios Metropoulos.
The audience got a special treat when GetItFido gave away two guitars that were autographed by the full band. The two lucky winners whose names were pulled in a random drawing were Australia's Michael Gilmour and Bill Lozada.
Otherwise lead singer Adrian Patrick adds a bitemark to his autograph
on the guitar won by T.R.A.F.F.I.C. attendee Bill Lozada!
I have previously written about how I became an immediate Otherwise fan after checking out their outstanding YouTube videos (and buying their first Century Media CD on Amazon) when I heard they would be at T.R.A.F.F.I.C. The band's performance on and off stage exceeded my already high expectations. All of the band members hung out with T.R.A.F.F.I.C. attendees, signing autographs, taking photos and just having a good time til way past midnight.
The band members are all great guys who deserve the success they are now achieving through hard work, great talent and an obvious appreciation for their legion of fans that is growing on a daily basis. You can check out the band's website and like their Facebook page to keep up with them on their journey to the top.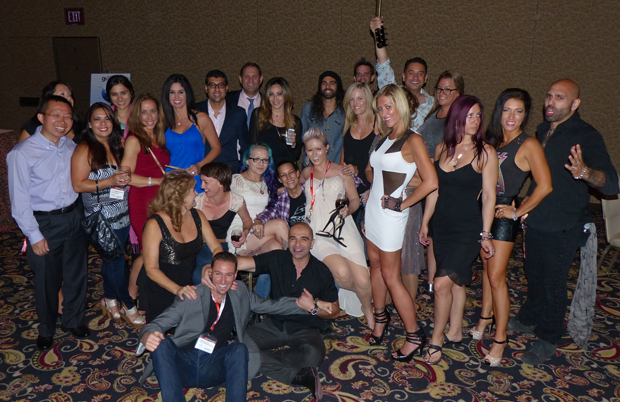 Otherwise band members joined some of the last domainers standing
(and sitting) after their private concert Thursday night in Las Vegas.
As I write this the second (and final day of business) is still underway at T.R.A.F.F.I.C. I'll have the Friday photos and highlights, as well as those from the Farewell Breakfast Saturday morning in my next post that will be written and posted when I am back at our Florida office Monday (June 2).
(Posted May 30, 2014) To refer others to the post above only you can use this URL: http://www.dnjournal.com/archive/lowdown/2014/dailyposts/20140530.htm
Day 1 Photos & Highlights from the 2014 T.R.A.F.F.I.C. West Conference in Las Vegas
The 2014 T.R.A.F.F.I.C. West conference officially got underway Wednesday (May 28) at the Bellagio Hotel in Las Vegas. The registration table was set up at the Bellagio's poolside cabanas so those already in town for pre-show networking could start getting their name badges at 12 noon.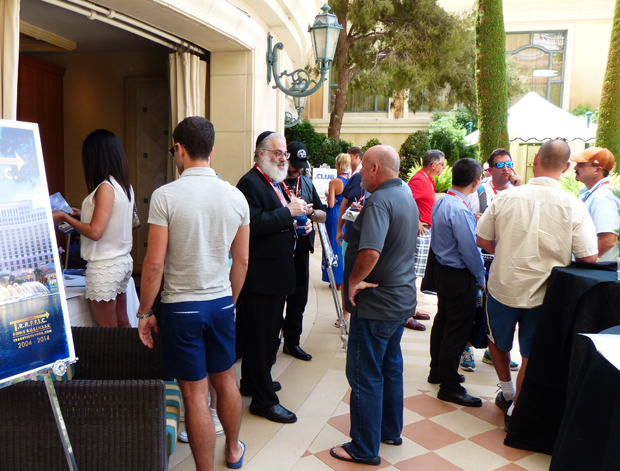 At left in the photo above, T.R.A.F.F.I.C. attendees head for the registration desk to pick up their badges while those who've already checked in strike up conversations on the Bellagio Hotel's cabana row.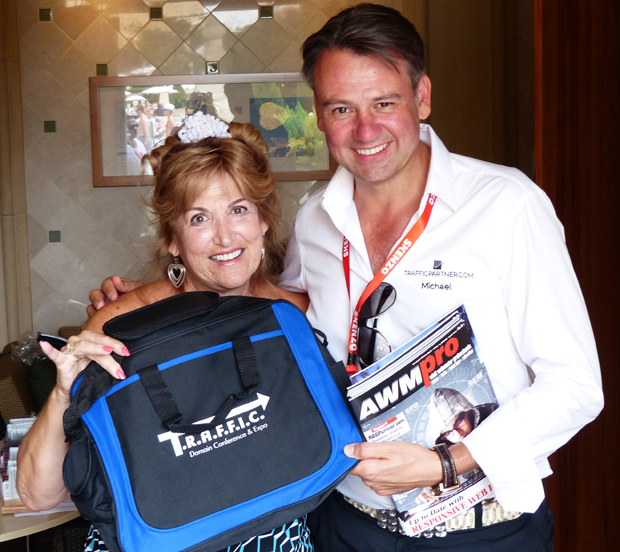 Inside the T.R.A.F.F.I.C. cabana hostess Barbara Neu makes sure guest Michael Reul, the CEO at TrafficPartner.com is fully outfitted for this week's conference.
At right: T.R.A.F.F.I.C.'s Kimberly Howard and Ray Dillman Neu were also on hand, making sure attendees were greeted with a smile along with their conference badge and briefcase.

The three faces in the photo below should be familiar to you (and if they are not you will want to meet them!). Left to right are DomainHoldings.com Senior Broker Tracy Fogarty, Gregg McNair, who is involved in supporting more companies and charitable activities than we have room to list here (see our October 2009 Cover Story about Gregg for more on that) and Internet Commerce Association Legal Counsel Phil Corwin. The ICA does important work to protect domain owner rights that are under constant attack.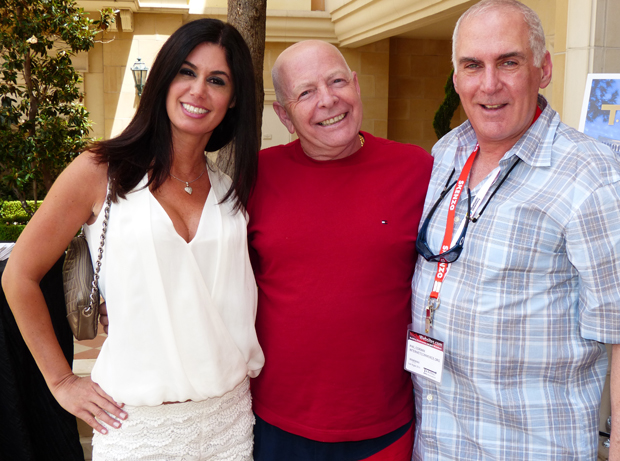 In the photo below, T.R.A.F.F.I.C. attendees James Wester (who came in from Australia) and Andee Hill of EscrowHill.com obviously like the idea of networking in the sun at a poolside cabana.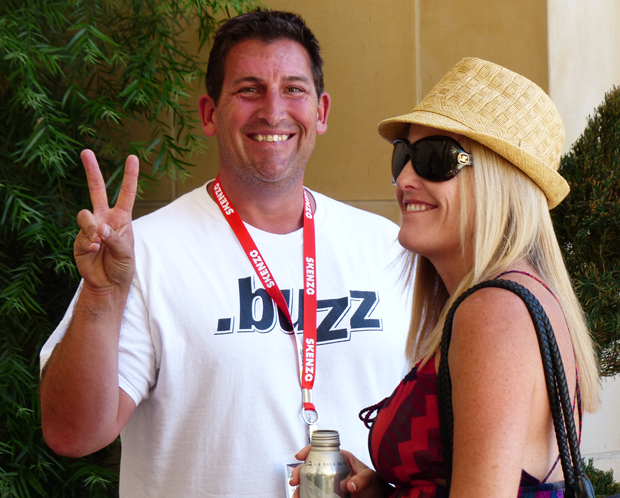 After a pleasant and productive afternoon of networking, it was time for T.R.A.F.F.I.C. West's kickoff event, the traditional Opening Night Cocktail Party that was hosted at the Bellagio by .VEGAS (the new gTLD representing the entertainment capital of the world. The new gTLDs with the best chance to survive and even thrive are those with the best management teams and .VEGAS certainly has an impressive one that is based on a solid family foundation.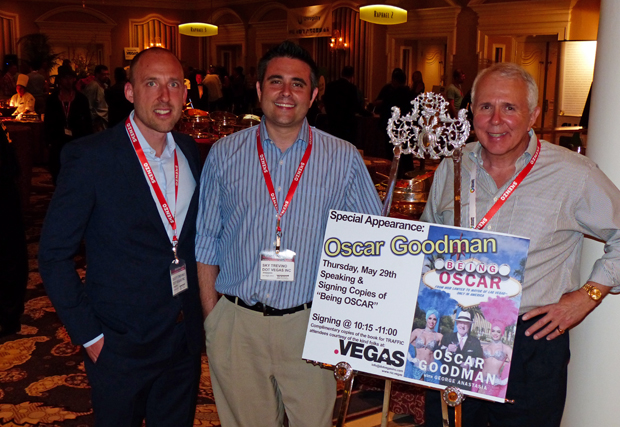 Above: .VEGAS President & CEO Jim Trevino (far right) and his sons (and fellow .VEGAS team members) Dusty (far left) and Sky were on hand to greet guests at T.R.A.F.F.I.C.'s Opening Night Cocktal Party. .VEGAS will also be presenting a free book siginging (even the books are free!) with legendary Las Vegas Mayor Oscar Goodman when the first day of business gets underway later today.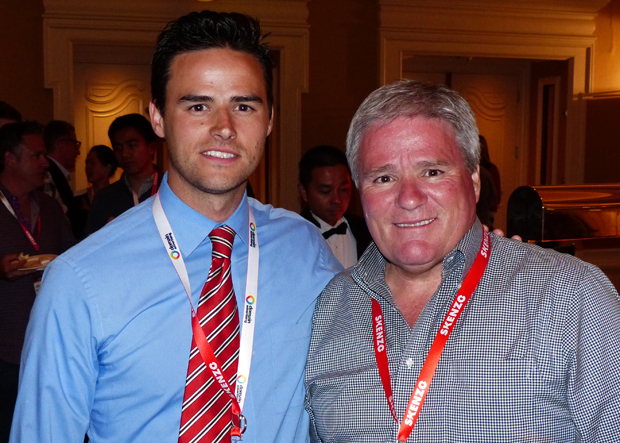 The family theme at .VEGAS continues with Co-Founder and Principal Bart MacKay (right) and his son Tyson. .VEGAS was a perfect match for T.R.A.F.F.I.C., a conference that has always encouraged attendees to bring family members and, as always, many did.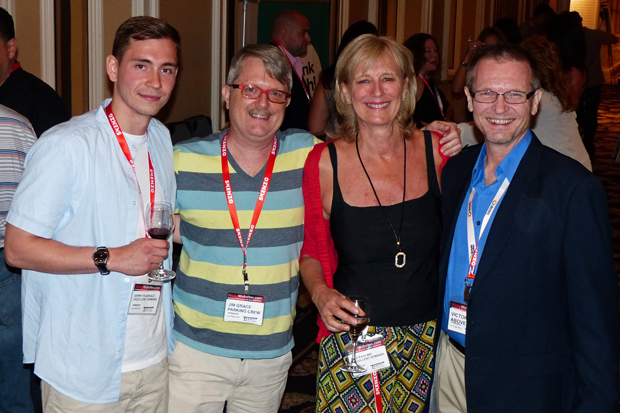 Canada's Domain Queen Ilze Kaulins-Plaskacz brought her son Gerrit (far left) to T.R.A.F.F.I.C. where the personable and smart (like his mother) young man is getting a crash course in the business - something he is very happy about because he is joining Ilze in hers. They are joined by ParkingCrew.com's Jim Grace (2nd from left) and Above.com's Victor Pitts (far right).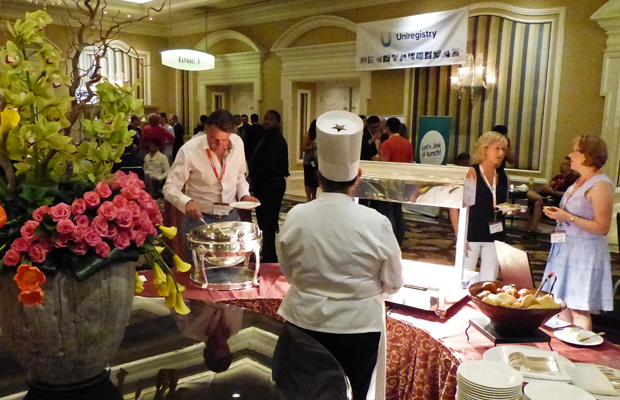 Guests enjoyed a fabulous buffet with indivdual serving stations offering a wide variety of great food designed to please every palate.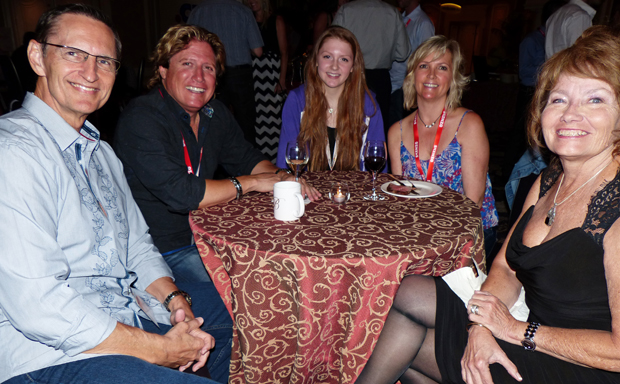 Above: Yep - more spouses and family members at T.R.A.F.F.I.C. My wife Diana (far right) and I (far left) bookend CCIN.com's Michael Castello, his talented and lovely daughter Jessica and his equally talented and lovely wife Sheri.
T.R.A.F.F.I.C. resumes this morning at 9:45am (12:45pm in the Eastern US) when the first full day of business gets underway, followed by lead sponsor GetItFido.com's officiall T.R.A.F.F.I.C. Party tonight. I'll have photos and highlights from all of today's and tonight's activity for you in ths column tomorrow.
(Posted May 29, 2014) To refer others to the post above only you can use this URL: http://www.dnjournal.com/archive/lowdown/2014/dailyposts/20140529.htm
Pre-Show Photos & Highlights from T.R.A.F.F.I.C West in Las Vegas
The 2014 T.R.A.F.F.I.C West conference opens this evening with the traditional Welcome Cocktail Party at the world famous Bellagio Hotel in Las Vegas. While that event officially kicks off the latest edition of T.R.A.F.F.I.C., early birds have been busy getting in some pre-show networking at T.R.A.F.F.I.C.'s poolside cabanas since Monday. When we arrived Tuesday afternoon, Neil Sackmary from T.R.A.F.F.I.C.'s new lead sponsor, Las Vegas based GetItFido.com, was on hand to greet guests.
While I had spoken with Neil on the phone (and he is frequently seen on local TV ads for his coin and jewlery stores), it is the first time I met him in person. The successful, hard working entrepreneur is someone I'm sure T.R.A.F.F.I.C. attendees will enjoy getting to know this week. The reverse is also true as Neil is looking to connect with veteran domain investors who would like to take advantage of a domain monetization system he first developed for his own properties as well as monetization experts in the T.R.A.F.F.I.C. community who can help him further refine and expand his system.
If you needed another reason to go to T.R.A.F.F.I.C. this photo from the cabanas Tuessay after will give you seven of them, those being, (L to R): Tessa Holcomb (Igloo.com, Jodi Chamberlain (NamesCon), Roselyn Gilmour (wife of ParkLogic.com Founder Michael Gilmour), Barbara Neu (T.R.A.F.F.I.C.), Diana Jackson, Tracy Fogarty (DomainHoldings) and Lori Bembanaste (TrafficPartner.com).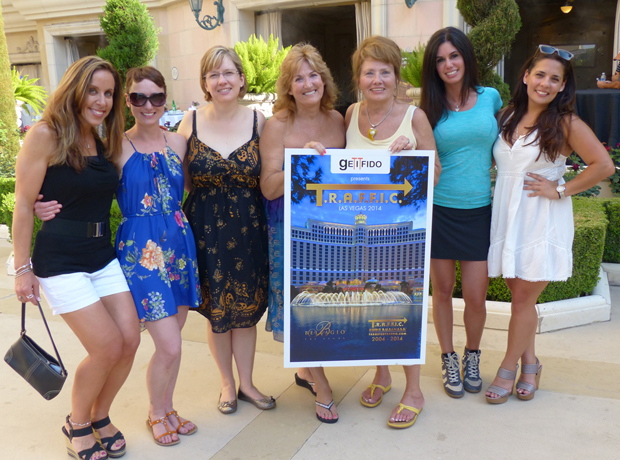 It was 104 degrees in Las Vegas Tuesday, but it was still nice and cool inside the T.R.A.F.F.I.C. cabanas where he caught Bill Lozado (left) and Australia's Michael Gilmour relaxing in the photo below.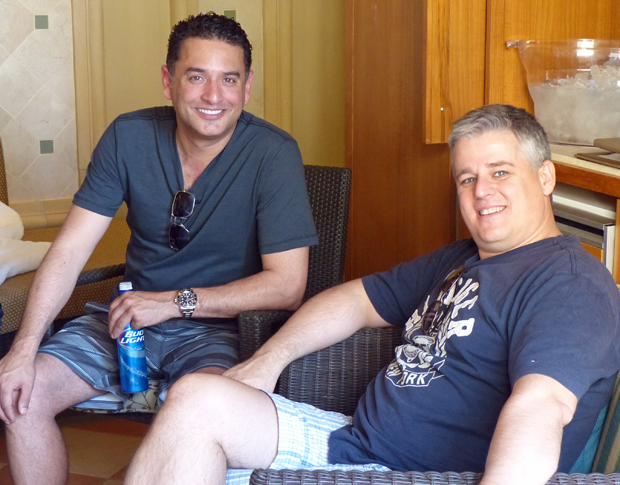 After the sun went down Diana and I (at far right) joined (L to R) T.R.A.F.F.I.C. Co-Founders Rick Schwartz and Howard Neu, Jothan Frakes, Barbara Neu and Ray Dillman Neu for dinner at Michael Mina's restaurant in the Bellagio. The company and conversation was great (especially the lively post dinner debate about what new gTLD registry operators are doing right and doing wrong - a debate that will continue during the conference and likely for several years after it!)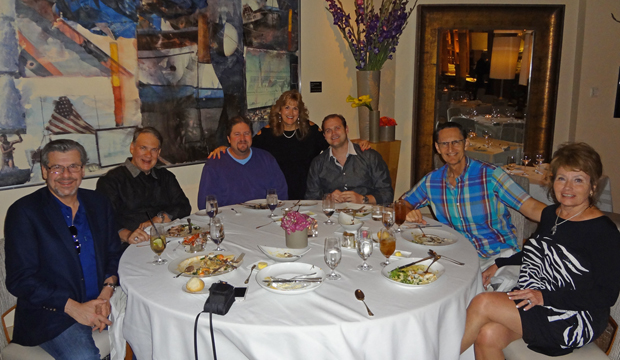 Throughout the week, I will have daily photo and highlights from T.R.A.F.F.I.C. West for you in this column. With the majority of attendees arriving today I'll have a recap from the latest cabana networking as well as tonight's kickoff party in my next post tomorrow.
(Posted May 28, 2014) To refer others to the post above only you can use this URL: http://www.dnjournal.com/archive/lowdown/2014/dailyposts/20140528.htm

Reflecting on America's Most Somber Holiday & Remembering Gavin Durni

Americans are observing one of the nation's most important holidays today - Memorial Day - a day devoted to honoring the men and women who made the ultimate sacrifice - giving their lives in military service for the United States. We are thankful for all of the men and women who have served in the Armed Forces and those who are serving today, but know we are especially indebted to those special men, women and families who gave their all to insure the rest of us can enjoy and celebrate the freedom we have today. We can never thank those veterans enough for reminding us, as Kelly Strong did in her poem - Freedom Isn't Free:

I watched the flag pass by one day.
It fluttered in the breeze.
A young Marine saluted it,
and then he stood at ease.
I looked at him in uniform
So young, so tall, so proud,
He'd stand out in any crowd.
I thought how many men like him
Had fallen through the years.
How many died on foreign soil?
How many mothers' tears?

Memorial Day Image above and Soldier
playing taps image below from Bigstock

How many pilots' planes shot down?
How many died at sea?
How many foxholes were soldiers' graves?
No, freedom isn't free.

I heard the sound of TAPS one night,
When everything was still
I listened to the bugler play
And felt a sudden chill.
I wondered just how many times
That TAPS had meant "Amen,"
When a flag had draped a coffin
Of a brother or a friend.
I thought of all the children,
Of the mothers and the wives,
Of fathers, sons and husbands
With interrupted lives.
I thought about a graveyard
At the bottom of the sea
Of unmarked graves in Arlington.
No, freedom isn't free.

Gavin Durni

While I am thinking of those we lost in military service today I am also thinking about an industry colleague that we lost far too soon this past week. Gavin Durni, a Boston resident who was just 29 years old, was a major figure in the ccTLD space, holding what may have been the world's best collection of .co.za domains (.za is the country code for South Africa, a country Gavin was fascinated by and had planned to visit for the first time later this year, according to one of several messages I received about his untimely passing).

I never had a chance to meet Gavin in person but he was a Facebook friend and was in touch often to let me know about well documented sales of the .co.za domains he loved so much.

Gavin made several of those sales himself but he wanted me to know about all of the key sales in his favorite TLD - he was a true champion of the South African namespace. Gavin was always professional and friendly and I was looking forward to having a chance to chat with him face to face one day. I am saddened that day will never come but thankful I crossed paths with him in the brief time he was with us.

(Posted May 26, 2014) To refer others to the post above only you can use this URL: http://www.dnjournal.com/archive/lowdown/2014/dailyposts/20140526.htm
T.R.A.F.F.I.C. Adds Offer You Can't Refuse: "Mob Lawyer" & Legendary Las Vegas Mayor Oscar Goodman to Sign Free Books for Attendees Thursday
The 2014 T.R.A.F.F.I.C. West conference that opens Wednesday evening at the Bellagio Hotel in Las Vegas (following three days or pre-show networking that begins tomorrow) continues to add special last minute attractions to the show schedule.

One of the conference sponsors, .VEGAS, has arranged to have the city's famous former mayor, criminal defense attorney and published author Oscar Goodman appear at T.R.A.F.F.I.C. Thursday (May 29). Better yet, .VEGAS will provide attendees with free copies of Oscar's book, "Being Oscar: From Mob Lawyer to Mayor of Las Vegas," that Goodman will sign for them.

Goodman, who has been described as Las Vegas's "most popular mayor", served three terms in that office from 1999-2011 and would likely still be mayor if the city didn't have a term limit law that barred him from running again.

Goodman gained fame as an attorney when he represented some

The cover of Oscar Goodman's book Being Oscar

of Las Vegas's most widely recognized figures in organized crime, including Meyer Lansky and Lefty Rosenthal. Goodman even had a cameo role in director Martin Scorsese's classic 1995 mob film Casino in which he played himself. In the movie Goodman represented Robert De Niro's character, Ace Rothstein, that was based on Goodman's former client, Lefty Rosenthal. He has also appeared in the movie Rush Hour 2 and the hit TV series CSI.

Goodman, who is originally from Philadelphia, has also represented boxing legends Mike Tyson and Don King. In a review of his book, Publisher's Weekly said, "Former Las Vegas mayor Goodman delivers a fast-paced, entertaining account of his over-the-top life." Amazon readers have given the book an average rating of 4.5 out of 5 stars.

.VEGAS has welcomed the domain industry to Las Vegas with open arms. In addition to signing on as a T.R.A.F.F.I.C. sponsor and arranging Mayor Goodman's appearance, .VEGAS officials were on hand for the inaugural NamesCon conference in Las Vegas this past January. In this photo from that event you see (left to right) NamesCon's Jothan Frakes (who will also be moderating a new gTLD session at T.R.A.F.F.I.C. West Thursday afternoon, May 29, at 12:30pm), Las Vegas Mayor Pro Tem Stavros S. Anthony, .VEGAS President and CEO James Trevino and .VEGAS's Tyson Mackay.
(Posted May 25, 2014) To refer others to the post above only you can use this URL: http://www.dnjournal.com/archive/lowdown/2014/dailyposts/20140525.htm
That's a Lot of Carbs: Pasta.com Sells for $250,000! + 50-Cent Helps Launch .CLUB & DNW Offers Free Guide to Selling Domain Names
| | |
| --- | --- |
| We just learned that WebsiteProperties.com has sold the domain Pasta.com for a meaty $250,000. The deal, that was completed Wednesday (May 21), ranks among the 15 biggest sales reported so far this year (we will be adding it to our weekly and YTD Sales Charts when our next update comes out June 4). The new owner currently is using WhoIs privacy so at this time we don't know who the new owner is or what their plans for the domain may be. | Pasta image from Bigstock |
50 Cent

Last week we told you about .CLUB's plans for a big launch party in New York City May 22 hosted by rap superstar 50 Cent who has just launched a new website at 50inda.club. That event was held last night at the Tao night club in Manhattan. I fully intended to be there to cover it for you but just before I left for the airport yesterday morning, JetBlue contacted me with the news that my flight had been canceled and the next one they could put me on wouldn't get me to New York until the party was over. So, there went my chance to meet a fellow Jackson (and much better rapper). 50's real name, as his fans know, is Curtis Jackson.

Many well-known industry figures were at the launch though and from the photos I've seen on Facebook it appeared they all had a great

time. 50 posed for photos with several of them and also spoke briefly while appearing alongside .CLUB CEO Colin Campbell and CMO Jeff Sass. Bringing 50 Cent on board was the latest in a long string of bold marketing moves by .CLUB that is helping to separate them from the crowded new gTLD pack. As of this writing .CLUB has more registrations that any other new gTLD except .guru which has been on the market for a much longer period of time.

One other note today - Andrew Allemann at DomainNameWire.com has just released a very useful free 26-page publication called How to Sell Domain Names on Marketplaces that will be of interest to anyone who would like some tips on selling names through popular aftermarket venues like Sedo, Afternic, Go Daddy and others.

Andrew said the project started as a small guide but quickly expanded once he dove into the subject. He decided to write the guide in response to the many people who individually had questions about selling on the industry marketplaces. Allemann said, "It walks people through setting up their domain names and selecting the best options to improve the chances of a sale. The guide isn't just for people who have never listed domains for sale before - it includes a few tricks people might not be aware of."
(Posted May 23, 2014) To refer others to the post above only you can use this URL: http://www.dnjournal.com/archive/lowdown/2014/dailyposts/20140523.htm
T.R.A.F.F.I.C. Grants My Wish and Even Throws in a Couple of Autographed Guitars!
In my last post I told you about some new additions to the program for next week's T.R.A.F.F.I.C. West conference in Las Vegas (pre-show networking at the Bellagio Hotel starts Monday and continues right up to the show opening Wednesday evening (May 28), with the event continuing through Saturday morning (May 31).

In that post I noted that Otherwise, a terrific rock band that has released three highly regarded albums, would be playing at the official T.R.A.F.F.I.C. Party, sponsored by GetItFido.com on Thursday night (May 29) in the Bellagio's Grand Ballroom. I also mentioned that plans were to have Otherwise play an acoustic set so that attendees who never tire of networking could better hear themselves talk. However, I added that given Otherwise's electrical prowess, it might be even

Otherwise will play at the T.R.A.F.F.I.C. Party May 29

better if the Century Media recording artists could also do an amplified set, perhaps a little later in the evening when things tend to get a bit more raucous anyhow.
As if a genie answered "Your wish is my command" I got a note from GetItFido founder Neil Sackmary (who arranged for Otherwise to play) telling me that, after consulting with conference co-founders Rick Schwartz and Howard Neu, he could confirm that Otherwise will play an acoustic set from 9:30-10:15pm, then return to do a full rock show from 10:45-11:30pm.
I was more than happy with that news, but Sackmary took it well beyond what I had asked for. You will be happy to know that those autographed guitars mentioned in the headline are not for me but could very well be for you! The band is going to give away an autographed guitar after their acoustic set, then give away another one after the electric set, which will also be followed by a meet & greet session that will run until midnight and give you a chance to talk to the band members and have anything you want signed.

And the hits just keep on coming -

Otherwise will also be signing a third guitar for Rick that he will be auctioning off for charity at Noon Friday (May 30) right before the Above.com domain auctions are completed.
If you want to see just how good Otherwise is, check out the video for "I Don't Apologize" in my last post - but before you do that - check out the one below for "Soldiers" - a tribute to fighting men and women that has become another one of the band's most popular anthems:
(Posted May 22, 2014) To refer others to the post above only you can use this URL: http://www.dnjournal.com/archive/lowdown/2014/dailyposts/20140522.htm
T.R.A.F.F.I.C. Unveils New Details About Next Week's Show in Las Vegas - Otherwise to Perform at Official Show Party
The 2014 T.R.A.F.F.I.C. West conference is coming up next week at the Bellagio Hotel in Las Vegas and show organizers just released some interesting new details about the big event today.

For starters, the original schedule called for two days of pre-show Cabana Networking around the Bellagio pool Tuesday and Wednesday (May 27 & 28) before the conference officially opens with the Welcoming Cocktail Party Wednesday evening (May 28). However, show co-founders Rick Schwartz and Howard Neu told me they will have the cabanas open a day sooner - on Monday, May 26, so

early birds can celebrate Memorial Day in the world class hotel's expansive private cabana area overlooking the Bellagio's multiple pools.

Schwartz and Neu also revealed that the official T.R.A.F.F.I.C. Party, presented by new show sponsor GetItFido.com Thursday night (May 29), will be held in the Bellagio's spectacular Grand Ballroom - so after a long night of partying the trip back to your room will be just a few steps to the nearest elevator.

The new GetItFido sponsorship will pay another big dividend. GetItFido founder Neil Sackmary is a friend of hot rock band and Century Media recording artists, Otherwise, who is based in Las Vegas, and Sackmary has arranged for them to play live at the T.R.A.F.F.I.C. Party. Otherwise, who has released three albums and an EP, made their big breakthrough with their 2012 album True Love Never Dies that includes their biggest hit to date - "I Don't Apologize (1,000 Pictures)". Check out the video for that song below:

Otherwise

Since organizers know that T.R.A.F.F.I.C. attendees like to network at all of the parties, the current plan is for Otherwise to play an acoustic set, but I wouldn't object if, perhaps a little bit later in the evening, they plugged in and let it rip. Whether it is acoustic or electric, this is a band that can definitely deliver the goods.

Another new twist on the show schedule will be a 2pm session Friday (May 30) that will be something of a Vegas.com vs.

.VEGAS shootout. Howard Lefkowitz of Vegas.com fame, and Tyson MacKay of .Vegas (the new gTLD) will give their respective views and ideas on how to make money. This may set the stage for a similar showdown in October when T.R.A.F.F.I.C. East will be held at the Fontainebleau Hotel on Miami Beach. Schwartz and Neu are hoping to match Antony Von Couvering's .MIAMI with the folks at Miami.com.

Another Friday highlight - the final business session on the show agenda, will feature Michael Castello of CCIN.com discussing his recent industry Call to Action letter - a talk that should be a perfect lead in to the Internet Commerce Association's Closing Night Party. We will of course be in Las Vegas to bring you daily show photos and highlights.
(Posted May 19, 2014) To refer others to the post above only you can use this URL: http://www.dnjournal.com/archive/lowdown/2014/dailyposts/20140519.htm
New Quarterly Sales Reports from Domain Holdings Bring Additional Insight to Current Aftermarket Trends
Domain Holdings opened a new window into domain aftermarket sales trends this week when the Florida-based brokerage company released the first report in what will be a quarterly series of reports breaking down domain sales at the well-known firm co-founded by John Ferber and Chad Folkening.

Domain Holdings published the report, covering the 1st quarter of 2014, in infographic form on their website and also made it available as a .PDF file. While the company did not list prices paid for specific domains (most of their sales are subject to non disclosure agreements) they did reveal that total sales for Q1-2014 came in at $3,381,634, for an average of $36,756 per sale. Those high average prices can be attributed to the company having success in reaching end user customers. The report said that 76.25% of buyers were end users (those who buy domains for development or other corporate use such as branding or driving additional traffic to an existing site).

Some of the other interesting highlights from the report included:

Two countries, the U.S. and China, accounted for over 86% of Domain Holdings sales (with the U.S. accounting for 53.6% and the rapidly growing Chinese market 33%.)

The domain Holdings brokerage team made over 10,000 phone calls and sent more than 60,000 emails in an effort to find the best end user match for the domains they represented.

That effort resulted in over 45% of sales being generated from new relationships ( buyers outside of the domain investment community.

Over 14% of sales were numeric domains (a category that is especially popular with Chinese buyers).

Companies (especially those using domain in the .eu and .com.au TLDs) are upgrading to .com at a higher pace than before.

The report also address new gTLDs saying, "The introduction of new gTLDs have been more successful than many people expected with big brands spending significant dollars obtaining premium domains. Due to a new EAP (early access pricing model) offered direct by registries this demand has not yet been significant to brokers but requests are starting to come in for premium gTLDs. We expect gTLD brokerage sales will increase in Q2.

The company said it is preparing for continued growth by hiring additional brokers, investing more in their technology and website as well as further education for staff members.
(Posted May 16, 2014) To refer others to the post above only you can use this URL: http://www.dnjournal.com/archive/lowdown/2014/dailyposts/20140516.htm
.CLUB Continues to Separate Themselves From the Marketing Pack - Will 50 Cent's Appeal Produce a Downpour of Dollars for the New gTLD?
The issue of new gTLD marketing (or more precisely, the lack thereof) has been a recurring theme lately. In our current T.R.A.F.F.I.C. West conference preview article, show Co-Founder Rick Schwartz pointedly observed, "The vision thing is missing completely...if a gTLD is worthy of investment then they need to make their case...Many of these gTLDs are in danger of stalling, others are dying on the vine already and it is no wonder because we have seen a stunning lack of marketing from almost any of them."

In our article about the 2014 Domaining Spain conference that ended last Saturday in Valencia, Spain, show founder Dietmar Stefitz said, "Even though all new registry operators were given an open invitation to attend, very few took the opportunity to come and talk about their extensions...In general the audience was disappointed

Marketing image from Bigstock

about how little money is being spent on publicity in general for the new GTLDs. One audience member remarked that they must be spending everything on running auctions."

This morning Elliot Silver at DomainInvesting.com ran an interesting article titled "Who is Responsible for New gTLD Marketing?", in which several registry operators chimed in on who they thought should be taking the lead in getting the word out. Their consensus seemed to be that it is up to everyone in the (new gTLD) industry including registries, registrars and ICANN, but so far those actually doing so are closer to no one.

The one really big exception on the registry side has been .CLUB, who seems to be everywhere even though they just entered General Availability last week (and, as of today, they already rank as the 3rd largest new gTLD in total registrations). Unlike

most other new gTLDs they have gone after the domain investment market with high profile sponsorships at industry conferences and advertising on multiple domain blogs.

This week .CLUB also made it clear they are willing spend even bigger (much bigger) to reach the consumer market (the one that really matters in the long run) by getting an endorsement from rap superstar 50 Cent who is setting up camp at a new domain - 50inda.club. Not only that, 50 will on hand to host a private .CLUB launch party in New York City next Thursday night (May 22). And, oh by the way, .CLUB is spending more money flying VIP guests into the event to make sure their message gets carried far beyond the bounds of Manhattan when the party is over.

Rap superstar 50 Cent will host the .CLUB Launch Party in New York City May 22.

By doing so many things that no one else is doing, .CLUB has succeeded in making themselves a story that people have to pay attention to. In addition to the media, other registry operators are watching intently to see if .CLUB's big gamble pays off. If their take no prisoners marketing effort (that is reminiscent on what .CO successfully did) results in a home run, others are bound to follow suit (at least as far as their cash reserves will allow). If it fails to produce the expected results, the new revenue streams so many are counting on new gTLDs to provide could end up being a mirage that never materializes. There is a lot riding on what they are doing - and not just for .CLUB.
(Posted May 15, 2014) To refer others to the post above only you can use this URL: http://www.dnjournal.com/archive/lowdown/2014/dailyposts/201405015.htm
Domaining Spain Ends Another Successful Run After Attendees from 18 Countries Converged in Valencia
The 2014 Domaining Spain Conference concluded its three-day run at the Hotel Sorolla Place in Valencia Saturday. Show promoter Dietmar Stefitz said attendees from 18 different countries came together for the 6th edition of the annual event in Valencia - a beautiful city that overlooks the Mediterranean Sea.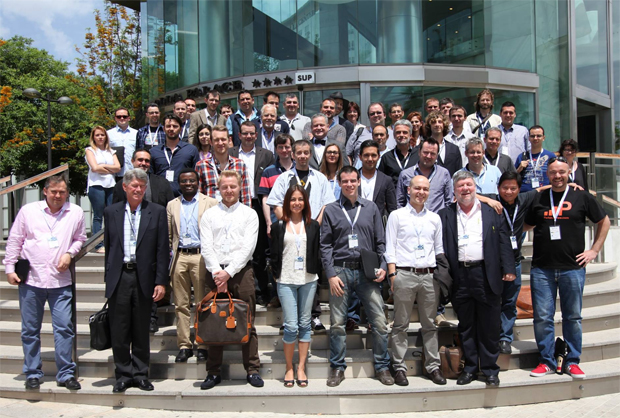 Attendees at the 2014 Domaining Spain Conference gathered on the front steps
of the Hotel Sorolla Palace in Valencia for the show's traditional group photo.
Domaining Spain Founder Dietmar Stefitz (left) introduces speaker Daniel Eisenhut of EuroDNSin this photo from attendee Joan Orquin's Twitter feed.

As you would expect new gTLDs were a prime topic of conversation at Domaining Spain, however Stefitz said that even though all new registry operators were given an open invitation to attend, very few took the opportunity to come and talk about their extensions. Stefitz told us, "Only some Geo and Community TLDs like .wien
and .hiv were represented. .Wien CEO Ronald Schwaerzler noted that .wien already has more Sunrise registrations than .berlin had (and .berlin has become the second most popular new gTLD released to date, trailing only .guru in total registrations."

Stefitz added, "In general the audience was disappointed about how little money is being spent on publicity in general for the new GTLDs.
One audience member remarked that they must be spending everything on running auctions."
Stefitz said there was also disappointment that, after years of laying the groundwork, Annalisa

Roger and Tim Switzer were not able to get rights to operate .green (which wound up going to the highest bidder in an auction).
Of course, Domaining Spain had its usual full complement of business sessions covering all of today's major industry issues. Stefitz said there was a consensus that, for continued growth, the domain industry needs an awareness campaign aimed at the general public, and also needs more influence in international bodies, especially ICANN.

Stefitz said few doubt that .com will remain the dominant extension for many years to come, noting, "it will likely be at least October before we see any real development

A shot from the first panel discussion at Domaining
Spain 2014 from the HasTraffic.com Twitter feed.

and content on new gTLDs." However he added that many believe that in the long run new gTLDs will give the Internet a better structure and will provide accesses to millions of new users with the introductions of extensions in local alphabets (IDNs).

Domaining Spain also handed out its annual awards. This year's winner were:

Domainer Nacional: Alberto Gutiérrez (MrDominio)
Domainer Europeo: Michele Neylon (de Blacknight)
Domainer Internacional: Thierry François (de namepropierties)

As with all conferences, the biggest return on attendee's time and money came from the opportunity to build new relationships and strengthen existing ones. Domaining Spain provided constant networking opportunities in both business and casual settings.

A group of friends (old and new) get together during a break at the
2014 Domaining Spain conference (photo from Felix Mezcua's Twitter feed).
Now that the 2014 conference is in the books, Stefitz is already thinking about the 2015 event, one that he plans to make a "Mega European Event." With six popular shows behind him the groundwork has already been laid for the giant leap forward he is aiming for next time around.
(Posted May 13, 2014) To refer others to the post above only you can use this URL: http://www.dnjournal.com/archive/lowdown/2014/dailyposts/20140513.htm

T.R.A.F.F.I.C. Expand Agenda and Adds 2nd Keynote Speaker for This Month's Conference in Las Vegas
We published an in-depth T.R.A.F.F.I.C. West preview interview with conference Co-Founders Rick Schwartz and Howard Neu last week but since then, Schwartz, who assembles the program, has added some new elements, including a second keynote speaker. With the show at the Bellagio Hotel in Las Vegas just two weeks away, Schwartz announced today that the former President and CEO of Vegas.com, Howard Lefkowitz, would join previously announced keynoter, Dwayne Forrester, the Senior Product Manager at Bing.com, at the top of the marquee,

With respect to Lefkowitz, Schwartz said, "Besides being brilliant, Howard is quite entertaining and he will tell you things you may not want to hear. It won't be politically correct either. So come with an open mind and leave with a truck full of ideas!"

Howard Lefkowitz

Schwartz, who has historically worked on the T.R.A.F.F.I.C. agenda almost up to opening day in an effort to present the most currently relevant program possible, added "we still have two additional sessions that will be announced next week that just may shake things up even further. We don't shy away from the big issues, we tackle them head on and the chips will fall where they may."

Schwartz said he expected to make his final decisions on the program by this time next week. The event runs from Wednesday evening, May 28, through

Saturday morning, May 31, but many will come early for the pre-show Cabana Networking that starts May 27 (the day after Memorial Day). Though he is still putting the finishing touches on the agenda Schwartz said, "the focus of the show is taking a domain and making a business out of it. We will have at least three sessions just focusing on that."

There was another intriguing bit of information in an email Schwartz sent to everyone on the T.R.A.F.F.I.C. mailing list this morning. He wrote, "this will be our last show in Las Vegas as we prepare to move operations to the west coast (more about that some other time). That is news to me and since it seems unlikely that longtime South Florida residents Schwartz and Neu will personally be moving west, it will be interesting to see what this new location for "operations" entails.
(Posted May 12, 2014) To refer others to the post above only you can use this URL: http://www.dnjournal.com/archive/lowdown/2014/dailyposts/201405012.htm
The New gTLD Top Ten Club Gets a New Member in Record Tying Time - .CLUB Does it on Opening Day
As more and more new gTLDs enter General Availability it gets harder and harder to stand out in a crowd that has now reached triple digits. For better or worse, one metric observers seize on is which new extensions rank among the top ten in popularity (as gauged by the number of names registered).

Being in the top ten doesn't necessarily mean being among the most profitable because registration prices vary wildly from one TLD to the next. So, an extension with 10,000 registrations may be just as profitable (assuming there is a profit to begin with) as one with 20,000, if the one with lower numbers is charging twice as much for a registration.

Even so, landing in the top ten is a feather in any new TLD's cap as well as an indicator that the

registry operators have struck a good balance between the quality of the keyword in their extension, how attractive the price is and how applicable it is to the needs of a wide variety of people, organizations and businesses.

The only thing better than being in the top ten, from the standpoint of drawing attention, is being there on the first day you open the general availability door. .Guru (who currently leads

all new TLDs with over 55,000 registrations, did it, #2 .berlin did it and so have several others. Appropriately enough, .CLUB became the latest to join "the club". After entering general availability Wednesday, the first day numbers, released this morning, showed them crashing the top ten at #6 with 26,063 registrations.

In addition to having the three "top ten" attributes I mentioned earlier (keyword, price and widespread appeal) .CLUB has also benefited from an aggressive marketing effort (I would say the most proactive of any new gTLD released to date) as well as a major helping hand from the world's biggest registrar, Go Daddy, who gave their TLD very valuable front page exposure and even hosted .CLUB executives at a launch party Wednesday morning (see 1-minute video clip below).
Once a TLD is in the top ten, the challenge becomes staying there, a task that will get harder and harder as a new round of competitors enters the arena every week. .CLUB has made it clear they have no intention of taking their foot off the gas pedal now - an attitude that should serve them well in the battles to come.
(Posted May 8, 2014) To refer others to the post above only you can use this URL: http://www.dnjournal.com/archive/lowdown/2014/dailyposts/20140508.htm
South Florida Domain Pros Forming the Industry's 1st Local Professional Trade Association - Launch Event Scheduled Next Week
For several years now domain investors have gathered in a handful of local cities or regions for occasional meetups. High tech hotspots like South Florida, Southern California and Seattle are among the very few areas where the valuable local level networking opportunities have existed. Now, a group of South Florida Domain Pros (SFDP) has decided it is time to take it to the next level by forming a formally structured professional trade association for their region.

Think what a shot in the arm it would be for the domain industry it would be if every notable city or region had such an organization - a high visibility community based group where local investors, businesses and media outlets could find out everything thing wanted and needed to know about domains from industry professionals in their own back yard. The SFDP effort, which they believe is the first of its kind, is being spearheaded by three domain business veterans - high-end domain broker Scott Ross, Senior Domain Broker Tracy Fogarty from DomainHoldings.com and Above.com's Victor Pitts. They hope to make this model a reality and, if all goes well, see it duplicated around the world.

(L to R): Scott Ross, Tracy Fogarty and Victor Pitts
are getting the ball rolling for South Florida Domain Pros.

A press release from the SFDP said the group has "designs on regionalizing channels of commerce, leveraging leadership and adopting voluntary standards of professional conduct for professional domain investors, sellers and vendors servicing the trade. If the model unfolds successfully in South Florida, it becomes a scalable blueprint for other regions to adopt, giving voice and stature to an industry that otherwise struggles to be heard."

Co-organizer Scott Ross affirmed, "That's the end game. United, the domain industry gains a stronger, more respectable commercial presence and political foothold; and speaks louder when and where it matters most. It's the power of one. Victor, Tracy and I are the founding caretakers, that's all. We're laying out a vision of what we believe is possible and doing the grunt work to create structure, governance, membership programming and a vision statement. As the organization takes root, association members will elect officers and a governing board."

The South Florida Domain Professionals launch event will be held next Wednesday evening (May 14, 2014). It will begin at 6:30pm with cocktails and dinner at Callaro's Steak House in downtown Lake Worth, Florida, an oceanside community in Palm Beach County. After dinner, the party unbuttons at the neighboring Propaganda music venue, with live performances from Hi-Fi Gemini (featuring Delray Beach domain pro Rick Waters) and rapidly rising Nashville based rock trio bree, featuring Domain Hall of Famer David Castello on drums, providing the backbeat for his wife singer/lead guitarist, Bree Castello. You can sign up to attend Wednesday night's event (an RSVP is required) at the SFDP website.

Bree and David's Lake Worth appearance is a stop on their five-month national tour that just got underway Tuesday night (May 6) in Birmingham, Alabama. While you are registering for Wednesday night's event at the SFDP website, be sure to check out the home page video they produced to drum up even more excitement for the group's outing at the bree concert.

The Lake Worth charter membership event is the first of four planned quarterly events and outings intended to tighten relationships between members, open channels of cooperation and commerce, and advance the organization's core objectives. Individual membership in the organization is open to all qualifying Florida domain professionals and Florida-based company executives and those who attend the Lake Worth event will qualify for a special charter membership rate. Future quarterly events and outings, including meals, will be provided to members at no cost.
(Posted May 7, 2014) To refer others to the post above only you can use this URL: http://www.dnjournal.com/archive/lowdown/2014/dailyposts/20140507.htm
Coming to Your City! bree (featuring David Castello) Opens U.S. Tour Tonight
This will be a BIG night for Domain Hall of Famer David Castello who, as all of our regular readers know, manages and plays drums in the rapidly rising Nashville-based rock trio bree (a band named for its dynamic singer/guitarist/songwriter Bree Castello, who also became David's wife this past January).

After releasing their debut album, All American Girl, to rave reviews, bree kicks off their first U.S. tour tonight in Birmingham, Alabama. From there, over the next month, the southern leg of the tour will have bree blazing a trail through Mississippi, Florida, Georgia, Tennessee and Kentucky before they make their first northern stop in Indiana.
bree on stage featuring (L to R): drummer David Castello,
singer/guitarist Bree Castello and bassist Maryk McNeely.
Bree lights up the stage like a bolt of lightning, David brings the thunder with his phenomenal drumming and stand up bassist Mark McNeely completes the powerful lineup. We are especially excited about the six dates bree has scheduled in our home state (Florida), starting with Panama City May 9, followed by Tampa (May 10), Miami (May 13), Lake Worth (May 14), Winter Haven (May 16) and a return date in Tampa May 17. My wife Diana and I will catch them this coming Saturday night, May 10, when they will play Tampa's historic Cuban Club in Ybor City as a featured band in the 33rd Annual Tropical Heatwave Festival.
Though David and Bree have visited us at home and we were guests at their Las Vegas wedding in January, this if the first time we will get to see them perform live on stage. After listening to the album (over and over), watching all of the great videos and reading the glowing reviews, I already know the band is something special but to experience all of the thunder and lightning you really have to see it live. If the tour is passing anywhere near where you live over the next month, be sure to get out and see bree for yourself!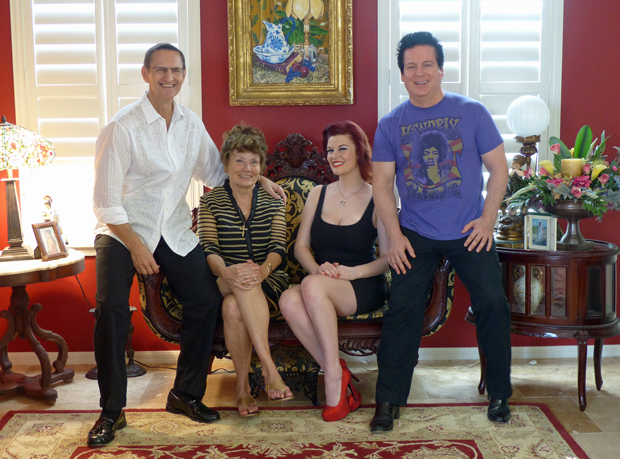 David Castello (far right) and Bree visiting us at home in Tampa last summer.
(Posted May 6, 2014) To refer others to the post above only you can use this URL: http://www.dnjournal.com/archive/lowdown/2014/dailyposts/20140506.htm
T.R.A.F.F.I.C. West Conference Fetches New Lead Sponsor - GetItFido.com Will Debut New Domain Monetization System in Las Vegas
When the T.R.A.F.F.I.C. West conference returns to Las Vegas for the 2014 show that runs May 28-31 at the Bellagio Hotel, a new premier sponsor - GetItFido.com - will at the top of the marquee. Though GetItFido has been successful in several lines of business (including domain names) for more than a decade, they are not yet a household name in the domain industry. Founder Neil Sackmary decided it was time to change that by taking a key role in the upcoming event in his hometown.

Sackmary, who owns a well known gold, coin & jewelry retail operation in Las Vegas, has been using domains to drive traffic to his enterprises for the past six years (GetItFido is also a platinum reseller for Enom). He found domains were such an effective way to boost business he wound up building his own private monetization platform and developing his own direct advertiser relationships rather than rely on Google as most PPC operations do. At T.R.A.F.F.I.C. Sackmary, who is seen dozens of times a day on local TV ads on all four Las Vegas stations, plans, for the first time, to open his platform to other domain owners.

In a phone conversation I had with the energetic entrepreneur Sunday afternoon, Sackmary told me that he will be looking into forming strategic partnerships at T.R.A.F.F.I.C. He

Neil F. Sackmary, G.G. (GIA)
GetItFido.com Founder

is especially interested in connecting with industry monetization veterans who can help take GetItFido's system to the next level - especially with respect to bringing more direct advertisers and publishers on board. Sackmary said a key differentiator with his "traffic splitting" system is that several monetization options are available for each domain.

Sackmary said, "there are some dynamic changes happening in the domain industry and I want GetItFido to be a part of that. I am extremely excited about meeting new people at T.R.A.F.F.I.C. and building relationships with people who know the industry so well." Sackmary will be easy to find, he plans to be on hand when the pre-show Cabana Networking gets underway Tuesday, May 27 at the Bellagio. GetItFido will also sponsor the official T.R.A.F.F.I.C. Party Thursday night (May 29), promising a night of acoustic entertainment that will keep volume at a level that will allow guests to both fully appreciate the live artists on stage and network while the show goes on.

| | |
| --- | --- |
| | The new sponsor won't be the only big change at T.R.A.F.F.I.C. West. The show's traditional auction format has also been completely revamped. Instead of a live auction, there will be silent auction administered by Above.com that will begin with the opening night Welcome Cocktail Party (Wednesday, May 28). A monitor at the Above.com booth will show the current high bids throughout the conference. Then, at the Friday luncheon (May 30) those present will have a final opportunity to top the high bid before the auctions are closed and the winners announced. All unsold domains will then go into an online auction run by Above that will continue until 5pm the Monday after the show (June 2, 2014). |

One other important bit of T.R.A.F.F.I.C. news - the conference's block of discounted hotel rooms at the Bellagio ($169 a night) will no longer be available after 5pm this coming Friday (May 9). The Bellagio will take back any rooms left in the block after that and will charge the full retail rate after the cutoff time. To get the discount rate be sure to book your room through the T.R.A.F.F.I.C. website.
(Posted May 5, 2014) To refer others to the post above only you can use this URL: http://www.dnjournal.com/archive/lowdown/2014/dailyposts/20140505.htm
New TLDs Need Active Websites to Gain Recognition - How .ME is Getting it Done
Before ICANN launched its new gTLD program, re-purposed ccTLDs like Colombia's .CO and Montenegro's .ME managed to remodel themselves from country code domains into globally available extensions that were re-positioned with new meanings (.CO primarily for company and .ME for clever corporate branding branding as well as personal sites).

.CO and .ME weren't the first to go down that road (.CC, .WS and .TV were among those that did it years earlier) but they have been among the most successful to make

the transition. They realized that credible live websites on their domains were critical to gaining widespread recognition on the web which in turn would spur more registrations and further development. Both launched with programs to encourage development by awarding premium reserved domains to those who submitted the most impressive business/development plans for a specific domain.
The .ME Registry just announced one of their biggest wins to date on that front with the operators of Hide.io, a privacy-focused VPN service with more than 350,000 users across the globe, agreeing to rebrand on the domain Hide.me, a move made in conjunction with the company's new user interface design and enhanced features. Customers use Hide.me to encrypt and anonymize their Internet activity - so the name is obviously a perfect match for the business.
Predrag Lesic, the CEO of the ME Registry, said, "We are very pleased that hide.io has chosen to rebrand as hide.me with a .ME premium domain. This is an incredibly personal service and when their application came in to the Premium Domain Program we knew that their service was a perfect fit for the domain. Awarding hide.me to them was a very easy choice."
A spokesman for Hide.me added, "Our service is very personal and when we began our rebranding efforts, we knew we needed a domain that would reflect our mission. We couldn't get more personal than .ME to let our users to know that our service is for and about

them. We believe in the Internet's founding vision—to let people explore information from around the world in a free, decentralized way. Rebranding with a .ME domain helps us to articulate our vision in the URL."
The hundreds of new gTLDs now coming online are trying to clear new land on the Internet and are employing a variety of ways to establish settlements that will take root. For some the business model seems to be stick high prices on the merchandise, open the doors and hope buyers magically appear. Some of their predecessors have already been down the road they are traveling now. Many of those never got their head above water so it would make sense to look at the tactics used by the few that have not only survived but thrived - so much so that the .CO Registry was able to get itself acquired for a cool $109 million last month. You know the old saying - "those who ignore history are doomed to repeat it."
(Posted May 1, 2014) To refer others to the post above only you can use this URL: http://www.dnjournal.com/archive/lowdown/2014/dailyposts/20140501.htm
---
If you've been out of the loop lately, catch up in the Lowdown Archive!
---
We need your help to keep giving domainers The Lowdown, so please email

[email protected]

with any interesting information you might have. If possible, include the source of your information so we can check it out (for example a URL if you read it in a forum or on a site elsewhere).
---
Home Domain Sales YTD Sales Charts Latest News The Lowdown Articles
Legal Matters Dear Domey Letters to Editor Resources Classified Ads Archive About Us