The Lowdown


January 201

6 Archive

Subscribe to our RSS Feed

Here's the The Lowdown from DN Journal,
updated daily to fill you in on the latest buzz going around the domain name industry.

The Lowdown is compiled by DN Journal Editor & Publisher Ron Jackson.
Chef Patrick is Back in the Kitchen - This Time a REAL One as Tampa's New Doughnut King!
This morning I popped into a new doughnut shop in our home town - Tampa, Florida, but this wasn't just any doughnut shop - the Mini Doughnut Factory was a dessert experience unlike anything I've seen before - and it was created by none other than domain industry veteran Patrick Ruddell and his wife Zezura.

As regular readers will remember, Patrick was always making waves - both figuratively with his attention grabbing Chef Patrick blog and literally by staging the first domain conferences ever held on a cruise ship - DNCruise 1 in 2010 and DNCruise 2 in 2011.

You may also recall that the serial entrepreneur came out of the real world real estate business. When the real estate market crashed he gravitated to online real estate - domains - and had a nice run with them (and continues to do so as time allows). Then when real world real estate rebounded he jumped back in to take advantage of the new market conditions and is once again busy buying, fixing up and flipping houses.

However, that wasn't enough for Patrick. Having gone through that crash he decided this time he was going to diversify before the next downturn. After doing a lot of research he determined a doughnut shop would fit the bill - it is an affordable treat that everyone loves so they tend to keep customers coming regardless of the economic weather.

Above: Entrance to the Mini Doughnut Factory (MDF)
on South Dale Mabry Highway in Tampa, Florida.

Below: MDF Founders Patrick & Zezura Ruddell onboard DNCruise 1 - the first domain conference held on a cruise ship that they hosted in October 2010.

Now here is a very interesting part of the story. I told you MDF was unlike any doughnut shop I've ever seen - and Patrick credits legendary domain investor and Uniregistry Founder Frank Schilling for providing the idea that started him down a path that led to a completely re-imagined doughnut shop.

Patrick had originally planned to serve regular full-size doughnuts and Frank happened to own a domain name he wanted for the project. Patrick didn't end up buying the name but in the course of their talks Frank told him he should look into mini doughnuts instead of regular ones as they were becoming very popular in Canada (where Frank hails from, though he is now based on Grand Cayman). Patrick looked into them and decided that was the way to go - but he added a major new twist to the spartan mini doughnuts served north of the border (often little more that doughnut holes). He and Zezura would make them with a wide variety of fantastic toppings that no one could resist. They opened the shop November 15, 2015 (barely 10 weeks ago) and had an immediate hit on their hands.

Above: I went to the MDF late in the morning on purpose, figuring the early morning coffee and doughnut rush would be over and Patrick, Zexura and I would have plenty of time to talk. I was shocked to walk in and see the tables that line the walls all full and a long line at the cash register (that never went away) with Patrick behind it.

Below: This shot of a box of freshly made MDF doughnuts will explain better than any words I can come up with why people are jamming the new Tampa shop every hour it is open. No one has anything like this and people took countless boxes home with them in the hour I was there.

Above: (left to right): MDF team member Lisa with co-owners Zezura and Patrick Ruddell getting boxes of mini-doughnuts ready for customers to take home.

Above: These mini-donuts are decadently rich so I split an order of six with fellow domainer Dimitar Tashev (from SuperDomains.eu) who went to MDF with me (a stop we made en route to a previously scheduled luncheon today).

At right: Dimitar digs in! He is from Bulgaria but went to design school in Tampa so he was back here to see old friends and visit me after we had met for the first time at NamesCon in Las Vegas earlier this month. Dimitar agreed with me that the mini-donuts were out of this world and nothing like he has seen anywhere else in his frequent travels.

Below: MDF has a full and varied menu - making it a quandary for this customer to decide which of the dozens of intriguing possibilities she should choose - they all look so good!

The MDF menu has 14 different "favorite" toppings at the top but customers can jump off from there and create any combination they want, making the options essentially unlimited. There is also a wide variety of coffee and drinks and for those who just can't get enough of that doughnut flavor there is even a doughnut milk shake!

Above: Things were so busy at the Mini Doughnut Factory this morning this selfie snapped by Dimitar was the only shot we had a chance to get of us with Patrick and Zezura before they had to get back to their battle stations. That's a good problem to have!

Below: It is clear to me that there are blue skies ahead for MDF. Local mainstream reporters have been all over the new business (check out this video from the Tampa Bay Business Journal) which is driving even more traffic through their doors. It is also clear this is a very scalable model that could result in the MDF brand eventually reaching from shore to shore. Zezura told me she has never worked so hard in her life (after just watching her for an hour I was exhausted!). However, from what I saw today that hard work is going to pay off in a very big way.
Andrew Rosener Says China Wasn't the Only Big Change in 2015 - Veteran Broker Also Shares His 2016 View

The 12th annual State of The Industry Cover Story that we published yesterday was pretty comprehensive with 13 experts sharing their views on the most significant events of 2015 and what they are predicting for the year ahead. However, one thing was missing - one of our experts!

That was entirely my fault - a mistake that will be corrected in this article. I send out requests for comments to leaders in every sector of the industry each year (and invite some new people every year to keep the mix fresh). This year as the responses came back in I filed them in an email folder so they would be close at hand when I got back from NamesCon and could start putting the story together. However, one response came in the night before I left for NamesCon. I had already shutdown my desktop computer for the trip, so the email was downloaded to my laptop instead. The problem was I forgot to get it off the laptop when I got home so it wasn't in the story folder.

2015-2016 image from Bigstock

As it happens was one of the responses I wanted most. With the domain boom in China being on everyone's mind, I reached out to more top tier brokers than usual to get their take on the phenomenon and whether or not they thought it would continue in 2016. So, it was especially perplexing to find out I had misplaced answers I had gotten nearly 3 weeks earlier from ace broker Andrew Rosener from MediaOptions.com. Being the nice guy that he is Andrew understood, assuring me that he was even more forgetful than I am (not likely!) and I appreciated that.

On the plus side that gives us an insightful Bonus Round to further expand the views shared in this year's story. Here is what Andrew had to say:

"Clearly, the largest trend in domain names for 2015 was the explosive Chinese market. However, beyond that I think that at a higher view, our industry evolved in a big way. When I think back to my beginnings in the domain industry I imagined a market that would one day offer liquidity, fast and safe transactions on demand and a greater degree of transparency. In 2015 we saw tremendous leaps forward on all of those fronts, particularly liquidity. The number of buyers in the market for strong .com domain names is unprecedented and it is not just the Chinese. The Chinese were the fire that was needed to take this industry to the next level, but now that we are on our way I think it will become more clear in the near future how big this industry actually can be."

"We are in an amazing place in time for the domain name industry and the internet as a whole. An incredible number of outside influences are going to direct the market in 2016, everything from fluctuating currency,

Andrew Rosener
MediaOptions.com

China's Yuan becoming a reserve currency, Virtual Reality, 3D Printing, the potential for India to become the next China (although less optimistic about this) and the economy (at least in the USA) possibly shaking it off after nearly a decade of stagnation."

"Look for continued growth in short domains and one word .com brands in 2016. Potentially exponential growth. But by the same token, expect tremendous amounts of volatility and uncertainty. Have faith in the fact that a great domain name continues to be one of the greatest single asset investments you can make, ever more interesting and valuable by the day as governments increase currency controls and restrictions. There will be more money entering the domain market than we have ever before seen, but it will be highly concentrated on top tier domain assets. Long domains (3 words plus) will continue to fall out of favor for many reasons and shorter is better will continue to be the mantra. Expect a lot more consolidation of companies (service providers) as well as portfolios. The way we think about domain name sales and end user transactions may very well get turned on its head with innovative lease or lease to own options coming to market."

Andrew Rosener speaking at the 2010 T.R.A.F.F.I.C. Vancouver Conference in Canada.

Thanks again to Andrew for sharing his insight. While I wish I had gotten it into print when I was supposed to, it wound up being a pleasant surprise in another way - kind of like taking down the Christmas tree only to find a really cool package still under there that you missed Christmas morning!
DomainHoldings Warns Someone Using .Biz Version of Their Name May Be Attempting Scam
I got an email this morning from DomainHoldings.com VP of Operations Wendy Leung with information that all domain buyers and sellers should be aware of. Wendy said they have reason to believe that someone using DomainHoldings.biz may be posing as the legitimate Florida based brokerage to lure domain owners. The .biz domain, which is listed under WhoIs Privacy at GoDaddy, hiding the owner's identity, has been redirected to DH's .com website without their permission. When someone clicks on the .biz link in an email and lands on the real DH site, that could leave the impression the contact is from the legitimate company.

Wendy said DomainHoldings is conducting a full investigation. In the meantime they want to make sure the community is made aware of this and understands that DomainHoldings.biz is not associated with Domain Holdings in any way. She noted that anyone wanting to work with the company should contact them directly via phone or email to [email protected].

Alert image from Bigstock

Whatever the .biz owner may be doing, at the very least it look like an obvious case of cyber-squatting on DH's well-known brand.
Gandi.net's Investment in the Chinese Market Earns French Registrar a High Honor from CNNIC
Much has been written about the 2015 domain aftermarket boom created by Chinese buyers - but China presents a great opportunity for companies offering new domain registrations as well. French registrar Gandi.net saw that opportunity developing in 2014 and quickly began pursuing it by opening an Asian office that year.

Since then Gandi.net has integrated relevant regional currencies, added support in traditional and simplified Chinese scripts and recruited a solid Chinese-speaking team to assure a quality customer experience adapted to the particularities of the Asian domain name market. Those efforts paid off last week when CNNIC (operator of China's .cn ccTLD) held their annual Industry Partner Conference in Guangzhou

China flag image from Bigstock

and gave their "Registrar with the Highest Potential" Award to Gandi.net. CNNIC conducts a comprehensive evaluation of domain name registrars each year, then honors outstanding registrars at the annual meeting.

A Gandi.net press release about the award noted, "In recognizing a European company, CNNIC is demonstrating its intention to develop an open, dynamic market in a space once reserved exclusively for Chinese companies."

Gandi.net CEO Stephan Ramoin said, "Our selection for this award from among a crop of largely Asian competitors shows our conviction to taking root in this market and growing along with it." Gandi.net's Taipei-based team has also put a premium on personally engaging the local community by attending conferences in China, Taiwan, and Japan. They also organized the first ever hackathon dedicated to a geographic TLD, (.Taipei) last month.

Gandi.net was founded in 2000 and now has more than 1.5 million domains under management.
City Brand Media Signs Deal to Develop TheMiddleEast.com & Portfolio of Over 220 Geo Domains
City Brand Media, LLC, (CBM) a media publishing and management company with offices in Oakland, California and Scottsdale, Arizona, has signed a deal with Palm Beach, Florida based WorldReach Domains, LLC to develop TheMiddleEast.com and more than 220 additional national and international Geo Domain websites. The sites will be developed on City Brand Media's custom user and mobile-friendly platform that is currently being utilized by 140 U.S. City(dot)com sites (Scottsdale.com being just one example).

Fred Mercaldo, CEO and partner at City Brand Media, LLC said, "We admire WorldReach Domains, LLC's incredible portfolio of both national and international domains, and we are confident the strategies and overall game plan we've developed for it will add tremendous value to each and every site. The U.S. domains give City Brand Media exceptional reach in nearly every market, while the international domains will provide us with tremendous visibility into many great destinations worldwide. We are thrilled about this portfolio and the opportunities and challenges it presents, as we believe it will greatly aid our national advertising efforts and increase the sites' traffic and reach." 

Until now, City Brand Media's portfolio has included only U.S. City(dot)com sites, making TheMiddleEast.com the first international domain name for the company. 
"The real game changer for us is the opportunity to develop TheMiddleEast.com," Mercaldo said. "Our goal is to provide the online world with a definitive website on all things related to the Middle East. We have existing

Fred Mercaldo
CEO & Partner
City Brand Media, LLC

associates in Dubai, and plan on establishing a separate international division within City Brand Media to fully develop this iconic site, along with the many other international sites currently in negotiation. While our final strategies are not yet decided, we can state that we intend to partner with some quality content providers and news services, and also concentrate our efforts on the luxury and high end travel and tourism opportunities the region represents."

Keith Shanahan, owner of WorldReach Domains, LLC, said, "Since the late 90's, we have been seeking a company that shares the same vision and understands the great value of the famous geographic and city domains we own. Upon finding Fred and his partnership group at City Brand Media, it became immediately clear that our search was over."

City Brand Media was originally established to represent a network of 140 City(dot)com websites across the country. The company plans to launch an additional 100 or more City(dot)com websites in 2016, bringing their reach to over 250 pure City(dot)com brands by the end of 2016. Cities included under the company's umbrella range from small upscale communities to large metropolitan areas. In addition to providing management of the sales, marketing and advertising functions for the network of sites, City Brand Media identifies and procures both national and local partnerships beneficial to its readers and advertisers.
After Their Most Successful Sunrise to Date Donuts Pours .Wine and .Vin for the General Public
This will go down as a vintage week for new gTLDs with high profile extensions like .feedback (from Total Level Spectrum), .car, .cars and .auto (from Uniregsitry) and .family (from Rightside) joining .wine and .vin (from Donuts) among some the latest TLDs to enter General Availability. The latter two gave Donuts, the largest operator of new gTLDs, their most successful sunrise to date. More than 1,300 brand owners and trademark holders registered .wine and .vin domains during the 60-day sunrise period that preceded today's launch to the general public.

Donuts put .wine and .vin in the spotlight at last week's NamesCon conference in Las Vegas by setting up a popular wine tasting bar complete with an expert sommelier.

Wine image from Bigstock

A sommelier pours wine for NamesCon attendees at the
Donuts .wine/.vin tasting bar in Las Vegas (Jan. 10, 2016).

Donuts Co-founder and CEO Paul Stahura said "With more than 38.4 billion bottles of wine produced worldwide annually, it is no surprise that wine is a critical piece of the social fabric of cultures across the globe. I can't think of a more appropriate community to have its own trustworthy domain names. .Wine and .vin will enable wine connoisseurs and the businesses that serve them to build identities and vibrant communities where commerce and ideas can flow freely."

Donuts pointed to Sherry.wine, Champagne.wine, Champagne.vin, Prosecco.wine and Port.wine are examples of live and active sites focused on wine marketing, sales, education and community building.

A statement from The Comité Champagne, the trade body representing all growers and houses of the French wine region of Champagne, said, "We see .vin and .wine as a fantastic way to secure our heritage digitally, uniting the past and present and preparing for the future."

César Saldaña of the Consejo Regulador, the world's leading sherry association, added

Paul Stahura
Donuts Co-Founder & CEO

"The move to Sherry.wine was a key component of the Consejo Regulador of the Denominaction de Origen Jerez-Xeres-Sherry's digital strategy for 2015 and beyond. Following a complete site redesign, which created a global and multi-lingual platform for the next generation of sherry drinkers, the final piece of the puzzle was finding the perfect domain name."
Non-Stop Networking: Why Some of the Best Moments at NamesCon Weren't on the Agenda
In my daily posts from last week's NamesCon conference at the Tropicana Hotel in Las Vegas I tried, as much as possible, to give you a sense of what goes on each day and night at the big event (photos & highlights from the record breaking 2016 conference are at these links: Day 1, Day 2, Day 3 and Day 4). However, there was another important aspect of show week that, even though it wasn't on the official agenda, was a big part of the overall NamesCon experience.

Unlike the many conferences that have preceded it, meals have never come with the NamesCon ticket price (a key reason why their tickets have remained so affordable). NamesCon organizers understood that the primary reason people come is to network, so their emphasis has been on doing everything they can to make sure cost doesn't keep people from coming.

Still, a desire to network during every waking minute left a void at meal times that several industry investors and service providers

- being the creative, adaptable people that they are - quickly filled by taking it upon themselves to organize breakfasts, lunches, dinners or just hangouts at the bar. Gatherings ranged from a breakfast for Christian domainers to a quick lunches across the street at the MGM Grand to sit down dinners at nearby restaurants.

In the latter category, busy show moderator Braden Pollock (from LegalBrandMarketing.com) organized a Tuesday night (January 12) dinner at the Il Fornaio Restuarant inside New York New York (located diagonally across the intersection from the Tropicana). Initially Braden thought a couple of dozen people would join in but the number swelled to around 70 - filling multiple tables throughout the restaurant (and no doubt pleasing the proprietor immensely)!

Above & below: Just two of the many tables some 70 NamesCon attendees filled up at an impromptu dinner at the Il Fornaio Restaurant in Las Vegas Tuesday night (January 12, 2016). Organizer Braden Pollock is standing at far left in the top photo. With dozens of attendees I won't attempt to caption them all but you will see many familiar faces in the crowd including Giuseppe Graziano (GGRG.com) and Fred Mercaldo (CityBrandMedia.com) in the left and right foreground below.

I had to use the window between the close of the Tuesday business day and the start of the big Water Night fundraising party that night to put together one of my reports from the show, so unfortunately I didn't get to join the crowd at Il Fornaio, but Braden was kind enough to share these snapshots with me. These attendee-organized social events are some of the very best places to start new relationships and build on existing ones, so I wanted to make sure an example was included to round out our coverage of what life was like at the 3rd annual event and what you can look forward to when NamesCon returns January 22-25, 2017 (also at the Tropicana).

It occurs to me that this series of shots would make for a fine game to "Find Waldo." See anyone you know? I see at least two married couples - Tiffany Marler at front left above with husband Bruce next to her (both from LocalTek) and on the left side below we have Bob & Trudy Olea between host Braden Pollock and Sedo's Christian Voss. Howard Neu (at front right) also brought his wife Barbara to NamesCon but she was back at the Tropicana taking part in the Women in Domaining party going on at the same time (and yes - that is Jim Grace from ParkingCrew behind Howard (we would recognize that handlebar mustache anywhere)!

Braden Pollock did so much table hopping Tuesday night there was no need for him to go to the gym! Again, you will find familiar faces at every table. Sitting at back center at the table below is Epik's Rob Monster who hosted a breakfast gathering I did have the pleasure of attending one morning at the Tropicana.

Still more NamesCon attendees who helped orchestrate a complete takeover of the Il Fornaio Restaurant. Thanks again to Braden for sharing the shots (or maybe I should say - shame on you for making me feel bad about what I missed)! Next year plan on making reservations for 71. I guess I can always write and edit photos in between bites of lasagna. :-)
Final Day of 2016 NamesCon Conference Capped a Crowd Pleasing, Record Breaking Week in Las Vegas
The 2016 NamesCon conference completed a remarkable four-day run Wednesday (January 13) at the Tropicana Hotel in Las Vegas (You will find photos & highlights from day 1 here, day 2 here and day 3 here). It was the biggest show in domain industry history with some 1,200 attendees coming in from around the world for the 3rd annual event. The record-breaking meeting was orchestrated by NamesCon Co-Founders Richard Lau and Jothan Frakes, and fellow producers James Morfopoulos and Terri Potratz. They and an energetic NamesCon staff kept the ambitious content-rich agenda running like Swiss clockwork throughout the week.

Below: Wednesday began with an update on the work being done by the Internet Infrastructure Coalition, delivered by Executive Director Christian Dawson and Membership Director Hilary van der Meulen.

Above: At 10am, Mike McLaughlin (Godaddy Sr. Vice President, Domains), delivered a keynote talk that included news about a slick new GoDaddy investor mobile phone app that you will want to get. Mike also called Paul Nicks (General Manager of Godaddy's popular Afternic domain sales platform) to the stage to share the company's aftermarket news. You can get more details on what Mike and Paul had to say here.

Below: Next up at 10:25am was another keynote - A Branding Perspective from Paul McGrady (Chair of Trademark, Domain Name & Brand Enforcement, Winston & Strawn). You will find more on Paul's talk here.

Above: After his keynote, McGrady (left) joined (left to right after Paul) Pervez Delawalla (CEO, Net Data Centers), Christian Dawson (12Coalition) and Michele Neylon (CEO, Blacknight Internet Solutions Ltd) for a panel discussion about Naming the Innovation Economy.

Below: In between sessions NamesCon attendees took advantage of the inviting meeting space in the expanded Exhibit Hall to catch up with friends and company representatives.

Above: In addition to taking advantage of the convenient and comfortable seating throughout the Exhibit Hall, attendees could visit any of the dozens of sponsor exhibits to ask questions about their offerings and pick up cool swag including T-shirts and other promotional items.

Below: On hand to greet guests at the Above.com table were (left to right) David Warmuz (President of Above parent company Trellian.com), EVP Nancy Bianchi and SVP Aaron Kvitek. Senior Account Manager Liz Corona was also there but we never managed to catch all four of the busy Above folks together at once! Above.com was celebrating the launch of a new and improved website during show week.

Above: Phil McKegney (DomainAgents.com), at right, chats with visitors to his company's booth in the Exhibit Hall.

Back in the various NamesCon meeting rooms four more simultaneous business sessions got underway at 11:45am. Uniregistry's Sevan Derderian discussed the popular registrar's bulk management tools in one room while Simon Cousins and Raymond Li (of Allegravita.com) conducted a China Boot Camp for Registrars in another.

Below: Another 11:45 session about aftermarket sales called The Secondary Market is the Primary Market featured (left to right): Andrew Rosener (MediaOptions.com), Larry Fischer (GetYourDomain.com), moderator Derek Newman, Jeff Gabriel (Uniregistry Market) and Monte Cahn (RightOfTheDot.com).

Above: Wrapping up the final round of morning business sessions was this panel allowing attendees to Meet the New TLDs. It featured (left to right) Jodee Rich (CEO, People Browser), Karn Jajoo (Associate Manager, Radix Registry), Reg Levy (VP Compliance + Policy, Minds + Machines), Jay Westerdal (Founder & CEO, Total Level Spectrum - TLS's .feedback extension just entered General Availability today) and moderator Braden Pollock (LegalBrandMarketing).

Below: Before the lunch break the audience also got an update from Vox Populi Registry CEO John Berard.

Above: After the lunch break Pat Kane (Verisign Senior Vice President, Naming and Directory Services) kicked off the afternoon session with a fascinating stats- filled keynote address that underscored the continuing strength of Verisign's .com extension. You can find details on Pat's talk here.

At 2:15pm it was time for another round of business sessions including another China Boot Camp with Simon Cousins and Raymond Li - this one a General Session with Q&A. The Uniregistry room also continued to welcome attendees with a session about the new Uniregistry Market (an upgraded iteration of the popular DomainNameSales platform).

Below: Also at 2:15, Canada and .CA was in the spotlight in this session featuring (left to right): Kelly Campbell (Channel Manager, CIRA), lawyer Zak Muscovitch (DNAttorney.com), Elliot Noss (President & CEO, Tucows Inc.), veteran investor Rob Montgomery, Peter Maxymych (President, Emall.ca Inc) and moderator Bill Sweetman (NameNinja.com).

Above: In the final 2:15pm session, Domain Name Security was the topic of discussion among this group of experts. Left to right are moderator Braden Pollock, Theo Develegas (Owner, Acroplex.com) and Scott McCormick (President, Kvant).

Below: The next hour, starting at 3:20pm brought three more panel discussions. Here Michael Gilmour (ParkLogic.com), standing, conducted a MasterClass on Domain Traffic Monetization that drew a capacity crowd.

Above: In another 3:20pm session that was an audience favorite, the topic was Future Proofing Your Domain Business. It featured (left to right) John Smrekar (Uniregistry), veteran domain investor and entrepreneur Adam Strong, moderator Derek Newman and NamesCon Co-Founder Richard Lau.

Below: Wrapping up the 3:20 round was this panel on Using WordPress to Develop and Host Domains. It featured, left to right, Lisa Box (VP Business Development, WP Engine), Krutal Desai (Special Projects, Automattic/WordPress), Tony Gilharry (Sales Engineer, WP Engine), Cory Miller (CEO, iThemes.com) and Paul Carter (Chief Marketing Officer, Pressed.net).

Above: At 4:25pm it was time for NamesCon 2016's final keynote address and they landed a speaker worthy of the anchor role - Matt Barrie (President & CEO, Escrow.com (part of Freelancer Limited). Matt covered a wide range of new and improved services at Escrow.com and had a lot of good news about upward trends in the domain market (something he has a great deal of insight into at Escrow.com, the global leader in secure online transactions). You will find more details about Matt's talk here - or better yet - watch the full video of it here.

Speaking of videos - a video of Uniregistry Founder Frank Schilling's SRO keynote talk from earlier in the week is also now available on YouTube. If you did not see it in person, this is another one you will want to watch.

Below: At 4:50 the final event of Namescon 2016 was staged - an Executive Roundtable that featured (left to right): Christian Dawson (i2Coalition), Michele Neylon (Blacknight Ltd.), Rolf Larsen (CEO, DotGlobal), Tessa Holcomb (Co-Founder & CEO, Igloo.com) and Arnold Blinn (Chief Architect at Go Daddy). With the panelists' expertise in various sectors of the industry this illuminating discussion proved to be the perfect ending for a truly extraordinary event.

The people who made the magic happen: (left to right) NamesCon Co-Founder Jothan Frakes, Co-Producer Terri Potratz, NamesCon Co-Founder Richard Lau and Co-Producer James Morfopoulos. Though they had much to celebrate at NamesCon 2016 concluded you can bet they are already working on next year's show that will run January 22-25, 2017 at the Tropicana Hotel in Las Vegas. If history is an indicator that one will set yet another new standard.
New TLD .Feedback Arrived Today with Unique Features Designed by a Familiar Industry Face
Another new gTLD entered General Availability today but the man behind the .feedback extension is a familiar face who was well-known in the industry long before ICANN's current new gTLD program was even conceived. Jay Westerdal, the founder of new registry operator Top Level Spectrum (TLS), previously founded DomainTools.com back in 2001 (then sold the company to Thought Convergence in 2008) and also founded the Domain Roundtable conferences that started in the Seattle area, where he resides, in 2005.

Westerdal was at last week's NamesCon conference in Las Vegas and I caught up with him there to get the scoop on .feedback, the first of five TLS extensions to launch. One of the most interesting aspects of .feedback is that every domain comes with a free feedback platform and every domain is required to live up to the name by accepting actual feedback from consumers.

.Feedback's Jay Westerdal
CEO & Founder, Top Level Spectrum

While many view new gTLDs as being competitors to the long established .com, Westerdal said that because of its unique characteristics, that is not the case with .feedback . "New registries use phrases such as "non-com revolution" and "unCOMplicate your life", Westerdal noted. "While battling for market share is a hard but rewarding struggle, we at the .feedback registry know we are not competing against ".com". You will not find hot new startups in the .feedback namespace. However you will find a domainer's dream, "direct navigation" lives and breaths. The registry has a policy that all registered domains need to resolve to a webpage that takes feedback. Considering that in ".com" 22% of domains have real websites and that in new TLDs only 11% have real websites, it would be a huge struggle to achieve 100% live sites. However the .feedback registry has provided a default website with each domain sold that does exactly this."

Feedback image from Bigstock


Westerdal added, "Companies are not forced to use the default platform but we are solving the problem that 80% or more of all domains have after being registered. By placing the requirement that 100% of all domains in .feedback resolve or redirect to a feedback websites we allow for direct navigation to happen. A few great cases that we have seen so far are nike.feedback and yahoo.feedback. Try finding those locations with a search engine."

"Have a problem with something? Want to give feedback? Just type SOMETHING dot FEEDBACK into your browser. If the site doesn't exist, then do the world a favor and register it and start giving feedback on the new website in less than 2 minutes," Westerdal said.

Westerdal pointed out another interesting aspect of the .feedback universe. "Sites not owned by the company will make up a vast majority of the registrations in the registry. As an example Microsoft.feedback, Google.feedback and Facebook.feedback got acquired by a passionate customer. This practice is considered cybersquatting, illegal and against ICANN's UDRP rules in almost all circumstances. However in .feedback the sites are being run to gather and share public opinions and are protected by free speech laws. In fact the Program Manager in charge of Microsoft's Domains, Cole Quinn, stated that Microsoft missed the window to register and had been beaten to the domain registration. They acknowledged free speech trumped their own use of the domain and that they would not fight the registration," Westerdal said.

Jay Westerdal at the .feedback booth at last week's NamesCon conference in Las Vegas.

Still, Westerdal wants .feedback domains used in the right way. "We encourage everyone that registers in .feedback to use the domains for public good. With great powers comes great responsibility. Use the .feedback platform and try out the great tools that have been made available for free to domain owners."

Westerdal also cautioned, "It is possible to be be the target of a UDRP, even if the site is operated as a free speech site. If the site owner shows bad faith they can lose a UDRP. So far, bad faith only happens in two ways: One, negotiating to sell the domain. Two, using proxy/privacy service and hiding your real information on the whois. While I personally disagree about privacy rights, WIPO on the other hand has found that privacy constitutes bad faith. The .feedback space is a trademark bully-free zone. Free speech is everyone's right and sharing thoughts and ideas is what makes the Internet great."

"We encourage everyone to take back the Internet, voice your praise or concerns about a company using the public .feedback platform. Next time you feel like giving feedback ask yourself if you will be heard. Voicing your concern on a corporate website may fall on deaf ears but it is far more likely that a corporation will respond to your feedback if it is public and everyone has access to read it," Westerdal said.

In closing, Westerdal noted, "To register in the space we have signed up over 100 registrars. If your registrar is not included yet give them feedback that you want them to carry .feedback. Here is a full list of registrars that accept registrations now."
An Outstanding Agenda and Wonderful Water Night Made Day 3 a Special One at NamesCon 2016 - Photos & Highlights
The 2016 NamesCon conference continued Tuesday (January 12) in Las Vegas with a jam-packed business day and the annual Water Night fundraising extravaganza for the Water School. (You will find opening day highlights from Sunday, Jan. 10 here and day 2 highlights from Monday, Jan. 11 here).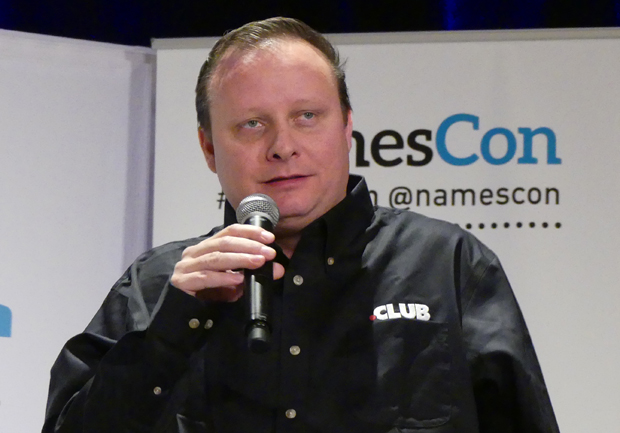 Above: Tuesday began with an update on what is happening with .CLUB (one of the most successful new TLDs) from registry Chairman and Founder Colin Campbell.
Below: Next up at 10am, the day's first keynote featured an interview with ICANN Global Domains Division President Akram Atallah conducted by moderator Derek Newman (by Tuesday night Derek would no longer have that nice head of hair. The well-known domain industry attorney sacrificed it in exchange for donations to the Water School - more on that to come). You will find details on Mr. Atallah's talk here.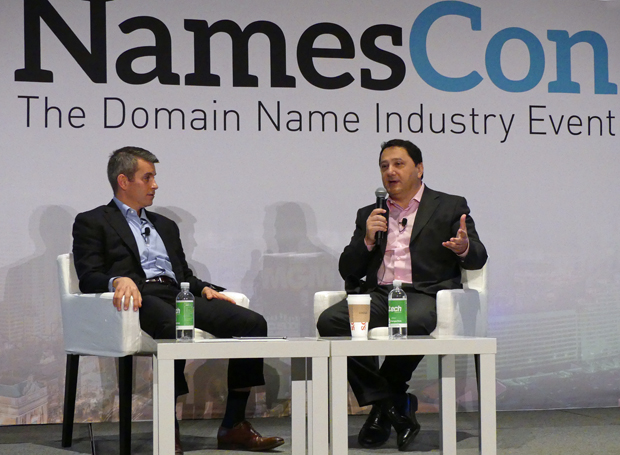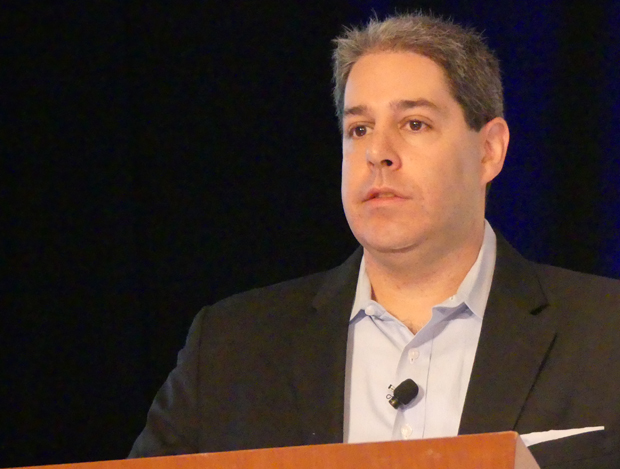 Above: Another interesting keynote Tuesday morning at 10:25 featured expert IP attorney Mark Trachtenberg (Shareholder, Greenberg Traurig, LLP). You can read a review of Mark's talk here.
Below: At 10:35am DNA University was in session. DNAU is the Domain Name Association's education arm and is responsible for providing informative insights that assist members with their businesses and help to promote the benefits of the domain name industry to the wider public. DNAU Dean Tony Kirsch (standing) was joined on stage by a panel that included Jeff Sass (.CLUB), Lori Anne Wardi (Neustar) and Elliot Silver (DomainInvesting.com).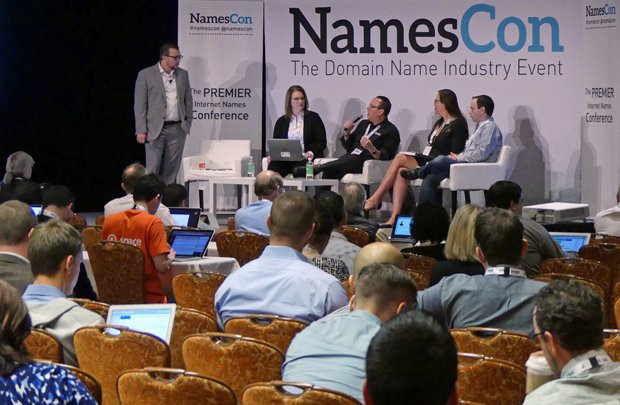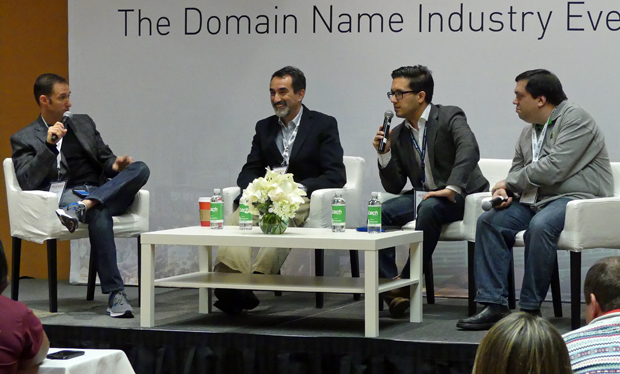 Above: At 11:45am Tuesday four separate sessions got underway simultaneously in multiple meeting rooms. Above (left to right) Moderator Braden Pollock (Legal Brand Marketing), Alfredo Pinochet (Latin TLD Inc), Jochen Kieler (Key-Systems) and Rubens Kuhl (Nic.br) presented a Primer for the Latin Market.
Below: Meanwhile Allegravita.com's Simon Cousins (far right) and Raymond Li (far left), with help from Crystal Peterson (Neustar) and Michelle Van Tilborg (.CLUB) (seated), delivered a China Boot Camp MasterClass for Registries.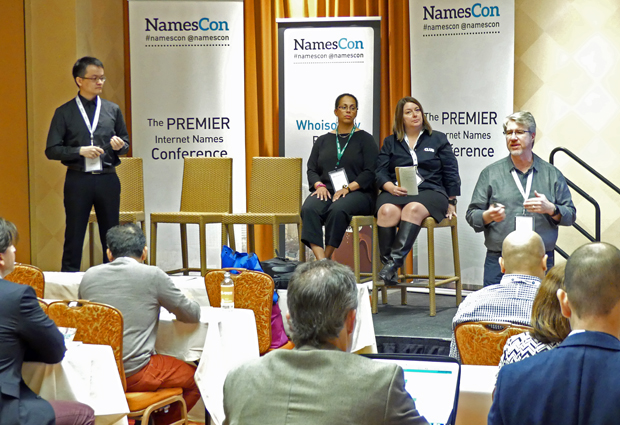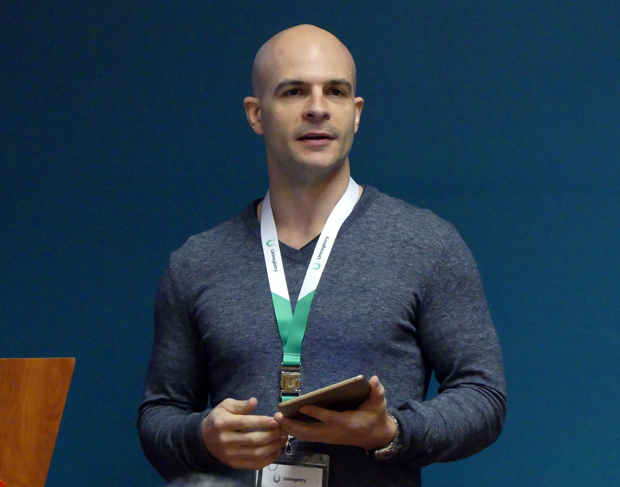 Above: NamesCon's lead sponsor, Uniregistry, continued their series of special sessions with John Smrekar (above), Jeff Gabriel and Darren Cornwell Uncovering the new Uniregistry Market - an improved version of the company's DomainNamesSales platform. You can check out the details on this discussion here.
Below: In the first of back to back ICA Live sessions, panelists answered the question Do Domainers Have Any Rights Left? Tackling that question were (left to right) Nat Cohen (Telepathy), ICA Legal Counsel Phil Corwin, Daniel Law (DomainSponsor) and moderator Bill Sweetman (NameNinja.com). In the second session, the panelists provided tips on Protecting Your Domains from New Hijacking Threats.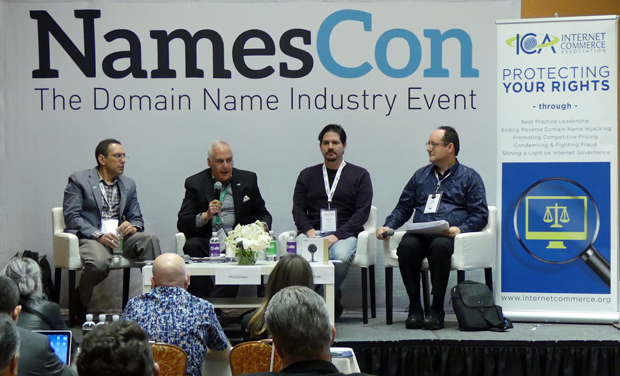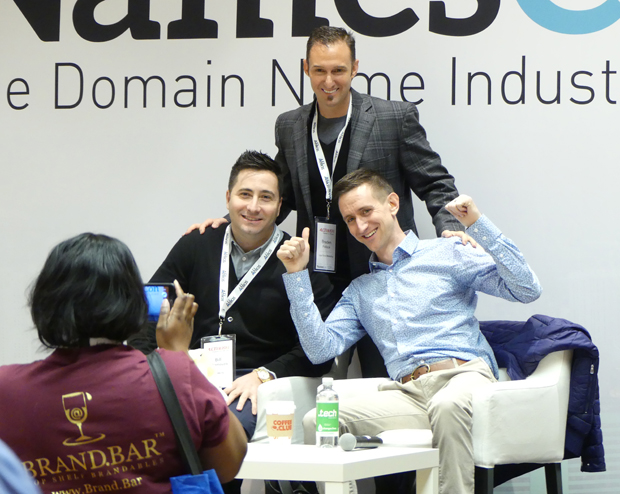 Above: Just before the final session ahead of the Tuesday lunch break got underway, Brand.bar founder Angela St. Julien snapped a shot of panelists Bill Karamouzis (TeachMe Inc.) and Morgan Linton (Fashion Metric Inc.), seated left to right, and moderator Braden Pollock.
Below: After lunch ICANN NomCom Chairman Stephane Van Gelder explained The Best Ways to Participate in ICANN via its Nominating Committee.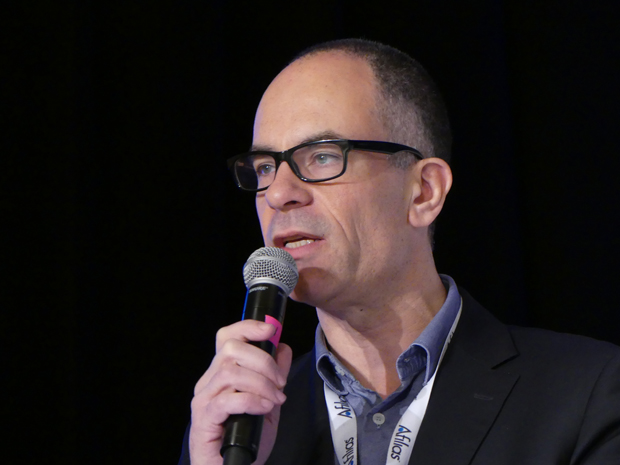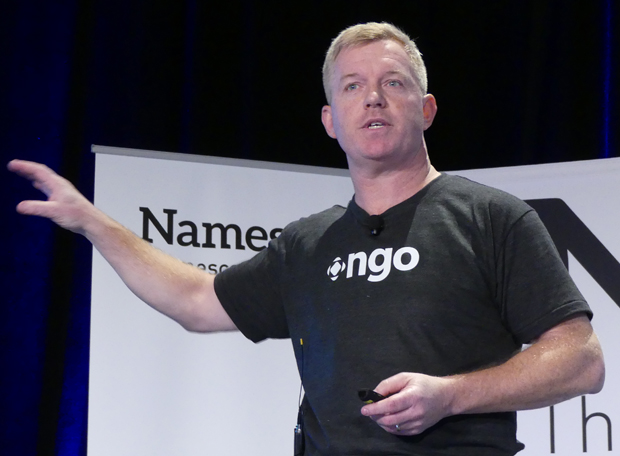 Above: At 1:45pm Public Interest Registry CEO & President Brian Cute presented a Keynote talk covering the latest developments at PIR's .org and .ngo extensions. You will find details on Brian's address here.
After Brian's talk another hour featuring four different sessions got underway at 2:15pm. In one room Morgan Linton returned to talk about Startup Accelerators and in another Tony Gilharry (WP Engine), below, presented a session called Beyond Blogging: How to Manage Hundreds of WordPress Sites with Dedicated Hosting.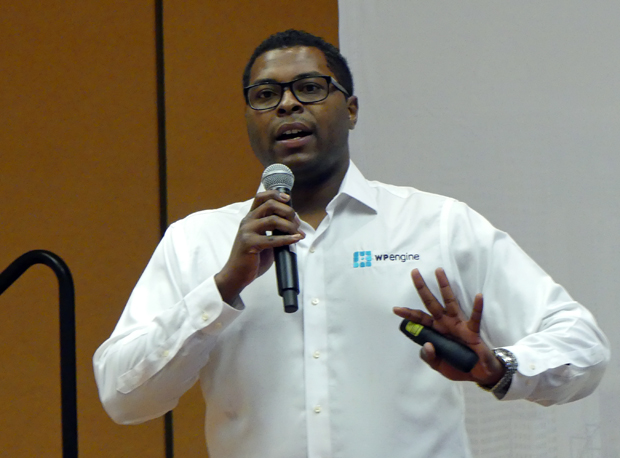 Above: In another room Go Daddy's Paul Nicks (far left) moderated a discussion of Developments in the Law of Domains. Joining him (left to right after Paul) were Nicholas Beizer (VP & Deputy General Counsel, GoDaddy), ICA Legal Counsel Phil Corwin, Aaron McKown (Partner, Ring Bender McKown & Castillo) and attorney John Berryhill.
Below: In another Uniregistry class, Ran Cui offered advice on Selling Domain for a Profit in the Chinese Market.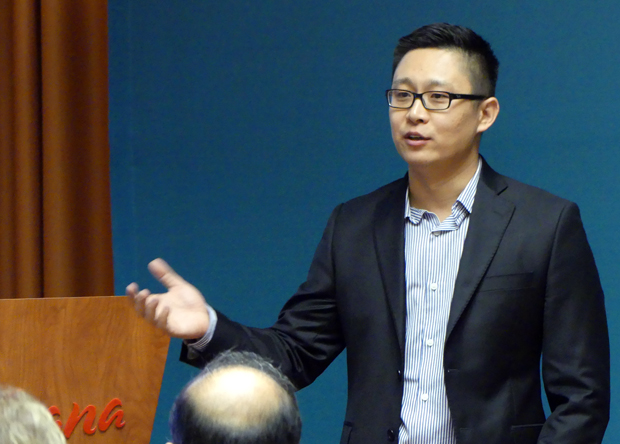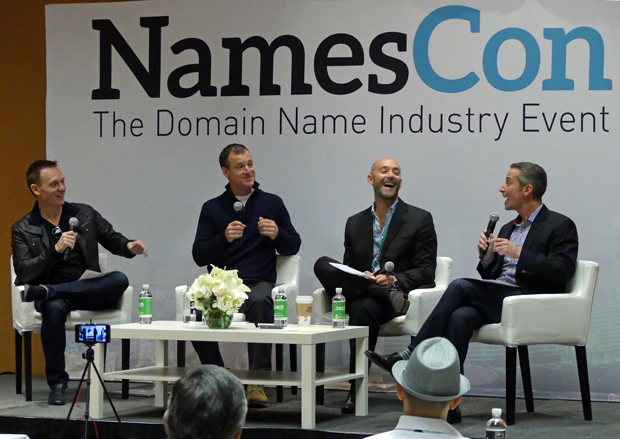 Another round of four sessions began at 3:20pm Tuesday. While another China Boot Came for Domainers was underway in one room DomainSherpa Live! (above) played to an SRO crowd in another. The lively domain appraisal discussion featured (left to right) Frank Schilling (Uniregistry), Shane Cultra (DSAD.com), Andrew Rosener (MediaOptions.com) and moderator Michael Cyger (DomainSherpa.com).
Below: Also at 3:20, Uniregistry's Michael Ward gave advice on Building a Registrar in the New Era.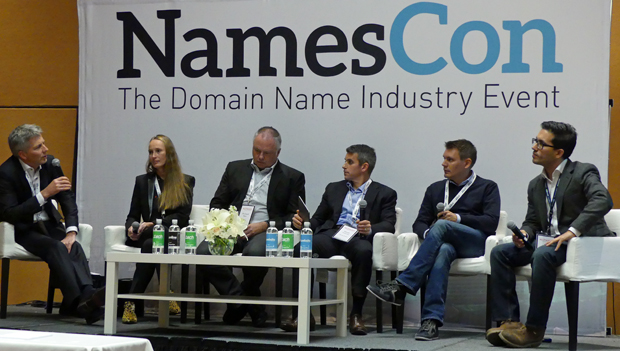 Above: The 3:20pm group of sessions also included an interesting discussion of European MArket Perspectives featuring (left to right) Roelof Meijer (CEO,SIDN.nl), Katrin Ohlmer (CMO, dotBERLIN), Richard Wein (CEO, nic.at), moderator Derek Newman, Tobias Sattler (CIO, United-Domains AG) and Jochen Kieler (CBDO, Key-Systems).
Below: At 4:25pm Tuesday I was delighted to join Donuts Inc. Co-Founder & CEO Paul Stahura (who also founded eNom) onstage for a keynote Fireside Chat. Paul has been a major industry figure and innovator since the mid 1990s and has a fascinating life story that we talked about in this interview (and that was covered in depth in the July 2015 DNJournal Cover Story about him).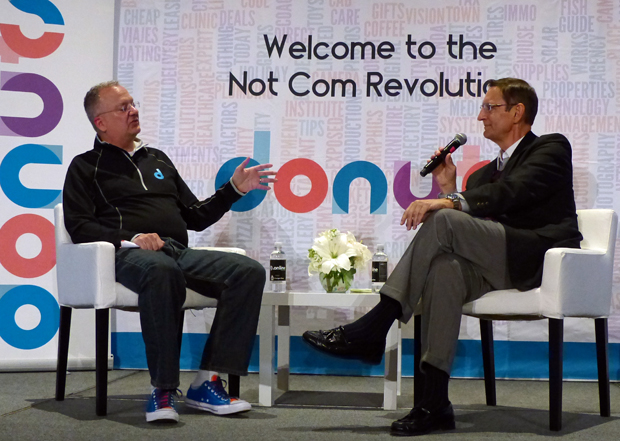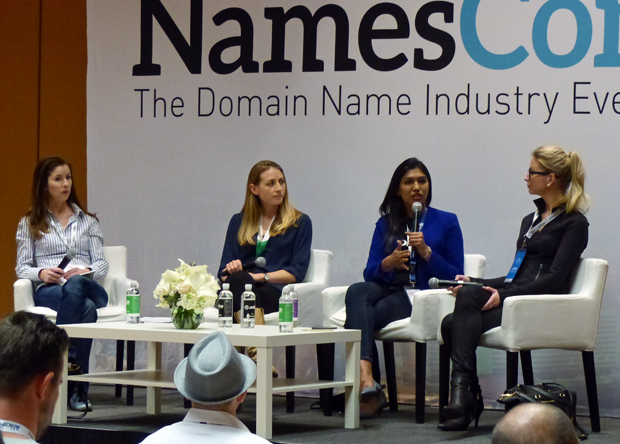 Above: The Tuesday business day concluded with one more round of business sessions including this discussion covering Successful Marketing of New gTLDs that featured (left to right) Christa Taylor (CEO, DotTBA), Amanda Fessenden (Director of Registry Business Operations, Uniregistry), Neha Naik (Director - Channel Partnerships, Radix) and Jeanette Söderlund Sause (Vice President, Industry Relations & Marketing, Dot GLOBAL).
Below: At the same time in another meeting room, the topic was DNA: Increasing Domain Value Through Self-Regulation. The DNA, of course, is the Domain Name Association. Panelists included Senior Operations Executive Tim Switzer, Statton Hammock (V.P. Business & Legal Affairs, Rightside), Stephanie Duchesneau, manages policy and compliance for Google's Domains Team, and Mason Cole (VP Communications & Industry Relations, Donuts Inc.).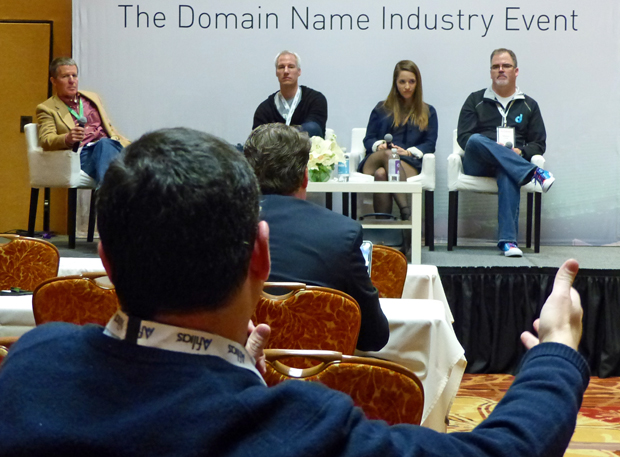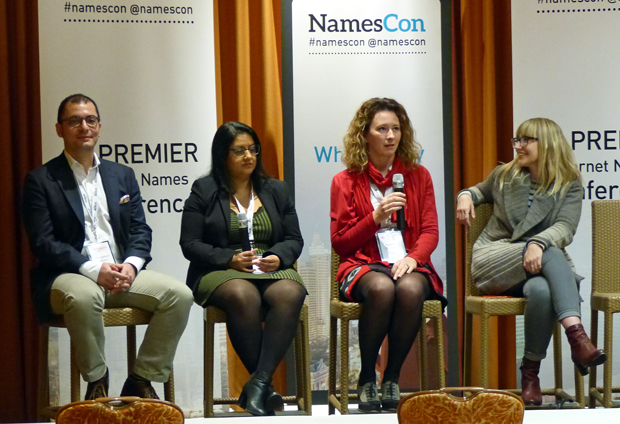 Above: The third and final business session of the day was a MasterClass: Teams Spanning Cultures that featured (left to right): Francesco Cetraro (Head of Registry Operations, .CLOUD Registry), Mou Mukherjee (Director of Marketing, .CLOUD Registry), Natasa Djukanovic (CMO, .ME Registry) and Kelly Hardy (Business Development, .ME). The panelists provided tips on tips on how to manage and thrive when your team is spread across the world.
Below: Before leaving the conference floor NamesCon Co-Founder Richard Lau introduced attendees to Tony Woodruff, a remarkable WaterSchool volunteer who serves at the organization's African Program Coordinator (this photo from the Water Night fundraising event that evening shows Richard, Tony and NamesCon Co-Founder Jothan Frakes). You will want to check out the details of Tony's talk here.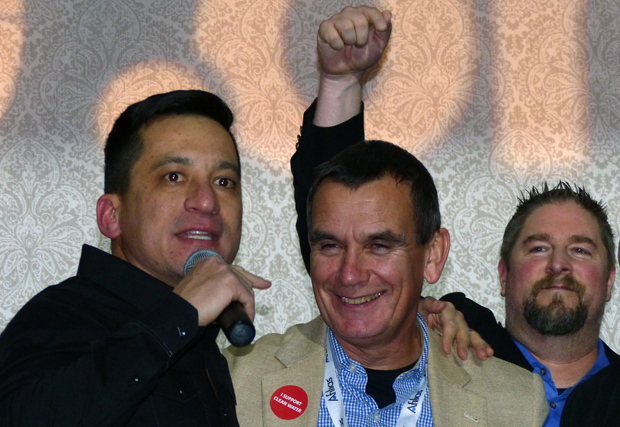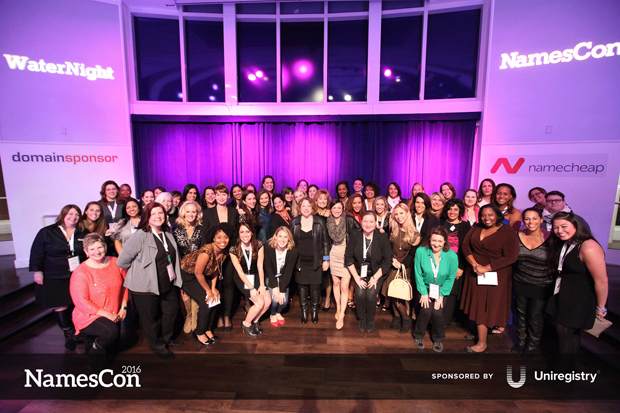 Above: Tuesday evening at NamesCon began at 7pm with the annual Woman in Domaining get together at the Tropicana Hotel. We are blessed to have dozens of brilliant businesswomen and entrepreneurs in our industry and it is never more apparent than when you see so many gathered in one place.
Below: At 9pm it was time for the big event at the Tropicana's Havana Room Night Club - Water Night - a fundraiser for the WaterSchool that is actually the primary reason NamesCon was started in the first place.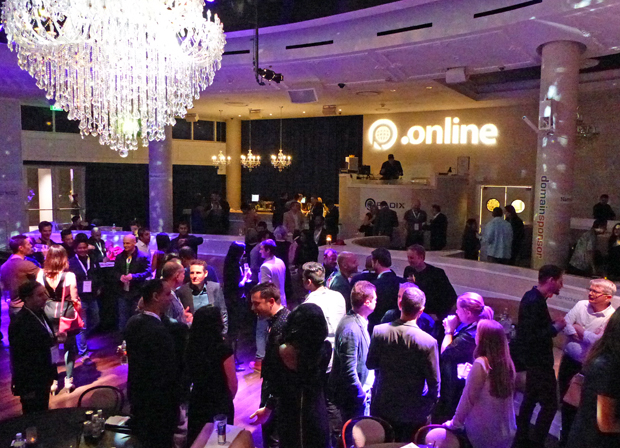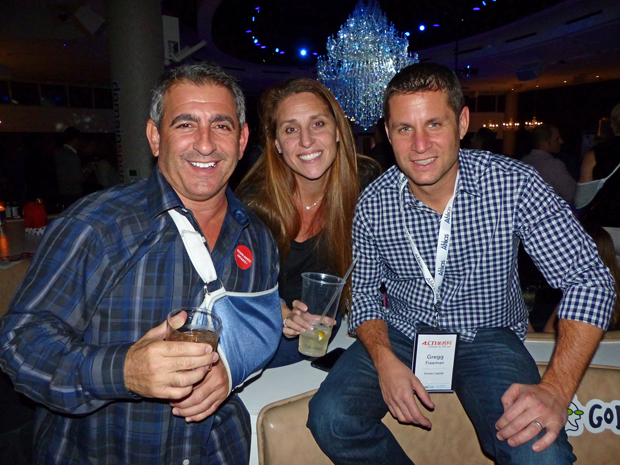 Above: Familiar faces in the crowd at Water Night included (left to right) Monte Cahn (RightOfTheDot.com), Bari Meyerson-Kissel (eNom) and Gregg Freeman (DomainCapital.com).
Below: While people come to NamesCon from all over the world, some are fortunate to have the big show staged in their own backyard. That's the case for Las Vegas based Clark Siegelin and James Davis from DomainProducts.com.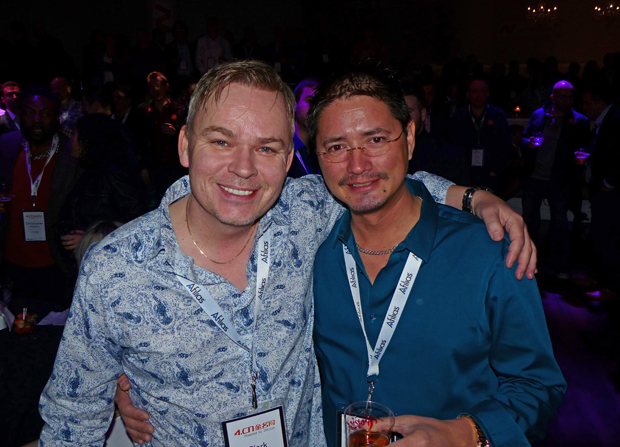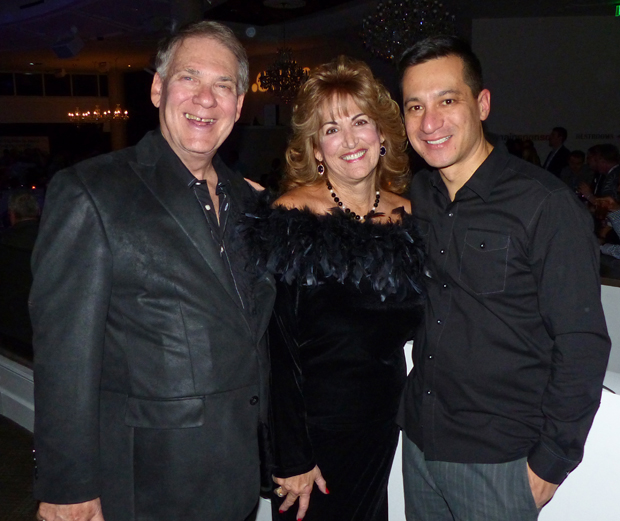 Above: Howard & Barbara Neu (from THE Domain Conference) had a surprise (actually two of them) for NamesCon Co-Founder Richard Lau (right). Industry voters elected Richard to TDC's Domain Industry Hall of Fame in September so Howard & Barbara personally delivered his HOF plaque, as well as a second award Lau won as the industry's Goodwill Ambassador of the Year.

At Right: While Richard was clearly very appreciative of the awards, he quickly diverted the spotlight from himself to the effort to raise money for the WaterSchool. Several members of the community got behind that effort by agreeing to have their heads shaved in exchange for donations to WaterSchool. They were appropriately dressed as the super heroes they are, including Larry (Superman) Fischer, seen here with Diana Jackson (DNJournal.com) just before he gave up what hair he had left!

Below: Even krypyonite could not have brought Larry down when he learned that Michael Berkens (RightOfTheDot.com), seen here with Richard Lau, donated $10,000 to WaterSchool on behalf of Larry.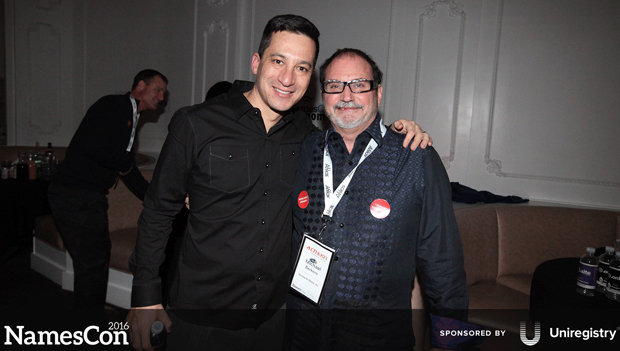 Above: PPX International Chairman (and part-time Barber) Gregg McNair clearly enjoying his chance to relieve NameCorp.com founder Alan Dunn of his hair at Water Night.
Below: The four super heroes who volunteered to have their heads shaved for WaterSchool - and some unexpected last minute volunteers, plus the extremely generous offer of matching funds from NameCheap, helped raise $115,000 for the life saving charity (with donations still coming in)! Seen left to right after the "deeds" were done are Gregg McNair, shavees Omar Ahmed (Uniregistry), Larry Fischer (DirectNavigation.com), attorney Derek Newman, Alan Dunn (NameCorp) and NamesCon Co-Founder Richard Lau (who had his head shaved a few years back at the first Water Night).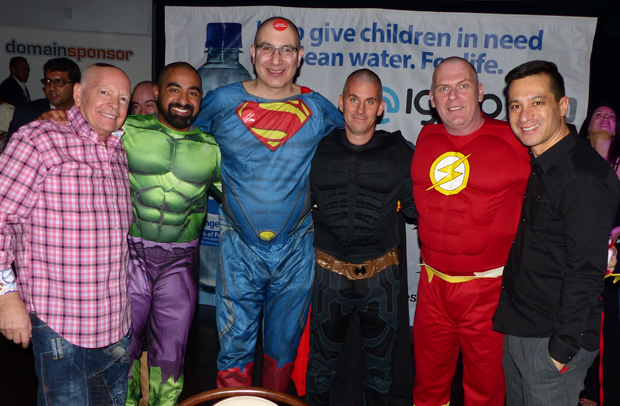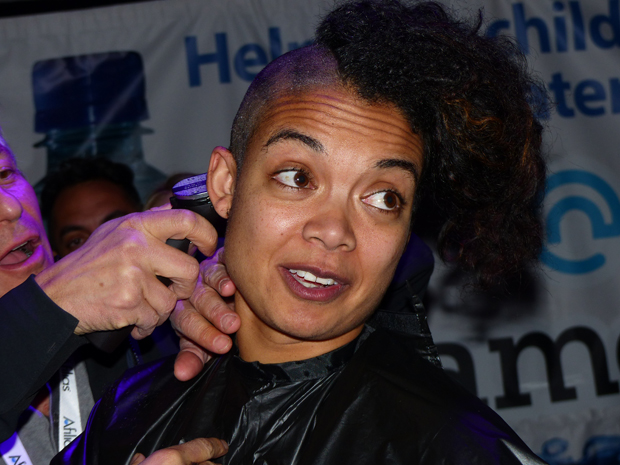 Above: But wait - there's more! In an unscheduled act of generosity, NamesCon staffer Shallom Johnson, joined a trio of last minute volunteers and agreed to have her lovely locks shorn - an effort that added some $6,000 more to the pot, much of that coming from a generous donation from Tucows CEO & President Elliot Noss (who is wielding the shears here). Some people were actually adding money to the pot to support a movement for Shallom not to give up her hair but in the end everyone, especially WaterSchool, won.
In my next post I'll have photos & highlights from the 4th and final day at NamesCon for you. There are several hundred photos still to go through from that day (Wednesday, January 13) and we will be flying home from Las Vegas today, so I will put that together for you when we are back home in Florida and get it published this weekend.
Day 2 Photos & Highlights from NamesCon 2016 Where Frank Schilling Keynote & Live Domain Auction Drew Capacity Crowds
The 2016 NamesCon conference continued Monday (January 11) with another busy day of business sessions, a live domain auction and an evening of crowd pleasing social events in Las Vegas (Opening day highlights are here). Day 2 of the 3rd annual event that has attracted a record breaking crowd of some 1,200 attendees to the Tropicana Hotel began with a keynote talk from author and digital IP strategist Jennifer Wolfe (CEO at Dot Brand 360).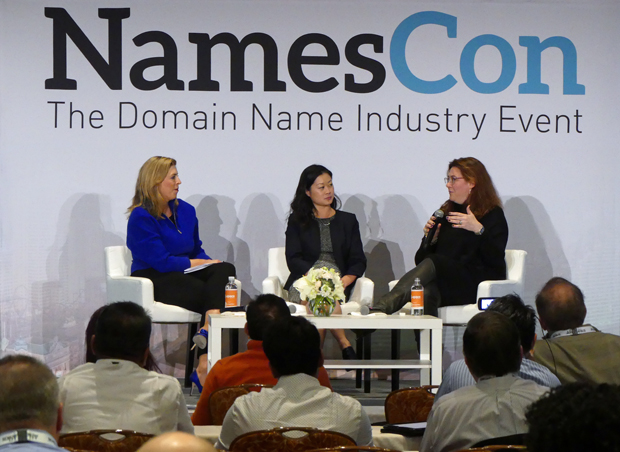 Above: After her keynote Ms. Wolfe (left) was then joined on stage by Cecelia Smith (Director, Domain Names, Fox - center) and Stacey King (Sr. Manager, Amazon Registry Services) for a discussion of Top Brands and their TLD Strategy.
Below: at 10:30am four simultaneous sessions got underway in different meeting rooms. One of those featured Uniregistry Market (formerly known as DomainNameSales) Senior Broker Wade Smith sharing Secrets of a Multimillion Dollar Broker. Wade has brokered more than $20 million in domains sales since joining Uniregistry in August 2012.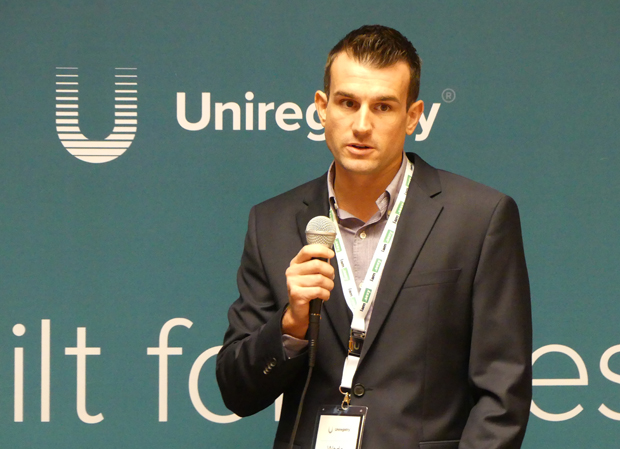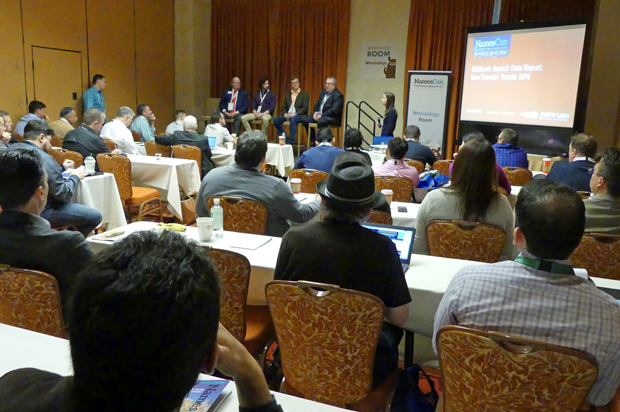 Above: Also at 10:30am a panel discussion titled Black Belt Search-Fu - Marketing, Optimization, and You featured Bill Hartzer, Bill McClure, Michael Stricker and Sean Tyson.
Below: At the same time, one of our favorite sessions from last year returned. Legendary Legal Tales at NamesCon, Year 3 featured attorneys Stevan Lieberman, John Berryhill and Tim Cole along with ace moderator Derek Newman (one of the world's top domain attorneys himself). They shared some hilarious true stories about past cases that often led to some good natured ribbing as you see here between Berryhill (left) and Cole.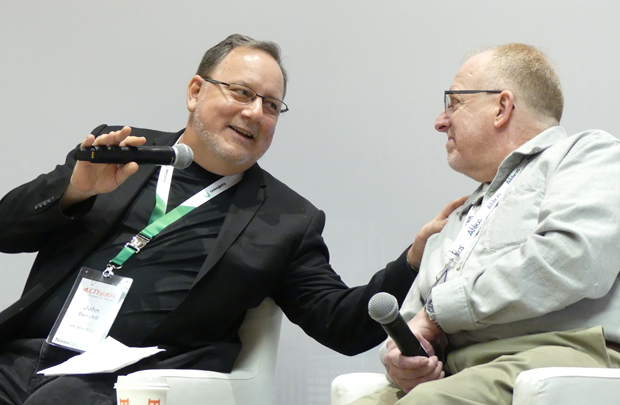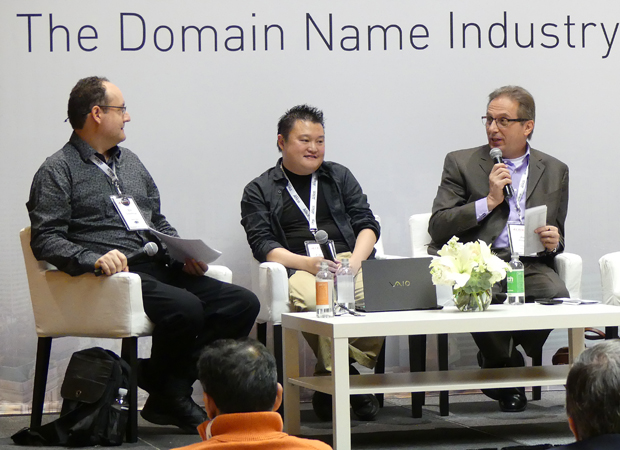 Above: The final 10:30am session was Domainer Crystal Ball: What's the next big thing after the Chinese Domain Boom? with (left to right) moderator Bill Sweetman (NameNinja), Edmon Chung (.asia) and Joe Alagna (101Domain).
Below: We then heard an update an update on the work being done by the Domain Name Association delivered by the Chairman of the industry trade association - Adrian Kinderis.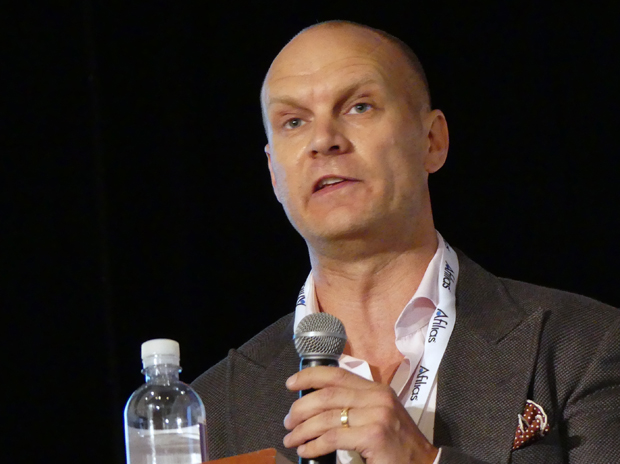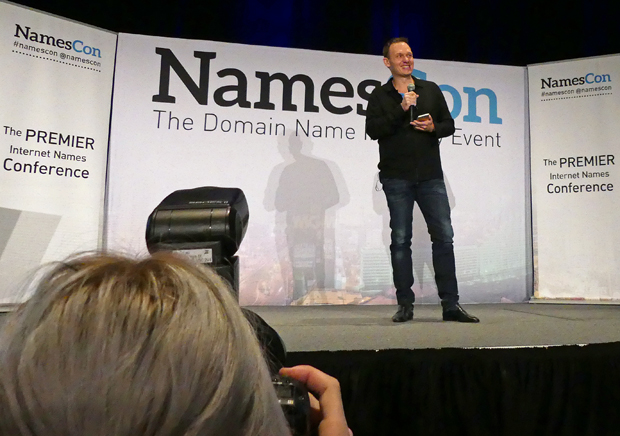 Above: Next up was one of the highlights of the entire week, Uniregistry Founder Frank Schilling's keynote speech. The legendary domain investor/entrepreneur talked about a blockbuster year for the company's domain sales and registration services as well as new offerings like Uniregistry Market (and new and improved version of the already successful DomainNameSales).
Below: Frank also had a nice surprise for attendees who had downloaded company's impressive new mobile app. To show off its functionality Frank gave away two valuable domains to lucky audience members and immediately pushed them into their accounts. One was Paleo.diet, a name the recipient sold the very same day during the NamesCon live auction for $1,700. The other was 123.link. As usual, there was standing room only for Frank's talk.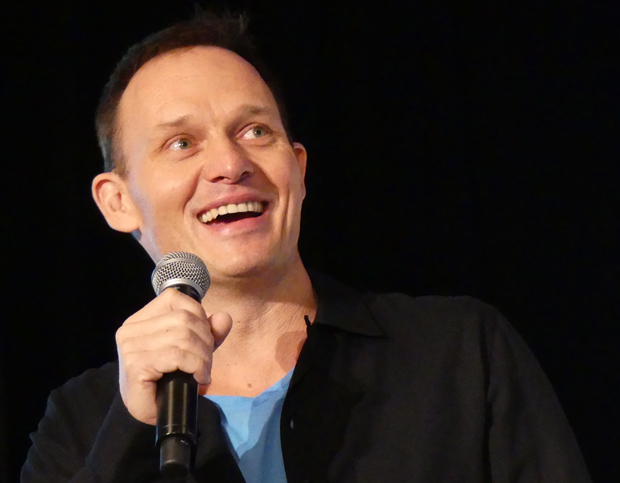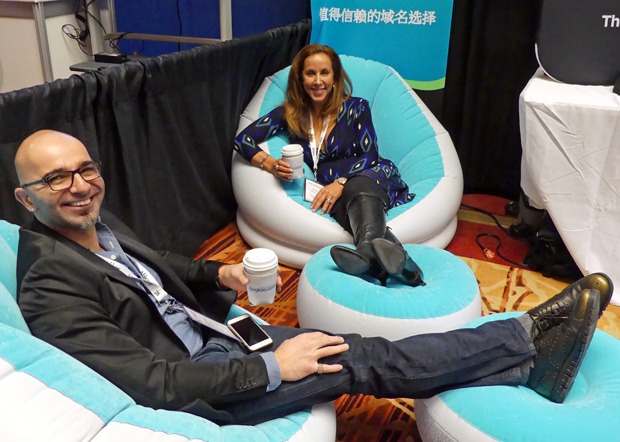 Above: In between sessions, Ammar Kubba (Thought Convergence) and Igloo.com CEO Tessa Holcomb, enjoy a break at Igloo's booth in the Exhibit Hall.
Below: After lunch, the afternoon sessions got underway at 1pm. One at that hour was Brandable names. What are they? What is the market? that featured left to right Michael Navarini, Margot Bushnaq, Michael Rader and moderator Bill Sweetman.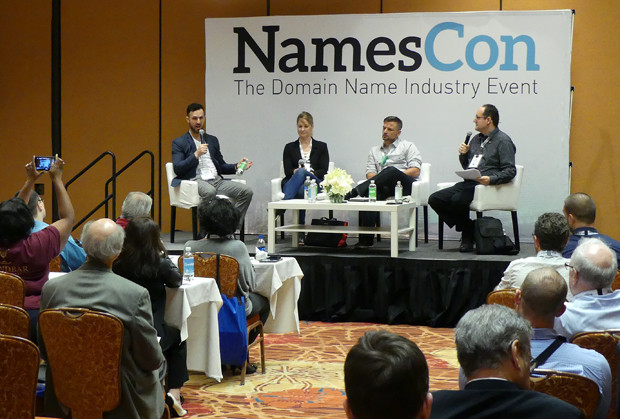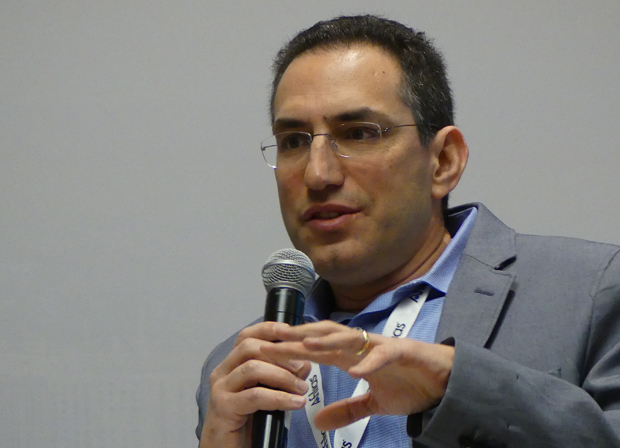 Above: Also at 1pm Nat Cohen (Telepathy, above) joined attorneys Zak Muscovitch, David Weslow and moderator Derek Newman for a breakdown of 2015 Domain Legal Developments in the Industry and Practical Takeaways. Nat also followed with a solo keynote on the work being done on behalf of domain owners by the Internet Commerce Assocation.
Below: In another keynote at 1:30pm industry pioneer Elliot Noss (Tucows President and CEO) shared his thoughts on the current state of the industry.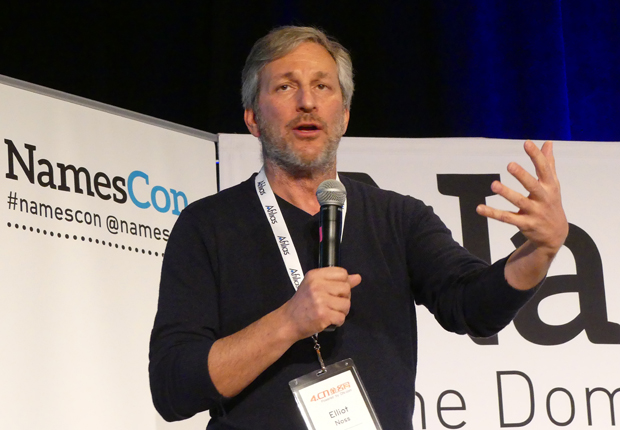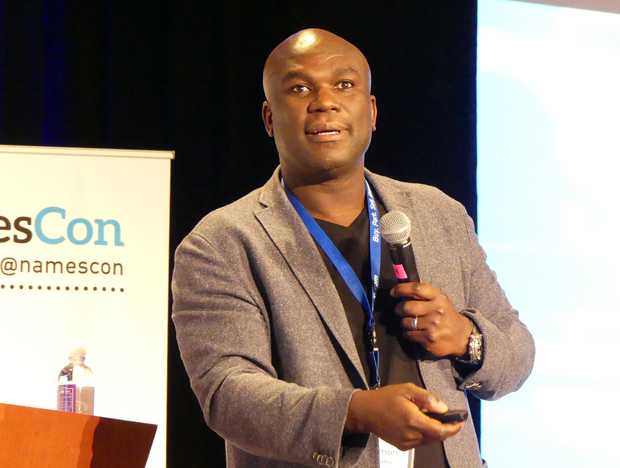 Above: Completing a keynote trifecta at 1:40pm was Sedo's dynamic Chief Sales Officer Solomon Amoako. Solomon gave an eloquent overview of the the rewarding past year for the domain business and the prospects for the year ahead.
Below: The rest of the day was devoted to NamesCon's RightOfheDot/NameJet Live Domain Auction that got underway at 2pm. Sales ended up tallying more than $1.5 million led by Lawn.com at $240,000, Tuscany.com at $157,500 and Penis.com at $110,000. A silent auction is ongoing that will push the final tally higher.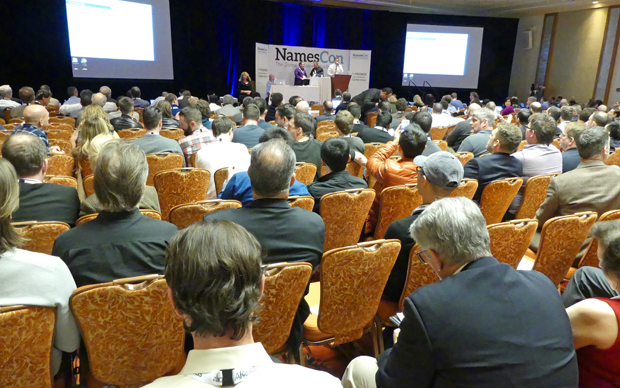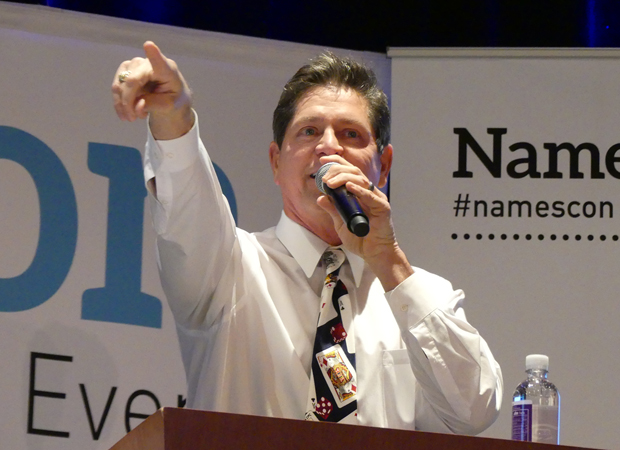 Above: One of the country's best auctioneers, Wayne Wheat, was back from Texas to call NamesCon's RightOfheDot/NameJet live domain auction.
Below: While the auction brought the business day to an end, the social events were just heating up, or should I say just cooling down. In one of those the Public Interest Registry took several dozen guests to the Minus 5 Ice Bar in Las Vegas. This popular attraction features a bar with tables, chairs and even the cups made of ice! The temperature is kept at 23 degrees at all times - so you have to wear the provided jackets and gloves while there. Cooling off below are (left to right) Howard & Barbara Neu, Diana & Ron Jackson.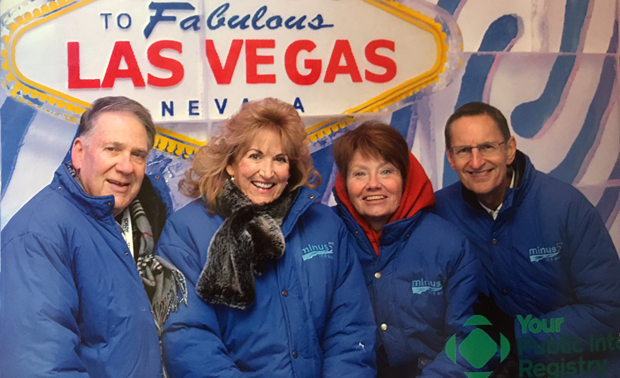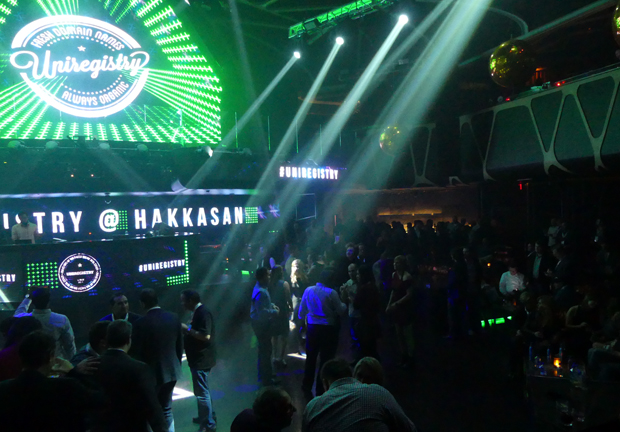 Above: Next up in another highlight of the week Uniregistry hosted a spectacular party at the world famous Hakkasan Night Club at the MGM Grand in Las Vegas.
Below: Uniregistry was everywhere at NamesCon with the kind of high profile the innovative, quick growing company warrants. It has been gratifying to see this level of success for someone who came out - and has always championed - the domain investment community in Uniregistry Founder Frank Schilling.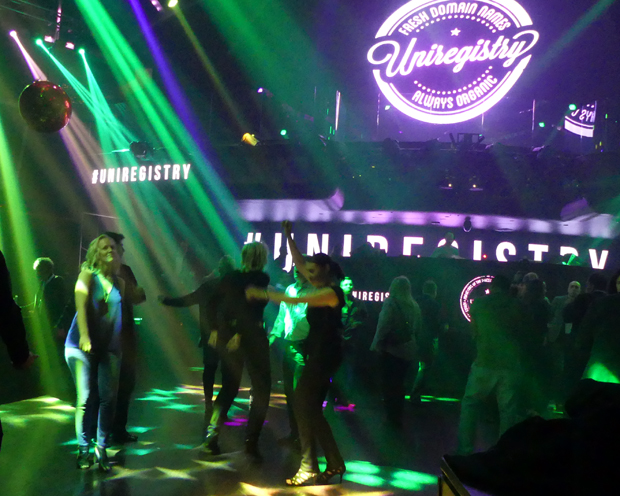 As I write this business day 3 (Tuesday, January 12 at NamesCon) has just come to a close (with the big Water Night fundraising party for The Water School to begin soon). I'll have all of today and tonight's photos and highlights for you in my next post from Las Vegas where NamesCon 2016 will close with a final day of activity Wednesday.
Photos & Highlights from Sunday's Opening Day at NamesCon 2016 in Las Vegas
The 2016 NamesCon conference got off to a great start Sunday (January 10) when the first of an expected 1,200 attendees mobbed the registration desk at the Tropicana Hotel in Las Vegas as soon as it opened at 9am.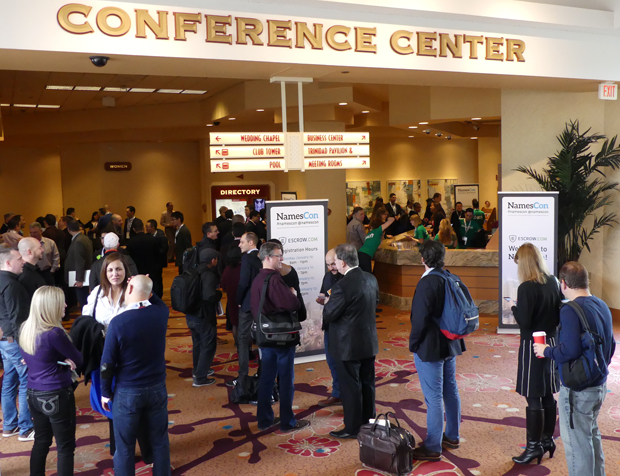 Above: NamesCom attendees lined up early to get their badges for the big show.
Below: Though registration lines were long NamesCon staffers quickly equipped attendees
with their nametags and gift bags (including a souvenir T-shirt).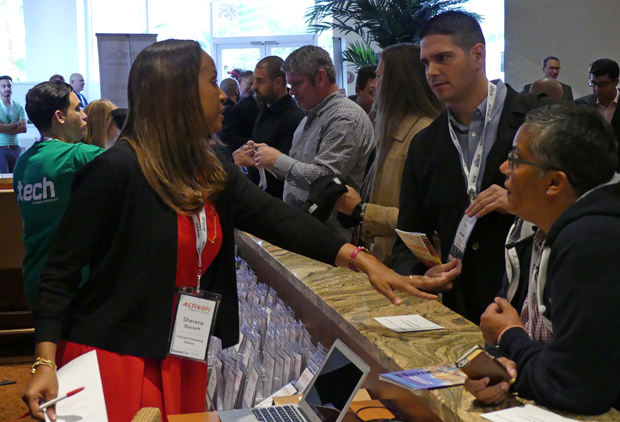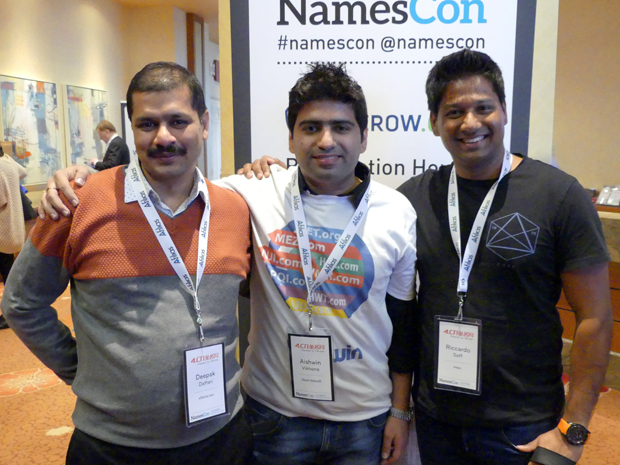 Above: NamesCon attendees came to Las Vegas from all over the world. Deepak Daftari (left) and Aishwin Vikhona (center) flew over from India and joined their U.S. pal Riccardo Soff for a show week that will run through Wednesday (January 13) at the Tropicana Hotel:
Below: The business day began with welcoming comments from NamesCon Co-Founder Jothan Frakes (standing at center) who then had Angela St. Julien from Brand.bar (standing at his right) join him to present a Newcomer's Orientation session.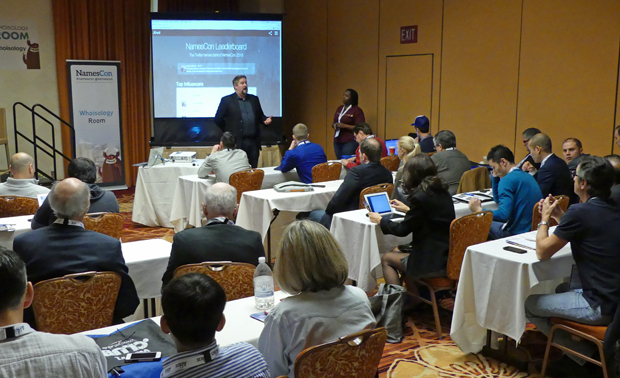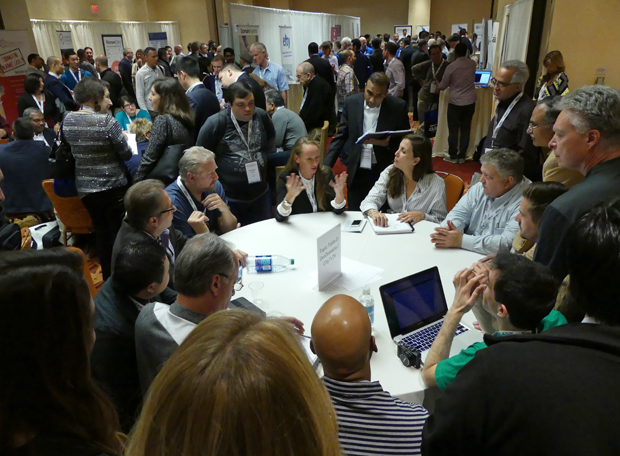 Above: At 12 noon NamesCon opened a highly anticipated new attraction - Network Lane - that quickly proved to be too successful! With experts set up at four Topic Tables to answer all questions - and two rows of sponsor tables behind them (where company representatives did the same) the jam-packed room became so loud it was hard to hear the questions and answers.
Below: Natasa Djukanovic (.ME Registry) listens to fellow expert Joe Alagna (101Domain.com) answer a question during a Network Lane session Sunday.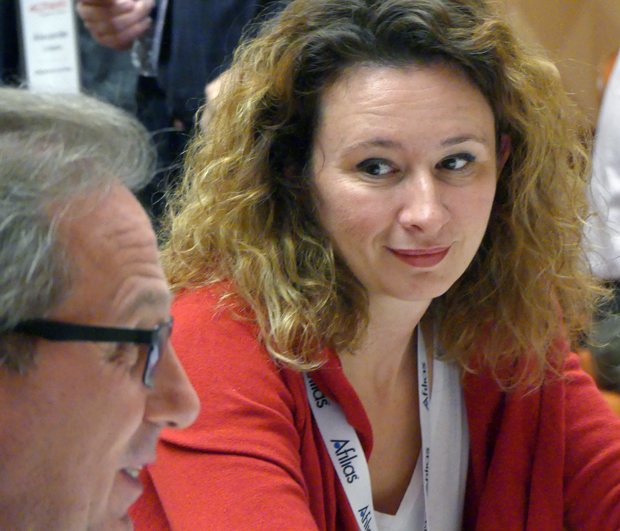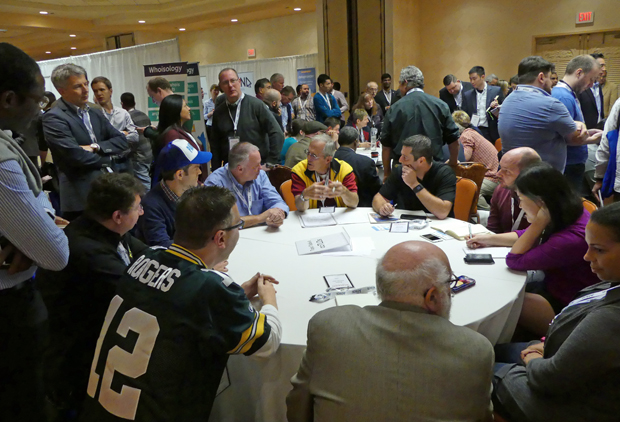 Above: The topics and experts changed every hour on the hour in Network Lane but, when it became apparent before the first hour was even over that crowd noise was a problem, nimble NamesCon organizers promptly solved the problem.
Below: Many of the topic table discussions that ran until 6pm were moved to adjacent rooms where everyone could spread out in a quiet environment and hear every word that was said. Ths session on Working With a Broker featured (left to right facing the audience) Muhammad Al-Asadi (TopNames), Tessa Holcomb (Igloo.com) and Chris Leggatt (DomainHoldings).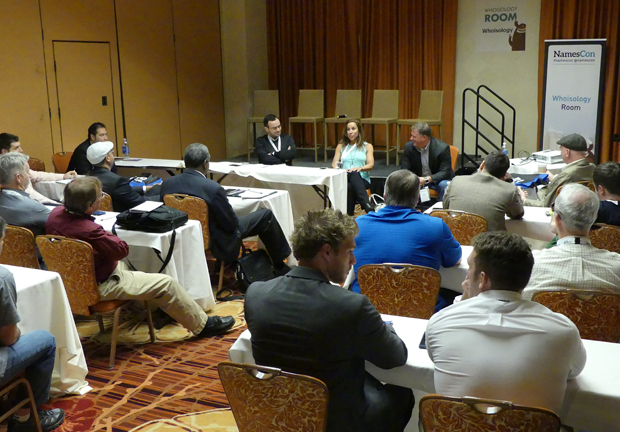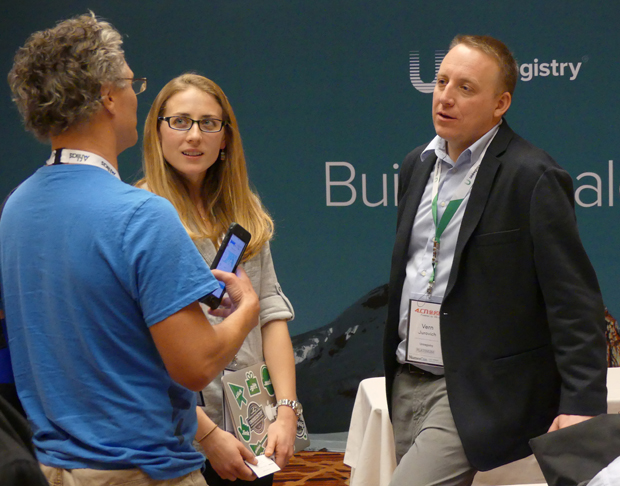 Above: From 2pm-6pm, in addition to the Topic Table sessions, additional business sessions began running in other rooms. At the conclusion of a 2pm session about Uniregistry services Enrico Schaefer (Traverse Legal - at left) chats with Uniregistry's Amanda Fessenden and Vern Jurovich.
Below: Meanwhile back in the Network Lane hall Efty's Doron Vermaat, Lionel Petitiaux and Michael Cyger welcomed visitors to their table.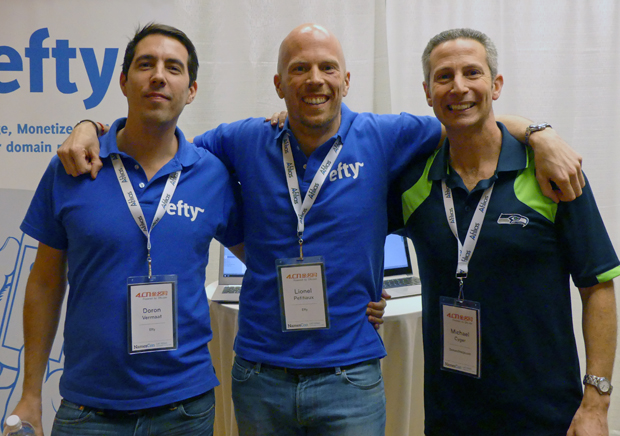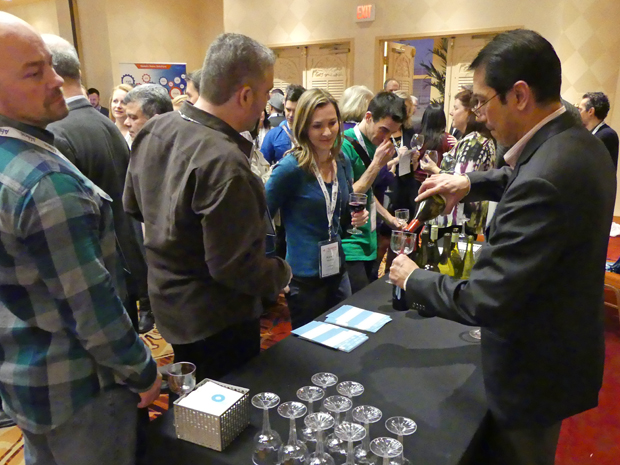 Above: One of the most popular features on Network Lane was the wine tasting bar that Donuts hosted from 3pm-6pm to promote their .wine and .vin TLDs.

At left: Tiffany Marler (LocalTek) samples on one of the pinot noirs served at the Donuts .wine/.vin bar.

The busy business day wound down at 6pm but opening day was far from over - it simply blended into an opening night celebration party hosted by Rightside that ran until 11pm.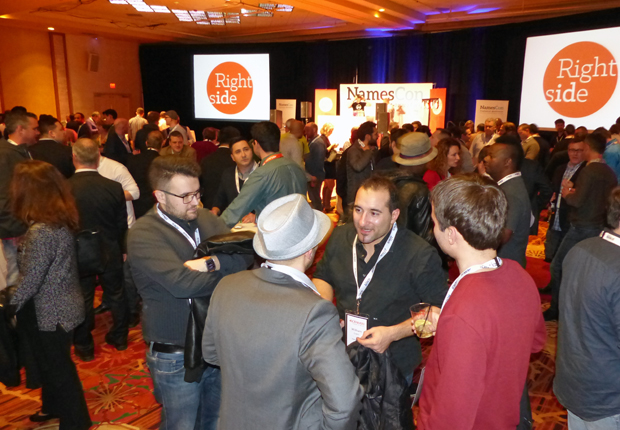 Above: Rightside's Opening Night Party drew a huge crowd to a spacious ballroom set up for the event at the Tropicana Hotel (in the photo above you are seeing only about a quarter of the crowd).
Below: Of course, no Las Vegas party would be complete without Elvis! This was a special Elvis though. Howard and Barbara Neu (who, along with son Ray, are at the show representing The Domain Conference) were delighted to see this Elvis was the same one they hired 11 years ago for the first T.R.A.F.F.I.C. conference in Las Vegas!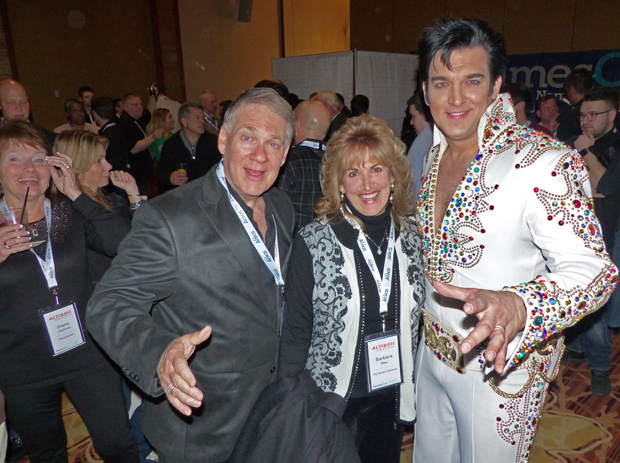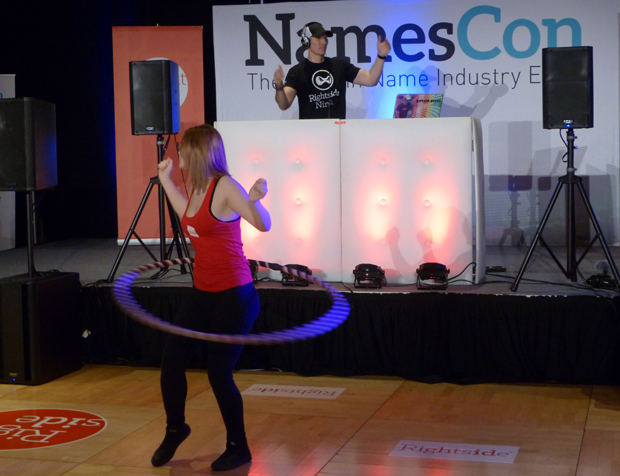 Above: Elvis wasn't the only 50's icon on hand for the opening night party. The hula hoop was back too!
Below: Among the hundreds of faces in the crowd were these familiar ones (left to right) Brooklyn attorney Brett Lewis, Brooke Murphy and Enrico Schaefer.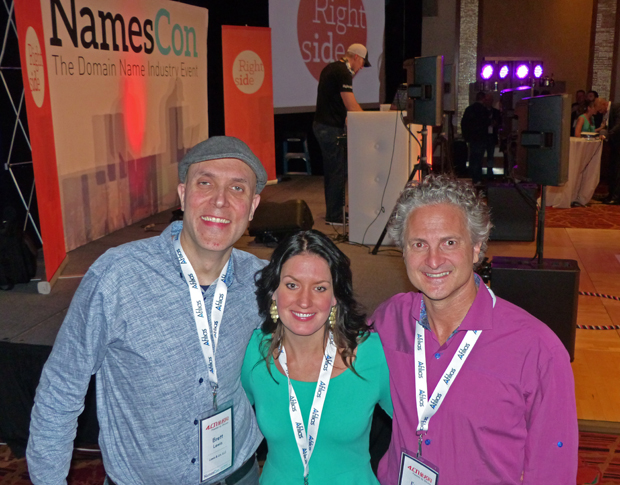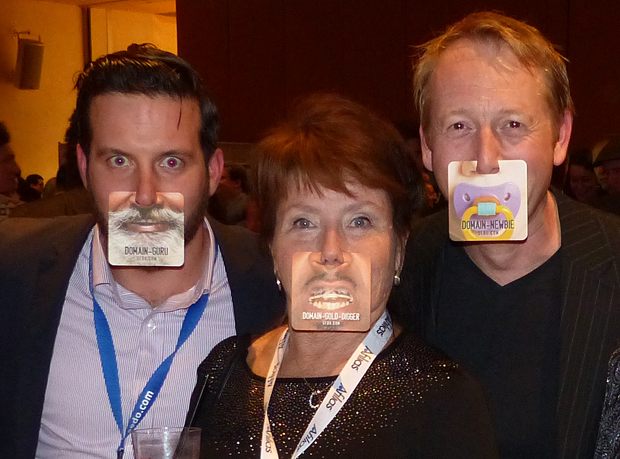 Above: Demonstrating one of the more clever promotional items we've seen, Diana Jackson (center) helped Sedo's Brian Michitti (left) and Christian Voss model the company's coasters that double as make shift facial ornaments. Perfect for the man or woman who thinks they have everything!
After such a crowd pleasing first day it's hard to see how NamesCon can top themselves in the three days remaining in their 3rd annual event - but we suspect they will find a way! Another jam-packed agenda is in store today and tonight, including a keynote speech from Frank Schilling and a live domain auction that is expected to be the most successful in years. You can see the full schedule here. We will have all of the photos & highlights from day 2 in my next post from Las Vegas.
How .Ski Has Allowed StartingDot's Rob Rozicki to Turn His Favorite Pastime Into a New Profession
While the NamesCon conference covers every aspect of the domain business the show (which will make its 3rd annual run Sunday through Wednesday (January 10-13, 2016) at the Tropicana Hotel in Las Vegas) has served as an especially effective showcase for new gTLDs. All of the major players in that category (as well as many of the smaller ones) will have representatives at the show to answer questions about their extensions.

One of them will be Rob Rozicki, Senior VP at StartingDot Ltd. and Co-Founder of the company's .ski TLD. StartingDot also operates .bio and .archi (for the architecture world). I first met the personable snow skiing fanatic at the first WHD.USA conference in Pennsylvania last spring and am looking forward to seeing him again at NamesCon. Like so many people in our industry there is an interesting story behind how he arrived at his current position in this business. While Rozicki's focus is on the company's new TLDs, he is not new to the space.

"I've been involved with domains and the Internet in some form or another since 2000." Rozicki said, "My first exposure to domains was working with large corporations and brand

Rob Rozicki
Senior VP at StartingDot Ltd.
and .Ski Co-Founder

owners on their domain portfolios. The early 2000s were an exciting time in the domain name industry. People were beginning to understand the value of the web as a business driver and importantly how domains influenced peoples Internet usage. I learnt a lot about what drives people and businesses to register domains, which was a great experience and took me around the world."

"In 2010 I left the domain name industry for SEO, helping to successfully grow one of the top SEO technology start-ups in New York. This gave me a real entrepreneurial itch and new gTLDs gave me the opportunity to scratch the itch."

"Launching the .ski extension was a natural selection for me to get into new gTLDs. I'm a passionate skier and know that community like the back of my hand. If you look at the demographics of the community and role technology plays in modern ski culture its easy to see how important it is for skiers, businesses and brands to have their own piece of internet real estate like .ski. Spending lots of time in the

community made it really easy to see there was a viable business model in the .ski extension," Rozkicki said, adding ".bio and .archi are the same. Both service communities that really see value in having their own TLD and its great to see their growth on a daily basis, validating our assumptions."

"One of the best parts about working with these three TLDs and StartingDot is that I get to work with people who view the space in exactly the same way. Godefroy Jordan, our CEO and Founder is a serial French entrepreneur, who brings a wealth of business and community experience to the organization, showing you really don't need to be a domain name veteran to build a successful registry. Stéphane Van Gelder is a real domain industry insider. He was Cofounder and General Manager, INDOM for over ten years and is heavily involved in ICANN as the ICANN Nominating Committee Chair Elect and a member of the ICANN Business Users Constituency, GNSO. With this balance of skills and experiences between myself, Godefroy and Stéphane there is never a dull day at the office!," Rozicki declared. "We also have an amazing international team supporting the business, which we couldn't live without and are really the engine room of the operation."

Not many people get to combine something they most love to do in their free time with what they do at work. Rozicki is one of those rare birds and he realizes how fortunate he is. "It's not every day you get to apply what you are good at with the thing that you are passionate about and then on top of that get to see real results from that," Rozicki agreed. "This is what makes doing this really special for me. I've grown up a skier (apart from a few years snowboarding) and it's a sport that just stays with you. The feeling of community, friendship, adventure and shared risk all skiers have is an addiction. I love the way all-cultural and language barriers disappear when you're on the ski lift, about to drop into a line or having a beer after a powder day. I could go on for hours," Rozicki laughed.

"Being able to build a business in snowsports is a dream come true for me. I love every conversation with business, brands, athletes and skiers about .ski. And people love .ski, which makes it even better. Its early days but it really feels like we're building a

Skiing image from Bigstock

legacy for the snowsports community. A real resource that will become part of the norm," Rozicki said. "Another bonus is that promoting .ski keeps me out of the office and on the mountains!"

Of course, new TLDs are just that – new – so, as with the hundreds of other news extensions, the biggest challenge StartingDot faces is making the public aware that .ski exists. "Awareness is a huge challenge for us," Rozicki acknowledged. "That's why we took a very different approach to other TLDs when it came to raising awareness. Many waited to launch before marketing and promoting their TLDs (and some still don't). We've were promoting .ski to the community for at least two years before launch. This really paid off. A survey we ran across brands, individuals and resorts showed there was over 60% awareness of a new .ski extension over a year before we launched. With .ski we have a very top down approach. Our goal is to get resorts, brands, athletes and media adopting .ski domains and they are. One example is that almost 1500 resorts already have their .ski names because of the partnerships we've created with national resort organizations around the world."

"Once the community begins to realize they are naturally using .ski domains to visit their favorite .ski sites, we hope they will think about .ski when it comes time for them to launch their site," Rozicki noted. "But that's not it. We're also really active in the community. We're at resorts and mountain, at shows and competitions, involved in the governing bodies and heavily promote .ski in social media. This approach is the same for .bio and .archi. It's a model we've developed that has been proven to work"

With bigger new TLD operators running dozens or even hundreds of extensions, we wondered if StartingDot has ambitions to run more than the three TLDs they started with. Rozicki told us, "We have our hands pretty full at the moment managing just three. However, if the right opportunity came along, we would certainly look at it seriously. The right opportunity would need to be a TLD that fits into our wheel house of expertise, be easy for the community its aimed too understand, have a global community big enough for the TLD to be successful and can where our marketing strategy can work."

In closing Rozicki added, "I also think there is something to be said for building a portfolio of related TLDs. I think there are a lot of TLDs in

certain sectors that are underdeveloped. Sports TLDs is one example. I think we might see registries build small portfolios of similar TLDs whether it is sports or something else."

If you see Rob at NamesCon be sure to say hi. I know sometimes people are uncomfortable approaching someone they don't know and wonder how to break the ice? In this case, just mention skiing and Rob will take care of the rest!
Uniregistry's New iPhone App is a Perfect Companion to the Company's Elegant Website
Uniregistry hit all of the right notes when the registrar founded by Frank Schilling launched its website. With its elegant simplicity it set a new standard that is a pleasure to use. Today, Uniregistry released its first iOS app, (for iPhones and iPads) that is a worthy companion to its acclaimed desktop forebear. The app incorporates Touch ID, two-step verification, powerful search features and other features that are no longer limited to PCs.

Within seconds of downloading the app and logging in to my account I was quickly navigating from one task to another - so instantly intuitive there was no need for instructions. So, kudos to its designers on a job very well done.

By the way, if you will be attending the NamesCon conference that will be running in Las Vegas Sunday through Wednesday (Jan. 10-13, 2016) there is another good reason to

download the app before you go. Frank Schilling will be delivering a keynote speech there Monday (Jan. 11) and Uniregistry indicated he will have a big surprise for those in the audience that will apparently incorporate the app.

Uniregistry says Founder Frank Schilling will have a surprise for the audience at his keynote speech Monday (Jan. 11) at the NamesCon conference at the Tropicana Hotel in Las Vegas (this shot is from Frank's keynote at last year's show there).
Efty Takes Landing Pages to a New Level - SnapNames Gets a New Look - Experts in EDC Roundup Weigh In On New gTLDs
Domain name management and investment platform Efty.com has come up with a new service that should prove popular with domain sellers looking to spruce up their landing pages. Efty just introduced a "For Sale" landing page theme gallery for domain owners using their software. The gallery includes five designs the company says have been fashioned for

optimal visitor-to-lead conversion, giving domain owners an opportunity to avoid sales commissions by selling their names through direct navigation. Those themes are North (with logo), Hong Kong (with logo), Silk (with logo), Kiffer (with logo) and Spring (with logo).

2.

Screenshot of the five designs in Efty's new For Sale landing page gallery.

Efty users can customize their For-Sale landing pages with their own sales pitch, unique selling points and a custom logo if desired. It also allows users to set a minimum offer amount and integrate BIN (Buy It Now) buttons thanks to a deep integration with the Escrow.com platform that was completed last month.

Efty said these first five designs are based on extensive feedback and comments from Efty users who have been involved in the design process since the company came out of beta a few months ago. The company plans to keep adding new designs to the gallery on a regular basis.

Elsewhere, there is something new today at SnapNames too - in fact it is a new website that is scheduled to go live at 5:30pm US Eastern time (Tuesday, January 5, 2016). An email to clients said, "While you will see little difference in the functionality of the site and

how you maneuver through your Account Manager and Cart, you will notice a fresh look and a highly intuitive navigation menu. Over the next several months. we will retool certain sections of the site to further enhance the operation of the website and the ease of use for our customers.

SnapNames said some of the changes you will see are:

Streamlined drop-down navigation menu

Easy 1-click access to your account information, financial center, and auction history

Advanced Search / Basic Search toggling

Automatic refresh of bids in auctions

Expanded content and information about aftermarket domains and services we offer

One other note today - The European Domain Centre (EDC) has published their 2016 Expert Roundup that examines what's next for New gTLDs. The roundup, put together by EDC Managing Partner Christoper Hofman

Laursen, features in depth commentary on the prospects for new gTLDs from 16 industry experts. It is an excellent way to get up to speed on what is happening in the new gTLD space.
4th Day of NamesCon Will Include 3 Keynote Addresses, 3 Masterclasses & An Executive Roundtable
A week from today we will be boarding a plane for Las Vegas so we can get settled in for the 2016 NamesCon conference that will run January 10-13 at the Tropicana Hotel. In a series of posts this week I've been touching on some the daily highlights in store for attendees (if you missed those you can catch up through these links: Day 1, Day 2 and Day 3). Today we'll take a peak at a few of the sessions scheduled for the 4th and final day of this 3rd annual event that is expected to draw more than 1,000 attendees from around the world.

The NamesCon stage will be graced by leading experts from every corner of the domain industry in a series of 11 keynote talks and dozens of presentations, panel discussions and workshops. You'll also be able to meet face to face with representatives from most of the industry's top service providers in NamesCon's centrally located Exhibit Hall (as well as at the special Network Lane event on opening day).

The show's final three keynotes will be among the closing day highlights Wednesday (January 13). The first of those at 10am will feature Go Daddy's Senior VP of Domains, Mike McLaughlin, who returns after making a very favorable impression when he spoke at the 2015 edition of NamesCon.

Mike McLaughlin (Go Daddy Sr. VP of Domains) speaking at NamesCon 2015 last January.

Two more keynotes will follow Wednesday afternoon, one at 1:45pm expected to feature Pat Kane (Verisign's Senior Vice President, Naming and Directory Services) and the other - the final keynote of the conference - at 4:25pm featuring Matt Barrie, who is the CEO at Freelancer.com and the President at Escrow.com (who was acquired by Freelancer in 2015).

Wednesday's many business sessions will include two more China Boot Camp Masterclasses

NamesCon Producer James Morfopoulos with Igloo.com Co-Founder & CEO Tessa Holcomb at NamesCon 2015's opening night party last January. Tessa will help close the 2016 show as one of five industry experts who who will be
on stage for an Executive Roundtable Wednesday,
January 13.

James, fellow Producer Terri Potratz and NamesCon Co-Founders Richard Lau and Jothan Frakes will oversee
this year's big event in Las Vegas with over 1,000
attendees expected to be on hand.

conducted by Allegravita's Simon Cousins (one at 11:45am and another at 2:15pm). A third Masterclass on a different topic - Domain Traffic Monetization: Trends and Future Predictions - will be presented by Trellian/Above.com President David Warmuz and ParkLogic.com Founder Mike Gilmour at 3:20pm Wednesday.

The show's final session at 4:50pm Wednesday (January 13) also looks like it will be one of the conference's best. An Executive Roundtable will bring to the stage Christian Dawson (Executive Director, i2 Coalition), Tessa Holcomb (Co-Founder & CEO at Igloo.com who was profiled in our June 2015 Cover Story), Rolf Larsen (CEO at DotGLOBAL), Jason Miner (General Manager, Domains, at Endurance International Group) and Cybele Negris (CEO at WebNames.ca).

The various sessions we have touched on are just the tip of the iceberg at NamesCon 2016. You can check out the full schedule here. We will be covering the conference wire to wire and will, of course, have daily photos and highlights for you in this column.
Happy New Year!
We want to wish all of our friends, readers and advertisers around the world the happiest of New Years! We also want to thank you for your support throughout 2015 - we couldn't do what we do without you! Our hope is that 2016 will be your best year ever filled with love, good health and success in whatever you choose to do. We think it is going to be an exciting year in the domain industry so let's get this party started!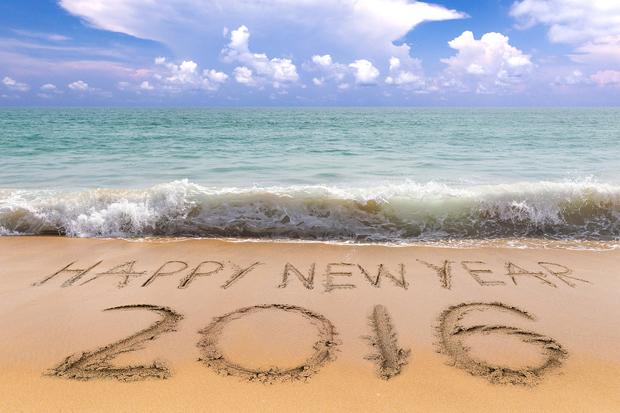 (Image from BigStock)
---
If you've been out of the loop lately, catch up in the Lowdown Archive!
---
We need your help to keep giving domainers The Lowdown, so please email

[email protected]

with any interesting information you might have. If possible, include the source of your information so we can check it out (for example a URL if you read it in a forum or on a site elsewhere).
---
Home Domain Sales YTD Sales Charts Latest News The Lowdown Articles
Legal Matters Dear Domey Letters to Editor Resources Classified Ads Archive About Us