The show was sandwiched in between two other major conferences in the City by the Bay, AdTech just before and Web 2.0 immediately after. Roundtable pulled some people from each but that gain was offset by the dates conflicting with the Passover holiday that kept some domainers of the Jewish faith at home or resulted in them leaving early for seders (traditional dinners) Saturday night.

This would turn out to be the last Roundtable show staged under Jay Westerdal's Name Intelligence, Inc. Soon after the show ended it was announced that he had sold the company to Los Angeles based Thought Convergence (parent company of TrafficZ.com). The happy marriage soon hit the rocks and the two sides wound up suing each other (the dispute was still in the court system as if this writing). Even so, Thought Convergence has kept the Roundtable conference alive.

Former Sex.com owner Gary Kremen
giving his keynote speech
at Domain Roundtable 2008
For the GeoDomain Expo, 2008 brought a July return to Chicago where the conference had been born two years earlier. This was a superb show that cinched my belief that the geodomain community is doing some of the most important work in our industry by showing the rest of us a path to success through development that can free domain owners from the whims of the search engines giants, Google and Yahoo, who sit at the top of the PPC pyramid. Most mainstream conferences have borrowed from the geo community's theme and incorporated a greater emphasis on development in their own shows.
Despite softening attendance at many shows, still another competitor entered the conference ring in 2009. Domainer Mardi Gras debuted with a well received show in New Orleans in February 2009 - right in the middle of the world famous Mardi Gras celebration. Though there were some content sessions the emphasis was clearly on social networking for this event and that was fine by DMG guests. There is no better place for a party that New Orleans during Mardi Gras and that combination served as a differentiator that helped DMG carve out their own niche in a crowded field.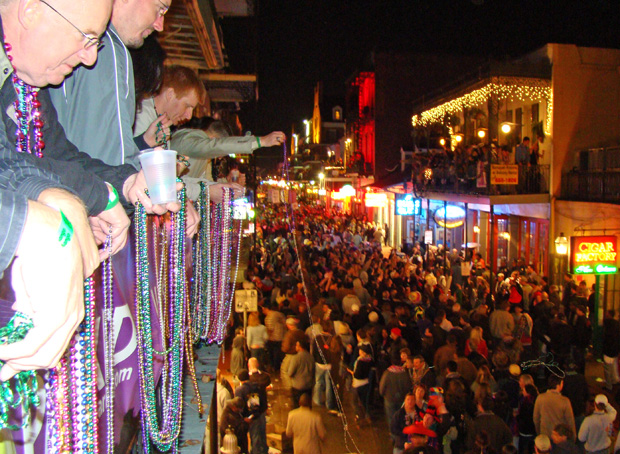 Guests at the 2009 Domainer Mardi Gras conference in New Orleans got a birds eye view
of the Mardi Gras celebration on Bourbon Street from their own private balcony.
2009 was also a breakout year for DOMAINfest Global (DFG) who made some huge waves with a little party of their own - at the Playboy Mansion. That helped boost both their turnout and the buzz for DFG in general. The headline of our show review article "Triumph in Tinseltown: DOMAINfest Global 2009 Raises the Conference Bar" summed things up pretty well.
Guests begin arriving at the Playboy Mansion party staged
by DomainSponsor at the 2009 DOMAINfest Global conference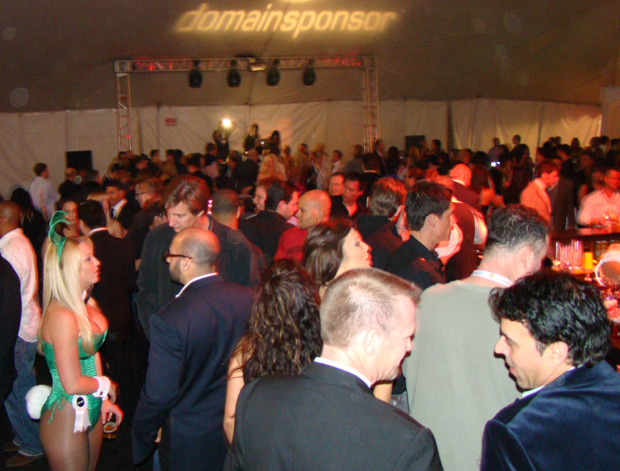 Inside the DomainSponsor tent at the Playboy Mansion
This show looked like a million dollars, largely because that's how much it cost to produce. Which brings us back to the question I asked a few paragraphs back, "how do you produce a big budget world class event without losing your shirt?" Well, it helps to have a lot of shirts (as DOMAINfest parent Oversee.net has) and to be able to allocate the loss of some of those shirts to your marketing budget.
Revenues at the gate may not cover the show expenses, but the promotional value that Oversee gets for their DomainSponsor, Moniker and SnapNames units more than makes up the difference. They are going spend that money on one form of advertising, marketing and promotion or another. Spending it on an unforgettable conference where you get to interact face to face with your current and potential future customers is a smart play on their part.
This is where T.R.A.F.F.I.C. was at a disadvantage in 2009. They had no other businesses to promote, so they had to make their money at the door or through auction commissions and sponsorships (this situation changed when Rick Latona became a T.R.A.F.F.I.C. partner for the 2010 shows - more on that in a moment).
With the general economy now in freefall, Schwartz and Neu decided to run just two domestic shows in 2009 while licensing rights to a third - their first European show - to Latona. They started by seeing if they could recapture the magic of their 2006 Silicon Valley show with a return to Santa Clara in April 2009. The show was the fourth major conference in a string of six that various promoters shoe-horned into the first six months of 2009 and that fact combined with the weak economy kept attendance down at the same 200 level they had seen the previous spring in Orlando.

Even though the crowds were smaller the quality was still very high because the costs of attending shows is less of an issue for the most successful

Networking session at T.R.A.F.F.I.C. Silicon Valley 2009

domainers than it is for those just starting out or still working their way up the ladder. That means that even though smaller crowds are not good for promoters who have to deal with sky high fixed costs, they can be advantageous to attendees who want to meet successful industry veterans who can have a real impact on their business. You often miss making many of those connections when the shows are twice as large.
In June 2009 T.R.A.F.F.I.C. went to Europe for the first time with a ccTLD themed show in Amsterdam staged under license by Rick Latona and his team. I thought this was a great show as it gave everyone a chance to make dozens of new contacts from the other side of the pond while enjoying the many attractions in one of Europe's most popular cities.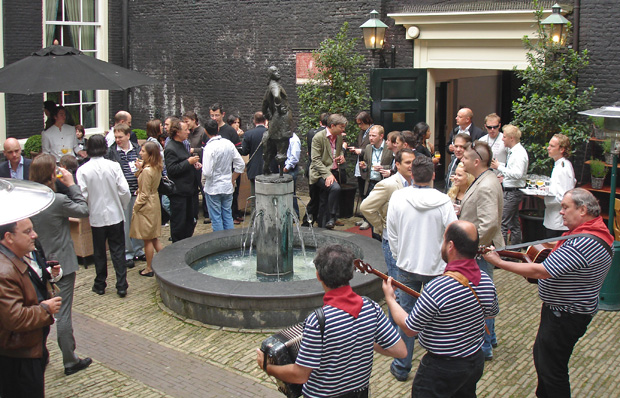 Cocktail party in the courtyard at the historic West Indies House in Amsterdam
during the T.R.A.F.F.I.C. cccTLDS conference in June 2009.
Just days after this successful show, Latona and T.R.A.F.F.I.C. co-founders announced a new partnership starting in 2010 that would have Latona running four more shows outside the U.S., plus one in the States while Schwartz and Neu handled just one mega show set for Miami's South Beach October 17-20, 2010.
T.R.A.F.F.I.C. closed out its 2009 schedule with an October return to New York that was accompanied by a good crowd of about 300 even though an ICANN meeting was running in Seoul, Korea at the same time, pulling away many people who would have been at T.R.A.F.F.I.C. otherwise. It was a good way for Schwartz and Neu to end a non-stop five year run before taking a well deserved year off before they saddle back up, renewed and refreshed, for that South Beach show next fall.
Oddly that T.R.A.F.F.I.C. New York show was the only major show in the second half of 2009. Six others had squeezed into the first six months of the year. Domain Roundtable was the last show in that conga line with a June event in Washington, D.C. - their first event with new owner Thought Convergence in charge.

With so many conferences running in front of it and the economy still a huge albatross, attendance was predictably light but that didn't stop show producer Laura Schmidt and her team from staging a first class high value event that registrants really appreciated.

The 2009 GeoDomain Expo was held in sunny San Diego in April, right before T.R.A.F.F.I.C. Silicon Valley and that event continued to delight its unique audience of geodomain developers.

That brings us to 2010, the busiest conference year to date. Just two months into the New Year we already have three shows under our belts; T.R.A.F.F.I.C. Las Vegas and DOMAINfest Global in January and Domainer Mardi Gras in February.

Laura Schmidt (Thought Convergence)
making sure everything is just right
for guests at the company's
2009 Domain Rountdable conference.
The 2010 T.R.A.F.F.I.C. Las Vegas show held at the Hard Rock Hotel was the first U.S. conference staged by Rick Latona under his new partnership agreement with Rick Schwartz at Howard Neu. Like all T.R.A.F.F.I.C. shows this one proved to be a crowd pleaser, but attendance stayed in the same range as the 2009 shows other than New York where a considerably larger crowd turned out.
Rick Latona welcoming attendees to the
2010 T.R.A.F.F.I.C. Las Vegas conference.

I mentioned earlier that with no other businesses to promote, Schwartz and Neu's compensation was limited to the revenue they could generate from their show. Latona on the other hand has a major auction platform (Latonas.com) and a popular sales newsletter to promote. T.R.A.F.F.I.C. doesn't have to make a lot of money (or even turn a profit) for him to still get a lot of value out of running the show and its auction (as part of his partnership arrangement Latona became the sole auction provider for T.R.A.F.F.I.C.). Still Latona can't and won't ignore the bottom line as he also has to make sure his new partners make money from the asset they entrusted him to run.

Despite being the pioneers in this space, Schwartz and Neu showed they have no intention of standing pat. With the Latona partnership they are continuing to push the envelope with a bold move into international markets that will take the domain story (and the T.R.A.F.F.I.C. brand) to new locales around the globe (this year alone, T.R.A.F.F.I.C. will appear for the first time in Italy, Canada, Ireland and Hong Kong). By the time they come back home for the South Beach show in October, nine

months will have passed between domestic T.R.A.F.F.I.C. conferences I expect the pent up demand (along with the world famous location) to result in a monster show.
With a year to prepare and talented staff that runs their show with military precision, Oversee's DomainSponsor unit drew a record crowd (in the 650-700 range) to the 2010 DOMAINfest Global conference that moved across town from Hollywood to Santa Monica. This impressive conference clearly established DOMAINfest Global as a can't miss event.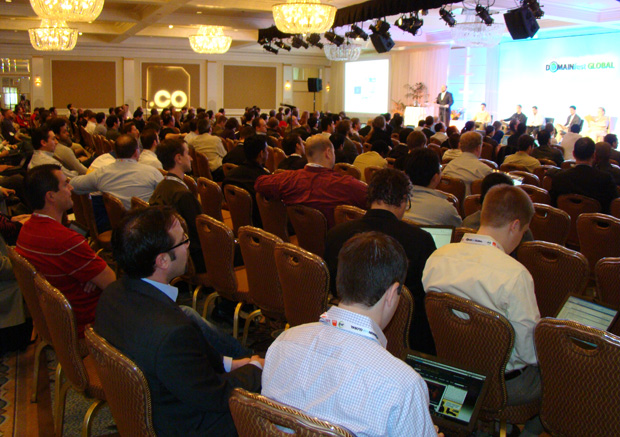 The 2010 DOMAINfest Global conference drew the show's biggest crowd yet.
Oversee will now try to duplicate the success they have had with this show overseas through a recently announced DOMAINfest Europe conference that will be held in Prague, Czech Republic October 6-7, 2010.
The 2010 Domainer Mardi Gras conference also served notice that it intends to be more than just a massive party. Under the direction of new Executive Producer Michael Ward, DMG had some great seminars this year giving the event a double barreled agenda that gave attendees a great week in terms of both business and pleasure. This show, backed by Parked.com, will remain an annual event that, with its unique Mardi Gras setting and strong post-show word-of-mouth buzz, should continue to attract an audience despite the strong competition.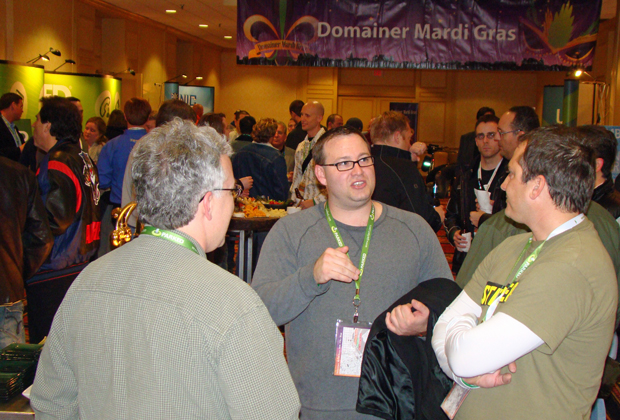 The 2010 Domainer Mardi Gras conference expertly combined business and pleasure.
As we move forward from here, the next two shows on the schedule illustrate the problem promoters now have in trying to find an open spot on the calendar. The 2010 GeoDomain Expo locked in April 28-30 dates in New Orleans long ago. With six T.R.A.F.F.I.C. shows to fit into the calendar, Latona wound up having to scheduled his upcoming Milan, Italy show on conflicting dates - April 27-29.
Since the two shows have completely different themes (T.R.A.F.F.I.C. Milan will focus on ccTLDs, the GeoDomain Expo on .com development), have a relatively small amount of crossover between their audiences and sponsors, and will be held on separate continents, the conflict shouldn't have a huge impact on either show. Still, it is not a good situation as the industry's focus will have to be divided between two events going on at the same time.
October 2010 will be another particularly busy month with three shows scheduled to run consecutively; DOMAINfest Europe (Oct. 6-7), DNCruise (October 11-15) and T.R.A.F.F.I.C. South Beach (October 17-20).
All of which brings us back to the question posed in the headline for this article - "Can the shows survive oversaturation?" My answer is an emphatic yes - they will certainly survive (perhaps not every single one but as a class, domain conferences will remain an indispensible part of the industry). The shows provide too much value for attendees, who overwhelmingly love the conference experience, for them to go away. For attendees "oversaturation" just means having more great options to choose from.

For the show promoters and their sponsors the game has become a lot tougher though. The audience pie is being split a lot of different ways so for most the revenue stream has been cut. Normally you would expect a wave of consolidation to be kicking in but so far none of the promoters has blinked. In fact in seems like every year a couple more enter the fray.

Attendees love conferences because they help
them take their businesses to new heights.
Some, especially those who can't draw funds from a marketing budget to underwrite the high cost of show production, will, sooner or later, have to trim some expenses (perhaps food bills, opening night cocktail hours or extravagant parties) to keep their costs in line with revenues.
In the past sponsors have helped underwrite a lot of those expenses but with so many shows in operation, the sponsors - despite having a desire to be wherever domainers gather - have only so much money they can allocate to promotion at conferences.
So, going forward, I don't expect every conference to be a mind blowing extravaganza (though we will certainly continue to see some of those). Those that are not like the Super Bowl, World Series and March Madness all rolled into one will still offer plenty of value - especially in the area attendees say is most important to them - networking opportunities.
Morgan Linton (left) interviews Rick Silver
(N49.com) for his Domainvestors.TV series.

Over the years I have seen many industry newcomers catapult their businesses to a new level of recognition and success by getting out there on the show circuit and meeting people face to face. There is no substitute for that. Over the past 6 months I can point to people like Bruce Marler, Morgan Linton and Patrick Ruddell (Chef Patrick) as prime examples of what I mean.

The shows will always have an audience because they provide an invaluable service. It will be up to the individual promoters to find a model that works for both them and their guests so that conference organizers can maintain (or grow) their share of the show pie (most have already done that). As time goes on, market forces will balance supply and demand for conferences - just as they do for almost every other product or service.