I fully expect the 2011 T.R.A.F.F.I.C. conference, coming up October 16-19, 2011 at the fabulous oceanfront Ritz Carlton Hotel on Florida's famous Ft. Lauderdale Beach will be one of the best, if not the best, show in the history of the ground-breaking T.R.A.F.F.I.C. series.
That is saying a lot because there have been some great ones among the previous 21 conferences that date back the first major domain conference ever, staged by T.R.A.F.F.I.C. Co-Founders Rick Schwartz and Howard Neu in October 2004.
For starters you have what I think is the best T.R.A.F.F.I.C. venue yet. I personally had a chance to tour the Ritz, including the top notch guest rooms and conference facilities, on a visit to the Ft. Lauderdale area earlier this year. The hotel is right on the ocean and provides spectacular waterfront views at every turn. You are also just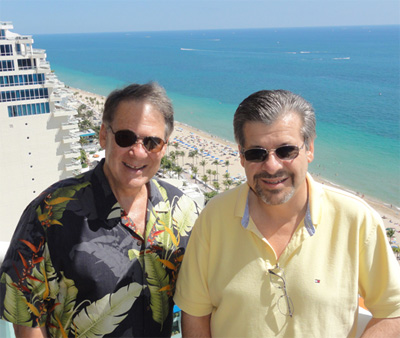 T.R.A.F.F.I.C. Co-Founders Howard Neu (left) and Rick
Schwartz on the balcony of Schwartz's Ft. Lauderdale Beach penthouse condo. The building next door (seen over Howard's shoulder at left) is the show venue - the fabulous Ritz Carlton
Hotel located directly on the Atlantic Ocean waterfront.
steps away from all of the top night spots, restaurants and attractions on one of the world's most beautiful beaches - a stretch of white sand that runs north and south for miles.
View of the beach directly in front of the Ritz Carlton on Ft. Lauderdale Beach
where T.R.A.F.F.I.C. 2011 will be held Oct. 16-19, 2011
Another reason I believe this will be one of T.R.A.F.F.I.C.'s best yet is that it is the only T.R.A.F.F.I.C. conference being held this year. Neu and Schwartz will have had a full year to prepare since their last show - the very well received T.R.A.F.F.I.C. South Beach show in Miami in September 2010. Even when they were doing multiple shows annually you could always count on them to deliver a world class event. Given more than 12 months to work on T.R.A.F.F.I.C. 2011, I would be surprised if they didn't clear the exceptionally high bar they have set for themselves from past events.
The reason for today's post is to let you know that the last day to get the current early bird rate of $1,495 will be Thursday, June 30 (you can register here). On July 1, the cost goes up to $1,795.
The T.R.A.F.F.I.C. shows Schwartz and Neu produce have never been the cheapest conferences and as long as they run them them I doubt they ever will be. But I've yet to meet a past attendee who didn't feel they received excellent value for their money from these opportunities to spend a few days in paradise networking with new contacts and old friends alike. With most of the industry's key players on hand, countless major deals have been cut at T.R.A.F.F.I.C. over the years and 2011 will be no exception. I hope to see many of you on Ft. Lauderdale beach this fall!
One other note today - earlier this month I wrote a post about a new wave of domain monetization companies that have sprung up seeking to cash in on dissatisfaction with payouts at current parking providers. The field of newcomers continues to grow with RookMedia.net the latest to enter the fray.

The people guiding the new company, based in Zurich, Switzerland, include some well-known industry names who made their mark with NameDrive.com. RookMedia quietly started running in February, exclusively serving very large portfolio owners. With their successful opening months under their belt they are now opening their platform to the rest of the industry.

RookMedia's Ed Russell told me, "Our aim is to make the experience at RookMedia.net the closest thing possible to having a direct relationship with one of the big advertising providers. That means very accurate per domain statistics and a focus on increasing and optimizing traffic quality. If you want to point your domains and just collect a check in the mail every month, that is fine. But we cater better to portfolio owners that wish to build and improve their holdings in a data-driven fashion. We work together with our partners, and we hope it's a more satisfying experience than "here are your stats, here is your check, rinse and repeat."

The company's CEO, Ash Rahimi, added, "After turbulent times in the domain monetization industry, the sector is now mature and this is the first time that a professional platform has been built from the ground up with the benefit of a full understanding of all the technologies and techniques involved in providing a truly cutting edge system. While traditional monetization platforms have strengths and weaknesses in their specific niches, we have used our wealth of experience to build a brand new platform which we believe performs better across the board. This coupled with our streamlined company structure and attractive location means we can offer a premium service and still pass on a very large share of revenue to our partners."

"As portfolio owners ourselves, we understand the frustrations bred by the "black box" culture of other monetization providers. We therefore work hard at RookMedia.net to deliver the most accurate domain stats in the market. No estimates, no games, no excuses. Accuracy and transparency are vital in helping our partners build out their portfolios," Rahimi said.