When Mondays roll around I'm usually revved up and ready to get back to business, but Sunday (Oct. 23, 2011) was such a special day I'm not quite ready to let it go. The day tied together two ends of my professional career - the present and the distant past (a past that doesn't seem distant at all after, for the first time in decades, re-uniting with with some special people from those days last night).
Diana Jackson (center) chatting with Pat and Rob Grant
on their Anna Maria Island dock Sunday afternoon
(Oct. 23) while I snap a photo from an adjacent dock,.

Before that reunion, my wife, Diana, and I had a wonderful afternoon visiting two people who are a big part of the domain business that we are all part of and love so much today - our friends Rob Grant and his wife Pat.

After last week's T.R.A.F.F.I.C. conference at Fort Lauderdale Beach Rob and Pat headed across the state to Anna Maria Island where they have a vacation condo. Anna Maria is a relatively unknown jewel in the Gulf of Mexico, a little over an hour south of our home in Tampa.

Since we were going to be passing so close to them on the way to the evening event a little further south in Sarasota, we took the opportunity to drop in and spend a glorious Florida day sitting on their dock enjoying the sunshine and chatting about events both personal and professional.

We were happy to hear how dramatically the singing career of their daughter Lizzy (stage name Lana del Rey) is blossoming. Lana just performed on national TV in Great Britain and within the past 24 hours news came that she had won a prestigious Q Award declaring her to be "The Next Big Thing." As you can probably guess from what I've written about Lizzy in the past - that comes as no surprise to me at all - I felt she was destined for stardom the first time I met her.

Rob and Pat's place is directly across from the 100-year-old Anna Maria pier that has a great old Florida seafood restaurant located at the end of it. Before we retired to the dock, we had lunch there surrounded by the gorgeous Gulf waters.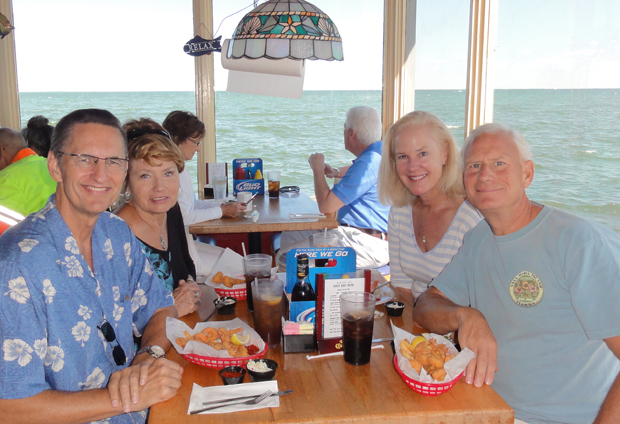 Sunday lunch on the Anna Maria Island Pier (left to right):
Ron Jackson, Diana Jackson, Pat Grant and Rob Grant.
Robert R. Nelson (with his wife Molly) holds up the original
test pattern card that WXLT-TV viewers saw on Oct. 23,
1971 until Nelson's new ABC station went live on the air.

Late in the afternoon we reluctantly said our goodbyes to Rob and Pat, but were excited about heading off to a special occasion in downtown Sarasota that would take me back in time to when I first moved to Florida as a 22-year-old looking to begin a TV career.

Sunday night was exactly 40 years from the day a new ABC-TV station went on the air in Sarasota on Oct. 23, 1971. To mark the occasion, the original station owner, Robert R. Nelson (who gave me my start in that business) invited some of the people who were there at or near the beginning of WXLT-TV to join him for dinner at Mattison's City Grille. The station will also be airing features about the anniversary, including old news clips from our heyday, during their newscasts this week.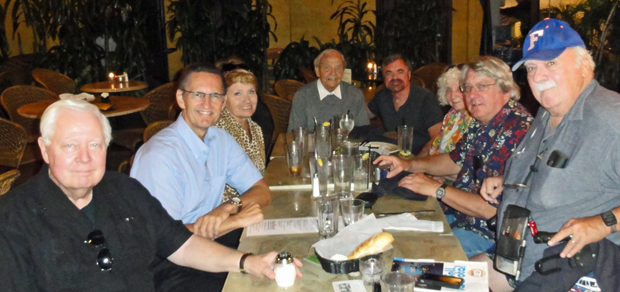 WXLT-TV 40th Anniversary dinner Sunday night (Oct. 23, 1971) at Mattison's City Grille in Sarasota, Florida. (Left to right: veteran news anchorman Bob Keehn, sportscaster Ron Jackson and his wife Diana, station owner Robert R. Nelson, weatherman Steve Newman (who went on to have a long career at major stations across America, including KRON-TV in San Francisco, and now runs Earthweek.com), Pauline Lunin (wife of the station's Chief Engineer), Reporter/Photographer/Producer (and good at all of them) Gordon Galbraith and Chief Engineer Dan Lunin).
I spent 11 years at WXLT-TV, most of them as the station's Sports Director, and had not seen Mr. Nelson and some of my former colleagues since 1983 when I moved up the coast to Tampa's WTVT. It was a huge treat to see them again and it truly seemed like just yesterday that we were all together, making local TV history.

WXLT only made it on the air after Nelson spent five years planning the operation and overcoming multiple roadblocks put in his way by an ABC station in Tampa that did not want to see a competing network affiliate so close to them. His perseverance paid off when, a few years after I left for Tampa, he sold the station for $41 million, an eye popping figure for a UHF station at that point in time (the new owners changed the call letters to WWSB).

He gave many, like me, their first jobs in the TV business and I will always be indebted to him for that. At the time I took the job I also had an offer to do radio in Pennsylvania for twice as much money, but I wanted to live in paradise and get a break in TV so I headed south.

Ron Jackson on WXLT-TV in 1974
(no I was not auditioning for a role in
Prince Valiant though the hairstyle
could lead you to believe otherwise).

It was one of the smartest moves I ever made and I feel like the many good things that have happened in my life since then (including meeting Diana in Sarasota) has flowed from that one decision to choose doing what I loved to do over money. I've made that choice repeatedly over the years and I've never once regretted it.
This 1979 photo (including the captions) is from the cover of Sarasota Town & County
Magazine. Left to right are Ron Jackson (not sure where I got the idea that tinted glasses were
cool!), Wendy Ross (who took over weather after Steve Newman moved to a larger market),
station owner Robert R. Nelson (standing) and anchorman Bob Keehn on the WXLT news set.
A lot was packed into the day Sunday and it went by way too quickly, as great days usually do. So, thank you for indulging me while I spent this day reflecting on and writing about it. Tomorrow it's back to business in another business (domains) that I have really loved being a part of. Back to business, but not back to "work". The old saying is so true - "do something you love and you will never work a day in your life."