If you have been in the domain business for longer than, say, the past 24 hours or so, you already know who Marc Ostrofsky is. The domain industry pioneer first gained widespread fame in 1999 by selling Business.com in a deal valued at $7.5 million then made another
huge splash in 2011 by releasing Get Rich Click!, a book that went on to make the New York Times bestseller list.
The book, about how to make money on the Internet using domain names, affiliate marketing, lead gen and other techniques, was originally issued by the Razor Media Group (Ostrofsky's own imprint). However, it has done so well that this week legendary publisher Simon & Schuster bought the rights to the book with plans to distribute it globally.
As soon as the deal was inked in New York Ostrofsky, who was featured on ABC-TV's The View last summer, immediately went out on a new promotional tour. His first stops were in the Big Apple for interviews with the Fox Business Channel and New York TV station WPIX (both interviews can bee seen by clicking the links to those outlets).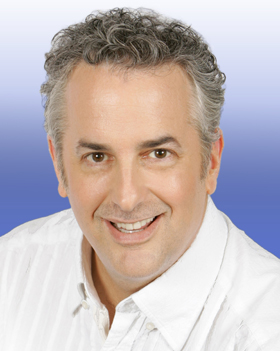 Marc Ostrofsky
Author, Get Rich Click!
Marc will likely be talking about domains a lot more often and in a lot more places in 2012. The new Simon & Schuster edition of Get Rich Click! is to be released in Australia, New Zealand, India, Mexico and several other countries, including China where it will be released in Chinese. I bet it will be a hit there too because there are a lot of very active domain investors in China (in fact one of them just sold Dudu.com for $1 million this week).

In the history of our business no spokesman for the industry has ever had the number of high visibility media opportunities to talk about the value of domain names that Ostrofsky has had since his book came out. He is getting those opportunities because, in addition to having a very popular book on the market, he does a great job on camera, explaining what can be a confusing topic for the general public in straight forward terms that everyone can understand and appreciate. That is the kind of publicity that money can't buy and we will all reap benefits from how skillfully Marc is making the most of those opportunities.