After much speculation about the fate of DomainSponsor's long running DomainFest conference, the company announced this afternoon that the show will return to Los Angeles March 31-April 3, 2014. The upcoming conference will have a different name, a different location and different dates than it had last year, but the name and location will still be very familiar to veteran DomainFest attendees.
After changing its name to Webfest Global in 2013 (an effort to broaden the show's focus beyond domains)
DomainSponsor has decided to revert to the better known DomainFest brand that attracted attendees to its first Hollywood show in 2007. Domainfest is also going back to the same Hollywood hotel where it ran through 2009 - known as the Renaissance Hotel then but since remodeled and renamed the Loews Hollywood Hotel. The venue is located at Hollywood & Highland in the heart of Tinseltown, where it is part of the complex that features the Dolby Theater where the annual Academy Awards (Oscars) are handed out. For the past four years, the conference has been held across town at the oceanfront Fairmont Miramar Hotel in Santa Monica.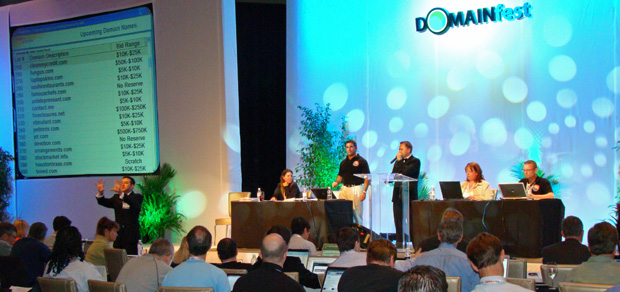 A scene from the 2009 DomainFest conference - the last one held in Hollywood.
The show will return there in 2014.
The name and venue changes will not be the only things different about DomainFest this year. In the past the show had been held in the late January-early February time frame. When no conference had been announced for that window this year, a new conference, NamesCon, emerged to fill the void on the show calendar and they staged a very successful event in Las Vegas last week with close to 600 attendees on hand.
Now that Domainfest has settled on its new time frame in late March/early April, it is sandwiched between NamesCon and the T.R.A.F.F.I.C. Las Vegas conference coming up at the Bellagio Hotel May 28-31, 2014. The question now will be whether or not industry sponsors and attendees have room in their budgets to support three major shows in the same region that are spaced just two months apart (the 49th ICANN meeting will also be held immediately in front of DomainFest, running March 23-27, 2014 in Singapore).
Debra Domeyer
Oversee.net CEO

DomainFest organizers obviously think the answer is yes and the well run show has certainly drawn well in its previous runs in both Hollywood and Santa Monica. In February 2013 more than 600 domain name investors, registrars, hosting companies, startups, advertising providers and online marketing companies from 25 countries attended the conference.

Debra Domeyer, CEO of DomainSponsor's parent, Oversee.net, said, "We are bringing DomainFest back to Hollywood and its roots. With a tradition of networking, learning, and getting deals done, we're delighted to be back. Our goal is to once again deliver a great conference with excellent speakers, rich content, and fun entertainment."

A DomainFest press release said "Domain owners, new gTLD Name Providers, Domain Registrars, Online Marketers, Affiliates and Startups attending DomainFest

can expect an agenda packed with unique learning and networking opportunities. Industry leaders will offer insights and real-world experiences that can help improve business performance and results."
Dwayne Walker, Oversee.net's Senior Vice President of Advertising and Domain Services, added, "Once again, we are bringing together the brightest and most informed experts, attendees and investors from the Domain, Online Advertising and Online Marketing industries to explore new business opportunities, network and enjoy memorable evening entertainment."

An early bird registration fee of $695, which includes all sessions, meals and evening parties, is available now and will end Feb. 14, 2014. On Feb. 15, 2014, the regular pre-conference rate of $995 applies. This year, a special one-day pass will also be available for the first day of the conference. Priced at $295, it is expected to attract a broad range of participants involved in the Southern California technology scene.

DomainFest has also arranged for discounted hotel room rates at the Loews Hollywood hotel (reservation details are on the Domainfest.com site).

Dwayne Walker
Sr. VP, Advertising & Domain Services
Oversee.net
You can view the preliminary three-track agenda for DomainFest here. The DomainFest team will provide updates, information and more via its Twitter handle @domainfest. DomainFest, DomainSponsor and conference attendees will also be tweeting before and during the conference using Twitter hashtag #DomainFest.