Well, color me surprised - maybe even shocked - but today NamesCon announced that they have been able to secure room rates at the Tropicana for just $79 again for the 2015 conference. Unless you are a high roller who gets your rooms comped, you may never see a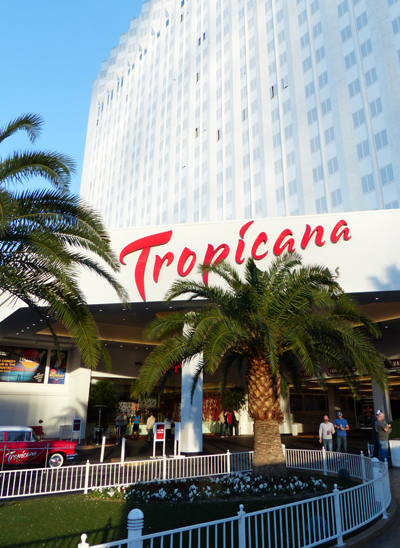 A view of the Tropicana Hotel in Las Vegas that we
snapped during the January 2014 NamesCon conference.
better deal on such spacious and very well appointed rooms right on the Las Vegas Strip. I immediately booked six nights in the Tropicana's Club Tower (which puts you just a quick elevator ride away from the conference floor).
While the show runs from noon Sunday January 11 through 6pm Wednesday, January 14, you can get the $79 rate - as of this writing - starting Saturday, January 10 all the way through Thursday night, January 15. However, with NamesCon expecting over 800 attendees for the 2015 event, those rooms will likely go quickly - so if you plan to attend, I would reserve them now to make sure you get the deal and dates you want.
The Tropicana is conveniently located on the south end of the Strip, just minutes from the airport and immediately across the street from the MGM Grand (which you can walk to in minutes over a
pedestrian bridge across Tropicana Avenue that connects the two properties). While NamesCon provides no food service (a key reason the conference can keep registration prices so low), there is such a wide variety of restaurants between the Tropicana and the MGM, you would never need a taxi to eat every meal at a different spot.