The 2nd annual NamesCon conference is just 12 days away. The event gets underway Sunday, January 11 at the Tropicana Hotel in Las Vegas where it will run through January 14, 2015. To give you an idea of what is in store here are 12 previously unpublished photos from the debut edition of NamesCon last January at the Tropicana.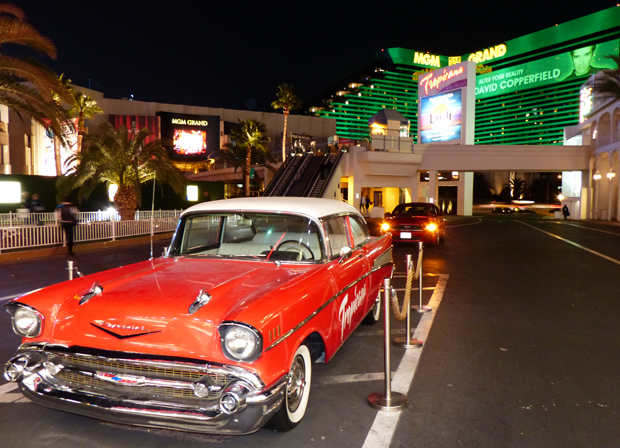 Above: The conveniently located Tropicana Hotel (just minutes from the airport) gives you easy access to the restaurants and amenities of two major hotels. The MGM Grand is directly across the street with a pedestrian bridge (seen behind the classic 57 Chevy that is permanently parked in front of the Tropicana) connecting the two properties.
Below: Your NamesCon adventure begins at the registration desk in the hotel's conference area.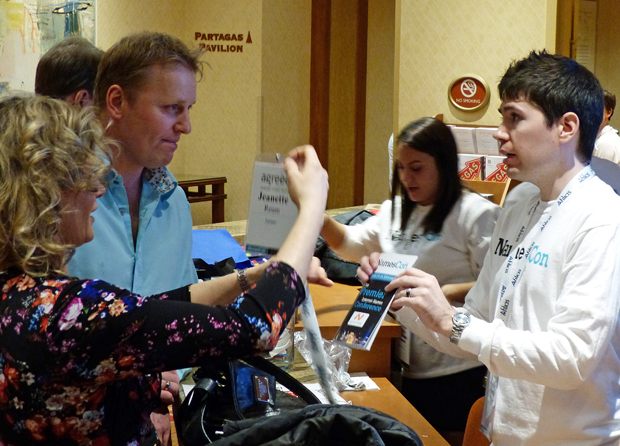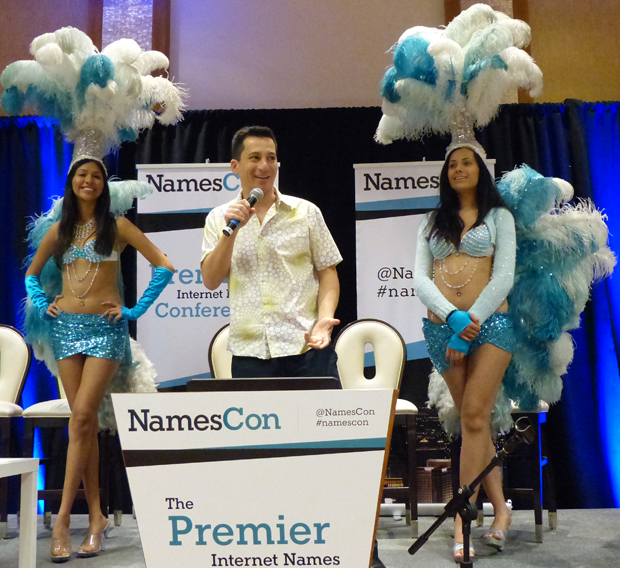 Above: NamesCon Founder Richard Lau, flanked by two Las Vegas showgirls, welcomes NamesCon attendees to the debut event in January 2014.
Below: Part of the a crowd of 500 attendees at one of the first 2014 sessions. For 2015 organizers expect over 800 to attend!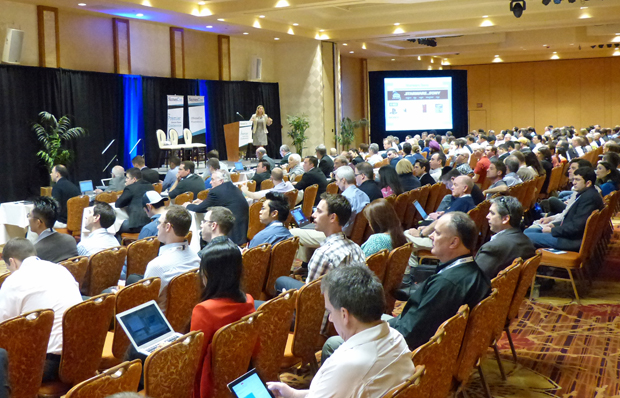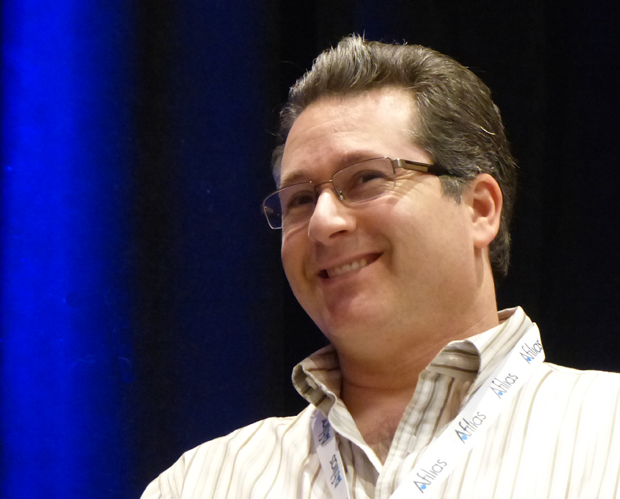 Above: DNForum.com owner Adam Dicker was one of the featured speakers last January and he will be again at the 2015 edition of NamesCon.
Below: Sedo.com CEO Tobias Flaitz welcomed visitors to the company's booth in the Exhibit Hall last January.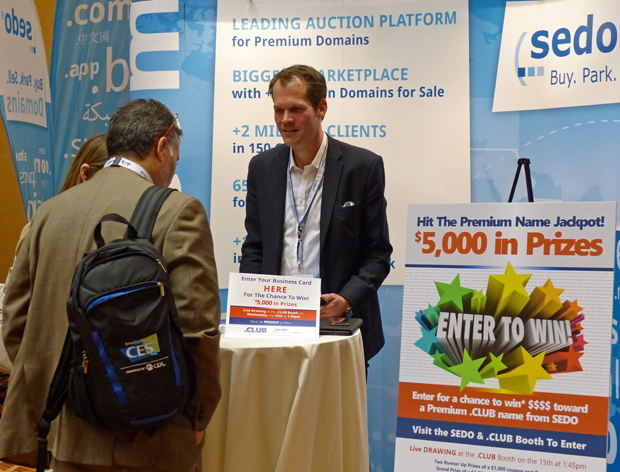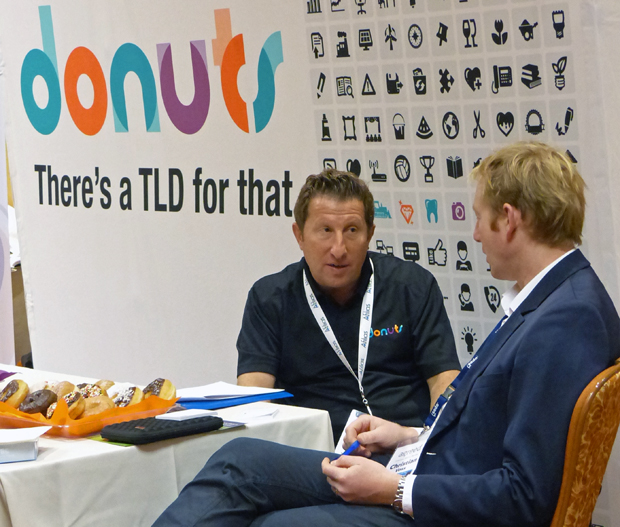 Above: Donuts, the biggest company in the new gTLD space, knew how to draw visitors to their booth. They kept a fresh supply of real donuts on hand for visitors!
Below: Another popular part of the Exhibit Hall is the lounge area where you can kick back and make a call or meet with fellow attendees.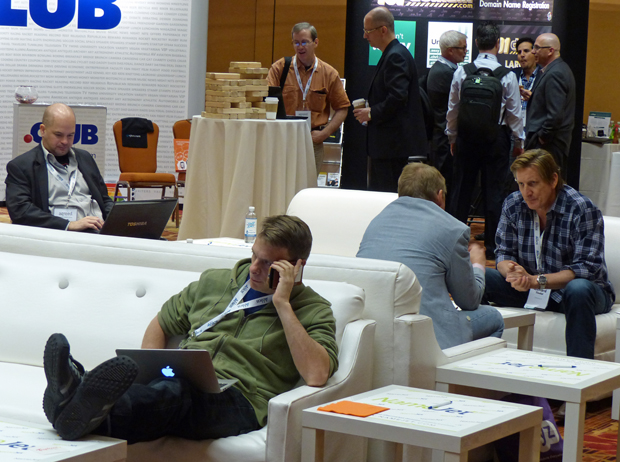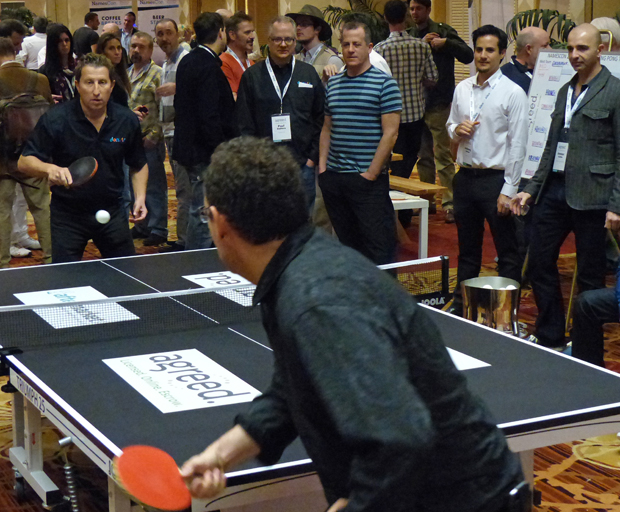 Above: You never know what you'll find going on at NamesCon. Last January a hard fought table tennis tournament drew a crowd of both players and spectators. In this match Donuts Co-Founder Daniel Schindler at top left squared off against NameNinja.com's Bill Sweetman (with back to camera).
Below: The biggest social event at NamesCon is the Water Night Party to raise funds for the Water School. Guests at last January's event, that raised over $111,000, included Bill Lozado (seen with a model he enlisted to help promote his domain portfolio)."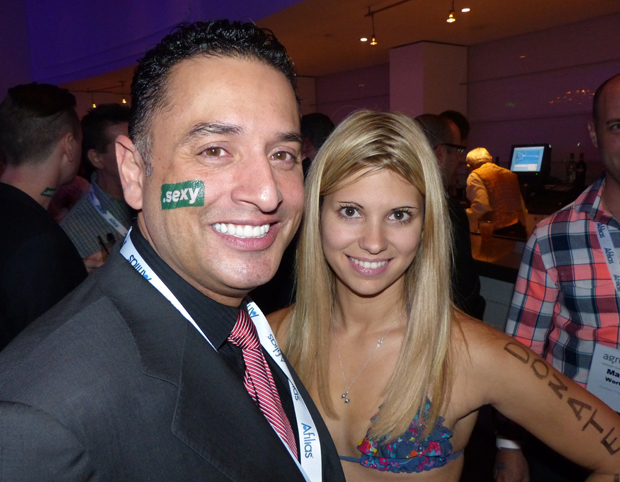 Above: Also at Water Night 2014 were NamesCon Co-Producer Jodi Chamberlain (right) and LegalBrandMarketing.com's Braden Pollock.
Below: Most of the money raised at Water Night 2014 came from pledges made to three brave men who volunteered to have their heads shaved in exchange for donations. Left to right, after the deed was done, are 101Domain.com's Joe Alagna, NamesCon Co-Founder Jothan Frakes and HasTraffic.com's Yancy Naughton.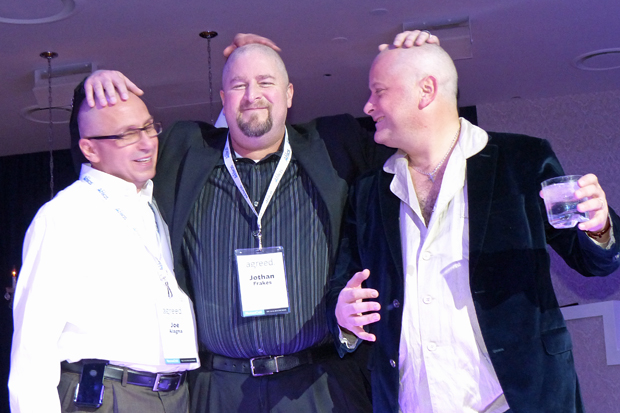 If it looks like NamesCon 2014 was a great event - you're right, it was - and 2015 promises to be even better with greatly expanded floor space, an even more ambitious agenda and a crowd expected to be more than 50% larger than last year. We look forward to seeing you there!