in doing things in a big way and that even extends to their roster of keynote speakers. On Tuesday alone you can catch four keynote addresses beginning with a 10am talk from Dot Brand 360 Founder and CEO Jennifer Wolfe.
At 11:45am in a highlight not only of the day but the entire week Uniregistry Founder and legendary domain investor Frank Schilling will take the stage. When Frank talks everyone wants to listen because few are as tuned into to every aspect of the domain business - where it's been and where it's headed - as Frank.
Frank Schilling speaking at the 2015 NamesCon conference last January.
After lunch back to back keynotes featuring Tucows President and CEO Elliot Noss and Sedo Chief Sales Officer Solomon Amoako will get started at 1:30pm and provide a perfect lead in to the 2pm Right of the Dot Live Domain Auction that will run the rest of the afternoon. With an exceptionally strong auction catalog many expect this be to the most successful live domain auction in years.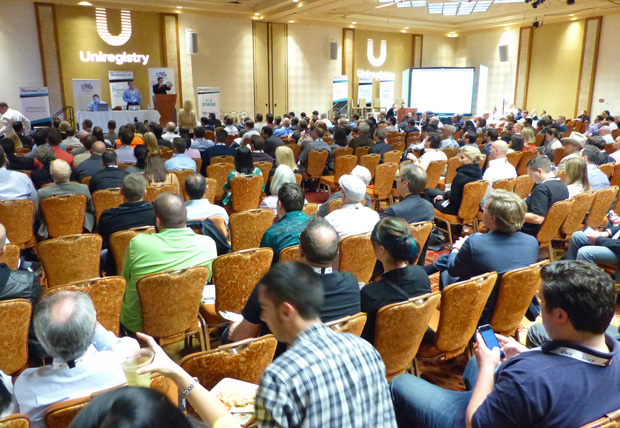 Scene from the seven-figure live domain auction at NamesCon 2015 last January.
Even better results are expected for the 2016 auction coming up Monday, January 11.
In addition to the keynotes and auctions there will be a full slate of business sessions Monday (Jan. 11) - with multiple events often going on simultaneously. You can check out the full agenda here. In my next post we'll take a look at a few of the things NamesCon has in store for Day 3 (Tuesday, January 12).