Above: A scene from the InterNetX/Sedo dinner party that took over a big section of the Hofbrauhaus Saturday night. With popular registrar InterNetX and aftermarket sales and monetization giant Sedo both based in Germany, the Las Vegas version of the Hofbrauhaus (a faithful reproduction of the world famous original location in Munich) was a pitch perfect choice for the pre-conference gathering.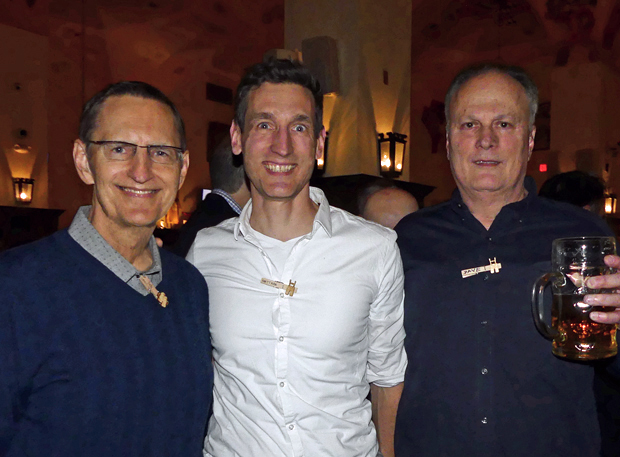 Above: The man everyone wanted to meet at the InterNetX/Sedo event was Sedo's brand new CEO, Matthias Conrad (center, flanked by Ron Jackson (DNJournal) at left and Sedo Senior Broker Dave Evanson at right). Just three weeks into his new position, the veteran executive (previously the VP of Marketing at 1&1 IONOS, a company, like Sedo, that is part of internet giant United Internet Group) said he had already fallen in love with the domain business and couldn't be more excited about his new assignment.
Above: One of the many tables taken over by the domain industry at Saturday night's InterNetX/Sedo dinner party. Diana Jackson (at lower left) has clearly been spending some time in the gym - it takes a lot of arm strength to curl one of those massive Hofbrauhaus beer mugs!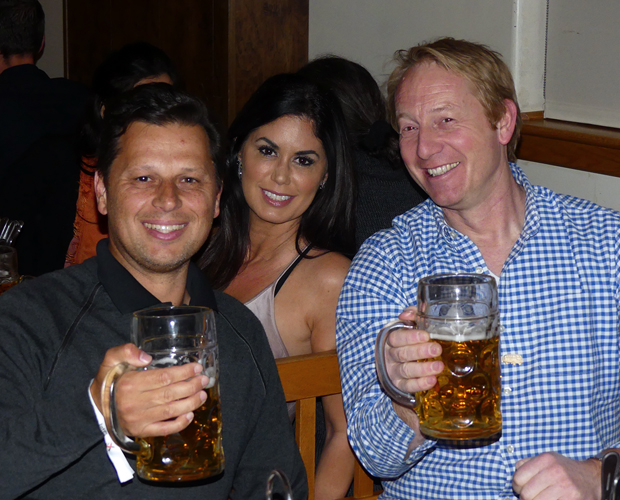 Above: Among the many faces in the crowd at the InterNetX/Sedo party, (left to right) Trellian/Above.com Founder & CEO David Warmuz, domain broker Tracy Fogarty (eNaming.com) and Sedo CMO Christian Voss.
...and below: Veteran domain investor/developers Rob Grant and George Verdugo (both of whom have been subjects of DNJournal Cover Stories).