By Ron Jackson
While TinBu.com is not a mass development service provider, companies like Tinbu can be very useful to those who use one of the mass development platforms highlighted in this DN Journal Cover Story. Since most mass developers allow you to add your own content or additional content from third party providers like Tinbu, we decided it would useful to give you some information on what Tinbu does and how it is able to offer it services at no charge to the domain owner.
For that, we went to the Pensacola, Florida based company's VP of Marketing Peter Hayward. "TinBu is a rapidly expanding technology company that offers interactive content channels to any web site looking to enhance their content, page views and existing advertising revenues," Hayward said.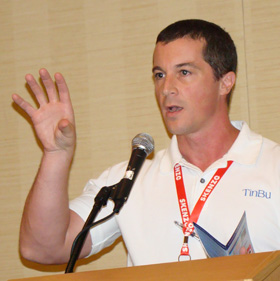 TinBu Marketing VP Peter Hayward
Speaking at T.R.A.F.F.I.C. New York 2008
"In the last 3 years, our client list has and continues to grow exponentially month over month across most all online publishing verticals, to include newspaper, television, radio, portals, geo-sites, and the domainer sector. TinBu is quickly becoming the go to provider for domainers looking to monetize their existing web site traffic or looking to build up web sites with additional interactive content that drives page views, repeat site traffic, user satisfaction, and revenue generation," Hayward added.
"Regardless of what phase a domainer is in with a particular URL, TinBu is in a position to add value with free interactive content with built in revenue generation utilizing our patent-pending technology. Our content is available in English and Spanish, and in some cases also in German, French, Portuguese, and Chinese."
This TinBu auto-updating local weather
module can be plugged into any website.

"Our content is currently in use with over 75% of newspapers and online media companies in North America and on hundreds of online and wireless companies in other countries such as Canada, Europe, and Latin America. Our content is used by Web sites run by the major television networks, radio broadcasters and news groups to major online portals and search engines like AOL and YAHOO! Hundreds of category-specific Web sites pertaining to online travel, sports, hotels, general interest, automotive, geo-specific domains, entertainment, local, national or global city guides, special interest, not-for-profit, real estate, hobbies, health and fitness, domain registrars, online shopping sites, and more," Hayward said.

You can see a partial list of some of the clients using TinBu's content here.

"TinBu uses its patent-pending technology which allows us to deliver ads through our interactive content platform, allowing web sites to

integrate our content channels free with a built in revenue generating component," Hayward said. "The historical problem with any kind of ad, be it display, contextual or other is that it does not drive any page views and it certainly does not encourage return traffic. TinBu's business model is the solution to this. We provide world class, engaging content to any site that in turn generates measurable increases in site traffic, repeat visits, and advertising revenues. Ad revenues are increased from the advertising supplied by TinBu, as well as any existing advertising platforms a domainer may already have in place at their site(s)."
"We have currently over a dozen content channels in all sorts of areas from lottery, box office, horoscopes, local gas prices, mortgage information, celebrity entertainment, weather, stocks and finance, Sudoku, recipes, miles per gallon analysis, flight tracking, swimsuit models, fitness videos, and we have many more content channels being produced. (One of our biggest claims to fame is that in the last 3 years, technically we have become the world's largest provider of lottery information as we actually started out as a lottery company and grew steadily from there!)," Hayward said.

"TinBu's content does not redirect to other sites like many of the other content products on the market. Our content can be added free, give domainers an additional revenue stream, and most importantly it works in conjunction with any existing ad network to enhance ad platforms domainers may already have in place such as Google or Yahoo! Our content is fully customizable and you can reduce our modules down to 1/3rd size of your

Tinbu's lottery module

page and use the added space around the content for your own ad networks, content, affiliate marketing programs, etc., by placing it around our content and letting the page view driving nature of our content do the work."
"Our Swimsuit Model of the Day portal averages 12.2 page views PER unique user, Celebrity Entertainment averages 9.0 page views per user, our Horoscope channel averages 5.7 page views per user! Trying to decide how to integrate any piece of content into a parked page, URL under construction or existing web site that is free, engaging and averages 12.2 page views per user is definitely a good problem to have for your web site and existing ad networks!"

Hayward added, "To view an online video of how TinBu's free content platform with built in revenue generation works click here. On TinBu's home page we have a webinar with many domainer specific questions answered by mousing over the right hand side of the page here."

"TinBu also provides its content with out ads on a licensing fee arrangement. To demonstrate our
two platforms of paid vs. unpaid content we can analyze the NY Daily News and The New York Post. The NY Daily News can pay us multiple hundreds to multiple thousands a month for the content without ads as with our Lottery Portal. The NY Post uses the exact same content on the free ad supported platform and do not pay anything to use the content and gets a rev share for hosting the exact same content on their site: Same Lottery portal free.
Here are a few examples of some of TinBu's general content.
Lottery Information - http://news.aol.com/lottery?icid=news:lottery (AOL)
Horoscope - http://www.dailyslick.com/content/horoscope.html (Daily Slick)
Weather - http://www.bootsnall.com/Europe-Italy-Milan/weather.html (Bootsnall Travel)
Gas Prices - http://www.boston.com/cars/gasprices/?p1=Well_Cars_More_Gas (Globe)
Swimsuit Model of the day - http://www.chez106.com/babes/ (Chez FM averages over 25,000 page views a day with 12.2 page views per unique visitor)
Soccer Module - http://italy.theoffside.com/scores/ (The Offside.com)
Fitness Video - http://www.newsreview.com/chico/fun/Fitness (Reno News)
Flight Tracking - http://www.usatourist.com/english/tinbu/Flight.html (USA Tourist)
Recipes - http://joyofbaking.com/tinbu/recipes.html (Joy of Baking)Celebrity Entertainment - http://www.travel-destinations.com/entertainmentnews/index.shtml (Travel Destinations.com)
Stocks/Finance - http://www.nydailynews.com/money/markets/index.html (NY Daily)MPG - http://www.smartdrivede.org/mpg.php
"TinBu continues to build and develop additional content channels for their clients. We are soon to release a Box Office Movie content channel with our content partners at Nielsen Entertainment. We are working on a Quote content channel, Sports Scores and Odds portal, Streaming Radio portal with our content partners at CBS and many more," Hayward said.
"We continually receive feedback from our clients on which modules are working most effectively with their specific audiences and which new content channels clients would like to see us develop in the future. TinBu aggressively acts on this feedback to strategically plan our future module deployment and corporate strategy."
"TinBu has also started attending some of the domain conferences this past year and has been extremely well received with many people telling us our product has uncanny timing with what is going on in the domain industry these days and the need for stickier content on sites. Some of the more forward and "outside the box" thinking domain and parking companies that are trying to break away from the traditional parking formats into more content rich platforms like DevHub.com and WhyPark.com are implementing TinBu's content across their networks as we speak."

"These companies will successfully be able to monetize the added page views from our deep content portals into their networks to drive user satisfaction and have their audiences return over and over to see the buffet style content available to them as they strive to lead the way with content rich parking solutions over traditional solutions. With the success of these conferences, we look forward to attending more in the future with more members of the TinBu team as we feel the domainer audience is exactly where our firm can add the most value," Hayward said.

Hayward at the 2008 GeoDomain Expo
"We are certain that TinBu's future with the domain world is very bright. As we continue to add content, we will be able to help domainers grow and develop their Web sites as the old adage holds true that "Content is King". We look forward to having a presence at all the future domain conferences and continuing to listen to domainers needs and finding out new ways we can use TinBu's content to add value to their Web sites and parked pages," Hayward concluded.
| | |
| --- | --- |
| Click any of the links in this table to learn about the mass website development services provided by companies featured in this DN Journal Cover Story. | |
| | |
| | |