Scene from the newly re-formatted speed networking
sesson at T.R.A.F.F.I.C. Miami 2010
Monday morning (Oct. 18)

Early the next morning (Monday, Oct. 18), it was time to get down to business with an 8:30am speed networking session that was staged under an entirely new format. Participants registered in advance so they could be matched up with people who worked in the areas that they were most interested in. That allowed show organizers to set up six extended one-on-one meetings (each lasting just under 10 minutes) for each participant.

As you entered the room you were given a personal schedule that directed you to numbered pre-assigned seats for each of your sessions. In the case of no shows people who were left without a partner were quickly paired up with others in the same situation allowing things to proceed smoothly throughout the hour. I liked the set up and additional time available to spend with each assigned partner. I think this format will be a keeper.
At the brunch that followed, Schwartz and Neu gave their official welcoming remarks. Schwartz made the show's theme clear, saying that much of the agenda had been shaped by the need for domain owners to retake control of their assets by seeking new ways to maximize their traffic-generated revenue streams.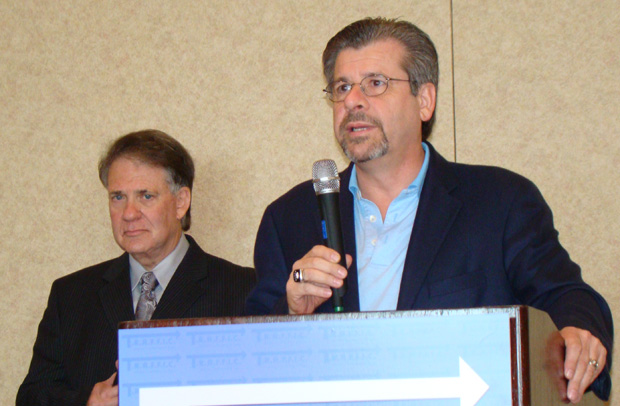 Rick Schwartz (right) and Howard Neu delivering their welcoming remarks Mon. Oct. 18.
Schwartz believes that domain owners are being short-changed by their upstream "partners", particularly those at the top of the pyramid - Google and Yahoo (Yahoo has since outsourced their search business to Microsoft's Bing). There is widespread discontent among domain owners who have seen their PPC revenues decimated at the same time Google is reporting record profits. With no transparency in the PPC chain, no one (other than Google and Yahoo) knows where the money has gone and the lack of accountability has led to a lot of mistrust as well as interest in finding new solutions that do not rely on the search engines for the bulk of revenue.
At 11:15am, keynote speaker Simon T. Bailey took the microphone for an inspirational talk on unleashing your inner brilliance. Bailey believes that each of us is born brilliant. Then we spend the rest of our lives having our brilliance buried by people, circumstances, and experiences. He says that eventually we forget that we ever had genius and special talents, and our brilliance is locked away in a vault deep within. So we settle for who we are, instead of striving for who we were meant to be.

Bailey details how to change all of that in his latest book, Release Your Brilliance, that is available on Amazon and can also be purchased for immediate download to iPads and iPhones. I sat with Simon at brunch prior to his talk and found him to a very impressive person. The way he rose from poverty to become an internationally celebrated speaker, author, and consultant underscores that anything is possible if you set your mind to it.

Keynote speaker Simon T. Bailey
In the next session, T.R.A.F.F.I.C. scored a coup by getting U.S. Congressman Cliff Stearns (R-Florida) to speak - the highest ranking U.S. government official ever to address a domain industry conference. Stearns was accompanied by former Congressman Mike Ferguson who also spoke.

Stearns is in line to become Chairman of a powerful House committee that oversees Internet issues. He expressed support for domain owner's rights and urged attendees to get involved in the political process to make sure those rights are not taken away by those who want to grab assets they did not have the foresight to acquire years ago when they were available to anyone who wanted to put their capital at risk. Stearns said generic domain investors who bet on Internet real estate to appreciate in value should be called homesteaders not cybersquatters.

Ferguson emphasized that it was crucial for domainers to join forces because they are battling giants in this fight. Unfortunately, as an industry we have a poor track record of working together, so whether or not Stearns and Ferguson's sage advice will be heeded remains to be seen.

The show's first three seminar sessions followed Congressman Stearns's talk. These were all conducted under a new open discussion format unveiled for T.R.A.F.F.I.C. Miami. The usual Powerpoint presentations were banned. Instead moderator Howard Neu led the five or six experts on the dais for each session through a wide ranging discussion of the topic at hand.

U.S. Congressmen Cliff Stearns (R-Florida)
addressing T.R.A.F.F.I.C. Miami attendees
Below: Part of the large crowd on hand for T.R.A.F.F.I.C. Miami's
first seminar session Monday afternoon (Oct. 18).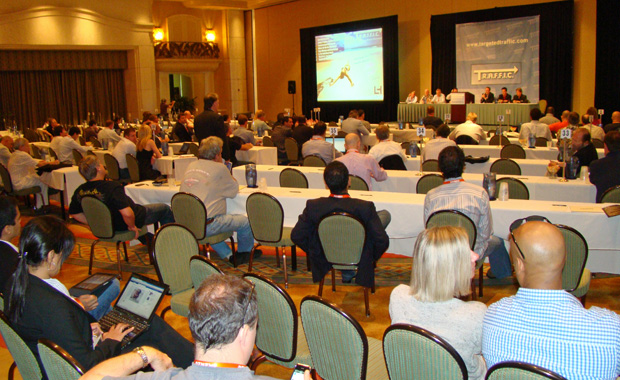 John Ferber (DomainHoldings.com) speaking
in the first seminar session Monday (Oct. 18)

The opening seminar was titled Where Do We Go From Here? It was devoted to next steps domain owners can take to develop domains or improve monetization prospects for the assets.

This session featured a panel of seven experts who all have extensive development experience, including John Ferber (Domain Holdings), Craig Rowe (WhyPark.com), Rob Monster (Epik.com), Dan Warner (DomainAdvertising.com), Ted Olson (NameMedia), David Castello and Michael Castello (Castello Cities Internet Network).

Ferber, who sold Advertising.com to America Online in a $435 million deal, was speaking at a T.R.A.F.F.I.C. conference for the first time, one of several new speakers featured in Miami.

The next session - Stop Whining and Start Doing Something Constructive - expanded on the theme of what to think about doing next.

Stop Whining and Start Doing Something Constructive panelists (left to right) were Adam Matuzich, Owen Frager, Ira Zoot, Zappy Zapolin, Lonnie Borck and Michael Berkens.
In the last session, I joined five colleagues -

Gregg McNair (PPX International), Keith Levenson (Rio.com), Chad Folkening (Domain Holdings), Michael Gilmour (ParkLogic.com) and Rick Schwartz (T.R.A.F.F.I.C.) to discuss Is The Gold Rush Over, or Are There More Nuggets to Mine? The opinion I and several others expressed was that the gold rush is far from over but that some of the best opportunities are being found in places people haven't mined so heavily in the past - everything from ccTLDs to using CPA monetization methods.

Attendees often used the breaks between sessions to visit sponsor tables in the exhibit hall adjacent to the conference rooms.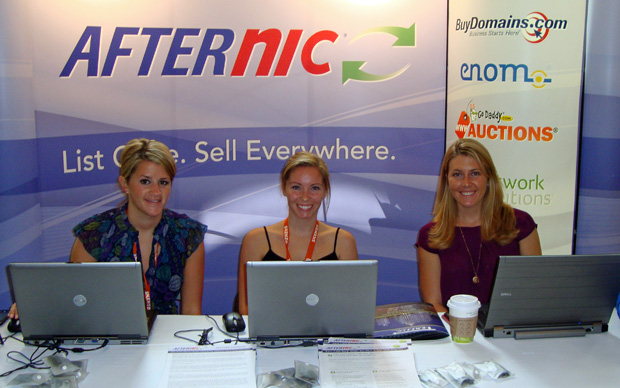 Companies like the AfternicDLS (whose booth is shown above) and Thought Convergence
(whose booth is how below) had representatives on hand to chat with attendees
throughout the conference. (Photos courtesy of Barbara Neu).
Below: Moniker's Bari Meyerson (right) chats with exhibit hall visitor
Steve Kaziyev of CityGuideMedia.com.
The first full day of business closed with Test Track, a feature that has become a T.R.A.F.F.I.C. staple. It allows pre-selected entrepreneurs to to make a pitch for investment capital needed to grow their current enterprises.
During the Test Track session, Emma Meheux of London.com (standing at podium at left)
makes an investment pitch to a panel that included Dr. Chris Hartnett,
Rick Latona, Gregg McNair and Rick Schwartz.
The panel of judges/potential investors listened to the presentations then offered their views on the merits of the businesses and decided whether or not they would be interested in investing in them. Only two presentations were made at this edition of Test Track and no funding was secured but it is always interesting to see new business ideas detailed and dissected with the kind of hard questions entrepreneurs have to be ready to answer if they hope to secure additional funding.
With the day's business out of the way it was time for attendees to shift into party mode Monday night (Oct. 18) and T.R.A.F.F.I.C.'s official party sponsor, the .CO Registry, made it one to remember. Their soiree at the opulent Versace Mansion still has people buzzing about a magical night there.

The Mansion is just a few blocks from the Loews Hotel. I arrived early enough to get the shot of the grand open air entry hall at right before the mansion filled up with party goers.

The mansion was previously owned by the late great Italian designer Gianni Versace. Gianni, then just 50 years old, was tragically murdered on the front steps of his home on July 15th, 1997 by a serial killer named Andrew Phillip Cunanan who later committed suicide.

If you take the left turn on the black carpet in the entry hall it takes you down to the mansion's spectacular courtyard and pool area.

Open air entry hall at the Versace Mansion

Above: The Versace Mansion's courtyard and pool area where T.R.A.F.F.I.C.
guests enjoyed a buffet dinner and open bar Monday night (Oct. 18).

Below: Guests at the .CO Registry's Monday night (Oct. 18) party included (L to R in
the photo below): Jonathan Pardee, Robert Pooke and Hennie Groot Lipman.
Coming Up on Page 3

The Final Two Days of T.R.A.F.F.I.C. Miami 2010

The annual T.R.A.F.F.I.C. Awards are handed out.

Legendary boxing promoter Don King climbs into the domain ring.

Three more seminars including one that sounded a scary security alert.

Rick Latona's live domain auction

NameMedia hosts a closing night party outdoors.

An Epik Swapfest brings the curtain down on T.R.A.F.F.I.C. Miami 2010.

Coming up: 2010 T.R.A.F.F.I.C.
Award Winners are revealed.
*****