BoycottKentucky.com is asking domain owners to call the office of Kentucky governor Steve Beshear en masse today (Oct. 31) to express their displeasure with his attempt to take over

141 gambling related domain names through a highly controversial claim that the state has jurisdiction over those names. The phone number at Beshear's office is (502) 564-2611. Some of those calling say they are getting an answering machine where they are leaving a message expressing their views.

If Kentucky's action is upheld by the courts, then everyone's domain names would be at risk to any local governing body that feels like taking over those names.

BoycottKentucky.com is also asking domainers to refuse to do business with corporations based in that state and to write corporate offices to let them know why (a list of company addresses is provided on the site). Earlier this week site creator Jeff Reynolds wrote "We've already encouraged you to stop drinking bourbon as part of our worldwide boycott of everything Kentucky. We've also advised you to express your outrage against Kentucky Governor Beshear's ill-advised domain grab by skipping Pizza Hut, KFC, Taco Bell, Long John Silvers and A&W Restaurants (Editor's Note: you can also write to the parent company of those business, YUM Brands, by contacting their Senior VP for Investor Relations, Tim Jerzik at yum.investor @ yum.com). Today, we highlight the fact that both Papa John's Pizza and Dippin' Dots are both based in Kentucky."

Kentucky Judge Thomas Wingate has scheduled a final hearing on the seizure order for 10am November 17th. If he upholds the governor's position you can expect a fierce court battle to follow.
(Posted Oct. 31, 2008) To refer others to the post above only you can use this URL:
http://www.dnjournal.com/archive/lowdown/2008/dailyposts/10-31-08.htm
Florida is one of the 31 states that allow early voting for the presidential election. With huge crowds expected at the polls Tuesday (Nov. 4), Diana and I decided to try to beat the rush by

taking advantage of the early voting opportunity at our local Supervisor or Elections office this morning. Having heard about long waits in other parts of the state we were delighted to have only a 15 minute wait. I left convinced that early voting is the only way to go if your state offers it. Over 25% over Florida voters have already voted according to local news outlets. Perhaps that will help ease the crush Tuesday (in any case I'm glad we will not have to worry about that now).

Within the domain industry there are lots of forum threads debating the merits of the candidates. As you know there are dozens of election polls out there and New York based domainer Jeff Edelman alerted us to a poll he is currently running at his Student.com site to see which way high school, college and older students are leaning. More than 1,000 people have already cast ballots. If you would like to vote in the poll yourself, or see the current voting breakdown visit Jeff's site via the Student.com link above.

A broader section of the population is being polled at 2008PresidentialPoll.com. As of this writing, over 21,000 had voted there. The polls are always interesting but the only votes that really count will be tallied five days from now.
(Posted Oct. 30, 2008) To refer others to the post above only you can use this URL:
http://www.dnjournal.com/archive/lowdown/2008/dailyposts/10-30-08.htm
I didn't get to spend much time online while traveling on vacation last week - basically just kept up with email as best I could via my iPhone. In the course of the week I received several

bits of information that I made a mental note to pass along in this column when I got back. I'll do that over the remainder of the week starting with today's note congratulating New York City based singer Lizzy Grant on rhe release of her first recording for 5 Points Records, called "Kill Kill". Lizzy's dad is veteran domainer Rob Grant who was featured in our April 2008 Cover Story.

Lizzy popped in at last month's T.R.A.F.F.I.C. conference in New York and last spring she spent the whole week with the domain gang gathered in Orlando for T.R.A.F.F.I.C. East. Lizzy performed at the CMJ Music Festival in New York last Friday night and quite a buzz is starting to develop about her in the music blogosphere. You can get Lizzy's EP at iTunes and also check out the video on the home page at her website.

Lizzy Grant and her dad, Rob Grant,
at T.R.A.F.F.I.C. Orlando - May 2008

(Posted Oct. 29, 2008) To refer others to the post above only you can use this URL:
http://www.dnjournal.com/archive/lowdown/2008/dailyposts/10-29-08.htm
We are back from our vacation travels and ready to crank up the daily Lowdown again. Got back just in time to break some news from Boulevards New Media chief Dan Pulcrano, who, in addition to being a giant in the geodomains field, is also the Chairman of Movie Times, Inc., a

company that operates several leading entertainment portals including MovieTimes.com. Pulcrano has been serving Movie Times Inc. as CEO as well as Chairman, but has just stepped out of the CEO role and brought Ari Bayme in to fill that key position.

Bayme is a veteran technology banker and Internet executive who is very familiar to people in the domain industry. He has been a featured speaker at many domain conferences (including the Associated Cities Geodomain Expo, Domain Roundtable and T.R.A.F.F.I.C.) where he shared his deep understanding of domain development, metrics and monetizing through advertising. Ari comes to Movie Times, Inc. after serving as Vice-President of Corporate Development for Gorilla Nation, the largest online advertising sales representation company.

Ari Bayme
New CEO at Movie Times, Inc.

"MovieTimes.com is already one of the web's leading entertainment portals," Bayme said. "It's extremely powerful for marketers because it reaches movie enthusiasts at precisely the moment

Dan Pulcrano

that they are planning their next visit to a cinema." Founded in 2002 and originally known as "MrMovieTimes," MovieTimes.com enables users to rate and review movies, as well as browse reviews by other MovieTimes.com members. Moviegoers can also view trailers, purchase tickets and order DVDs through the site. "I am excited to lead this exceptional team and make MovieTimes.com the best site to visit before enjoying a movie," Bayme added.

MovieTimes.com is the marquee name in a geo targeted portfolio of several thousand movie oriented domain names that encompass cities large and small as well as multiple languages. Pulcrano noted, "When I approached Ari, I told him we had a royal flush of movie times domains. He corrected me and said, "You own the whole deck!"

(Posted Oct. 28, 2008) To refer others to the post above only you can use this URL:
http://www.dnjournal.com/archive/lowdown/2008/dailyposts/10-28-08.htm
I'm on the final leg of a vacation trip today. Diana and I are in Philadelphia attending Parents Weekend activities at the University of Pennsylvania where our daughter, Brittany, is a senior. We've seen a lot of friends and family members (plus some beautiful fall foliage) since starting our trip in central Ohio (where I grew up) this past Monday. Our Tampa Bay Rays also arrived in Philadelphia today where they will play the Phillies in the next three games of the World Series (tied at a game apiece after the Rays 4-2 win last night in Tampa). Would be fun to catch one of the series games here this weekend but with good tickets going for $1,200 and up we will settle for watching it on TV! We'll be heading home to Florida Monday night and our regular daily updates in the Lowdown will resume Tuesday (Oct. 28).
(Posted Oct. 24, 2008)
I will be away on vacation October 20-27 so won't have an opportunity to post our usual daily item in the Lowdown until I return next week. However I will try to drop a few items in from the

road if time allows. Since I entered this business in 2002 I have never spent a full week away unless it was to cover domain industry events. After six years my wife thinks a personal vacation is a bit overdue and I guess it would be hard to argue that point with her. We will be traveling through the Midwest and Northeast visiting family and friends. With its crisp weather and gorgeous autumn leaves, fall has always been my favorite time of year in the Northern U.S. Though I love the year-round sunshine here in Florida, autumn is the one season I miss after growing up in Ohio.

Before heading out I wrapped up a couple of projects over the weekend that I think you'll enjoy. As you have undoubtedly heard by now, the T.R.A.F.F.I.C. domain conference heads overseas

for the first time November 18-20 when Fabulous.com hosts the T.R.A.F.F.I.C. Down Under conference on Australia's famed Gold Coast. To get the inside scoop on what attendees can expect from this event, I hooked up with Fabulous.com COO Dan Warner and the company's Business Development

Director Michael Robertson who have led a team that has been working non-stop on this show since it was first announced in October of last year. Dan and Michael offered some great insight into why taking the show Down Under will produce a unique new animal in the conference game. You can check out our T.R.A.F.F.I.C. Down Under preview article here.

Also, as you know, we published our review of last month's T.R.A.F.F.I.C. New York conference a couple of weeks back, however we had a ton of great photos left over from the event and rather than leave them on the shelf, we just added a T.R.A.F.F.I.C. New York Photo Gallery to the article so we could share them with you.

The photo at right is a sneak preview from the Gallery. That is Jen Sale and Michael Robertson (who took part in the T.R.A.F.F.I.C. Down Under preview interview I mentioned above). They were holding court in Fabulous.com's New York booth where Michael was obviously trying to make a point! Check out the Photo Gallery and see if you or someone you know was caught on camera!

(Posted Oct. 19, 2008) To refer others to the post above only you can use this URL:
http://www.dnjournal.com/archive/lowdown/2008/dailyposts/10-19-08.htm
Two well-known domain industry execs were involved in the festivities when the Harvard Business School celebrated its 100th anniversary last weekend with a Global Business Summit on the school's Cambridge, Massachusetts campus. Internet Real Estate Group Co-Founder and President Andrew Miller and the company's Co-Founder and CEO Mike "Zappy" Zapolin were among the HBS graduates who took part in the celebration. They had an opportunity to rub elbows with some of the world's most successful businessmen, including Microsoft Founder Bill Gates who spoke at the Summit.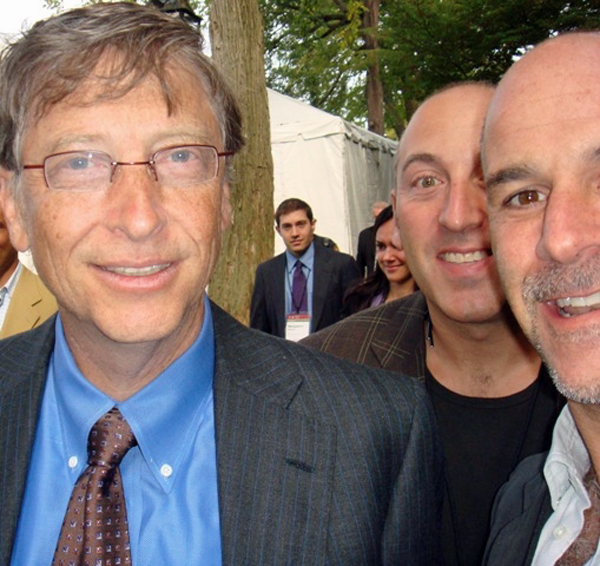 (Left to right) Microsoft Founder Bill Gates, Andrew Miller and Mike "Zappy Zapolin
at the Harvard Business School's 100th Anniversary celebration last weekend.
Miller and Zapolin were featured in DN Journal's Sept. 2005 Cover Story and we have continued to follow their success in the domain industry and business world at large. Last weekend Zappy also got a chance to chat with Ebay CEO Meg Whitman who was among those receiving a 2008 HBS Alumni Achievement Award at the Summit.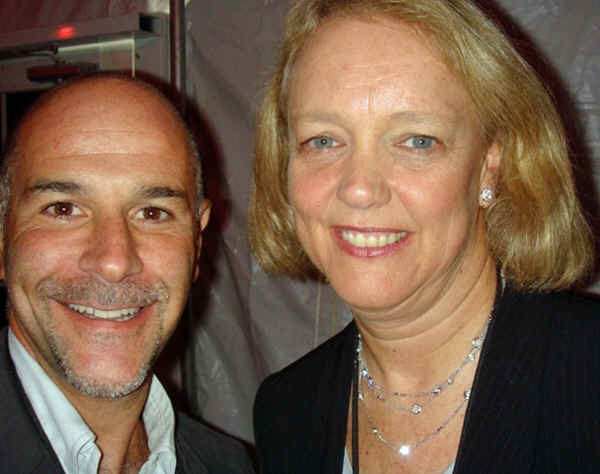 Ebay CEO Meg Whitman and Internet Real Estate Group CEO Mike "Zappy" Zapolin
A crowd of almost 2,000 HBS alumni attended the Summit which capped a year-long celebration of the Harvard Business School's centennial.
(Posted Oct. 17, 2008) To refer others to the post above only you can use this URL:
http://www.dnjournal.com/archive/lowdown/2008/dailyposts/10-17-08.htm
BULLETIN - A Kentucky judge has rendered a decision in the case of that state's attempt to seize 141 gambling related domain names. Judge Thomas Wingate denied motions filed by representatives for the domain owners that the case by thrown out. Wingate scheduled a final hearing on the seizure order for 10am November 17th and said any operators of the sites in question could keep their domains if, prior to that final hearing, they installed a blocking mechanism that would prevent Kentucky citizens from visiting their sites. Wingate dismissed the idea that the global Internet was not subject to Kentucky law, writing that the Internet is "not above the law, whether or an international or municipal level."
Wingate added "The challenge here is to reign in illegal activity and abuse of the Internet within the framework of our nation's and Commonwealth's existing common law norms and principles, until expressed guidelines from state and federal legislative bodies say otherwise." The Internet Commerce Association has posted a statement from ICA President Jeremiah Johnnston pointing out the extreme danger this decision poses to not only domain owners, but Internet commerce at large. You can read the entire text of the decision in this 43-page PDF file.
(Posted Oct. 16, 2008) To refer others to the post above only you can use this URL:
http://www.dnjournal.com/archive/lowdown/2008/dailyposts/10-16-08-3.htm
Reinvent Technology CEO Dr. Kevin Ham, who was the subject of our May 2008 Cover Story has been named winner of the Pacific Region's prestigious Ernst & Young 2008 Entrepreneur

of the Year Award in the Technology category. Reinvent is based in Vancouver, British Columbia and BCBusiness Magazine just ran a nice feature article on Ham in recognition of his latest honor. The magazine noted "by quietly amassing a stable of more than 300,000 web domain names, including laptop.com, attorney.com and weddingcatering.com, the CEO of Reinvent Technology is a virtual real estate titan. Having put together a portfolio with annual revenue estimated at $70 million, the 38-year-old visionary now plans to leverage these assets to become a leading force in the Internet's next generation – web 3.0."

The magazine also noted Dr. Ham's recent purchase of Vancouver.com and his plans for that domain, writing "Reinvent is working to

Dr. Kevin Ham
CEO, Reinvent Technology

launch the site sometime before the 2010 Olympics as a three-dimensional replica of the city's downtown core and key neighbourhoods. "There are so many applications," says Ham. "With real estate, people can view the home with their avatars. Tourists can come and look at the attractions and plan out where they want to go. There could be virtual storefronts. We're aiming for something that's better than Second Life." Vancouver.com, Ham suggests, could be a model for 3-D cities around the world."

Dr. Ham is currently sequestered at Harvard University where he is going through their rigorous compressed MBA program. He is scheduled to receive a degree there later this month, along with close friend Dr. Chris Hartnett, a Reinvent board member who is also in the program.
(Posted Oct. 16, 2008) To refer others to the post above only you can use this URL:
http://www.dnjournal.com/archive/lowdown/2008/dailyposts/10-16-08-2.htm
The DOMAINfestGlobal conference, coming up January 28-30 in Hollywood, California, has scored a major coup by signing Apple Computer co-founder Steve Wozniak as their keynote

speaker. In Wozniak, this annual show, produced by DomainSponsor (the domain monetization division of Oversee.net), landed a Silicon Valley icon who is one of the most influential and colorful innovators in technology history.

In 1985, for his achievements at Apple, President Reagan awarded Wozniak the National Medal of Technology, the highest honor bestowed on America's leading innovators. In 2000, Wozniak was inducted into the Inventors Hall of Fame and was awarded the prestigious Heinz Award for Technology, The Economy and Employment.

In recent years, Wozniak has been involved with other Apple alumni in developing a number of telecommunications and technology companies. He also is a founder of the Electronic Frontier

Steve Wosniak
Apple Computer Co-Founder

Foundation, which confronts cutting-edge issues defending free speech, privacy, innovation, and consumer rights today. In 2006, Wozniak (also known as "The Woz") published his autobiography, iWoz: From Computer Geek to Cult Icon.

Oversee CEO and Co-Founder Lawrence Ng said, ""It's a great honor to have Steve Wozniak join us as keynote speaker at DOMAINfest Global 2009. His innovative thinking and pioneering spirit inspires all of us. Guests at DOMAINfest are sure to walk away with a renewed sense of entrepreneurial determination after listening to Steve's insights and experiences."

In addition to domain owners, DOMAINfest Global will bring together online advertising experts, domain publishers, domain monetization experts, SEO/SEM specialists, website developers, online marketers, ad or affiliate network suppliers, search advertising providers, venture capitalists, bankers, and

trademark/legal advisors. You can visit http://www.domainfest.com to register for the event and to get more information about the show, including sponsorship and exhibitor opportunities. You can also read our review of last year's DOMAINfest Global conference here.
(Posted Oct. 16, 2008) To refer others to the post above only you can use this URL:
http://www.dnjournal.com/archive/lowdown/2008/dailyposts/10-16-08.htm
The importance of buying a domain name and building a website to promote your business, especially now that the general economy is tanking, was underlined in an article published by

USA Today this morning. The story, "A Good Website is a Great Asset," was written by Gladys Edmunds who has a weekly column in the national newspaper called Entrepreneurial Tightrope.

Edmunds wrote, "Every now and then I feel compelled to remind you of how important maintaining a website can be to your business. If you have a site that's not giving a return on your investment then perhaps it's time to rework it. If you have been procrastinating about having a website, now is the time to get one."

Edmunds went on to give a specific example of how small businesses are generating extra sales through their web

addresses. She detailed how an Ann Arbor, Michigan bakery called Zingermans (at Zingermans.com of course) distinguished themselves by making their high quality products available to consumers around the globe through their website, while still serving their local community. Edmunds offered these tips for using the Internet to help you steer your business through hard times:

Accessibility. Being able to locate your company by a domain name that is the name of your business makes it easier to find you.

Update content regularly. This is easy to let slip by. Keep your info as up to date as possible.

Make the user experience easy and enjoyable. Site visitors should not have to play hide and seek when visiting your website. Icons should clearly state where things are. It's frustrating to have to search each page looking for a phone number for customer service.

Customer service is the lifeline of a successful business. Respond to e-mails immediately. And avoid using annoying automatic e-mail responses.

(Posted Oct. 15, 2008) To refer others to the post above only you can use this URL:
http://www.dnjournal.com/archive/lowdown/2008/dailyposts/10-15-08.htm
Some big city geodomain owners are about to get some competition from a formidable opponent - NBC-TV. According to an article by Brian Steinberg in Advertising Age yesterday, NBC, in a noticeable break with tradition, said the websites operated by the network's local

stations would be reborn as broad based local portals. In the past those sites existed solely to promote the local TV station the site was affiliated with.

According to a statement from NBC Local Media, the new sites will still offer information from local TV stations, but will expand upon it by using sources including print, online publications and bloggers to go after a community "that wants to know more about their local cities." As a result, the websites will no longer include station call letters, but focus instead on particular cities. New York's WNBC, for example, currently WNBC.com, will become NBCNewYork.com. Likewise, WVIT in Hartford, Connecticut, currently located at NBC30.com, will become NBCConnecticut.com.

Chicago is the first city to get one of NBC's
new local portal sites - NBCChicago.com

The first new site in the revamped NBC line up went live yesterday in Chicago where WMAQ's site for channel 5 re-appeared as NBCChicago.com. In addition to competing with the local newspapers for advertisers, NBCChicago.com will have to go up against Josh Metnick's prime geodomain site at Chicago.com.

In his article, Steinberg wrote, "In years past, abandoning station identification would have sparked wide-eyed stares of disbelief. Online, however, media outlets are often secondary to the information they provide. A consumer seeking information on how to buy tickets at Madison Square Garden or a Chicago eatery will gladly look at the first link that Google or Yahoo provide in a regular search. NBC's maneuver reflects the realization that holding on to legacy practices can be a detriment as technology reshapes the way in which consumers find out about news and entertainment."

NBC believes its move will position the local sites to grab a bigger share of local online ad revenue. Of course the network's new domain names, like NBCNewYork.com, do not have the inherent traffic generating power of a pure generic like NewYork.com - but the local TV stations already have all of the pieces in place to produce killer content that will help offset some of that handicap.

On the other hand, as prominent geodomain owner David Castello (Castello Cities Internet Network) pointed out to me, by incorporating the local city .com domain into their NBC domain name (i.e., Chicago.com being part of the NBCChicago.com string), NBC's promotional efforts, especially on the radio, will likely drive additional traffic to the generic city .com as a certain percentage of people will only pick up on the city name and .com when the phrase is spoken.

David Castello
Castello Cities Internet Network

(Posted Oct. 14, 2008) To refer others to the post above only you can use this URL:
http://www.dnjournal.com/archive/lowdown/2008/dailyposts/10-14-08.htm
Fabulous.com has announced that they will host a ten-name live premium domain auction to benefit the Internet Commerce Association (ICA) at the T.R.A.F.F.I.C. Down Under

conference that Fabulous will be staging November 18-20 on Australia's Gold Coast. The no reserve auction will be held during the conference's Gala Dinner on the evening of November 19. Rick Latona Auctions has agreed to donate their expertise and time to manage the charity event.

The ICA is a non-profit trade group that advocates for the domain name industry. In announcing the charity auction Fabulous.com noted "The ICA was formed to ensure domain services and owners are robustly represented in areas of great risk and importance to the global domain community. The ICA utilizes dues and contributions to enable activities related to legislative lobbying, regulatory representation, industry public

relations, legal test case support, industry publication of statistics and reports, revenue research, and market intelligence. In order for the association to continue and expand its activities, it requires the support and participation from current members and the entire professional domain name community."

In addition to domains Fabulous.com has committed to the auction, T.R.A.F.F.I.C. Down Under is seeking additional submissions for the event. They said "The top ten domains by value will be selected for the auction and will receive extensive

and digital signage during the auction. The final ten domains and their sponsors will be announced in online and offline promotion including the conference website, press releases and blogs October 17th." Domains for donation can be submitted at http://www.trafficdownunder.com/supporting-ica.htm.

Some of the domains offered to date include CarbBlockers.com, BiometricReader.com, MovingCosts.com, DisplayUnit.com, BodyBuildingProducts.com and MedicalLawsuit.com.
(Posted Oct. 13, 2008) To refer others to the post above only you can use this URL:
http://www.dnjournal.com/archive/lowdown/2008/dailyposts/10-13-08.htm
New domain name registrations continue to soar in the various regions around the world. Outside the U.S. country code domains tend to be favored. According to new data from

LatinAmerICANN.org (this page is in Spanish), total ccTLD registrations in Latin America passed the 4 million mark in September, a jump of nearly 18% over the same month last year. The fastest growth was seen in Brazil (.br), Argentina (.ar), Mexico (.mx) and Venezuela (.ve).

In terms of total current registrations, Argentina has more than any other country in the region with over 1.7 million. Brazil is next at more than 1.4 million, followed by Mexico at 280,000 and Chile (.cl) at 224,000. Thanks to Juan Enrique Sánchez of NameAction.com for passing the link to this information along to us.

One other note today that will be of interest to those of you who are working on development of your domains. NameMedia is hosting a webinar

on "SEO for Small Business" on October 23. The webinar is part of NameMedia's continuing focus on the small to medium sized business market where they sell hundreds of domains to end users each week through their AfternicDLS platform. Though the webinar is aimed at that market, everyone is welcome so anyone with an interest in developing can benefit from it.

Topics scheduled to be addressed in the 30-minute presentation will include:

∙The relevancy and importance of targeting the right keywords
∙ Why page titles and meta data matter
∙ Domain & URL structure advice and tips
∙ Internal & External linking
∙ How Webmaster Tools can help your site
∙ Tips on site structure for local search
∙ The importance of directory listings
∙ Content, content, content!

You can register for the webinar here.

(Posted Oct. 10, 2008) To refer others to the post above only you can use this URL:
http://www.dnjournal.com/archive/lowdown/2008/dailyposts/10-10-08.htm
In a big personnel move within the geodomain community, two of the people who have been credited with much of the success of Branson.com, Marketing Director Jeremia Froyland and Project Director Josh Stauffer, have left to team up with Skip Hoagland, the CEO of Domain New Media LLC and GeoDomains New Media, to help develop, market and manage some of Hoagland's vast portfolio of U.S. and International GeoDomains. Froyland, Stauffer and Branson.com owner Larry Milton were given the "Best U.S. Destination GedDomain" Award at the 2008 GeoDomain Expo in Chicago last July.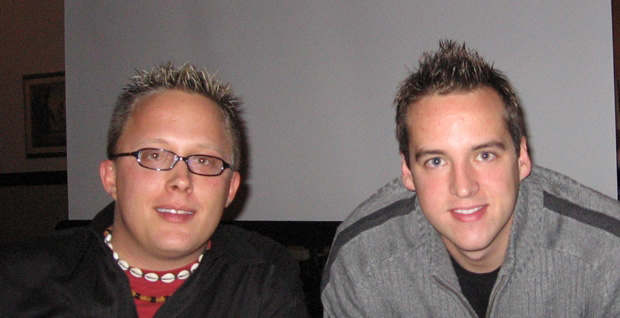 Jeremia Froyland (left) and Josh Stauffer
In a letter to their fellow Associated Cities members, Froyland wrote "We have learned many great things from Larry Milton over past few years and we're extremely grateful to have been given the opportunity to be a part of his amazing organization. We know that we would not be where we are today if were not for his direction, advice and guidance. His generosity has been beyond anything we have experienced and we wish only the best and greatest successes for Larry, Branson.com and Branson Tourism Center."
Skip Hoagland

Regarding their new partnership with Hoagland, Froyland wrote "Josh's technical and development abilities paired with my marketing and business background along with Skip's negotiation, acquisition and pioneering provides us all with a very well-rounded team that is able to not just design these websites, but fully develop them into viable and profitable businesses."

"Skip's non-stop passion and dedication to this industry and his understanding on how to share with his partners and empowering them with the right brands, was an opportunity that we could not pass up. Further, with all the brands and talents we all bring to the table, we know we have a partnership and a team that will flourish and cannot fail."

Froyland said the team's first joint undertaking will be the development, management, marketing, and operation of Portland.com. "We will develop this site into a premiere portal for all information on Portland, Oregon, and begin our journey to developing some of the amazing domain names that Skip has acquired and owns. We will work on the expansion of establishing local offices with local salespeople and integrate some of the things that we believe will be successful."

One other note today, The Washington Post has published an informative article on this week's court hearing in Kentucky concerning that state's attempt to claim jurisdiction over 141 gambling related domain names. The article includes comments from noted domain attorney Bret Fausett and Internet Commerce Association Executive Director Michael Collins who attended the hearing.
(Posted Oct. 9, 2008) To refer others to the post above only you can use this URL:
http://www.dnjournal.com/archive/lowdown/2008/dailyposts/10-09-08.htm
Several things to touch on today. The Internet Commerce Association has posted a nice summary of yesterday's court hearing in Kentucky where attorneys presented their arguments

for and against that state's attempt to confiscate 141 gambling related domain names. ICA Executive Director Michael Collins was in Frankfort for the hearing and wrote this account, which includes a funny side note about a domain name representing Judge Wingate who is presiding. The judge said he will announce a decision next Tuesday (Oct. 14).

Daniel Dryzek, one of the organizers of the MeetDomainers conference that was held in Cracow, Poland last weekend sent us some photos from the event that drew 84 participants - primarily from Poland - but also from Germany, Great Britain, Luxembourg and the U.S.. Dryzek and co-organizer Agnieszka Jankowska are seen addressing registrants in the snapshot below.

In the photo below, attendees had a chance to get to know each other better at a cocktail party that was held Friday night (October 3).

Below: Registrants enjoying one of their two days of networking and seminars in Cracow's palatial Grand Hotel.

Speakers included some of Poland's best known domainers, parking company representatives (Ed Russell from NameDrive and Axel Kaltz from Sedo) and there were presentations from registrars EuroDNS and Active 24 as well as drop catchers Dropped.pl and Zlapane.pl. In the session photo below you see (left to right) Theo Goral, Robert Tofil and Bartlomiej Usydus.

A highlight of the event was a live domain auction powered by Aftermarket.pl. The event produced approximately $90,000 in sales, led by adwokaci.pl (lawyers) for $28,000, aparaty.pl (cameras) at $16,800 and fotografie.pl (photographs) at $10,400. 23 out of 34 .pl (Polish ccTLD) domains were sold. You can see a full list of the domains sold in this first ever Polish domain auction here: http://meetdomainers.pl/en/aukcja. Auctioneer Piotr Lengiewicz is seen in the photo below.

One of the most active buyers in the event was Frederick Schiwek of EuroDNS and DomainInvest.lu who landed several domains including the two highest valued names. Freddy is seen in the photo below.

The event ended Saturday night with a party hosted by NameDrive at one of Cracow's most popular clubs, Scandale Royal. It was a very impressive debut event for Poland's rapidly growing domain community.

A couple of other domain auction notes today. Aftermarket.com has been chosen as the premier live auction provider for the upcoming T.R.A.F.F.I.C. Down Under conference on Australia's Gold Coast November 18-20. You can find out more about Aftermarket.com's plans for that auction here.
Today's hearing in Kentucky on that state's attempt confiscate 141 gambling related domain names from their rightful owners has ended with the judge announcing he would need 7 days to

consider the issues before announcing a decision. Gambling911.com, a gaming industry news site, posted a nicely detailed live blog covering the events at today's hearing.

During the hearing Edward Leyden, the attorney for iMEGA, an online gaming trade association, pointed out the hypocrisy surrounding Kentucky's claim as that state sanctions an online horse race betting site (TwinSpires.com) operated by

Louisville's Churchill Downs, home of the Kentucky Derby. Leyden said under federal law states are prohibited from engaging in discrimination as a means of eliminating competition and that this attempt to take over domain names is unconstitutional. "Here's how I react to it. Kentucky Governor Beshear needs to read the constitution," Leyden said.

An attorney from Greenberg Trauig pointed out that online gambling is not implicitly illegal in the commonwealth of Kentucky. There are 7 states that do prohibit it but Kentucky is not one of them.
(Posted Oct. 7, 2008) To refer others to the post above only you can use this URL:
http://www.dnjournal.com/archive/lowdown/2008/dailyposts/10-07-08.htm
Internet Commerce Association Executive Director Michael Collins was in Frankfort, Kentucky this afternoon representing the ICA at a press conference where multiple parties

raised vigorous objections to the state of Kentucky's attempt to take 141 gambling related domain names away from their rightful owners. A court hearing on the issue is scheduled for tomorrow. Many parties who would be devastated if local governments were allowed to start confiscating domain names have gone to Kentucky to protest the state's action. The ICA has also filed a legal brief in support of the domain owners targeted in this case.

Elsewhere, the stock market plummeted again today and a new Forbes Magazine article says the credit crunch that is behind the market collapse could hasten the slide of newspapers into oblivion. The Forbes article said "The cash-starved New York Sun went under Monday and on Wednesday the Minneapolis Star Tribune said it was skipping a $9 million quarterly debt payment, prompting worries of a potential bankruptcy. But that's not the worst of it. Standard & Poor's put newspaper giant Gannett (publisher of USA Today) on credit watch, concerned revenue declines could accelerate at the newspaper giant...With the nation's financial system in the grips of a credit crunch, Gannett and the rest of the already-weak newspaper industry are in a tough spot. With sinking credit ratings and tight debt markets will make it tougher for them to invest and survive."

Of course more and more people now turn to the Internet for news. In addition to the usual sources, blogs and RSS feeds making it easy to assemble electronic versions of your own personalized newspaper. Speaking of RSS, Sedo announced today that it would be auctioning off RSS.com through their GreatDomains platform on October 16th. The reserve price will be $750,000.

Scene from T.R.A.F.F.I.C. New York 2008

One other note, our new October Cover Story has just been published. The article contains our comprehensive review of the 2008 T.R.A.F.F.I.C. New York conference that ended just a few days ago. The new conference venue in Brooklyn presented a striking dichotomy between two different worlds. Just across the river, Wall Street giants were caught in a free fall that forced taxpayers to cough up $700 billion for a bailout. Yet only a stone's throw away, unbeknownst to the outside world, 350 visionary people were tending to thriving businesses in an industry that continues to have an exceptionally bright future. With the rest of the financial world in crisis, you will want to read this story to see what other industry pros have to stay about the future of domains. Our definitive show review is also loaded with exclusive photos that you won't see anywhere else.

(Posted Oct. 6, 2008) To refer others to the post above only you can use this URL:
http://www.dnjournal.com/archive/lowdown/2008/dailyposts/10-06-08.htm
The online domain auction that Moniker.com ran in association with last week's T.R.A.F.F.I.C. New York conference ended last night with a total of more than $900,000

worth of sales. Added to the nearly
$3 million in sales registered during their two live auctions in New York, Moniker booked just under $4 million in total sales for their T.R.A.F.F.I.C. related events. A very nice showing given that it comes at a time when the financial world in general seems to be teetering on the edge of collapse. Though no one is immune from the kind of economic problems the world is currently being threatened with, domains continue to hold up better than most other asset classes.

The top sale in Moniker's silent auction was Loto.com at $91,331, followed by Wholesale.net at $88,240,

Auctioneer Wayne Wheat (left) and Moniker
CEO Monte Cahn running their live auction at T.R.A.F.F.I.C. New York Sept. 25

SpaResorts.com at $70,590, Claudia.com at $35,000 and NewYorkRestaurants.com at $30,240. 11 more sales reached the five figure mark:

furnitureworld.com

$29,420

bluecollar.com

$28,750

650.com

$27,000

auctions.net

$26,000

american.info

$23,530

setup.com

$20,000

ankle.com

$15,300

mohamed.com

$14,710

512.com

$14,120

movingquotes.com

$13,800

proverb.com

$10,130

More than 200 domains were sold in the extended auction with some changing hands for as little as $250.

A new trade association representing Canadian domain owners will be launched Tuesday (Oct. 7) at the Domain Convergence conference in Niagara Falls, Ontario. The Domain Owners Association of Canada (DOAC) said it aims to protect and increase the value of its members' domain names.

Peter Maxymych, President of Emall.ca and founder of the DOAC, said "It's high time Canadian domain owners get their voices heard. Domain owners in Canada have often felt like they are working alone. This does not have to be the case. With this association we can work together to promote our interests in domaining."

Frank Michlick, Chairman of the Domain Convergence conference added "We are looking forward to helping launch the ground-breaking association for domain owners. Canadian
domain name owners have contributed immensely to the domain name industry and it is
comforting to know an organization will have our backs." More information about the Domain Owners Association of Canada will be released on www.doac.ca once the association is officially launched. In the meantime, you can contact Zak Muscovitch, the association's solicitor, by emailing Zak @ Muscovitch.com.

I would have to echo Michlick's comments about Canadian domain owners. That nation has produced many of the most successful domainers in history, including Frank Schilling, Kevin Ham, Garry Chernoff and Shaun Pilfold to name just a few from a list that goes on and on.
(Posted Oct. 3, 2008) To refer others to the post above only you can use this URL:
http://www.dnjournal.com/archive/lowdown/2008/dailyposts/10-03-08.htm
Stephen Douglas and Jay Westerdal have buried the hatchet - at least from a legal perspective. Westerdal, the CEO at Name Intelligence, hired Douglas to produce the

company's 2007 Domain Roundtable conference. The show went well, but soon after it ended a dispute over Douglas's compensation wound up entangling the two sides in a lawsuit. Douglas let me know today that the suit has been settled (terms were not disclosed).

Both men have experienced major changes since they worked together on the 2007 conference in Seattle. Last spring Westerdal

2007 Domain Roundtable Producer Stephen Douglas (left)
and Name Intelligence CEO Jay Westerdal (right)

sold his company to Thought Convergence (but continues to run his original enterprises under the TC banner). Douglas recently took a position as VP for Business Development with WhyPark.com.

Douglas told us, "The reasons behind my resolving the issues regarding the 2007 Domain Roundtable were in part influenced by my new position at WhyPark.com, which is proving to be very exciting and rewarding as I work with many new WhyPark clients to inexpensively develop content for their domains. Additionally, the signing of several prominent "non-domainer" companies to my SuccessClick.com domain consulting service has shown me an extremely prosperous future for domain investors from every field of industry."

With respect to Westerdal, Douglas added, "We have mutually agreed to move forward amicably, and I wish Jay Westerdal and his brilliant team at Name Intelligence (DomainTools.com) much success. I also congratulate them on becoming a part of Thought Convergence, one of the best

domain industry companies I work with. I'm anticipating more innovative services for domainers coming from Thought Convergence and Name Intelligence, and I will continue to work with them for the betterment of my clients."

Domain Roundtable, which moved to San Francisco for its their 2008 show this past April will be back next year. Thought Convergence has already announced the dates and location for the show which will be held at the Grand Hyatt in Washington, D.C. June 14-17, 2009.

NameMedia (who was featured in our June 2007 Cover Story) continues to expand the reach of its aftermarket sales platform - the AfternicDLS. Today they today announced a strategic marketing agreement with the newly launched Internet domain marketplace,

PremierDomains.com. The Afternic DLS will be the exclusive provider of aftermarket domain names to PremierDomains, giving them access to more than 800,000 domains targeted toward small and medium sized businesses (SMBs).

NameMedia's Marketplace Senior Vice President and General Manager Pete Lamson said, "NameMedia has developed the world's largest network of SMB targeted resale marketing partners. Our partnership with PremierDomains.com expands our global network and satisfies the growing demand for quality domains names in the SMB market."

Michael Lindsey, the Founder and President of PremierDomains.com added "The Afternic Domain Listing Service has established itself as the industry's leading venue for the sale of premium domains. We've been impressed with their consistently high quality standards and we're thrilled with the partnership".

Peter Lamson
NameMedia Senior VP and
General Manager Domain Marketplace

Finally, for anyone trying to reach me today, I am going to be out of touch. Those who follow baseball know that the Tampa Bay Rays have become the first team in American League history to reach the playoffs after having the worst record in the league the year before. The Rays, who are our hometown team, open the playoffs this afternoon when they host the Chicago White Sox. Diana and I will be at the game with Parked.com's Monte White and his wife Maura (who are also big Rays fans). Everyone in the Tampa Bay area has gone Ray crazy so, win or lose, being there when the team makes their first post season appearance ever will be a blast.

I am also a White Sox fan because years ago, when I was the Sports Director of the ABC-TV station in Sarasota, Florida, the White Sox spring training camp was based there. I visited the clubhouse every day and also went up to Chicago to file reports during the summer. That was before Tampa got its own team though, so now my allegiance has to be with the home club when the two teams play head to head. Go Rays!

(Posted Oct. 2, 2008) To refer others to the post above only you can use this URL:
http://www.dnjournal.com/archive/lowdown/2008/dailyposts/10-02-08.htm
A lot of companies time the announcement of new products, services or events with major domain conferences like last week's T.R.A.F.F.I.C. show in New York. Ironically, show week is probably the worst time to send me announcements, as I am so busy covering conference events that other announcements get filed in a "Hold" folder until the show is over and I finally get a couple of minutes to look at them. A lot of email also has to go unanswered during conferences where the daily schedule often runs from 8am to 2am (or later) the next morning.

In sifting through the Hold folder today I came across Sedo's announcement that they will conduct a big premium .mobi domain auction on November 5th. Names scheduled to go on the block include bands.mobi, blackjack.mobi, boys.mobi, cellphones.mobi, doctors.mobi, games.mobi, quotes.mobi, racing.mobi, vip.mobi and xxx.mobi, to name just a few. There are obviously some great keywords in this lot, making this event an especially interesting one for those interested in gauging current interest in the .mobi extension.

dotMobi CEO Trey Harvin said, "dotMobi has seen the total number of mobile Web sites grow by eightfold since November 2007. The


+

mobile Web is truly coming into its own as a unique medium, and the names available in this auction will be key in helping consumers find content designed specifically for their mobile phones." The auction rules specify that a .mobi compliant parking page must appear on the domain within 10 days after transfer, followed by a full web site with content relevant to the domain name within nine months of the initial domain transfer date.

In an effort to promote development in the .mobi space, the registry said it is also requiring winners of previous premium auctions to comply with its requirements. They said they have recently contacted winners to remind them of compliance deadline dates that need to be met, adding that failure to comply with the terms and conditions may result in forfeiture of the premium mame and bid.
(Posted Oct. 1, 2008) To refer others to the post above only you can use this URL:
http://www.dnjournal.com/archive/lowdown/2008/dailyposts/10-01-08.htm